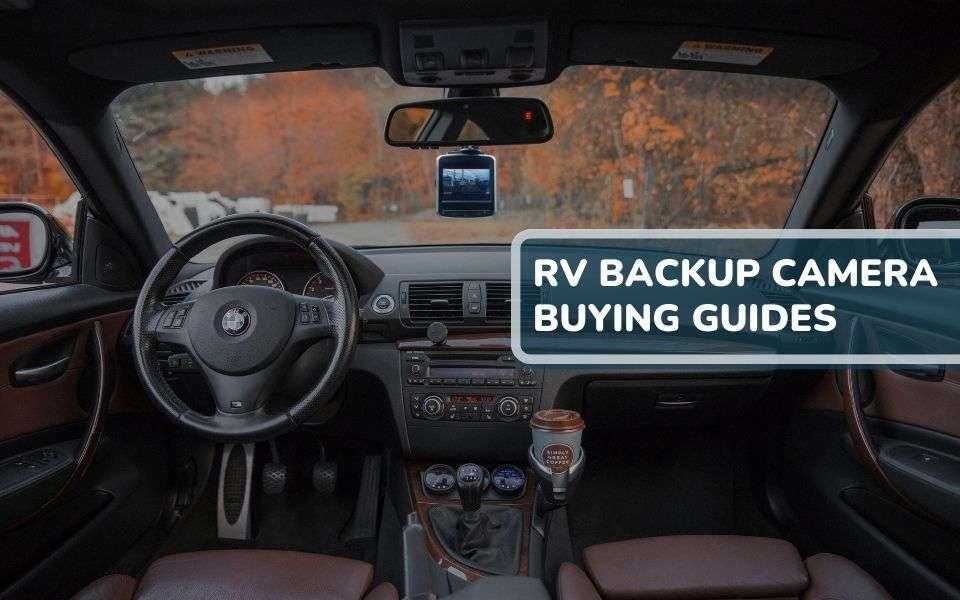 Best RV Backup Camera Reviews
From time to time, the RV's safety system has been changing. The best RV backup camera is one of the crucial parts of an RV's safety system, and its demand is increasing nowadays. The RVers can use these backup cameras in their campers, travel trailers, RVs, trucks, and buses.
Backing up your recreational vehicle is a dangerous and challenging task. And the RV backup camera makes this job more manageable. Backup cameras are not too expensive, and they are also easy to install. By installing a backup camera in the RV, the RVers can improve their safety in a significant way.
If there are any blind spots behind your recreational vehicle, you can get rid of them with the help of these backup cameras. Only the best RV camera system can ensure road safety while travelling in your RV with your family. This article explained the details of the 5 best backup cameras for your RV to make your job easier.
Types of RV Backup Cameras
Usually, three types of cameras are available on the market, and those are the following:
Wireless Cameras
The wireless cameras don't require hard-wire in your RV. The digital or analog technology-based wireless camera provides signals to the monitor. However, the digital technology wireless camera offers a high-quality and clear image, and thus it's a great option.
But one issue with this wireless RV backup camera is that it provides no image once the signal becomes weak. On the contrary, the analog wireless backup camera also gets fuzzy, but still, some picture is visible on it. However, compared to wired cameras, installing the wireless backup camera is easy.
Wired Cameras
The wire is the main functioning element in a wired RV backup camera. The wire runs from the camera to its monitor. A wired camera offers numerous benefits to its users. The essential advantage of wire cameras is that they provide reliable video feed and high-quality images.
These cameras have become too much improved because of the digital video transmission feature. Moreover, wired cameras ensure the best performance compared to the other cameras.
Hitch Cameras
The RVers mount hitch cameras just above their vehicle's hitch. Typically the hitch camera is another type of wireless camera, and this is the magnetic camera.
5 Best RV Backup Camera
We listed the best backup camera for your RV below with their details. So we narrow down your task for searching the RV backup camera. Let's dive into the following discussion:
1. Rohent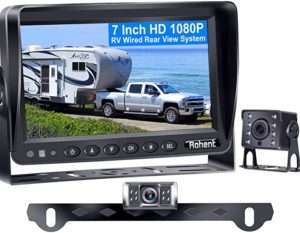 Rohent offered one of the best wireless RV backup cameras that are really worth the RVer's money and time. The HD monitor of this camera is 7 inches, and a TFT LCD display color is also available with it. The image quality of this camera is crystal clear. If you use this backup camera in your RV, you don't need to rely on the side mirrors. Depending on this camera, you can easily park or reverse your RV.
V1 and V2 are 2-way video inputs available on the camera's monitor. For the current wireless model, the designed default input is V2. On the other hand, the optional input is V1. And it allows the RVers to wire additional wireless rear/front/side or wired view cameras.
This backup camera operates smoothly using the dedicated signal and wireless connection, and it works at 100 miles speeds. Again two antennas are available with this camera which ensures transparent video signals within 100ft – 450 ft. This backup camera offers the following benefits:
Constantly this camera works best while you are reversing or driving your RV.

Provides uninterrupted, transparent, and high-quality video transmission

Great screen resolution

Replacement service and 2-year of warranty and tech support
2. Rear View Safety
This Rear View Safety camera is designed in a way that it can deal with up to 3 cameras. Three-channel multiplexers are the main feature of this camera. You can add additional cameras, up to 2 in the system, for better performance. Moreover, you can easily control the mirror image and standard view of this camera with the help of this camera's automatic switch.
This device's one of the significant features is its auto-dimming function. Automatically this feature dims the brightness of your backup camera monitor depending on the surrounding light. At night this camera offers a dimmer display. And during the day, it provides a super bright display. The features of this camera are the following:
It offers the highest vibration and waterproof feature

It can accommodate the highest three cameras

Easy to mount

Even in extreme weather, this camera is effortless to use

High-quality picture and superb audio

Flawless auto-dimming feature

The strength of the monitor's signal does not become weak over time
3. Zeroxclub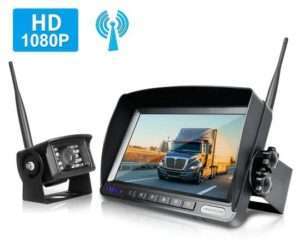 One of the most reliable and best backup cameras for a travel trailer is this Zeroxclub. This wireless camera is reliable and worth considering for your RV. Even at 75 miles speeds, this camera offers a clear signal. And it ensures smooth running because of its wireless technology. This RV backup camera installation is effortless. Moreover, without any signal interference, this camera can operate smoothly.
This camera's 7″ HD 1080p monitor displays clear, high-quality, sharp, and stunning images while you are parking or reversing your RV. The waterproof feature of this camera makes it more unique from others. Even during heavy rain, storm, or flood, this camera work very well. The considerable advantages of this camera are:
Easy to mount, install and use

Weatherproof double construction

High-definition pictures

Wider angle and viewing range

Strong signal strength

Lifetime support

One year RV backup camera replacement warranty
4. VanTop H612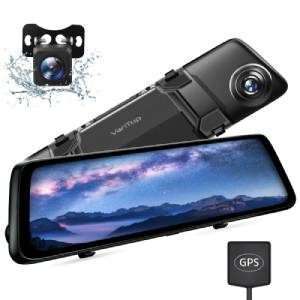 One of the reliable and best backup cameras for your RV is this 2.5K Ultra HD camera. This camera offers front and rearview. The full touch screen of this camera is quite a good feature. GPS tracking and voice control are also included in this camera. This backup camera can handle night vision and loop recording. And a parking monitor is also included in it.
This RV backup camera can continuously record your entire journey while traveling on the road. The rearview feature of this camera allows you to see what is happening behind the RV while driving on the road. However, setting up the camera's full functionality requires an additional hard-wire kit. The benefits of this camera are:
Continuous recording while you are driving an RV on the road

GPS tracking and voice control feature

Without any interference or disturbance signal can reach a great range

Best backup cameras for travel trailers, motorhomes, and RVs

Easy to install and requires significantly less time

High-quality image and video
5. Furrion FOS43TASF Vision Camera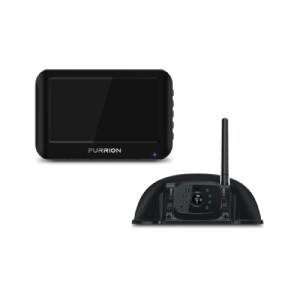 One of your RV's most innovative backup cameras is this Furrion FOS43TASF camera. You can safely drive your recreational vehicle on the road by installing this camera. In addition, this camera offers all kind of assistance and supports that you require to stay safe on the road.
One of the top features of this camera is motion detection and surveillance. On the vehicle's rear portion, you can use this camera. The RVers will love its distance grid lines, rear assist grid lines, and optional parking lines. The benefits of this Furrion RV backup camera are the following:
The expensive and extensive wide-angle view allows the RVers to see the enclosing cars and objects

Security camera's automatic wake up

Motion detection and surveillance features

Parking assistance with rear assist grid lines

Adjusting the camera's colors, brightness and contrast is easy because of the anti-glare screen
Importance of RV Backup Cameras
Only an RV backup camera can save you from potential danger while driving your RV. This is one of the essential safety features you should ensure before starting your RV trip. Installing this camera on your recreational vehicle will not only make your RV journey more manageable, but also it will make your life easier.
An Rv backup camera saves you from the potential future accident from navigating or reversing to the gas station to backing into the campsites. In addition, the RV backup camera provides you guidance while you are backing or parking at a campsite. Thus it saves you from unwanted hitting on a picnic table or a post at the campground.
Only with one strike or hitting something your RV can get damaged. And the backup camera saves both you and your RV from such an unwanted situation. In addition, this camera helps the RVers most when they need to park their RV in tight places or a less spacious parking lot.
Conclusion
The best RV backup camera offers the most significant safety features for RVers. And thus the RVers should install this camera in their recreational vehicle. Installing an RV backup camera can reduce your worry and hassle and save your time. The most important thing is that this camera protects your RV from potential accidents and extensive damage.
In this article, we reviewed the best brand's cameras. So we make your job easier in choosing the best one for your RV. Considering all the above cameras' key benefits and features, you can select the best one for your RV.
Latest posts by Tim Harris
(see all)