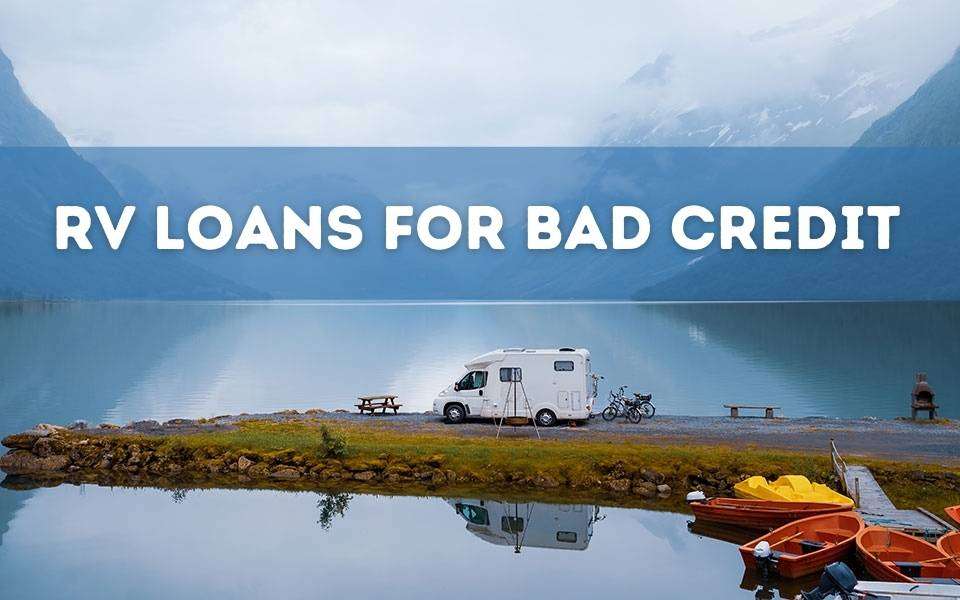 RV Loans for Bad Credit
Maybe you are ready in full spirit to hit the road with your dream RV (recreational vehicle). But you may think you will not secure the RV loan due to your past credit issue. You may have the fear that your low credit rating history will decrease the RV loan qualifying possibility from a financial institution. Your fear is right. You can't overlook the rejection possibility at all, as the picture's crucial part is credit.
However, don't worry if you are interested in getting RV loans for bad credit; keep reading this article. This article will help to explore the best financing options for RVers who need a loan to purchase a used or new RV. 
How to Get Bad Credit RV Loans?
Compared to the traditional RV loan, the bad credit RV loans are costlier. The bad credit camper loan is more expensive because the lenders set interest calculating how much risk the RVers present. The lenders analyze the RVers bad credit risk using the credit scores and credit history.
Moreover, they also charge the interest based on your age and desired RV buying type. The bad credit RV dealers even can charge the RV loan's interest rate greater than the home loan rate. Don't be surprised by it. RV financing with bad credit cost is high because the lenders consider its high risk as RV is a luxury item.
Finance RV with Bad Credit: Requirements to Qualify for the Program
With poor credit history, RVers must qualify the lender's several requirements. However, to get the finance RV with bad credit requires the following:
Consistent and verifiable income. The RVers with poor credit must have provided income proof.
If you use your RV for business or as a home, you will not get the loan. You must have to use the RV for recreational purposes only.
If you have a previous bankruptcy history, its ok, but you need to clear them before applying.
Having previous positive loan installment history is a must.
Typically 600 is the RVers minimum required credit score.
The applicants need to have at least two years of stable employment status. He needs to have a self-employed status at least for 2+ years.
The annual income should be at least $20,000
Eligible RV Types
The eligible RV types are the following:
Travel trailer
Horse Trailer
Motorhome
5th Wheel
Toter Home
Utility Trailer
Toy Hauler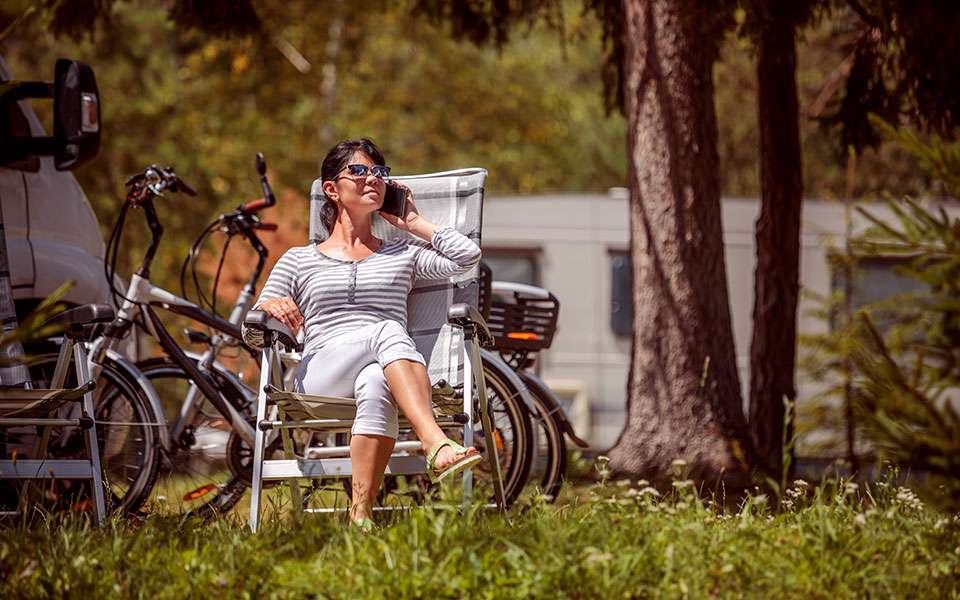 The Way to Get Bad Credit RV Loans
Follow the proper steps, and hopefully, you will quickly get the loan for purchasing an RV even with a low credit score. Before applying for a loan, sharply read the guide below.
1. Check the Credit Reports and FICO Score
Before applying for an RV loan, contact AnnualCreditReport.com to collect your credit reports. Check whether anything is missing or not. If you find any missing payment error, you should immediately solve it.
Another important thing you need to do is to manage your FICO score. You should regularly review your FICO reports and score. 550 is the typical credit score for getting an RV loan, but it would be a positive point if you had a higher score.
2. Get the Best Price
One crucial thing to get RV financing with bad credit is to find the best price and negotiate with it. You will have a better chance of bad credit RV loans if you ask for a smaller amount of loan. Whether you are purchasing a travel trailer or motorhome, you should find the best deal.
3. Acquire Pre-Approval
If you ask for pre-approval, it will represent that you are eagerly waiting to get a RV. Before contacting and talking to a sales representative, you should have deep knowledge about it. Moreover, you can save a significant amount of money and secure a better deal by getting the pre-approval.
4. Increase the Down Payment
The general down payment rate is 20%. But your chance of getting bad credit RV loans will increase if you pay more than the regular payment. Moreover, it increases the possibility that you will get a better deal.
The bad credit RV dealers usually prefer to give loans to those who make more than 20% down payment. Paying more means you have more possibility of receiving better deals even if you have no credit camper's reviews.
5. Focus on your Credit
Whether it's good credit or not, you should work and focus on your credit. Working on your RV loan is simple. You just need to make a bill payment on time and pay an installment on your credit card.
Bad Credit RV Loans Disqualifying Factors
After accomplishing all the tasks and prerequisites, you may disqualify from receiving the RV loan because of the following factors:
Risky debt condition (Compared to income, the debt is much more)
Invalid payment or not strong proof or having a reliable income source
Numerous bankruptcies
Zero credit history
Which Lenders Offer Easy RV Financing Bad Credit?
Even if you have no credit campers review or lower tiers FICO scores, some lenders can still offer you easy financing with bad credit for purchasing an RV. They are the following:
1. Online Lenders
The online lenders offer RV financing with bad credit for RVers nationwide. Thus they are available from coast-to-coast. One of the significant advantages online lenders offer is having an RV loan without physically attending any location. However, the online lenders approve the bad credit RV loan relatively in low amounts. Moreover, they impose restricted terms and conditions for the RVers. The noteworthy characteristics are the following:
Available nationwide
Terms, conditions and charges vary
You will not get the in-person customer service
2. My Financing USA
My Financing USA has special divisions that provide cheap RV loans for bad credit. If you have low credit scores of 550, you will get bad credit financing RV approval. If you have the past bankruptcies history, it's also ok to get a loan here. The other features are the following:
Typical loan amount is $10,000 to $50,000
Minimum credit scores 550
Down payment 10%
At closing time, the document fee is $495
Fees vary
3. Southeast Financial
Another online lender is Southeast Financial, which offers RV financing with bad credit. These bad credit RV dealers offer more affordable and longer configuring loans for low-income households. However, this lender provides a loan based on a previous track record. They do it to make sure that the receiver will pay the loan. The other features are the following:
You have to prove your stable employment history for getting a loan
Must have 550 or higher credit score
Previous positive history of loan installment
At least $20,000 annual income
20% or more down payment
Interest rates vary based on the previous loan record
Loan terms up to 240 months
4. Credit Unions
The credit union members will also get a loan for purchasing an RV even with bad credit. However, you need to have a minimum credit score to get the RV loan approval. The other features are:
Required membership
Lower rates with poor credit
You will only enjoy the RV financing option from the credit union if you are part of them.
5. FedEx Employee's Credit Association
You don't require a minimum credit score for getting the bad credit camper loans from the FedEx Employee's Credit Association. You can get up to a 100% loan for purchasing a new motorized RV.
6. Banks
Compared to the other financial institutions, banks put less emphasis on your credit score. But you must have a previous relationship with the bank. The bank, for their active member's offers RV loans in terms of 180 months. However, the bank doesn't disclose the minimum required credit score for getting RV credits with bad loans. The other features are the following:
In-person service
Existing and active customers benefits
Interest-rate discounts
7.  Dealership Financing
One of the significant ways to get cheap RV loans for bad credits is dealership financing. But you may have the limited loan option for a higher price. The features are:
Convenience but costly
Restricted dealerships if you want to purchase a specific RV brand
Other Financing Options
The above is not the only RV financing option. Other options include peer-to-peer loans or credit cards. However, these options have high-interest rates compared to the other alternatives. The other alternatives are:
Personal loan
Home equity loans
Final Words
Getting RV loans for bad credit is a challenge for RVers who want to hit the road with their desired RV. It's challenging to obtain finance for purchasing an RV with low credit history. But if you do a little research on it and follow all the steps correctly, you have the chance to get cheap RV loans for bad credit.
Don't overthink. Even with the zero-credit history, you can receive an RV loan. You just need to know the qualifying and disqualifying factors for getting a loan and prepare yourself according to the requirement.
Latest posts by Tim Harris
(see all)