Visit Dallas
Discover Dallas, TX
If you are planning for an RV camping adventure in North Texas, Dallas could be the best option for you to explore. In the Texas state's north-central section, this modern metropolis is located. The RV rental Dallas allows you to have a great time in this city. Moreover, you can easily explore the fantastic restaurant scene, world-class museums, and other outdoor recreational activities by travelling in your RV.
While visiting Dallas, you can explore different attractive places here, including the Dallas World Aquarium, the Dallas Zoo, the majestic Reunion Tower, etc. Also, you can visit the famous Pioneer Plaza and the Dallas Museum of Art. The Bishop Arts District's signature areas are the art galleries, Chic boutiques, and cozy coffee shops. Also must visit the Dallas TV show, fame's Southfork Ranch.
You can quickly get around Dallas city using public transport. And the Dallas Rapid Area Transit system makes it more accessible. The Rapid Area Transit system service includes commuter trains, light rail, and buses. And all these transportation offers easy access to all the areas of Dallas-Fort Worth.
If you want an authentic small-town experience, you should visit the Quaint Athens or the cattle town of Forth Worth. By renting an RV, you can easily visit all these places. You will find everything like the gas stations, grocery stores, and camping supplies throughout Dallas. Thus renting an RV and camping with it is very easy in this city.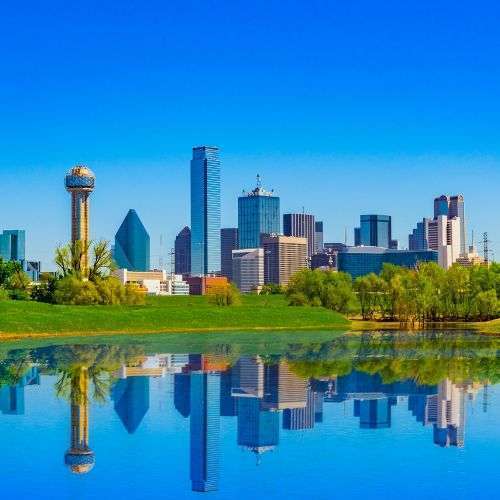 The Great Outdoors In Dallas
Plenty of natural attractions are available in North Texas. From the downtown Dallas area, just by driving for 2 hours, you will find different great fishing spots, stunning state parks, biking, hiking trails, and more.
Some of the top spots in this city are Boulder Park, Joppa Preserve, Hills Nature Preserve, and Eisenhower State Park. For Great Mountain biking, the best option is Boulder Park. At the Joppa Preserve, you will be able to see different exotic birdlife and the rare wood stork.
If you want to enjoy a lazy day near the lakeside, you should visit Windersurf Bay Park.  On the Lake Ray Hubbard shore, the Windersurf Bay Park is excellent for picnicking. Also, you will surely be mesmerized by the great view of this park. The on-site sports courts and playgrounds allow your child to spend time by playing.
If you further head towards North, you will get the Lake Lavon. Collin Park allows you to access this lake. You can spend your whole day in this park or move towards the Collin Park RV campsites. Dallas city also offers you to enjoy nature from very close.
To enjoy nature more closely, don't forget to visit the Dallas Zoo, Dallas Arboretum, Botanical Gardens, and the Klyde Warren Park. In the downtown area of the city, this Klyde Warren Park is located.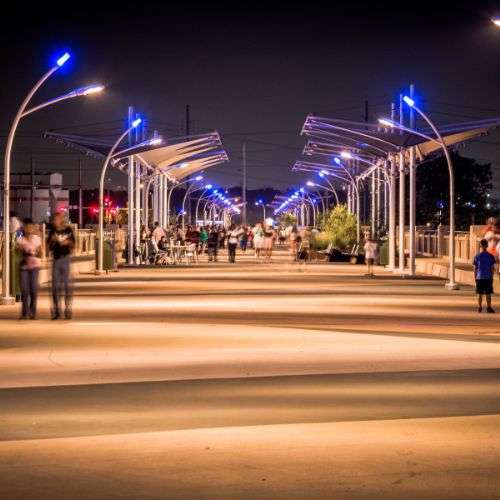 RV Parks In Dallas, TX
Plenty of RV parks in Dallas TX will make your way to exploring this city easier. However, finding the Dallas RV parks and campsites is not tough as they are available in considerable amounts. All the parks offer different accommodation facilities to the RVers and campers. Moreover, the RV parks provide complete services and natural settings to high-end basic accommodations facilities.
In Arlington, one of the family-friendly options is the Dallas/Arlington KOA. On the city's west, this park is located. This park have several features, including the laundry machines, pool, clubhouse, camp store, etc. For a day trip to the Cedar Hill State Park, Joe Pool Lake, and the Fort Worth, staying at the Dallas Arlington KOA Holiday Park is really a great option.
If you are able to secure a site at the attractive plantation place RV Park, then you can camp close to Lake Ray Hubbard. This campsite offers different facilities to the campers. Moreover, this park features full hookups and offers pull-thorough access to the trailers with lots of slide-outs. Furthermore, Wi-Fi and cable TV are also available here in this park.
Camping at Crandall's beautiful Cherokee Creek RV Resort allows you to escape from the busy city life and enjoy the peaceful rural setting. Also, near this park, all the city conveniences are available. Moreover, at the park's on-site playground, your kids can play. Some of the mentionable RV parks in this city are: 
Treetops RV resort 

Arbor hills nature preserve 

Eisenhower state park TX 

Epic waters indoor waterpark 

Fossil rim wildlife center 

Fort Worth water gardens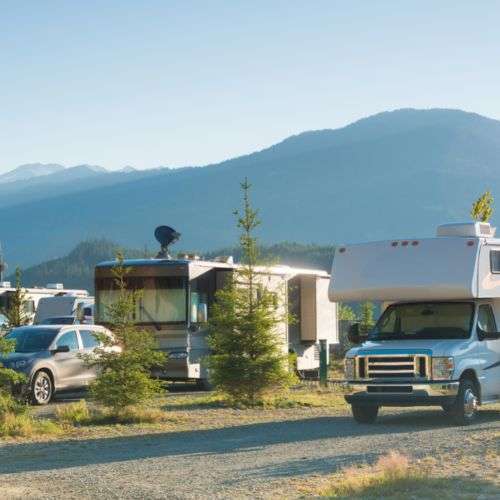 Exploring The Dallas City
Dallas is rich in music, art, culture, shopping, and history. Also, this city is full of exciting nightlife. Thus the RVers will surely enjoy their trip here. If you or your family are shopaholics, you will definitely love the city's Highland Park Village, Galleria, and the North Park Center malls.
In these places, you will find high-end designer shops and hundreds of stores like Prada, Versace, Gucci, and Saks. Even if you are the most discerning shopper, you will find something really worth exploring here. So another paradise for shoppers is the Bishops Arts District. Especially if you are looking for one-of-a-kind treasures, then this option is the best for you.
Greenville Avenue offers thriving nightlife scene and restaurant places that you can explore. This is one of the hippest areas in the city because of its college-town vibes. Dallas is also full of historical sites. If you go towards the West End, you will find the historical places in this downtown area known as commemorating JFK.
Also, Dallas hosts plenty of festivals and events that you can enjoy. If you plan your camping trip in the fair season, you will be able to attend the North Texas State Fair and the State Fair of Texas. In this southern city, one of the interesting things to explore is sports. For the Dallas Cowboys Tailgating, pack some snacks and enjoy it. Or you can look at the Texas Motor Speedway to enjoy the high-paced fun.
So, one of the world-class cities in Texas is Dallas. Especially the museums in this city attracts more campers and visitors. The art lover camper should visit the Nasher Sculpture Center and the Dallas Museum of Art. And for the history lover camper, the most attractive option is the Frontiers of Flight Museum.
The interactive display of children of all ages is arranged by the Perot Museum of Nature and Science. The Dealey Plaza's sixth-floor museum recorded a history tour and events, and the events led to President Kennedy's top assassinations.
Search for the best RV rental Dallas and make an itinerary to explore this beautiful southern city. This city is full of different attractive sights and lots of variety. So you will definitely enjoy exploring this city.