Visit New Hampshire
Great Outdoor RV Activities in New Hampshire 
New Hampshire is a perfect place to visit for natural views and intriguing town experiences. It is also popular for the highest peak in the United States region, Mount Washington. More notable features in the state include the Diana's Baths, Hampton State Beach, Flume Gorge, Franconia Notch State Park, and the Mountain National Forest. 
Other notable places include Story Land, Portsmouth Market Square, Mount Washington Cog Railway, and Santa's Villa. The list is long, but this article will help narrow your options. For instance, it touches on the popular RV destinations in New Hampshire because they are famous for a reason.
You also need the best camping grounds if you are an RV camper. That's why we also have great RV parks with great outdoor activities and amenities. Lastly, we have highlighted the uniqueness of the state. Check it out!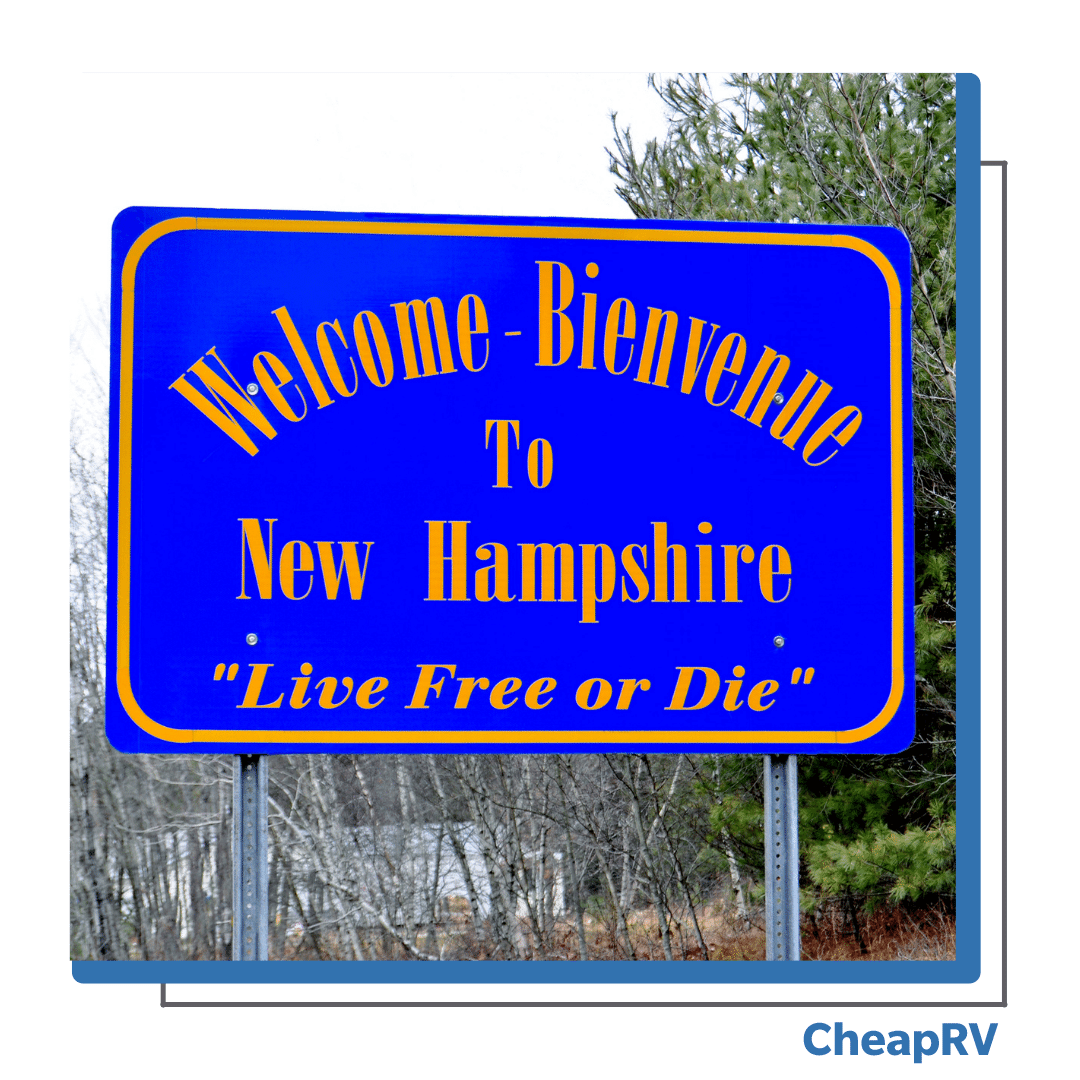 Popular RV Destinations in New Hampshire 
Some of the popular RV destinations in New Hampshire include the following;
Mount Sunapee
If you visit the place all year round, you will enjoy hiking thanks to the numerous trails. Visiting during winter also allows you to snowshoe. The Sunapee State Park is within the area with many outdoor RV activities.
For instance, there is Lake Sunapee which covers up to 4085 acres. It is ideal for canoeing, kayaking, fishing, boating, swimming, and sunbathing. Alternatively, you can consider viewing its beautiful beach.
The campground has a lot of amenities, including vault toilets, fire rings, and picnic tables. Besides hiking, you can opt for cross-country skiing and mountain biking.
Mount Monadnock
It is a mountain that's 3,165 feet tall, lying in Jaffrey. The vast area allows many outdoor activities, including cross-country skiing, snowshoeing, camping, picnicking, backpacking and hiking.
Androscoggin River
Ensure that you also visit this river for beautiful scenery. It is surrounded by the Thirteen Mile Woods Scenic Area, which adds beauty to the place. The area is also good for bird-watching and wildlife lovers. Other activities include hiking, fishing, canoeing, camping, and picnicking.
There is the Mollidgewock State Park within it, containing several campsites. Their amenities include vault toilets, showers, fire rings, and picnic tables.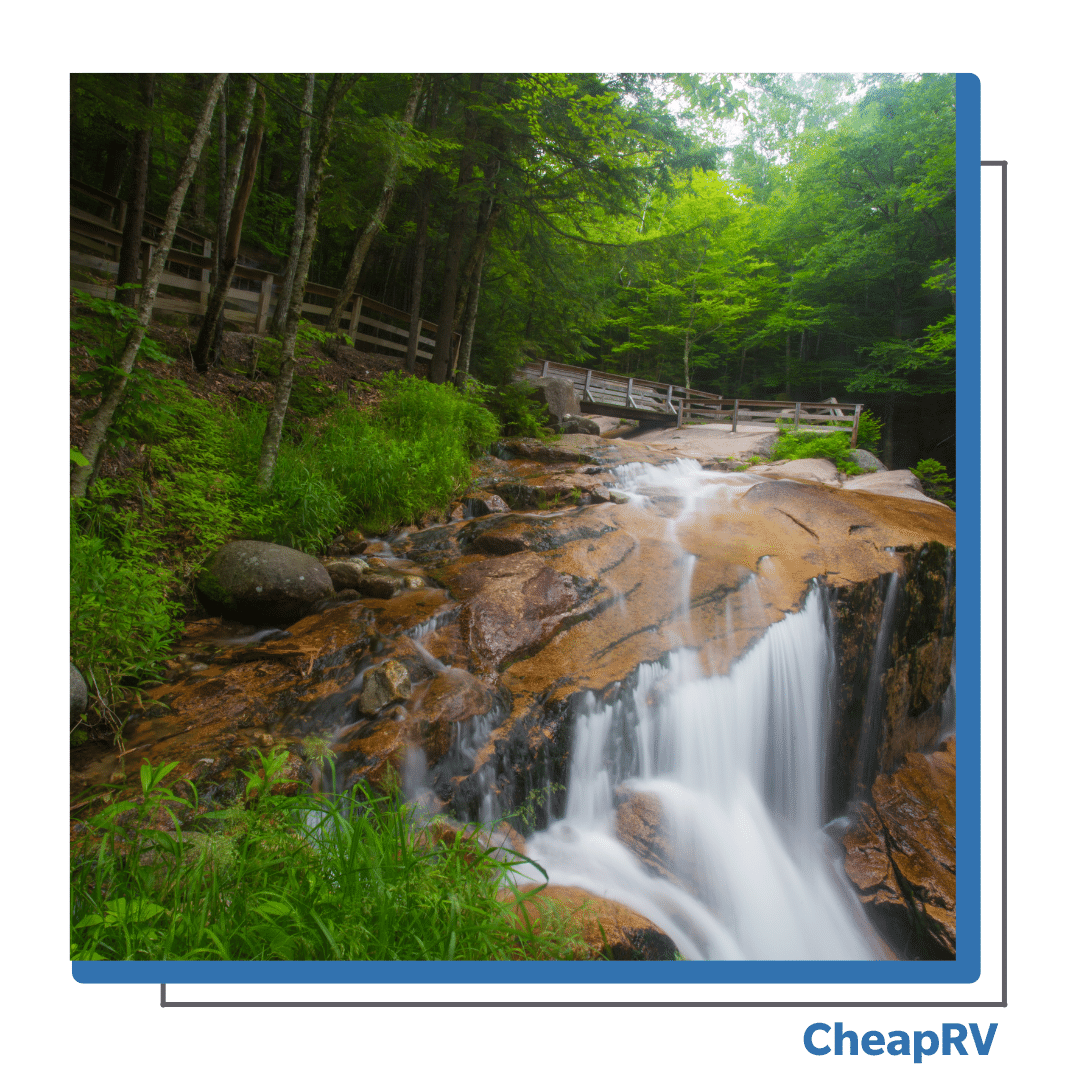 RV Parks in New Hampshire
Some of the best RV Parks in New Hampshire include the following;
White Lake State Park
Only a few campgrounds in New Hampshire allow you to enjoy the view of a lovely lake and its swimming beach. The White Lake State Park is one of them, thus making it a perfect place to camp. Since it is in the White Mountains, rest assured that you will have much fun with various outdoor RV activities throughout your vacation. 
It is in New Hampshire and was formed towards the end of the ice age. That's when ice was neatly buried under glacier debris. The aftermath of this activity was this beautiful Lake Worth viewing. 
It is most suitable for swimming and camping hence suitable for your RV camp in New Hampshire. It has over 203 campsites to ensure that campers enjoy their stay. Besides swimming and viewing the Lake, you can also walk around, fish, explore beaver homes, or boat in a rented boat. 
Bear Brook State Park
Wouldn't it be incredible to camp in the biggest developed RV Park in New Hampshire? That's what it would mean if you were to choose Bear Brook, State Park. Its neighboring cities include Concord and Manchester. 
With over 100 camping sites in the woods and surrounding Beaver Pond, any camper will love this place. One can rent a canoe or boat and enjoy canoeing or boating, respectively. Alternatively, you can go hiking thanks to the trail stretching up to 4o miles. It is an excellent way of exploring the hilltops, ponds, and forests in New Hampshire. 
Other options for outdoor RV activities include horseback riding, mountain biking, and hiking. Besides, you and your family can also take advantage of archery for a great bonding moment. The amenities on the site include ice, food, a dumping station, a camp store, hot showers, and laundry facilities.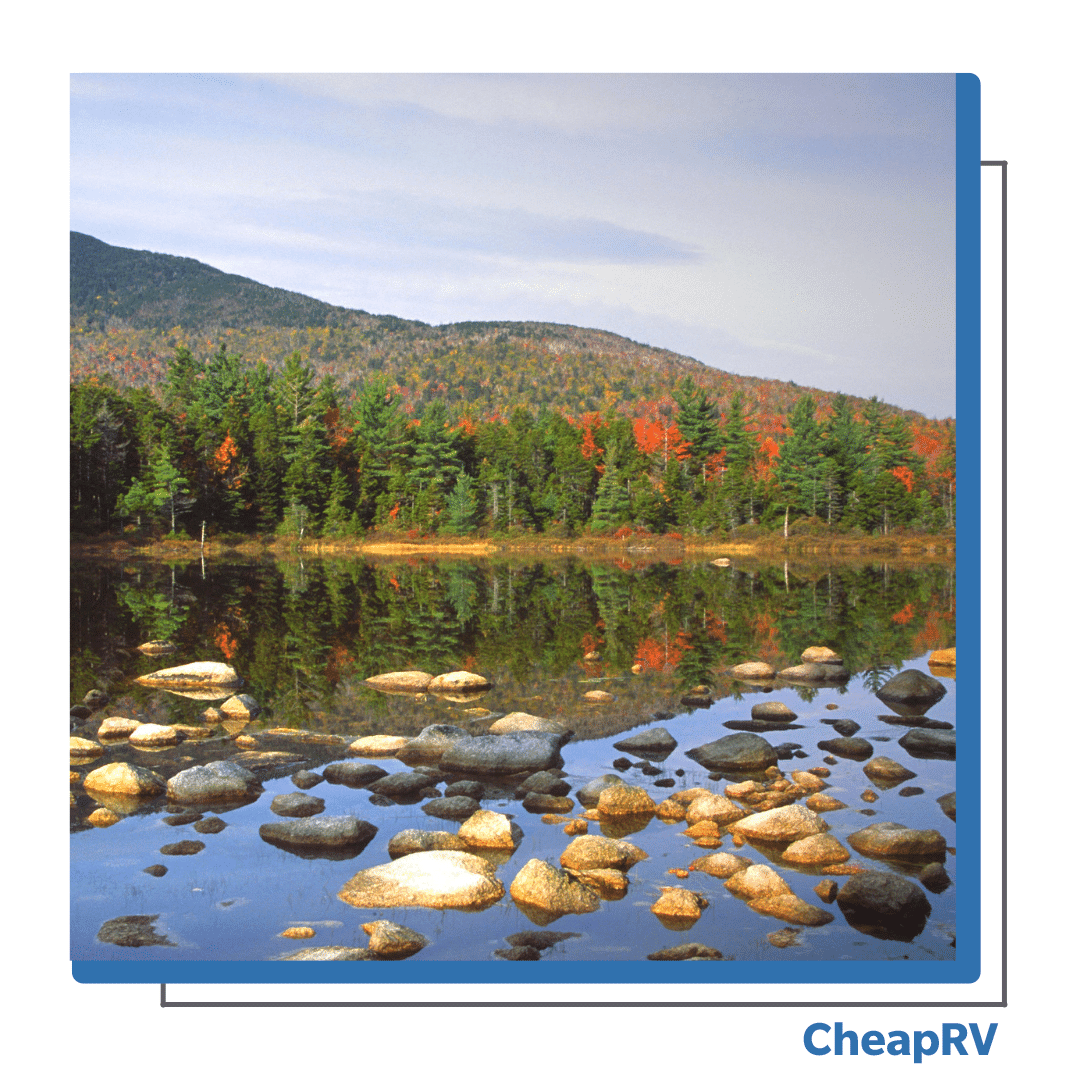 Pawtuckaway State Park
It is strategically located between two famous seacoast cities, Manchester and Concord. However, despite becoming a huge contributor to its popularity, RV Park has more to offer. For instance, it has almost 200 campsites to take your camping to a new level. 
For outdoor RV activities, one can choose to enjoy viewing the beach. You can also swim and since renting water vessels is possible, other activities include kayaking, canoeing, and boating. 
Equally important, take advantage of the hiking trails and explore some notable features in New Hampshire. Some include the beaver marshes and the fire tower on top of the mountain. There is also the Boulder field characterized by glacial erratically that glacial ice dropped as it melted towards the end of the ice age ended. The campsites have hot showers, electricity, a camp store, fire rings, and picnic tables. 
Hampton Beach State Park
This is the safest place for water activities since the National Resources Defense Council approves its quality. Campers engage in boating, canoeing, kayaking, and fishing. Besides, visitors also enjoy various events, including live music performances. Amenities include grocery stores, restaurants, camp stores, water, and bathrooms.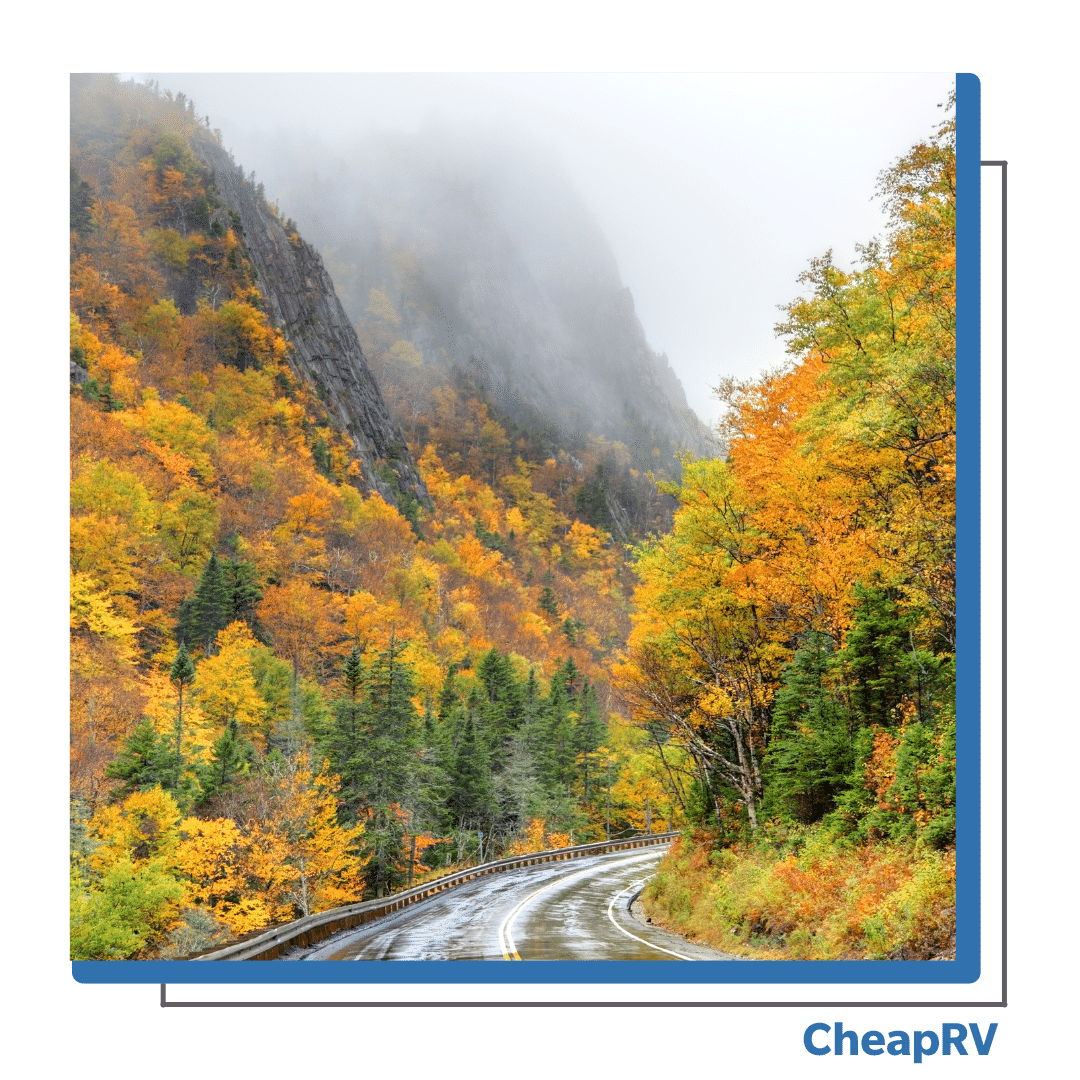 Unique Things to do in New Hampshire 
It would be get lost in the woods of the Mountain Lake campground surrounding the beautiful Lake. It would be best if you also went and saw moose and black bears in the White Mountain National Forest. Remember Mt. Washington, which is the highest peak around. Did you know that the White Mountains are a part of the Appalachian Trail? What about seeing it live upon visiting New Hampshire?
Look at the valley that runs around 8 miles between the Franconia and the Kinsman Mountain ranges. It touches a few places, including the New England Ski Museum, the Cannon Mountain Aerial Tramway, and the Flume Gorge. It is also great for bird watching, especially falcons and hawks.
Enjoy the waterfalls, cycling trails, fishing at Profile Lake, and swimming at the Echo Lake beach along the valley.