Visit Vermont
Known as the "Green Mountain State", Vermont is a small state, but it has a lot to offer in terms of nature, history, and popular tourist attractions.
If you're an outdoor enthusiast, Vermont has plenty to offer. The state is known for its hiking trails, and the Long Trail is one of the most popular ones. It's a 273-mile trail that runs the length of Vermont, from the border with Massachusetts to the Canadian border. For water activities, Lake Champlain is a great spot for fishing, kayaking, and boating.
For a more secluded getaway, visit the Green Mountains. The mountains are known for their beautiful scenery and offer plenty of opportunities for hiking, camping, and skiing.
One of the must-see attractions is the Ben & Jerry's Factory in Waterbury. You can take a tour of the factory and sample their famous ice cream. Another must-see is the Shelburne Museum in Shelburne, which has a vast collection of art and artifacts from around the world.
Vermont experiences four distinct seasons. The weather usually depends on the time of the year. The summers are warm and humid, while the winters can be cold and snowy. The best time to visit Vermont is autumn when the leaves turn red, orange, and yellow.
Vermont National Parks
Appalachian National Scenic Trail: In the state of Vermont, the Appalachian National Scenic Trail lasts for 150 miles. The trail follows part of Long Trail and the ridges of the Green Mountains.  The trail summits Stratton Mountain, Glastenbury Mountain, and Killington Peak. Visitors can enjoy hiking, wildlife viewing, and scenic views.
Marsh-Billings-Rockefeller National Historical Park: This unique national park is located in Woodstock and it's the only national park in the country dedicated to the conservation history of the United States. It was named after three families that played significant roles in the conservation movement in America: George Perkins Marsh, Frederick Billings, and Laurance and Mary Rockefeller. The park consists of 550 acres of forests, meadows, and historic buildings. Visitors can enjoy educational programs and activities such as guided tours, nature walks, and workshops on topics like tree identification and forest ecology.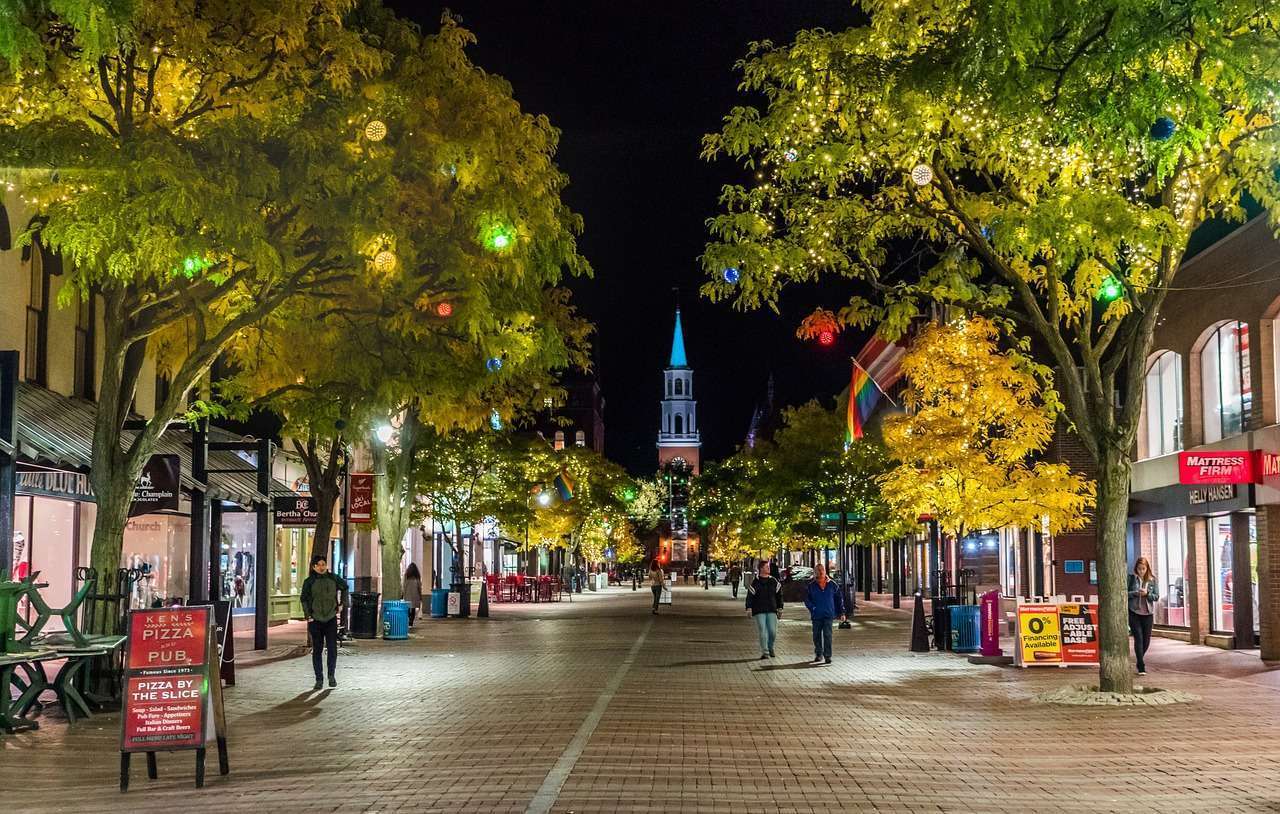 Vermont State Parks
Smugglers' Notch State Park: Located in northern Vermont, Smugglers' Notch State Park is a popular destination for hiking and rock climbing, cave exploring, and biking. The park got its name when people continued on with illegal trade with Canada through this area. The most popular hiking routes are the Hell Brook Trail, Sterling Pond Trail, and Long Trail.
Mount Philo State Park: Located just outside of Burlington, Mount Philo State Park offers panoramic views of Lake Champlain and the Adirondack Mountains. The peak, Mt. Philo, is 968 feet high. Visitors can enjoy hiking, camping, and picnicking, especially during the summer, when there are the most visitors.
Emerald Lake State Park: Located in southern Vermont, Emerald Lake State Park is one of the most popular destinations for swimming, fishing, and camping, especially in the summer. The Emerald Lake offers a lot of water activities, but the surrounding area also offers great hikes and picnic spots. Visitors can also enjoy amazing views of the surrounding Green Mountains.
Half Moon Pond State Park: Located in Hubbardton, Half Moon Pond State Park is known for its picturesque pond, beautiful hiking trails, and peaceful camping facilities. The pond is a popular destination for swimming, fishing, and boating. Visitors can rent rowboats, canoes, and kayaks or enjoy the nearby trails that lead to the pond and to Bomoseen State Park. 
Vermont Campgrounds
Sugar Ridge RV Village & Campground: Located on 68 acres of beautiful forested lands, this campground offers many exciting activities, like swimming laps in the pool, enjoying scenic views from atop a wagon pulled by horses, bonding with your family at the arcade or exploring the hiking trails. The campground also offers its guests many amenities, horse-drawn wagon rides among them.
Brewster River Campground: Located in mountains, this campground offers its guests beautiful secluded nature, amazing starry views, and breathtaking views of the waterfall. You'll find plenty of outdoor opportunities in numerous hiking trails, fishing spots, horseback riding, and kayak and canoe outings.
Tree Farm Campground: This family-owned campground offers its visitors a feeling of seclusion between tall white pines and various wildlife occupying the area. The guests can enjoy in many amenities, such as free Wi-Fi, cable TV, hot showers, trash, and recycling pickup. The owners also provide board games, crafts and arts, hiking trails, a dog park, and a library. 
Moose River Campground: Located in the hills of East Haven, the campground offers easy access to the White Mountains. Guests can enjoy in spacious, shaded campsites with full hookups, wireless internet, hot showers, and laundry facilities. Those who love outdoor activities can hike, camp, or swim in the many areas of White Mountain National Forest.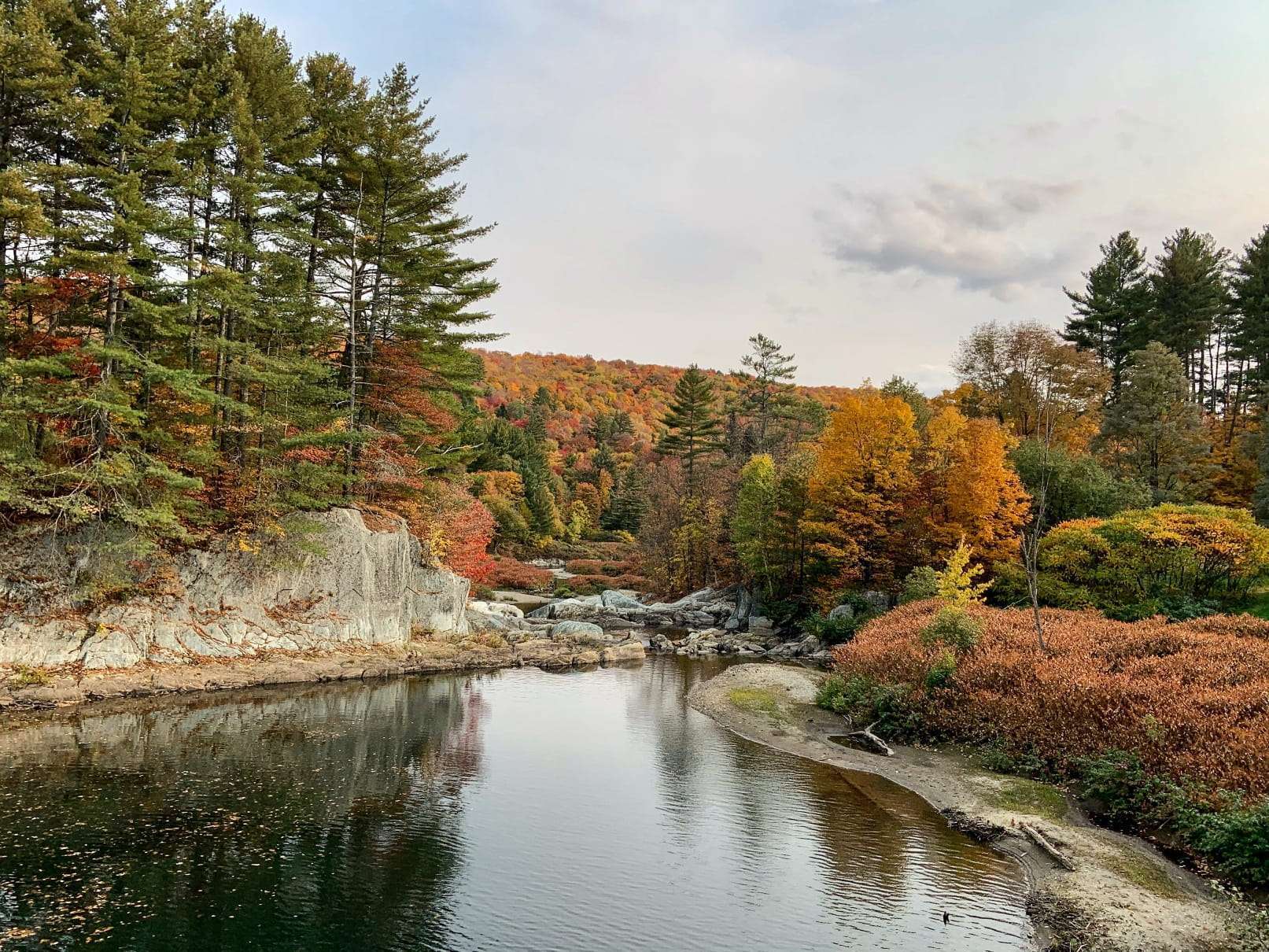 Things to do while you're in your RV Rental in Vermont
Vermont offers many great experiences and attractions for RV travelers. During your RV vacation, don't forget to visit some of them.
Popular destinations in Vermont
Stowe: Located at the foot of Mt. Mansfield, this popular ski resort town is surrounded by picturesque mountains and is a hub for outdoor recreation, dining, and shopping. The town that most personifies the glory days of Vermont's early ski industry also offers its visitors bicycles for rent, a Recreation path for walking through meadows and woods, boutiques, art galleries, and many other things.
Burlington: Vermont's largest city is located on the shores of Lake Champlain and offers a vibrant arts scene, outdoor activities, and a lively downtown area. Its most visited attractions are Church Street Marketplace in the heart of Burlington, Burlington Bike Path that spans across eight miles of Burlington Lake's shoreline, and Waterfront Park, a site for picnics and various festivals throughout the year.
Woodstock: This historic town is known for its charm, featuring well-preserved 19th-century architecture, including the historic Woodstock Inn and the Woodstock Town Hall Theatre. Popular tourist attractions include the town's covered bridges. For those who love outdoor activities, the town offers several hiking trails, including the Mount Tom Trail, which offers panoramic views of the surrounding countryside. The nearby Ottauquechee River also offers opportunities for fishing, kayaking, and swimming.
Montpelier: The capital city of Vermont, Montpelier is located in the heart of the Green Mountains and is known for its historic architecture, cultural events, and outdoor activities. One of the most recognizable buildings in Montpelier is the Vermont State House, which is open to public tours. The city has a vibrant arts scene, featuring several annual festivals and events. As far as outdoor activities are concerned, the North Branch River Park offers hiking trails, fishing spots, and picnic areas, while Hubbard Park, located in the heart of the city, features hiking trails and panoramic views of the surrounding countryside.
Top Attractions and Activities in Vermont
Lake Champlain: Extending 120 miles, Lake Champlain draws visitors for its recreation, wildlife, and historical attractions. It's one of the best places to visit in Vermont for canoeing, kayaking, and sailing. There are approximately 318 species of birds and 81 species of fish in Lake Champlain.
Ben & Jerry's Factory: Most popular tourist attraction for children is Ben & Jerry's Factory in Waterbury. On the 30-minute guided tour of the factory, visitors can see how the ice cream is made and sample some of the company's famous flavors. 
Shelburne Museum: Located in Shelburne, the museum features a collection of American art and artifacts displayed in a historic village setting. This open-air museum reflects Vermont's rich history and America's folk and fine art traditions.
Quechee Gorge: Located in central Vermont, this natural wonder was formed over thousands of years by the Ottauquechee River, which carved a deep, narrow gorge through the bedrock. Quechee Gorge is approximately 165 feet deep and stretches over 1,000 feet long. The observation deck offers stunning views of the gorge and surrounding forests, making it a popular spot for photography and sightseeing.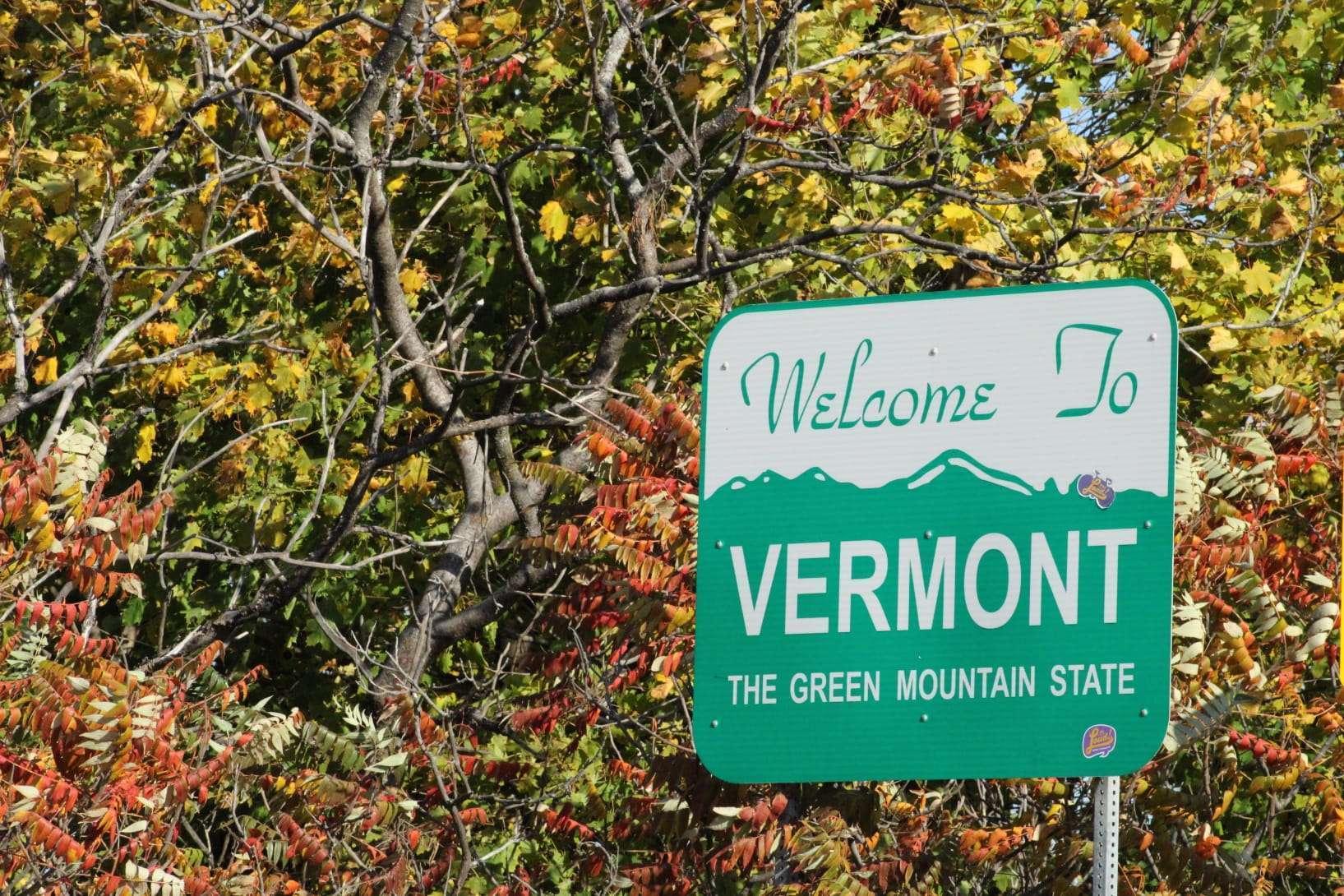 RV Dump Stations in Vermont
North Beach Campground: Located on the shores of Lake Champlain, this campground offers a dump station for registered guests only. Guests can also use potable water for free.
Brighton State Park: Located on the shores of beautiful Spectacle Pond, the park offers free usage of dump facility for its registered guests. 
Lake Champagne Campground: This full-service RV park and campground offer free usage of the dump station for its registered guests. Guests can also stock up on supplies at the general store.
Fort Drummer State Park: The dump facility is free for registered guests. The site also offers a laundromat. Guests can enjoy in numerous outdoor activities, such as swimming and mini golf.
Storage RV Rentals
Attic Storage: Located north of Burlington, this facility offers some of the most flexible options in town regarding outdoor and covered RV storage. With an advanced security system and great lighting, you don't need to worry about your vehicle when you're out exploring. 
Killington Road Storage: Ideal for smaller motorhomes, the facility offers outdoor RV parking for 20 feet long vehicles. The site offers 24/7 access to your RV and you can pay online.
County Tire Center: Located south of Burlington, the facility offers RV storage, but also tires and general repair services. It has enough space even for the biggest motorhomes. 
Pioneer Public Storage: Located southeast of Burlington, the facility offers outdoor and indoor RV storage. Users have 24/7 access to their RV and the security is tight.
Conclusion
Discovering Vermont in an RV is an unforgettable experience that allows you to explore the beauty and charm of this wonderful state at your own pace. From the stunning fall foliage and scenic byways to the quaint towns and charming villages, Vermont offers a wealth of natural and cultural treasures that are best enjoyed in an RV. Whether you're a nature lover, a history buff, or a foodie, there's something for everyone in Vermont.