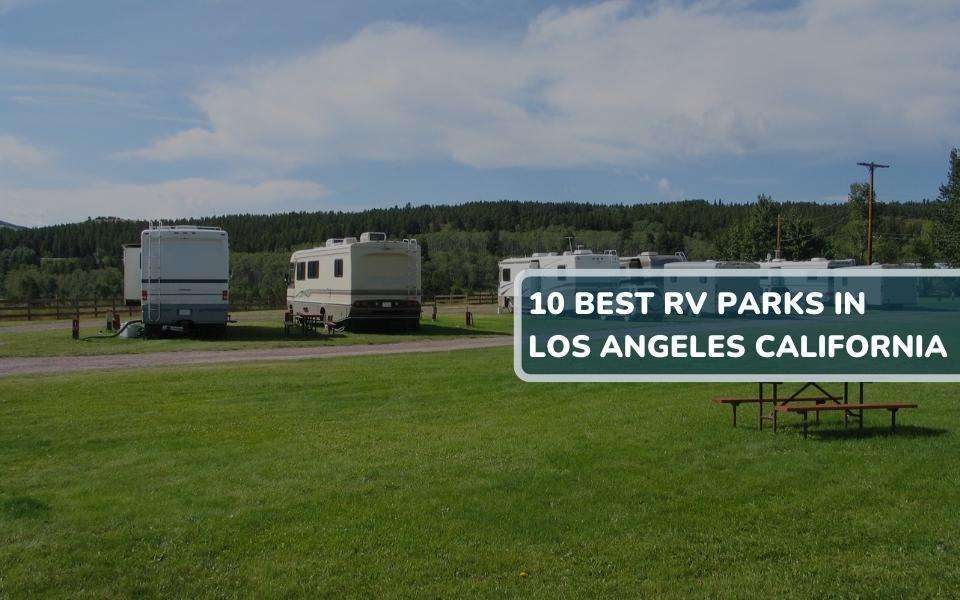 10 Best RV Parks in Los Angeles California You Can Visit in Summer
California is one of the best travel destinations and the most famous city in the US, and it is called the "City of Angels". The RVer's favorite camping destination is the RV parks in Los Angeles California. This city is famous for the Santa Monica Mountains and its long attractive beaches. If you have an RV, you can enjoy Hollywood and other popular destinations in the city easily by parking your RV long-term.
Beautiful sceneries and other exciting attractions are full in City of Angels. You can enjoy the city life beauty here, explore the city's surrounding mountains, roam around the city, and can RVing near the beaches. However, now let's discuss the best 10 Los Angeles RV parks and their details:
Best RV Parks In Los Angeles California
The ten best RV parks in LA which offer the RVers the best camping experience with the available amenities are:
Hollywood RV Park

Fairplex RV park

Dockweiler RV Park

Walnut RV Park

Anaheim RV Park

Malibu Beach RV Park

Golden Shore RV Resort

Orangeland RV Park

Rosewood Mobile Home & RV Park

Soledad Canyon RV And Camping Resort
1. Hollywood RV Park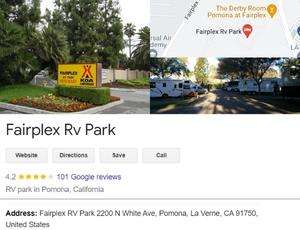 Hollywood RV Park is a popular sightseeing destination, and this is undoubtedly a perfect option for exploring the California city. Since 1976 this Hollywood RV park has been possessed and functioned by the Family. This park offers plenty of things to the RVers, including artwork and outdoor murals. Moreover, the park has its "Holly Wood Playhouse".
In the Hollywood Playhouse, you can catch comedy shows and live music, and it's perfect for enjoying the night at the campsite. Wi-Fi, different park amenities, a gym, and other total hookup spaces are available in this park. If you visit and stay in the Hollywood RV Park, you will definitely enjoy fantastic camping here.
2. Fairplex RV Park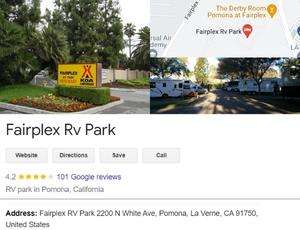 If you want to hit LA's hot spots and want to escape from the city congestion, then this place is for you. At Fairplex RV Park, you will surely enjoy your perfect vacation. From the LA downtown, this park's distance is only 30 minutes. The location of this RV Park is ideal for anyone as it is just next to the Fairplex. If you want to enjoy and explore the city's attractive places and beauty, staying in this park is the best option.
Enjoy the San Gabriel Mountains view and beautiful grounds from your recreational vehicle. Also, to protect yourself from the sun, you can take a cabin or tent in this RV campground Los Angeles. All types of conveniences are obtainable here, including the large heated pool, surfing, free Wi-Fi, etc. This RV Park is clean, quiet, conveniently located, and very shady also.
3. Dockweiler RV Park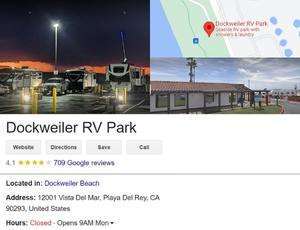 Directly near the beach, you will find this park. Straight from Catalina Island to Malibu, you will enjoy this park's panoramic view in your RV. Or you can take a rest on the beach or can enjoy tanning, volleyball, surfing, and swimming in this park. Each RV campsite has a full hookup or set-up, including the picnic table and other essential accessories.
This park is undoubtedly the best place for an Oceanside dinner or barbeque party. However, this site also offers you a laundromat and hot showers for your convenience.
4. Walnut RV Park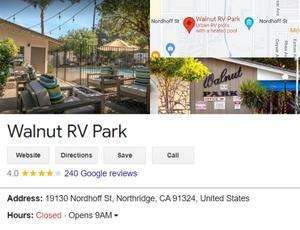 This is one of California's prime RV sites, and it is located near Los Angeles. This RV park Los Angeles is another convenient option for RVers. And this park offers easy access to different nearby attractive places. This RV Park is the best option for your upcoming adventure or RV trip. Especially if you want to explore Los Angeles, you should stay at this park.
This is a significant venture because it is located in the middle of California. To give the RVers a unique experience, this park used old-school memorabilia for decorating it. This RV Park not only offers an excellent panoramic view and great location, but also it offers the RVers full hookup. Clubhouse, restrooms, and heated pool facilities are available in this park. Arriving at this park is easy, and this place is immaculate. So you can enjoy your RVing here.
5. Anaheim RV Park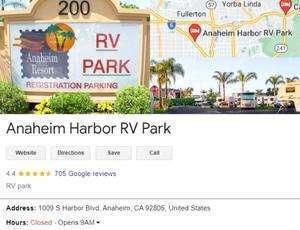 In Mickey's backyard, you can camp in this Anaheim RV park. This park is the best option for Disneyland goers and is right next to Anaheim. And the RVers can easily access this park.
This camping site provides RVers impeccable and excellent customer service. On your next RV trip to Anaheim, you can enjoy the shuttle to Disneyland, daily continental breakfast, and heated pool.
If you once visit this park, this will become your "Go-To" RV park whenever you are doing anything in Anaheim. People here are friendly and pleasant, and this park is very clean.
6. Malibu Beach RV Park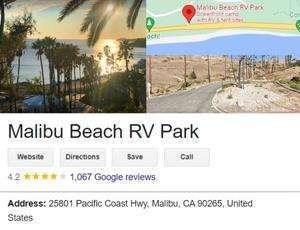 If you are planning your next RV trip to Southern California, then one of the perfect choices is this Malibu Beach RV Park. This park remains open all year round, and you can easily access other famous sightseeing beauties and attractions from this park. However, this Malibu Beach RV Park is also an excellent place for RVers as it offers mixed active sports to its visitors.
Every site of this park offers a heavenly mountainside or oceanfront view. So irrespective of wherever you park your RV, you will enjoy the beautiful scenery from this park. This camping site is surely a good option if you are wanting to explore the beach cities. This park is situated on the Pacific Coast highway.
Moreover, the laundry service, convenience store, Wi-Fi access, horseshoe pit, and other amenities are available at this park. For staying in California, this park is best. This park is immaculate, and its restrooms and showers are modern also.
7. Golden Shore RV Resort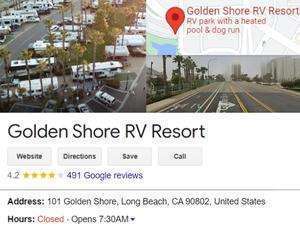 While staying at this Golden Shore RV resort Los Angeles, you can explore different parts and the long beach. Near various popular attractions, this park is located. Some of the popular magnetisms near this campsite are the Aquarium of the Pacific, big city and the Queen Mary.
This RV Park is located on the water and offers beautiful and attractive sightseeing. Different facilities are available here, including the showers and restrooms, a heated pool, a rec room, laundry service, and the site convenience store.
According to most RVers, this park is lovely and enjoyable and offers beautiful attractions. Tons of LB attractions and many restaurants are also accessible within a few hiking distances.
8. OrangeLand RV Park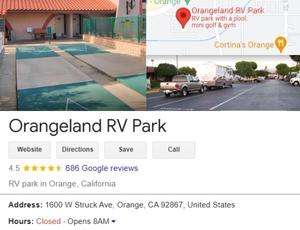 By staying in this RV Park, you can enjoy Anaheim's all nearby attractions. For getting easy access to Angel Stadium and Disneyland, this park offers easy access. You can freely roam around this park and pick any oranges from the park's trees.
This park offers guests numerous amenities, including free Wi-Fi hookups, a heated pool, and free cable TV. Whenever you decide to visit California, you can visit this park to enjoy Anaheim's perfect location and beauty.
9. Rosewood Mobile Home & RV Park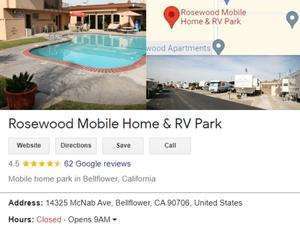 This Rosewood Mobile Home and RV Park are located between LA County and Orange County. For exploring Southern California, this central location is absolutely perfect. This Family owned park offers excellent service to its customers. From Disneyland, the distance of this park is only 20 minutes.
This park is an excellent option for traveling to Anaheim from Disneyland. This park offers numerous facilities and plenty of amenities to the RVers. You will get everything here, including the newly renovated pool, clubhouse, and laundry room. All the facilities are available here, which will make your stay pleasant.
10. Soledad Canyon RV And Camping Resort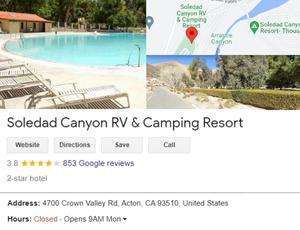 On San Gabriel Mountain's base, this campground is located. This campsite is very beautiful and staying at this park you can look out at Lower California. Cottonwood trees surround this campground, and these trees ensure blooming shade for the visitors. Before heading into California's big cities, you can stay and relax in this resort.
Different modern amenities and facilities are available in these cities. This park offers hiking trails, a swimming pool, mini-golf, basketball courts, and a banquet hall for the RVers and guests. You can surely visit this RV resort to get out of the big city's hustle and bustle. If you once visit this park, you will definitely love it. Especially for family activities, this park offers lots of fun.