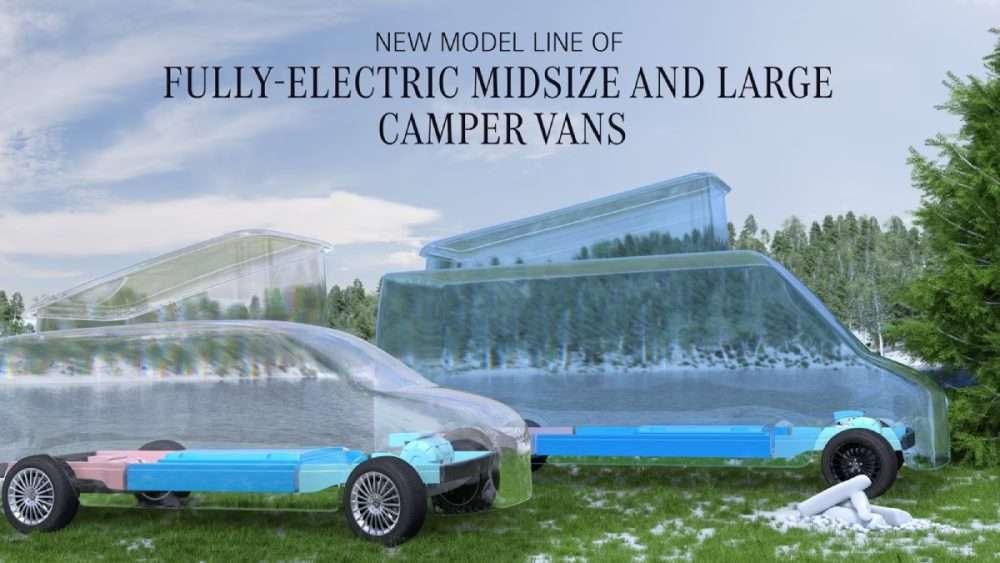 The #1 Electric Van For Glamping? — Mercedes Promises New Electric Camper Vans In Their Plans For The US Market
Mercedes-Benz's VAN.EA system could be the most innovative addition to the electric van industry that we've seen so far.
Over the past few decades, glamping has gradually gone from being the unserious secret of the RV industry to now being a popular and profitable endeavor. Industry veteran Mercedes is looking to thoroughly capitalize on this popularity — having recently revealed their new electric camper van plans for the near future.
Those of us that are familiar with the industry may already be aware of the prominence that Mercedes-Benz already has in the electric RV industry, having already sold over 40,000 electric vans globally.
The German automaker has launched fully electric vehicles in a wide variety of sectors (not just vans) — including small, midsize, and large electric vans in Europe and Asia, as well as the fully electric eSprinter in the North American market.
Sources in the automaker's van division have revealed that the department isn't slowing down and is aiming to have electric vans account for at least 20 percent of its sales by 2026. In addition to this, the department's ultimate goal by the end of the decade is to have more than 50 percent of its sales be attributed to electric vans by 2030.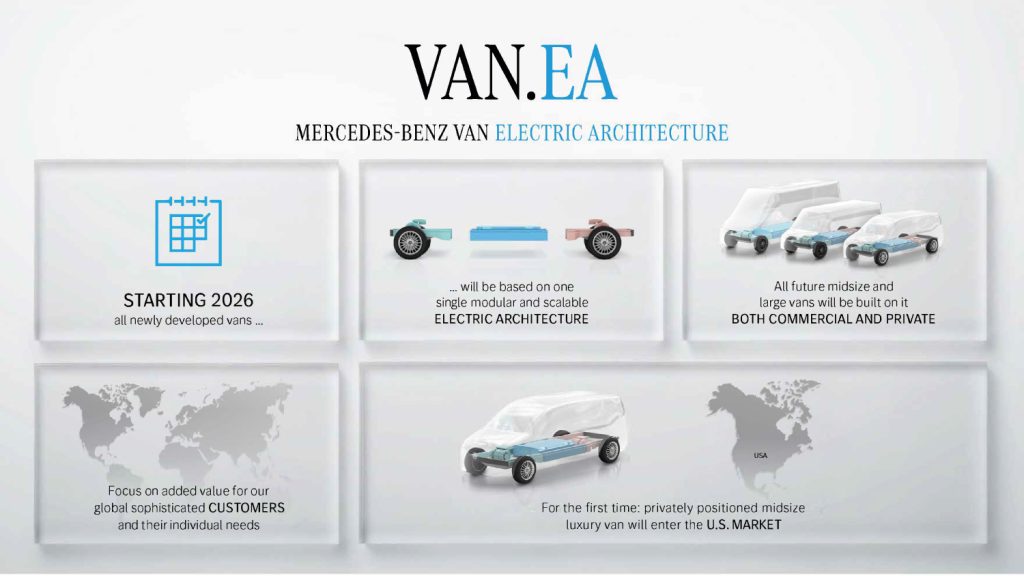 Fear not, the team at Mercedes-Benz Vans doesn't just hope to achieve this with dreams and wishes, the second part of their reveal was dedicated to the tools that they intend to use to kickstart their plans — their 'Vans Electric Architecture' (VAN.EA).
"As the leader of the premium van segment, it is our goal to offer our customers the most desirable vans and services. Today, we offer exceptional technology, outstanding reliability, and tailored solutions for customers across profitable markets and industries. And with VAN.EA, our new purpose-built electric architecture, we're setting the course to lead the light commercial vehicle industry in electric drive and digital experience."
—Mathias Geisen, Head of Mercedes-Benz Vans
Mercedes' Future Electric Van Plans: What Can We Expect To See From VAN.EA?
According to sources at Mercedes-Benz, the 'Vans Electric Architecture' will serve as the foundation for their expansion into the electric van industry for the foreseeable future (at the very least up until 2030).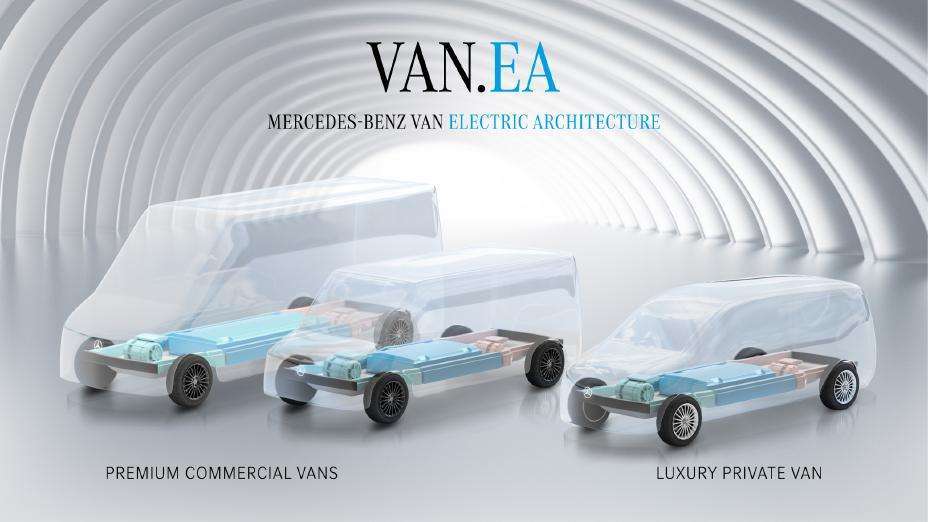 The VAN.EA is expected to shift a greater focus to efficiency and performance, while also reducing overall costs and improving range… which has always been one of the biggest hurdles for electric vans.
The automaker's new electric van architecture is said to highlight and optimize four critical (and fundamental) aspects of their electric vans — chassis, aerodynamics, tires, and drivetrain.
"Starting 2026, we will introduce our purpose-built EV architecture VAN.EA. This enables us to consolidate our midsize and large vans down to only one architecture and significantly reduce the complexity of our product portfolio. Maximum added value for customers with sustainable profitability at the same time: VAN.EA clearly underscores our aspiration to be 'Lead in Electric'."
—Mathias Geisen, Head of Mercedes-Benz Vans
The sustainability and streamlining that Geisen and his team have been mentioning is showcased primarily in the scalable nature of their 'Vans Electric Architecture'. As a whole, the VAN.EA system consists of three modules; the front module, the center module, and the rear module.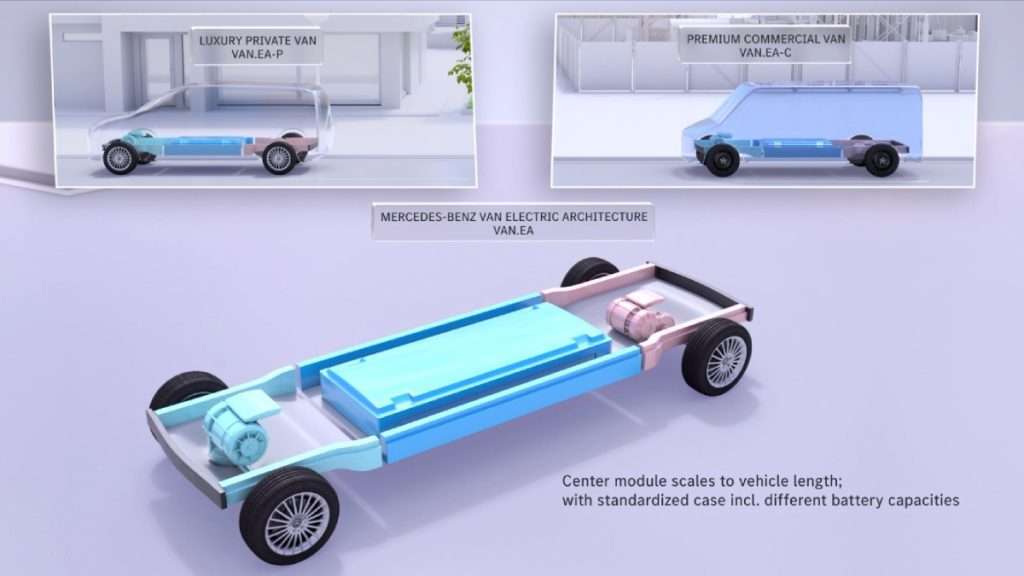 The front module — which consists of the electric powertrain and front axle — can be viewed as the stable foundation of the automaker's VAN.EA system, since it is designed to remain unchanged across all variants that are built on the architecture.
The center module — which will contain the standardized battery case — will be largely responsible for determining the length of the van.
The rear module will have two distinct options that will be based on if the van is an all-wheel-drive (AWD) variant or a front-wheel-drive (FWD) variant. Front-wheel-drive variants will have a rear module that does not contain an electric motor; however, all-wheel-drive variants will have an eclectic motor in the rear module.
Will It Be Worth It?
Today, Europe stands prominently as Mercedes-Benz Vans' strongest and most profitable market, with approximately 60% share of total sales worldwide. They have however made it clear that the department plans to "further profitable growth in its most important regions", starting with the North American market.
With how popular electric vans have become in the United States — both for purchase and for rental — this course of action from the German automaker definitely seems like a no-brainer.
Nevertheless, only time will tell if their upcoming VAN.EA system will prove to be a successful endeavor.