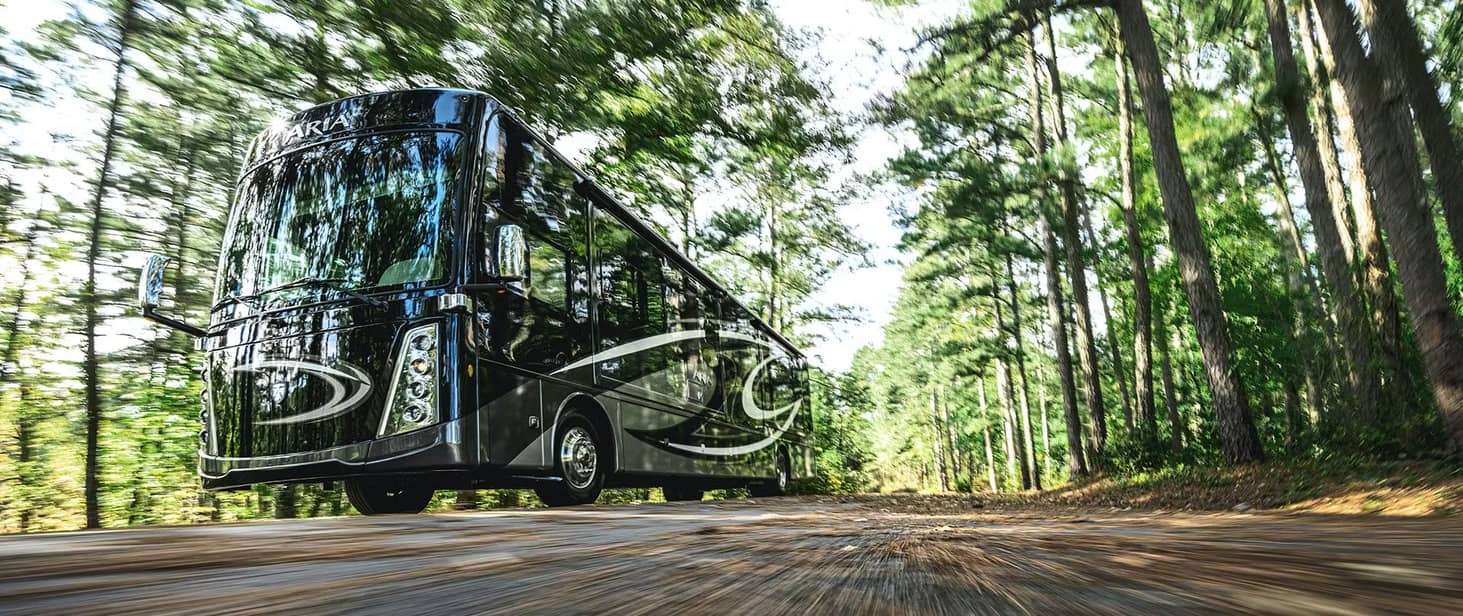 Thor Motor Coach Reveals Class A RV Upgrades With Its 2024 Lineup
Fans of Class A RVs will definitely have their pick of the litter with Thor Motor Coach's brand new lineup of motorhome upgrades.
Thor Motor Coach — Indiana-based RV manufacturer and industry leader — recently revealed their 2024 upgrades to their Class A RV brands. 
As a pioneering force in the RV industry, Thor Motor Coach has consistently been redefining the way we explore, providing enthusiasts with an array of top-tier motorhomes that embody innovation, quality, and comfort. Through its extensive lineup of Class A, Class B, and Class C motorhomes, the company has managed to cater to a diverse range of lifestyles and travel preferences.
From state-of-the-art design elements to a wide array of luxurious features, Thor Motor Coach promises that its new changes to its Class A motorhomes will "take your travel experience to new heights."
Are these promises just the company's PR team hard at work, or has Thor Motor Coach managed to live up to their status as an industry leader when it comes to Class A RVs? That seems to be the question that's on everyone's mind right now.
Here Are The Class A RVs That Thor Motor Coach Has Upgraded
Thankfully, due to their recent press release, we have been given access to a complete breakdown of what we can expect from Thor Motor Coach's 2024 offerings.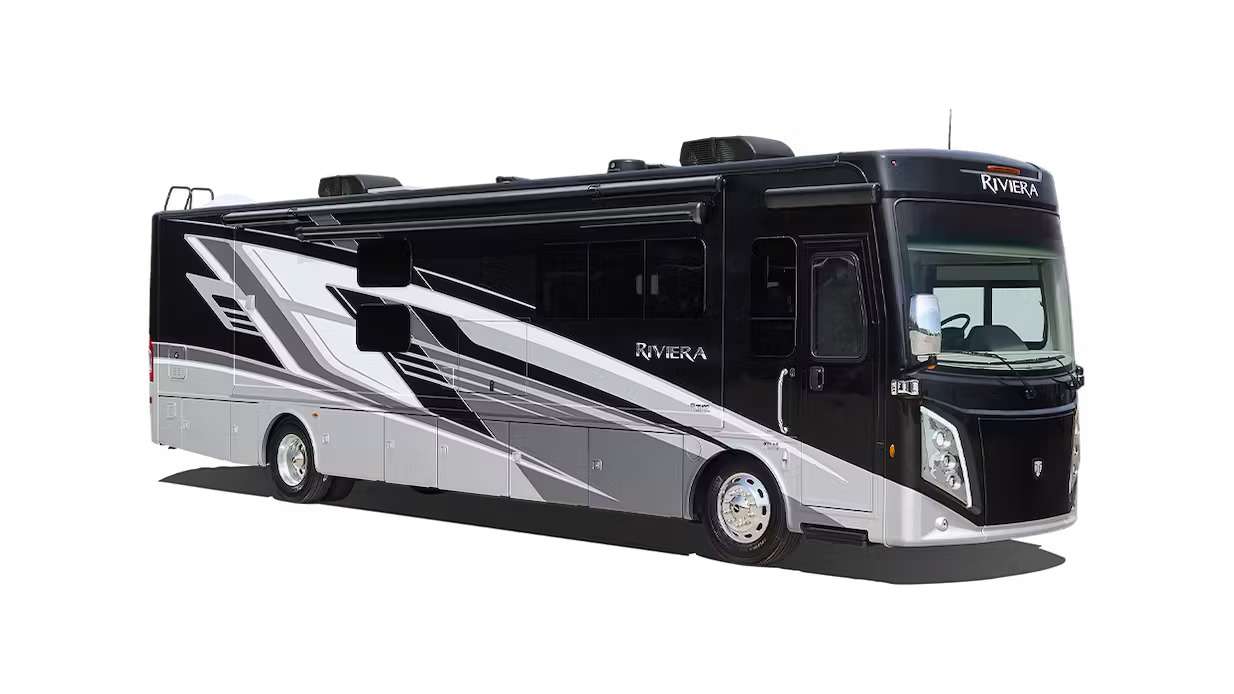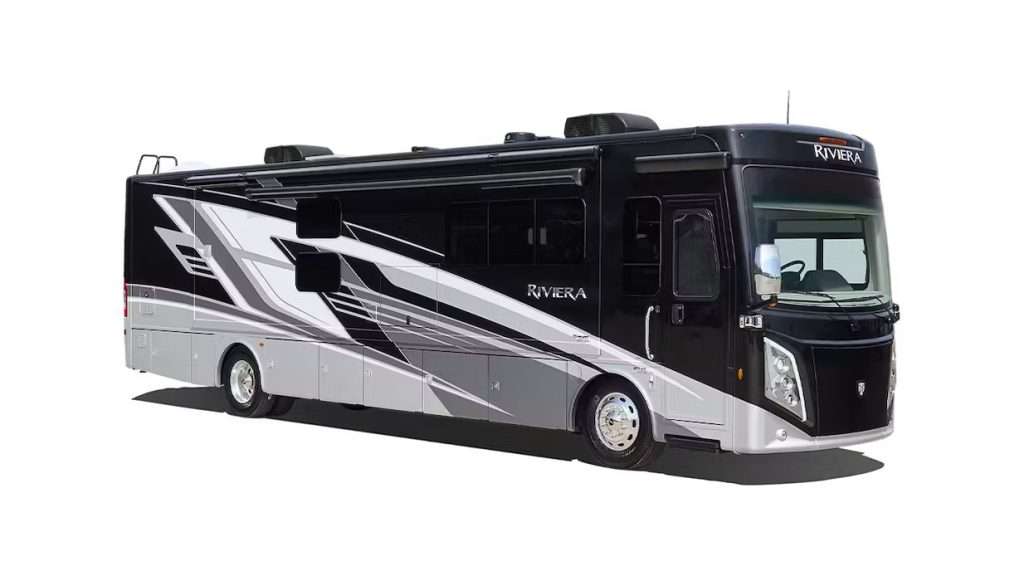 Riviera
This impressive diesel pusher now features the addition of blind spot detection, enhancing safety on the road. Experience unrivaled comfort with the incorporation of an electric power cord reel, a Project 2000 cockpit bunk, a practical stacking washer/dryer, and the inclusion of sleek soft-closing drawer guides throughout, adding a touch of elegance to your journey.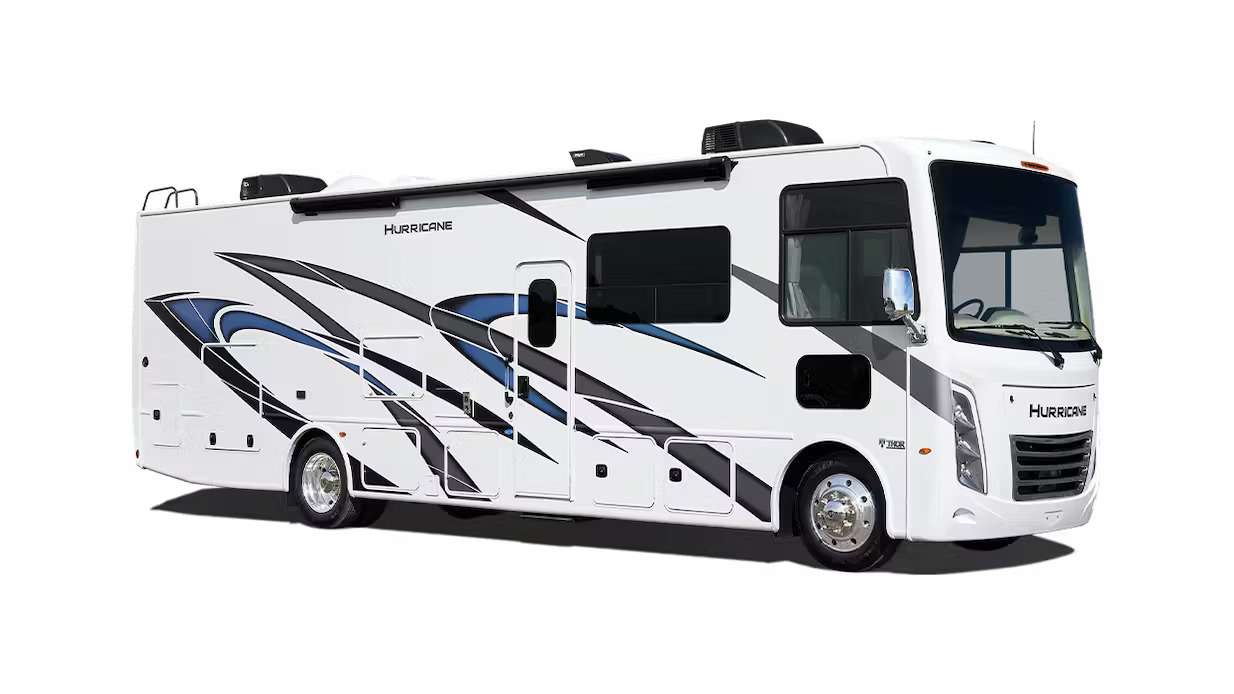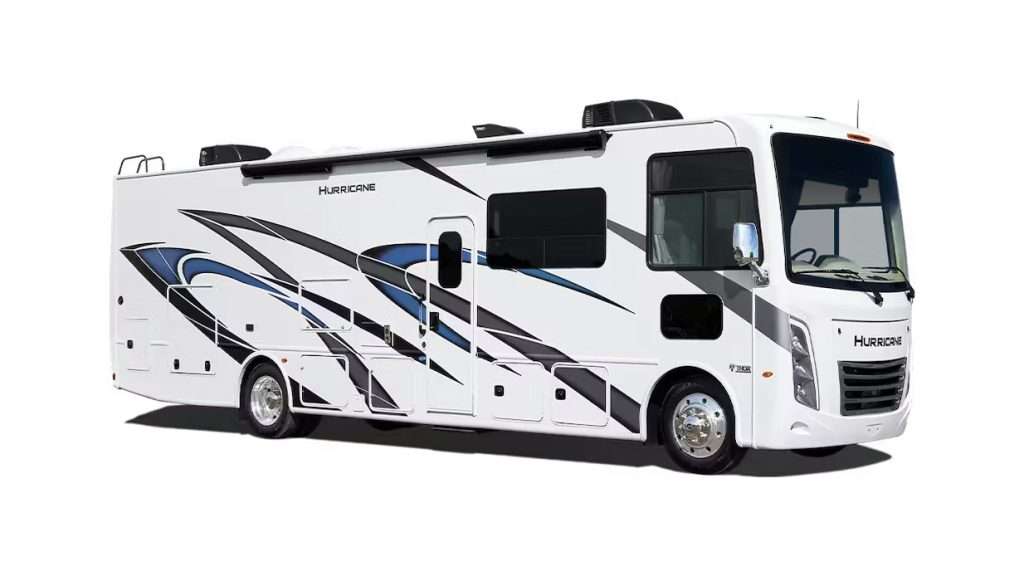 Hurricane And Windsport
According to Thor Motor Coach, these models are designed to ignite a sense of exploration like never before. As a result, they are equipped with exceptional features, including a remarkable 100-watt solar panel and a Euro-style loft bunk, allowing you to reach new heights during your journeys. Interested buyers are able to select from two captivating HD-MAX graphics and partial paints and elevate the interior with a range of exciting new decor options exclusively available in the Windsport model.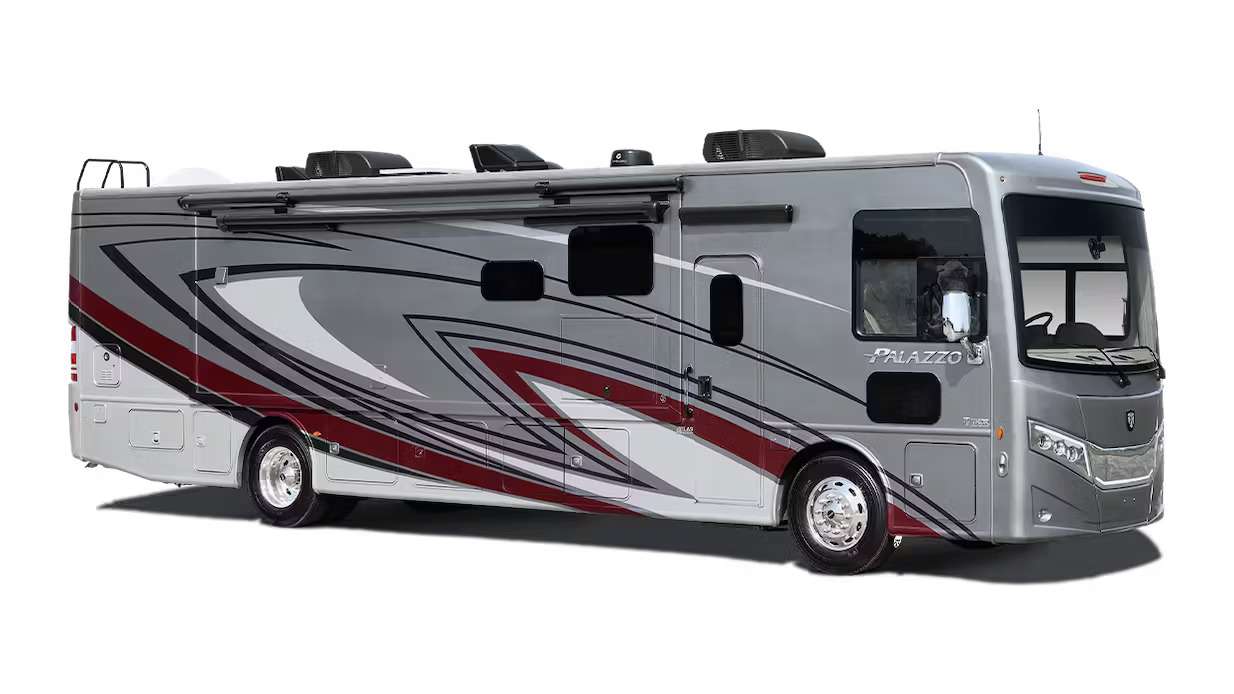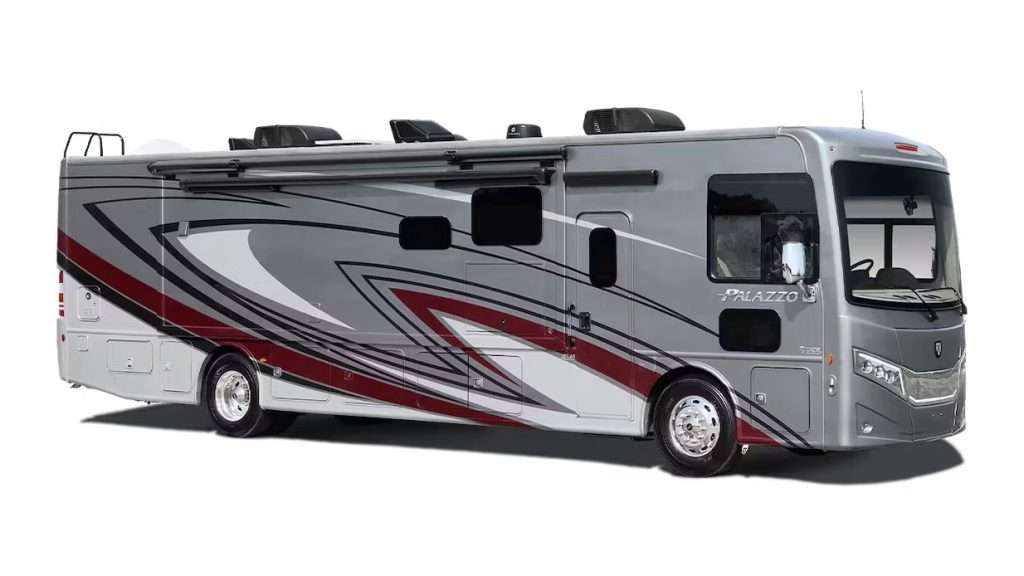 Palazzo And Miramar
The Palazzo includes the innovative Project 2000 cockpit bunk mechanism, which ensures versatility and convenience. RVers will also be able to enjoy both the whisper-quiet ducted return A/C system and entertainment on SMART TVs in the living area. The Palazzo also showcases stunning new furniture styling, adding an extra touch of elegance to your interior.
Meanwhile, the Miramar captivates with three dazzling new full-body paints, allowing you to make a stylish statement on the road. Both models prioritize safety with blind spot detection, providing reassurance and peace of mind as you navigate the highways.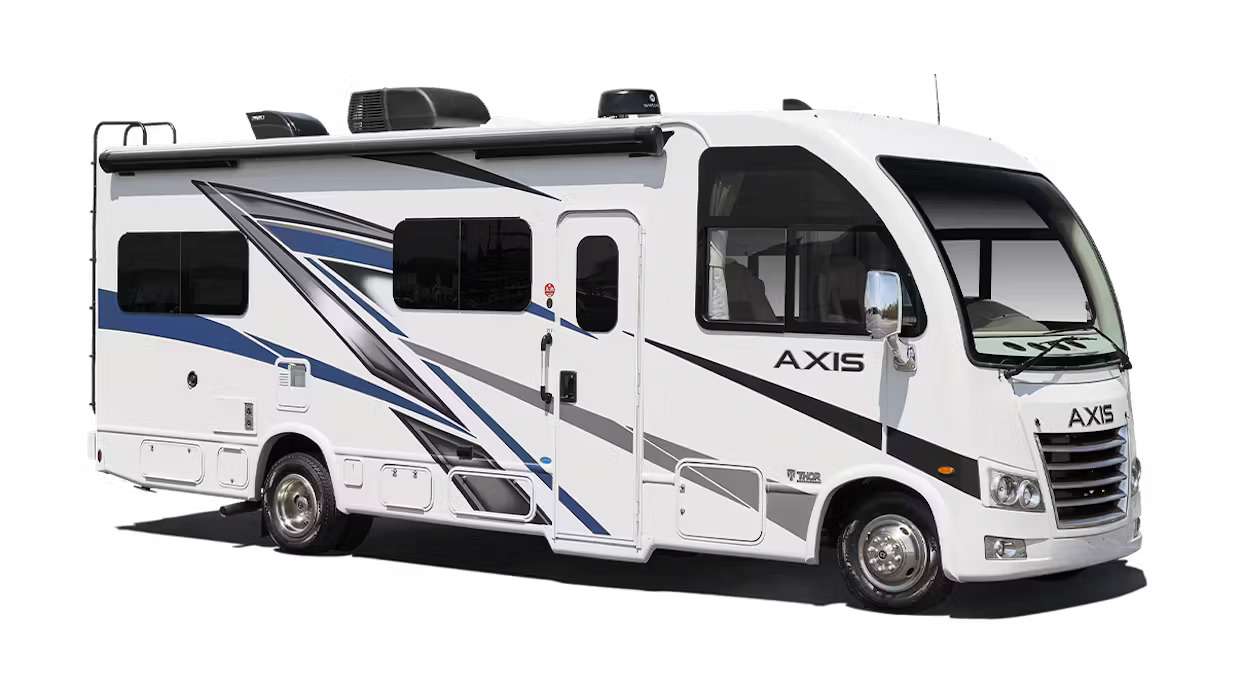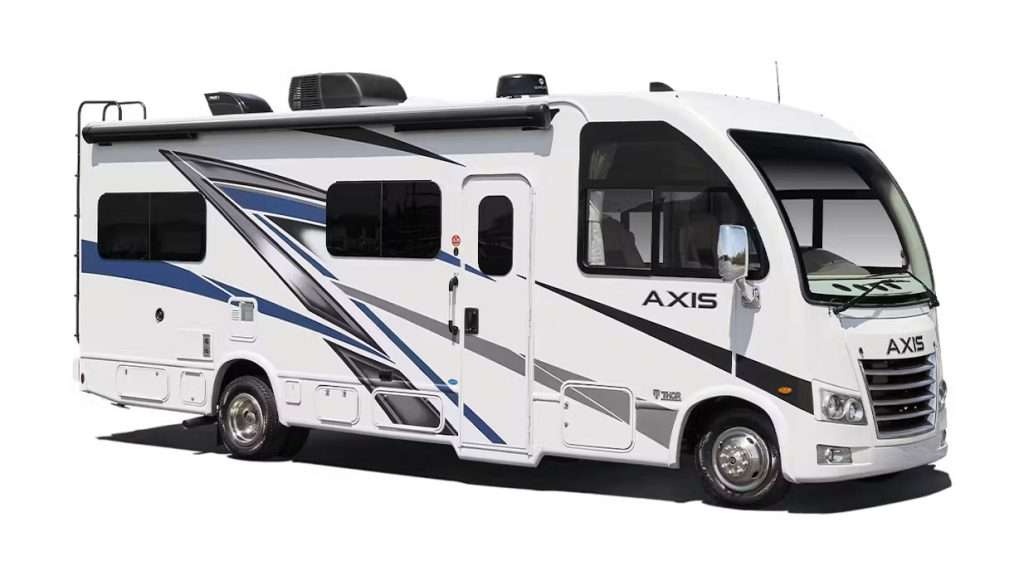 Axis And Vegas
Both the 2024 Axis and Vegas motorhomes offer a new 25.7-floor plan to accommodate more sleeping arrangements for passengers. These distinctive models showcase new countertops, luxurious carpets, and an elegant gray décor option named London Fog — which is perfectly complemented by Coastline Gray cabinetry. For added convenience, both models now come with standard holding tank heat pads and an impressive 100-watt solar panel.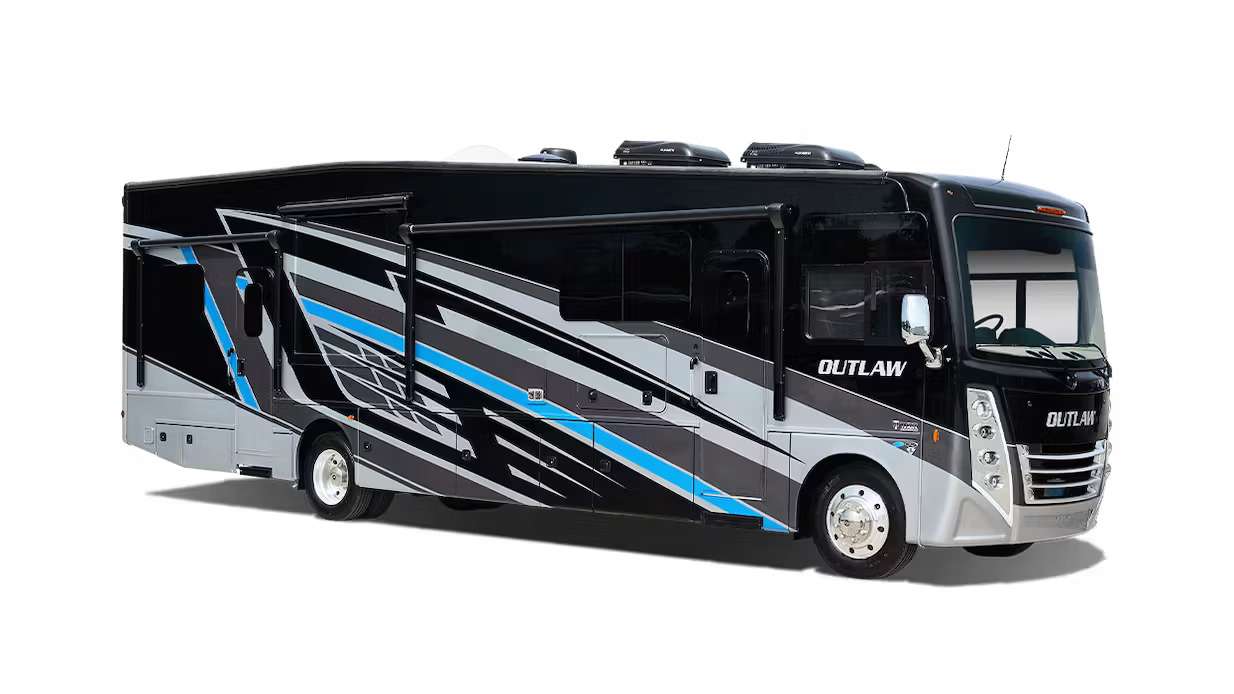 Challenger And Outlaw
The Challenger and the Outlaw are Class A toy haulers that now feature a Project 2000 cockpit bunk for versatility and comfort.
In addition to this, both upgraded models have state-of-the-art blind spot protection to ensure your safety on the road.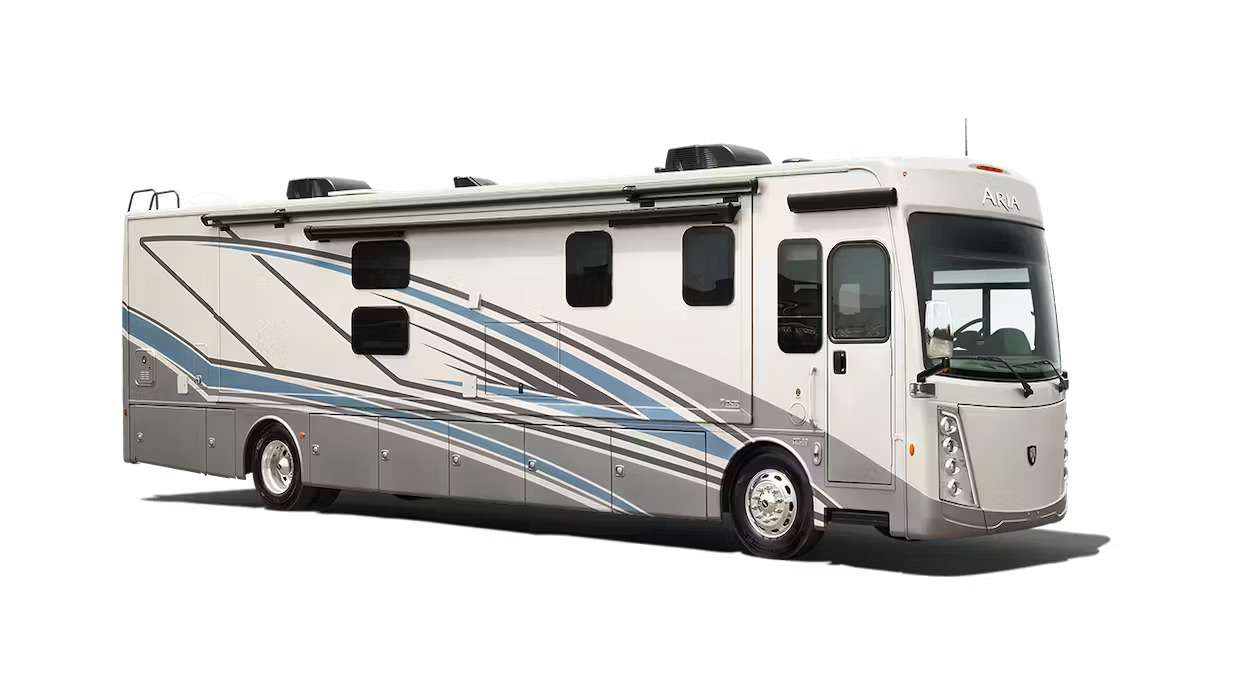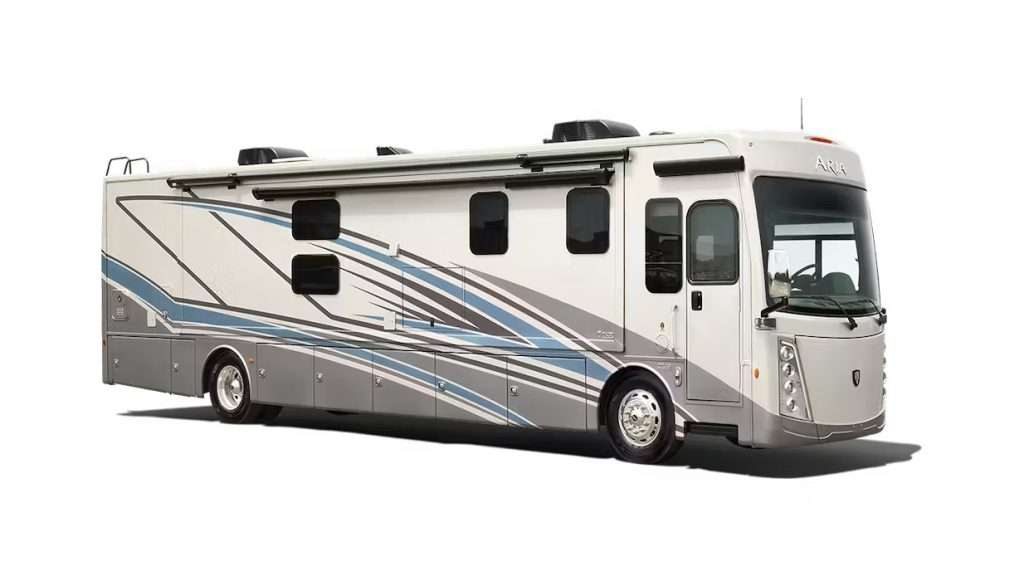 Aria
The Aria diesel pusher now features a wide array of new amenities, including captivating countertop colors, customizable cabinetry options, SMART TVs in the living area, and new furniture styling.
For additional safety on the road, the Aria also features state-of-the-art blind spot protection.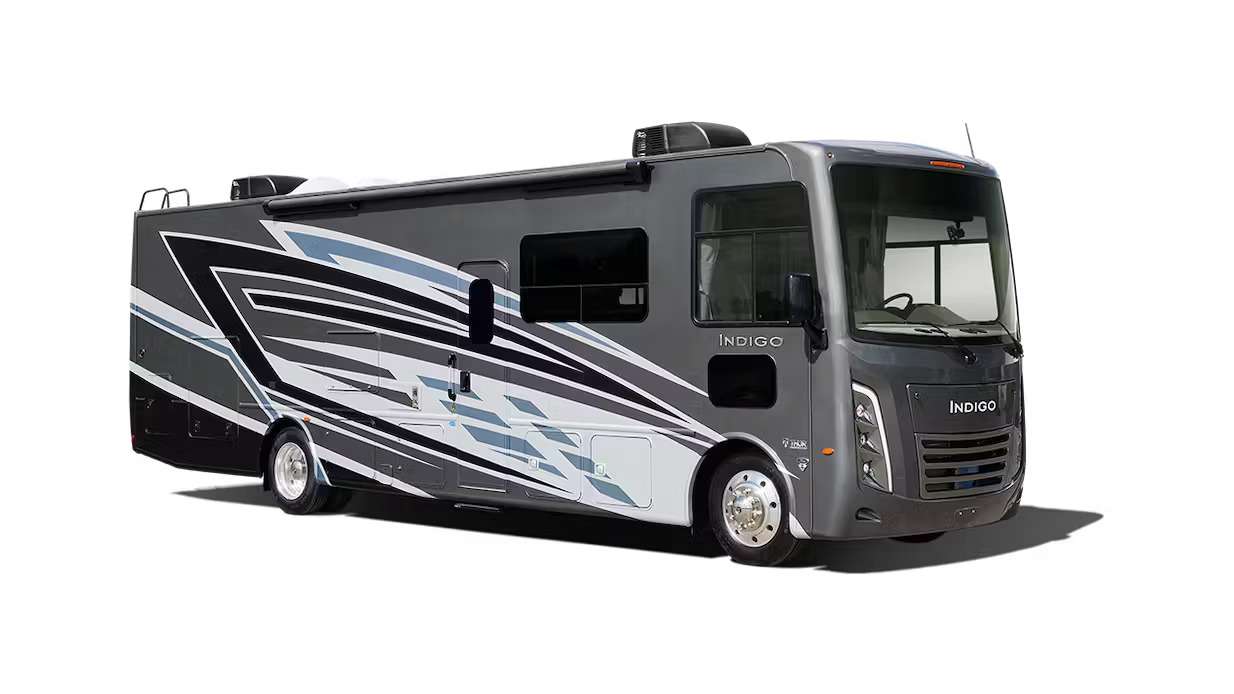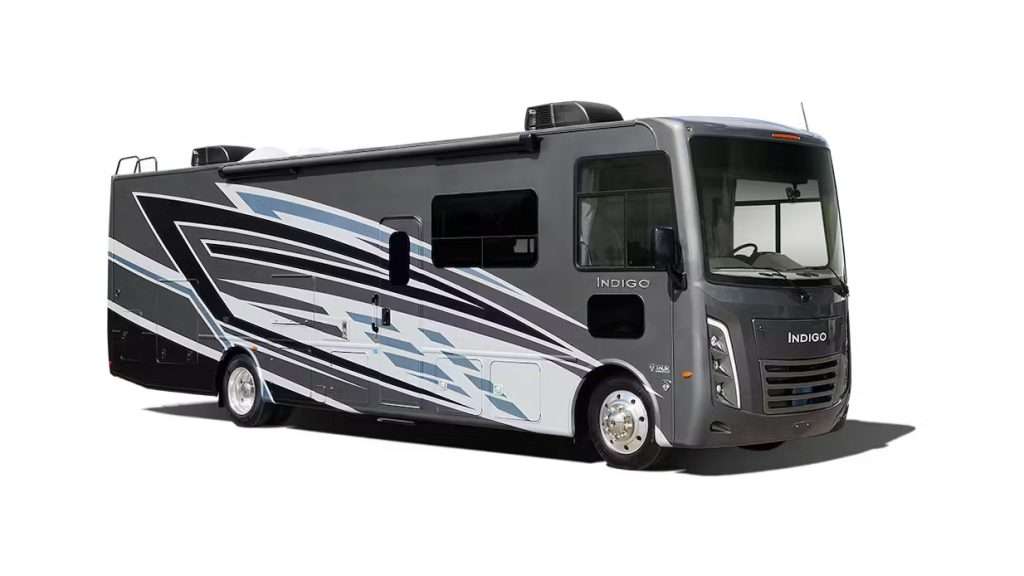 Indigo And Luminate
The 2024 Indigo and Luminate Class A motorhomes both showcase the new DD35 floor plan. These models introduce a range of exciting amenities, including blind spot detection — prioritizing safety during your journeys. SMART TVs in the living area ensure that passengers will be able to stay entertained on the go. 
Other amenities include the subway tile pattern printed shower surrounds, as well as the convenience of a spacious 19 cu-ft side-by-side door residential refrigerator.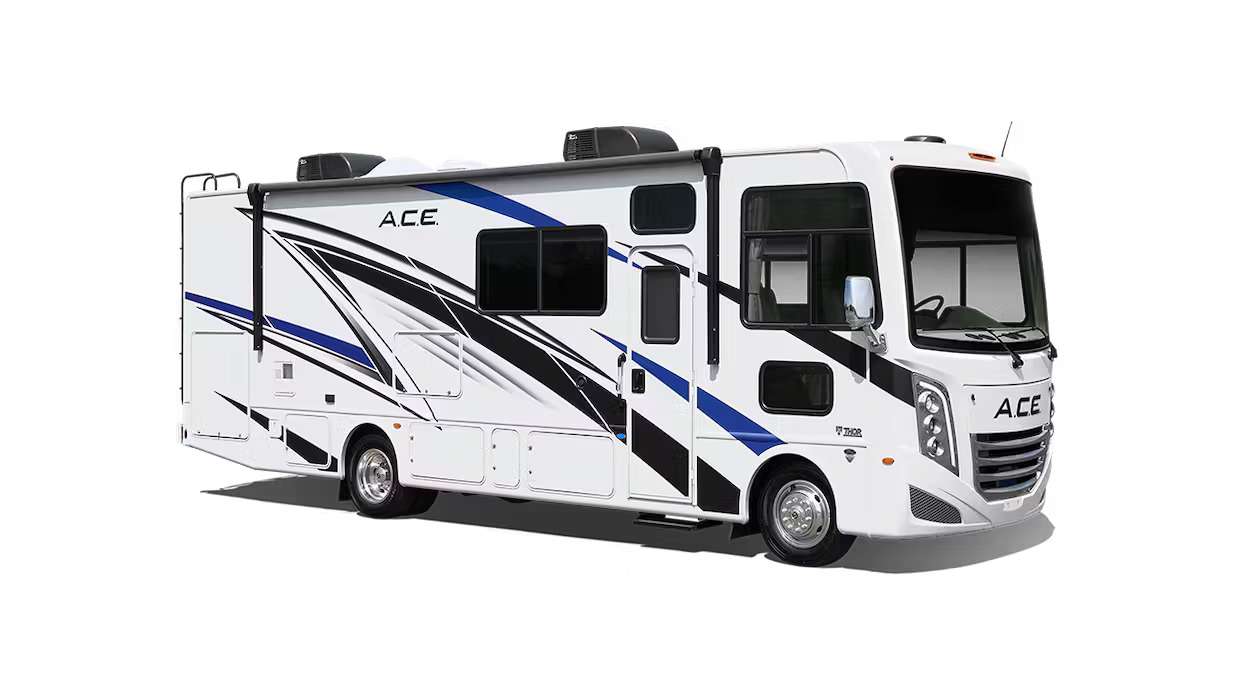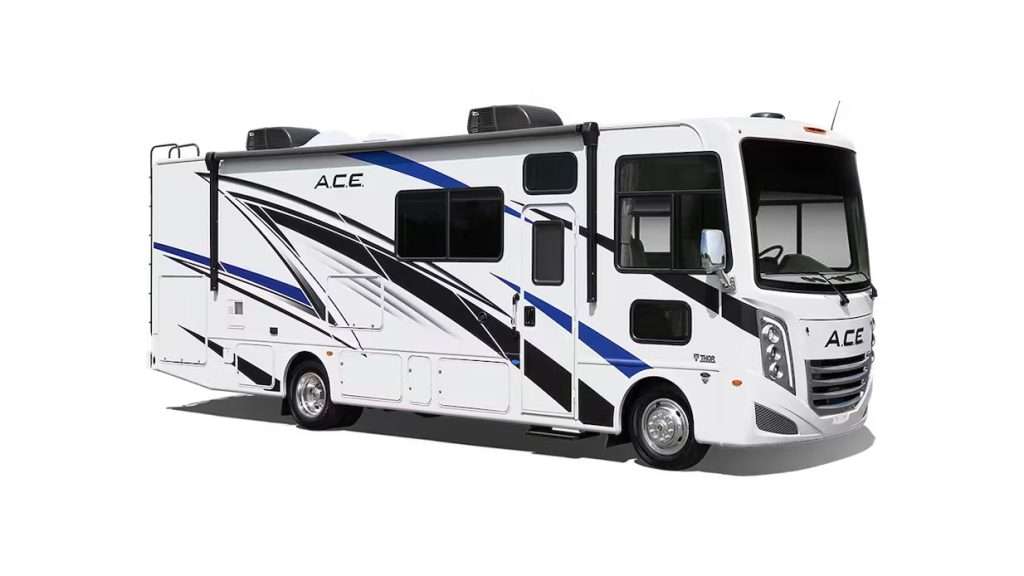 A.C.E. And Resonate
These models showcase fresh furniture styling, stunning countertops, premium floor coverings, soft carpets, and exquisite gold hardware, all accompanied by a sunlit décor theme that exudes elegance. 
RVers are able to fully embrace the freedom of solar power and off-grid living with the inclusion of a 100-watt solar panel.
The A.C.E. introduces two beautiful new HD-MAX exteriors, while the Resonate offers a variety of new interior décors and cabinetry options, allowing you to customize your living space to your preferences.