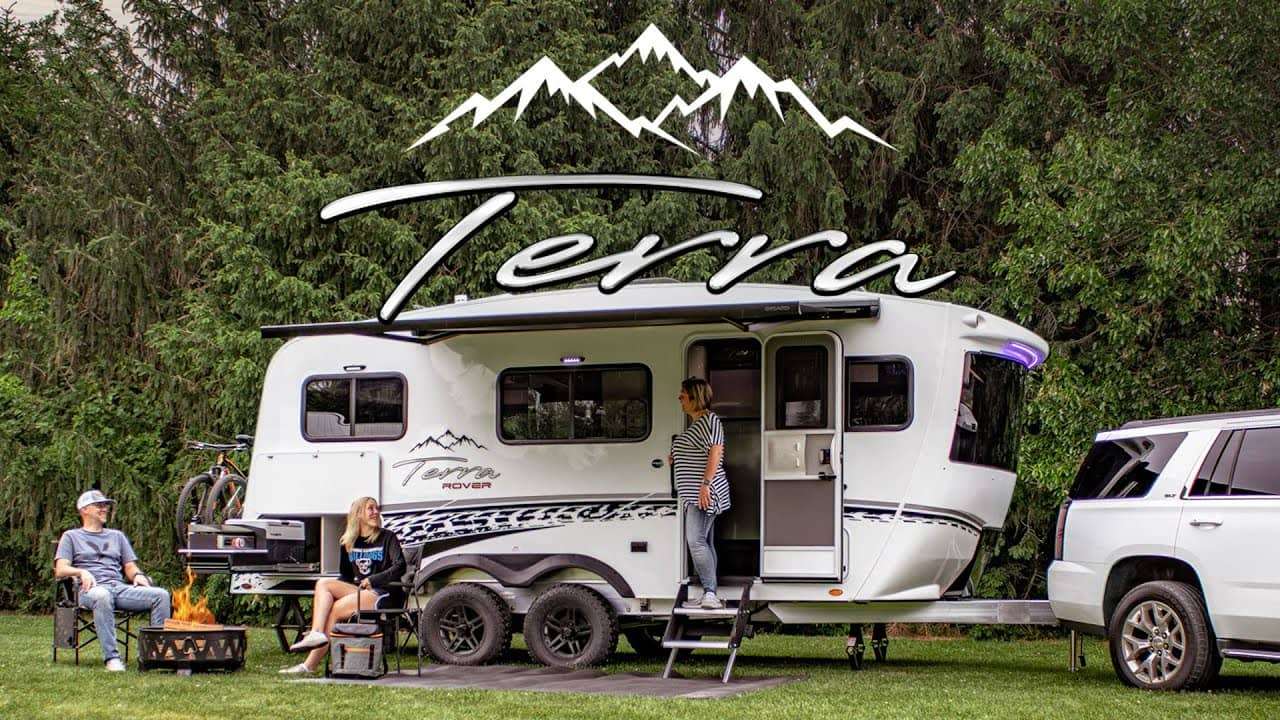 InTech RV Launches New 22-Foot Terra Magnolia Travel Trailer
InTech RV — an Indiana-based RV manufacturer founded in 2010 — recently debuted its Terra Magnolia 22-foot travel trailer at its showroom in Nappanee and via a specialized social media campaign.
The two main talking points from Terra Magnolia's debut were its lightweight (yet still durable) framework and its off-grid capabilities. InTech's sales and marketing staff members also gave correspondents at RVBusiness a behind-the-scenes breakdown of the Terra Magnolia 22-foot travel trailer in an exclusive interview. 
Regarding this new lightweight addition to its celebrated Terra line of travel trailers, sales manager Keith Fishburn had this to say:
"This Terra Magnolia we are sitting in has the Rover package that has larger, off-road wheels and a lift kit for more adventure camping. We have a base model that would have a smaller wheel on it and not quite as much lift. The rover package gets you about three inches more of ground clearance. A lot of our customers with these smaller, lightweight products end up doing quite a bit of off-grid camping."
—Keith Fishburn, Sales Manager at inTech RV
A Closer Look At The Off-Grid Living Capabilities Of inTech RV's Terra Magnolia Travel Trailer
In his correspondence with RVBusiness, Fishburn also revealed that the Terra Magnolia travel trailer has an optional — but highly recommended — off-grid solar lithium package.
This off-grid living package includes the following:
400 Watts of Solar

30 Amp MPPT Charge Controller

(2) 100 AMP HR Lithium Batteries

2,000 Watt Inverter w/ Transfer Switch
"That gets you 400 watts of solar, 200 amp hours of lithium batteries, a 2,000-watt inverter with an MPPT charge controller. With that system, you can run everything. You can run your air conditioner, every outlet inside the unit, so you can go completely off-grid and sustain power."
—Keith Fishburn, Sales Manager at inTech RV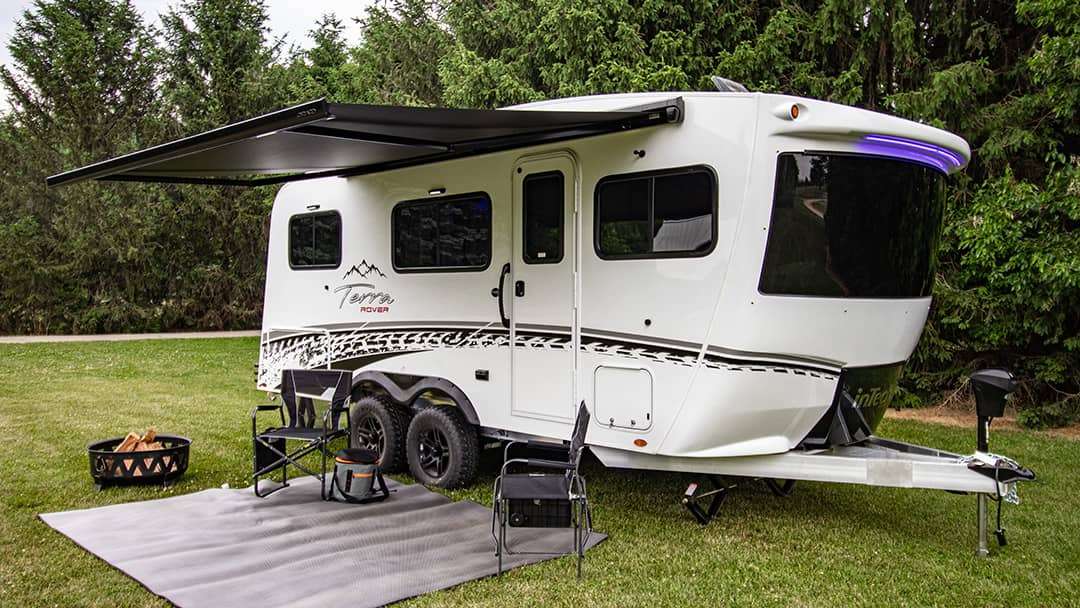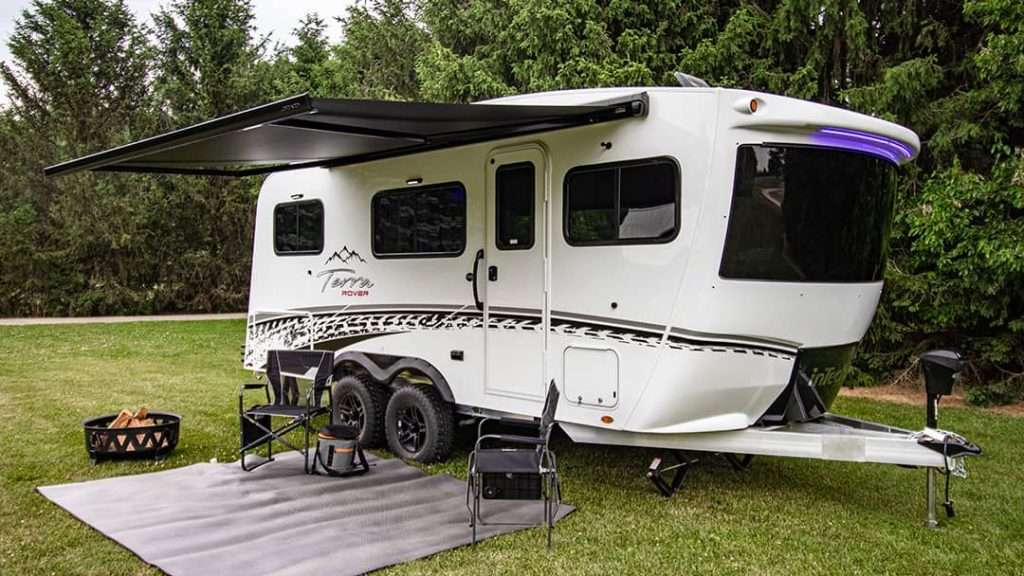 In addition, InTech RV also offers the aforementioned 'rover package,' which is meant to make off-grid (and off-road) camping a more practical endeavor. The Terra Magnolia travel trailer's rover package includes the following:
Rugged Decals

3" Lift

Blackout Wheels

235/75R15 Tires w/ Aggressive Tread

Aluminum Tube Rear Bumper
A Closer Look At The Lightweight Framework Of The Terra Magnolia Travel Trailer
The Terra Magnolia is constructed with an entirely aluminum, all-tube, and fully welded cage frame. According to InTech RV, aluminum was chosen because it offers a lightweight advantage and guarantees resistance against rust. Moreover, the high-quality all-tube construction of the Terra Magnolia ensures the utilization of the most robust and durable materials that are currently available in the market.
"One thing that really sets inTech apart from everybody else out there is that this is an all-aluminum base frame that we build in-house. Then this is our aluminum tube side walls and roof that we build in-house. We actually weld all that together. As this unit starts down the production line, it's one solid welded cage. These aren't laminated walls, nothing's screwed or stapled together. It's all a solid structure."
—Keith Fishburn, Sales Manager at inTech RV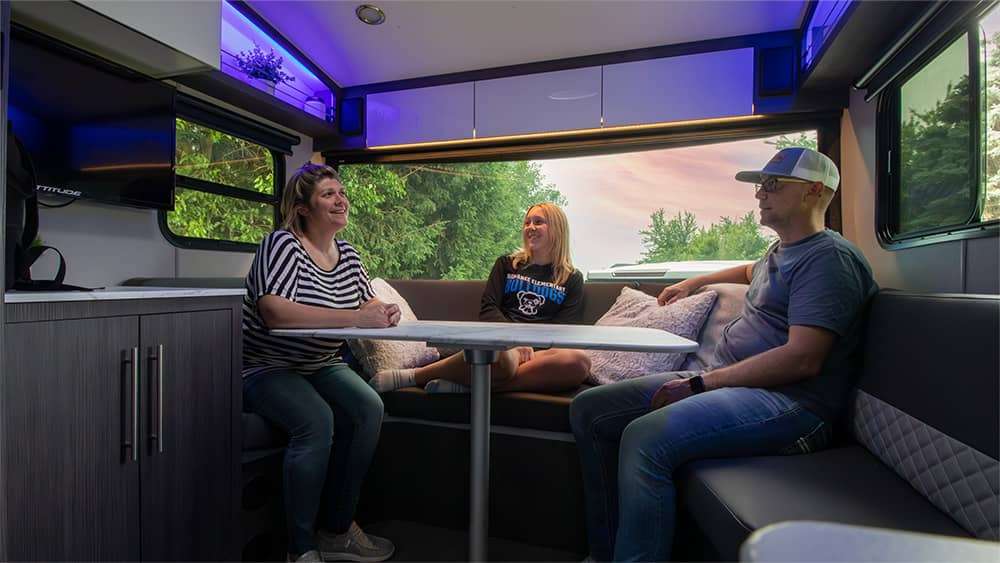 According to the team an inTech RV, the three main benefits of an aluminum cage construction are:
More Towing Options
Aluminum's primary advantage over steel is its lightweight nature. With aluminum having (on average) only a third of the weight of steel, it opens up a more comprehensive range of towing possibilities, granting more options and flexibility.
Corrosion Resistance
Aluminum (and its alloys) possesses exceptional resistance to corrosion. This, in turn, means that inTech's aluminum RVs are impervious to rust, ensuring their long-term structural integrity and endurance.
Unmatched Strength
The aluminum cage of the Terra Magnolia travel trailer is not held together with screws or staples. It instead features a fully-welded cage construction that facilitates 'unmatched strength and integrity.'
"You're not hanging onto a wall or a roof that is just simply stapled together, it's [a] solid structure. As extreme campers take this into more demanding areas, doors are going to continue to work, things won't bind up or come loose because of all the twisting and racking that happens."
—Keith Fishburn, Sales Manager at inTech RV


All-in-all, only time will tell just how well inTech's Terra Magnolia travel trailer will fare against other recently launched (and upcoming) RVs that boast similar off-grid living capabilities. The initial MSRP for the brand-new Terra Magnolia stands at $61,000.