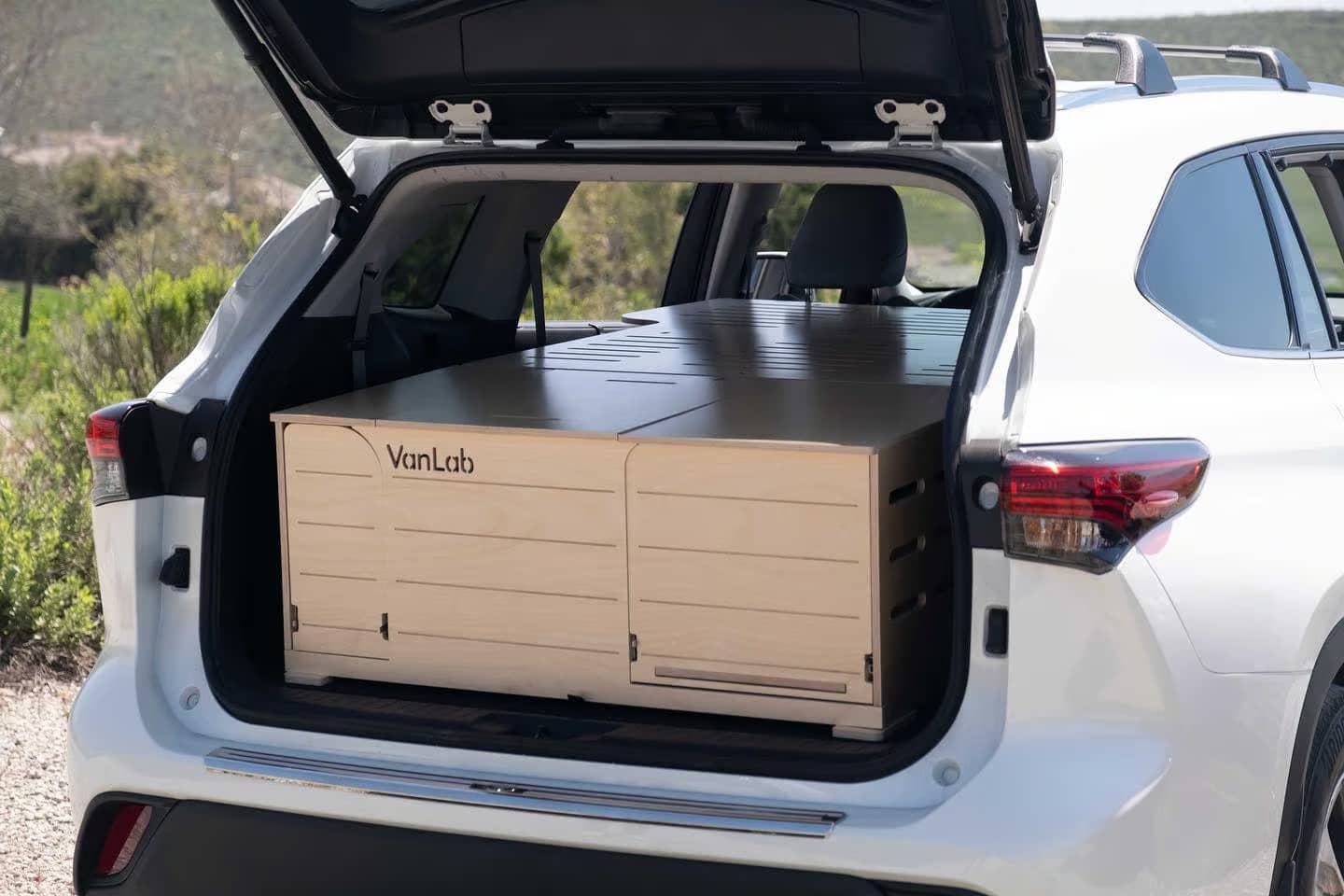 $2K Camper In A Box: Van Lab SUV Kit Turns Your SUV Into A Micro RV
Van Lab's innovative SUV Kit transforms popular SUVs and crossovers into versatile camping rigs, offering a customizable, cost-effective solution for outdoor enthusiasts in 2023.
RVing and camping have experienced a surge in popularity like never before, with more people seeking outdoor adventures and the freedom of the open road. However, in an era where financial prudence is paramount, RV ownership can be a considerable expense that not everyone is ready to commit to. 
This is where "camper in a box" solutions come into play, offering a cost-effective alternative. These modular camping systems provide the best of both worlds, allowing outdoor enthusiasts to enjoy the comforts of a camper without the heavy financial burden of owning a full-sized RV.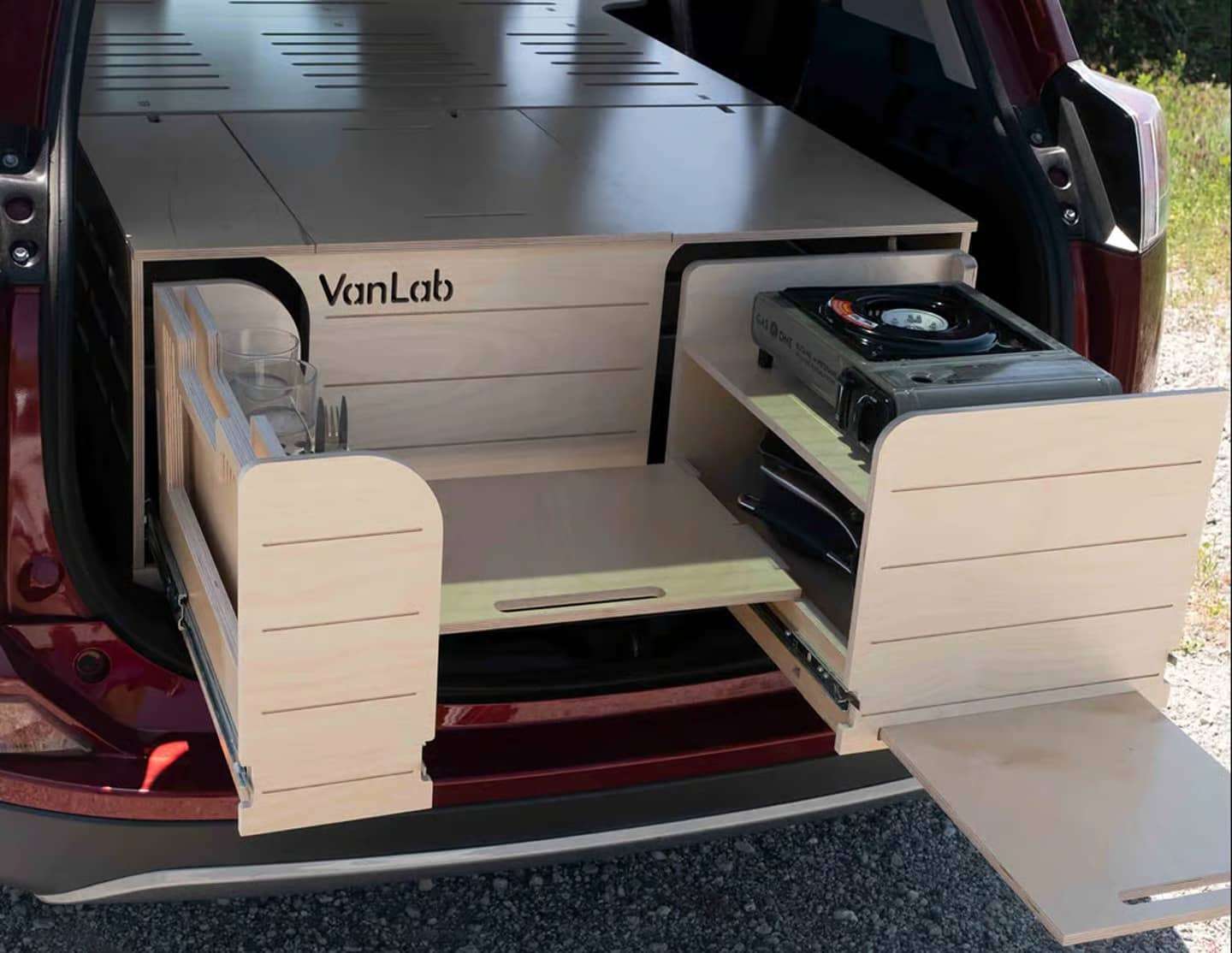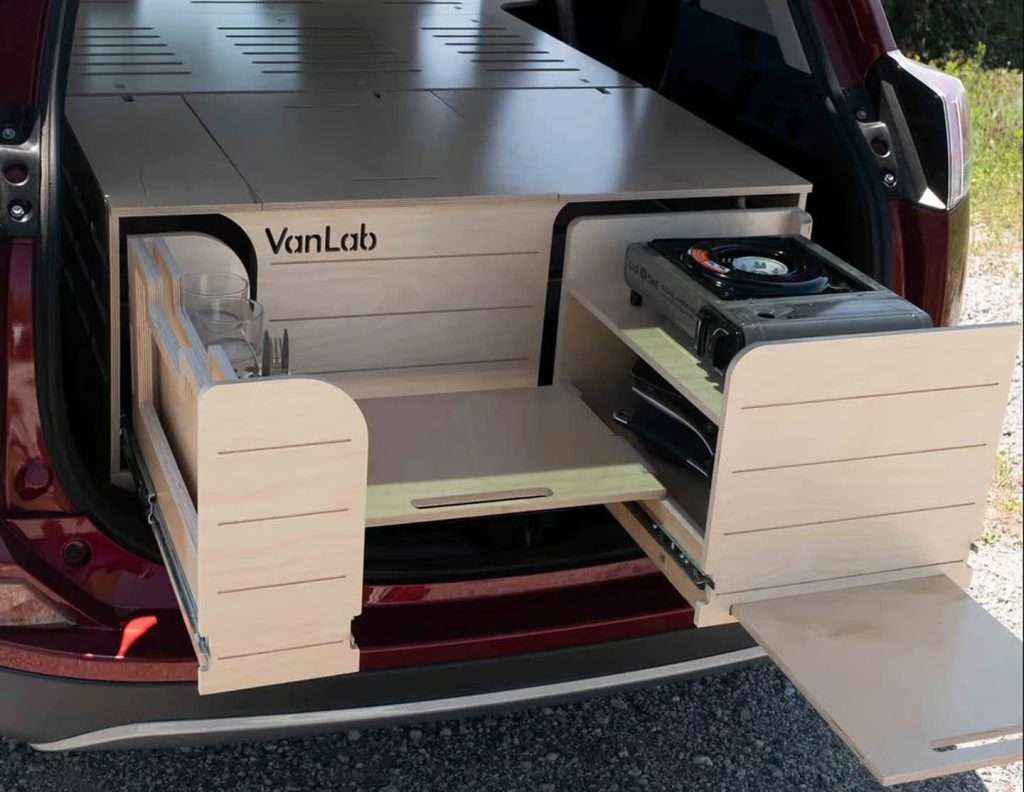 With the flexibility to be installed in the bed of a pickup truck or on a trailer, these compact and portable setups enable adventurers to embrace the beauty of nature without sacrificing their budget or the convenience of a cozy shelter. This affordability and versatility make "camper in a box" solutions an attractive choice for those looking to explore the great outdoors without breaking the bank.
Van Lab, a California-based innovator, has gained recognition for its pioneering approach to transforming popular SUVs and crossovers into functional camping rigs. 
Their latest offering continues to push the boundaries of versatility. Inspired by the simplicity of Ikea furniture, Van Lab's SUV Kit arrives flat-packed and can be effortlessly assembled by the buyer. This ingenious kit caters to a range of vehicles, from the all-electric Tesla Model X and Y to trailblazers like the Toyota RAV4 and Jeep Grand Cherokee.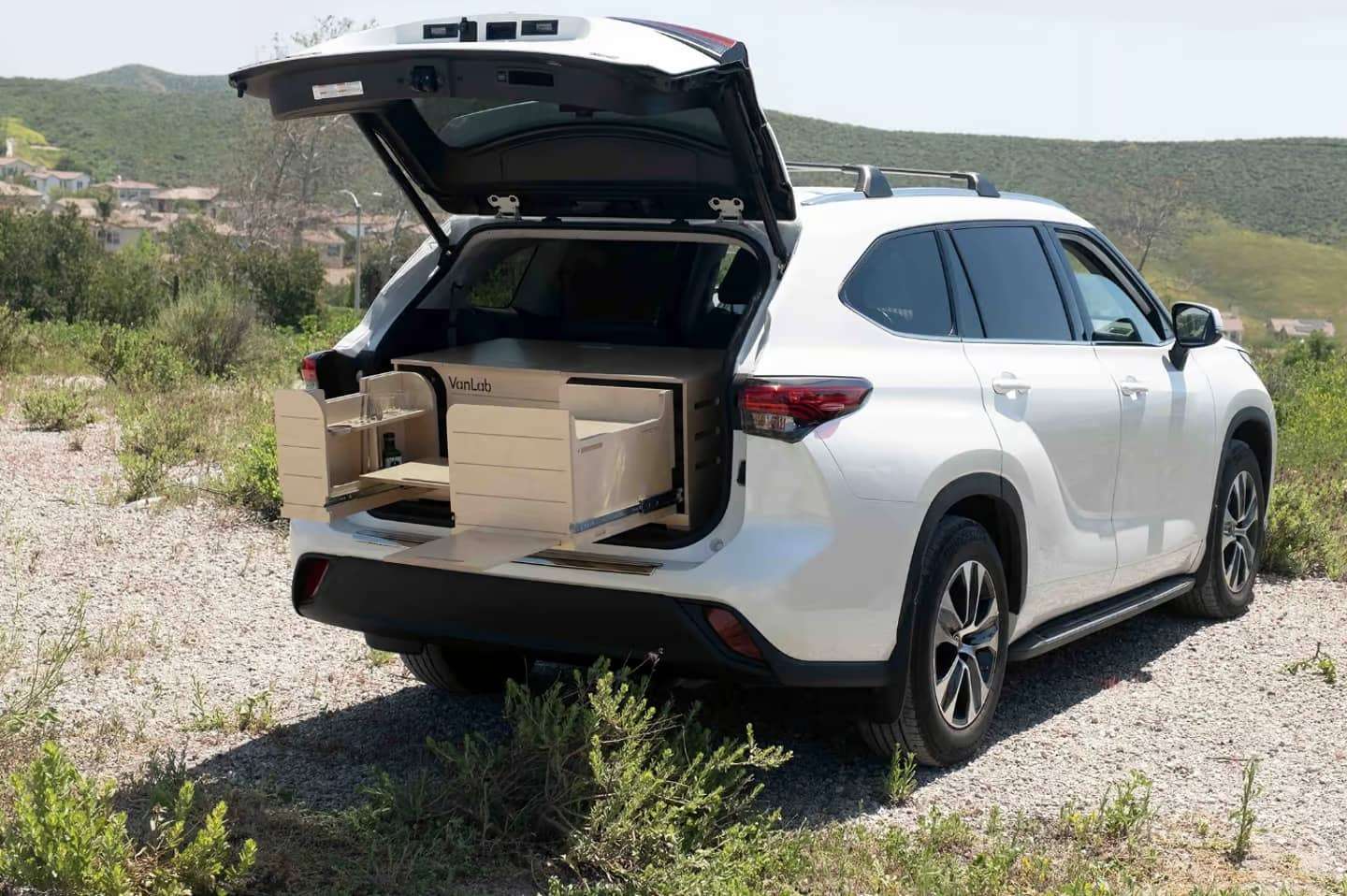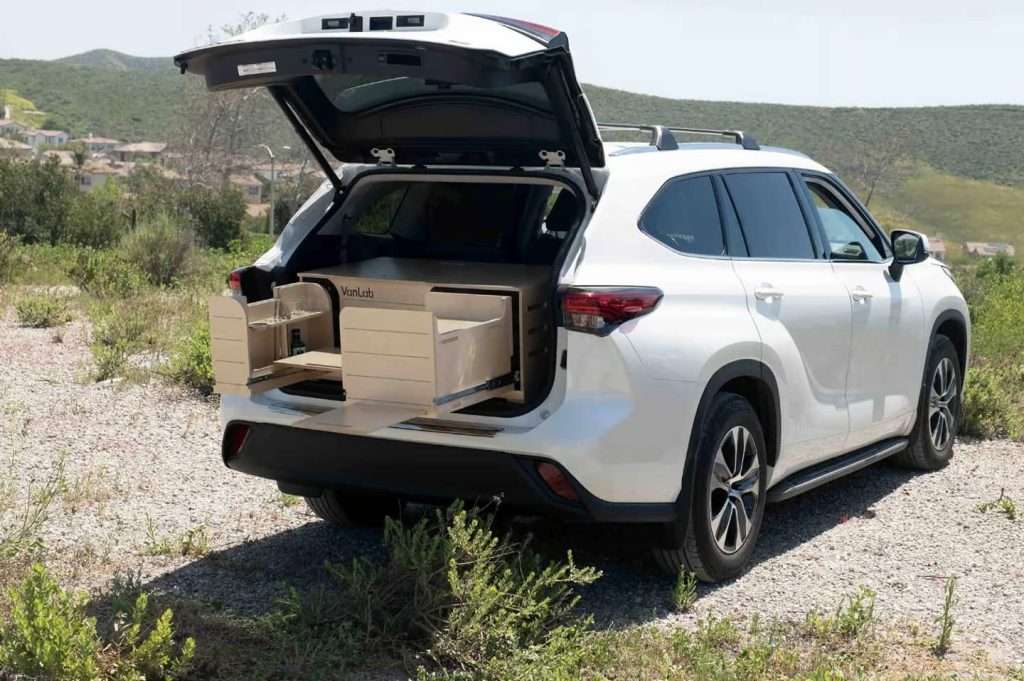 The core concept involves a camper box with a cleverly designed tailgate-width kitchen that extends forward, creating a comfortable sleeping platform above the folded rear seats. It's an elegant yet uncomplicated solution, featuring a single full-size drawer on the passenger side, complemented by a slimmer slide-out on the driver's side. In the space between, a removable panel serves as a versatile worktop or table, ideal for accommodating a single-burner gas stove. 
Further enhancing functionality, a second worktop slides out from the lower passenger-side drawer. This drawer also boasts an upper shelf, offering extra workspace; below it, there is an open storage area designed for pots and pans. The narrow slide has organizers for items like cups and utensils on the opposite side. 
The central box area, nestled between the two drawers, serves as the perfect home for a cooler or fridge box, with a capacity of up to 30 liters. Van Lab recommends a top-loader for easy access, facilitated by a removable top panel, and suggests opting for a soft cooler bag for maximum convenience. 
With its innovative approach and adaptable design, Van Lab's SUV Kit offers an enticing solution for camping enthusiasts seeking both practicality and style.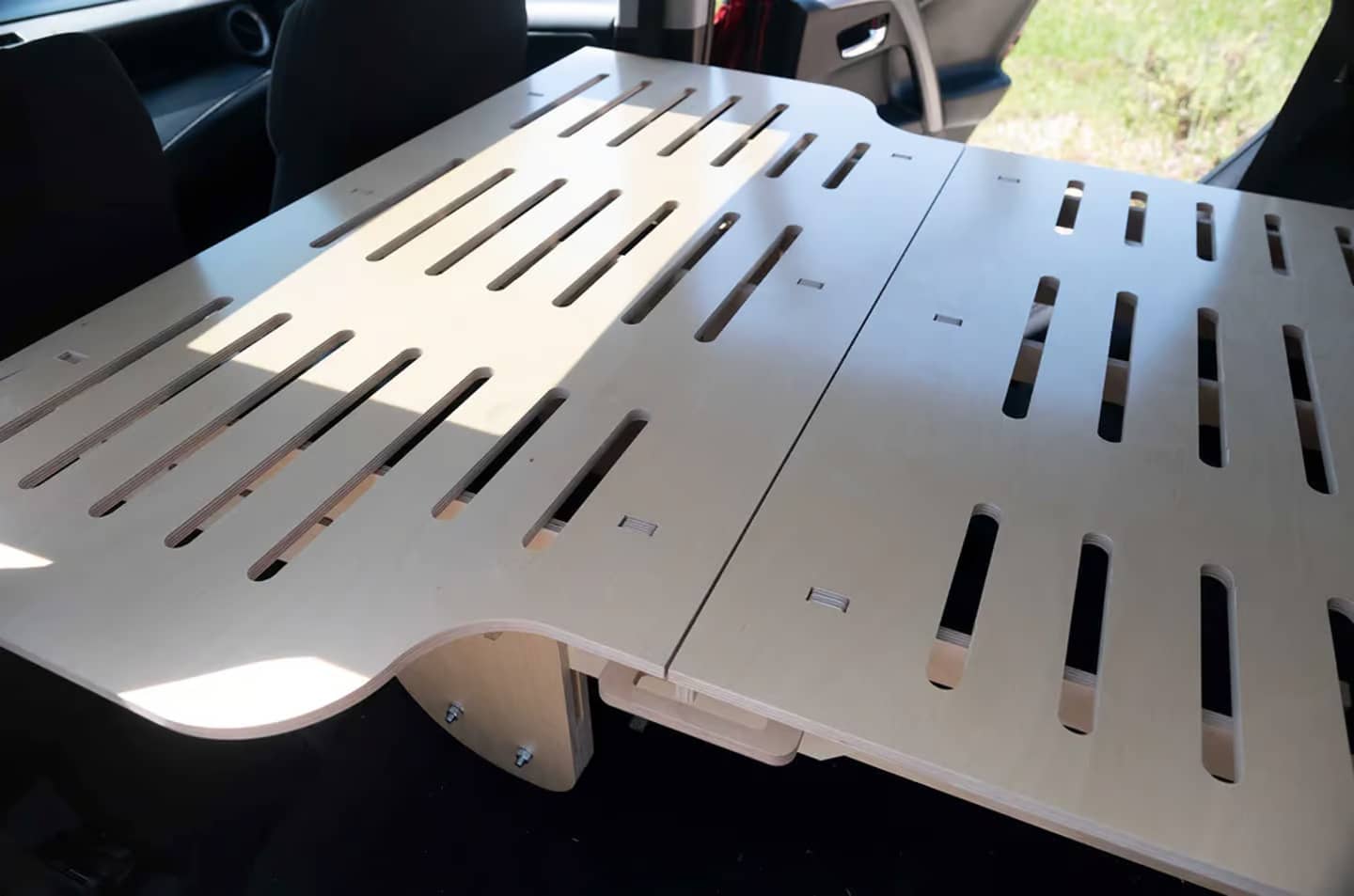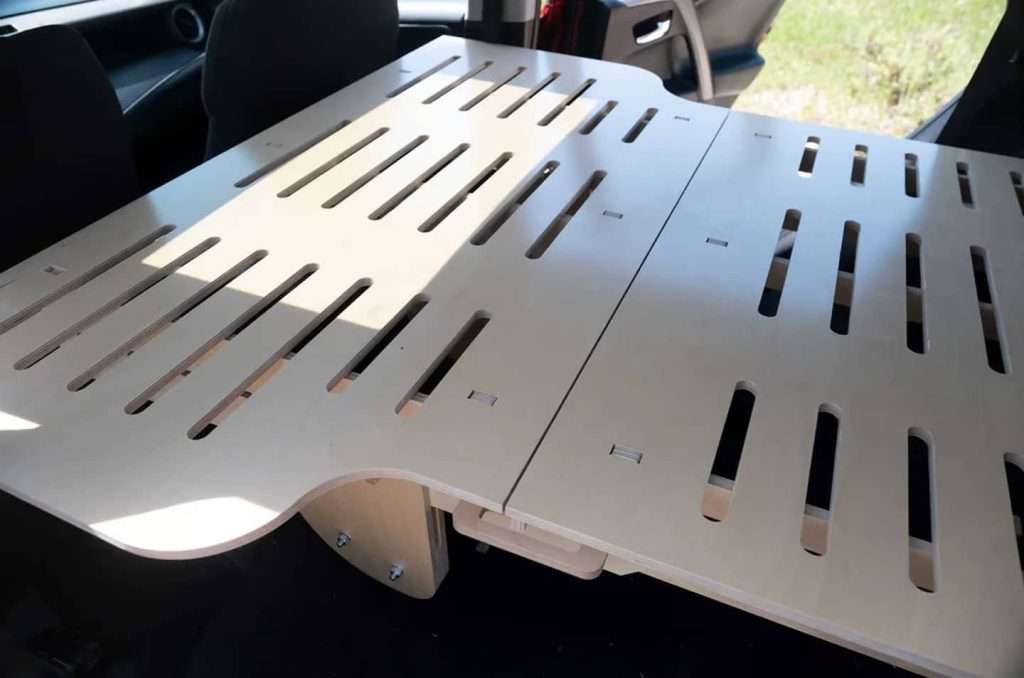 Van Lab's SUV Kit offers a highly customizable experience, allowing users to personalize their camping adventures. It operates on a bring-your-own (BYO) philosophy, meaning users furnish it with their preferred stove, cooler, cookware, and dishes. The kitchen box can be purchased separately for those seeking a versatile galley for tailgating, picnics, or use with rooftop or ground tents. 
However, for a complete in-vehicle camper experience, the sleeper platform kit is available, which incorporates supports and extension panels into the kitchen box, creating a spacious sleeping area measuring 75 x 51 inches (191 x 130 cm). To enhance comfort, a multi-piece cushion set is also on offer to serve as the bed.
Van Lab constructs the SUV Kit using Baltic birch plywood, pre-assembles it, and ships it in flat-packed form for easy assembly and installation by the buyer. Alternatively, they can handle the assembly and installation at their Simi Valley, California facility. Designed with convenience in mind, the kit can be easily removed and reinstalled as needed.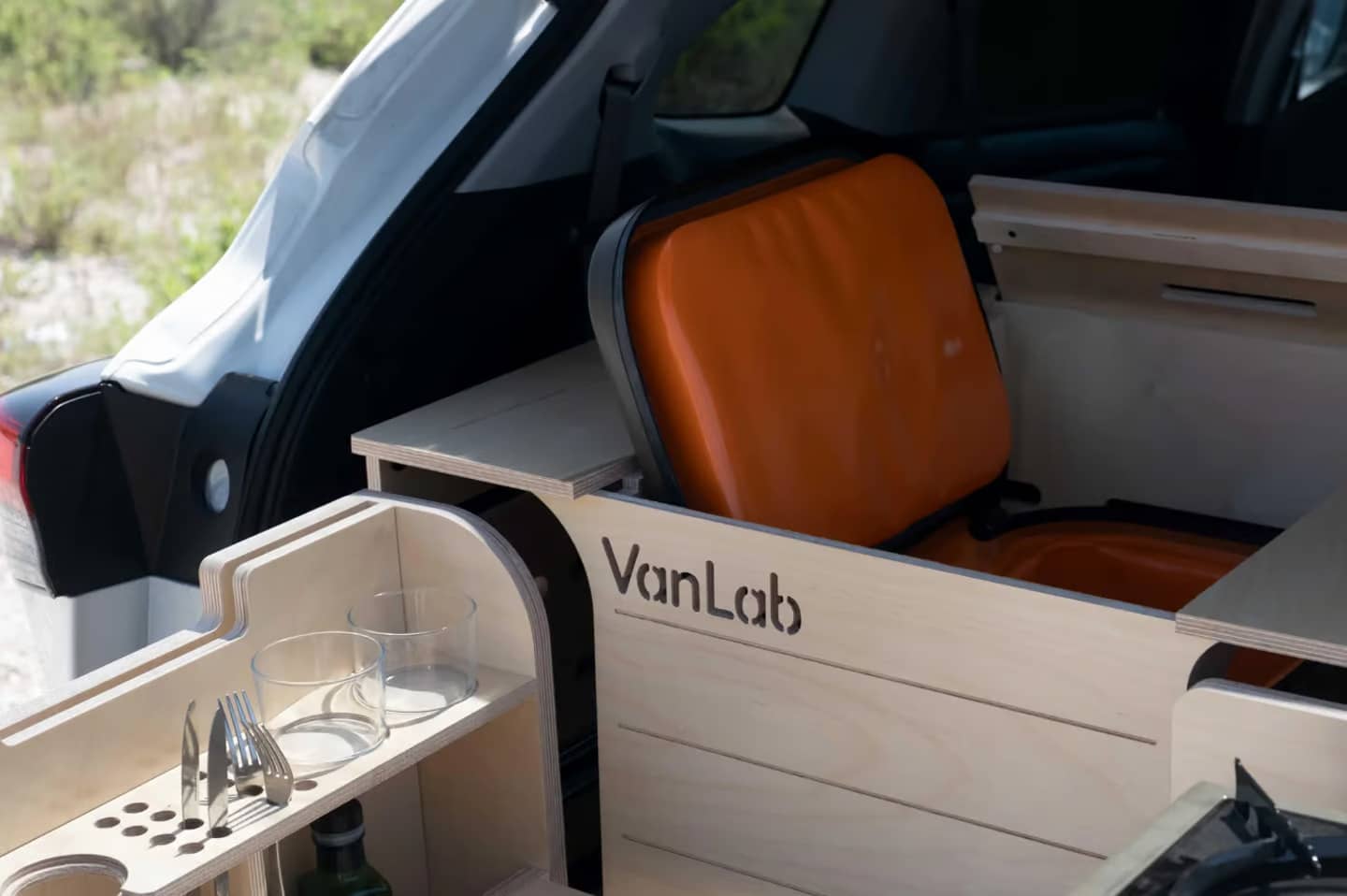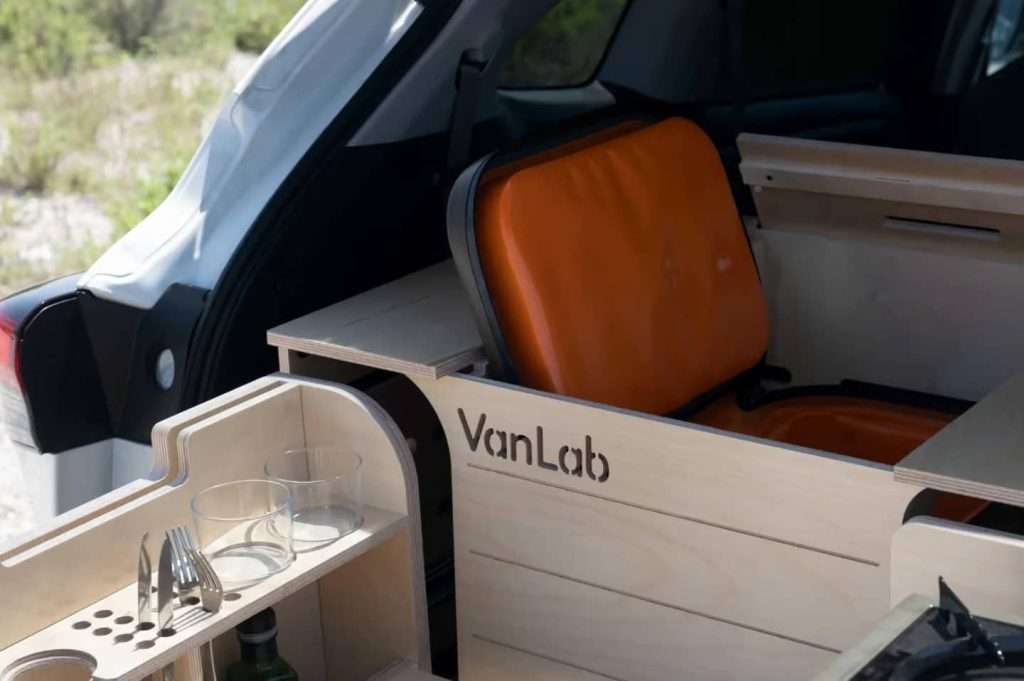 Final Thoughts About Van Lab's Camper In A Box
The SUV kitchen — which weighs 66 lb (30 kg) — is priced at $1,650 as a standalone option. For those opting for the full kitchen and bed kit —weighing 104 lb (47 kg) — the starting price is $2,150. Adding bed cushions will bring the total cost of the ready-to-sleep kit to $2,550.
In addition to the previously mentioned SUV models, Van Lab's kit is compatible with various other vehicles, including the Ford Explorer, Expedition, and Escape; Honda CRV and Passport; Nissan Juke, Pathfinder, and Rogue; Subaru Forester; Toyota Highlander and Venza, among others listed on the SUV Kit product page. 
Ultimately, while camper in a box solutions for SUVs offer affordability and versatility, RV rentals present a compelling alternative for many adventurers. RV rentals often have larger living spaces, more amenities, and greater comfort, making them ideal for extended trips or family vacations. 
With RVs, you have the convenience of fully-equipped kitchens, bathrooms, and sleeping quarters, providing a more homely experience on the road. Moreover, RV rental companies handle maintenance and insurance, sparing you the responsibility. 
The choice between a camper in a box for an SUV and an RV rental ultimately depends on your specific needs, budget, and the comfort and convenience you desire for your outdoor adventures.