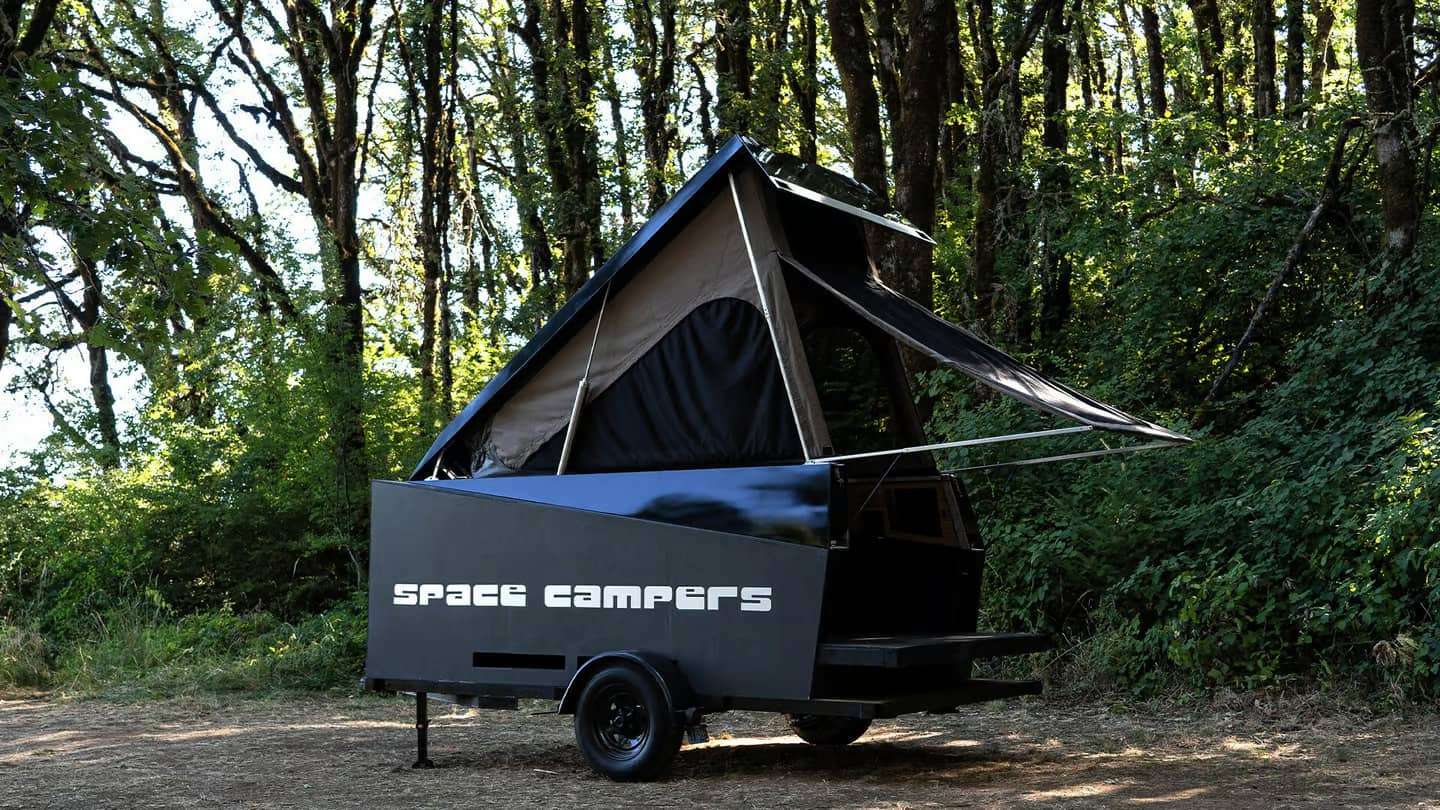 Space Campers Showcases Its Pop-Up RV For Tesla Cybertruck
Space Campers unveils a revolutionary pop-up RV for Tesla Cybertruck with unique features and versatile design — but will it actually appeal to RV enthusiasts? 
In mid-July, Elon Musk made an announcement on the 'platform formerly known as Twitter,' confirming the completion of the first production Cybertruck. As reservation holders eagerly await their turn, the demand for accessories and upgrades has surged.
However, the existing aftermarket struggles to meet this demand due to the Cybertruck's "unique" dimensions. While there have been renderings of various compatible accessories and campers, none have materialized into reality. 
Breaking the mold, Space Campers has now unveiled a game-changing prototype called the Wedge camper, designed to seamlessly integrate with the Cybertruck and provide a versatile base camp in a compact form.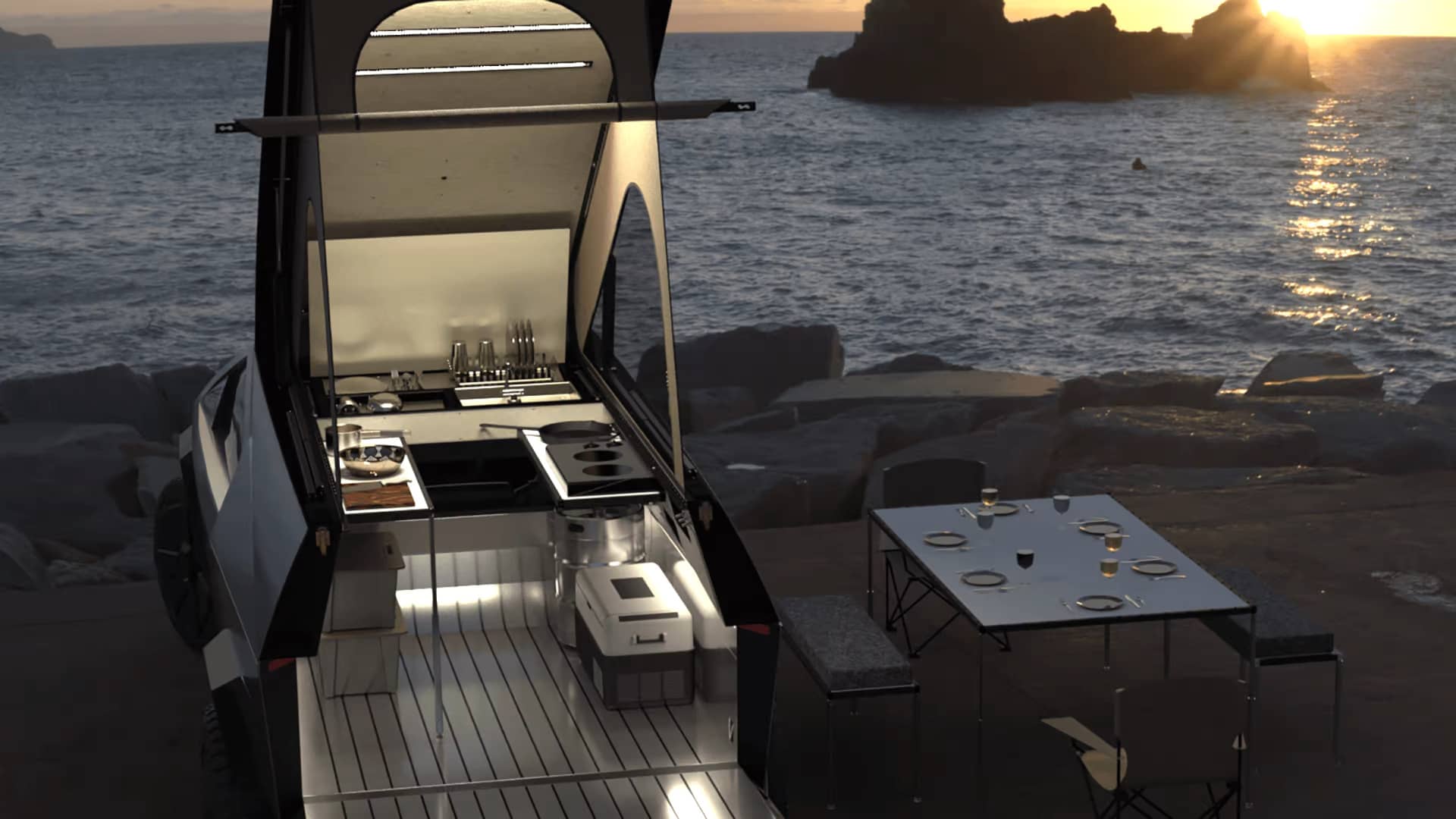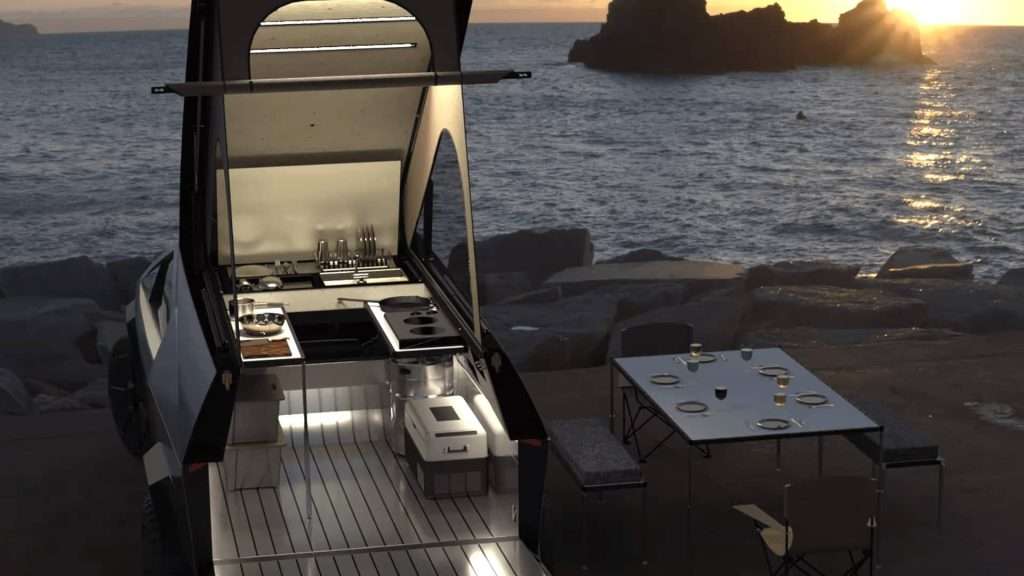 The centerpiece of Space Campers' prototype is the Wedge pop-up topper, ingeniously engineered to level out the Cybertruck's sloped bed and create a flat sleeping platform. This design incorporates modular interior panels that can be easily adjusted to form different configurations, including a double bed and a comfortable lounger for upright sitting.
The Wedge roof stands tall, providing a generous 8 feet (2.4 meters) of standing height inside the pickup bed when the sleeping platform is lifted out of the way. Ample headroom is ensured over the sleeping area, and the tall fabric sidewalls and door feature well-placed mesh for excellent ventilation. To enhance the overall ambiance, the ceiling is adorned with what appears to be bamboo, accentuated by an array of inset LED lighting.
In a departure from traditional pop-up roof mechanisms, Space Campers has ingeniously connected their struts to Tesla's onboard air compressor, enabling convenient, dial-operated automated opening that takes a few seconds. Moreover, the camper is designed to seamlessly integrate with the truck's keyless tailgate locking system, ensuring a fast and secure setup process.
In a short preview video, Space Campers demonstrates how the roll-up weatherproof storm door also functions as a large awning, easily set up with collapsible support poles.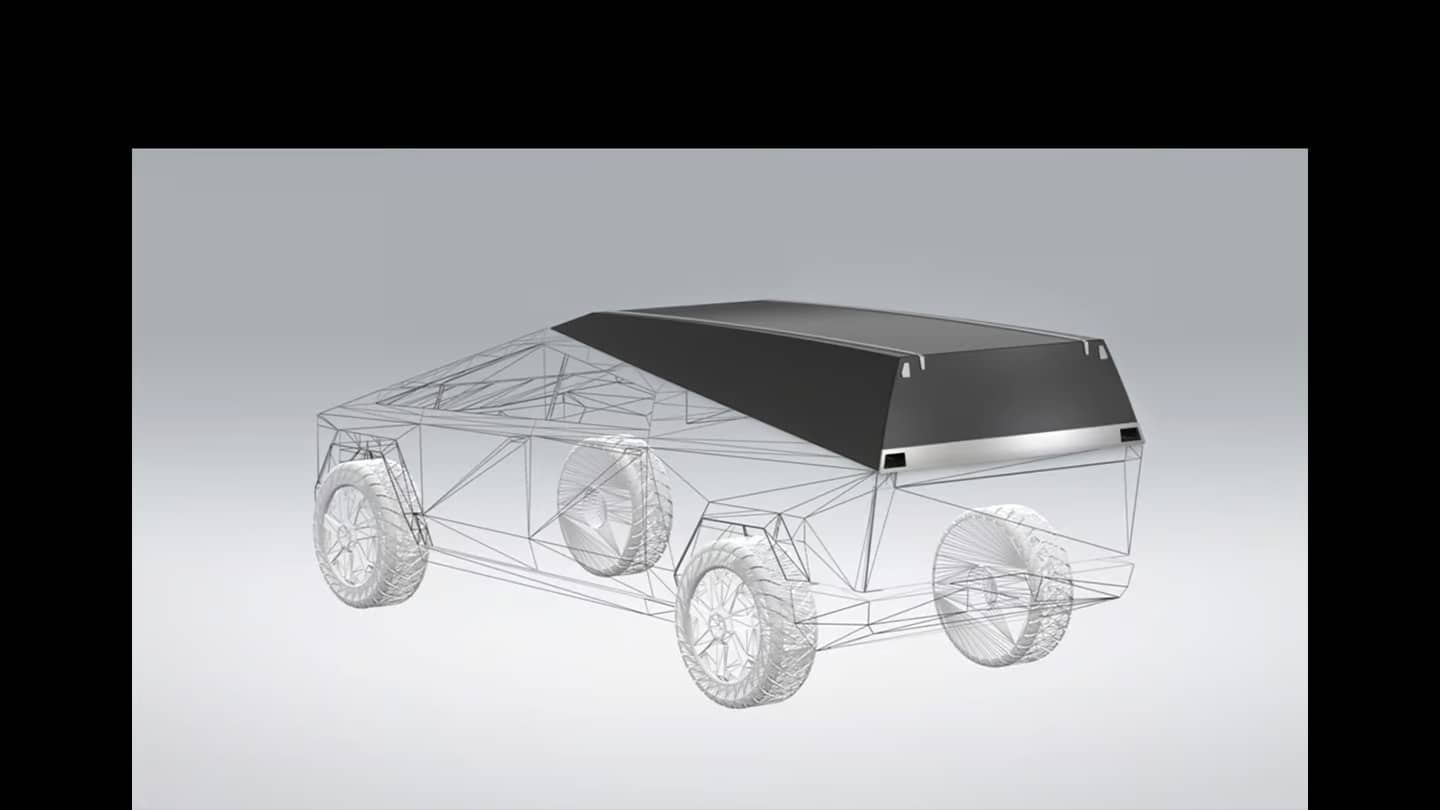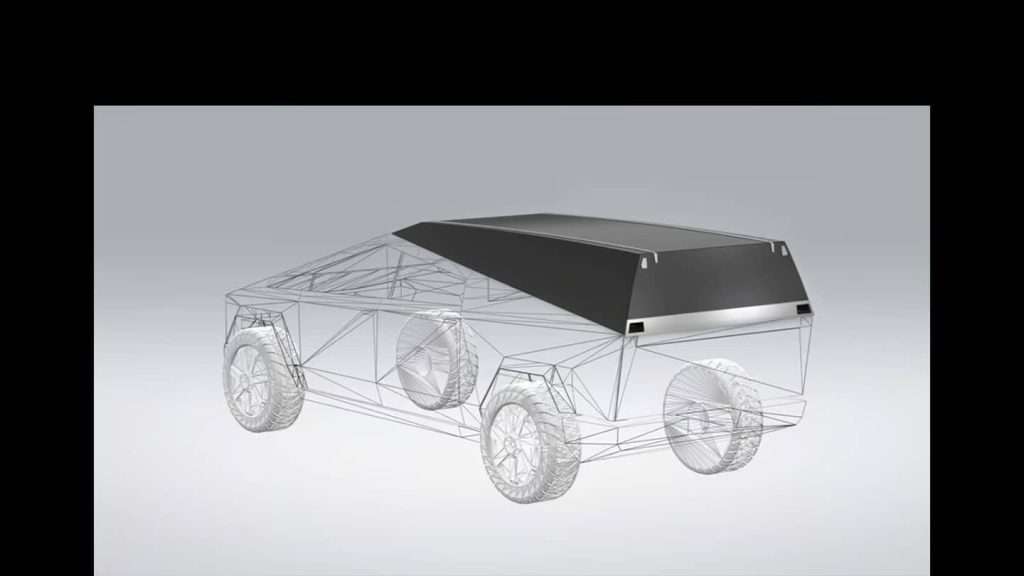 While the video does not showcase the setup of modular components inside or outside the camper, the company reassures customers that the sleeping panels will serve as versatile tables and benches. Additionally, Space Campers will offer a range of optional accessories, including a kitchen setup, an outdoor shower/bathroom, insulation for all-season camping, and solar power solutions.
In addition to its clever bed-leveling design, the Wedge camper comes equipped with integrated storage cubbies within its short sidewalls, making the most of available space. 
The camper also boasts integrated L track and tie-down points, providing ample options for securing cargo during travels. Moreover, it features four 120-Volt outlets to power various electronic devices for added convenience.
With the imminent arrival of the Cybertruck, Space Campers eagerly anticipates fitting its prototype to the actual truck for further testing and refinement. Company founder and head engineer Lee Wilkerson emphasizes their commitment to swift action once the Cybertruck hits the roads.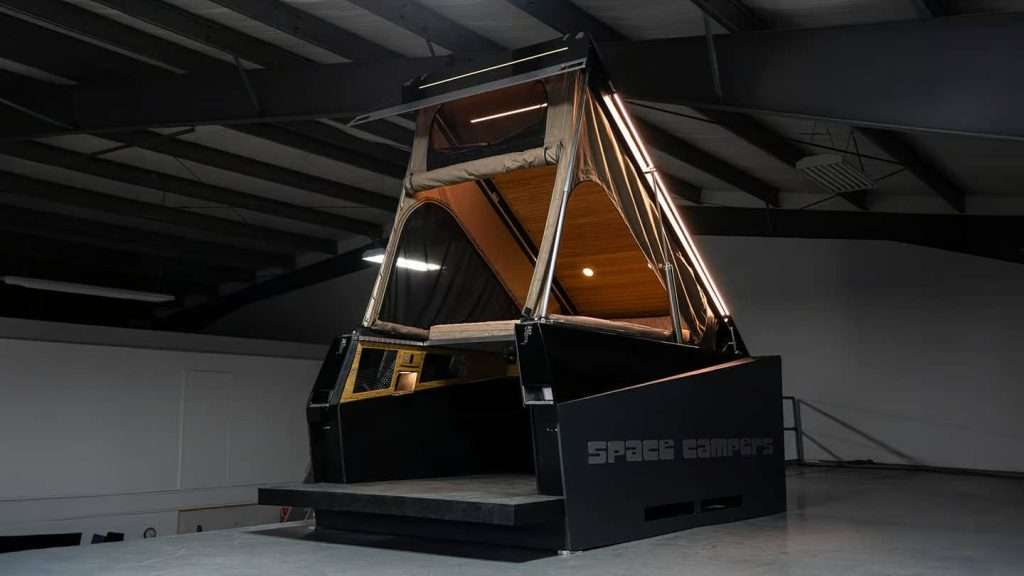 Space Campers Also Revealed A Truck Cap For The Tesla Cybertruck
Beyond the camper prototype, Space Campers introduces another intriguing product called the "Cap." This product caters to a broader demographic, extending beyond camping enthusiasts. 
Pickup truck caps are highly popular accessories that offer closed-in hard-sided security around the truck bed. However, the Cybertruck's unique angled bed design poses challenges for existing aftermarket components from manufacturers like Leer and A.R.E., necessitating custom-designed solutions.
Space Campers takes a proactive approach by leveraging the sidewall design that forms the foundation of the Wedge camper to create a simpler fixed-roof Cybertruck Cap. This strategic move underscores the company's focus on practical and innovative camper designs, which seems to align with the vision of Tesla's CEO, Elon Musk.
As for the Cap's pricing, Space Campers has yet to announce specific details, but they have already opened a waiting list for early adopters. On the other hand, the Wedge camper starts at a base price of $24,000. However, considering the array of optional components available, the average sales price is expected to soar well beyond this figure.