Guide to Boondocking With Your RV
RV boondocking is the easiest way to enjoy your adventure away from the well-developed and noisy campgrounds, RV parks, cacophony, and urban hideouts. Another name for boondocking is dry camping. Usually, to enjoy the unbeatable ambiance and natural scenery, RVers prefer to boondock.
Through boondocking, the RVers can relax in nature and enjoy the outdoor natural beauty. Boondocking is convenient, cheap, and affordable. You can enjoy the incredible views of nature through boondocking.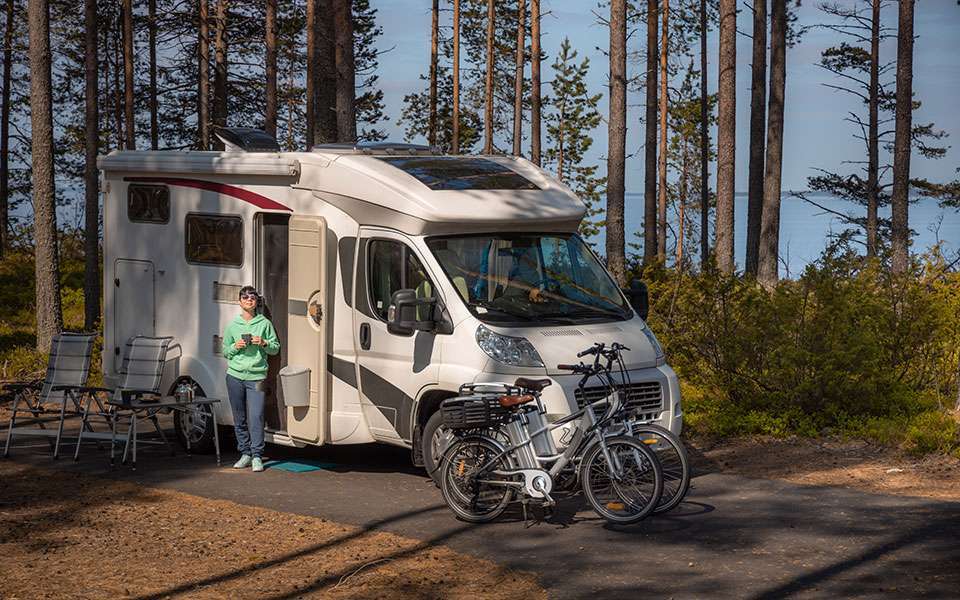 What is Boondocking?
Boondocking is nothing but the RV camping outside of RV parks or campgrounds without water, electricity, sewer hookups, etc. Dry camping and boondocking are the same. But you may often do dry camping at the RV state parks or campgrounds.
In different ways, you can boondock, like camping in the public lands or staying in a business parking lot overnight. But in most cases, boondocking refers to camping or RVing in the national forest. It is similar to primitive, wild, or dispersed camping.
The popular time for boondocking is when the temperature remains moderate, neither extreme nor too low. During extreme cold or heat, furnaces and air conditioners require too much power to control temperature and make boondock challenging in many areas.
Boondocking is primarily free. As a result, campers in unspoiled nature can enjoy the beauty, gather experience, and save money. However, some of the sites available for boondocking may charge a small fee. But typically, per night fee is less than $20. You don't need to make any reservation in boondocking sites as its policy is first to come and first served.
Is RV Boondocking Safe?
Yes, RV boondocking is safe for RVers as long as you abide by the proper law and prepare yourself accordingly. For a successful boondocking trip, you have to bring some items. These items will ensure that you will keep nature safe.
Things You Need to Know Before Going Out for an RV Boondocking Trip
Before starting your boondocking trip and moving close to nature, you should obviously check the weather forecast. Even if you are planning to boondock for one night only, you should check the weather forecast. The ideal temperature range is between 40 – 70 degrees Fahrenheit. Camping at this temperature will help you to avoid running a heater or AC.
Knowing the weather condition and camping in perfect weather is extremely important because any natural hazards can take place at any time. For example, flood or rain can wash away roods, snowstorms or unexpected mountain sliding, or wildfires can trap you for boondocking. Avoid muddy campsites, heavy rainy areas, or impassable roads.
What Do You Require for Boondocking in an RV?
You need the following things for dry camping and boondocking in an RV.
1. Food and Drinking Water
On your trip, you will obviously require drinking water in massive amounts. Thus, make sure you take a sufficient amount of water on your trip. How much water you will need? The exact amount is tough to say as the water requirement varies from person to person. As a general rule, per person per day require 2Ibs of food. During the day trip, if you plan for hiking, you will need the recovery calories up to 4,000.
However, in the case of water, you should have 5-gallon refillable canisters, according to the boondocking vets. You can also bring small bottles instead of large gallons. But the thing is, you should have sufficient water to encounter an emergency situation.
2. Portable Generator
Without electricity, RV camping is challenging. Thus, when planning for a trip or boondocking, one of the most crucial things you should have is a portable generator. A 2000-watt generator is enough if you plan to use electricity for a small job. However, you will require a 3000-watt generator if you want to keep your RV cool or warm during the trip.
However, generators have already become available in some RVs. By design, there are some built-in generators on fifth wheels. But not all fifth wheels come in the same format. Before renting an RV for boondocking, inquire about the RV generators facility to your host.
3. Power Banks
One of the essential things is power banks while you are going off-grid for boondocking or camping. Whether you have a generator for running electrical appliances or not, you need a running phone for all the time in case of emergencies. Thus power bank is helpful to charge your phone's battery while there is no electricity in your RV.
You could take several fully charged power banks depending on how much you use your phone and how often you charge it.
4. First Aid Kit
There is no need to say that anything mischief can happen while you are on a trip. So having a first aid kit box in your RV will be good for you. The emergency survival kit ensures more security for you while you are camping. Usually, the first aid kit includes every type of first aid supply, including folding knives, fishing hooks, compasses, whistles, and many more things.
5. Downloaded Maps
If you are moving to a new place whose road is unfamiliar to you, you should definitely have a downloaded map. Having downloaded directions and maps on your phone will significantly help you complete your boondocking trip successfully.
In most cases, the hikers can quickly get the public trails maps. While you are camping on a long-distance trail, you should have the entire area map to prevent unexpected situations. In a new area easily you may get lost without following a map. Thus another crucial thing in the trip is downloaded maps.
6. Eco-friendly Body Cleansing Items
Whether you do boondock for the whole month or for a weekend, your new best friend will be the dry shampoo. Both in powder and spray form, a little dry shampoo goes a long way to keep your hair beautiful. And your hair will not feel like the oil-producing machine.
After a long hectic day when your body is full of dirt, sweat, or sunscreen, you need to clean off your body before going to bed at night. So for this purpose, you can use several biodegradable soaps. These soaps help clean the clothes, dishes, or even skin. These body soaps and shampoos are incredibly eco-friendly and efficiently keep everything clean.
Electricity Option in Boondocking
Without any hookups having electricity in RV is much more challenging. And without electricity, you can't go far away in your RV. As for running appliances, you require power sources. So, before starting your boondocking trip, make sure that you have enough electricity supplies in your RV. You have several options to manage the RV power source. Those options are the following:
Option 1: Inverters and Batteries
You can power different heavy-duty items in your RV like the fridge or AC by connecting with the inverter. The additional power of the inverter is enough to watch TV, charge a laptop, or even use a cooker induction for dinner preparation.
The standard RV batteries are enough to supply electricity for running a microwave or coffee maker. But you can't use these batteries for running heavy appliances. Using high-voltage devices will reduce the battery's available power and quickly wear down the battery life.
With an inverter and extra batteries, you can use your electrical appliances at any time. However, the inverter is not a good option as a long-time power source. You can recharge your RV batteries following the three ways below:
Running the generator
Running the engine
Plugging into the shore power
Option 2: Generators
The most general power source in RV is a generator, and the use of a generator is effortless. Most of the larger motorhomes or RVs have an inbuilt generator in them. However, fifth wheels, most trailers, and other small campers don't have this inbuilt equipment. So you have to purchase one if your RV doesn't have the inbuilt generator.
Generators are the incredibly best option to ensure a power source for your boondocking. Using a generator, you will be easily able to run the A/C units or microwave.
Option 3: Solar
In combination with your RV inverter and batteries, you can use the solar setups. For long-term boondocking in an RV, one of the reliable and environmentally friendly power sources is solar. However, you have to boondock in a place where sun energy is available for using solar. Solar is not a good option if you camp in snow-falling places or in a shade.
Tips for First Time Boondockers
Ensure there is enough fresh water in your RV tank
Arrive at the boondocking destination in the daytime
Check the generator service at your camping area
Double-check the weather prediction or forecast
Have some small appliances which require limited power
Do laundry in advance
Don't overuse the available electrical power
Pack extra supplies
Final Words
You may find RV boondocking intimidating, especially if you are a first-timer RVers. But believe me, it's not, especially if you have the accurate preparation to enjoy your RV boondocking. Preparing your RV at best is the key to a successful boondocking. However, if you face any odd situation or make any silly mistake, you will be able to learn from it. And in your next boondocking trip, you will rock it.
Latest posts by Tim Harris
(see all)