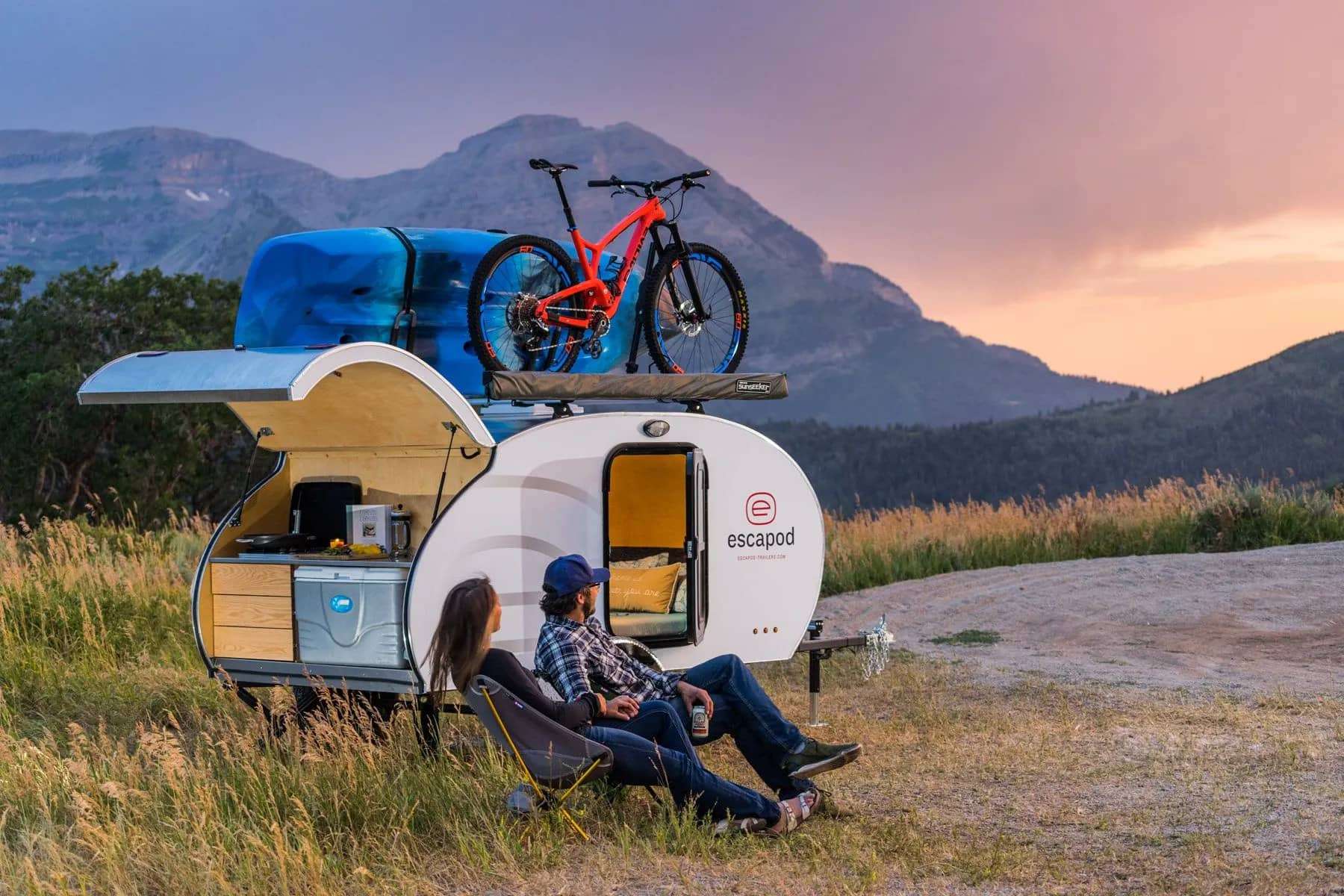 Escapod TOPO2 Nomad, The Off-Road Teardrop That Simplifies Adventures
The Escapod TOPO2 Nomad debuts as an off-road teardrop trailer that prioritizes the essentials that are needed for outdoor exploration.
Escapod Trailers, renowned for its commitment to innovative outdoor exploration, has introduced a game-changer in the world of off-road teardrop trailers — the Escapod TOPO2 Nomad. Priced competitively at just $33,990, this latest addition to the TOPO2 series is set to revolutionize how adventurers embark on their journeys, providing a versatile and efficient approach to exploration.
From the company's inception, Escapod's husband and wife co-founders, Chris and Jen Hudak, have dedicated themselves to crafting teardrop trailers that conquer rugged terrain and adapt seamlessly to any adventure. As Escapod's journey unfolded, it evolved beyond mere exploration; it became a mission to create the ultimate camper that was capable of withstanding the test of time. This aspiration resulted in the TOPO2, featuring an innovative composite monocoque design and a host of trailblazing features, positioning it as one of the most capable trailers in its class.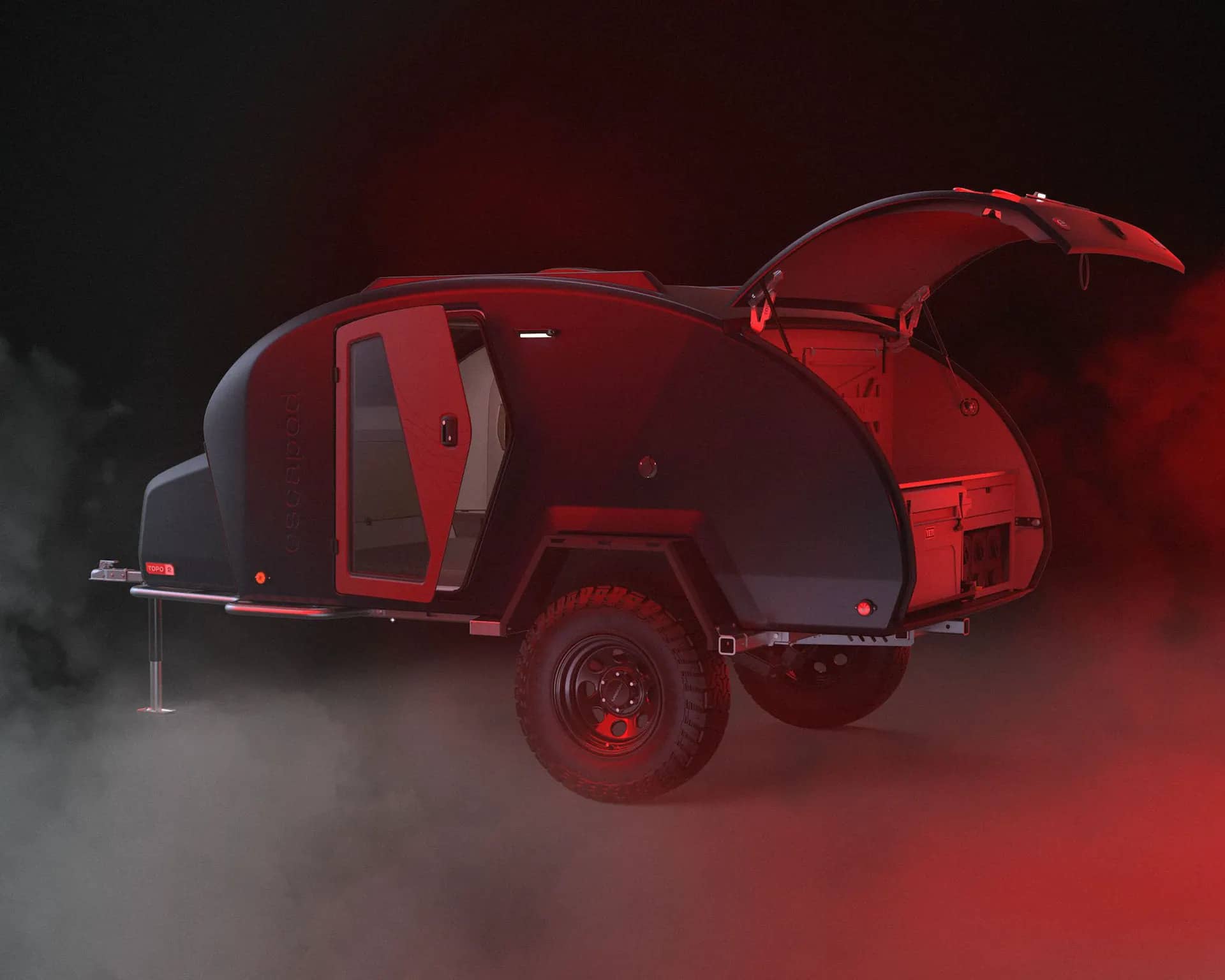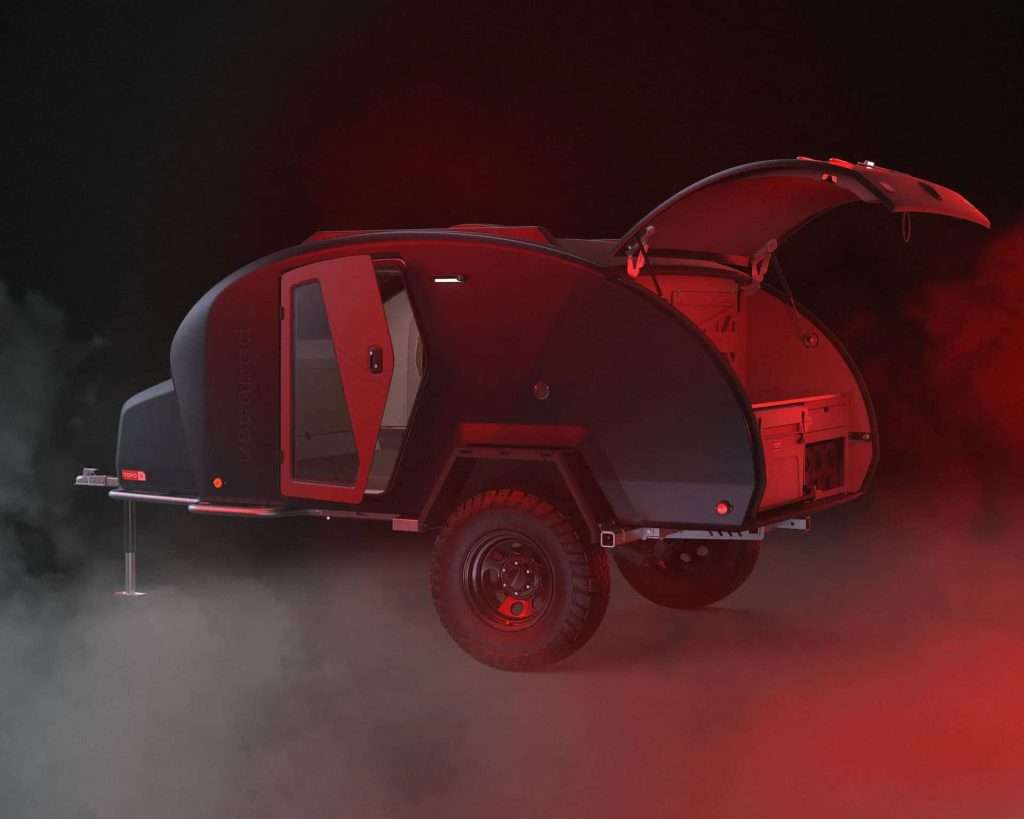 However — according to the company's press release — the concept of "best" is inherently subjective. What features matter most? What can one afford? What stands the test of time? These pivotal questions fueled yet another leap in innovation. Enter the TOPO2 Nomad, a new trim level for the TOPO2 series, specially crafted to simplify adventures by accentuating the essentials. 
"The TOPO2 Nomad is a testament to what's truly essential in a teardrop trailer. Stripping away the extras without compromising on quality and reliability, we've crafted a companion that's ready for any adventure"
—Jen Hudak, Escapod co-founder
What Hasn't Changed With The Escapod TOPO2 Nomad
The original TOPO2 model, has been rebranded to further delineate its distinct features from those of the Nomad. Now titled the TOPO2 Voyager, it explicitly caters to travelers who want to undertake extensive journeys without compromising on comfort.
That being said, as the Nomad takes the spotlight, it carries over five pivotal components from its predecessor, ensuring a seamless continuation of the brand's core values.
Composite Monocoque Body:

 The Nomad retains the most advanced composite construction in the market, boasting an unparalleled design aesthetic.

Freeride Suspension:

 With 23 inches of ground clearance and 5 inches of independent travel, the Nomad is purpose-built to conquer even the most challenging terrains.

Massive Stargazer Window: 

The Nomad features a 2.5′ x 5′ operational stargazer window in the cabin, providing an immersive connection to nature from within.

4-Season Usability:

 Built for all-year-round adventures, the Nomad is fully insulated throughout the trailer and designed without external plumbing.

5-year Manufacturer's Warranty: 

Escapod continues to offer a 5-year manufacturer's warranty, ensuring trust and quality assurance without any deceptive practices.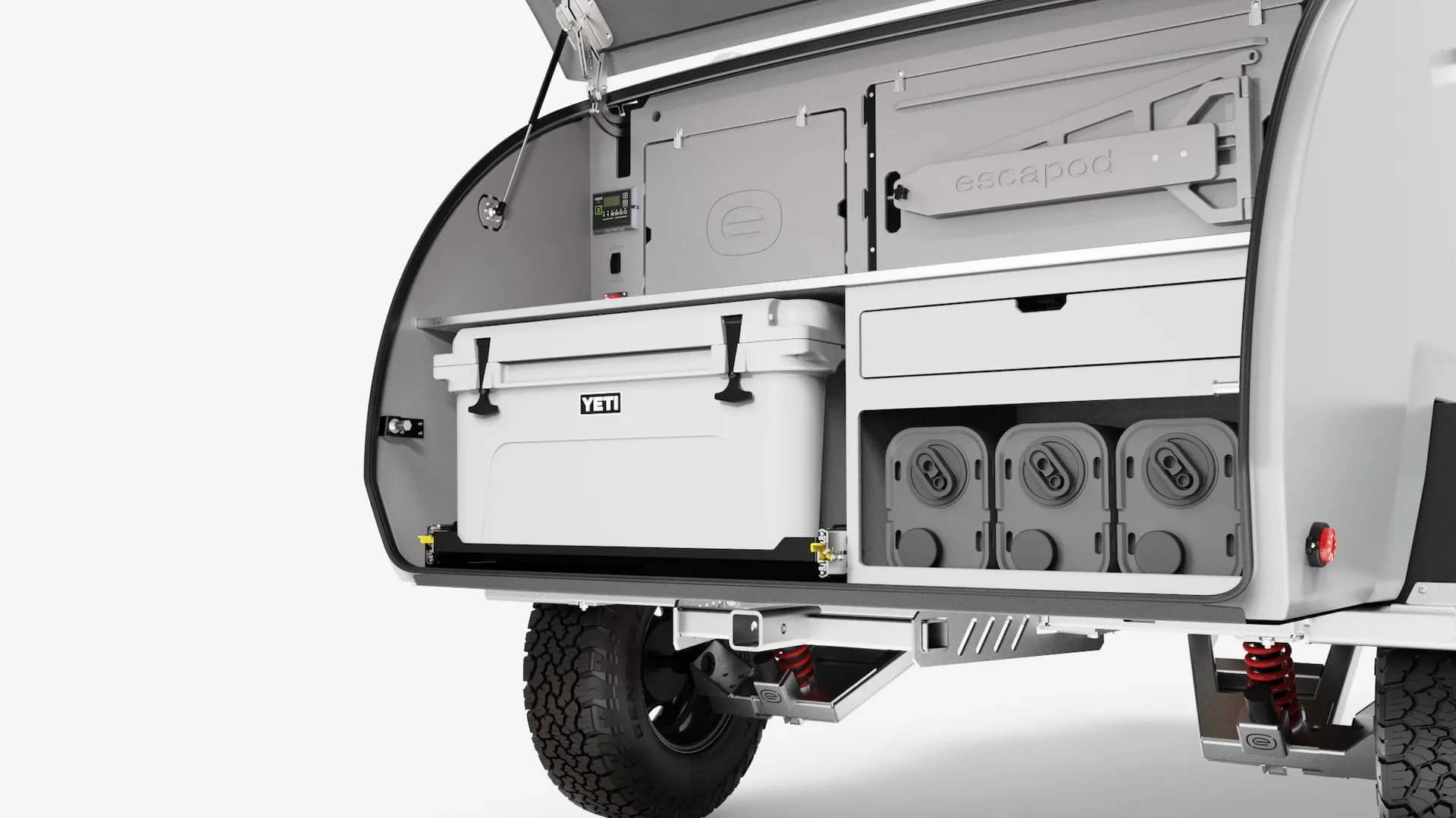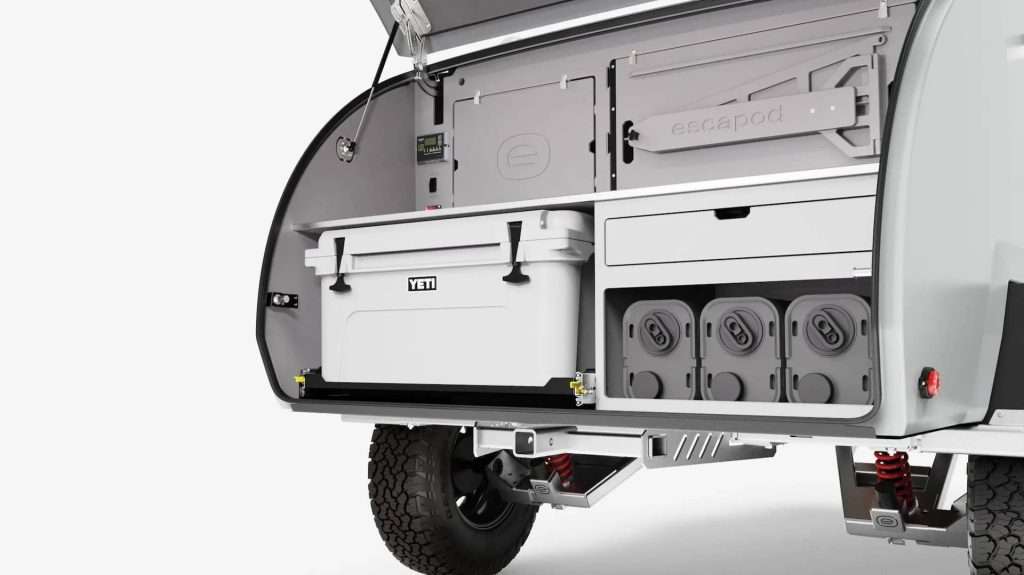 Here Are The Differences That The Escapod TOPO2 Nomad Showcases
Striking a balance between functionality and weight reduction, the Escapod TOPO2 Nomad's innovative design reflects Escapod's commitment to providing a streamlined and customizable camping experience for all users.
The Galley
With an emphasis on optimizing storage, the TOPO2 Nomad's galley showcases a repositioned power system, offering more space for essential camping gear. While the power system remains consistent with the premium 100 amp-hour Expion Lithium Iron Phosphate battery, its relocation contributes to an expanded storage area, accommodating a variety of pots, pans, and consumables.
Departing from integrated plumbing, the galley now boasts a versatile storage compartment equipped with D-rings for securing water jugs, enabling campers to seamlessly integrate their preferred water systems. Escapod provides options such as the Dometic Go Hydration system and the GSI Pinnacle Pro camp stove, enhancing the galley's adaptability and portability for an enhanced camping experience.
The Cabin
The cabin space retains its standout features, including the spacious Queen-size 6″ memory foam mattress, nightstands with wireless charging and USB ports, and the signature 2.5′ x 5′ operational stargazer window, offering an immersive connection with nature. However, the storage layout within the cabin has been revamped, providing 30% more storage capacity. This includes classic cabinets with doors, open storage for packing cubes, and smaller cubicles ideal for organizing personal essentials, ensuring efficient storage and easy accessibility.
The Tongue Box
Integrated seamlessly into the monocoque body, the tongue box of the TOPO2 Nomad has undergone improvements, incorporating D-rings for secure storage and an LED light for enhanced visibility during nighttime use. The overall storage capacity of the tongue box has also been expanded, catering to the diverse storage needs of the adventurers.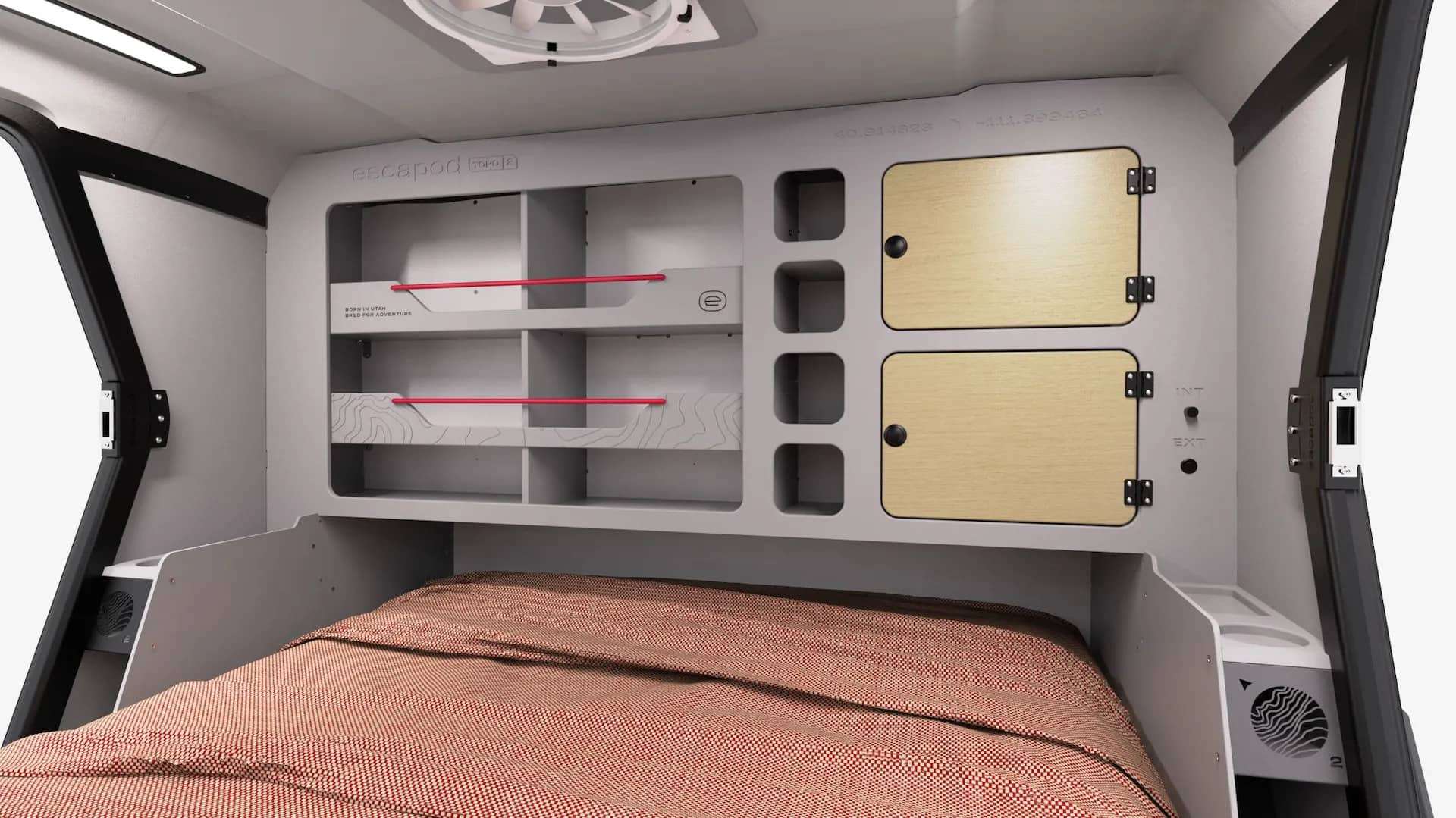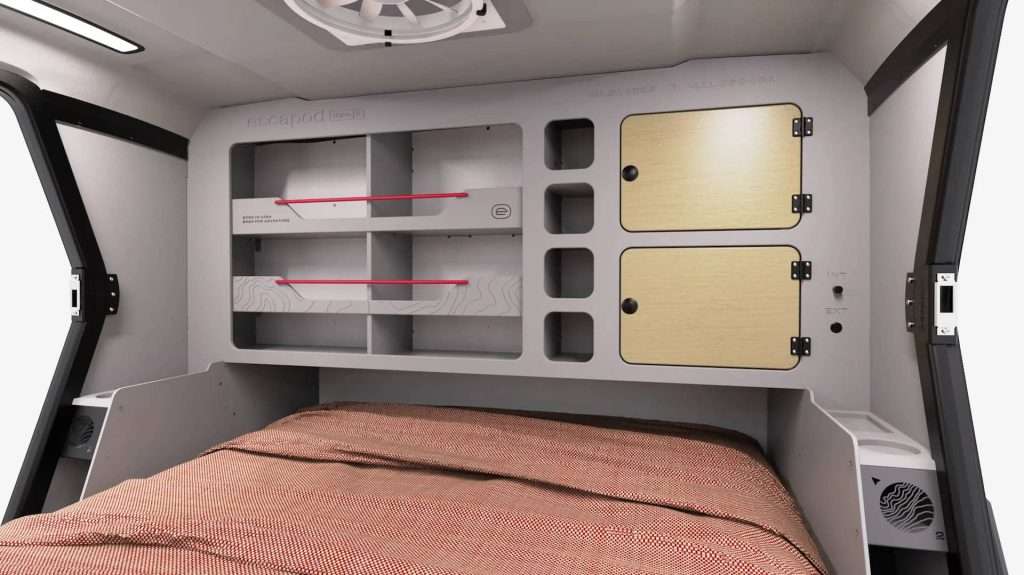 About Escapod Trailers
Escapod Trailers, founded by Chris and Jen Hudak, is a trailblazing company dedicated to crafting off-road teardrop trailers for adventurous spirits. With a vision to create robust and adaptable camping solutions, Escapod emphasizes durability and versatility in its designs. 
Escapod's commitment to minimalist yet functional features resonates with its guiding principle of simplifying outdoor adventures. The company continues to redefine the art of exploration, catering to the needs of outdoor enthusiasts seeking to immerse themselves in nature without compromising on comfort or quality.