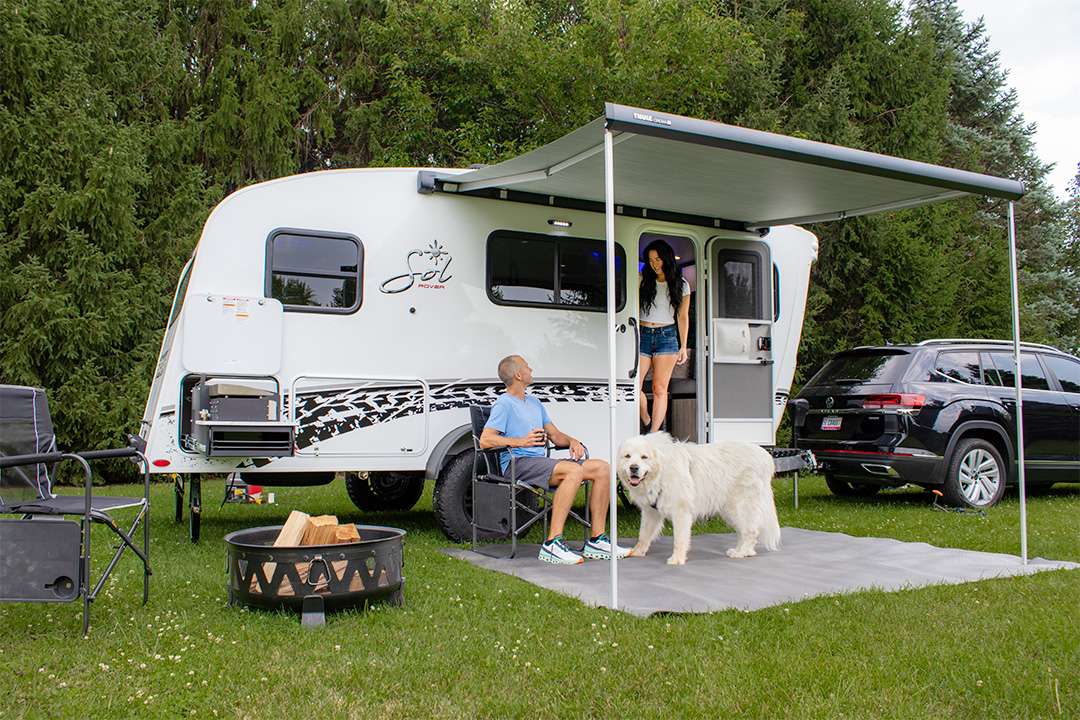 inTech RV Debuts New 2024 Sol Dusk Model
InTech RV's groundbreaking Sol Dusk redefines outdoor exploration, merging opulent living with ingenious space utilization to create an unforgettable journey into the heart of both luxury and adventure.
In a bid to redefine the art of outdoor adventure, inTech RV has unveiled its latest masterpiece: the Sol Dusk. This luxurious RV is not just a vehicle; it's an experience designed for those who cherish the finer things in life without compromising their love for the great outdoors.
At the heart of Sol Dusk's innovation is its monumental 3-ply laminated glass panoramic front windshield. This groundbreaking feature provides travelers with an unobstructed, breathtaking view of the natural world, ensuring that the journey itself becomes as memorable as the destination. In the Sol Dusk, you won't merely see the beauty of the outdoors; you'll be immersed in it like never before.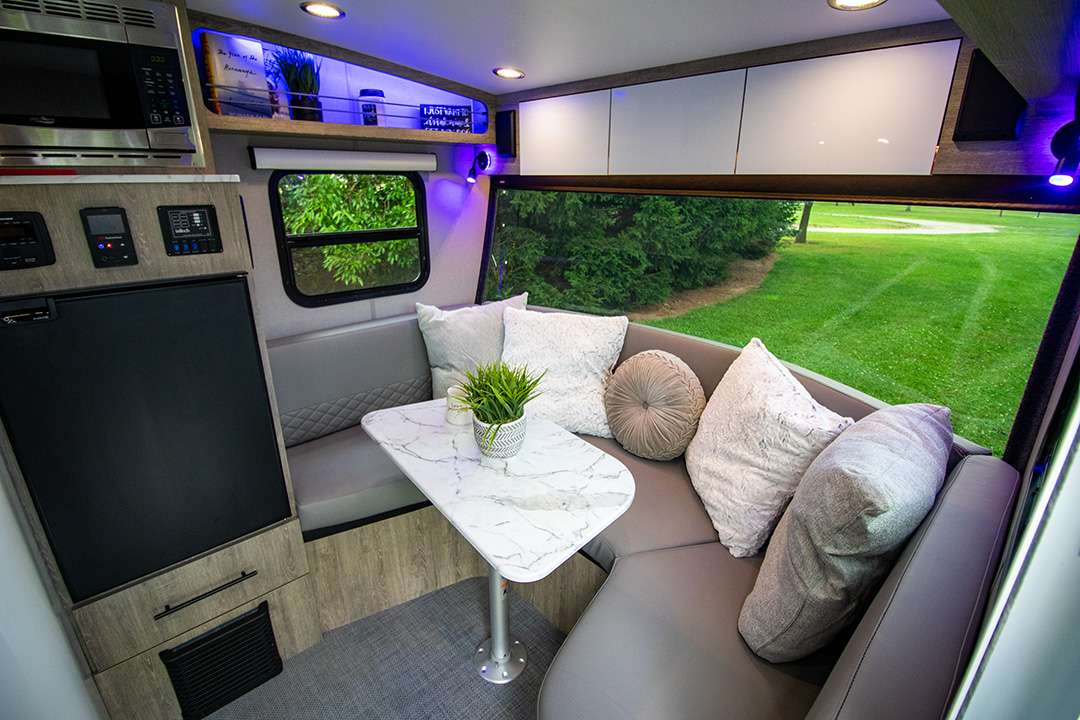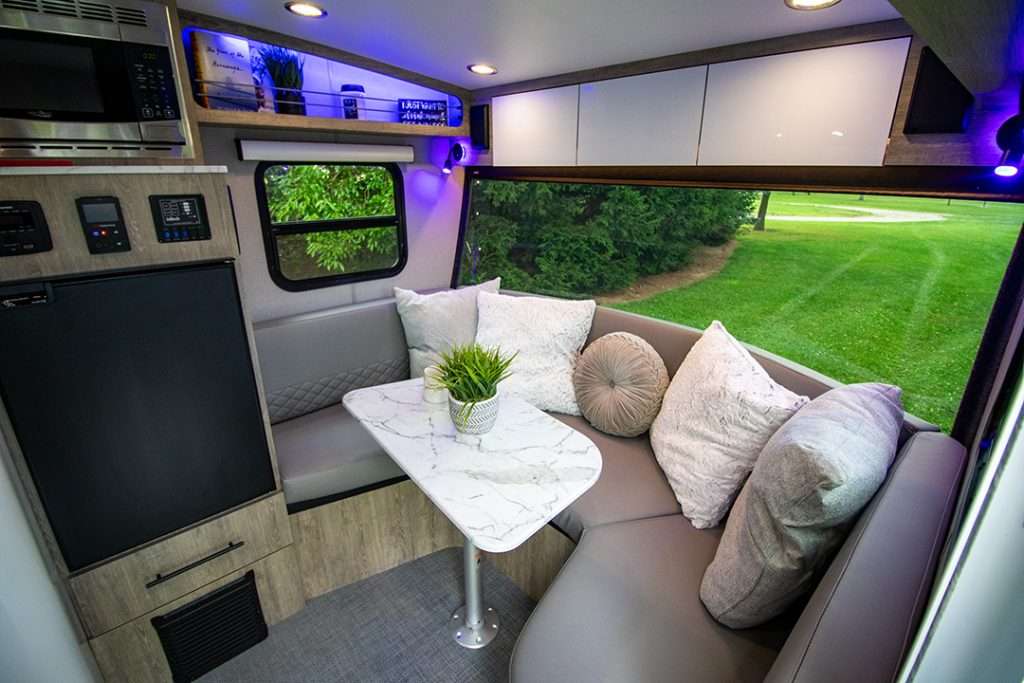 Stepping inside the Sol Dusk, you'll immediately sense the luxury that defines this RV. inTech RV has spared no expense in crafting an interior that epitomizes luxury. Premium materials adorn every corner, complemented by a level of craftsmanship that sets a new industry standard. But it's not just about materials; it's about an unwavering commitment to design and functionality. The Sol Dusk's interior is not just a space; it's an invitation to indulge in the utmost comfort and style. 
InTech RV's Sol Dusk is poised to transform the way we experience the outdoors, offering a unique blend of luxury and adventure that will undoubtedly leave a lasting mark on the world of recreational vehicles. For those who crave both quality and the great outdoors, the Sol Dusk promises an unforgettable journey into luxury.
One of inTech RV's defining strengths lies in its ability to maximize interior space, creating an ambiance of spaciousness even within compact areas. This achievement is primarily attributed to the company's groundbreaking "Tilt–Forward Design," a concept that ingeniously utilizes the typically unused space over the trailer's A-frame. 
Beyond its eye-catching exterior profile, this design innovation translates into tangible benefits for Sol Dusk owners. It provides additional room both at the front and rear of the camper, and it also affords a remarkable 6 feet 6 inches of headroom at its peak, ensuring that even the tallest adventurers can move comfortably within.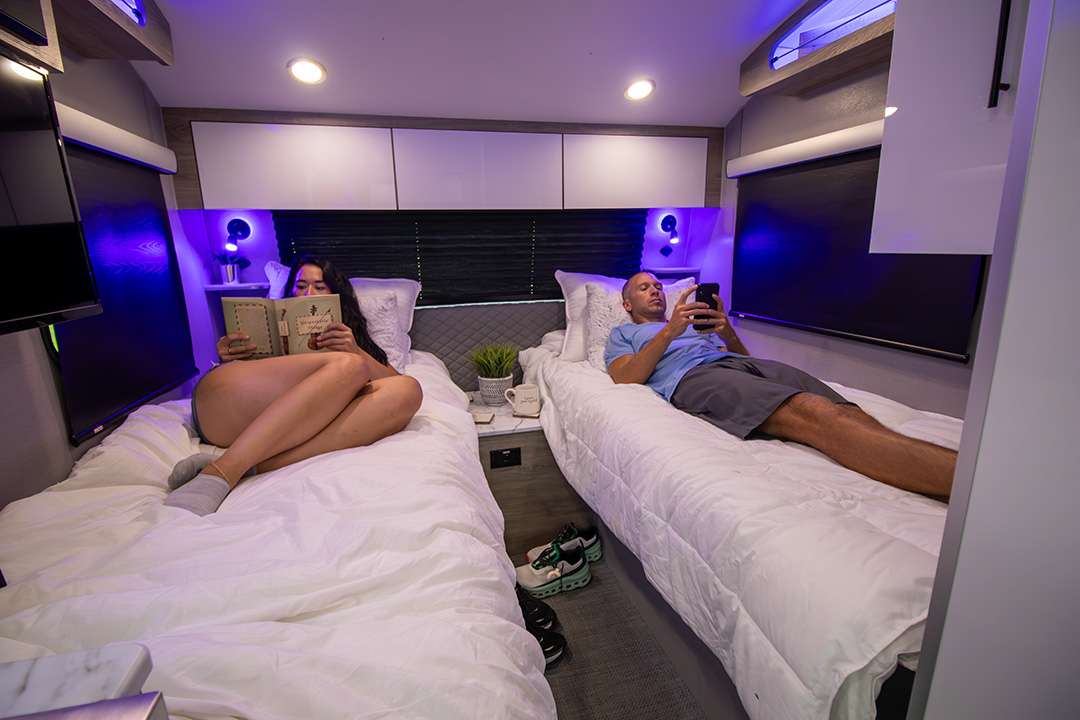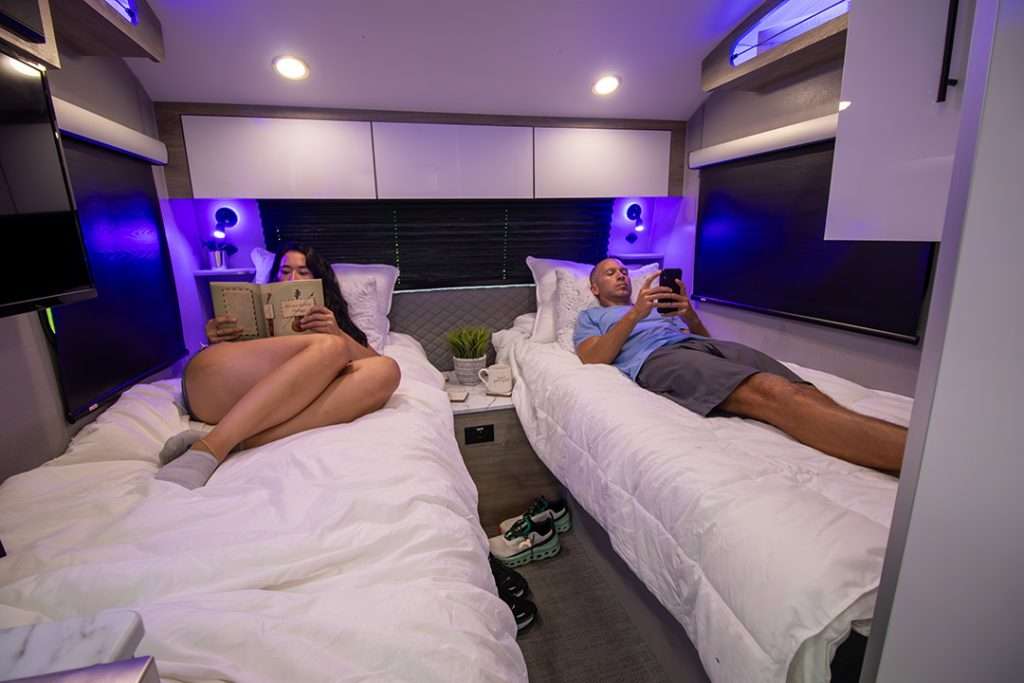 Central to the Sol Dusk's interior layout is its versatile bed/lounge area, a true testament to inTech RV's commitment to adaptability. This multifunctional space seamlessly transforms to suit your needs, whether it's a cozy lounge for relaxation, twin beds for separate slumber, or the utilization of fillers to create an expansive 80″ x 80″ oversized king bed – the choice is yours.
Sol Dusk further distinguishes itself with a host of impressive features. The spacious dinette comfortably seats up to five adults, fostering a sense of community and togetherness during your travels.
An expansive 10-foot awning provides ample shade and shelter for outdoor gatherings, rain or shine. For culinary enthusiasts, the Sol Dusk boasts a one-of-a-kind exterior kitchen, a delightful feature that brings the joy of cooking to the great outdoors. The kitchen includes an enormous farmhouse sink, a commercial-grade faucet, and a two-burner LP stove with a robust cast iron grate, offering the perfect blend of convenience and elegance.
Meanwhile, a sizable wet bath ensures that your personal comforts are never compromised, even in the heart of nature.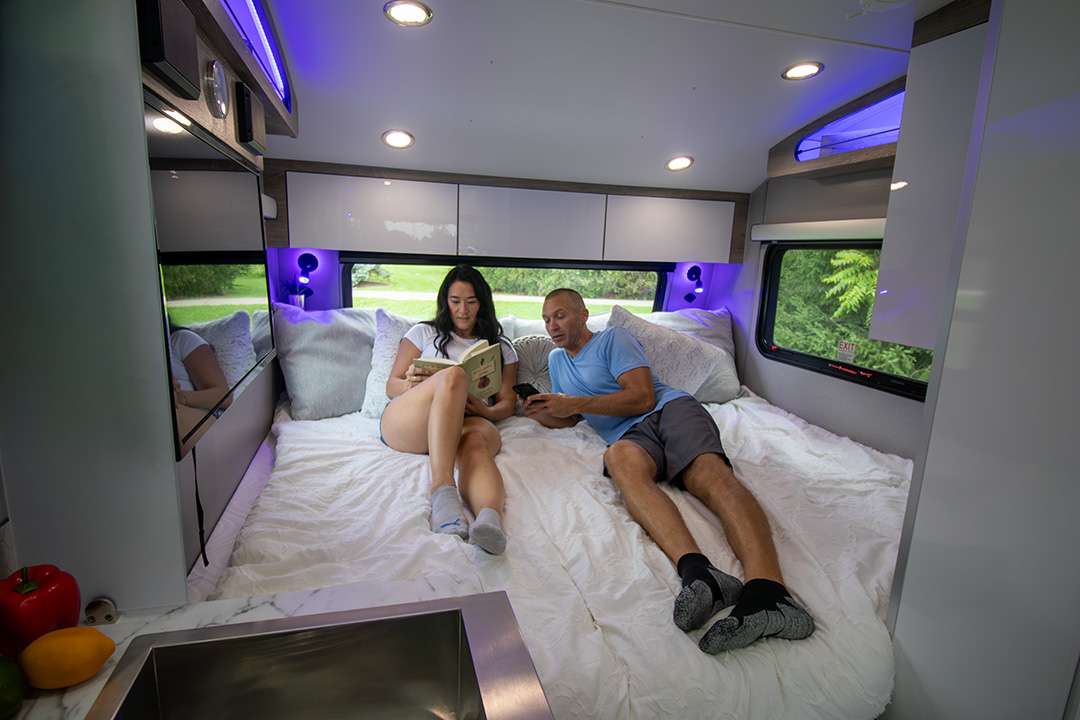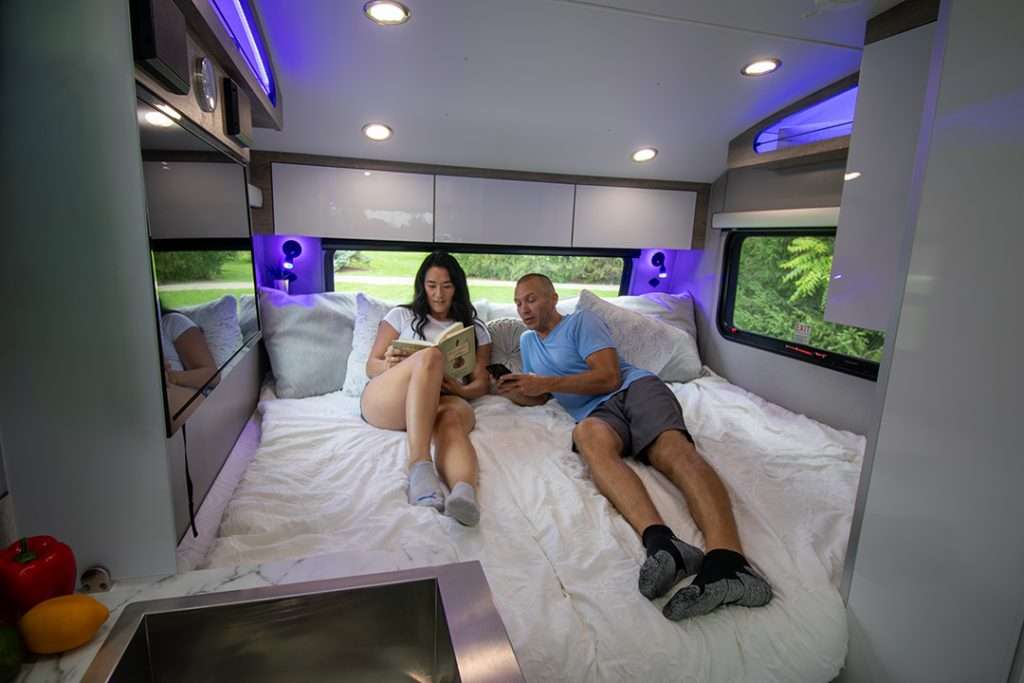 With these exceptional features and the ingenious utilization of space, the Sol Dusk by inTech RV redefines the concept of luxury camping. It's not just a recreational vehicle; it's a statement of innovation, comfort, and style, making every journey an extraordinary adventure.
Our goal is not to make a ton of product, as opposed to making a very high-quality unit. Larger manufacturers do the big volume very well. For us, we look at the market and see that we can come in and we can make a high-quality, unique, well-designed product that's at a higher price point. We're not going to produce as many a day, but it becomes our niche in the market.
—Keith Fishburn, inTech Sales Manager
The Sol Dusk Makes Luxury RVing Attainable
RV enthusiasts can soon embark on their very own luxurious adventures, with the Sol Dusk by inTech RV set to hit the market in the coming weeks, offering a remarkable blend of comfort and innovation, all at a starting MSRP of $44,940 – making the dream of upscale outdoor living an attainable reality.
Specifications
Dry Weight — 3,590–3,980lbs

GVWR — 4,800lbs

Fresh Water Tank — 28 Gal

Black Water Tank — 32 Gal

Furnace — 16K BTU

A/C — 15K w/ Soft Start

Ventilation — MaxxAir Vent Fan and Roof Vent with Onboard Switch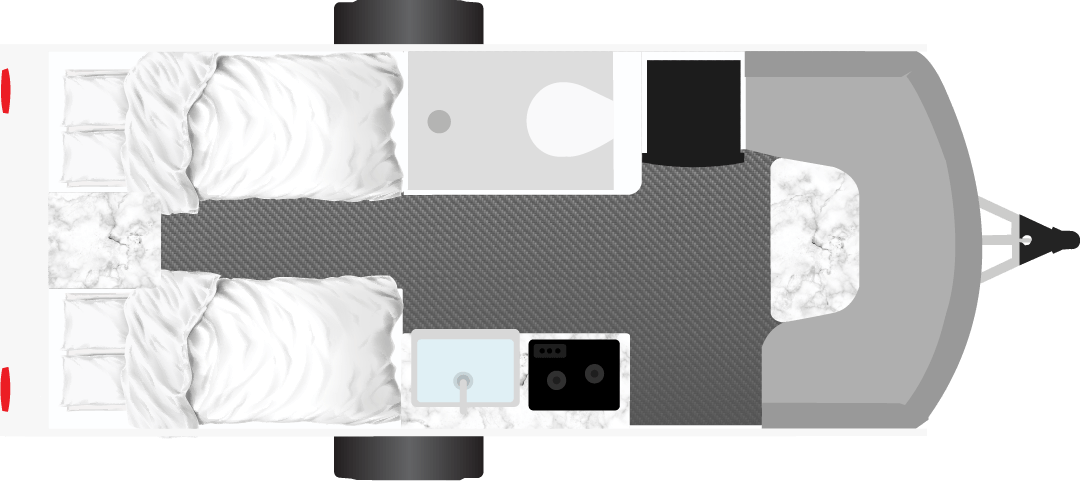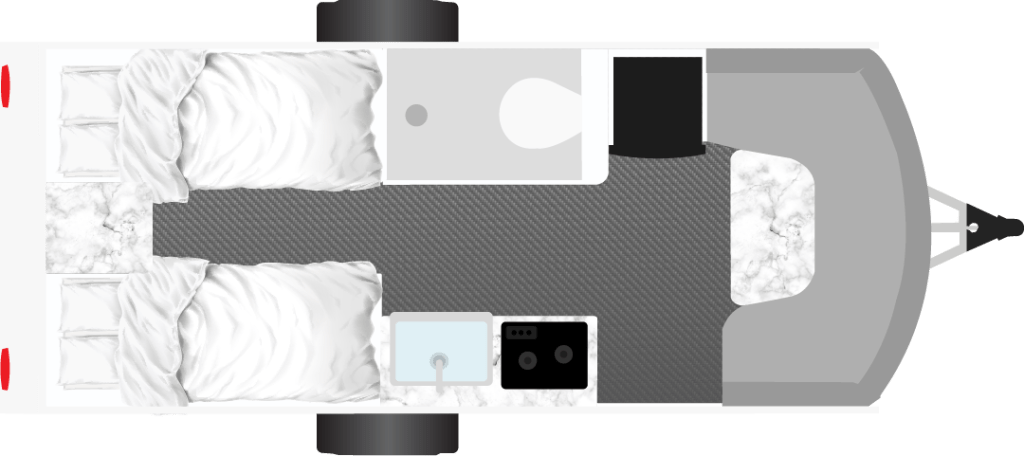 About InTech RV
inTech RV, founded in 2010 and headquartered in Nappanee, Indiana, has rapidly become a pioneering force in the recreational vehicle industry. Renowned for their commitment to innovation and quality craftsmanship, inTech RV specializes in manufacturing teardrop trailers and small travel trailers that combine cutting-edge technology with sleek design. 
Their dedication to precision engineering and attention to detail has earned them a reputation for producing some of the most durable and functional RVs on the market. As a company deeply rooted in the American heartland, inTech RV continues to redefine the way adventurers experience the great outdoors by providing compact yet feature-rich RVs that cater to both the seasoned camper and the novice explorer.