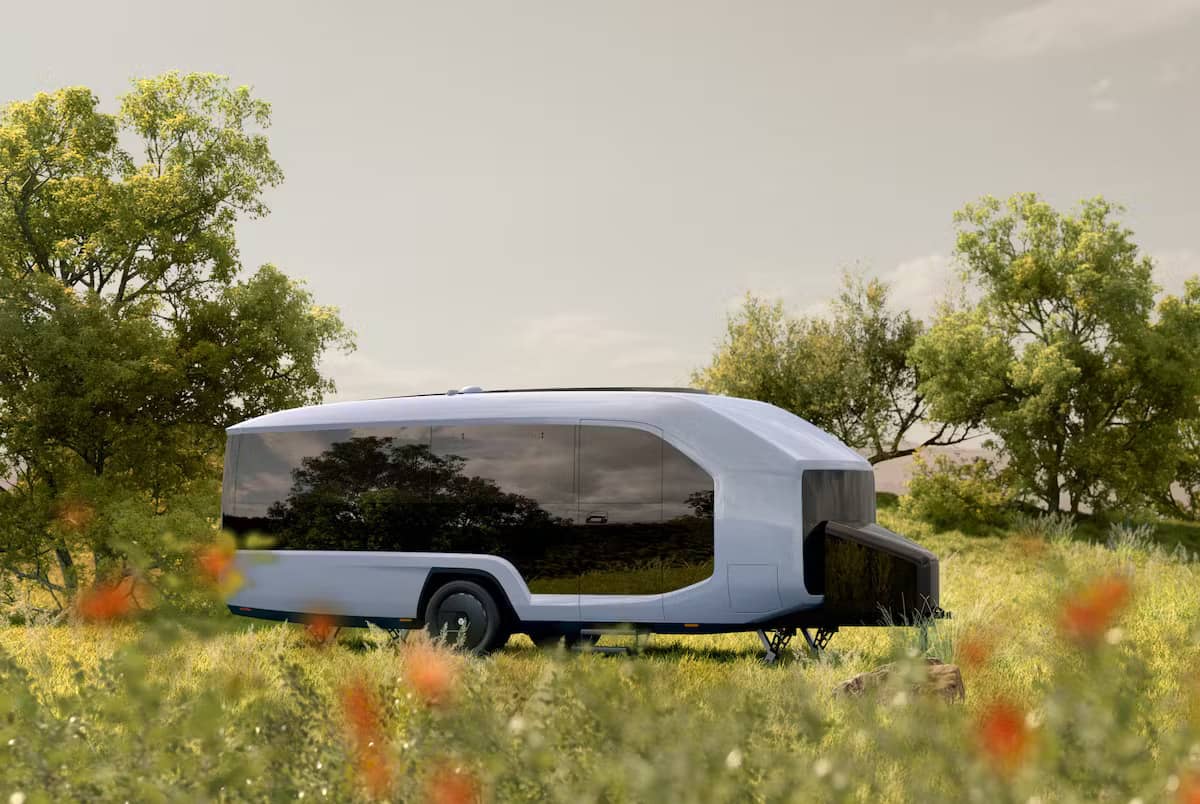 Pebble Flow Is Redefining The Electric Smart RV Experience
Embark on a new era of RVing with the groundbreaking Pebble Flow, Pebble Mobility's all-electric travel trailer that aims to break boundaries when it comes to innovation and eco-friendly exploration.
It's been a long time coming, but the Pebble Flow — the flagship all-electric travel trailer from Pebble Mobility — is finally here… well, almost. Although the company isn't quite ready to roll the Pebble Flow out to customers, they aren't shying away from showing it off to the public. The Pebble Flow finally had its public debut at the 2023 LA Auto Show (scheduled to run from November 17–26), and it was met with an overwhelmingly positive reception.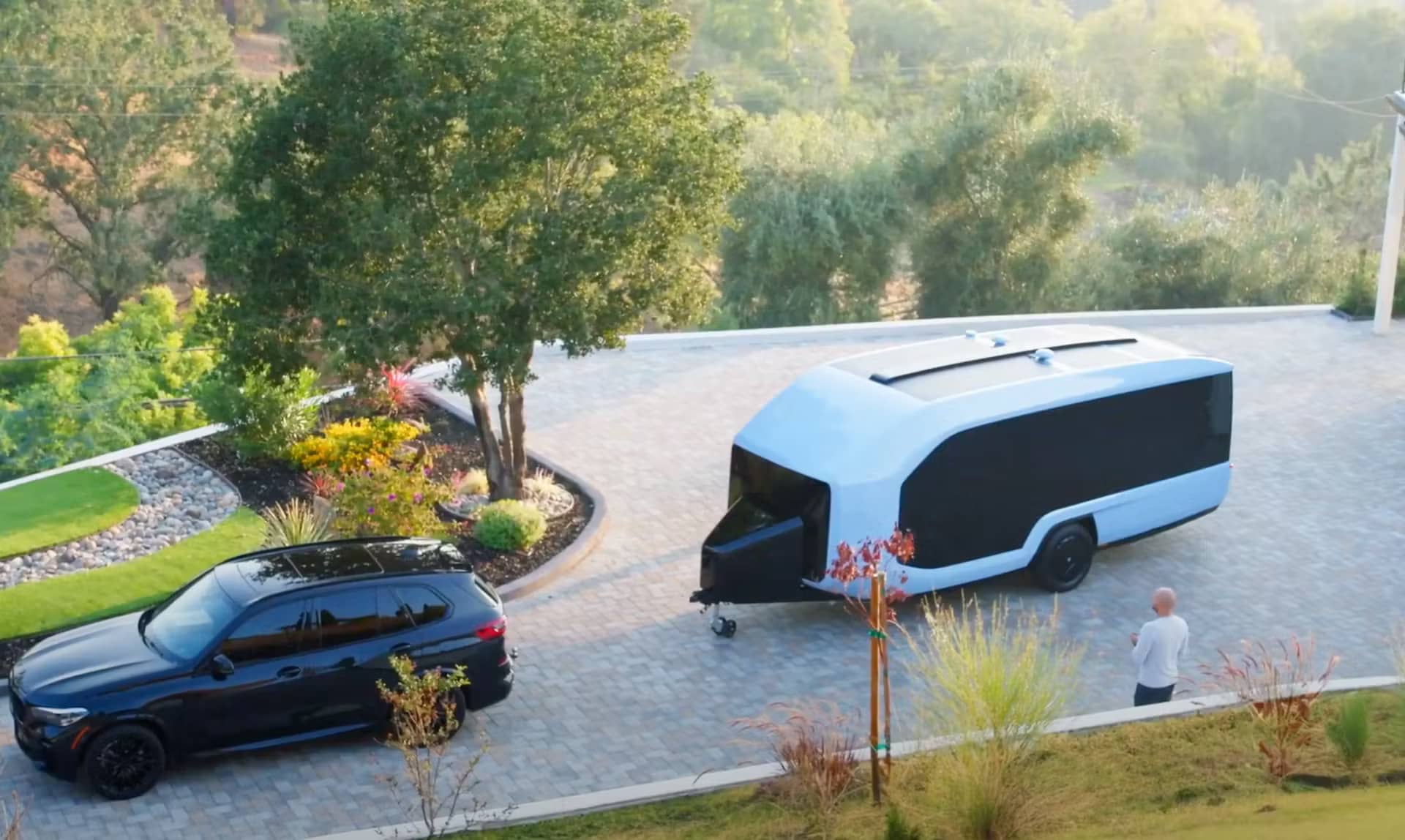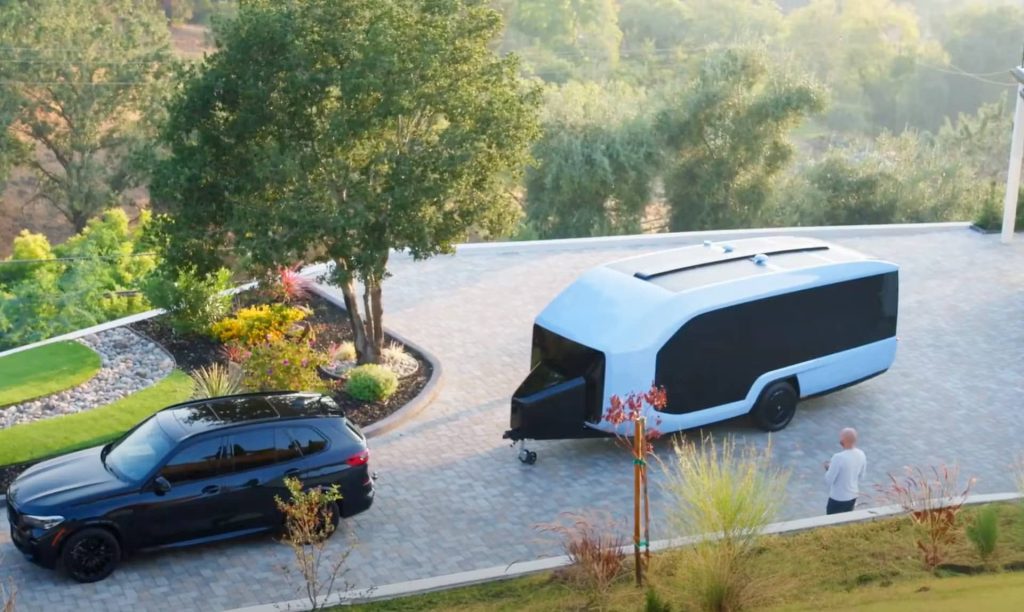 "The Pebble Flow embodies a new era in RVing – one that's sustainable and frictionless. We're embracing advancements in electrification and automotive technology to streamline the end-to-end experience. We're taking away all of the hassles of RVing to help more nature lovers achieve a freer, lighter, lifestyle."
—Bingrui Yang, the Founder and CEO of Pebble.
That being said, eager customers will still have to wait a bit longer before they can get their hands on the Pebble Flow. Although it is currently available for preorder, the company currently has a broad estimated shipping date of "before end of 2024".
All The Features You Need In A Minimalistic Package
The Pebble Flow doesn't just aim to redefine the electric smart RV experience; it introduces a range of functionalities that cater to the needs of modern travelers without overpowering the natural surroundings they seek to enjoy.


Room Flip For Versatile Comfort
One standout feature of the Pebble Flow is its versatile interior, offering a sleeping capacity for up to four people. The flexible furnishings allow for a seamless transition between relaxation and work mode, with the Murphy bed ingeniously retracting into a desk in a matter of seconds. This adaptability speaks to the evolving needs of travelers, offering a dynamic living space within a compact footprint.
Aerodynamic Design For Efficiency
Pebble takes a forward-thinking approach to design with the Pebble Flow's aerodynamic silhouette. This not only enhances the trailer's aesthetics but also serves a practical purpose by reducing drag. The result is improved mileage and extended range, contributing to a safer towing experience. This emphasis on efficiency aligns with Pebble's commitment to delivering a travel trailer that enhances both form and function.
A Chef's Kitchen For Culinary Adventures
For those who appreciate the culinary aspect of their travels, the Pebble Flow's kitchen is a true highlight. Equipped with a removable induction cooktop, a 4-in-1 convection microwave, and a full-size fridge, this chef's kitchen elevates campsite meals to a new level. The flip-up service window adds a touch of flexibility, allowing occupants to choose between cooking inside or enjoying an al fresco culinary experience.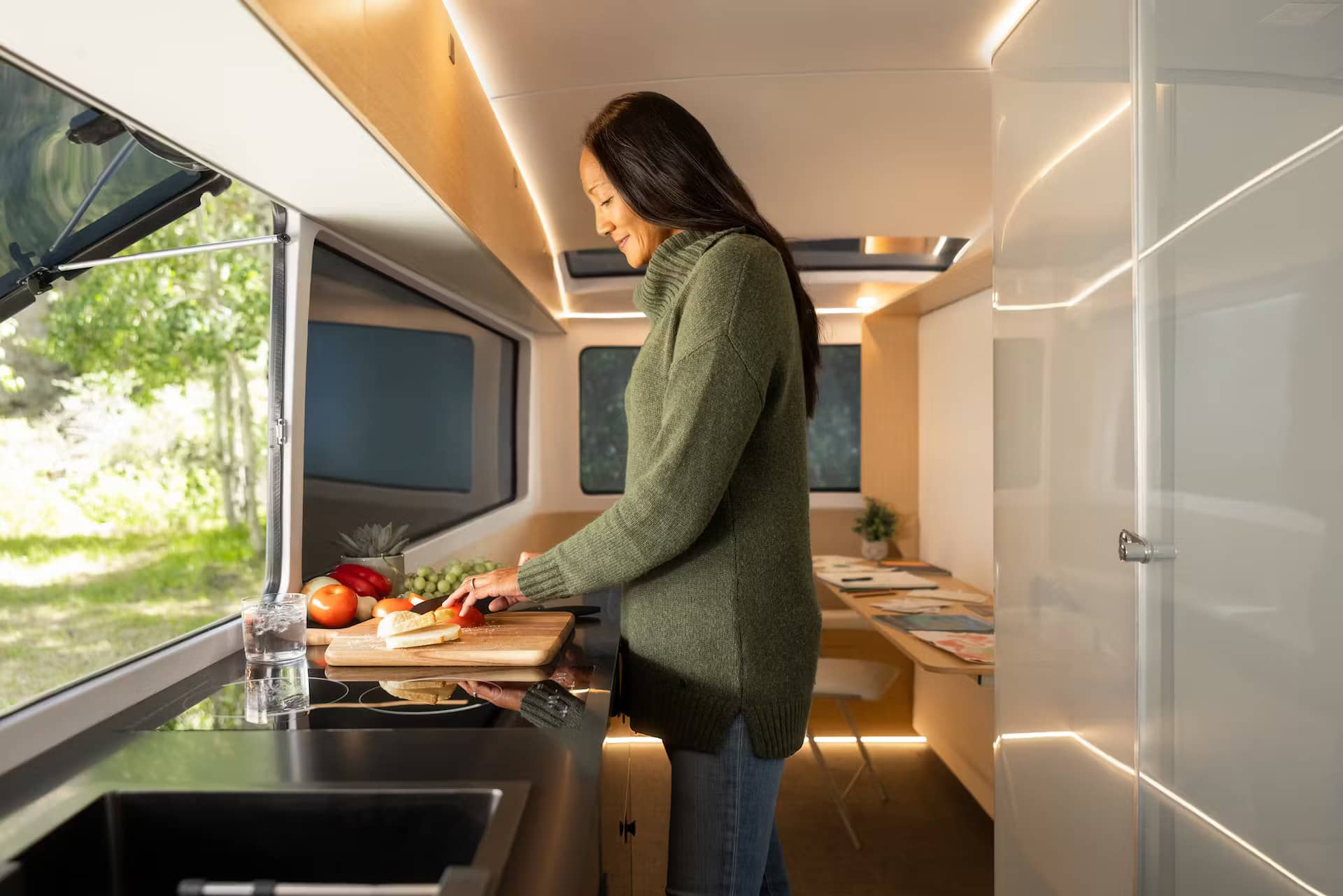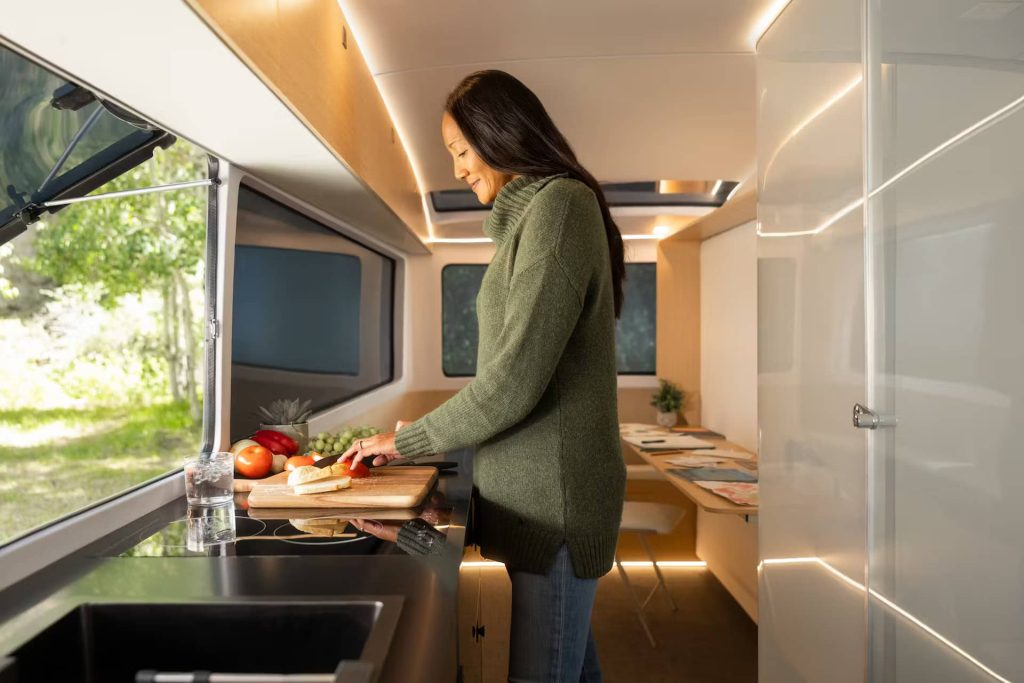 Connectivity At Your Fingertips
Recognizing the increasing importance of staying connected on the road, Pebble Flow comes plug-and-play ready for Starlink, catering to the needs of digital nomads. Beyond internet connectivity, the Pebble app puts control in the hands of users, managing lights, door access, temperature preferences, and more. This emphasis on connectivity ensures that occupants can stay in touch with the outside world while enjoying the freedom of the open road.
Wrap-Around Windows For Immersive Views
Pebble Flow embraces the beauty of the journey with its wrap-around windows, providing a panoramic 270-degree view of the surroundings. This design choice allows travelers to immerse themselves in the landscapes they encounter, bringing the outdoors inside and enhancing the overall experience of the journey.
"RVing is more than a vacation – it's exploring, it's working, it's spending time with your family. We've designed the Pebble Flow so you can do all of that from anywhere in a modern, sleek and durable travel trailer. The Pebble Flow gives you everything you need and nothing you don't while complementing nature, not competing with it."
—Page Beermann, Head of Design at Pebble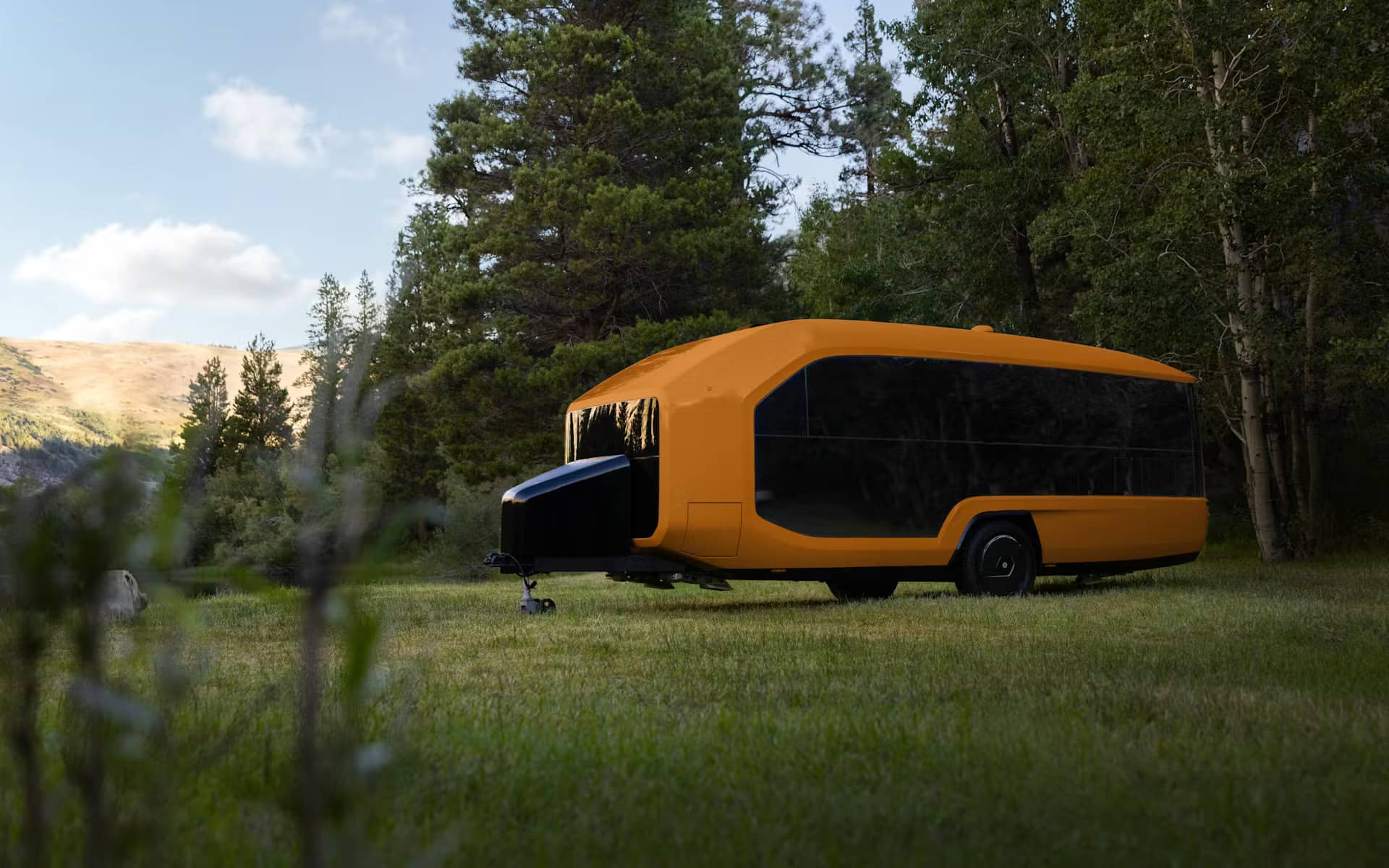 A Travel Trailer That Is 100% Electric
The Pebble Flow is not just an RV; it's a 100% electric, eco-friendly solution that aims to redefine the way we travel and experience the great outdoors.
Cutting-Edge Battery Technology
At the heart of the Pebble Flow's eco-friendly design is its 45 kWh LFP (Lithium Iron Phosphate) battery, recognized as the safest EV battery chemistry available in the market. This battery not only powers the trailer's appliances efficiently but also underscores Pebble's commitment to safety and sustainability. The ample capacity ensures that occupants can enjoy all the comforts of home, powered by clean, renewable energy.
Versatile Charging Options
One of the Pebble Flow's standout features is its universal charging capabilities, offering flexibility for users to charge the trailer in various ways. Whether it's at public charging stations, at home, or at a campsite, users can opt for AC/DC charging to suit their convenience. Additionally, the trailer boasts solar charging capabilities, allowing it to harness the power of the sun for up to a week of off-grid adventures. 
Integrated Solar Power
With a 1kW integrated solar system, the Pebble Flow takes sustainable travel to a new level. This solar feature enables the trailer to self-charge on the go or when parked, ensuring that it is continuously topping off its power supply. It's akin to being perpetually plugged into a 110V outlet, providing a reliable and eco-conscious source of energy for all your travel needs.
Emergency Backup Source
Beyond its primary function as a travel trailer, the Pebble Flow serves a practical purpose even when parked at home. In the event of emergencies, this electric marvel can be used as an emergency backup source. This dual functionality not only enhances the trailer's utility but also aligns with the growing trend of sustainable energy solutions for residential use.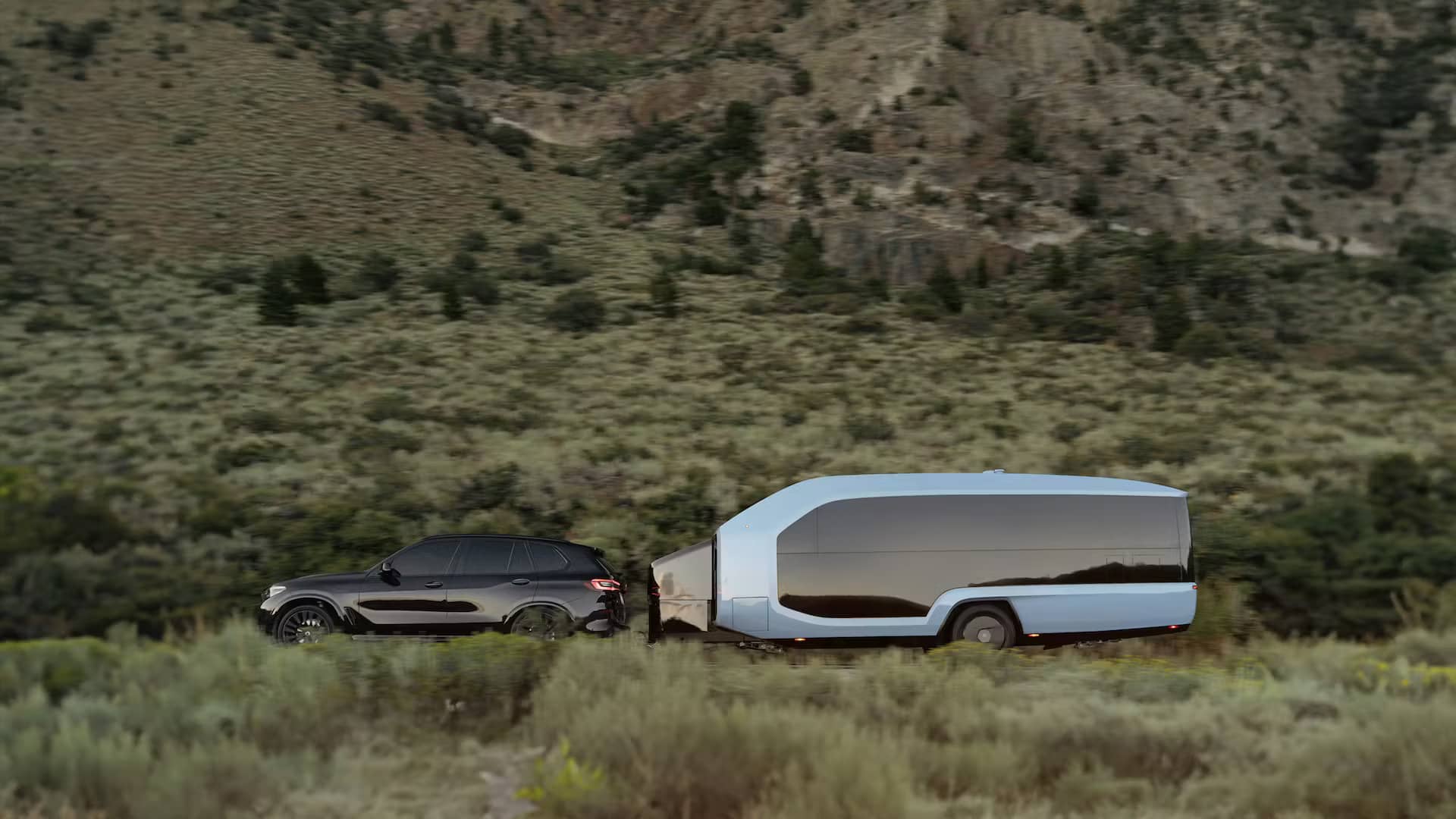 Hassle-Free RVing
For years, RV enthusiasts have grappled with the inconveniences of traditional recreational vehicles — stressful towing experiences, constant maintenance demands, and the challenge of maneuvering a large trailer into tight spaces. Pebble Mobility aims to revolutionize the RVing experience with the Pebble Flow, introducing advanced technology that promises to simplify the most arduous aspects of RV travel and eliminate longstanding hassles.
Effortless Towing With Active Propulsion Assist
The Pebble Flow addresses the concerns of towing head-on with its dual-motor Active Propulsion Assist System. This cutting-edge technology ensures that towing is not only safe but effortless, regardless of whether you're towing with an SUV, a pickup truck, a gas vehicle, or an electric vehicle. The innovative system eliminates the infamous range anxiety often associated with electric towing, providing a stress-free towing experience for all Pebble Flow users.
Magic Hitch For Seamless Connections
One of the standout features of the Pebble Flow is the Magic Hitch, a game-changer for RV owners. Say goodbye to the struggles of hitching a trailer — the Pebble Flow positions itself and automatically hitches onto the towing vehicle. This automation not only simplifies the hitching process but also adds a level of convenience that has been sorely lacking in traditional RVs.
InstaCamp For Swift Set-Up
Setting up camp has never been easier than with Pebble Flow's InstaCamp feature. With the push of a button, users can deploy or retract the awning, stairs, lights, and auto-leveling stabilizers, enabling them to set up camp or hit the road in a matter of seconds. This time-saving and user-friendly feature adds a new level of efficiency to the RVing experience.
Remote Control For Effortless Maneuvering
The Pebble Flow takes the stress out of parking and maneuvering with its fully remote-controlled capabilities. Once unhooked from the hitch, users can effortlessly control the Pebble Flow using the Pebble app. The RV pivots and positions itself into tight spots with ease, eliminating the need for manual maneuvering. This remote control functionality adds a layer of convenience that is sure to be appreciated by both novice and experienced RVers alike.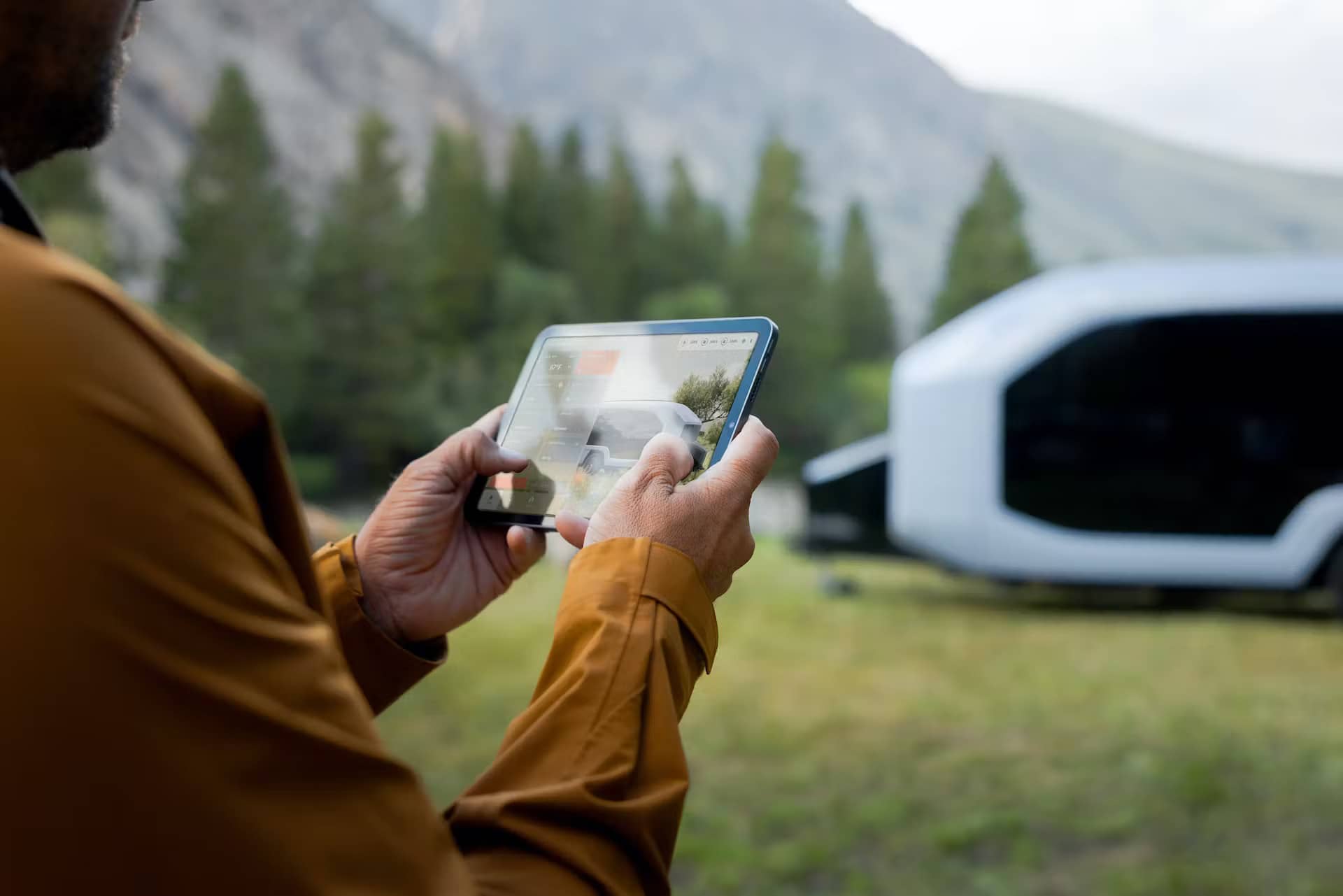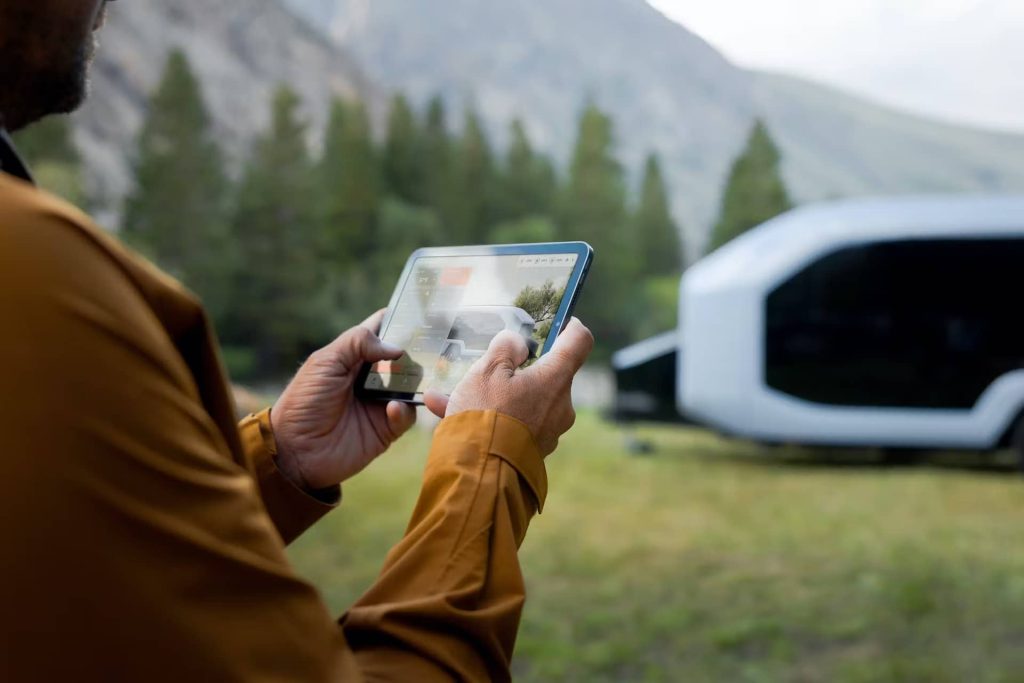 Pebble App: Intuitive Control At Your Fingertips
Central to the Pebble Flow's hassle-free experience is the Pebble app. Much like operating a smartphone for the first time, using the Pebble app requires no manual. Users have complete control over every aspect of their RVing journey from the palm of their hand. This seamless integration of technology into the RVing experience sets a new standard for user-friendly operation, ensuring that Pebble Flow owners can focus on enjoying the journey rather than grappling with the intricacies of RV management.
Preorders Are Now Open For The Pebble Flow
Preorders are now open for the Pebble Flow — this innovative RV combines modern automotive construction, industry-leading aerodynamics, and a generous 45 kWh EV battery (all standard features) — for a fully refundable deposit of $500
The standard model is priced at $109,000; however, for the full Pebble experience, the Pebble Flow with the Magic Pack is available at $125,000. This upgraded version features a powerful dual-motor drivetrain and world-first features like Remote Control, Magic Hitch, and Easy Tow.