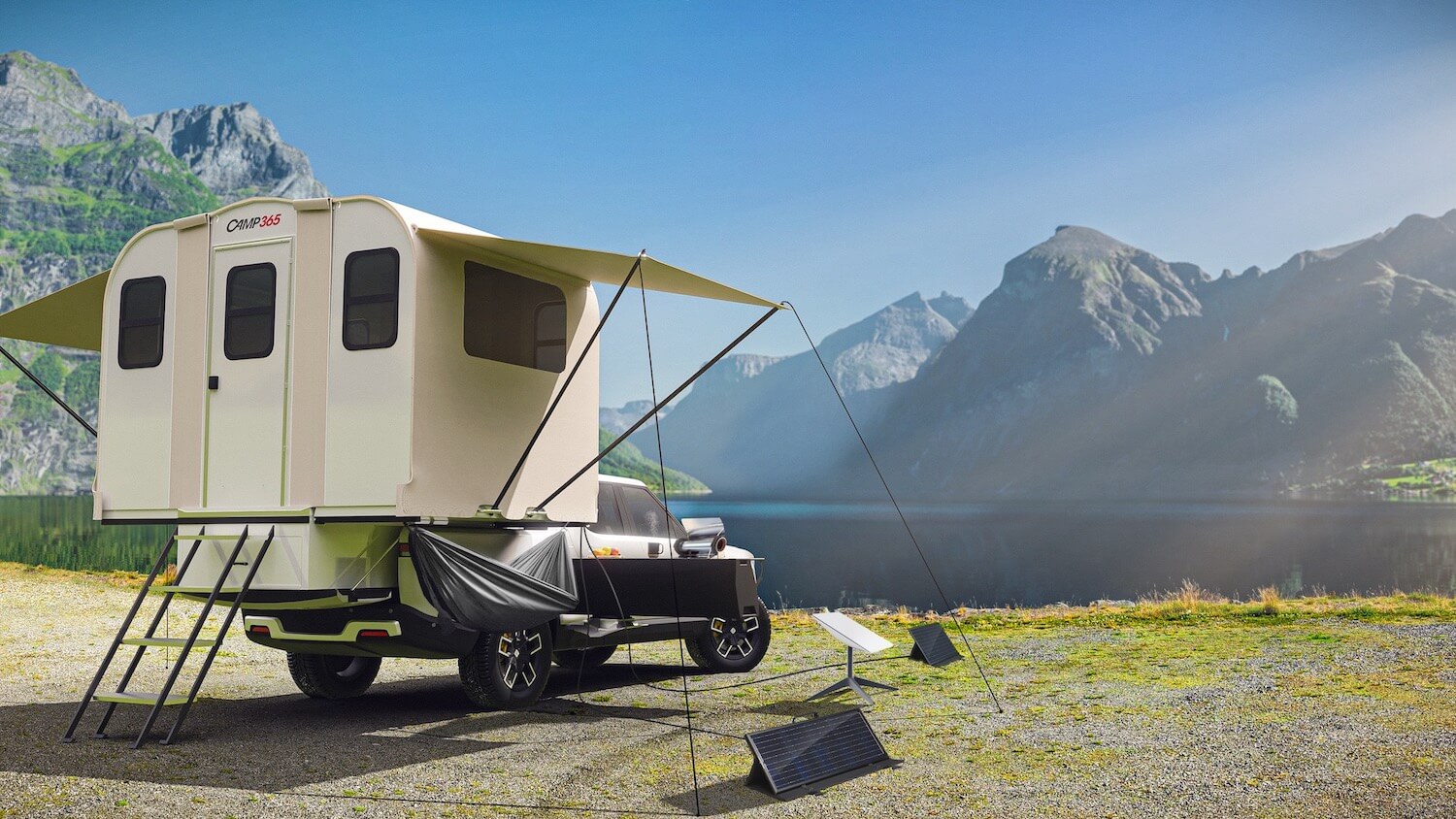 CAMP365 T Model Announced As A Truck Camper For The EV Market
In a groundbreaking move for electric vehicle camping, CAMP365 announces their T Model truck camper, promising a fusion of efficiency and adventure for the modern nomad.
In a groundbreaking move for the electric vehicle market, CAMP365, renowned creators of the world's first fold-out cabin camper, have recently announced their latest innovation — the CAMP365 T Model, a truck camper designed specifically to meet the needs of EV owners.
Manufactured in the USA, the T Model is tailored for compatibility with a range of mid-size trucks, including the Rivian R1, Ford Lightning, Tesla Cybertruck, and others, as highlighted in the company's press release. This strategic design ensures that electric vehicle enthusiasts have a truck bed option that minimally impacts their vehicle's range.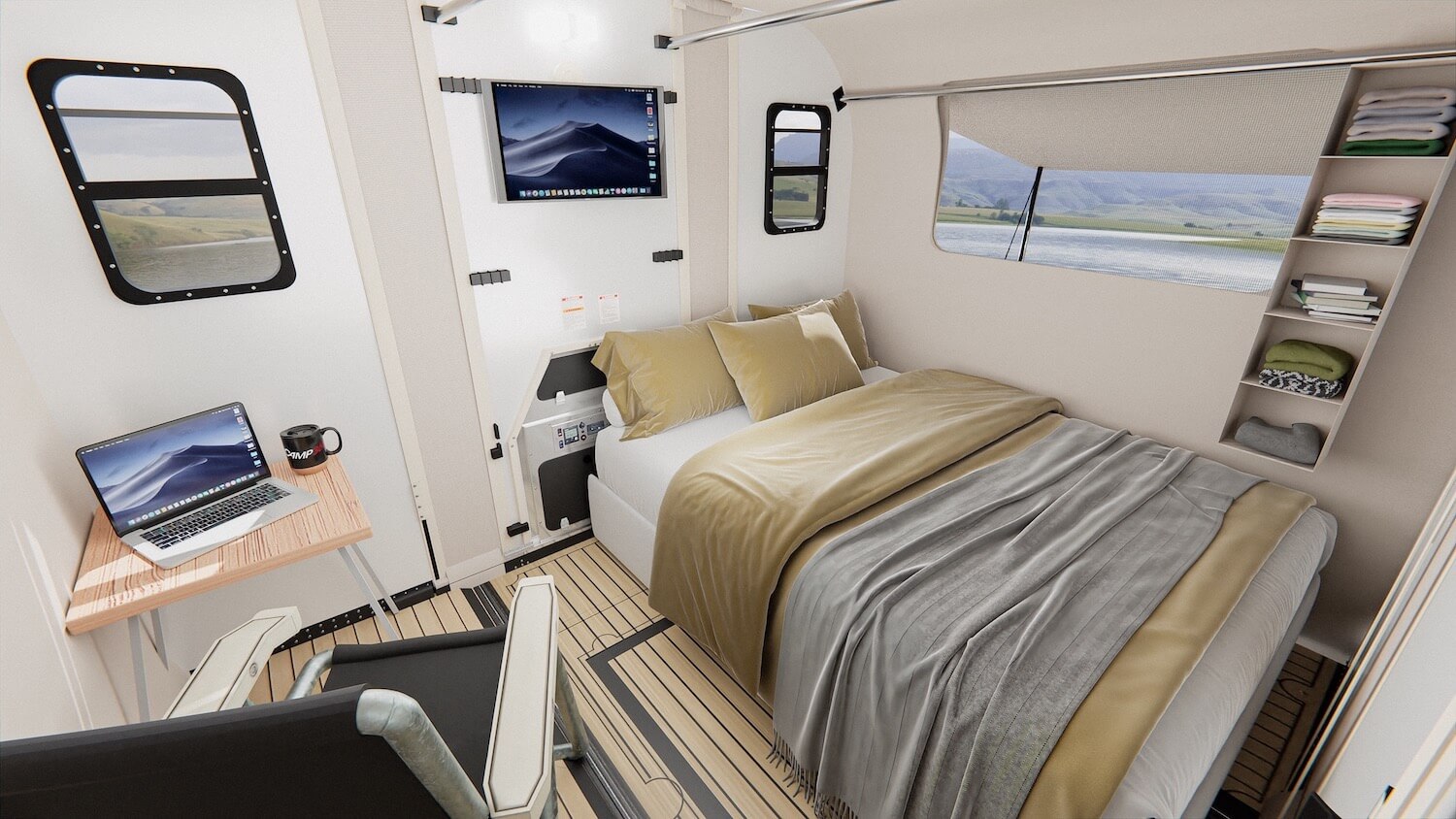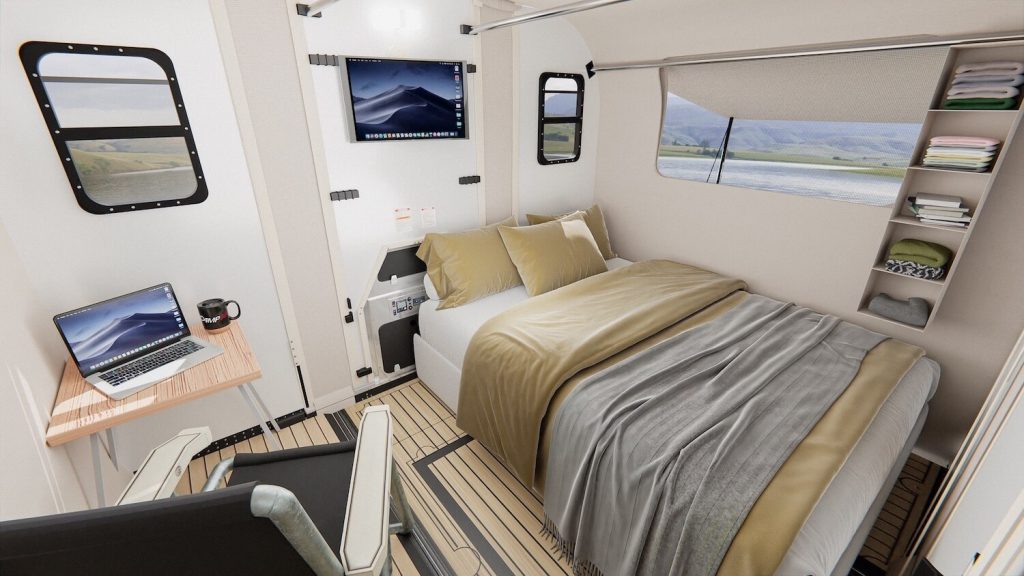 One of the standout features of the T Model is its lightweight and aerodynamic build, weighing in at a mere 700-800 pounds, depending on chosen options. This design not only makes it a streamlined unit on the road but also results in a remarkable 5-10% loss in range, a significant improvement compared to competitors who suffer nearly 50% range reduction with an 8,000lb. payload.
"We're proud to add to CAMP365's heritage of providing innovative products to the RV market with the T Model. Not only does this new model have a modular design that makes it among the most spacious campers in the category, but it allows electric vehicle owners an option to explore and adventure with limited loss of range to their vehicle."
—Kevin McGregor, CEO of CAMP365
The camper, measuring approximately 4′ x 7′ in the truck bed, unfolds within minutes to reveal a spacious 9′ x 7′, 63-square-foot interior. This innovative design comfortably accommodates 4-5 people, providing a generous 6'8″ of headroom. What's more, with a width of only 4′, the T Model can be conveniently stored in residential garages, and its patented technology allows a single person to load or unload the camper in just about 10 minutes.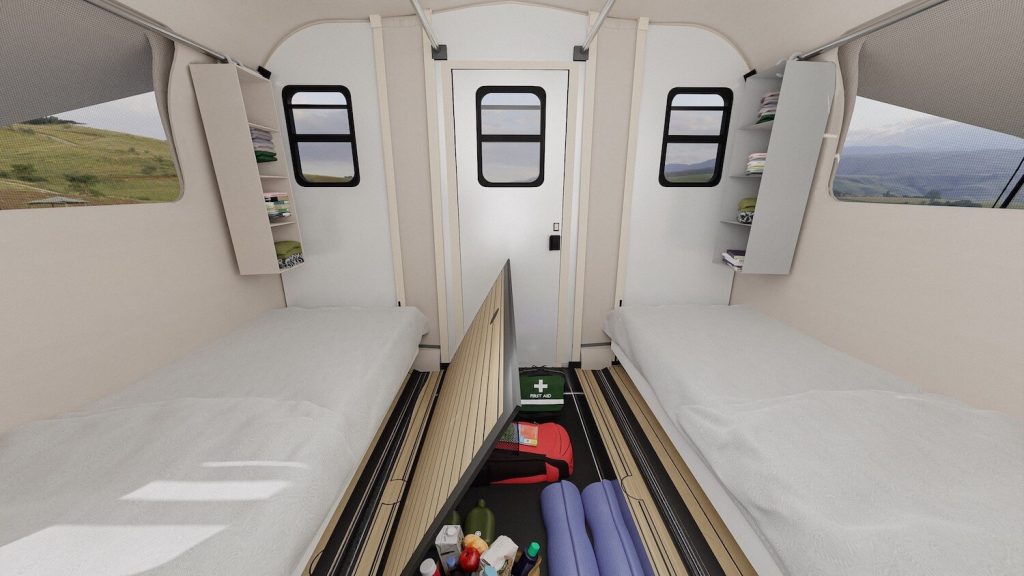 Drawing inspiration from the company's original CAMP365 model unveiled in 2018, the T Model is equipped for year-round camping with its dual-layer air gap insulation walls. This all-electric camper is solar-ready and boasts an array of features, including a folding queen, twin or bunk comfort system, a 24-gallon water tank, a hot water shower, sink, faucet, toilet, and an induction cooktop. Additional amenities include electric heating and air conditioning, 75″ of dry storage between both folding walls, a large lockable bed storage drawer, exterior racks for bikes or watercraft, two side awnings, and even Starlink internet connectivity.
Highlighting their commitment to American manufacturing, all CAMP365 units, including the new T Model, are proudly made in the USA at manufacturing plants in Iowa and Minnesota. The T Model, with a starting price of $25,000, is now available for reservation with a fully refundable deposit of $100, and production is slated to commence in the early summer of 2024, promising an exciting addition to the world of electric vehicle camping.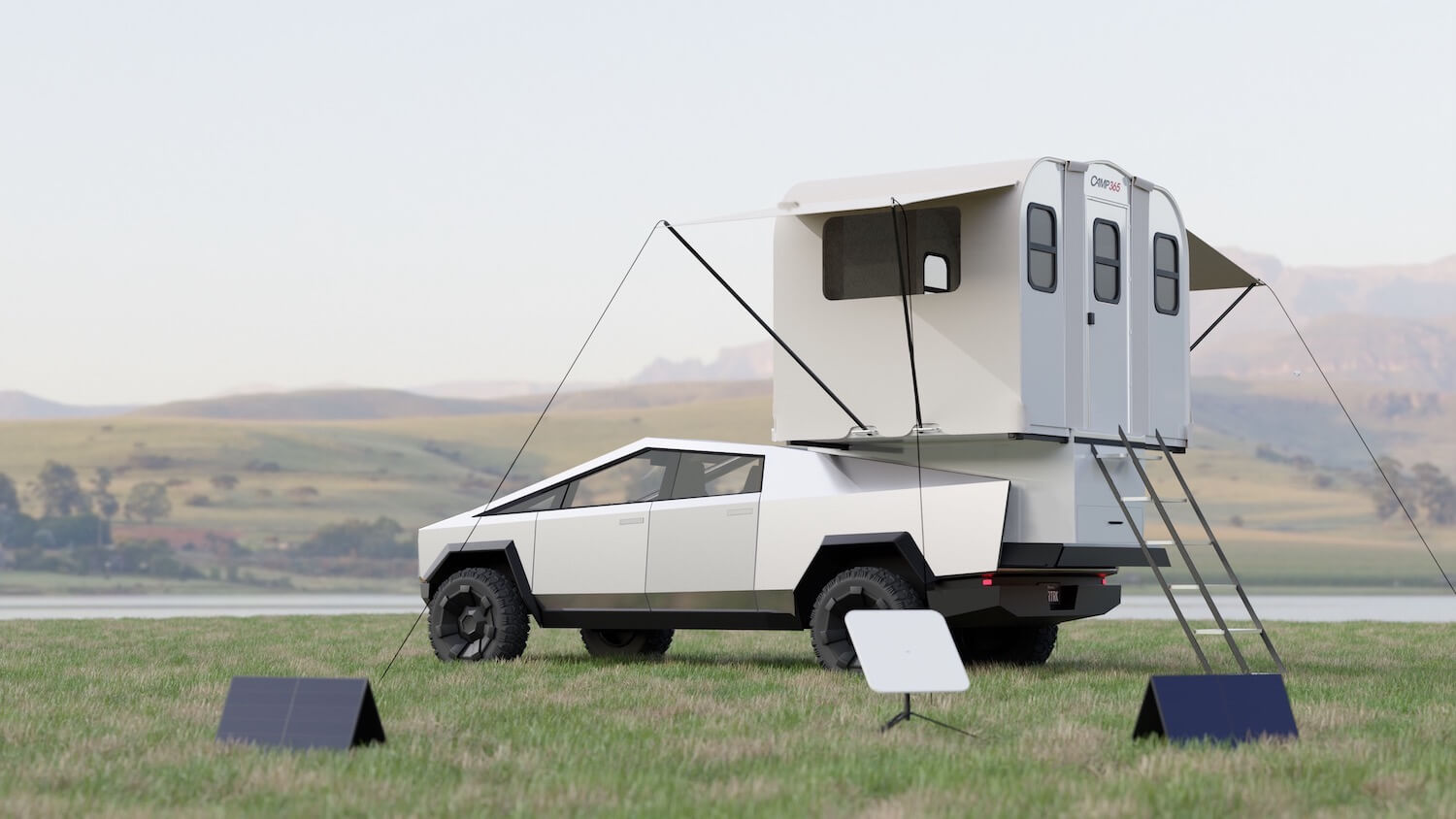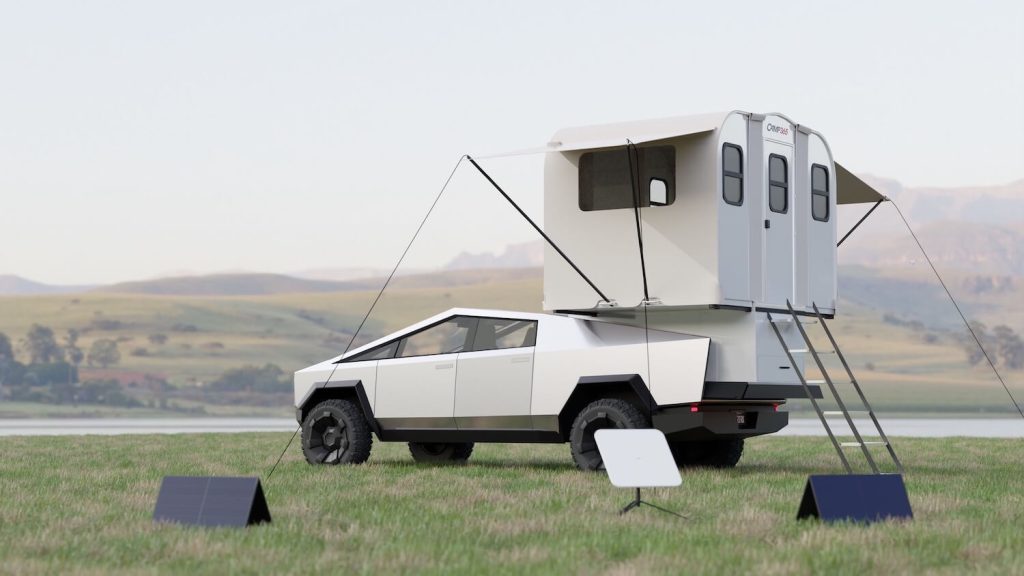 About Camp365
Founded on a pioneering spirit, CAMP365 has made significant waves in the camping and recreational vehicle industry since its inception. Headquartered in Eden Prairie, Minnesota, the company stands as a pioneering presence in the outdoor and recreational industry. Making waves in 2018 with the introduction of the world's first fold-out cabin camper, the company has remained steadfast in its commitment to delivering quality, functionality, and innovative design. 
Emerging as the trailblazers behind the world's first fold-out cabin camper, the company has a rich history of innovation. Independently operated, CAMP365's cutting-edge campers are tailored to seamlessly integrate with the diverse lifestyles of modern adventurers. Crafted by a dedicated team of outdoor enthusiasts and engineers, the company boasts an impressive portfolio of over 17 patents, offering a range of towable, truck bed, and emergency response options within its camper line, all proudly made in the USA.
CAMP365 campers are synonymous with quality and ingenuity, showcasing a dedication to crafting lightweight yet robust solutions for outdoor enthusiasts. As they continue to shape the future of camping, CAMP365's diverse range of features and forward-thinking designs underscore their status as a key player in the RV market.