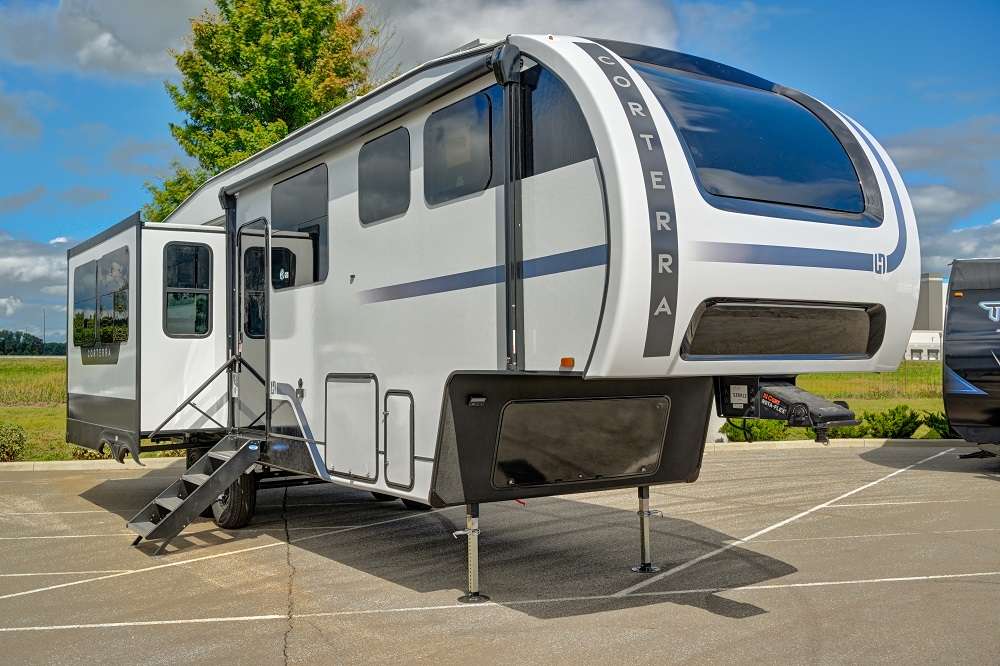 Heartland RV Debuts The Corterra, Its New Luxury Fifth-Wheel Camper
From its well-appointed interiors to its innovative design elements, the Heartland RV Corterra looks to be a standout choice for RVers seeking both luxury and value.
Heartland RV has made waves in the RV industry with the debut of its latest offering — the Corterra, a luxurious fifth-wheel camper designed to redefine the camping experience. This new addition to Heartland's lineup, named after the Latin words "cor" for heart and "terra" for land, encapsulates the very essence of what Heartland RV is known for — quality, craftsmanship, and innovation.
Unveiled just in time for last week's Elkhart RV Dealer Open House, the Corterra camper showcases Heartland's commitment to excellence. It seamlessly combines high-quality materials, precision construction, thoughtful design, and exquisite interior decor, traits that have set Heartland apart in the industry. At first glance, it's clear that the Corterra is not just another camper; it's a testament to Heartland's dedication to providing an exceptional camping experience for enthusiasts.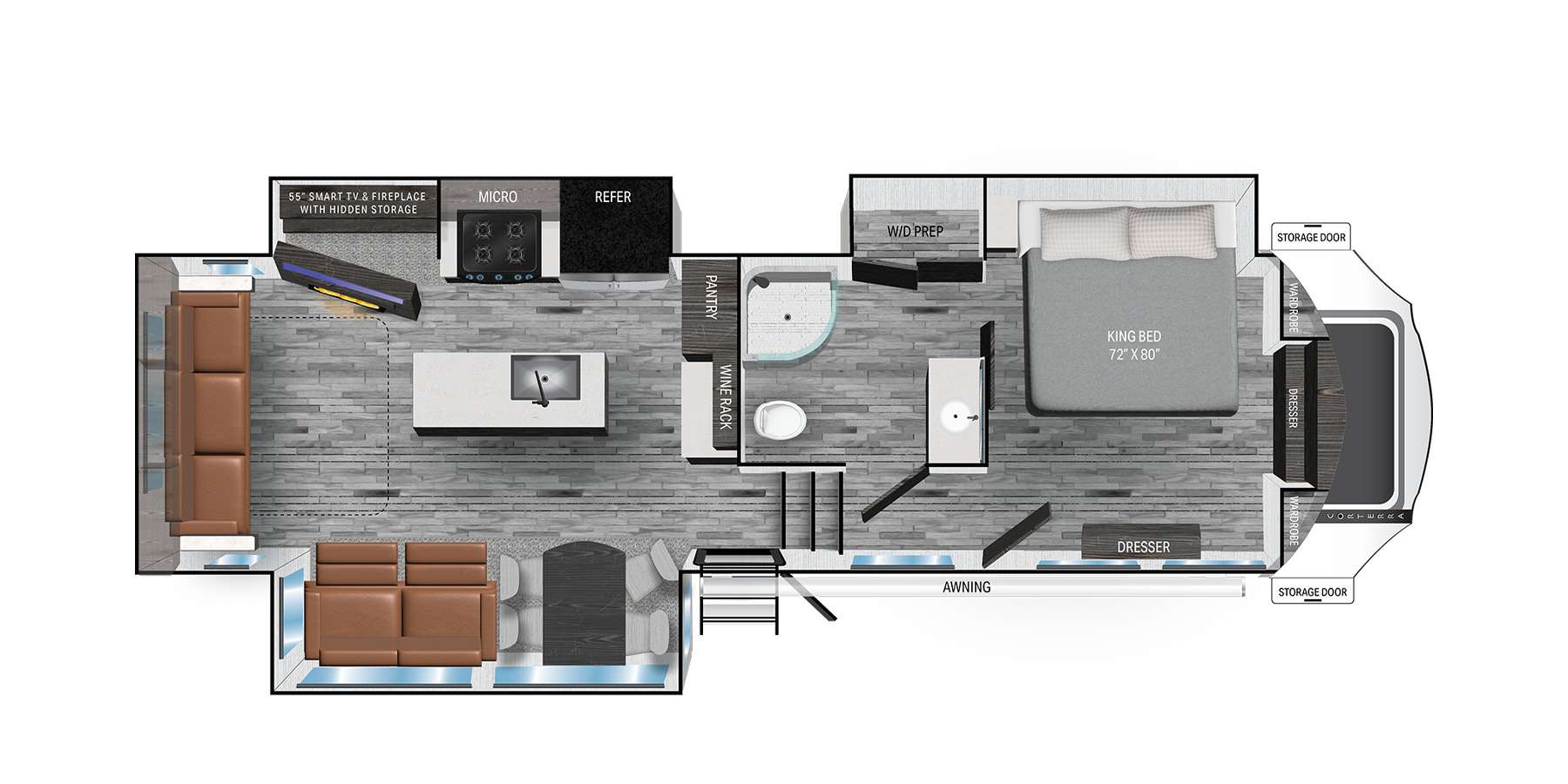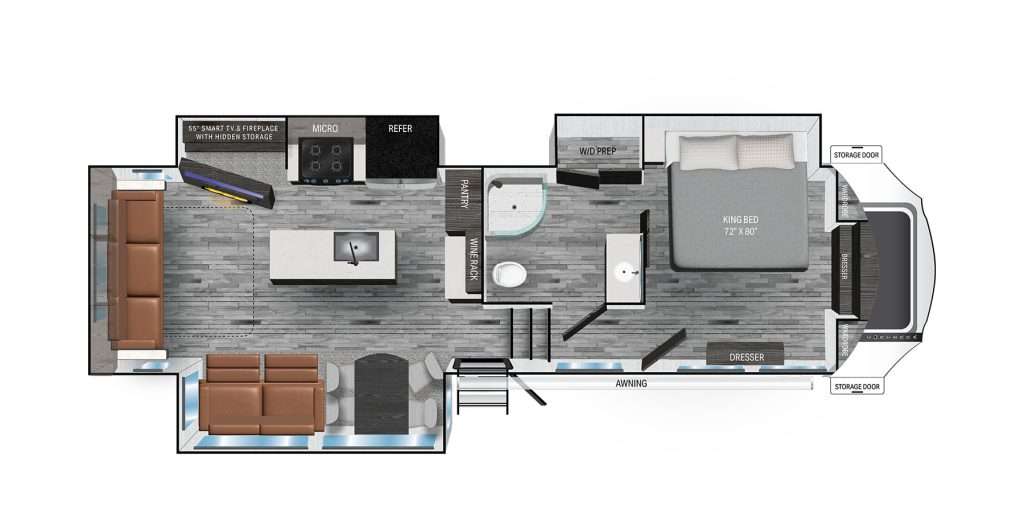 Everything We Know About The Heartland RV Corterra
Exterior Features
The Corterra boasts a range of exterior features that enhance its performance and ensure safety and stability on the road. Equipped with American-made Goodyear tires featuring a built-in tire pressure monitoring system and 7,000-pound Dexter axles, this camper is ready to tackle the open road. The addition of Dexter Tow Assist introduces a suite of safety features, including anti-lock braking to prevent tire skid and ensure stable braking, especially when road conditions are challenging. 
Sway mitigation technology keeps the trailer aligned with the tow vehicle, even on windy days, during lane changes, and at higher speeds. Additionally, a towable odometer provides vital trailer mileage information, enabling owners to perform recommended maintenance at crucial intervals.
Built around a sturdy 10-inch I-beam frame with two-inch crush tubes, the Corterra achieves a remarkable balance of solidity and lightweight construction. An innovative aerodynamic front cap features an expansive windshield that offers breathtaking views of the natural surroundings. The entryway is equipped with solid steps by MORryde, complemented by an extended grab handle, ensuring stability as owners step through the tinted, all-glass entry door.
"Corterra's construction is strong but lightweight, and features innovative new elements like an all-glass entry door and a panoramic window in the front cap. It's a capable, well-built RV wrapped in a beautiful exterior."
—Jon Gust, General Manager for Corterra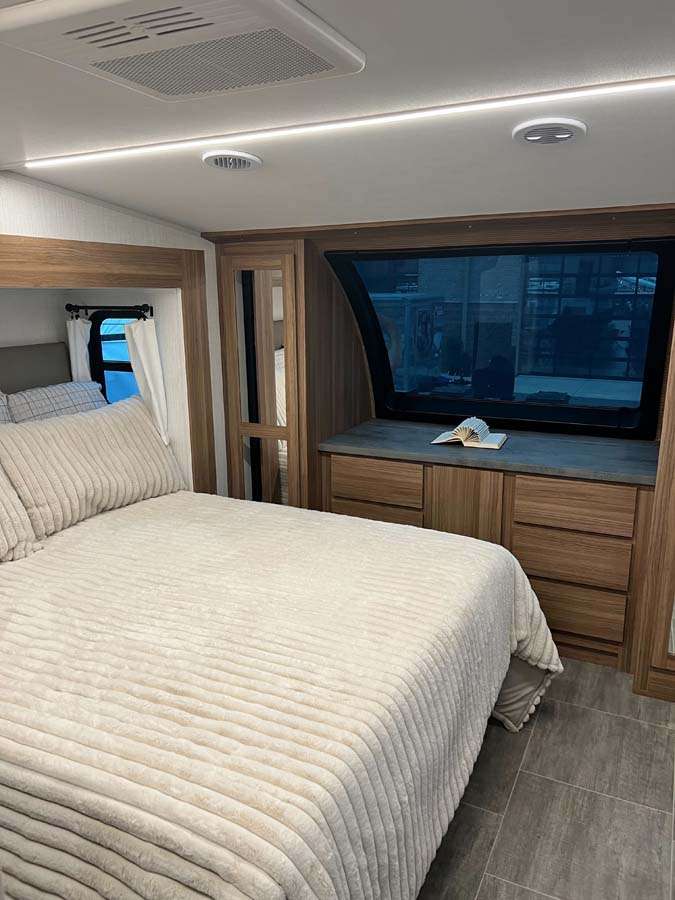 Interior Comfort & Amenities
Inside the Corterra, a wealth of residential amenities awaits, making it a home away from home. The kitchen is equipped with a lighted wine or coffee bar and features a pull-out trash can with a hidden storage drawer. A residential appliance package includes a 30-inch over-the-range microwave and a spacious 16-cubic-foot refrigerator, allowing campers to prepare all their favorite meals on the road. Behind the entertainment center lies a hidden pantry, providing additional storage space in the mantel area.
The bedroom in the Corterra boasts a standard residential king bed, offering a generous sleeping area in a true 76 by 80-inch size. Dual wardrobes and ample dresser storage ensure that you have plenty of room for your belongings. Every Corterra model comes standard with washer and dryer prep, adding convenience to the camping experience.
Dimmable lighted batten strips overhead throughout the coach eliminate the need for ceiling puck lights, offering a sleek and modern lighting solution. The standard SOL 190 solar package provides campers with the option to utilize renewable and low-maintenance energy wherever they travel.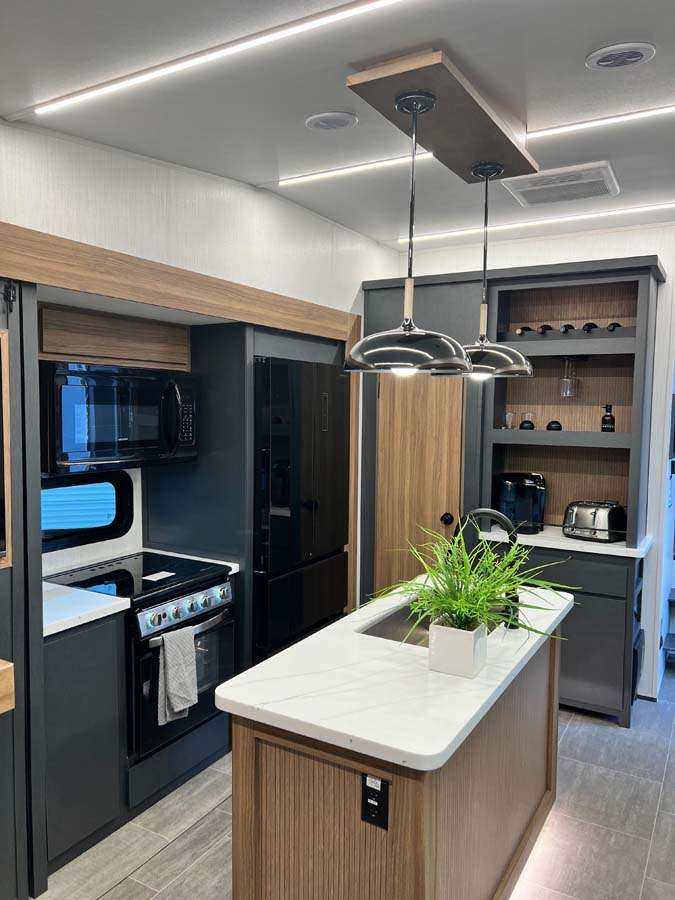 Thoughtful Touches
In addition to its top-tier amenities, the Corterra stands out with thoughtful touches that demonstrate careful attention to detail. Features such as built-in pet bowls, concealed storage in the stairs and dinette seating, hardware-free drawers and cabinets, and flush floor slides set Heartland's newest model apart from the competition. These thoughtful details ensure that every aspect of the Corterra is designed with intention, enhancing the overall camping experience for its owners.
"We've leaned into a more 'minimalist feel' with Corterra. The most important thing has been to perfect the essentials campers rate as the most important while maximizing every square inch of space."
—Jon Gust, General Manager for Corterra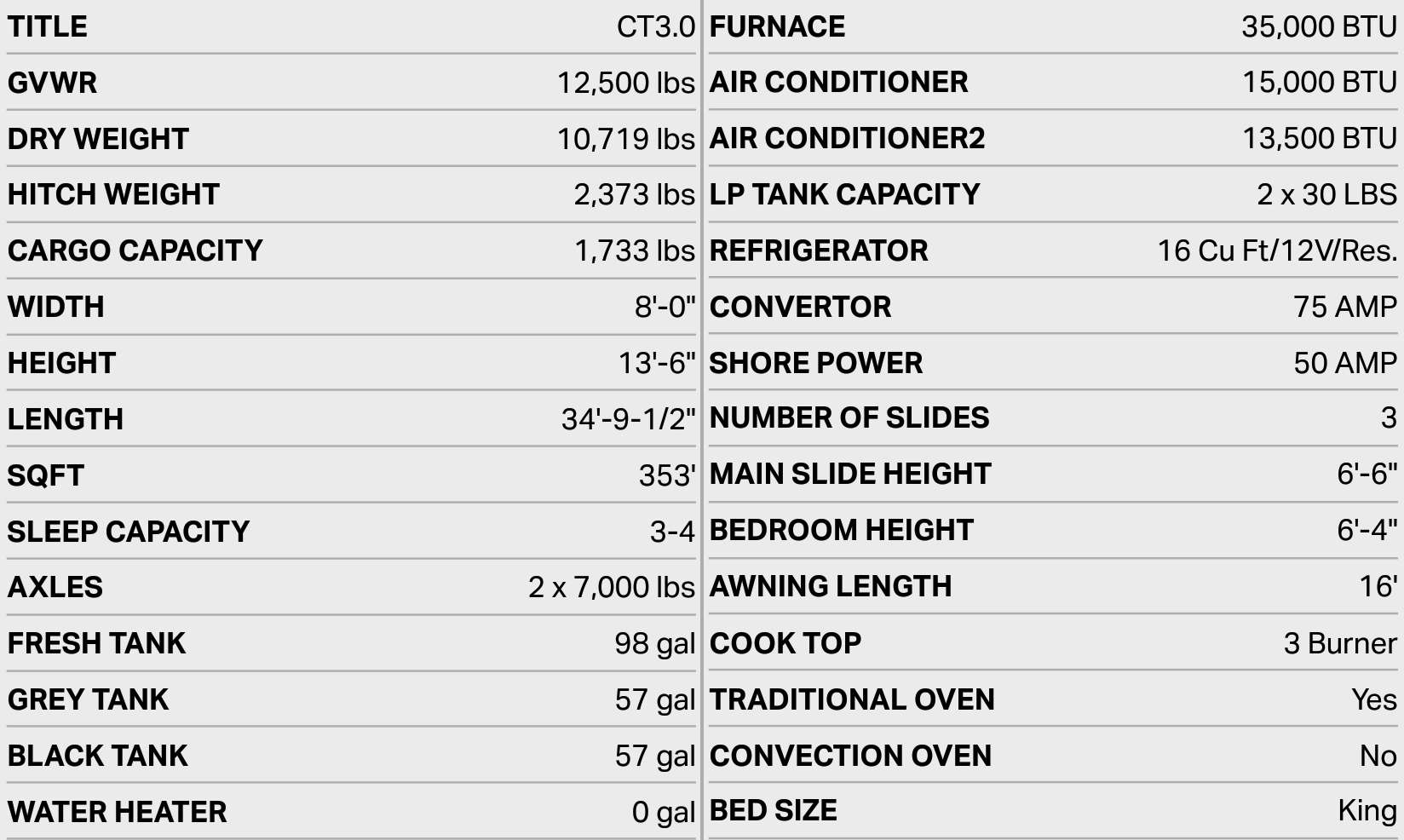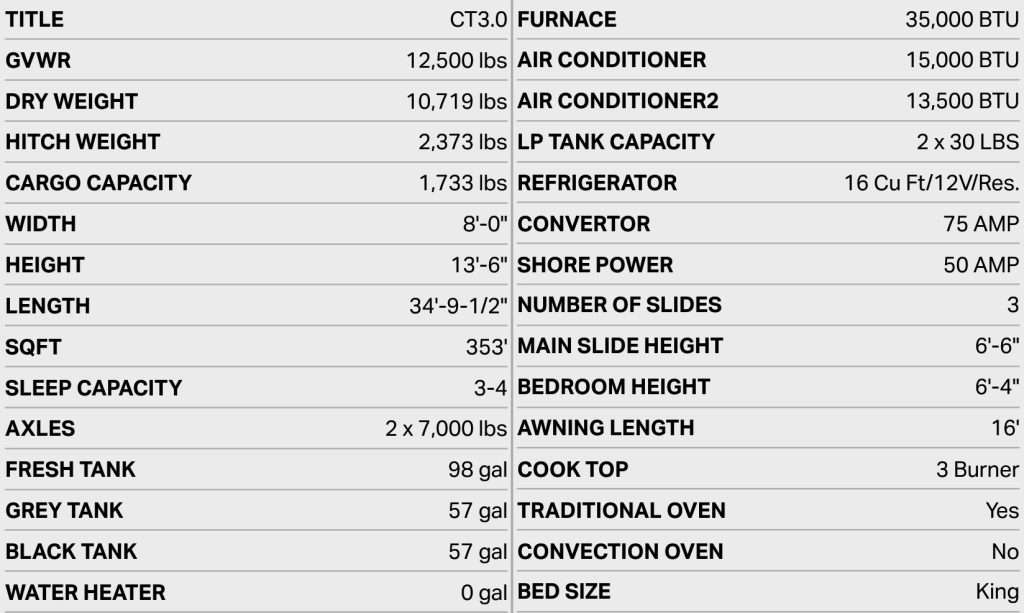 About Heartland RV
Founded by a group of RV veterans, Heartland RV has earned a reputation for its dedication to craftsmanship, durability, and customer satisfaction. With a diverse range of RV models, including travel trailers, fifth wheels, and toy haulers, Heartland strives to offer options that cater to various preferences and lifestyles.
The company's headquarters is located in Elkhart, Indiana, a region often referred to as the "RV Capital of the World." This strategic location allows Heartland to tap into a rich pool of talent and resources, contributing to the excellence of its products. Heartland RV has made its mark by continually pushing the boundaries of RV design and functionality and the company is committed to incorporating the latest technology, top-notch materials, and innovative features into their RVs.