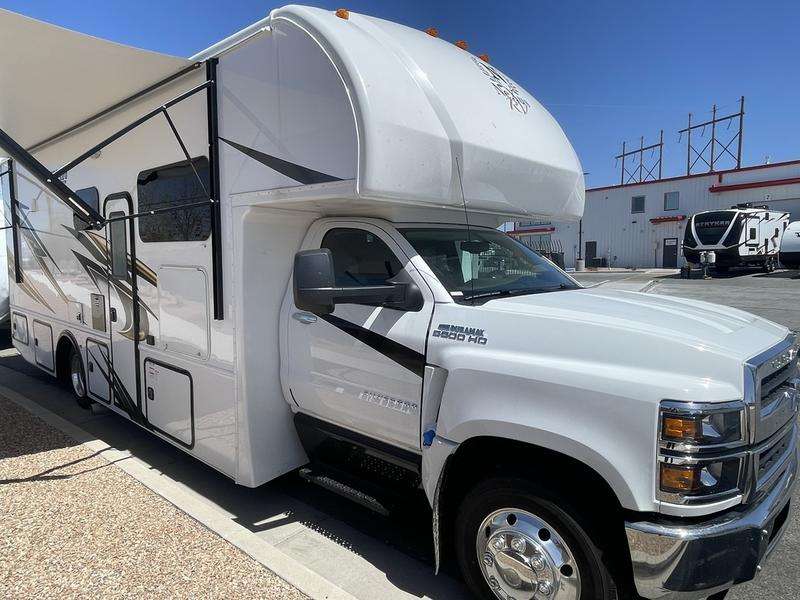 New 2024 Nexus Verrado 32S: Has Nexus RV Given Us A Winner?
The new Nexus Verrado 32S makes big promises — as big as its super C framework — but is it actually worth it?
Indiana-based RV manufacturer, Nexus RV, has never been afraid to 'go big,' and their most recent addition to their Verrado lineup doesn't break away from this trend.
Over the past few decades, the company has established itself as a leading manufacturer of Class C and Class B+ motorhomes. Their unwavering dedication to craftsmanship and attention to detail has resulted in a diverse range of exceptional RVs that cater to the desires and needs of modern explorers.
For Nexus RV's fans and admirers, one of the most compelling aspects of the company has always been its relentless pursuit of innovation. By integrating cutting-edge technologies, contemporary designs, and ergonomic layouts, Nexus RV has ensured that its motorhomes offer an unrivaled combination of style, comfort, and functionality. 
With that being said, all eyes are now on the new Nexus Verrado 32S and if it stands to deliver on the expectations and reputation the company has built up for over 20 years.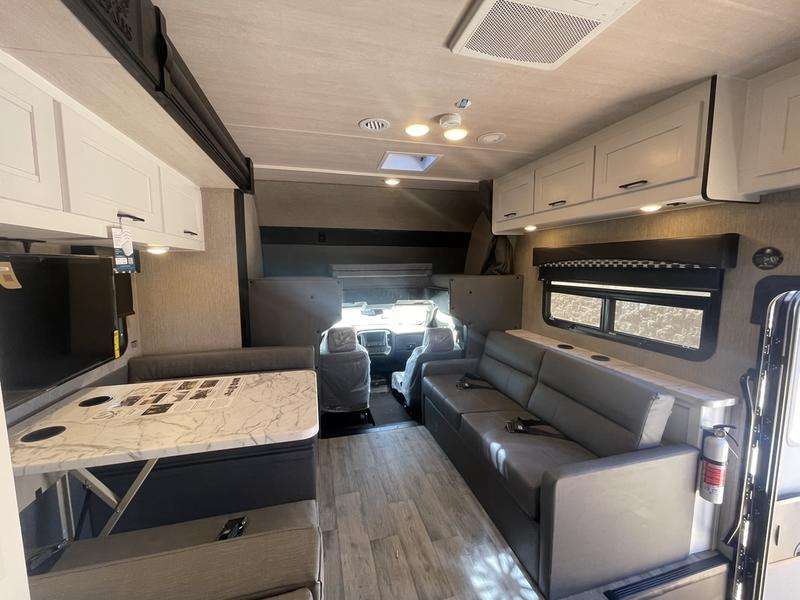 Here's What You Can Expect From The Nexus Verrado 32S
From the company's official release information, here's what interested buyers can expect from the Nexus Verrado 32S in terms of specifications and features.
Measurements
GVWR — 19,500lbs

Wheelbase — 243″

GCWR  — 35,500lbs

Fuel Capacity — 65 gal

Exterior Length — 32′-1″

Exterior Height — 12′-2″

Exterior Width — 8'5″

Fresh Water gal — 85 gal

Grey Water gal  — 50 gal

Black Water gal — 50 gal

LP — 20.3 gal

Heater — 6 gal
Exterior
Seamless Gelcoat Fiberglass Sidewalls

Composite Substrate

High Strength Low Alloy Lightweight Steel Cage Throughout

Laminated Steel Framed Floor

Automotive Style Radius Tinted Frameless Windows

Heated and Remote Rear View Mirrors

Slam Latch Compartment Doors w/ Side Hinge

Fiberglass Front Cap w/ Wings

Slide Out Awning Toppers Throughout

Seamless Wraparound Fiberglass Roof

Fully Automatic Leveling Jacks

Pre-molded Rear Roof Transition

Lighted Rubber-lined Galvanized Trunk Boxes

Valve Extenders Rear Inner Wheels

Nautilus Panel

Wineguard 360 

Outside Shower

Cab Over Side Windows
Heating/Cooling
Dash A/C

1 – 13,500 BTU Ducted Roof AC in LR

1 – 30,000 BTU Furnace

Heated & Enclosed Holding Tanks

Above Floor Heat Ducts

HVAC Metal Ducting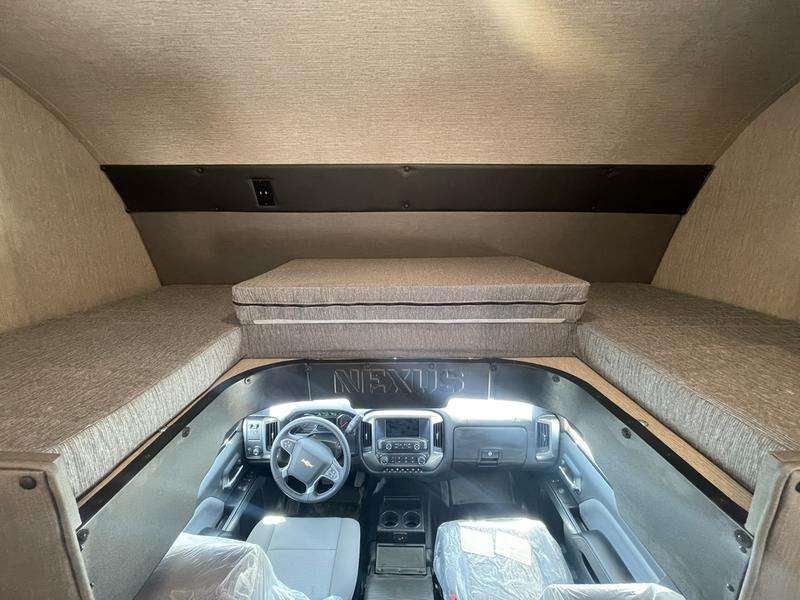 Electrical
Battery Disconnect

2 Deep Cycle Coach Batteries 12 Volt

50 Amp, 12 Volt Distribution Panel

60 Amp, 12 Volt Power Converter

Water Heater By-Pass Kit

6 gal. Gas/Electric Water Heater

6.0 Onan Diesel Generator

Generator Auto Transfer Switch

Exterior Security Light

Electric Patio Awning w/LED Lights

LP Quick Disconnect
Decor
Flooring — Palisade or Atkinson

Cabinetry — Frost or Slate
Bath
Large Medicine Cabinet

Stainless Steel Sink with Dual Faucet Control

Electric Roof Vent

Porcelain Toilet  

Shower Skylight

Wall Light Switch

Shower Head w/Flexible Hose

Black Tank Flush

Vinyl Shower Door
Appliances
12-volt Refrigerator w/ 1000 Watt Inverter

LP Gas Tank and Leak Detector

3 Burner Stove Top

Water Filtration System Throughout

Residential Faucet w/ Sprayer 

Microwave
Furnishings
Booth Dinette w/Storage

TV in Living Room

Deluxe Innerspring Mattress

TV in Bedroom

Jackknife Sofa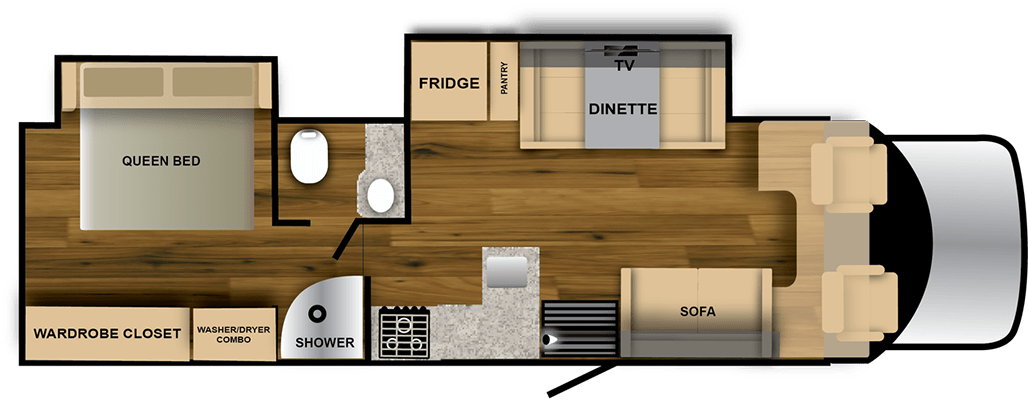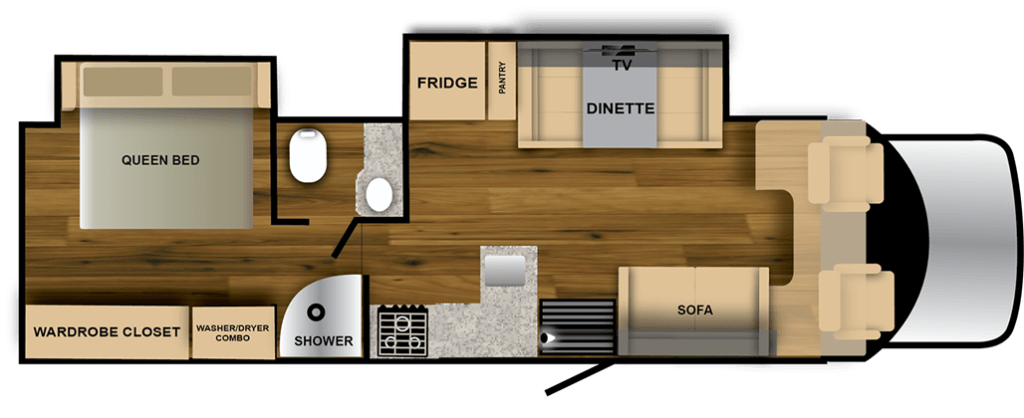 The 2024 Nexus Verrado 32S Seems Great, But…
The MSRP of the 2024 Nexus Verrado 32S currently stands at $230,948. Although this may seem somewhat high at first glance (especially if you're a newcomer to the RV scene), it actually sits at a fairly average price point range compared to similar super C motorhomes on the market.
At this MSRP, the Nexus Verrado 32S gives prospective buyers more than enough bang for their buck in terms of its specifications and the wide array of features it provides. 
The Not So Good
Even the most diehard fans of Nexus have raised a few concerns over the 2024 Verrado 32S and what it offers at this price point.
After getting a first look at the Nexus Verrado 32S, some fans have stated that they would have preferred to see tweaks to the design, like a solid front fiberglass cap.
One of the other things that some first-time viewers raised concerns about was the lack of storage space — or rather, the presence of wasted spaces that should have been fashioned into storage spaces. 
It is important to keep in mind that although super C motorhomes are larger than their regular class C counterparts, they can still end up having tighter space constraints than larger options like class A motorhomes. 
One of the key areas that we would have loved to see more storage space added is under the seats. As it stands, it seems like there is a lot of wasted real estate here, which goes against what we've come to expect from Nexus RV.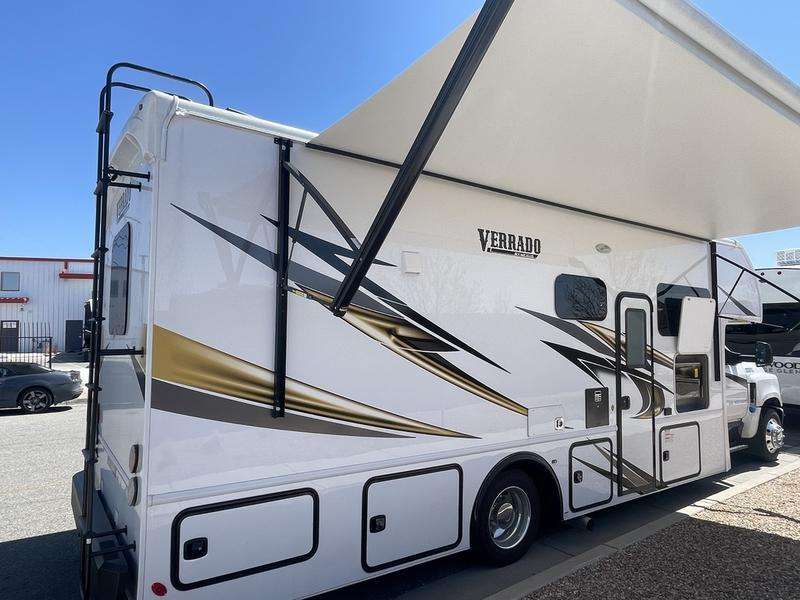 Final Thoughts
Overall, the new Nexus Verrado 32S definitely provides more than enough features for its fairly average MSRP (compared to industry standards). That being said, it is still by no means a perfect motorhome.
One of the main things RVers have to worry about is ensuring that everything — from essentials to luxuries — can fit in their home on wheels. In that same line of reasoning, for the Nexus Verrado 32S, the major thing that we would have loved to see was a better use of space when it comes to providing storage solutions for buyers.  
The Nexus Verrado 32S is definitely great, but we're still left thinking about what could have been.