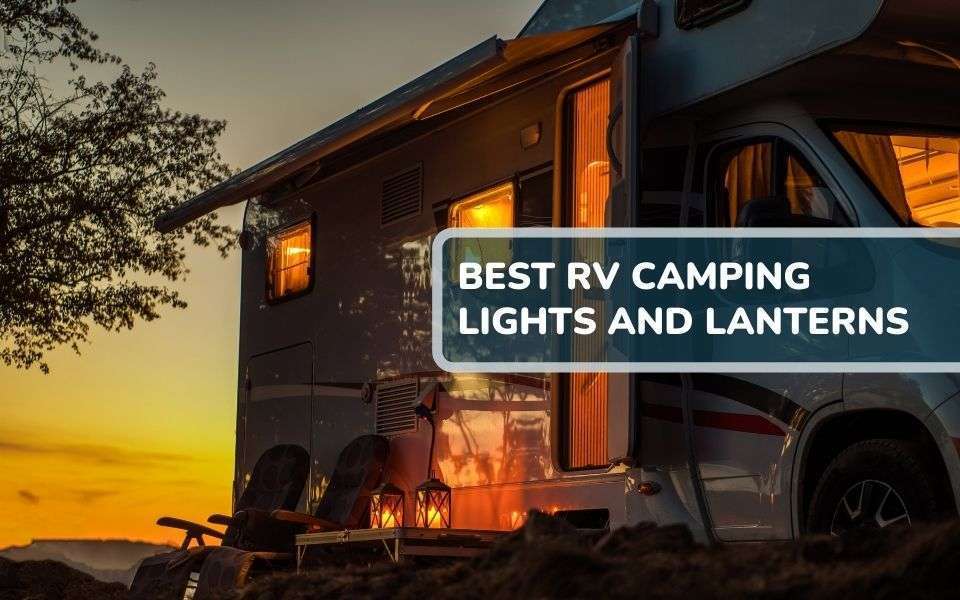 Best RV Camping Lights and Lanterns
RV camping lights and lanterns are great for any trip you plan to take, whether a weekend or a month. Today's society is filled with artificial light, but with the change of seasons, many of us want to escape the dangers of artificial light.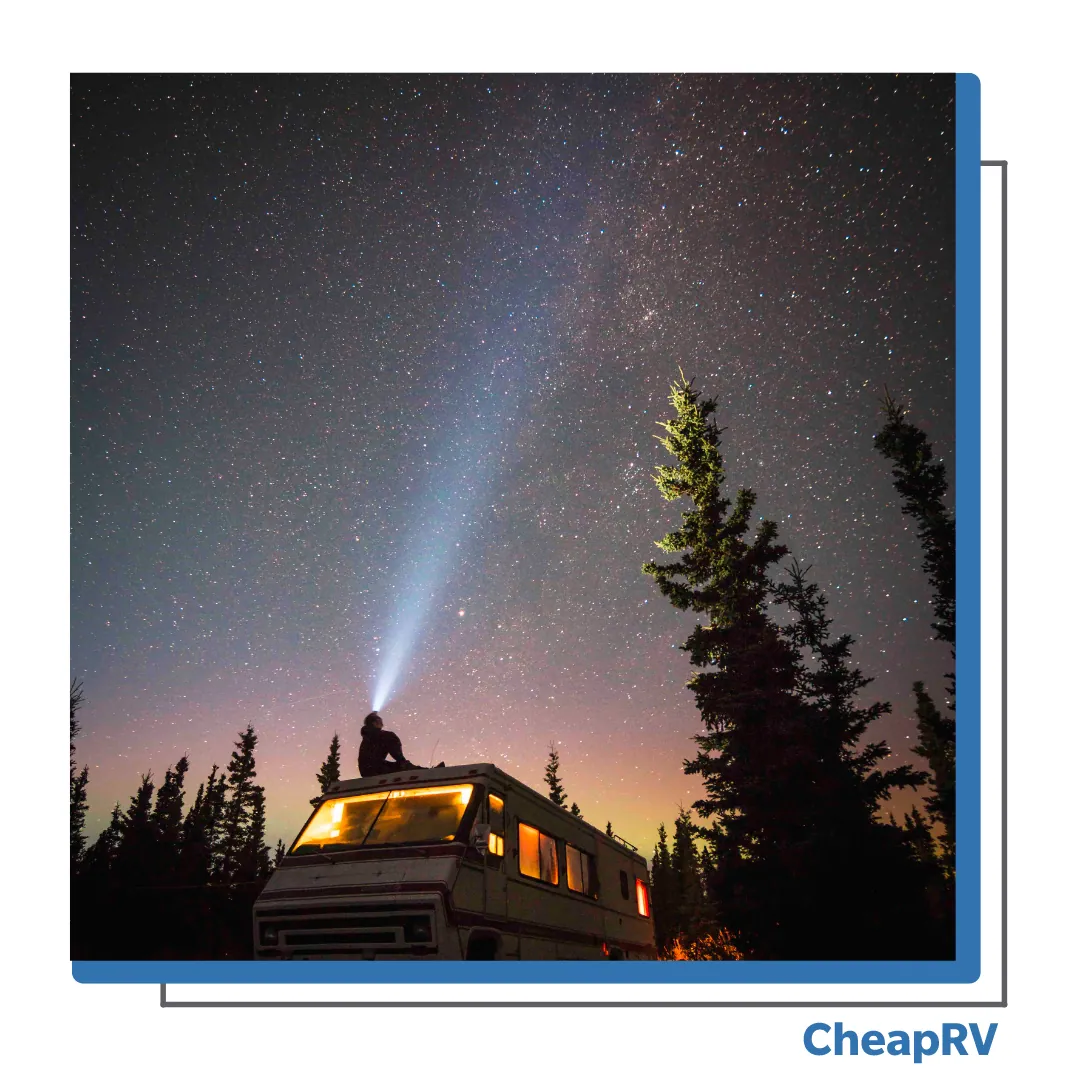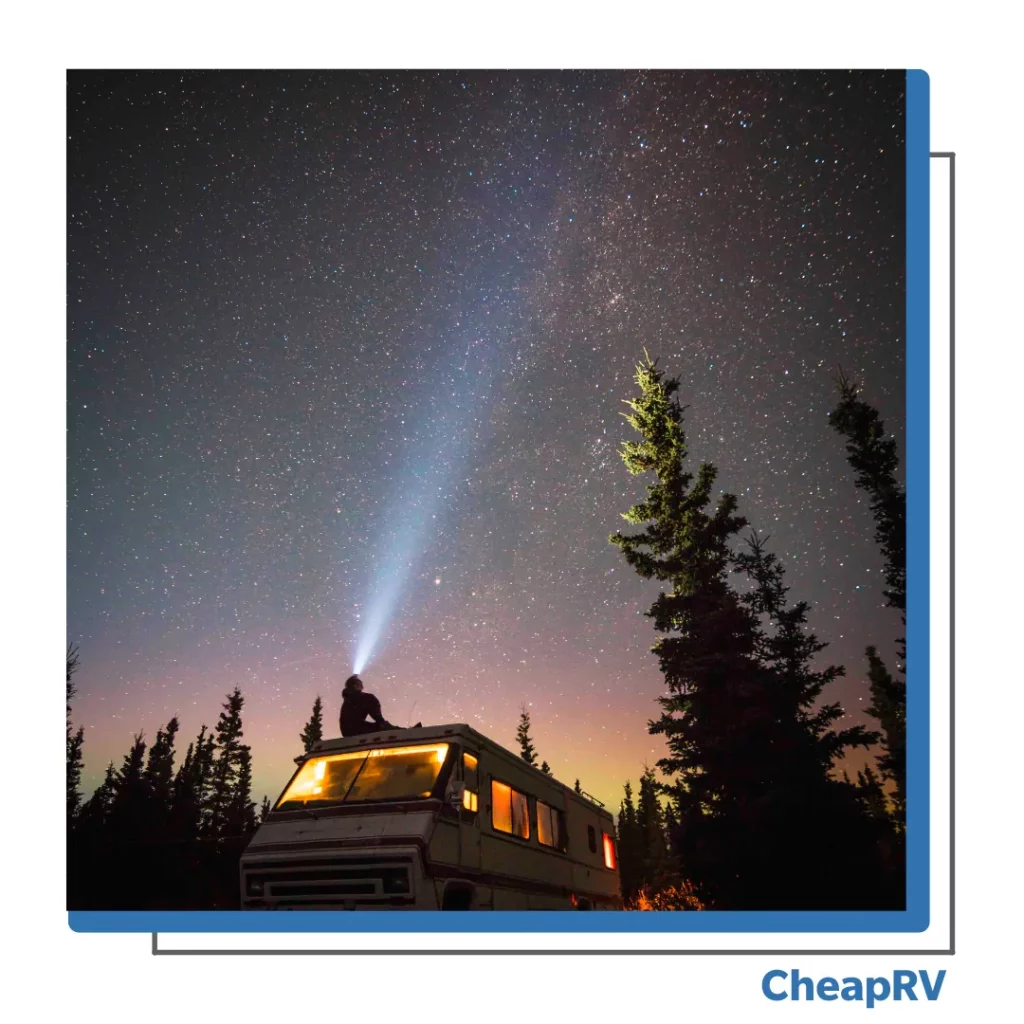 Some people like to go on a camping adventure and spend some time in the open air. But, at the same time, others prefer staying in an RV and prefer going for a drive to different locations.
So, whether you are camping in a tent or spending your time driving around, having an RV camping light is beneficial for you.
If you love camping outdoors, you know what a pain it is when your lantern goes out, or your batteries aren't charged.
Although the camping industry has progressed by including rechargeable LED bulbs in its products, using battery and solar-charged lights is the best choice for outdoor enthusiasts.
Let's look at some of the best RV camping lights and lanterns. These are a few must-have products, and I'll tell you why.
Best RV Camping Lights and Lanterns
When it comes to RV lights, you've got a lot to choose from. The choice of power source, battery technology, and whether you need incandescent or LED.
And then there are so many different types of lanterns. But we've worked hard for you and picked the best in each category. Here they are:
Vont 4 Packing RV Camping Lights and Lanterns
When camping, your light source is one of the most important things you can have. That's why we recommend the Vont 4-Pack LED Camping Lantern.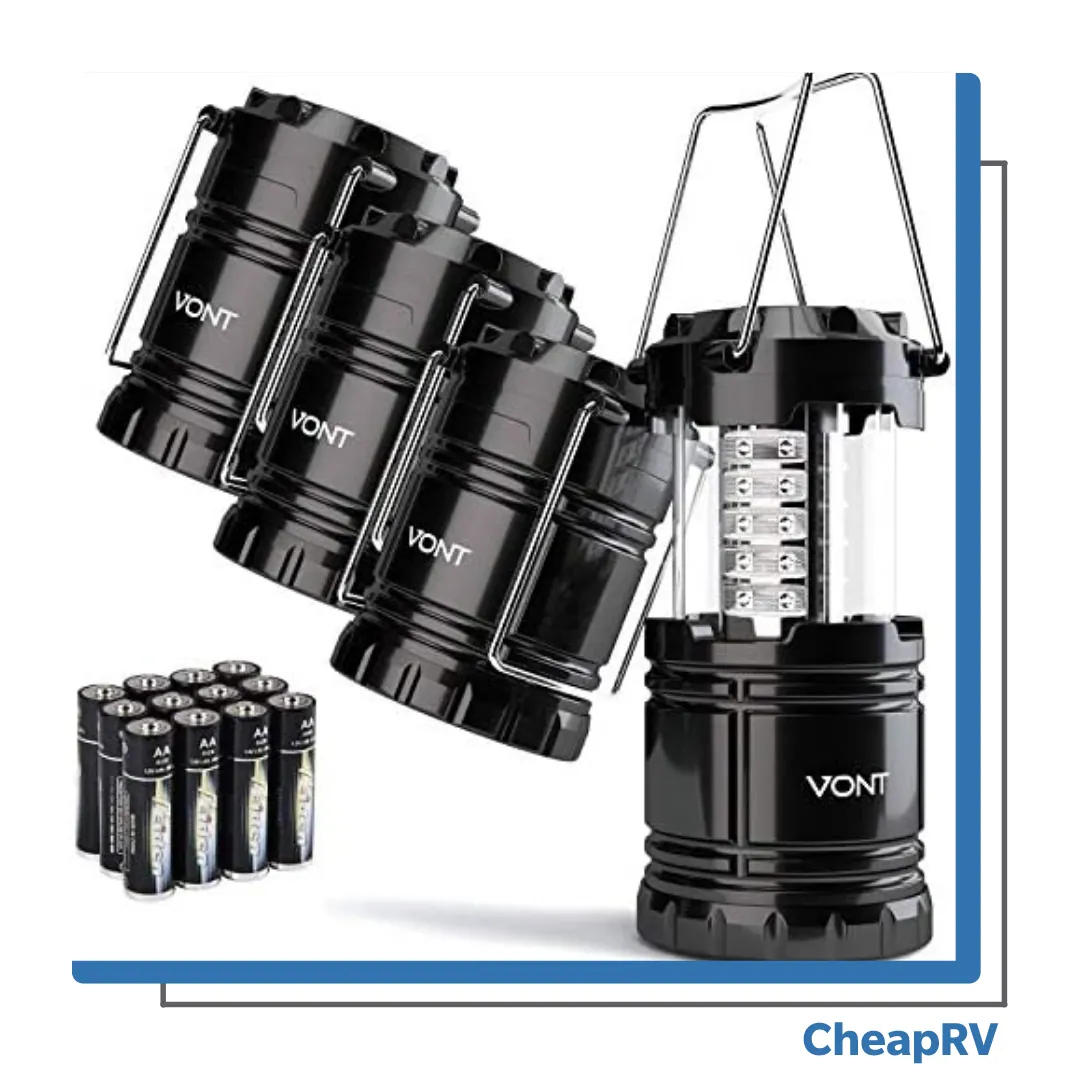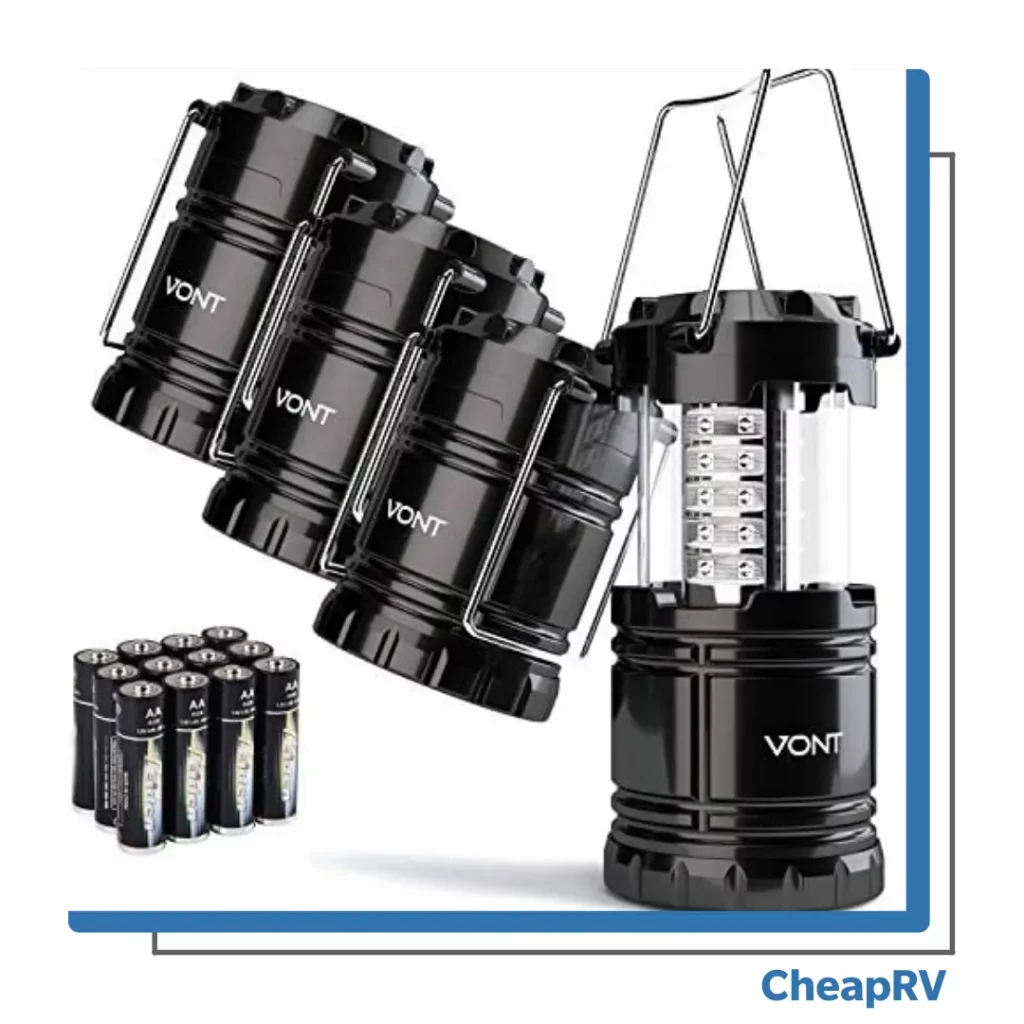 This lantern comes with four AAA batteries, so you don't have to worry about charging it before your trip. In addition, this lantern is waterproof, luminous—and easy to use.
It has three modes: high, low, and off. So whether you need a lot of light or just want something to guide you around camp at night, this lantern has got you covered.
It does not require additional accessories, such as chargers or adapters, because it works with any standard battery pack. The light bulbs are also easily replaceable, making this lantern an excellent investment for anyone who enjoys spending time outdoors.
You'll also love how easy this lantern is to use. Just turn it on and off with the power button on top and adjust the brightness by pressing it again—no fumbling around with buttons or switches in the dark! And best of all?
This lantern is waterproof, so no matter how much rain comes down or water spills on it during dinner prep (or whatever), it will keep working just fine.
Key Features
30 bright LEDs
Waterproof body
Lightweight and compact design
Lifetime warranty
Integrated hanging hook
VANGO Star 85 Lantern
The Vango Star 85 Lantern is good for camping, hiking, and any other activity that requires a portable light source. It has dual settings options with 40 and 85 lumens brightness levels.
In addition, it has a focused brightness of up to 100 meters, giving you the power to see in the dark. The lantern has an adjustable focus, so you can choose what works best for your needs.
It also comes with a hanging hook, so it is easy to carry, handle, or hang from trees or any other overhead surface you can find while camping.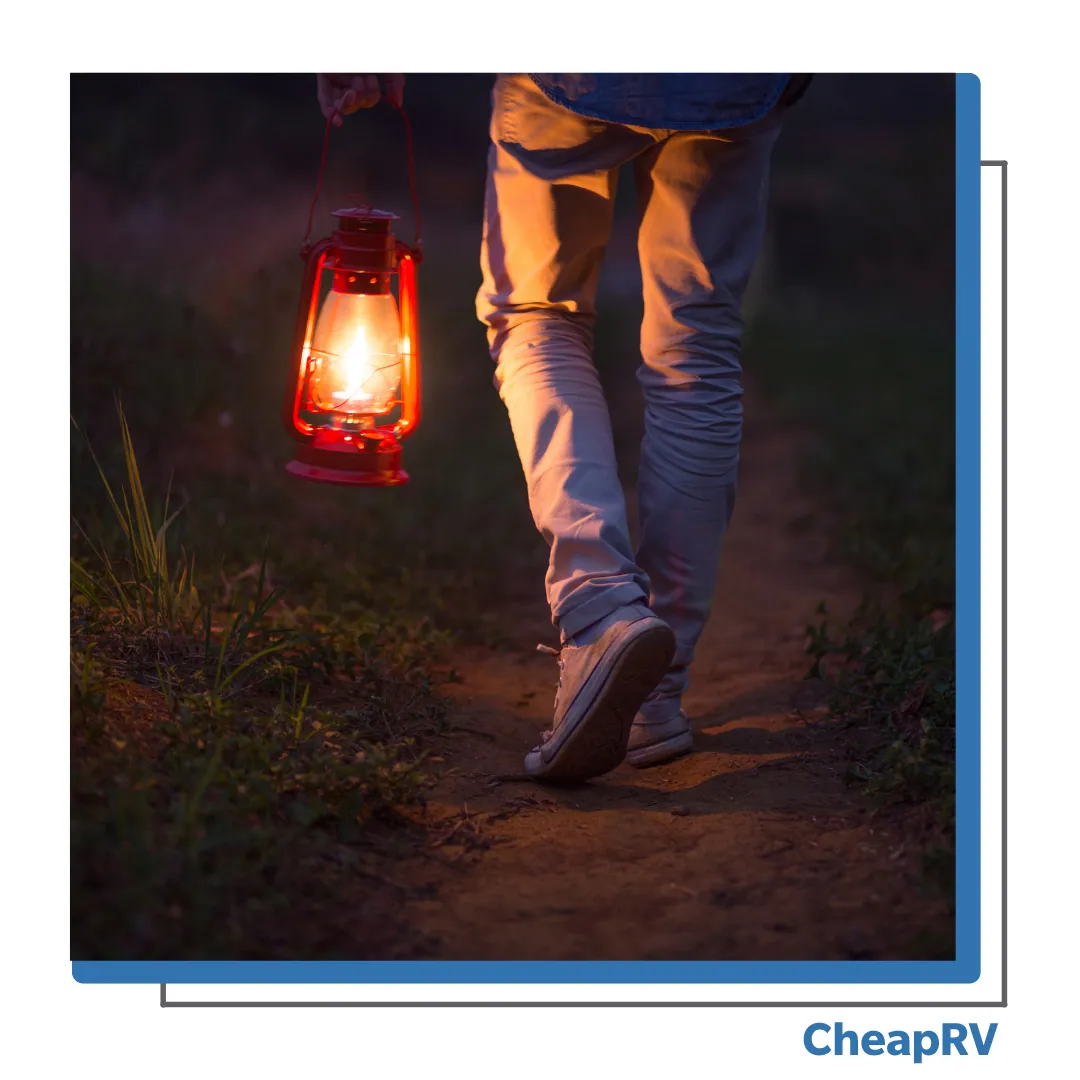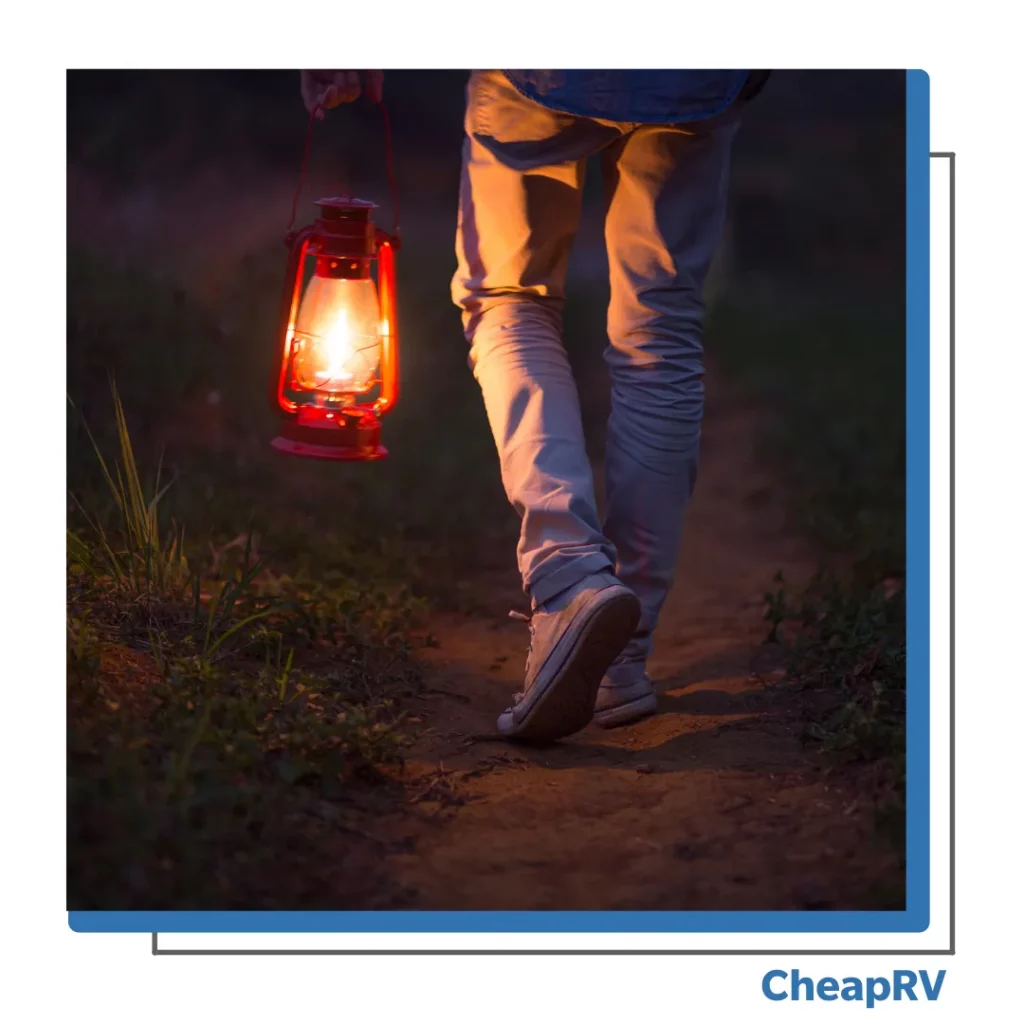 This lantern uses LED bulbs to last longer than conventional bulbs, making them more affordable to use over time. Plus, they have low power consumption, so you don't have to worry about them draining your battery life when using them all night.
Key Features
It has frosted glass, so the light won't bother your eyes
It has a warm LED light glow
Dual light setting
It has an integrated hank that allows you to carry it around
Eurohike 3 LED Hanging Light
The Eurohike 3 LED Hanging Light is one of our top picks for the best RV camping lights and lanterns. It gives 20 lumens of brightness to see everything around you comfortably. It also has low and high settings, so you can use it in different situations.
The best part about this light is its collapsible and portable design. That means you can take it with you wherever you go, whether on your next camping trip or just out for the night at home.
Key Features
It has a collapsible design that makes it easy to store and requires less space
It has a carabiner clip that makes it easy to attach to your tent or rucksack
It has three light modes: flash, glow, and red
It gives you 20 lumens of brightness
Coleman Twin LED Camping Light and Lantern
The Coleman Twin LED Camping Lantern is a great camping lantern that is weather resistant and has seven brightness settings. It gives an impressive 390 Lumens brightness at maximum level, but you can also set it to low if you want to conserve power.
The best part is that it generates no heat at all, so you don't have to worry about melting the insides of your tent or making everything warm.
It's easy to carry around because it's lightweight, and when fully charged, it can cover up to 10 meters when you set it to the highest level and generate no heat. You get about 300 hours of illumination when you set the light to low.
It has the following features:
Key Features
Its highest brightness setting gives you 390 lumens
At low settings, it gives you a lifetime of about 300 hours
It is water-resistant
It has a 5-year warranty
LE Rechargeable LED As One Of The Best RV Camping Lights and Lanterns
If you're looking for an RV camping light and lantern that can last you through a night of adventure, look no further than the LE Rechargeable LED. It's one of the best RV awning lights and is very powerful, so it's perfect for campers who need lots of light.
It looks like a flashlight, so you can hang it anywhere in your tent—it even has two light modes that give 400 Lumens and 1000 Lumens!
It's specifically designed for outdoor use, so if you're planning on taking this bad boy with you on your next camping trip, you won't have to worry about anything happening to it.
It also has a 3600 mAh power bank, so if your phone battery dies while you're out there, don't worry: just plug it into the charger and get back to those Instagram stories!
The best part? It can cover up to 10 meters when you set it to the highest level and generates no heat. Here are some of its key features:
Key Features
It has five light modes
It has a 3600 mAh power bank
1000 lumens
It can cover up to 1650 feet in distance when turned on
It is water-resistant
It has a red flash mode
AYL Starlight
The AYL Starlight is a perfect choice if you are looking for a lantern that offers the best value and is bright enough to light up your campsite. It is brighter than other lanterns on the market and offers 600 lumens in brightness, so it is good for outdoor activities.
In addition, you can adjust the light to suit your needs by using its dimmer switch.
It uses strong batteries that can last up to 6 nights on a single charge, and if you happen to run out of power, it comes with a USB charging port to keep charging while you are away from home.
You can also use this lantern as an emergency light source during power outages or natural disasters.
These are the Key features of this camp light:
Key Features
It is stable, rock-solid, and sturdy
It has low, high, and SOS modes
It is shockproof
It is water-resistant
It has incredible light with 600 lumens
E-Trends Portable LED RV Camping Lights and Lanterns
The E-Trends Portable LED Camping Lantern is the best of all worlds for those who want to go camping with their family and need a light that can keep up with their adventures.
It stands out from other camp lights on the market with its portable LED light, which provides enough brightness to see around the tent without blinding anyone.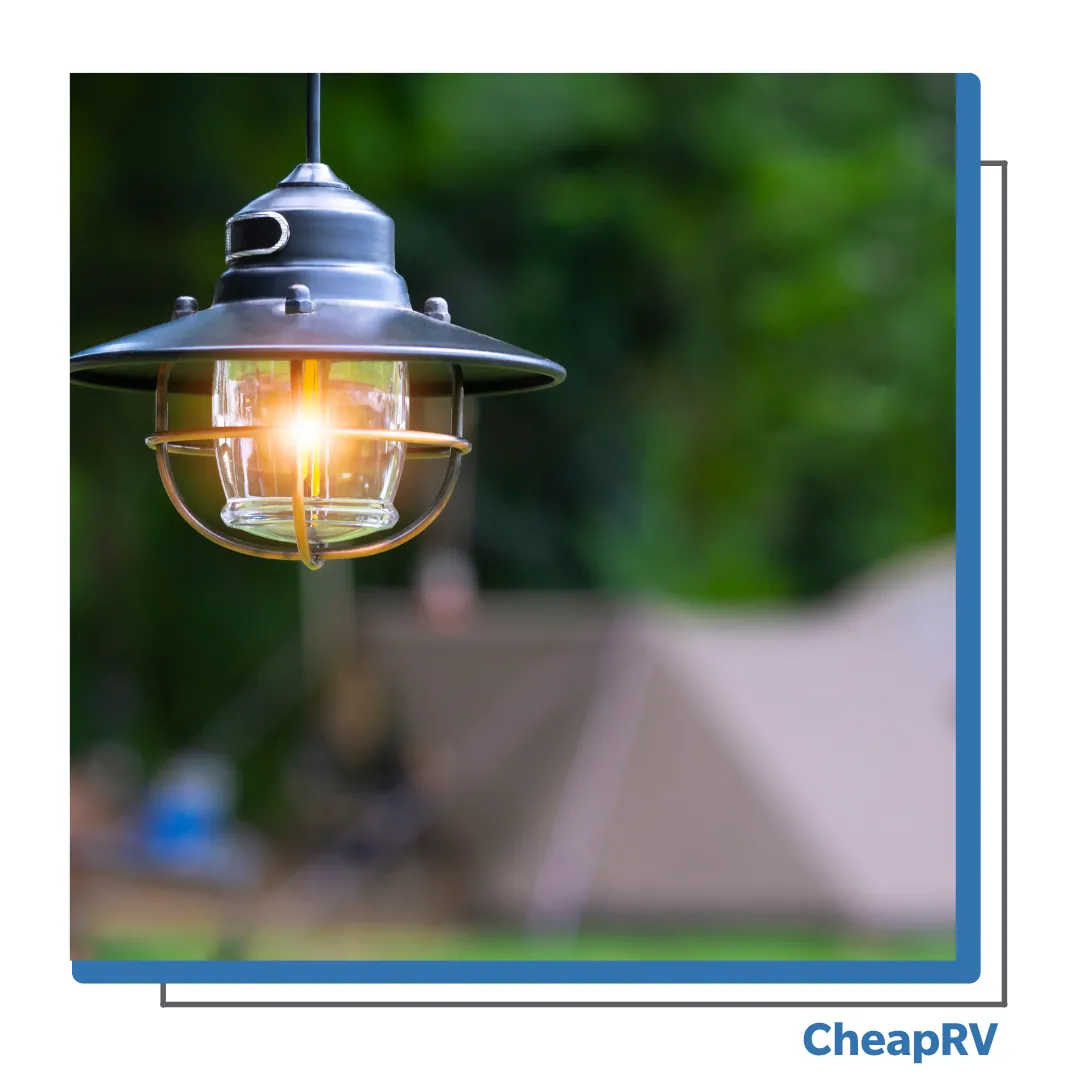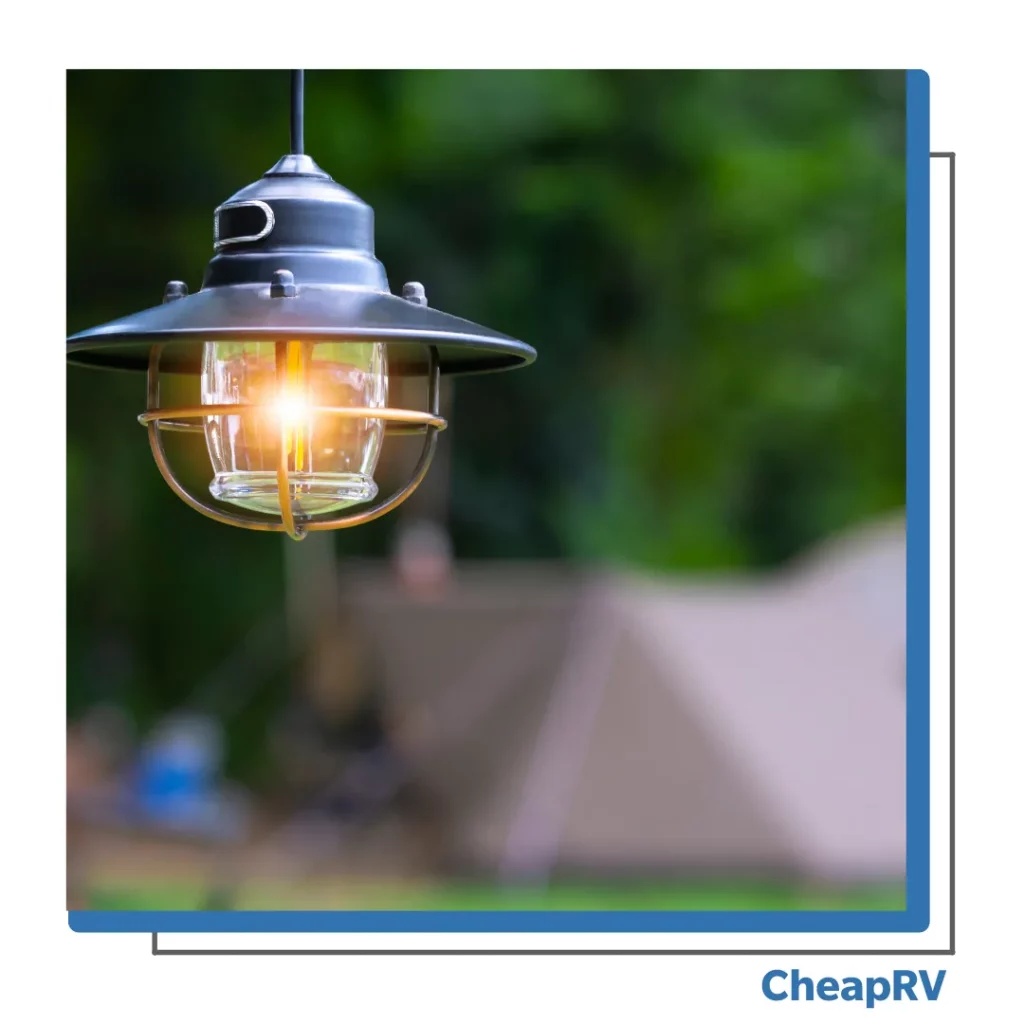 It is water-resistant and energy-efficient, so you don't have to worry about getting wet or running out of batteries when you're far away from home. In addition, it requires 3 AAA batteries, so you can easily replace them if they run low while camping.
Key Features
It is water-resistant
Each lump generates clean LED light of 150 lumens
Its design allows it to give 360-degree brightness
Buying Guide: The Way to Choose the Best Camping Lights and Lanterns
Many different types of camping lights and lanterns are available today. You can choose from a wide range of options when it comes to these products, but there are certain things that you should look out for before making your final purchase decision.
Here are some tips on how to choose the best camping lights or lanterns:
Choose an electric or gas-powered lantern
Choose a weight that suits your need
Look at its lumens
Consider its size
Look at the ease of use
Consider its battery life
Choose one that offers extra features
Bottom Line
RV camping lights are very useful for many reasons. First, they are great for safety if you get lost outside at night (or if someone is trying to sneak up on you). They are also great when you need a light source for the camper at night.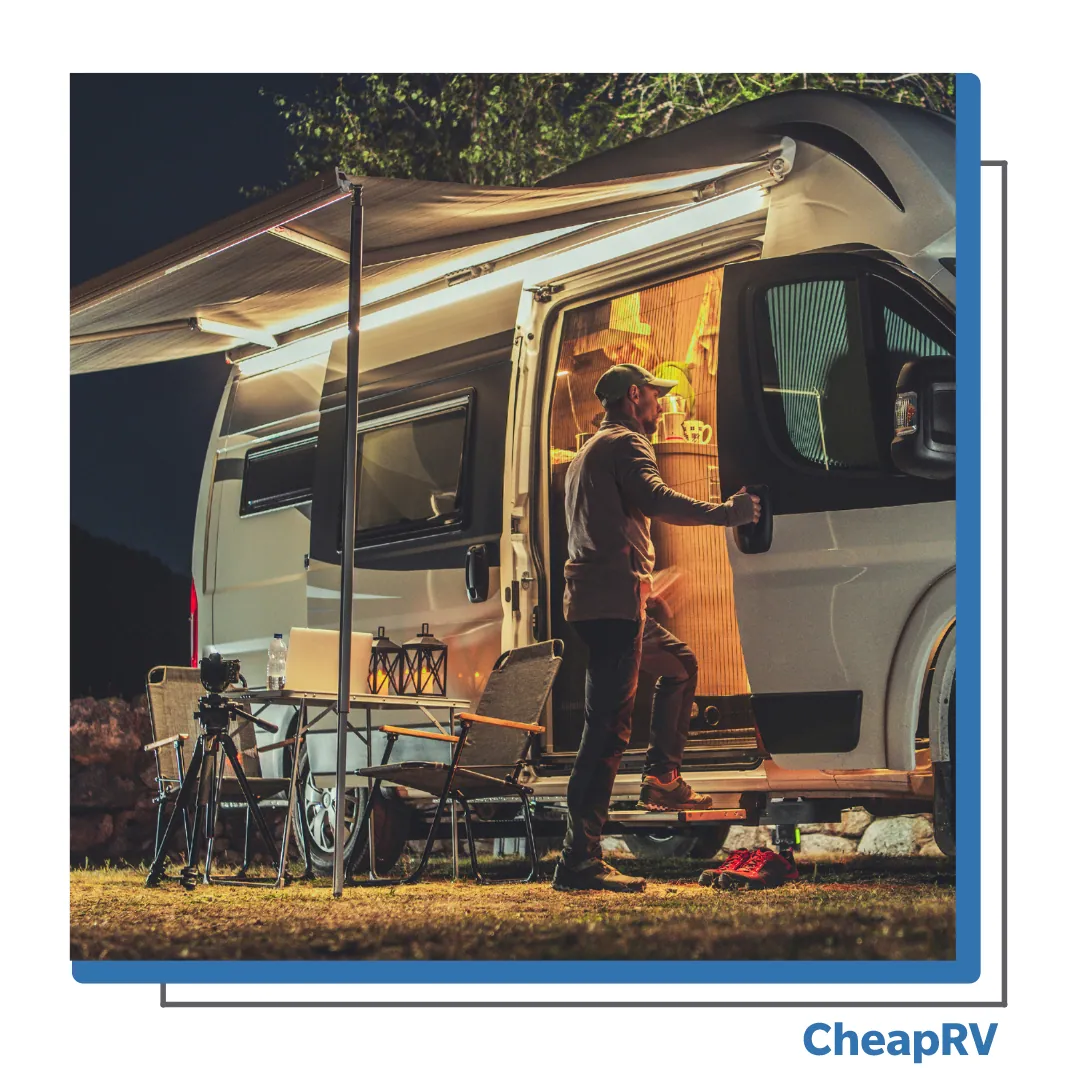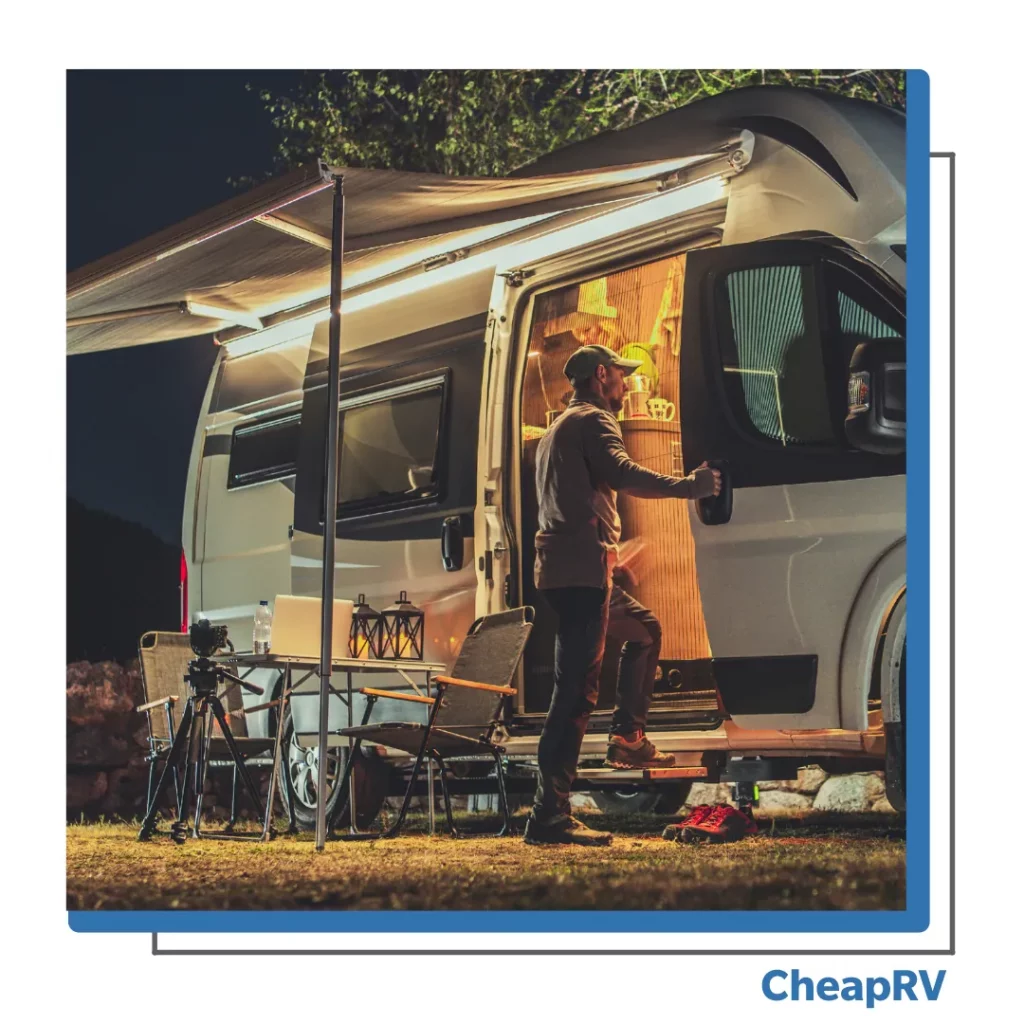 If someone gets up to use the restroom, they can bring a lantern or a light from the kitchen without waking everyone else. The superior brightness that some of these lights offer will allow you to work on your computer in the dark easily at night.
Finding high-quality RV camping lights and lanterns is easier than ever, making your future RV adventures safer and more enjoyable.