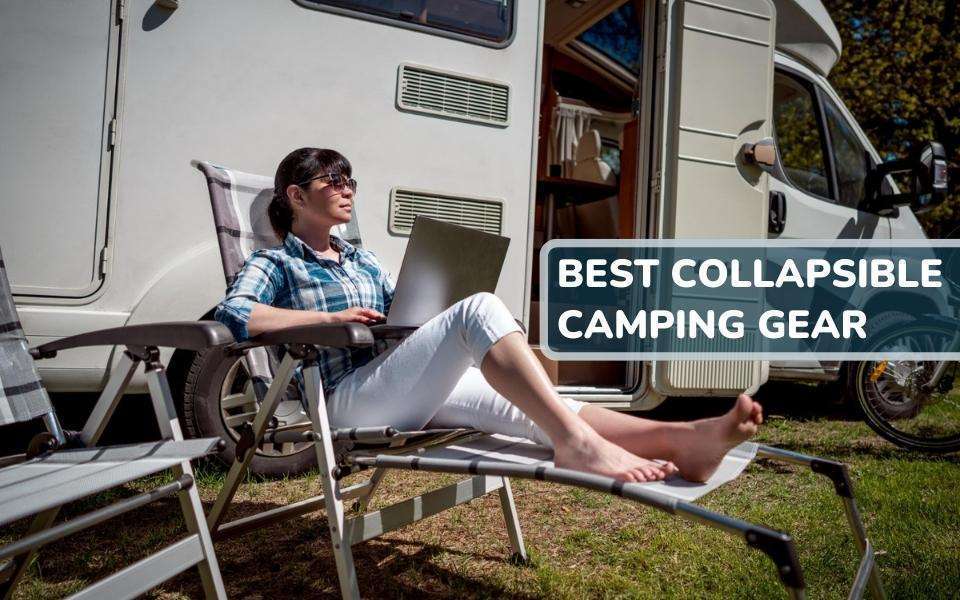 10 Best Collapsible Camping Gear for RVers
As an RV enthusiast, you probably already know that collapsible camping gear is expensive, and there is no way around that. But, do you know what is also expensive?
The storage size of your RV!
It is a common problem for RVers not to have enough storage space for their bulky camping gear.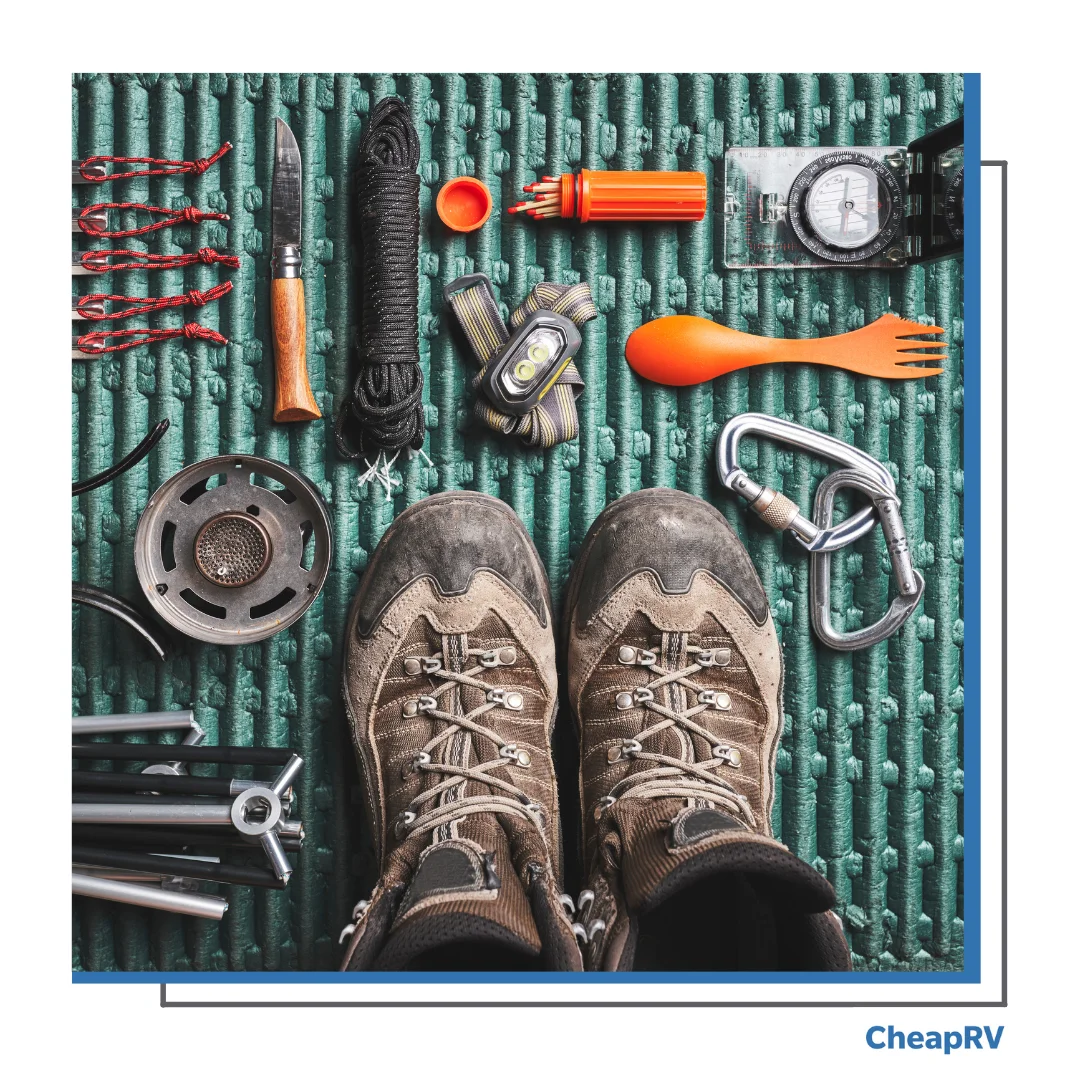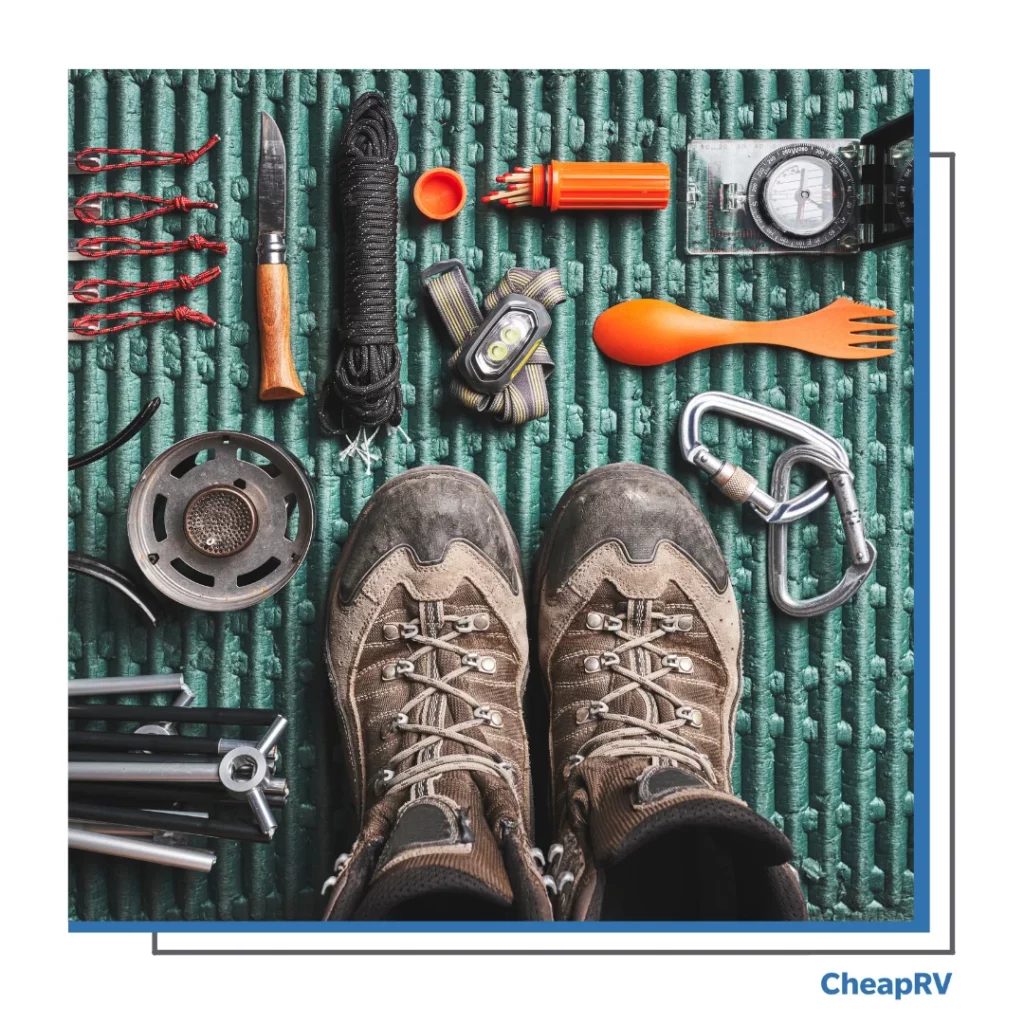 That's why I wanted to share the ten best collapsible camping gear for RVers with all other truck campers out there.
From a bike rack that folds down at the push of a button to a foot mat that straps onto the back of your door, here are ten pieces of collapsible camping gear for your next trip.
10 Best Collapsible RV Camping Gear Essentials
Most camping equipment is designed for backpackers, not motorhome owners. But the good news is that there are some great collapsible items out there that are perfect for RVers.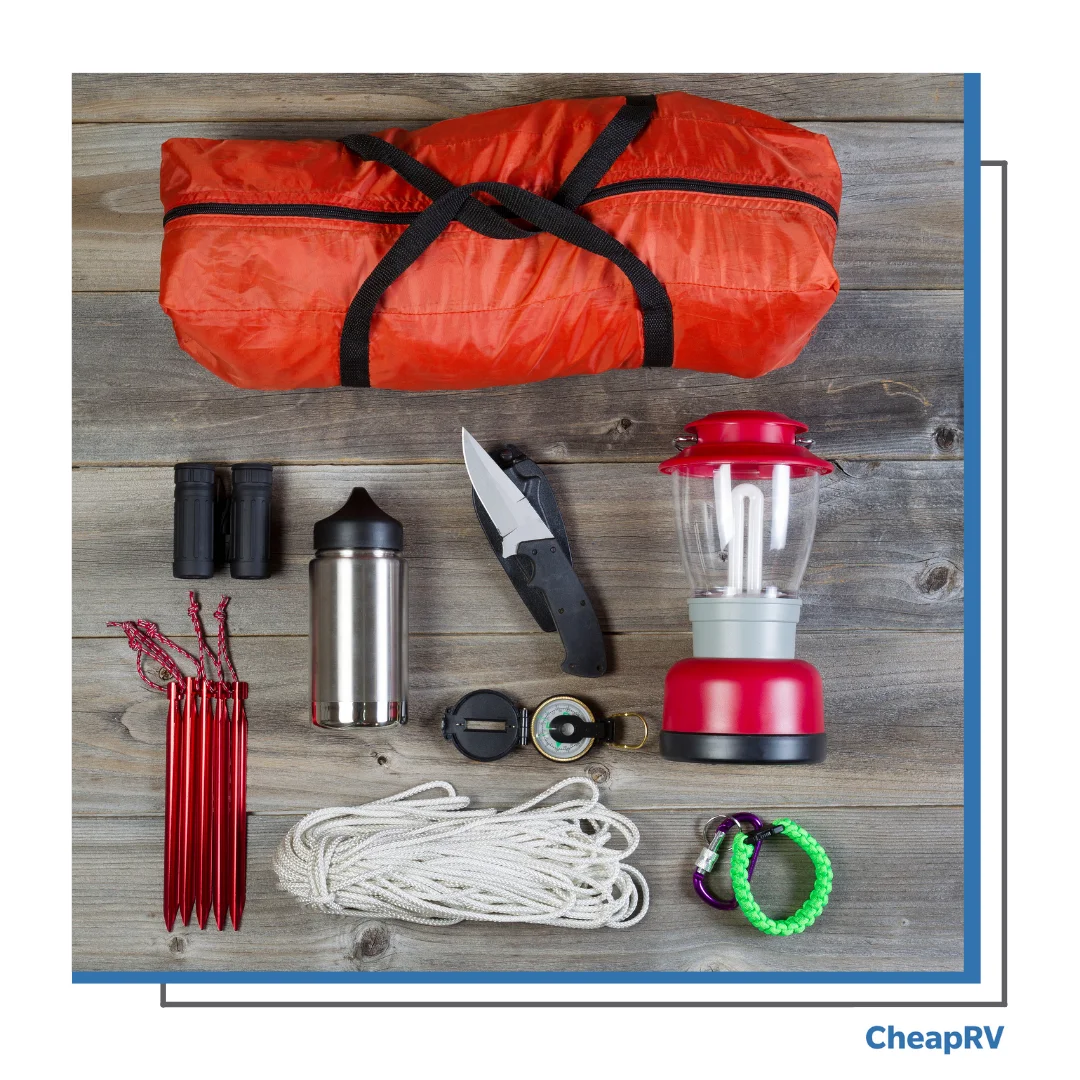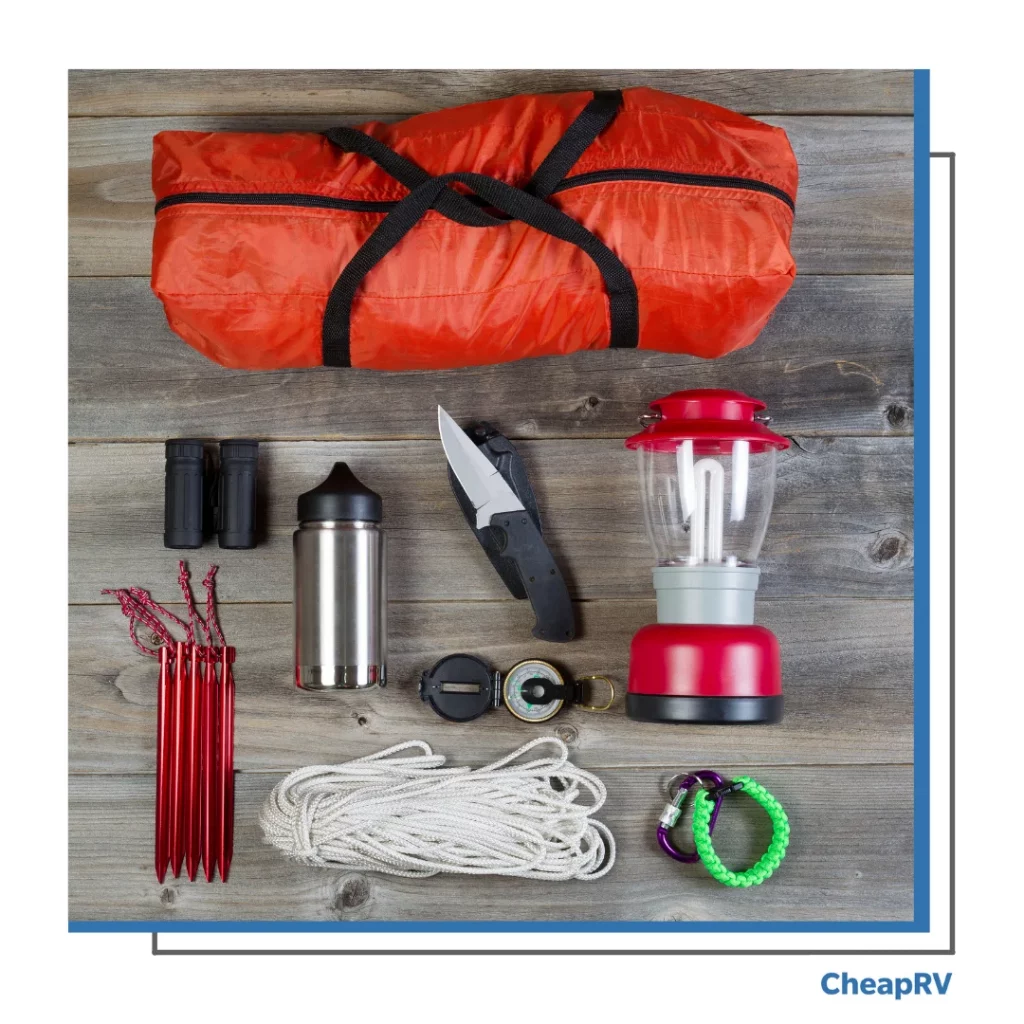 Here's a look at 10 of our top recommended collapsible camping gear items for RVers.
1 – Outdoor Slim-Fold Cook Station
This slim-food cook station is a perfect choice if you enjoy outdoor cooking. It's lightweight, compact, and easy to carry around so you can take it with you on your RV trips.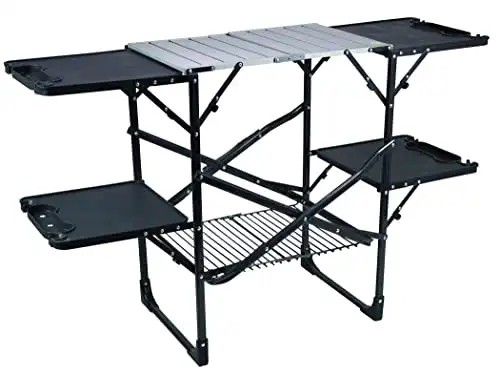 We earn a commission if you make a purchase, at no additional cost to you.
The table is made of a stable and durable steel frame and a heat-resistant countertop that offers additional space in its pop-up utility stand. There's enough space for pans, utensils, and plates, and storing this slim-fold cook station is also very easy.
2 – Sea to Summit X-Pot Kettle
You are roaming in your RV, and suddenly you want a cup of coffee. In this situation, the X-pot kettle is an excellent gear that can meet your need. Using this kettle, you can quickly and efficiently boil water for preparing a cup of tea, coffee, and hot cocoa.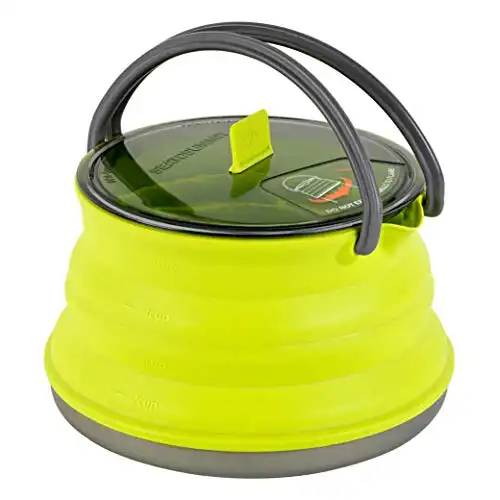 We earn a commission if you make a purchase, at no additional cost to you.
However, storing the kettle requires some space. But the kettle has a durable plastic lid and heat-conduction aluminum base with collapsible silicone sides that need less space.
3 – Food Leftover Containers
For keeping your leftover food, a perfect option is containers. This type of container contributes a lot to arrange your RV kitchen's messiest parts.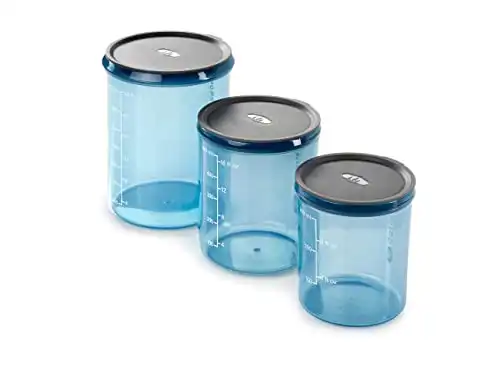 We earn a commission if you make a purchase, at no additional cost to you.
These products are usually available in different sizes, so you can easily pick one according to your need. Usually, collapse for storage and secure snap lids are typical with this type of bin, so they're just perfect for what you'll need.
4 – HydraPak Stash 1L Water Bottle
Larger bottles require more space, which is why the HydraPak Stash is often the perfect size for your RV trips. HydraPak Stash 1L Water Bottle is a compact, collapsible water bottle that you can store easily in your car or RV. It folds out into a 1L bottle, which is perfect for long hikes or camping trips.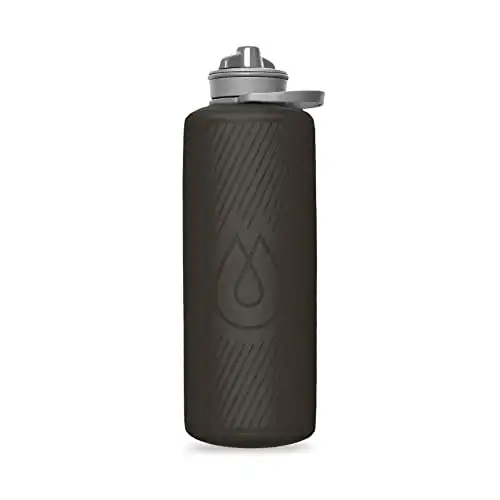 We earn a commission if you make a purchase, at no additional cost to you.
It's made from BPA-free polyester material and comes with a carabiner clip so that you can attach it to your backpack or belt loop. The best part about it? It's leakproof and won't spill even if you drop it accidentally.
It's effortless to use: just fill it with water using any tap or fountain, screw on the cap, and enjoy! You can also freeze it so that it stays cold all day long.
5 – Coleman RoadTrip Classic Grill
Coleman RoadTrip Classic Propane Grill is one of the most popular collapsible grills for RVers. This grill is made up of a folding frame and has compact in size. The fold-out side tables and adjustable burners make it a perfect cooking unit for tailgating events or on-the-road grilling.
Coleman RoadTrip 285 Portable Stand-Up Propane Grill
This portable propane grill has 20,000 BTUs of total grilling power. It features 3 burners with push-button ignition where you can control the temperature more precisely over 285 square inches of cooking space.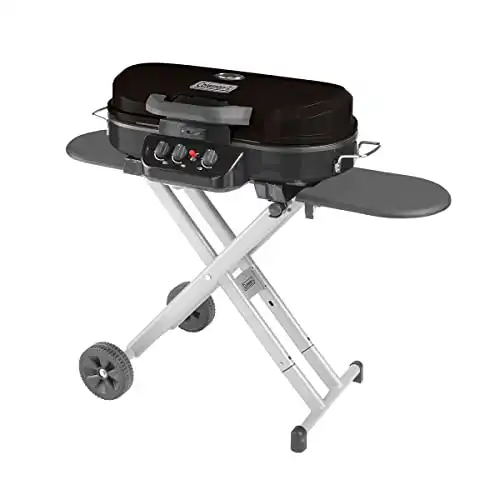 We earn a commission if you make a purchase, at no additional cost to you.
This Coleman grill has an attachable cover that protects it from dirt, dust, and sun rays while traveling. It also has a push-button ignition system that makes starting simple and quick.
The best part about this grill is that you can either fold the legs underneath or remove it altogether, thus making storage easier at home and on the road.
6 – Rio Gear Expandable Camping Table
The Rio Gear Expandable Camping Table is a portable and collapsible table you can use during camping trips. This table is made from aluminum, so it's lightweight and sturdy at the same time. In addition, the legs of this table can be adjusted according to the chair sizes and varying heights, making it ideal for outdoor activities like picnics, barbecues, and parties.
After completing your meal, you can easily store it in your RV by folding it down. It comes with a carrying bag so you can take it anywhere without worrying about storage issues while on the road or hiking trails.
7 – Helinox Chair Two
The Helinox Chair Two is an excellent choice for RVers looking for a lightweight, easy-to-store camping chair. The chair is made from solid materials and can hold up to 250 pounds. In addition, it has a shock-corded aluminum frame that allows you to adjust the chair's height depending on what height suits you best.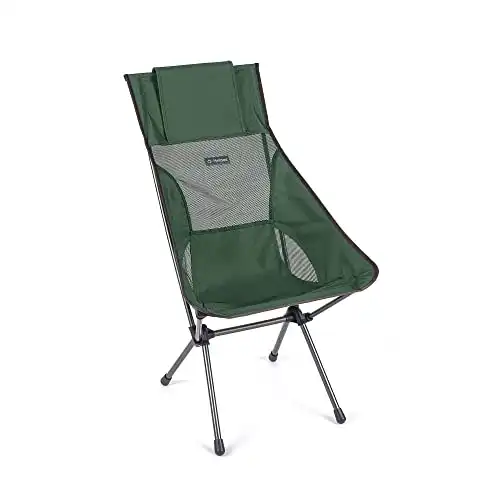 We earn a commission if you make a purchase, at no additional cost to you.
This model weighs less than two pounds, making it one of the lightest options available on the market today. So if you want a lightweight camping chair that's easy to carry around wherever you go, this may be the right option.
 8 – Shelterlogic Quick Shade Solo
The ShelterLogic Quick Shade Solo is an excellent option for RVers looking to add some shade to their campground. The canopy comes with an awning as an extension of your shelter if needed.
Suppose you want additional protection from the sun during the day. In that case, this canopy is also available with a solar shield, which offers UV protection and reflects 97% of harmful rays away from where you are sitting or standing underneath the shade.
9 – Fireside Outdoor Pop-Up Fire Pit
Camping is fun, but it can be difficult to cook and make fires at your campsite. If you are an RV owner, you may have limited space for cooking and fireside equipment in your RV. It's an ideal compact fire pit for your RV.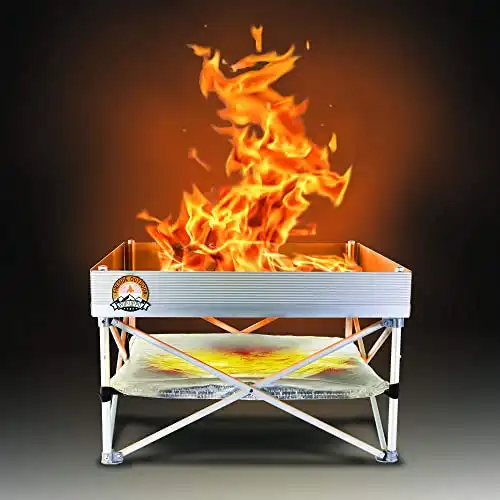 We earn a commission if you make a purchase, at no additional cost to you.
The Fireside Outdoor Pop-Up Fire Pit comes with a stainless steel bowl, which is easy to clean and maintain. The fire pit has two handles that make it easy to carry around. And when you're done enjoying your campfire time and roasting marshmallows, the fire pit comes apart quickly, and you can easily store it in a small carrying bag.
10 – Pet Bowls
If you are an RV lover on a camping trip with your dog, you should keep in mind that your pet will need some basic things as well. One of them is a collapsible bowl for your dog. These bowls are available in different sizes and shapes according to the size of your pet.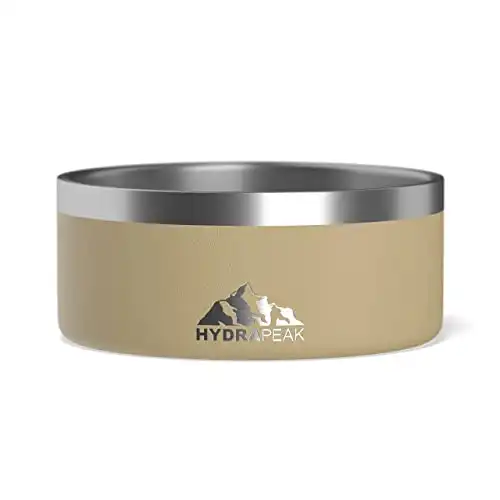 We earn a commission if you make a purchase, at no additional cost to you.
You can use them for hiking, traveling, or even carrying them around when you go out for long walks with your dog. The best thing about these bowls is that they are light in weight and can be folded easily into small spaces so that they don't take up much space in your backpack or travel bag.
Verdict: Collapsible RV Camp Gear
There you have it, the answer to that age-old question: "What are the best collapsible camping gear for RVers."Now you know!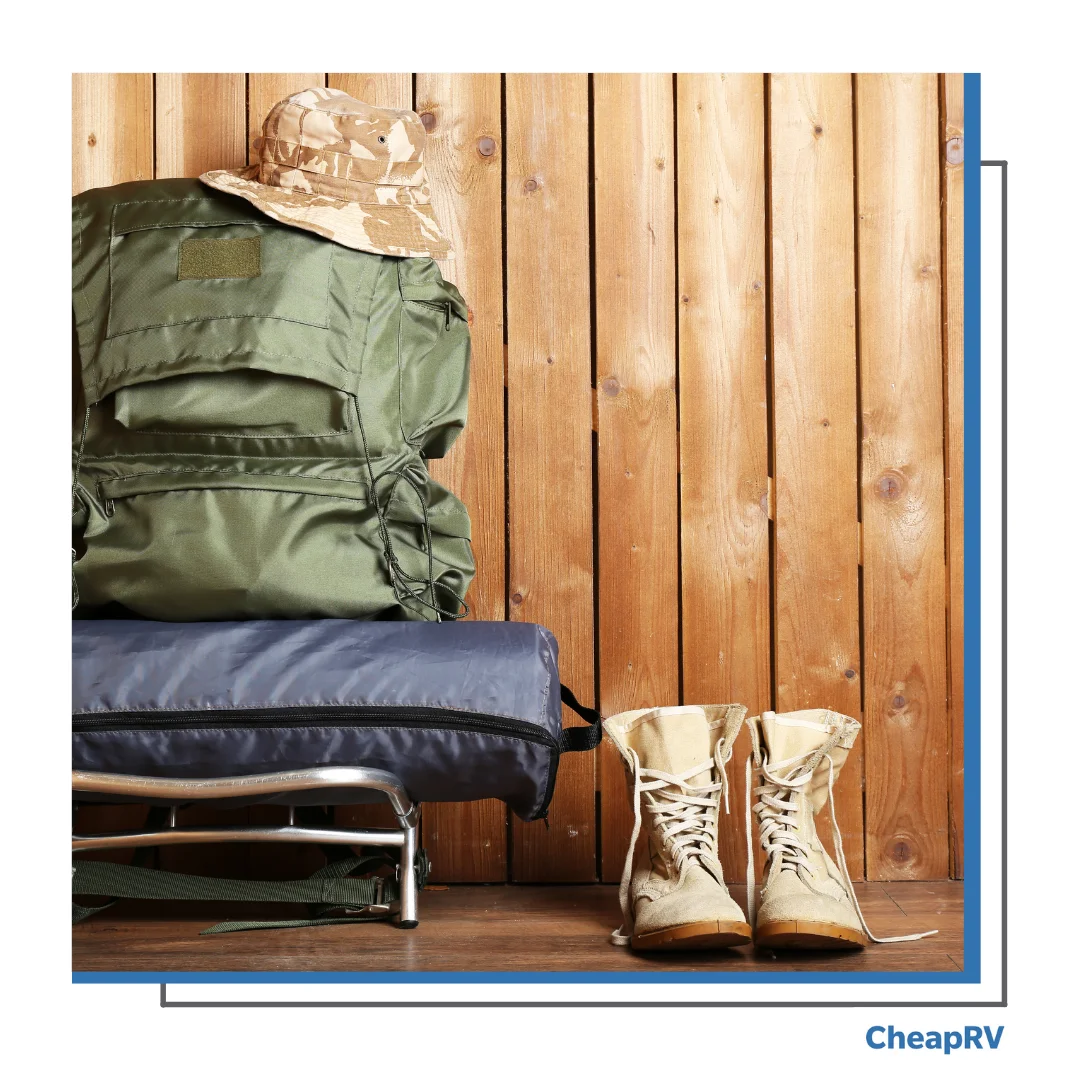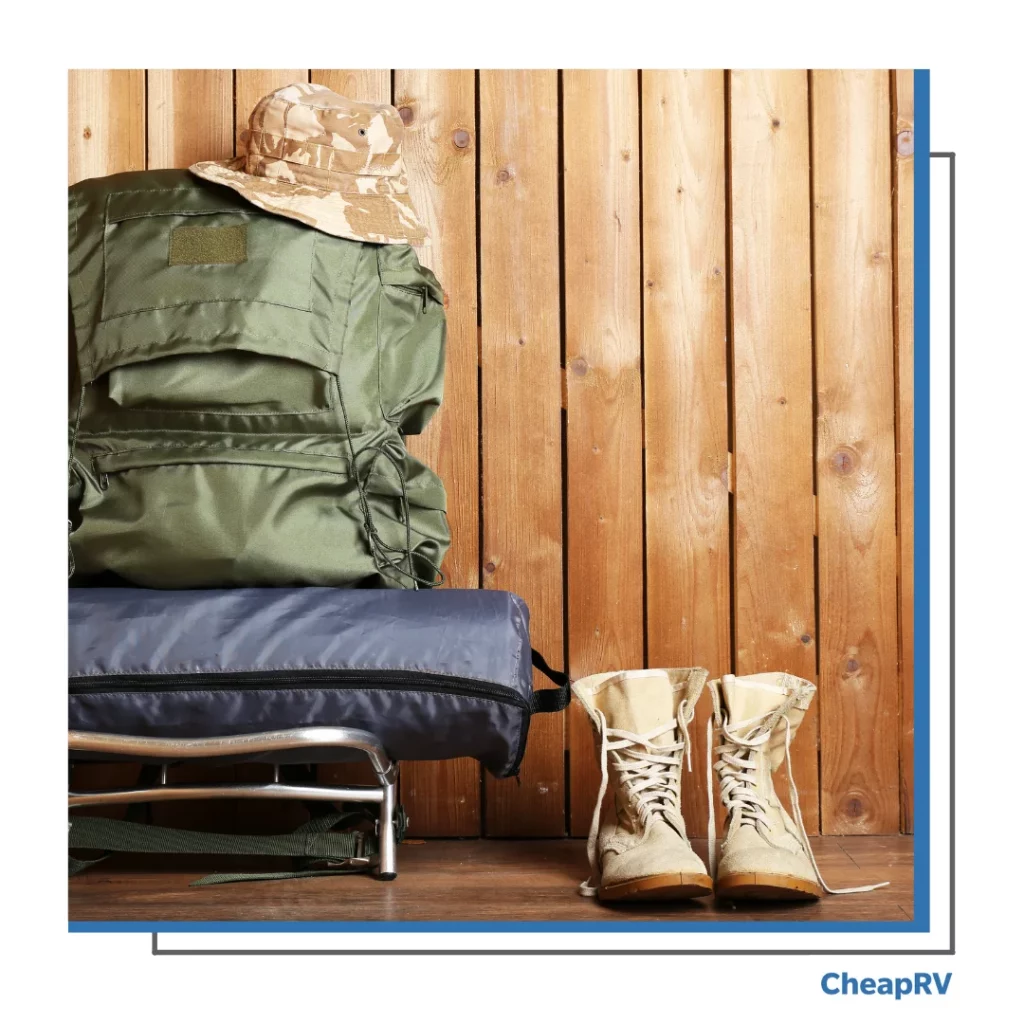 There's a large variety of reasonably affordable options when it comes to finding portable camping gear(even RV ottomans with hidden storage). But not everything is worth your time or hard-earned money. So be sure to do your research and steer clear of pieces that can't deliver on their promises. That way, your next camping trip will be even more enjoyable than the last.