How Much to Replace RV Roof
If your RV's roof is damaged, leaking, worn down, or has become old, you should replace it. How much does it cost to replace a damaged RV roof? 
This post will discuss the cost of roof replacement and the different types of RV roofs.
Also, we have highlighted how to maintain the RV roof so you can keep it in good condition for a longer time. 
RV Roof Replacement Cost 
RV roof replacement costs between $300 to $325 per linear foot. So, if your RV is 30 feet long, you can expect to pay between $9000 and $9740 for RV roof replacement.  The replacement cost is greatly influenced by roof material and the labor cost of the work. While you can repair certain kinds of roof damage by yourself, it's better to hire a professional for the work.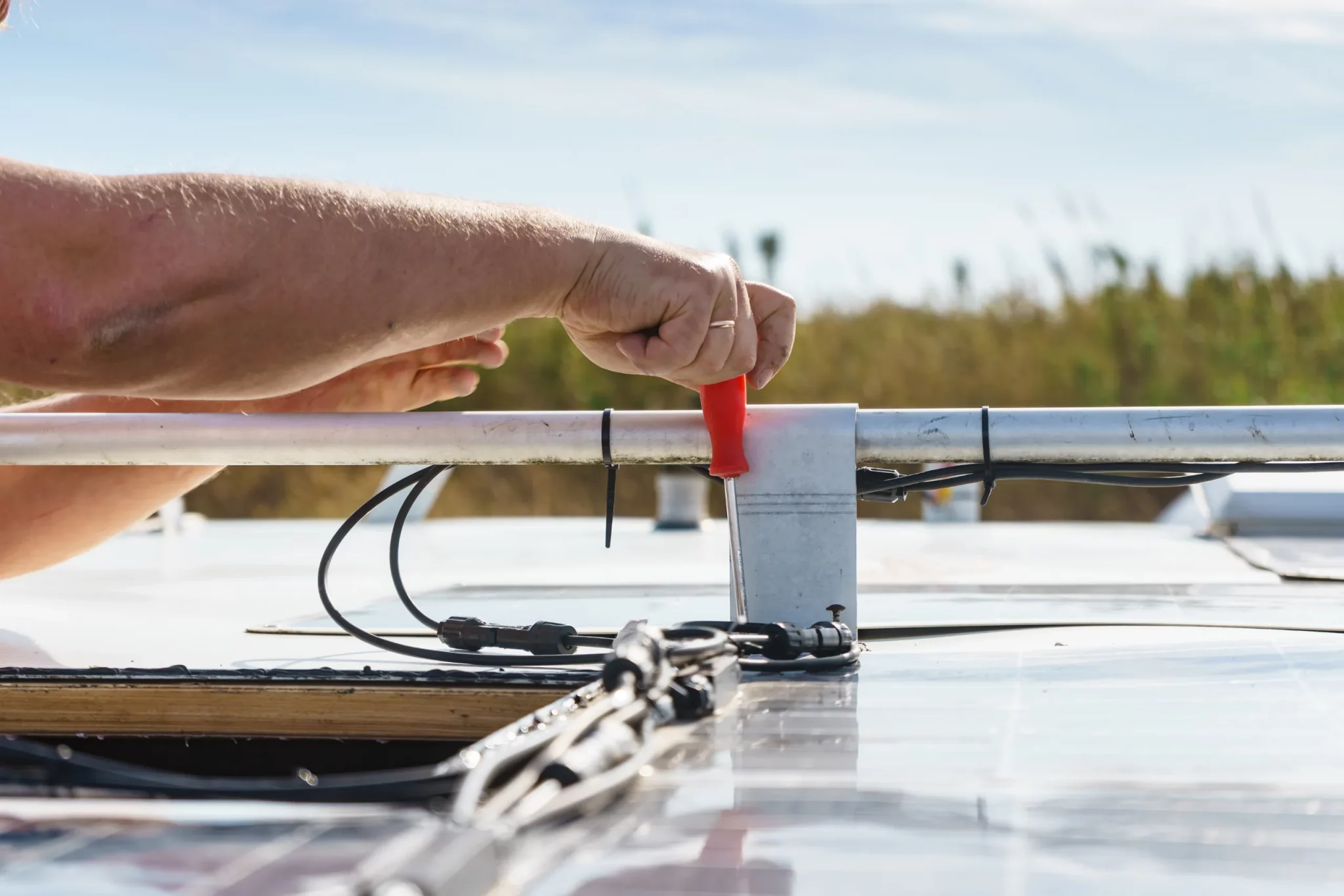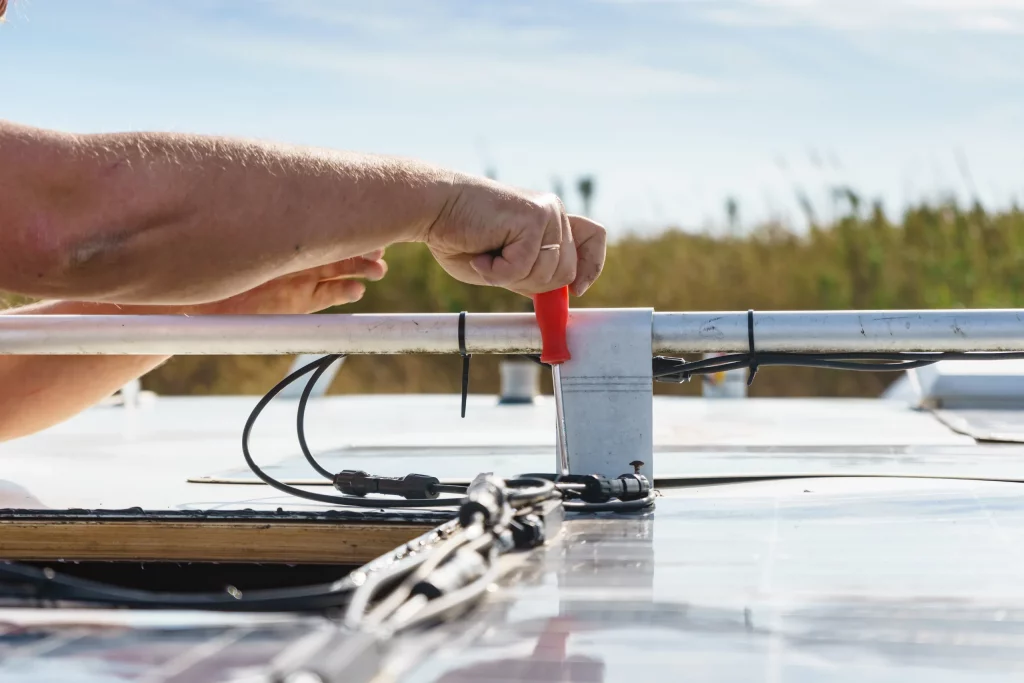 Different Types of RV Roofs 
It's advised to know about different types of RV roof materials so you can offer proper maintenance and care. For example, certain roof materials need more maintenance, while others are rough and tough.  If you don't want your RV roof to get damaged, take a closer look at these four types of RV roofs. 
Rubber EPDM
Rubber EPDM means ethylene propylene diene monomer, which is a membrane-type rubber. This roofing material is lighter, so not much weight is on the RV.  Rubber EPDM roof maintenance is easy as it doesn't dent, scratch, or scuff. But it can puncture easily and not have a "pretty" finish.  It absorbs more heat during summer.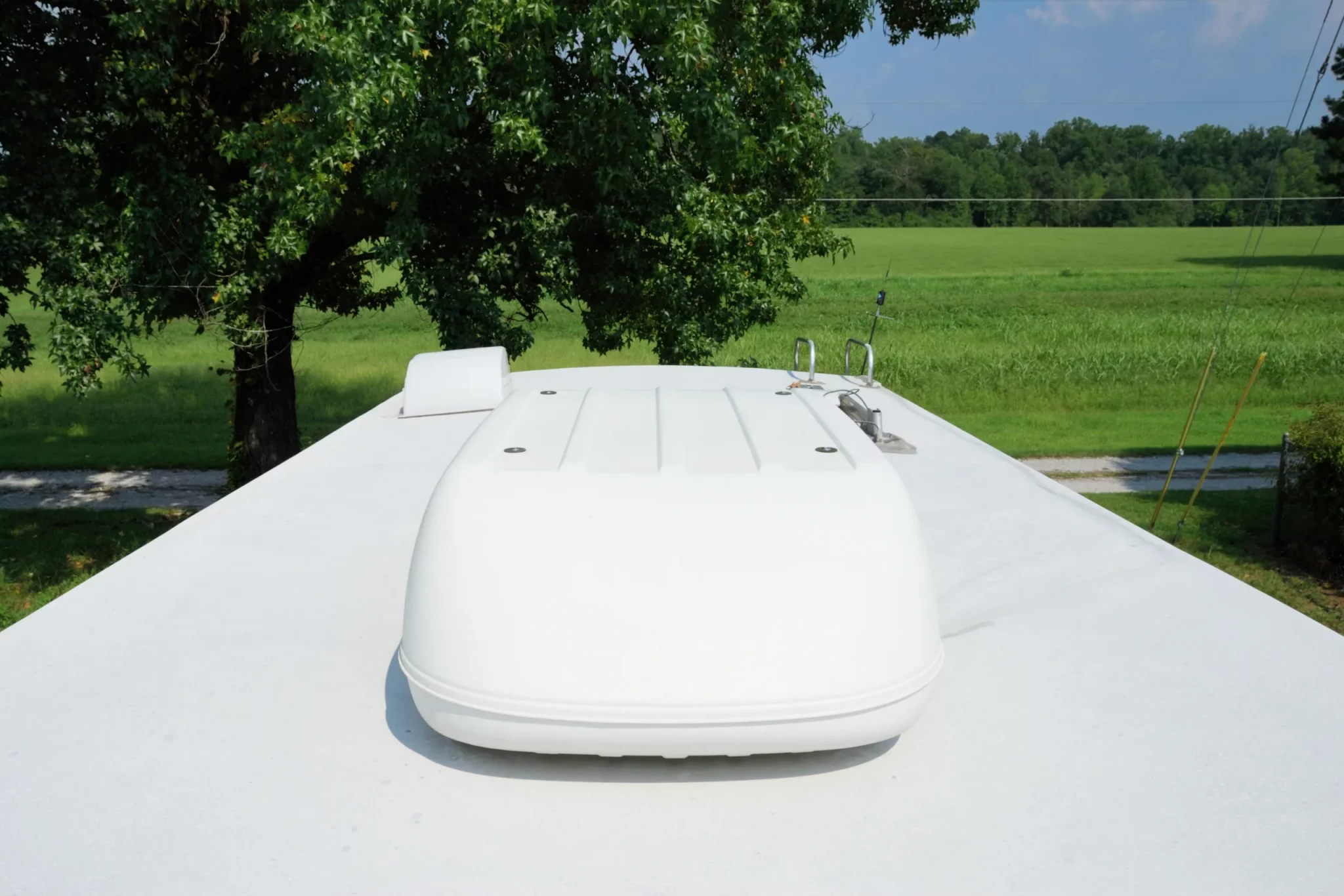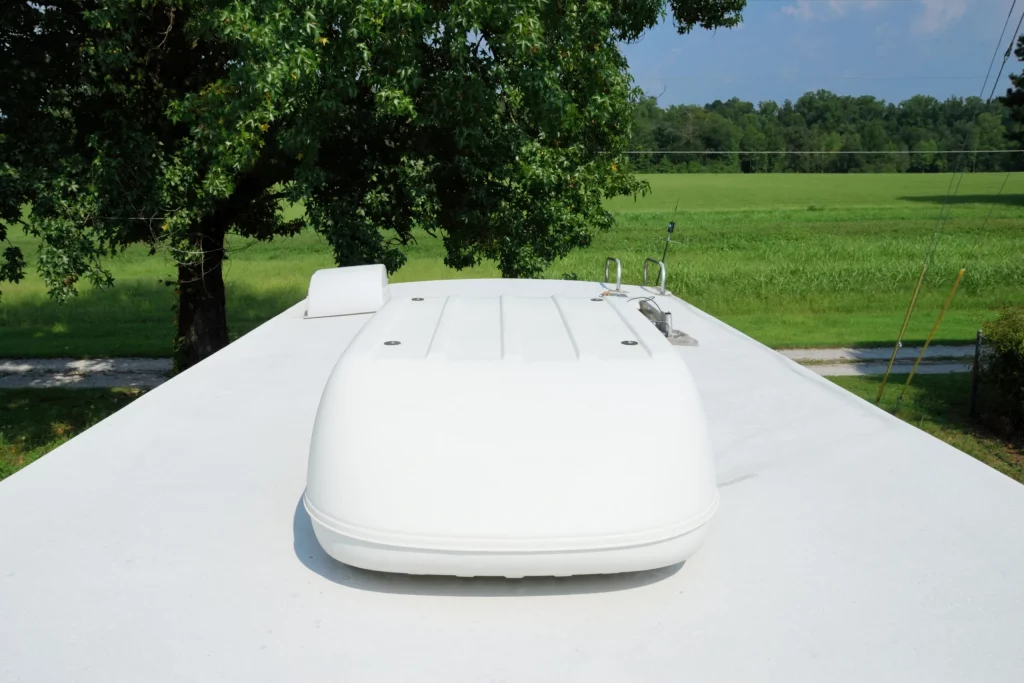 Unfortunately, that means you would have to work more to keep your RV cool.  The extremely durable rubber EPDM costs between $4 to $8 per square foot. So, if you have a 30-foot RV, you need to pay $1020 to $2040 for 255 square feet of this roofing material.
Rubber TPO 
Rubber TPO is another widely-used RV roof material. It is made from thermoplastic polyolefin and is a cheaper option.  As rubber TPO is white, it can properly reflect the heat. Therefore, your heating and cooling systems won't have to work hard, eventually saving energy. But rubber TPO RV roofing requires a laminate cover to stay protected from cracks.  If you don't get a laminate cover on the top of the rubber TPO, the roof material can expand and cause cracks. 
A decent quality rubber TPO cover for RV can cost somewhere between $5.50 to $9 per square foot. So, if you have a 30-foot RV, you have to pay $1400 to $1530 for 255 square feet of this roofing material. 
Fiberglass 
RV fiberglass roofs are made of reinforced plastic. These are lightweight and help in keeping down the overall RV weight. In addition, fiberglass is more durable, which results in less leaks, cracks, and maintenance.  While fiberglass material is affordable, the repair cost is more. Fiberglass is fire-resistant and rust-resistance, but it is not heat-resistant.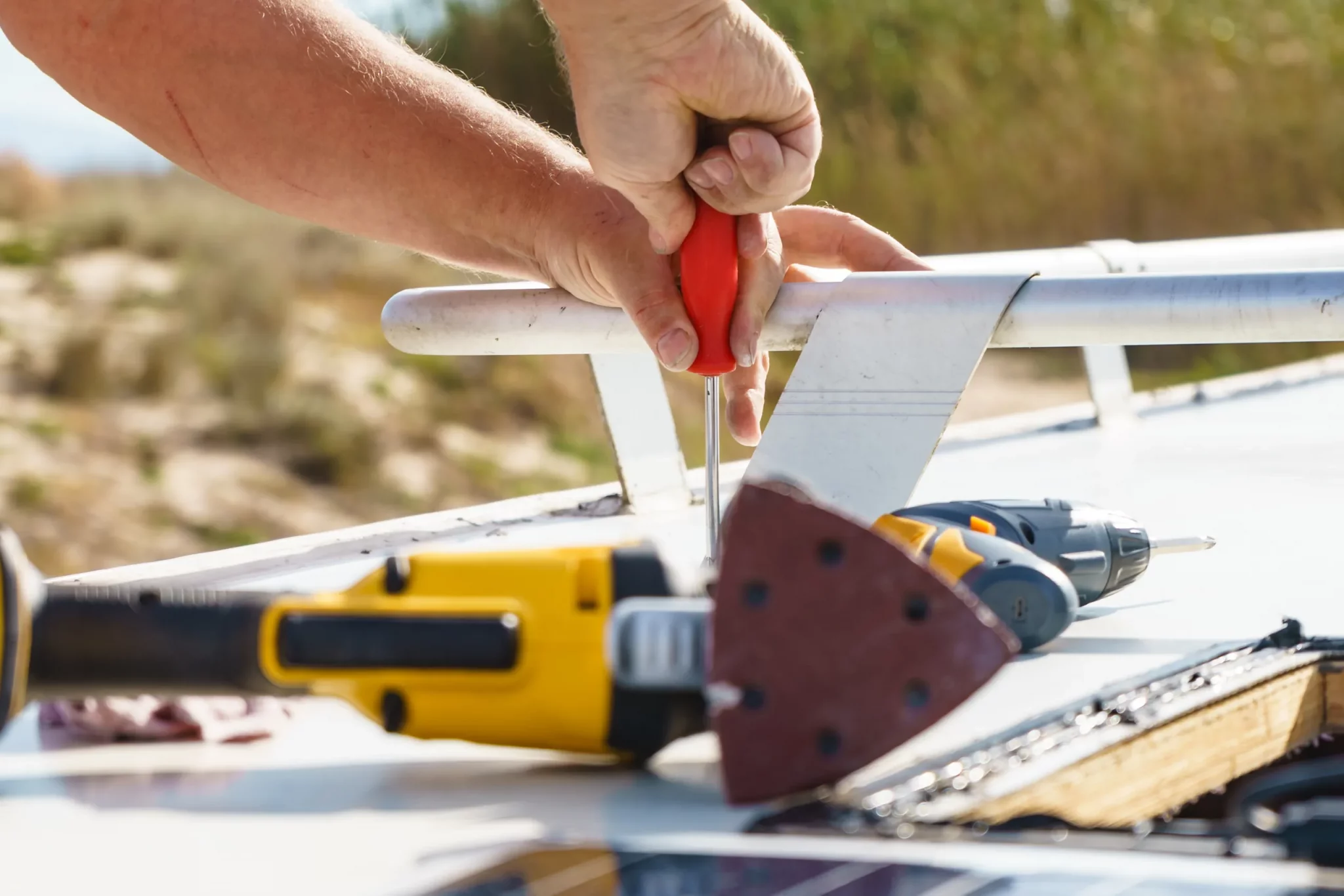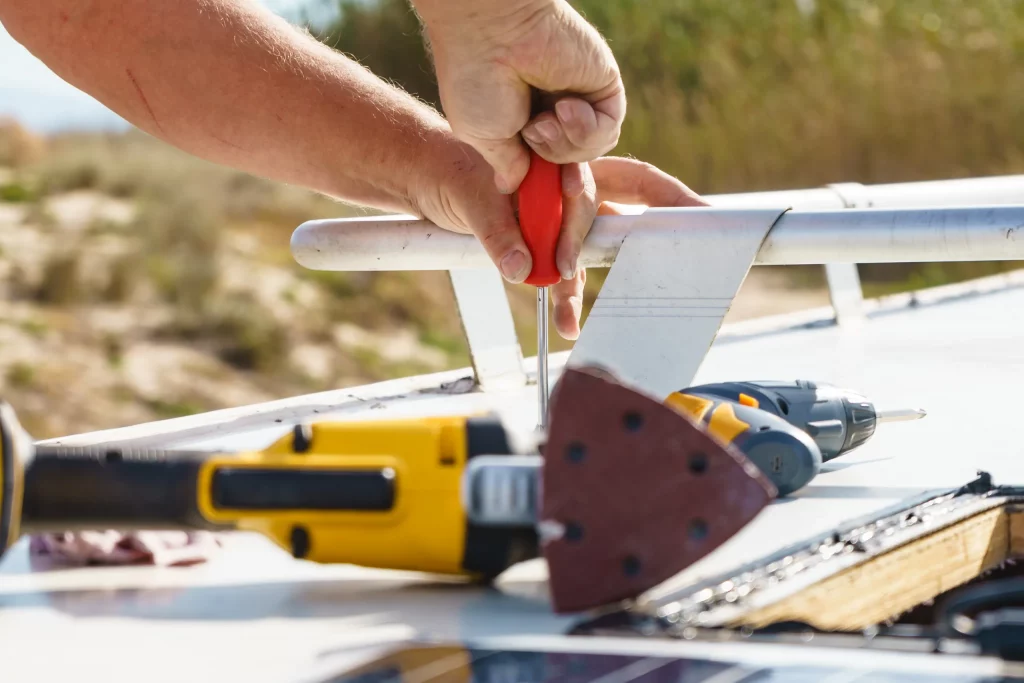 So, if the roof is exposed to more heat, it can split.  If you keep your RV in an area that is less exposed to the sun, you have to spend less on maintenance. With little to no maintenance, your RV fiberglass roof can stay in good condition for up to 30 years. Fiberglass will not rot, rust, or mildew. Plus, it is fire-resistant and long-lasting. It's an affordable roofing material that costs between $2 to $4. So, if you have a 30-foot RV, you need to pay between $510 to $1020 for 255 square feet of this roofing material. 
Aluminum 
RV aluminum roof is made of sheets of aluminum. It's the loudest type of roof, as you will hear sticks, hails, rain, and acorns falling on the roof.  It's a strong RV roofing material and doesn't require much maintenance. But you must install this aluminum RV roof properly as it does not adhere to the glue. You should install the aluminum roof properly using galvanized nails.  In addition, leaks can pretty easily hide under the aluminum RV roof as the material maintains its shape consistently. But it is non-heat-resistant.
Therefore, you would have to work more to keep your RV cool.  Aluminum RV roofing costs around $3 per square foot. So, if you have a 30-foot RV, you need to pay around $770 for 255 square feet of this roofing material. 
How to Maintain Your RV Roof 
No matter if you are replacing the RV roof yourself or hiring professionals, the process is costly. Thus, it's better to know a few care tips to increase the RV roof's lifespan.  Here are some tips you can follow:
Regularly Clean Your RV Roof 
An important part of RV roof maintenance is cleaning it regularly to remove dirt and debris. If not removed, these can damage the RV roof's sealant and make the roof more prone to water damage and leaks.  You must regularly wash the roof to protect the seals. For proper washing, choose a detergent that is good for roof material.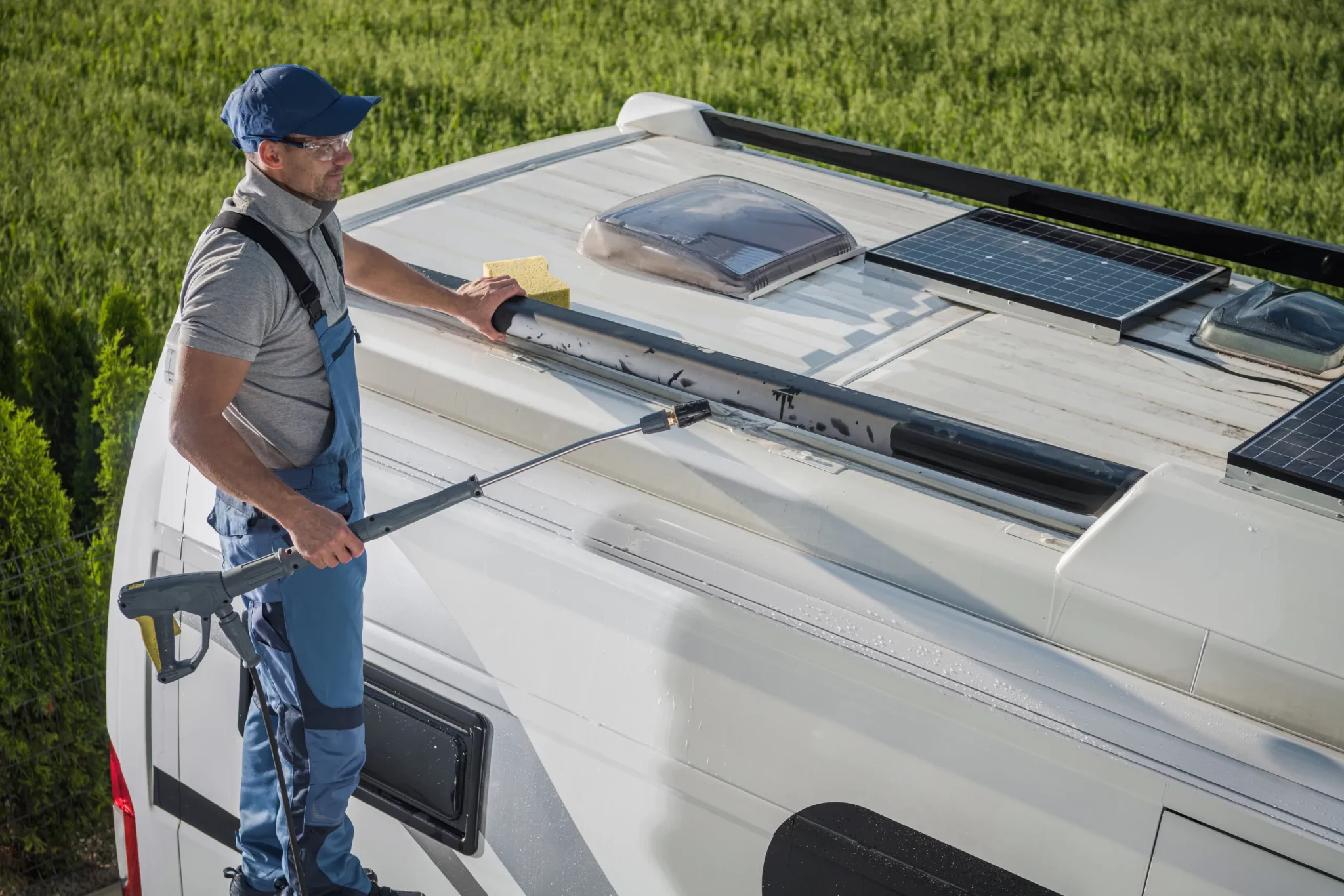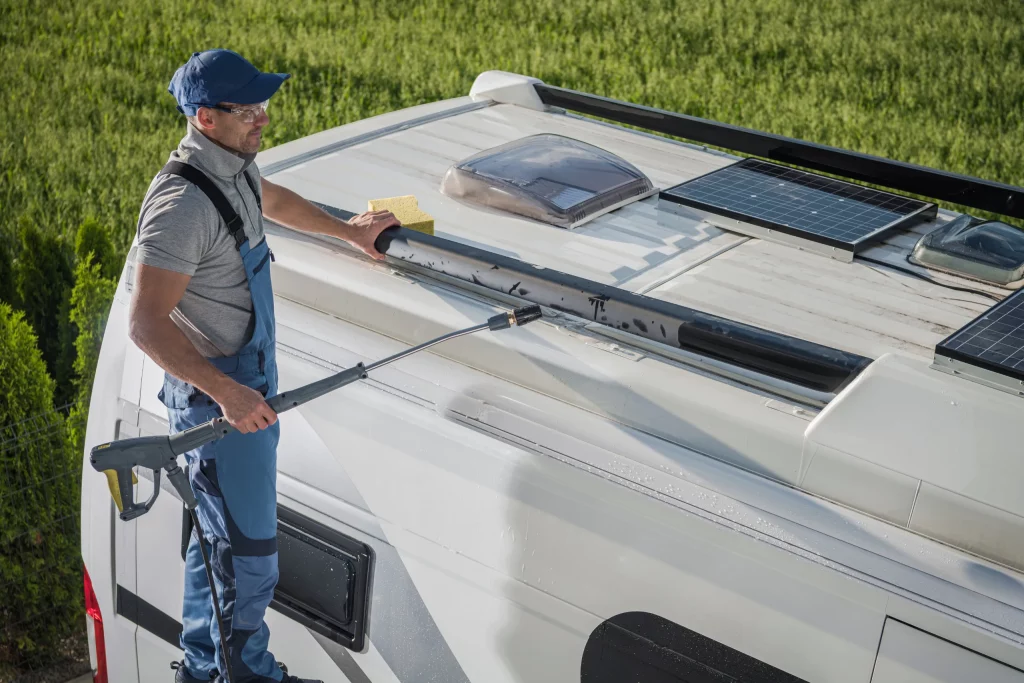 Mild detergent seems to work well for aluminum or fiberglass. In contrast, a rubber-safe RV roof cleanser should be your pick for TPO or EPDM roofs. 
Check RV Roof for Leaks 
Roof cleaning is the perfect time to check RV roof leaks. When you clean the roof, you can have someone walk around inside the RV to check for leaks. While checking the roofs, don't forget to look at the RV walls for drips or dampness. 
Quickly Repair Roof Damage 
If you notice any leaks, take immediate action to fix them quickly. The roof repair job might require you to spend a few hundred dollars, but it is worth it. 
Purchase Roof Covers for RV Durability 
The best thing you can do to maximize your RV roof's lifespan is to purchase a roof cover. If you don't have a garage to park your RV, an alternative is using UV-resistant and waterproof RV cover.  These covers come in different ranges of measurements. Therefore, measure your RV and then purchase the cover so it fits properly.  But you must only cover your RV during the storage season as the covers prevent airflow from circulating. It can result in mildew growth. 
FAQs
What is commonly used RV roof material?
Rubber TPO is the most common roof material as it can reflect heat and help you save energy. 
How long should an RV roof last?
With regular maintenance and care, an RV roof can last for 20 years before it demands complete replacement or repair. Depending on how you use the RV, you can expect leaks and other damages in around 5 to 10 years.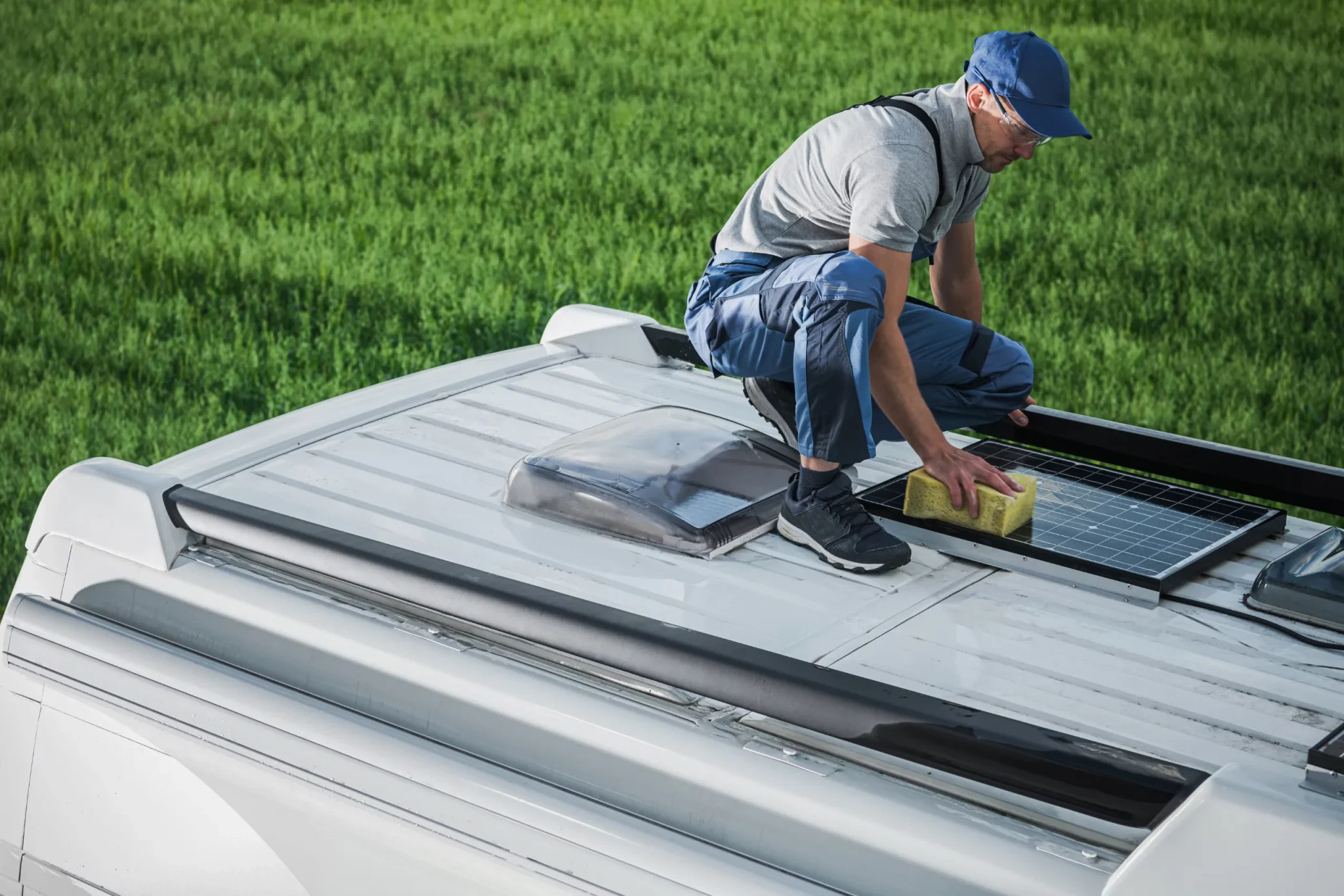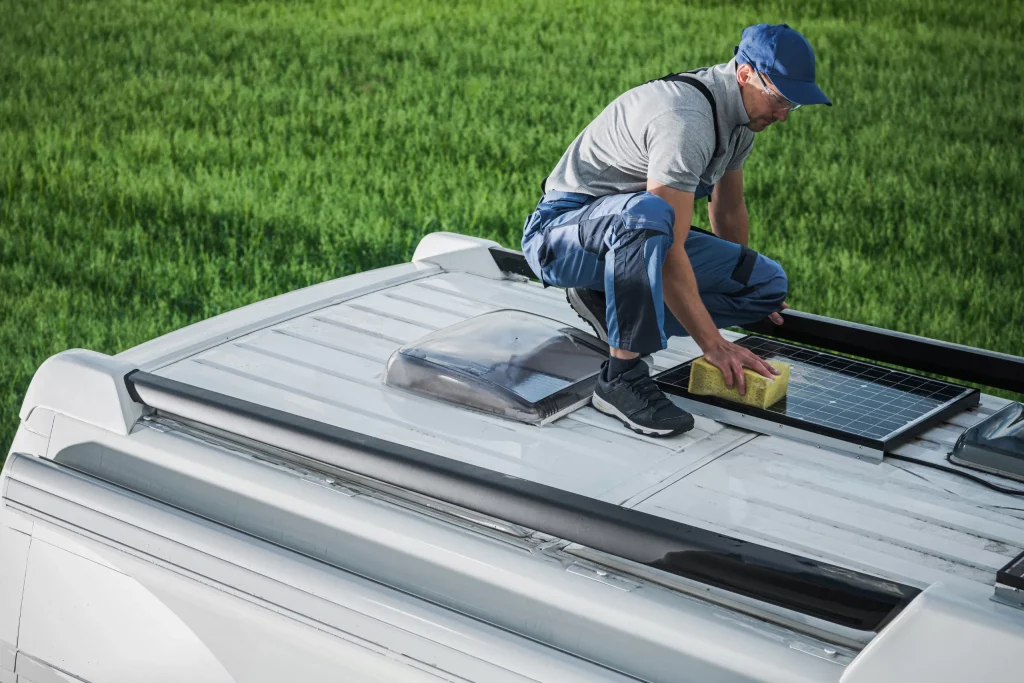 How much does resealing an RV roof cost?
If you wish to reseal an RV roof on your own, be ready to pay $200 to $500. But professional resealing work would cost between $800 to $1000. 
Conclusion 
A professional RV roof replacement can cost you around $325 plus the material cost. But you can maximize the lifespan of the RV roof by following the recommended maintenance tips. 
We hope you found this post informative. If you have any more suggestions on how to maintain RV roofs, please tell us in the comment about it.