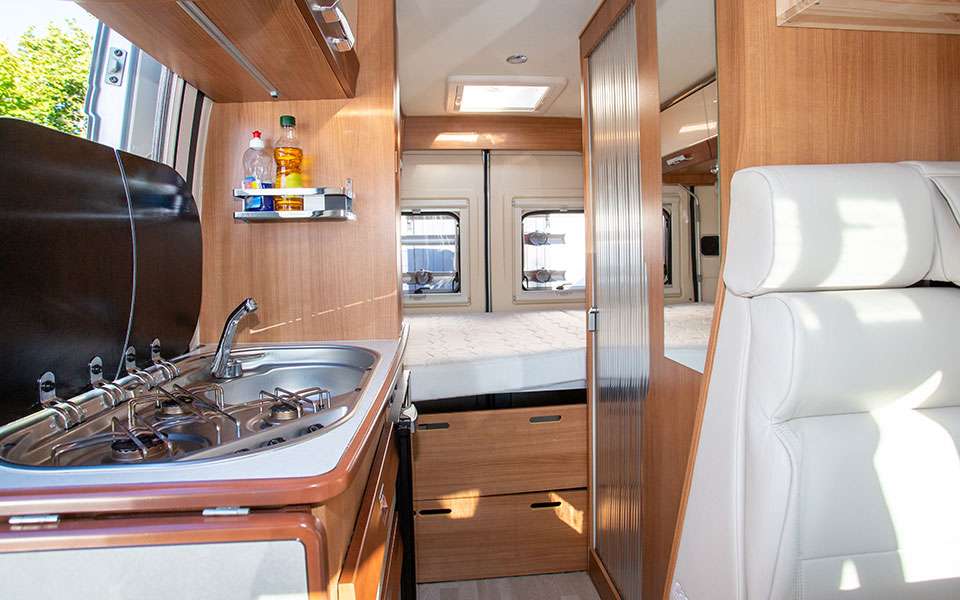 RV Storage Ideas
A recreational vehicle (RV) is a great place to live, especially while you are camping or traveling on the road. But its limited available space is the biggest challenge to live into it. However, don't worry. Fortunately, RV storage ideas can help you to overcome this challenging situation. This article is all about the best storage hacks. Thus, keep reading this article to properly organize your RV even with its limited space.
Read the RV Storage Tips First, Begin Later
Before knowing the RV storage solutions, you need to know some essential tips regarding RV space-saving ideas. You need these ideas to organize your RV space in the best way. Whether you have your RV or rent it, you should have the camper storage ideas to manage it in the best way. You will easily be able to get started with the following tips:
Organize your RV in a simple way
Try to fulfill multiple purposes using just one accessory
Make the best use of your available RV space
You should have your amenities tracking list. Write down about every single thing you have on your RV
Avoid taking unnecessary items such as 20 plates or 12 drinking cups etc
Use lightweight cabinets for campers if possible
You should keep everything in a specific place, such as bike helmets, keys, RV trash can, etc.
Follow the "One In, One Out" rule. For example, if you brought a new towel rack for RV, you should remove the old one.
Strictly follow the RV cleaning schedule.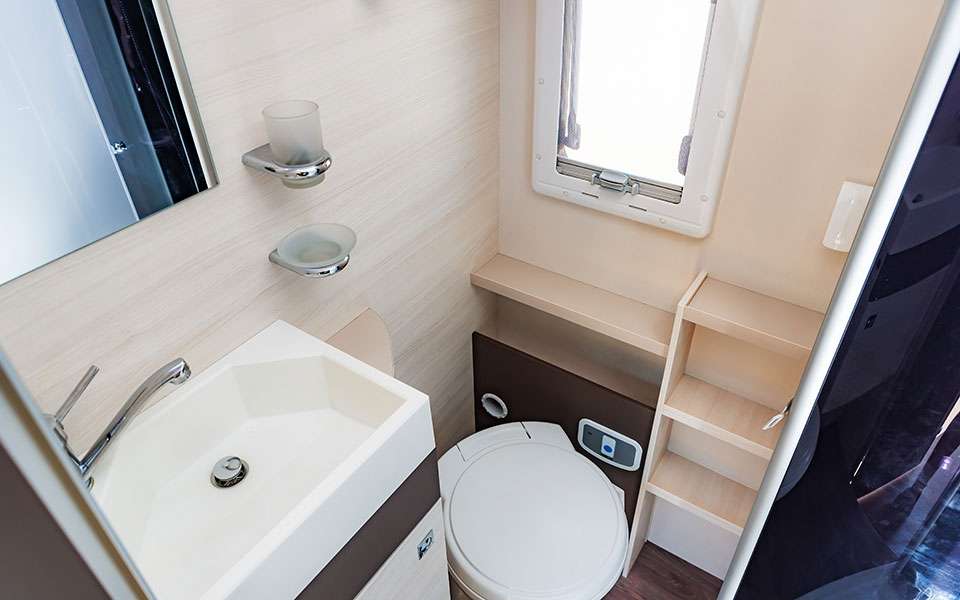 RV Bathroom Storage Ideas
The basic RV bathroom storage ideas which will help you to keep your bathroom organized are the following:
1. Hanging Shower Curtain Organizer
You can use the large shower curtain organizer to save your bathroom space. You can hang it on the bathroom door's back or the shower curtain rod.
2. Use a Toothbrush Holder
Usually, the RV bathroom's countertop space doesn't exist at all. Or even it exists, it's too small. Thus, you should use a wall-mounted toothbrush holder that will be within your reach. Moreover, it would help you organize the toiletries in one space off the counter.
3. Elastic First Aid Holder
You need to use various ointments and creams even while camping or traveling. If you leave these items unorganized, you will require more space. Don't do all these. The easiest way to organize and store these items is to staple an elastic band around them and put them in place.
4. Hook Dispensers
You can easily make an aluminum foil dispenser by installing hooks on your RV wall. All these hooks will significantly help you save the counter's room —moreover, it's easy to use.
5. Shampoo Dispenser
You will not get larger shelf space in your RV bathroom, especially in the RV shower. Thus, you should use the shampoo dispenser to save space. It's a convenient item for RVers.
6. Wall-mounted Metal Baskets
The RVers can use the wall-mounted metal baskets for unique purposes as it's an incredibly versatile basket. For example, if your RV has a wooden bathroom cabinet, you can easily mount this metal basket on the wall. It is handy in holding the extra toiletries or face cloths.
7. Stylish Swing-out Towel Rack
The swing-out towel rack looks elegant, and it can save your space in keeping the towel. It can hold up to 3 towels at a time. However, you need to screw this rack on the RV bathroom's solid surface. You can also screw it on the wooden cabinet's side.
RV Basement Storage Ideas
You need the smart RV basement storage ideas as it offers you tiny living spaces. So let's discuss some best ideas to help keep your RV basement organized. The best picks are the following:
1. Sliding Cargo Tray
A sliding Cargo Tray is a most incredible way to organize your RV basement area. First, you have to mount this tray on the storage bay's wall, and then you can slide it in and out. With the help of this item, you can easily organize things as it offers a larger drawer, just like the shelf.
2. Command Hooks
Command hooks are a great way of using the ceiling or useless wall space. It's a great RV ceiling idea. Moreover, you don't need to screw the hook on RV walls. Just stick it properly. It is available in various sizes, and you can hang multiple items on it.
3. Get a Sewer Hose Carrier
The sewer hose carrier is a great item, especially for organizing your RV. Get a sewer hose and its holder that will fit it correctly. You don't need to store the hose in your storage bay's plastic tub. Thus it helps to save space.
4. Use Tiny Clear Drawers
The transparent drawers are extremely helpful in organizing the small losing items. In addition, you can use these drawers to store minor but essential things such as rolling batteries, scattered scissors and pencils etc. Children can't easily open and shut these drawers, and it provides excellent RV storage solutions.
5. Install LED Light
At every space of your RV, you should install an LED light. If you need to go to the RV basement area at night to detect or fix something, the LED light will be convenient at that moment. Holding the torchlight is sometimes irritating. Thus go quickly and install everywhere the LED light on your RV.
6. Hang Loose Cords and Tools on Pegboard
If you don't want to store the loose hanging tools in a tub, you should go with the pegboard idea. It's an excellent solution for hanging things, especially for those RVers who don't prefer to store tools in breakable plastic tubs.
7. Organize Everything Using the Clear Tubs
When storing an item, you should know which tub contains which item. Your job will be easier if you use the clear tubs for organizing everything in your basement. Whether you need your hammer or water hose, if you keep them in clear tubs, you will easily find them.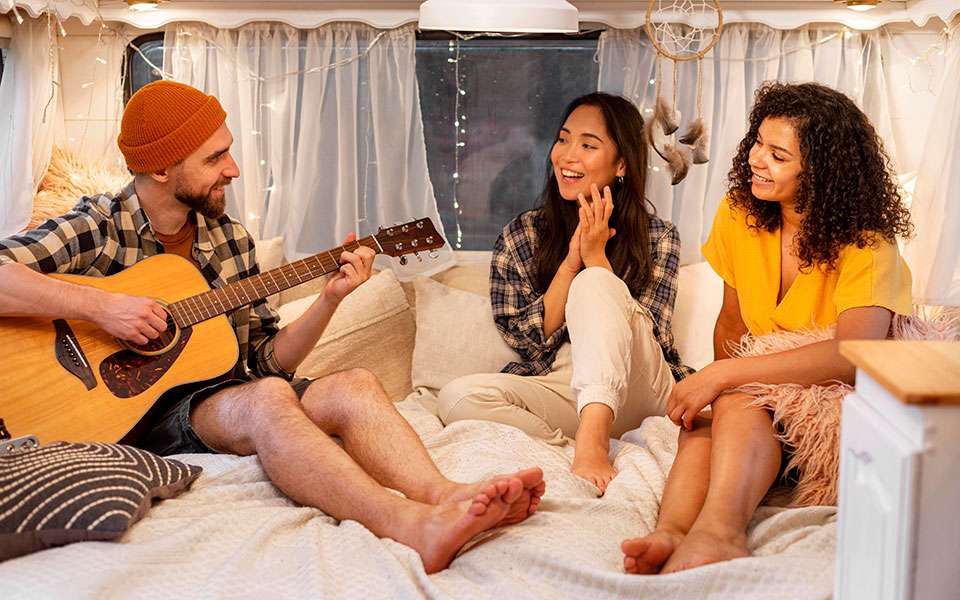 RV Bedroom Storage Ideas
In most cases, the RVers wish to have a large camper bedroom as they become fed up with the RV bedroom's small spaces. Don't worry. Here we will enclose trailer bed ideas that will help you magically have an enormous bedroom. Let's start:
1. RV Bedroom Sheets
RV bedroom sheet is an excellent option, especially when the DIY RV bunk bed creates problems for RVers. But the RV sheets could also cause trouble to you if you bring their wrong size or your bed size is odd. In addition, sometimes, the RVers struggles to find the best quality RV sheets.
2. Shoe Hangers
In organizing your RV bedroom, you can use the shoe hangers in various ways. This item is a great bedroom organizer not only for shoes but for other things also. For example, you can easily hang the shoe hangers on your RV bathroom door. Moreover, you can use it to keep your bathroom items safe and organized.
3. Use Hamper to Store Dirty Clothes
Sometimes the RVers find it difficult to store their dirty clothes. Here comes the need for a hamper. You can easily use it to keep your dirty clothes organized and in a place. Don't expect to put too many clothes on it. At most, the hamper can have three outfits.
4. Skinny Hangers
Another excellent closet space-saving solutions for RVers are these skinny hangers. However, this item doesn't save massive space as you expect, but it's greatly helping you keep your clothes organized. While your RV is your home, every inch counts. Thus it is also enough to store the closet.
5. Space Heater
While you are struggling on cold nights at your RV, an additional or alternative heat source can significantly reduce your struggle. Moreover, you will enjoy more heat and comfort even in the cold weather.
Also, you don't require to spend money on propane. However, you should maintain the necessary fire prevention measures if you use a heat source in your RV.
6. Fan for RV Bedroom
If you are going to camp or live in your RV in the summertime, having a fan is the most excellent RV storage idea. However, your RV may not have the ceiling fan option. In that case, you can carry a mini fan with you. For your RV lifestyle, undoubtedly, the fan is a great option.
7. Portable Filing Folder Bag
If you think to use the "camper storage near me" for keeping a record of your documents, then it could cause your heavy loss. A self-employed or busy person needs to keep the everyday record as it's crucial.
However, you will fall into the odd situation if you keep them in your nearest storage and don't find them when you require them. Thus, the portable filling folder bag can help you quickly get your job done.
RV Storage Ideas for Kitchen
Now we will discuss the enclosed trailer organization ideas for your RV kitchen. The kitchen is the most crucial RV part as it is the food source. Thus you may require a little bit more space in your RV kitchen so that you can comfortably cook in it. However, we will now present some of the space-saving ideas for the RV kitchen.
1. Get a Door-Mounted RV Trash Can
Placing the RV trash can on RV's floor takes enormous space, but this is one of the must-have items in the kitchen, and you need it. So now, what would you do? First, you can buy a door-mounted RV trash Can, which will save your RV kitchen space.
2. Use Storage Bins in RV Shelves
Organizing the RV is a puzzle, and probably the puzzle's most crucial piece is storage bins. The RVers should use the storage bins in dozen to save their space. This bin is available to use in drawers, cupboards or the RV's outside storage compartments.
3. Use Stackable Nesting Bowls
Stop using mixed bowls in your RV kitchen and go with the more innovative use of stackable nesting bowls. The standard bowls take too much space, and we are looking for RV storage ideas for saving space. Thus a great space-saving option is using the nesting bowls in the RV kitchen.
4. Use Dish Cradles
You can maximize your camping cabinets' space by using the dish cradles. The dish cradle helps save massive areas as you have to stack the dishes on it vertically. As a result, it requires too little space. Most importantly, you can keep each dish separately in it. And it's easier to take them out.
5. Install a Fruit Hanging Basket
Would you like to keep fruit here and there in your RV kitchen in an unorganized way? Or, if you use a bowl to keep fruits organized, it will require space. Thus you should install a fruit hanging basket in your RV kitchen to save space and keep it organized.
6. Install a Peg Board
By installing a pegboard on your RV kitchen, not only can you save space, but also you could give a fabulous look to your kitchen. A pegboard is one of the best ways to organize the kitchen's pans and pots and other unorganizable.
7. Fold Out Spice Rack
You can save your camping cabinets' huge space by installing the spice rack right under the cabinet. It will save both the counter and RV cabinets' space. Moreover, this rack allows you to keep all the spices in one place altogether. As a result, you will easily find it whenever you need it.
Other Miscellaneous RV Storage Ideas Which Will Save Space
There are colossal RV space-saving ideas available to us, but putting all of the ideas together will be a matter of irritation for you. Thus above we present the details of those which you need most. However, here we are, offering the other ideas in miscellaneous categories.
Over the seat organizer
Pull out surfaces
Command hooks
Insta-hangers
Combine hooks in metal containers
Chalk-paint
Vacuum-sealed bags
Avoid cases and use a DVD binder
Get a Toolbox
Store thins in tackle boxes etc.
Bottom Line
Hopefully, you enjoyed the above article. All the above RV storage ideas will help you save your space in your dream RV. What do you think which idea is most valuable and favourite to you? Comment to let us know. The above-mentioned space-savings ideas will help you make your road life easier while living in RV.
However, don't think much about the product's cost as most of them are inexpensive and easily affordable. Also, don't regret at all regarding the RV's tiny space. Instead, use all these space savings hacks. And hopefully, you will get more space on your RV to enjoy.
Latest posts by Tim Harris
(see all)