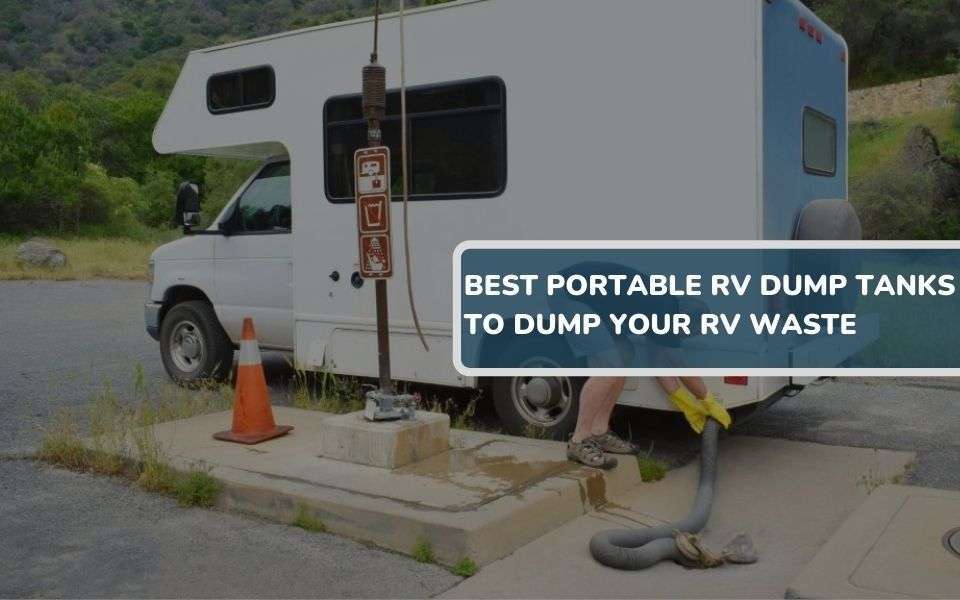 Best Portable RV Dump Tanks to Dump Your RV Waste
RVers require an effective, safe, and clean transferring way to transfer onboard storage tanks' black water and gray waste water. The portable RV dump tank helps to dump the black and gray water into the dump station in your campground.
Simply connect the portable dump tank to your black or gray full tank and draw down the waste water safely and efficiently transport this dirt to the campground's dump station. Thus to eliminate your RV's waste water, you don't need to drive directly to the dump station if you have a portable waste tank for your RV. Also, other than your campsite or campground, you can park your RV anywhere and stay in any place.
However, different options for the best portable RV waste tank are available on the market. So the RVers quickly get confused regarding which one they should choose. Here we compiled the list of the top portable waste tank for campers. Let's have a look at the list and dive into the discussion:
Definition of Portable RV Dump Tank
The portable dump tank works in connection with your RV's sewer line and allows you to transfer your RV's black or gray water into the portable tank. Moreover, at the time of dumping garbage, you don't need to move your RV's rig. The portable dump tank is also known as the RV tote tank or portable waste tank.
The RVers require the RV portable waste tank most when their campground doesn't have its sewer hookup facility. In this situation, the RVers have two options: one is to pick up the rig and dump the waste tank into the campground dump station by driving their RV.
Another option is releasing the RV's wastewater into the portable waste tank for the camper. After using the portable tank, take the tank over to the nearby campground or, RV black water dump station and dump it. Using the portable tank reduces the RVer's task of uprooting their entire RV. Again when you are not in the grid or entirely off from the grid, you can use this portable dump tank for RV.
The Key Features of Portable RV Dump Tank
When you are shopping for a portable waste tank for an RV, you should consider several factors. Look for the following features below in your RV dump tank while shopping.
1. Tank Capacity
The first thing you should consider in buying a portable dump tank is its capacity. If the black and gray water tank's size in your RV is 30 gallons, then you also need to buy a 30-gallon power portable tank. However, you should consider the tank's weight also.
2. Wheels
Wheels are another considering factor in purchasing the portable dump tank for the RV. The portable dump tank for the camper is available in both plastic wheels and rubber wheels. Some are designed in 4 wheels, while some come in 2 wheels. Moreover, these tanks' wheel width varies, and some wheels are more comprehensive than others. Rubber wheels are more durable than plastic wheels. Moreover, you can easily replace the rubber wheels, which are less prone to break. If the rubber wheels break, replacing the entire wheels is also very easy.
3. Easy to Use Flush Valve
The portable wastewater tank's one crucial part is the flush valve. The tanks that have flush valves are very easy to use. Simply you just need to insert the drain hose, and the gravity will automatically do its job. If your RV portable waste water tank doesn't have any flush, you require to purge it manually.
4. Transportability
One of the critical features of the portable dump tank is its easy transportability. Once the tank becomes full, you require to get it to your nearby dump station. The RVers can perform this job in various ways. But while you are purchasing a portable tank for your RV, you should consider this factor.
5. Storage Options
You need to consider your dump tank's storage option as well. Where the RVers will store their empty dump tank, they need to consider that also. Some RVers use RV's ladder for carrying the portable empty waste tanks. So before making the purchasing decision, you need to make sure that the tank is light enough. The tank's excessive weight will become a burden for you. Thus you should choose the lightweight tank. However, also you can carry the tank to your RV's basement bay.
5 Best Portable RV Dump Tank
Let's take a look at the following best portable waste tank for RVs.
 1. Camco 39006 Rhino Heavy Duty Portable Tank
The gate valves in the Camco Heavy Duty tank make your tank-emptying job easier. Moreover, you can clamp this portable tank to the ladder of your RV using the integrated ladder hook. The removable tow bar of this tank allows you to roll it easily. But how much the tank is complete, you can't see it as this tank doesn't have any gauge.
  2. Barker 4-Wheeler Tote Tank
Three sizes of Barker 4-Wheeler Tote tank are available, and the three tank sizes are 25 gallons, 42 gallons, and 32 gallons. Blow-molded polyethylene is the main element of this tank. Moving all sizes of this tank is more accessible because of its two swiveling front-mounted wheels. However, the tires of this tank are made of rubber. To encourage the tank's gravity evacuation, you don't require to lift it because of its 3″ gate valve. Simply attach the tank's hose connection with the sewer hose's one end and the other end at the dump station's sewer inlet. After connecting the two ends perfectly, open your tank's gate valve.
  3. Camco Rhino 39002 Heavy Duty Tank
Camco is one of the most trusted brands in the RV accessories and product world. The high-density polyethylene is the main element of the Camco Rhino Heavy Duty Tank, and this type of polyethylene is used as the main element of different products. For example, the portable sewer tank for RVs and the security fence slats are also made of it.
This tank comes as a complete ready product, making your RV's waste transportation easy. Using this portable tank, you can easily transport the black water of your RV to the closed waste dumping station. You will get everything with this product, including the hose and whatever accessories you require to maintain, clean, and wash your tank.
 4. Tote-N-Stor 32 Gallon Portable RV Waste Tank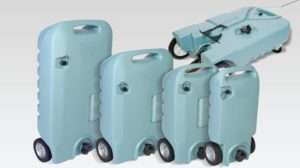 This Tote-N-Stor portable waste tank is a perfect option for 30-gallon gray water or black water tank-based larger RVs. This RV sewer tote has a 36″ long 3″ drain hose collapsible. Also, a tow bracket and a single hose clamp are available with it. For getting traction, the tank also has the plastic-rubber wheels. The convenient storage compartment in Tote-N-Stor perfectly holds the tanks and all required accessories. This is another best option for your RV.
 5. Camco 39000 Heavy Duty Portable RV Waste Tank
Four different capacities of this tank are available. And this tank comes with the accessories and hose you need to use in your tank for dumping wastewater. This is one of the best heavy-duty waste dump tanks for your RV. 2 oversized wheels are another feature of this Camco 3900 tank.
The necessary accessories included in this tank are a ladder hook, swivel bayonet, rinser, storage caps, elbow with adapter, and a steel tow adapter. This tank is made of UV-stabilized and blow-molded HDPE. You can easily transport waste from your travel trailer, motorhome, or RV to the nearby dump station using this tank.
Who Requires a Portable Waste Tank?
A regular camper or RVer who frequently goes camping or on an adventure should have this portable waste tank. If the RVers stay in a campsite that doesn't have a sewer connection or hookup facility, then this portable RV dump tank can prove helpful for them. The RVers require this portable waste tank, especially if they are going to stay in their campground for an extended period.
Moreover, the portable waste tank is advantageous for folks with small tanks in their rigs. Without any break in their camping, the RVers can continue their boondocking or camping for an extended period. With the help of this portable tank, camping becomes more accessible. This type of tank makes your waste transportation job easier for your nearby dump station.
Conclusion
The best portable RV dump tank helps the RVers or campers greatly in transporting the waste or dirty water from the RV to the dump station. Finding the best portable tank is not a difficult task at all, and you can find it online or at the nearby departmental store.
Before purchasing one for your RV, compare the tanks from the above list and pick the best tank that will perfectly match your RV's gray or black water tank's capacity. Ensure that the portable dump tank has the ability to hold and accommodate the onboard gray or black water tank's waste.
Latest posts by Tim Harris
(see all)