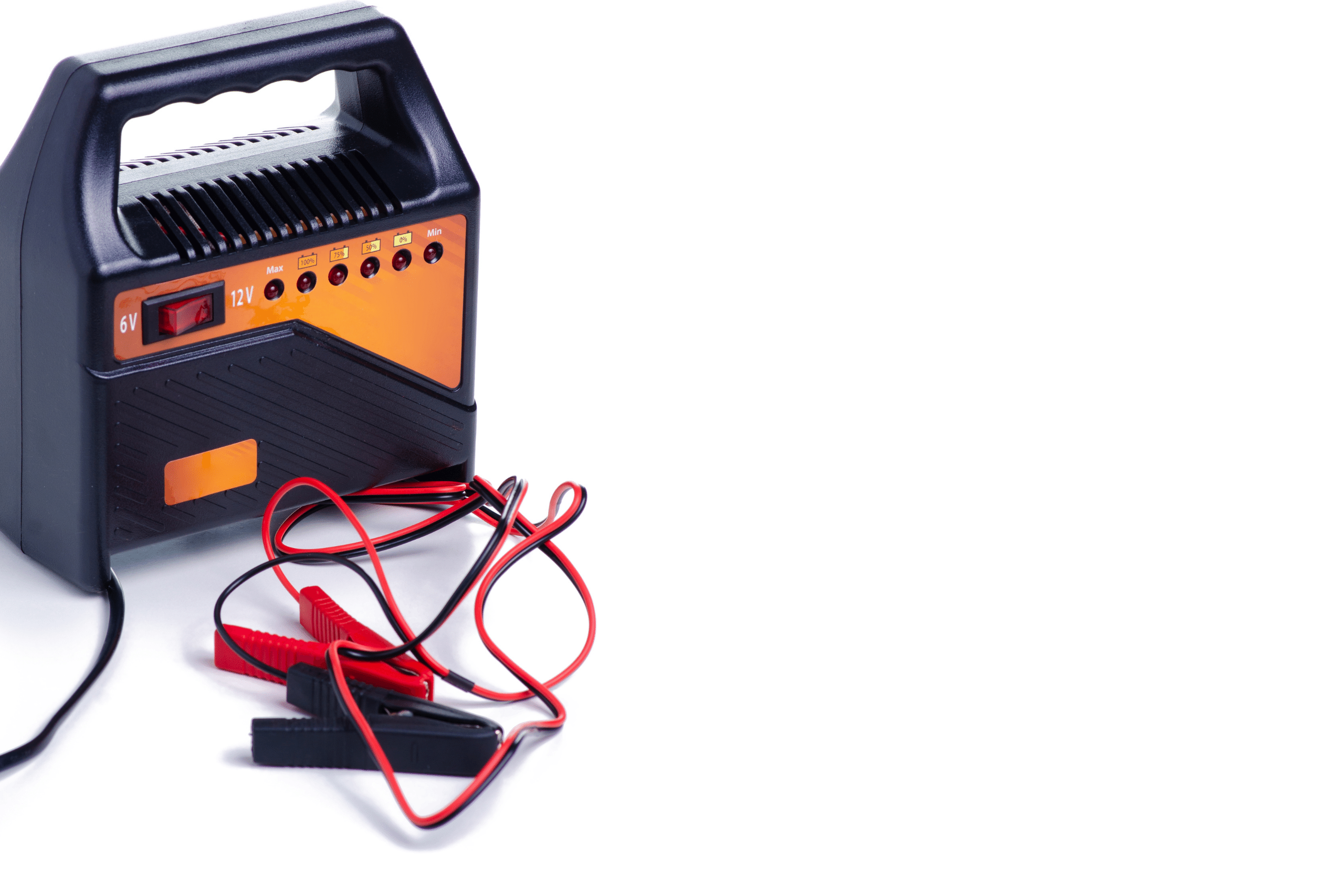 5 Best RV Battery Tenders Reviewed
As much as you love your RV, there will be periods when you put it in storage or don't use it. And these periods are when your RV's battery loses a lot of charges. 
RV batteries aren't like phone batteries – you can't plug a dead RV battery into a wall and expect it to perform the same. When a deep-cycle battery dies, it starts to degrade and might lose some of its capacity permanently. 
This is where RV battery tenders come in. They maintain or "tend" the battery's power level to keep it in its prime for as long as possible. 
There's an ocean of these battery tenders available everywhere. But not all of them are reliable and worth spending money on.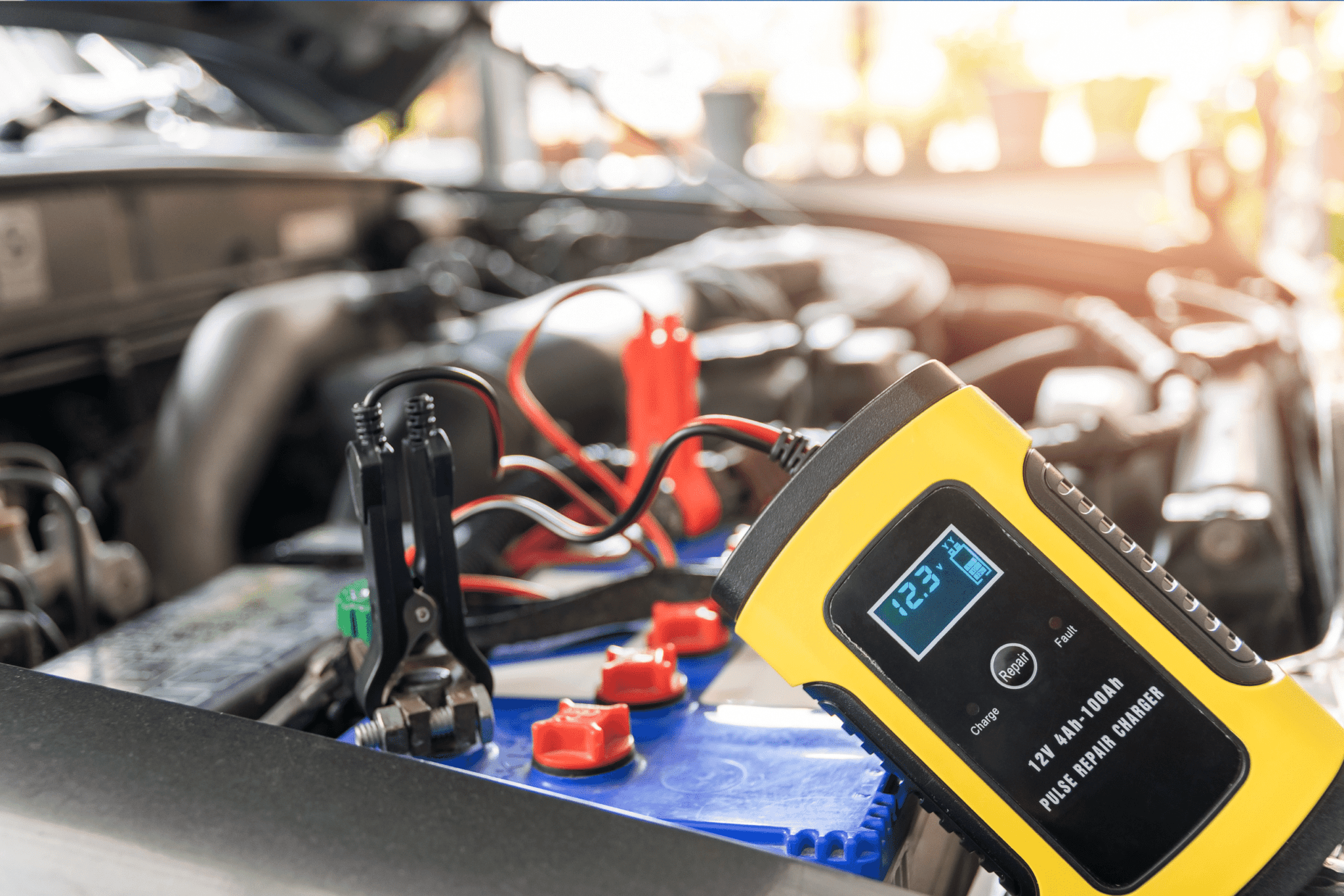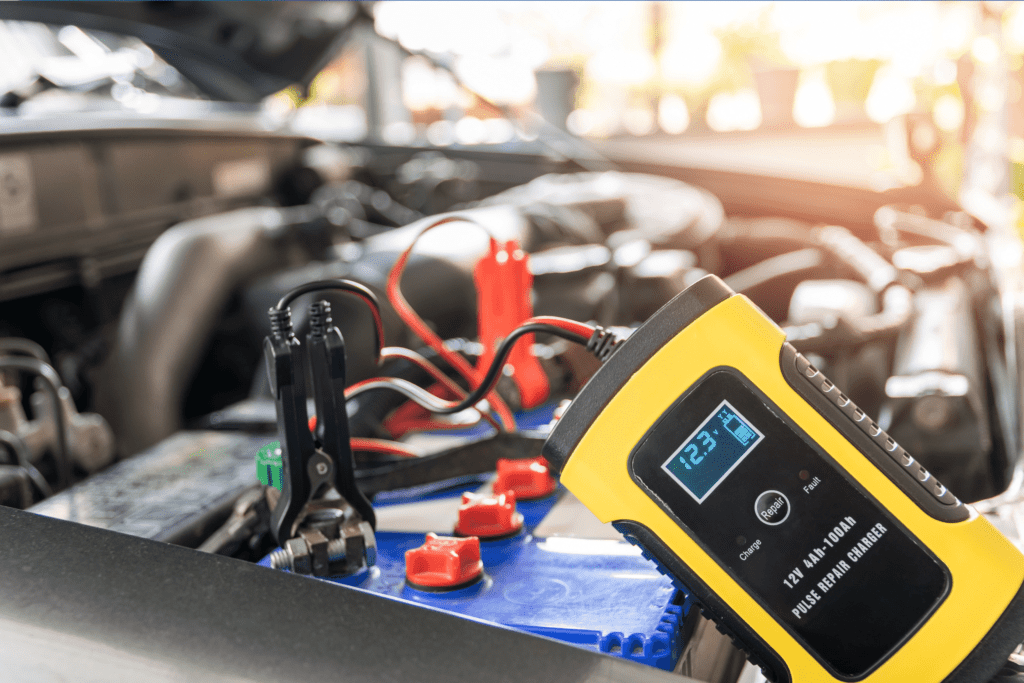 We've shortlisted and reviewed some of the best RV battery tenders on the market below.
5 Best RV Battery Tenders Money Can Buy
You cannot go wrong with these RV battery tenders:
#1 BLACK+DECKER BM3B
BLACK+DECKER BM3B
The most affordable option on this list, the BM3B battery tender is an impressively durable battery tender that will serve you for years. It boasts automatic high-frequency charging and a sturdy housing.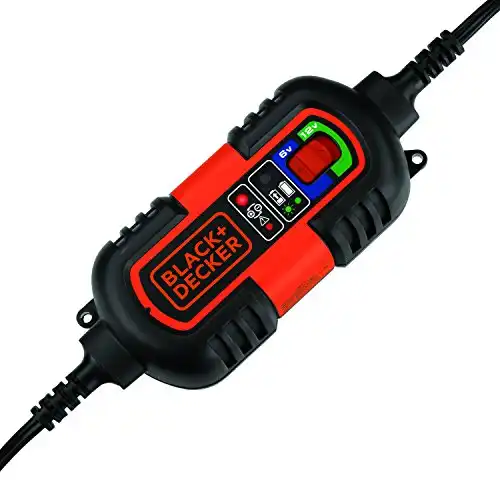 We earn a commission if you make a purchase, at no additional cost to you.
You can charge 6V and 12V batteries with it. The tender will stop charging when your battery reaches full capacity and switch to float mode. The nice thing about this battery tender is that it allows you to connect it to the battery in three ways.
Since it's equipped with an AC low voltage compensation mechanism, it'll perform equally well regardless of the mode of connection.  
All these features, coupled with its LED indicators, safety features, and built-in mounting bracket make it one of the best RV battery tenders in the market.
Pros
Most affordable option

AC low voltage compensation

Charges both 6V and 12V batteries
Cons
Does not recharge batteries that have fallen under two volts
#2 Schumacher SP1297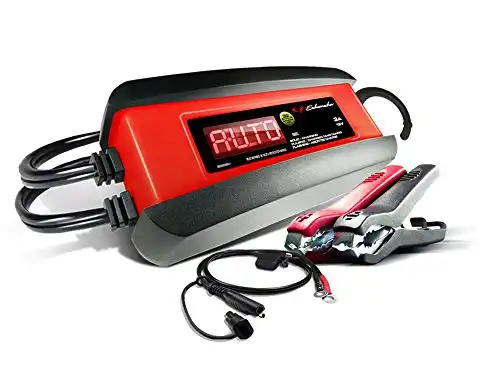 We earn a commission if you make a purchase, at no additional cost to you.
Its multi-stage charging functionality protects your battery and extends its lifespan. You can charge standard, deep-cycle, AGM, and Lithium-ion (LiFePO4) batteries with it.
It comes with a hook attachment, allowing you to hang the battery tender without hassle.
Furthermore, it has several safety features, keeping your battery from overheating, over or undercharging, and short-circuiting. There's no need to worry about reverse polarity damaging the battery, either.
Pros
It features a microprocessor

Good safety features

Mounting hook included
Cons
Does not detect battery type automatically
#3 NOCO GENIUS2
NOCO GENIUS2
The NOCO GENIUS2 stands out as one of the most advanced battery tenders available. It's fully automatic, boasts several safety features, and works with 6V and 12V wet, gel, deep-cycle, and AGM batteries, making it one of the best RV battery tenders.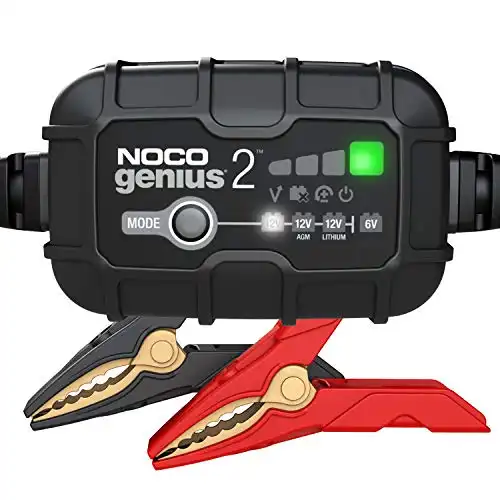 We earn a commission if you make a purchase, at no additional cost to you.
It can charge batteries with as low as one volt. Also, it can detect sulfation and acid stratification, then work to restore some of the lost capacity.
What's most impressive about the GENIUS2 is its integrated digital thermal sensor. With it, the tender detects the ambient temperature and adjusts power delivery to prevent over or undercharging. 
Pros
One of the most advanced battery tenders in the market

Works with all kinds of batteries

Can charge and restore dead batteries
Cons
#4 Battery Tender Junior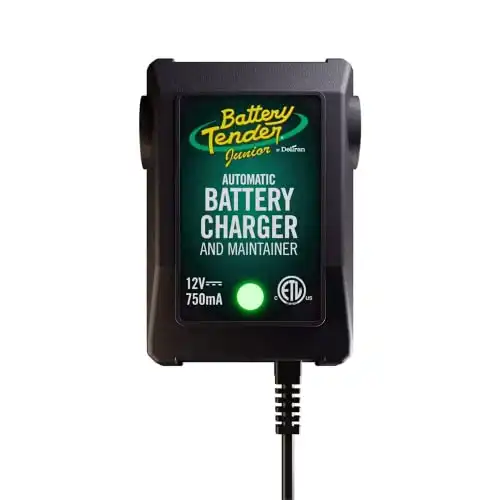 We earn a commission if you make a purchase, at no additional cost to you.
When the battery's fully charged, the tender will only charge the battery to maintain its power level. It's affordable, easy to attach, and its LEDs make monitoring the battery simple. 
Both a battery tender and a trickle charger, Battery Tender Junior is one of the best RV battery tenders for lead-acid, gel, and AGM batteries. 
Pros
Works with gel, lead-acid, and AGM batteries

Maintains charge level with float mode

Easy to attach
Cons
Can take a lot of time to charge the battery
#5 Battery Tender Plus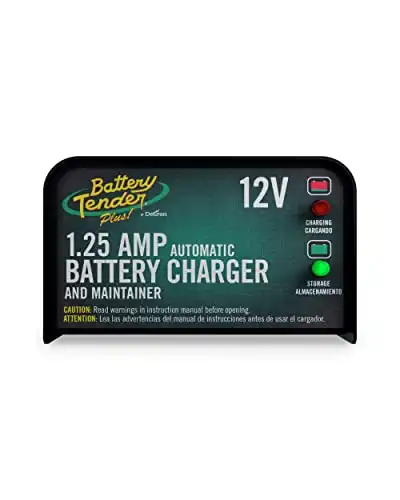 We earn a commission if you make a purchase, at no additional cost to you.
The ten-year warranty is great to have, and it protects your battery from sparking, short-circuiting, and reverse polarity. One of the best things about it is its quick-connect harness, which makes connecting the tender fast and easy.
With its automatic float-mode feature, there's never a worry about overcharging your battery. All you'll need to do is set it and forget it.
Pros
Automatic float mode

Ring terminals and alligator clips make it easy to attach

Fast and efficient 
Cons
Frequently Asked Questions
When should you use a battery tender?
If you're not going to be using your RV for a while, using a battery tender will ensure it retains its performance and is ready to use when it comes time to use the RV again. 
Is a battery tender better than a trickle charger?
Trickle chargers have been around for decades and are different from battery tenders. These chargers do not keep track of the charge the battery is holding and keep charging it continually. On the other hand, battery tenders are smart devices that only charge the battery when needed.
Is it OK to leave a battery tender on all the time?
Battery tenders are designed for long-term, constant use. You can leave the battery tender on with your battery connected for as long as you want without worrying about damaging the battery.
Conclusion
Taking good care of your battery when it's not in use ensures that it will serve you for years. And doing this is a lot easier when you get your hands on one of the best RV battery tenders. 
Remember that RV batteries are only one of the few things that will keep you charged up on the road. Having the right generator and power-efficient lights can make a big difference in how long your batteries last.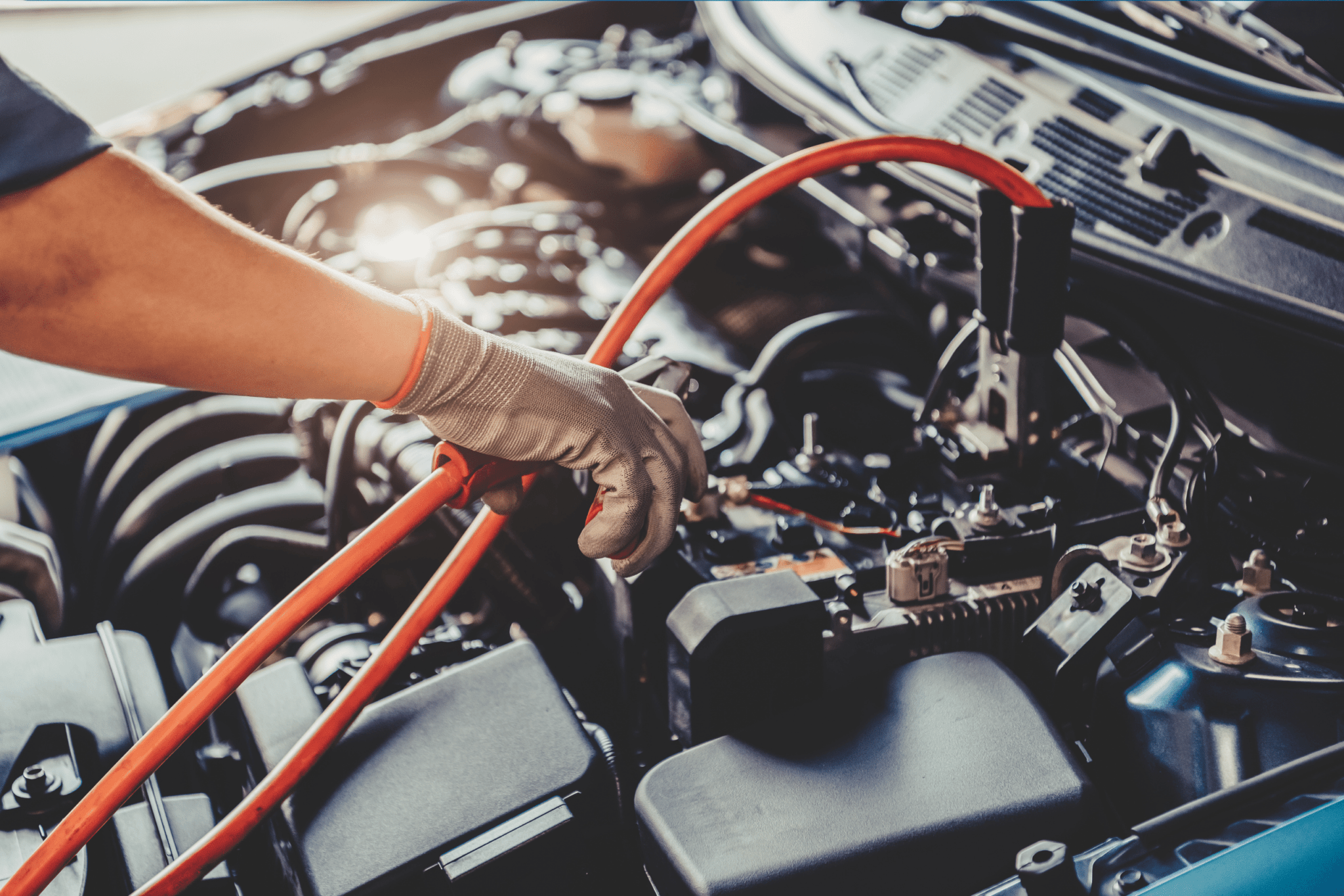 We hope you found this article helpful in your search for the right battery tender. If you still have questions, you can ask them in the comments below.