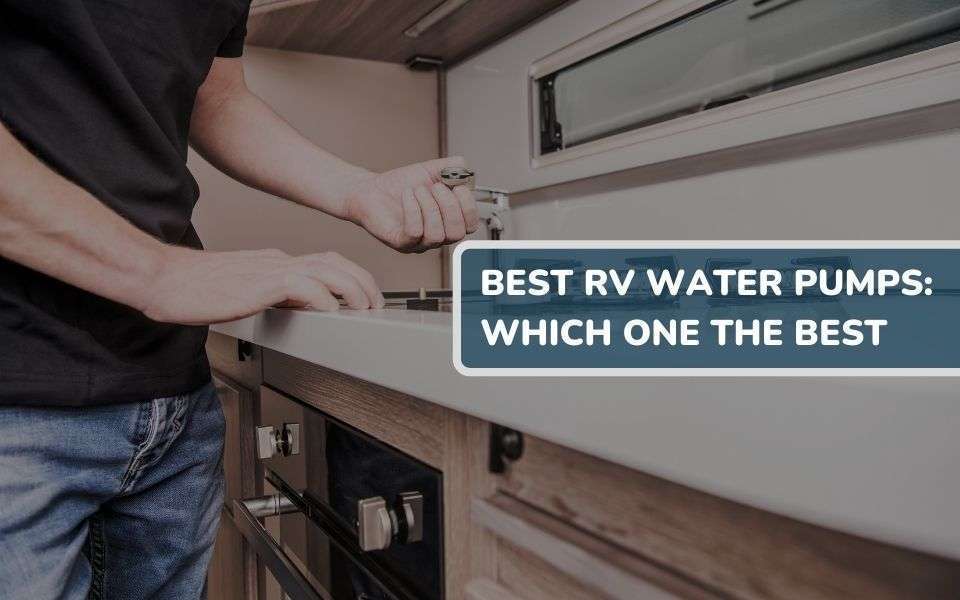 Best RV Water Pumps: How To Pick The Right One
There are plenty of things to worry about when purchasing a new RV, such as water pumps. However, becoming bogged down in the details can sometimes make it difficult to enjoy shopping for your new RV, regardless of if you're an experienced or inexperienced RVer.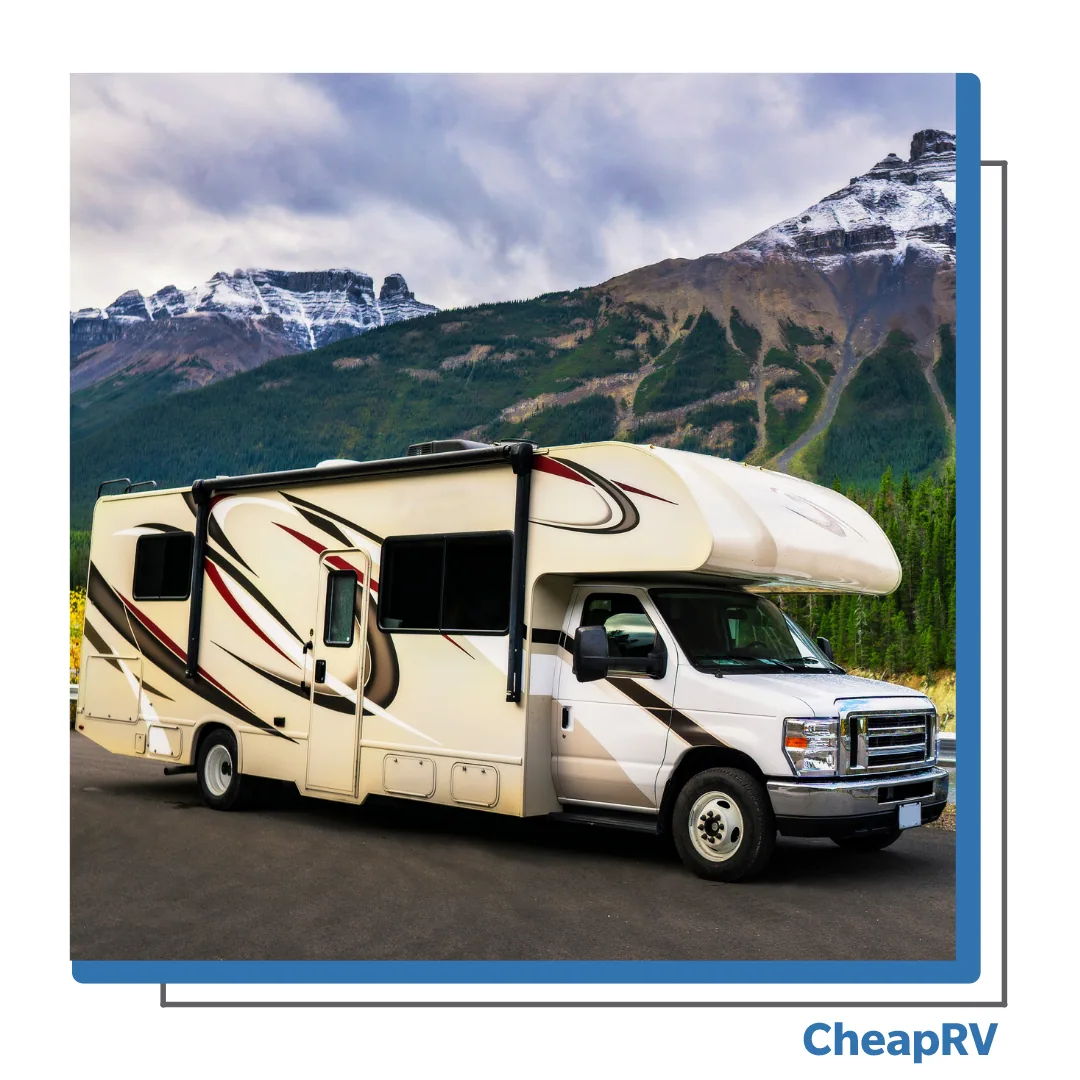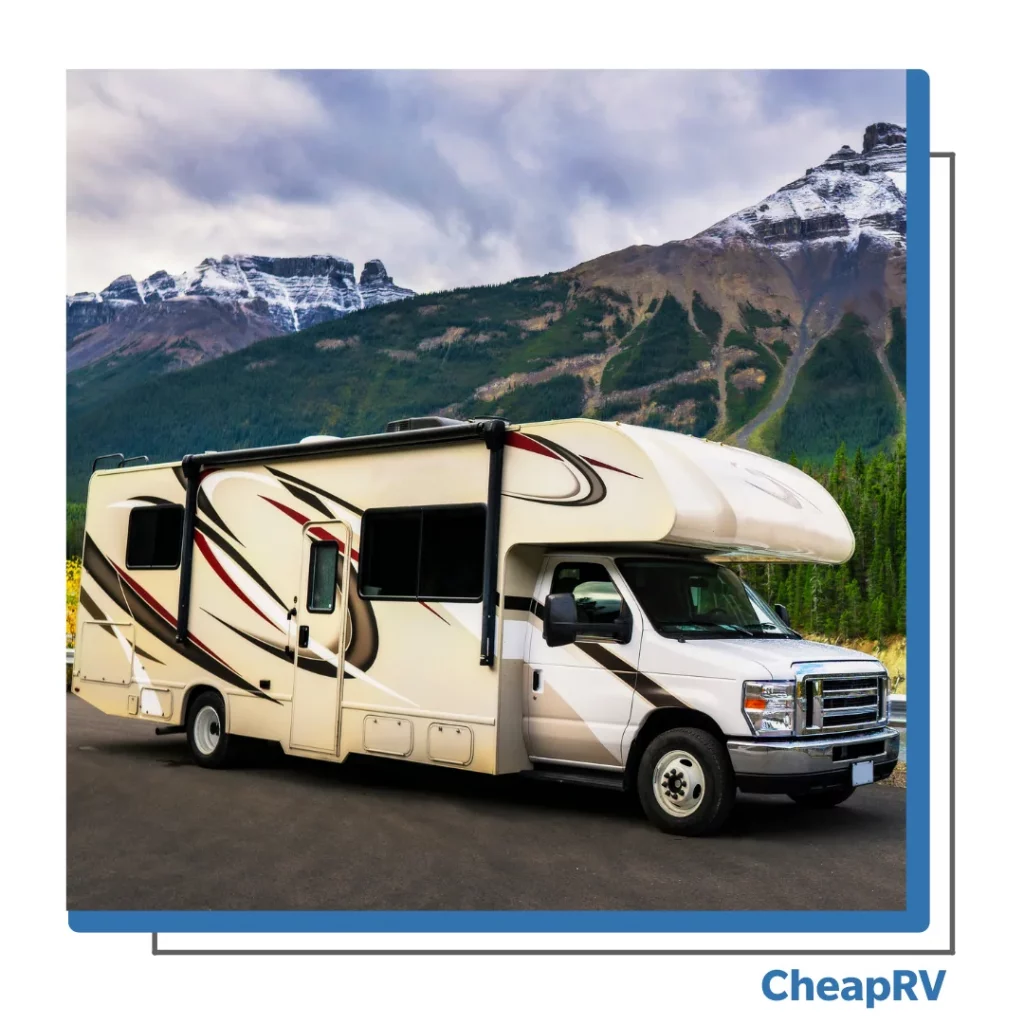 Fortunately, there are many types of RV water pumps to choose from, depending on your needs. Unfortunately, not all RV water pumps are created equal. Some may be made of poor quality and other high-quality ones.
What if you have a big family and everybody wants to take a shower at almost the same time? It means that there should be no delay in water flow, or else it would be downright miserable for you and your loved ones.
You must get the best RV water pump from the market.
How Does an RV Water Pump Work?
An RV water pump's main purpose is to supply your RV's fresh water tank with water. In addition, it helps to supply water to your RV's shower, faucets, and numerous water access points.
The way it works is simple. When you turn on a faucet or shower, cold or hot water is pulled through the pipes of your RV into the freshwater tank. The pump then pushes that water back through the pipes and out into other areas of your RV.
Benefits of an RV Water Pump
There are several benefits to having an RV water pump work. The first and most obvious benefit is that it can make your vacation process more comfortable. The second is that it gives you that home feeling while on the road.
The first benefit is that it can make your vacation process more comfortable. When traveling in an RV, many things are out of your control—you may be limited by the number of people who can come with you or where you can stop for gas.
However, one thing always within your control is how comfortable you want your trip to be. A water pump will help ensure everything goes fine so that you do not have any issues with hot showers or other problems with getting clean water while on the road.
The second benefit is that it gives you that home feeling while on the road. For many people who live in an RV full-time, getting clean water wherever they go is one of their biggest concerns—and for a good reason.
Without clean drinking water available at all times (or even when needed), it would be very difficult for them to maintain their health and well-being while traveling from place to place every day or week.
Best RV Water Pumps
When you're on the road in your RV, you need to have a reliable water pump. If you're not careful, you could end up stuck in the middle of nowhere with a busted pump and no way to get moving again.
That's why we've put together this list of 5 best RV water pumps—so that you know which ones are worth your money!
Remco AQUAJET-AES 3.4 GP
The Remco AQUAJET-AES 3.4 GP is a great option for your RV's fresh water tank. It's designed to pump up to 3.4 gallons per minute(GPM), which means it can handle even the largest tanks in no time, making it ideal for use in RVs, boats, and other vehicles.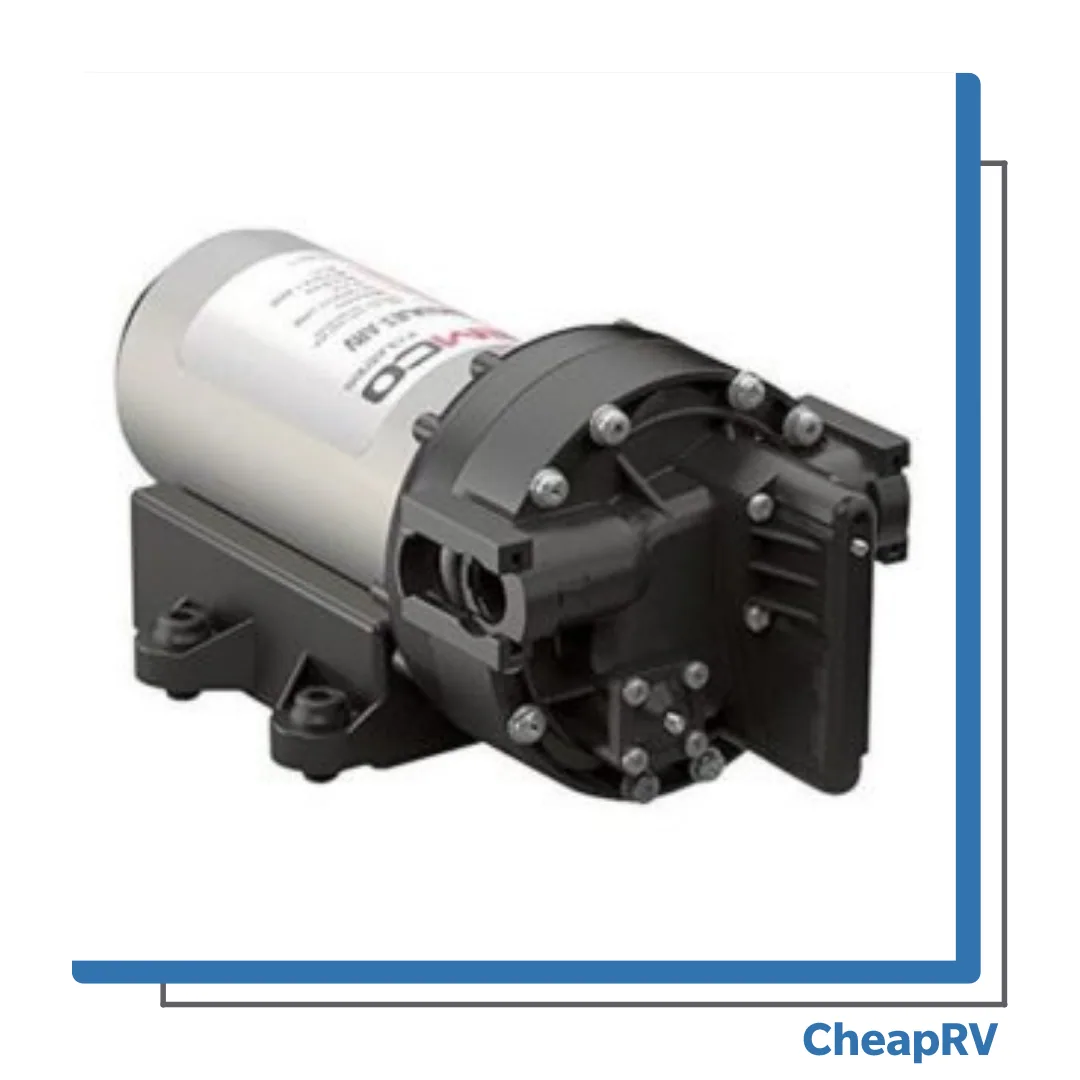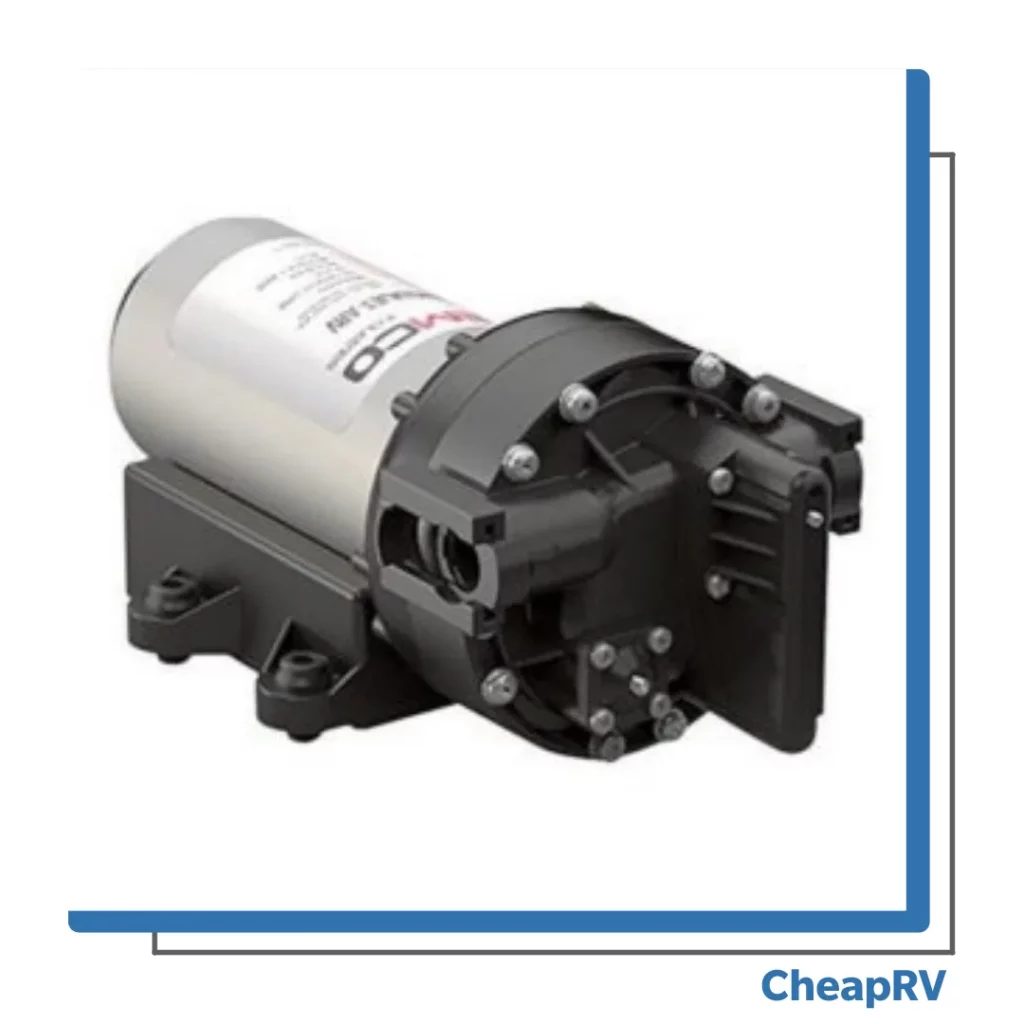 It has a 5-chamber diaphragm with a per-minute PSI of 65, meaning it can pump a large amount of water without making noise or getting hot.
In addition, the pump is made from stainless steel, so you don't have to worry about rust or corrosion—it'll last for years and years to come.
You can use it on longer trips without worrying about overheating your engine or dehydrating from low-quality water sources.
Features
5-Chamber Diaphragm
12V Volts
4 GPM and Pressure of 65 PSI
Wire connection installation
Flojet "Quad Quiet" Pump
The Flojet "Quad Quiet" pump is our top choice because it's reliable, easy to install, and can handle various applications.
It works at a maximum pressure of 35 PSI per minute, so you don't have to worry about making any special adjustments to your system before using this pump.
The Flojet also has a relatively low amp draw—only 2 amps—so it won't strain your battery or battery bank. And if you're worried about the sound that comes from running an RV pump, don't worry: the Flojet is designed for quiet operation.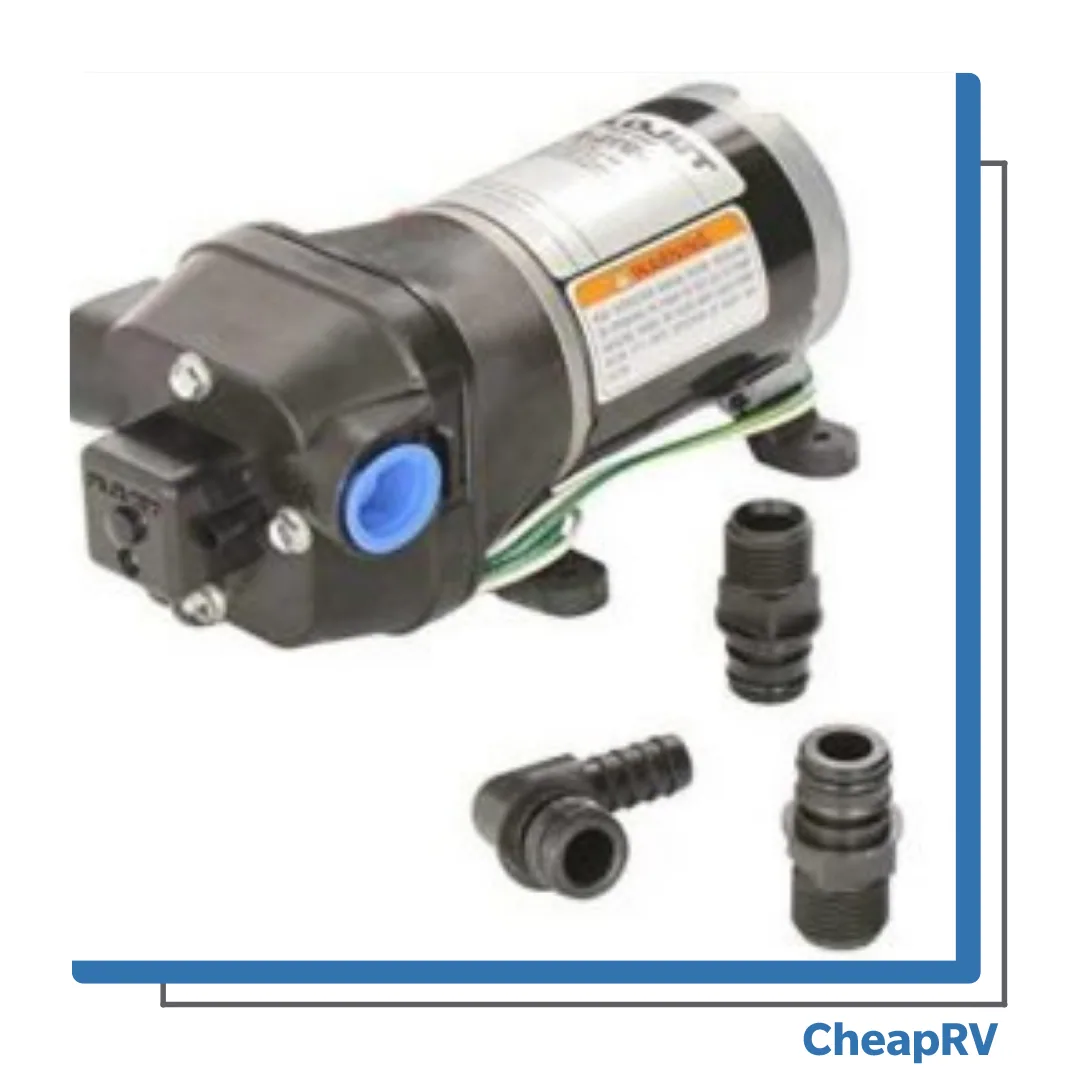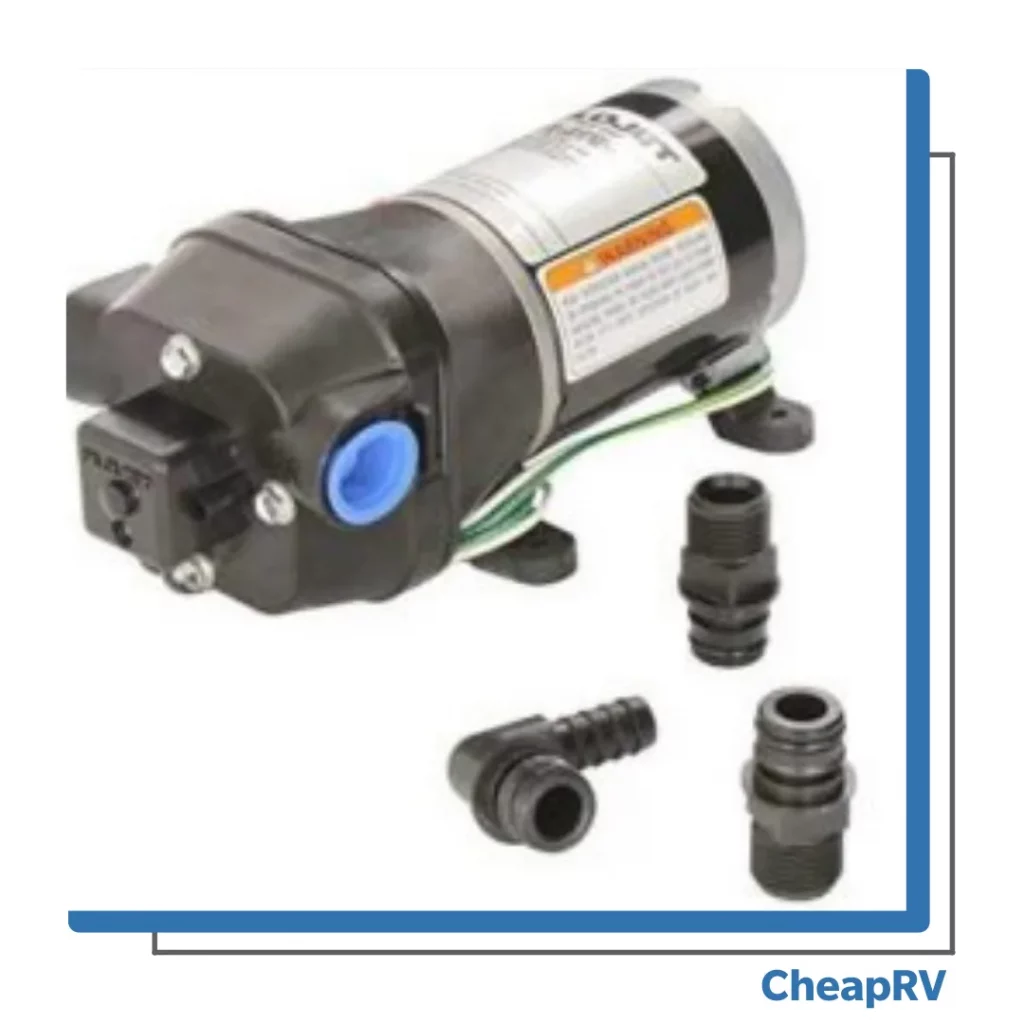 In addition to being a good choice for RVs and boats, this pump also works well for hydroponic systems.
Features
Three chambers
Self-priming
Pressure switch setting
Noise absorbing power
Corrosion-resistant
Shurflo Revolution 3.0 GPM
The Shurflo Revolution 3.0 GPM RV Water Pump is a great choice for those looking for an affordable, high-quality water pump that is easy to install and use.
In addition, the pump has been tested in fresh and saltwater environments, so you can use it in a wide range of applications.
It comes with two outlet valves and pumps 3 gallons at a max pressure of 55 PSI per minute.
That allows you to connect multiple devices to the same pump, making it easy to get your entire rig running smoothly without spending more money on additional pumps or equipment.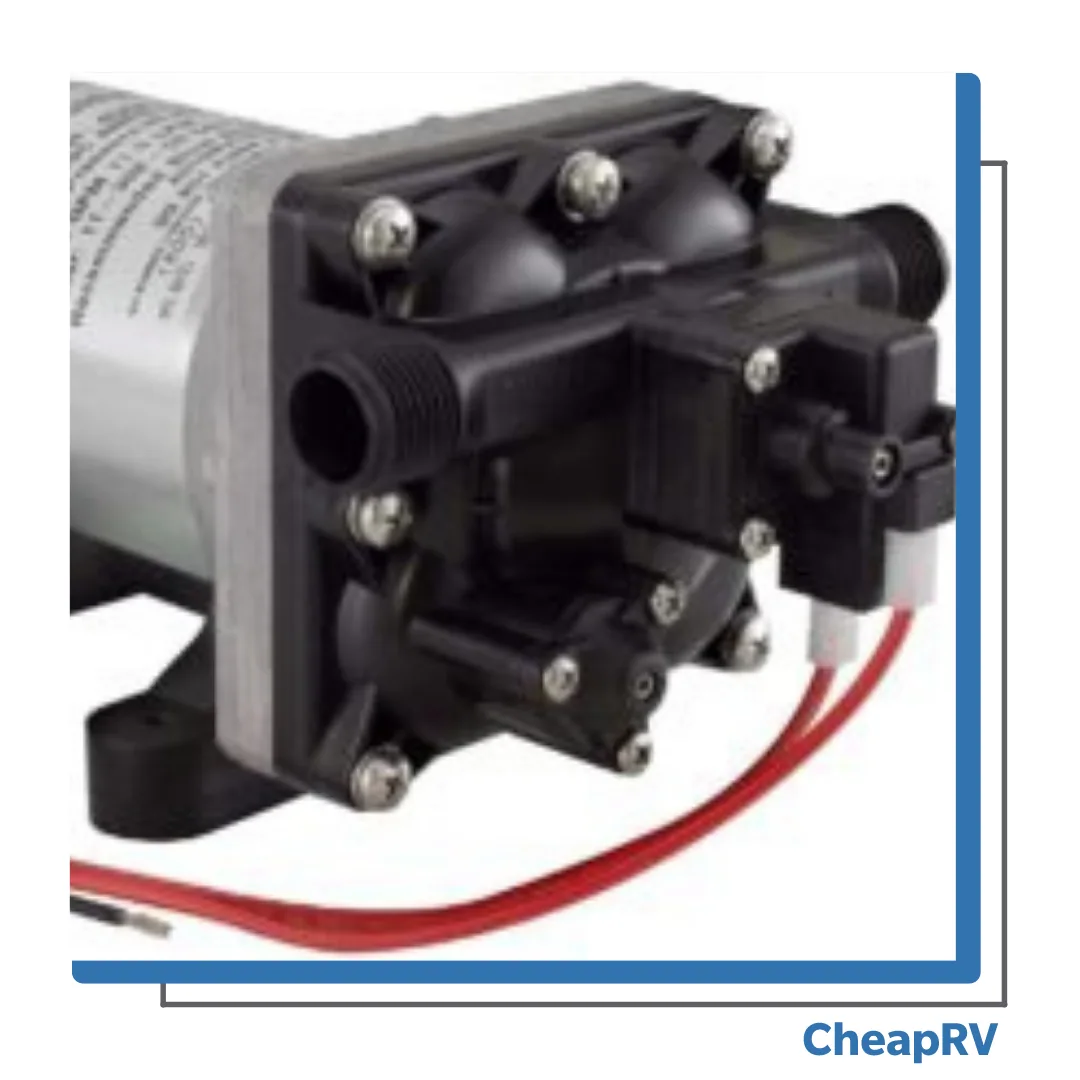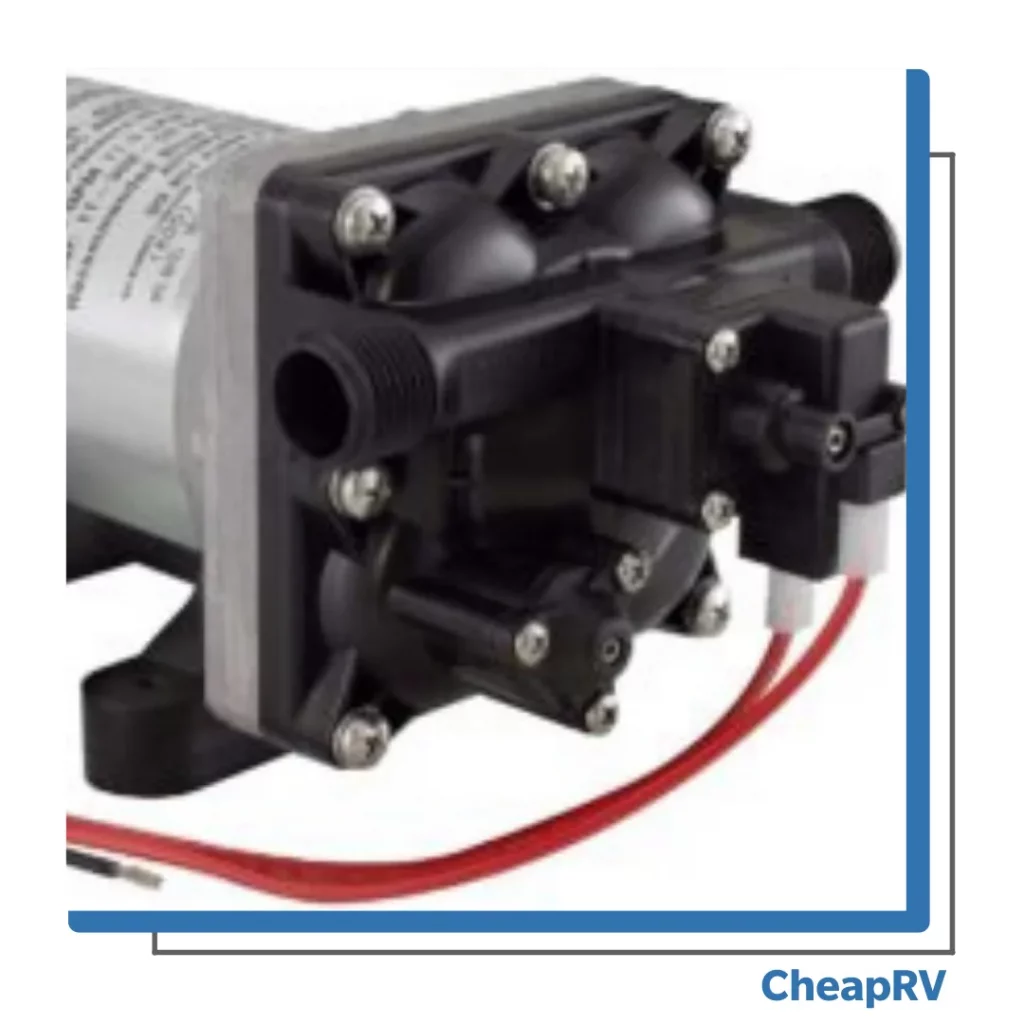 The pump itself requires only 7.5 amps, making it portable enough that you can take it with you on camping trips if needed.
It also includes a built-in thermal overload protector that will shut down the system if any kind of overheating is caused by overheating or overloading of the system so that nothing gets damaged while using this product.
Features
It has a check valve that prevents the flow of water
Thermally protected and permanent magnet
Has a 3.5 Degree CAM
12V nominal DC
Remco AQUAJET-ARV 5.3 GPM
The Remco AQUAJET-ARV 5.3 GPM RV Water Pump is an excellent choice for a water pump in your RV. It has a flow rate of 5.3 gallons per minute (GPM) and a maximum pressure of 65 PSI per minute, which is higher than most other pumps on the market.
It means that you'll be able to fill up your tank faster than usual, and it also means that you won't have to worry about running out of water when you're in the middle of nowhere.
You can install this water pump in just about any type of RV, and it comes with all the necessary parts to get started immediately. You'll also receive an installation guide with every order so you know what steps you need to take to get everything set up properly.
This pump is made from corrosion-resistant materials that will help ensure that it lasts for years without showing signs of wear or tear.
It also has a very low power consumption level, so it won't use up much electricity when running at full capacity (which means less money spent on energy costs).
Features
Self-priming
12V DC
5 GPM
Easy to install
Durable and Safe
Seaflo Self Priming Water Pump
If you're looking for a powerful and reliable water pump for your recreational vehicle, the Seaflo Self Priming Pump is a good choice.
This pump works with most tank sizes, including 10, 20, 30, and 40-gallon tanks. You can use it with a variety of liquids, including fresh water. The pump is easy to install and has all the mounting hardware.
This pump has a maximum pressure of 55 PSI. It can handle up to 3 gallons per minute at this pressure level.
That means it could be used as both a pressure booster and an emergency backup system, depending on what type of situation you find yourself in while traveling down the open road.
Features
Self-priming
A flow rate of 3GPM
Normal PSI of 45
12V DC Voltage
4-year warranty
How to Choose a Best RV Water Pump
Choosing an RV water pump can be difficult, and we understand if you are confused. While there are several different types of RV water pumps, we have already listed the five best, and we recommend you choose any one that suits your needs from our list.
But when buying a quality water pump, you should consider the pump's PSI and GPM rates. The PSI stands for pounds per square inch, while GPM stands for gallons per minute.
If you have a smaller motorhome, you don't need to worry about this as much; however, if you have a larger motorhome or travel trailer, it is more important to choose an RV water pump that fits perfectly with your RV.
Conclusion
While a few major brands may dominate the RV water pump market, there are many options to choose from as well. Your pump is a very important part of your RV's water system.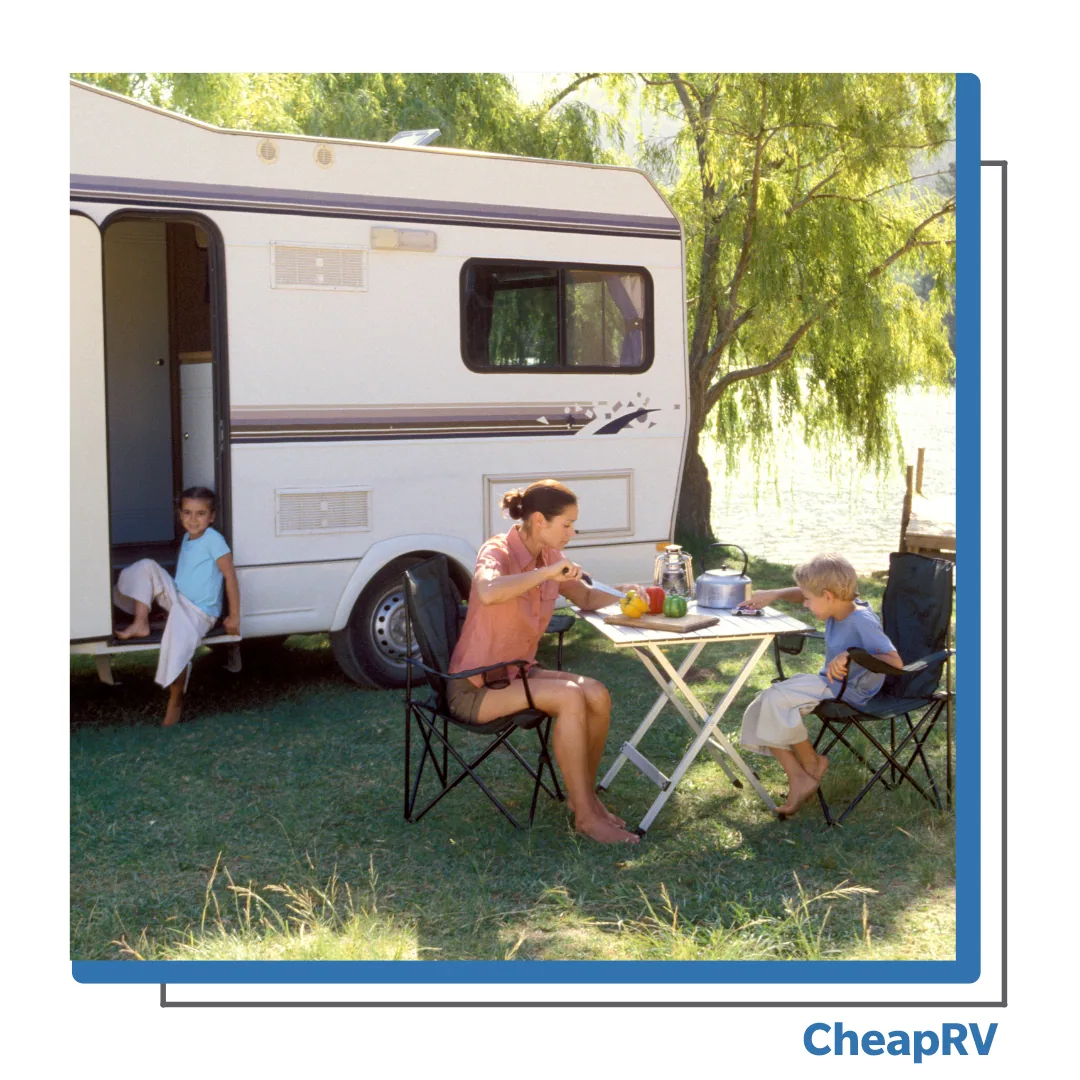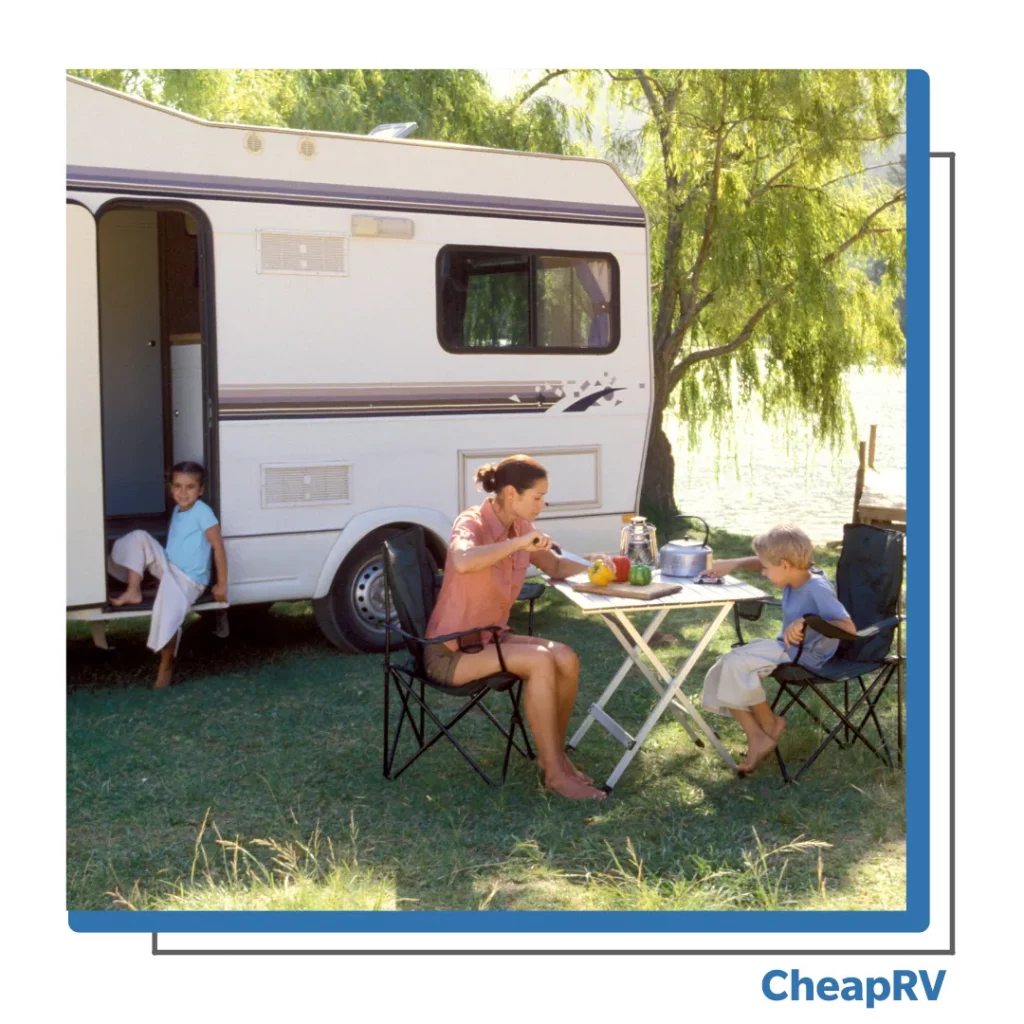 Without it, you would not be able to take advantage of one of the greatest conveniences available in your recreational vehicles. To that end, please don't skimp on pump quality.
There will likely be a perfect RV water pump for almost any user, whether you need something compact, powerful, quiet, or energy-efficient. We hope that we've provided enough information above to get you started on your search for the best RV water pump.