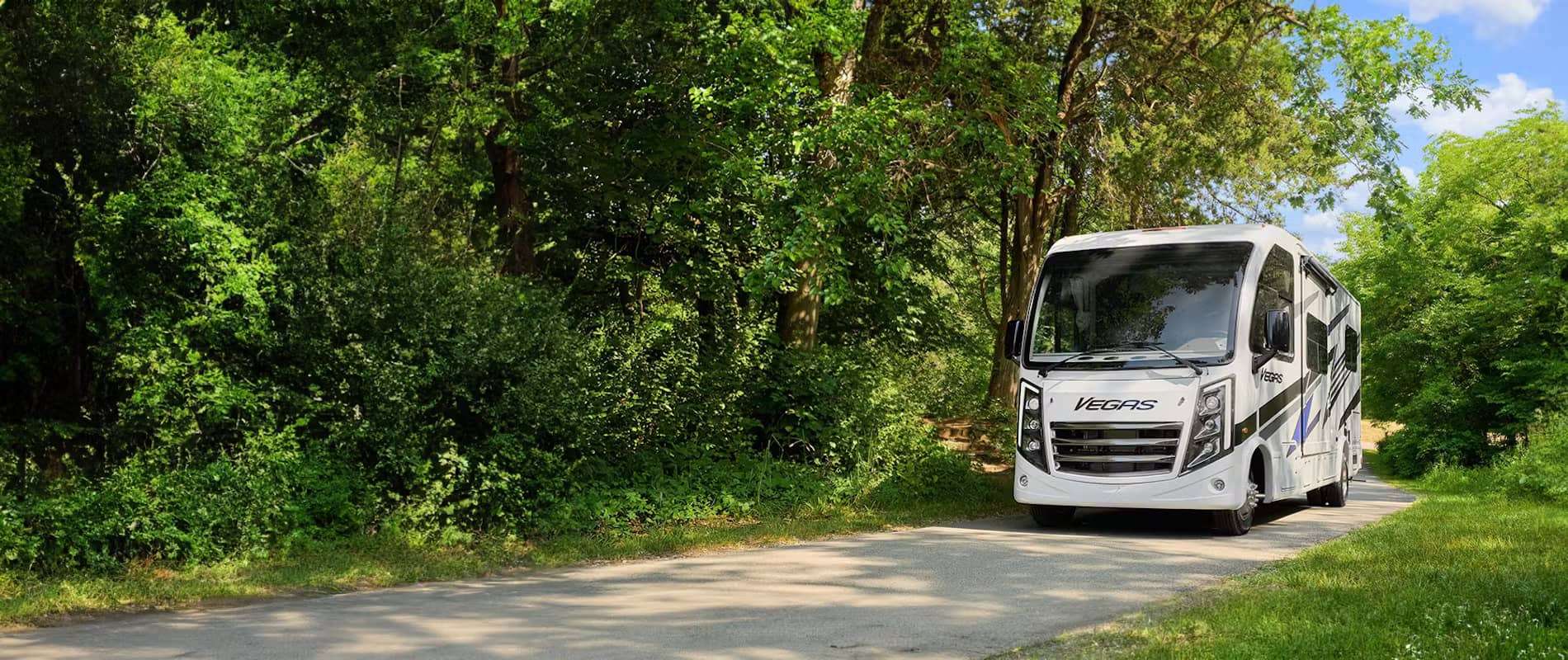 Thor Motor Coach Showcases New RV Floorplans At 2023 Hershey RV Show
To no one's surprise due to their prolific reputation in the RV industry, Thor Motor Coach took center stage at the 2023 America's Largest RV Show in Hershey, Pennsylvania. 
The renowned manufacturer made an indelible mark on the event by showcasing an impressive fleet of over 70 units, encompassing a diverse range of RV categories. From toy haulers to Class As, Class Bs to Class Cs, Super Cs to Class B+s, and a variety of models featuring four-wheel drive, all-wheel drive, and diesel powertrains, Thor Motor Coach left RV enthusiasts and industry insiders alike eager to explore their latest innovations and floor plans. 
So, with that being said, let's take a look at the highlights of Thor Motor Coach's new offerings that they showcased at the 2023 America's Largest RV Show.
The 2024 Palazzo GT: Where Quality Meets Affordability 
One of the standout highlights from Thor Motor Coach's showcase at the 2023 America's Largest RV Show was the unveiling of the 2024 Palazzo GT — a budget-friendly diesel pusher that raises the bar for quality and comfort in the world of Class A RVs.
The 2024 Palazzo GT is a testament to Thor Motor Coach's commitment to delivering exceptional value without compromising quality. This Class A RV introduces distinct floor plans designed to cater to modern travelers' diverse needs and preferences.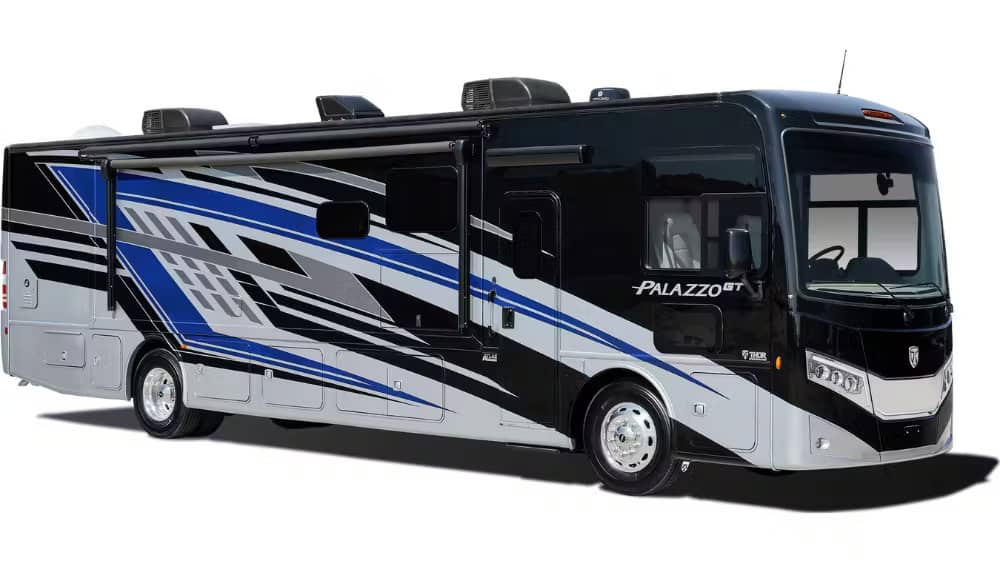 Key Features To Enhance Your Journey
Among the standout features of the 2024 Palazzo GT is the inclusion of a Winegard wireless internet hotspot, ensuring that you stay connected even when you venture into the great outdoors. For those who enjoy entertainment under the open sky, an exterior 40″ LED TV is available, promising enjoyable movie nights or live sports events right from your campsite.
The kitchen area of the Palazzo GT has been thoughtfully equipped with an electric induction cooktop, making meal preparation a breeze. This modern touch enhances efficiency and elevates the culinary experience on the road.
Stay Comfortable And Connected
The ceiling-ducted Whisper Air central cooling system ensures comfort in all seasons. Whether you're chasing the summer sun or embarking on a cozy winter getaway, this RV keeps you comfortable year-round.
Moreover, the 2024 Palazzo GT recognizes the importance of staying powered up in the digital age. USB charging ports in the bed base offer convenient charging for your devices, ensuring you remain connected and ready for your next adventure.
In a market where quality and affordability often seem at odds, the 2024 Palazzo GT emerges as a game-changer. Thor Motor Coach's commitment to providing a top-tier RV experience for a broader audience is evident in this remarkable addition to their lineup. 
The 2024 Riviera 34SD: A Cost-Efficient Family Oasis
In the heart of Thor Motor Coach's Riviera lineup, the 2024 Riviera 34SD takes the spotlight as the most cost-efficient option without compromising on luxury and functionality. 
Designed to accommodate families and adventurers alike, this Class A Diesel RV is just shy of 35 feet long and offers a spacious and well-thought-out floor plan.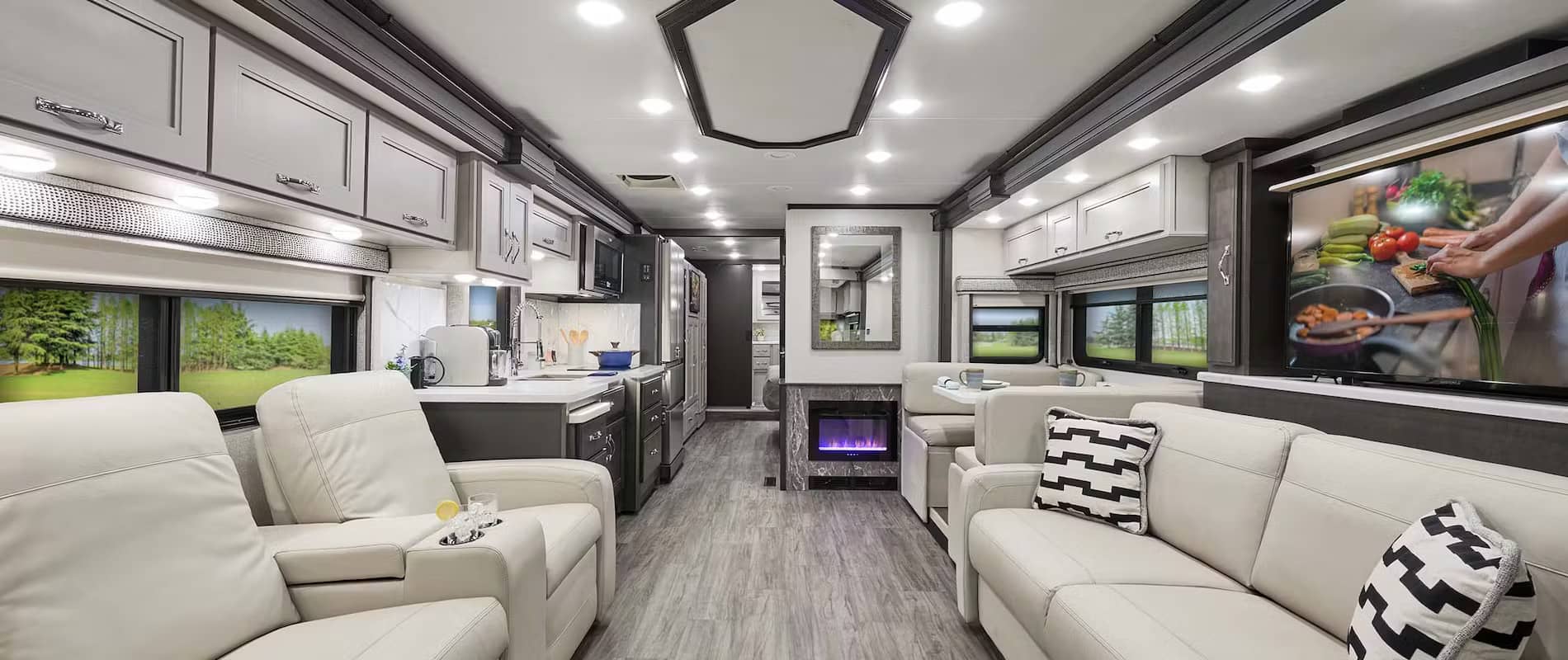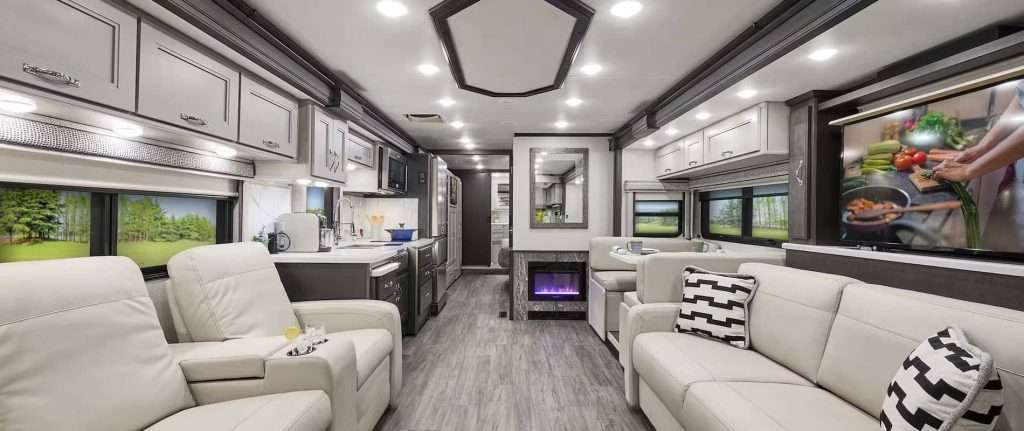 Innovative Sleeping Comfort: Tilt-A-View King Bed
One of the most innovative features of the 2024 Riviera 34SD is the Tilt-A-View King bed. Rest easy knowing that you can adjust your sleeping position to your desired angle, ensuring a night of comfortable and rejuvenating rest, no matter where your journey takes you. This innovation sets the 34SD floor plan apart, providing a level of customization and comfort rarely seen in RVs.
Expansive Closet Space For Style Aficionados
For those who like to keep their style game strong while on the road, the 2024 Riviera 34SD offers expansive closet space. This means you can pack your favorite outfits and accessories without compromise, ensuring that you look your best at every destination. Whether it's a family gathering or a spontaneous road trip, you'll have the wardrobe space to keep up with your fashion-forward lifestyle.
Convenience Meets Practicality: Stacked Washer-Dryer
Maintaining freshness and cleanliness on the road has never been easier. The 2024 Riviera 34SD comes equipped with a stacked washer-dryer, offering the convenience of in-unit laundry. Say goodbye to the hassle of finding laundry facilities or packing excessive clothing. This feature lets you keep your wardrobe refreshed and ready for your next adventure.
The 2024 Riviera 34SD represents the epitome of what modern RV travel should be – a blend of innovation, luxury, and convenience. Its thoughtful design and features make it the perfect choice for families seeking a comfortable and memorable travel experience. 
The 2024 Tranquility 19R & 24C: Blending Flexibility And Comfort
At the 2023 Hershey RV Show, Thor Motor Coach unveiled the epitome of luxury on wheels with their Tranquility Mercedes-Benz Sprinter Van lineup. This year, two remarkable additions made their debut, setting a new standard for sophistication and comfort in the world of RVs – the 2024 Tranquility 19R and the 2024 Tranquility 24C.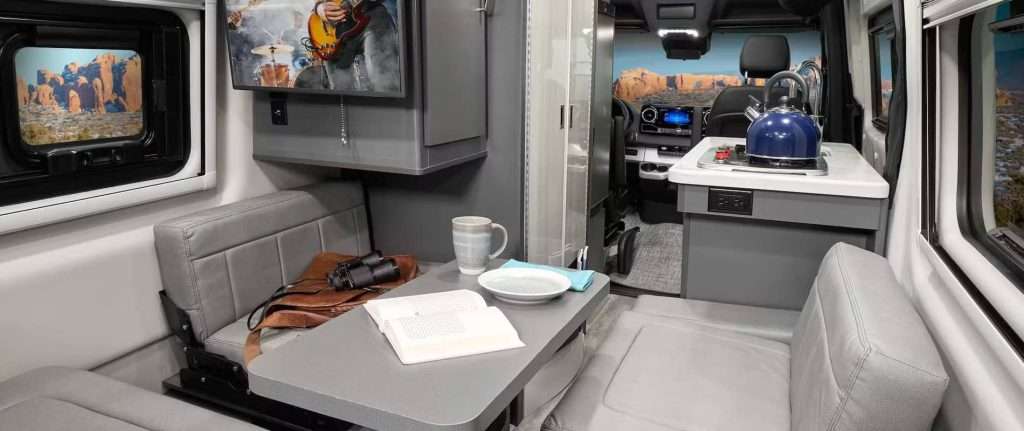 The 2024 Tranquility 19R: Rear Wet Bath Elegance
The 2024 Tranquility 19R immediately impresses with its design, featuring a rear wet bath that maximizes space and functionality. This compact yet luxurious floor plan is ideal for those who value efficiency and convenience without compromising comfort. 
The 2024 Tranquility 24C: Unrivaled Space And Seating
For those who seek the ultimate in spaciousness and flexibility, the 2024 Tranquility 24C emerges as the flagship of the Tranquility lineup. As the longest model in this series, it boasts seven seating positions, ensuring that no one has to be left behind on your adventures. 
Luxury Meets Functionality
Both the 2024 Tranquility 19R and the 2024 Tranquility 24C are equipped with a range of features to enhance your RV experience. A portable cooktop adds versatility to your culinary endeavors, allowing you to whip up delicious meals no matter where you roam.
Moreover, these Tranquility models feature a diesel furnace and water heating system, ensuring that you stay cozy and enjoy hot water for all your needs, even in the most remote locations.
For the eco-conscious traveler, the inclusion of a solar charge controller with a 200W solar panel is a game-changer — allowing you to keep your batteries charged and reduce your environmental footprint during your travels.
The 2024 Vegas 25.7: Compact Luxury Redefined
The 2024 Vegas 25.7 is a remarkable Class A RV that redefines the concept of compact luxury. Measuring just under 27 feet in length, this innovative floor plan represents a fusion of style, functionality, and practicality.
Its compact size belies its incredible features and amenities, making it the perfect choice for adventurers who value comfort and maneuverability.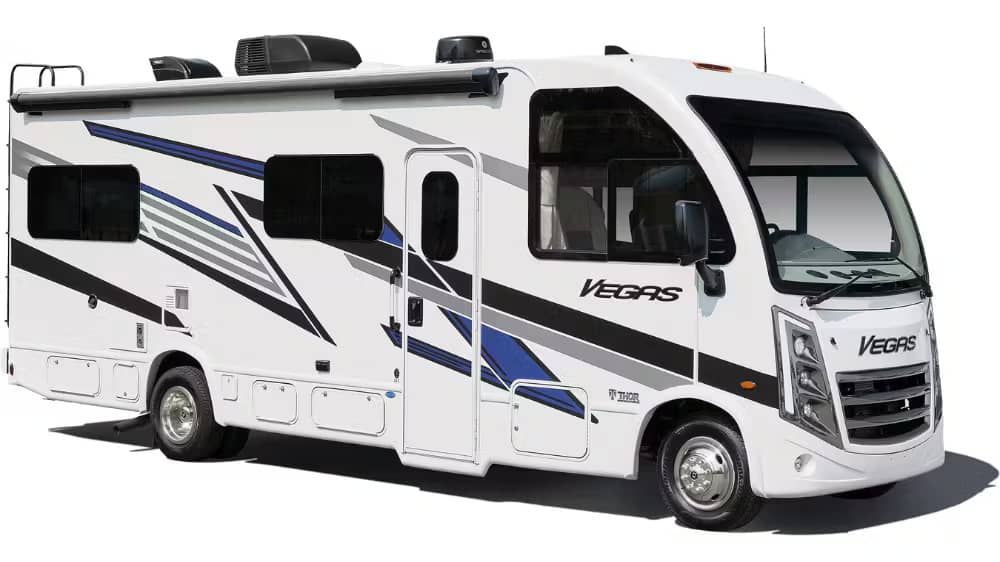 Full-Size Bed With Hidden Storage
One of the standout features of the 2024 Vegas 25.7 is its full-size bed, which serves a dual purpose. Beyond providing a restful night's sleep, this bed ingeniously conceals storage space underneath. This clever design allows you to stow away your essentials, ensuring a clutter-free and organized living area, no matter how long your journey may be.
Seamless Access To Outdoor Gear
For those who love the great outdoors, the 2024 Vegas 25.7 provides seamless access to your outdoor gear and gadgets. Simply open the rear door and you'll have easy access to your bikes, kayaks, or camping equipment — this RV is designed to make the process effortless. Cleverly integrated floor tie-downs keep everything secure during transit, ensuring your outdoor gear arrives at your destination in pristine condition.
Ample Closet Space 
Thor Motor Coach recognizes the importance of having ample closet space to bring your favorite camping clothes and gear. Whether you're a seasoned outdoor enthusiast or a first-time camper, you'll appreciate the thoughtfully designed storage solutions that allow you to pack and organize your essentials with ease.
2024 Pasadena 38DA: Stand Out From The Crowd
The 2024 Pasadena 38DA, the latest addition to the company's Pasadena lineup, is an impressive Super C RV that comes with a highly anticipated "Stealth Package" option, boasting blacked-out wheels, grille, and mirrors that elevate its appearance to a whole new level. With a focus on adaptable living space and smart storage solutions, the Pasadena 38DA redefines the road trip experience, offering all the comforts of home while on the go.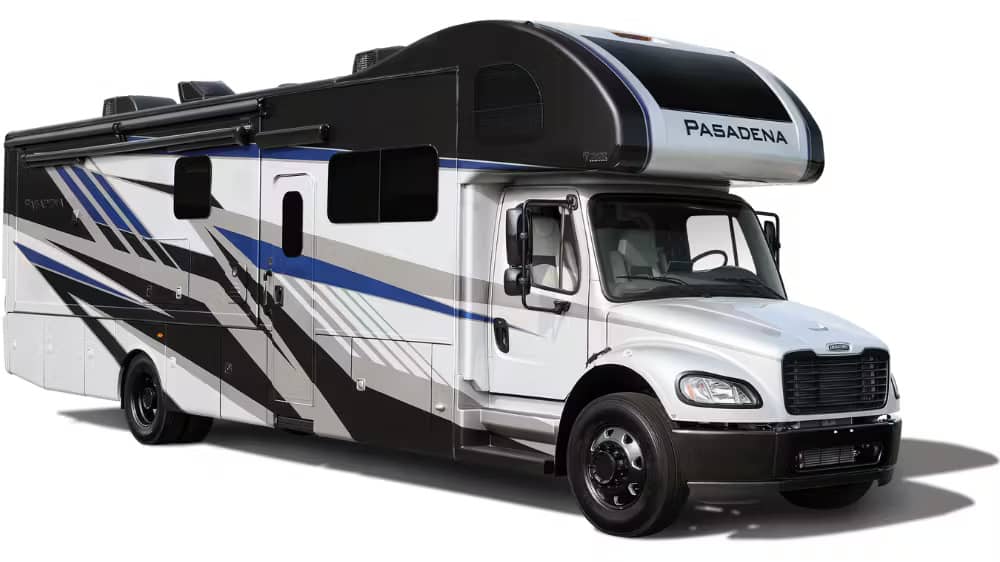 Adaptable Living Space And Smart Storage Solutions
The Pasadena 38DA is designed to cater to the diverse needs of modern travelers. Its adaptable living space allows you to configure the interior to suit your preferences, so you can easily relax, work, dine, or entertain. Smart storage solutions are seamlessly integrated throughout the RV, providing ample room to stow away your belongings and keep your living area organized and clutter-free.
Entertainment And Comfort At Its Best
For those who value entertainment on the road, the 2024 Pasadena 38DA delivers with a retractable 50″ LED SMART TV. Enjoy cinematic evenings, catch up on your favorite shows, or stay connected with the world while immersed in the comforts of your mobile haven. To set the mood and add a touch of coziness, an electric fireplace adds to the ambiance, providing warmth and visual appeal.
The "Stealth Package" Option: Elevating Style
One of the standout features of the 2024 Pasadena 38DA is the "Stealth Package" option, which introduces blacked-out wheels, grille, and mirrors. This adds a touch of contemporary elegance and sets this Super C RV apart from the crowd, making a bold statement wherever it travels.
Ready For Any Adventure
Whether you're planning to tow a boat, trailer, or other equipment, the Pasadena 38DA has you covered with its powerful 15,000-pound trailer hitch. This RV is equipped to handle your towing needs easily, allowing you to bring everything you need for your adventure.
Moreover, an advanced energy management system ensures that you stay travel-ready, even when off the grid, by efficiently managing and conserving energy.
The 2024 Magnitude LV35: Elevate Every Adventure
The 2024 Magnitude LV35 is a diesel motorhome that promises to elevate your travel experiences to new heights and is designed to cater to travelers who demand the very best in their motorhome experience. 
With a length just shy of 37 feet, this RV is your ticket to exploring scenic landscapes, embarking on cross-country adventures, and embracing the future of glamping in style and comfort.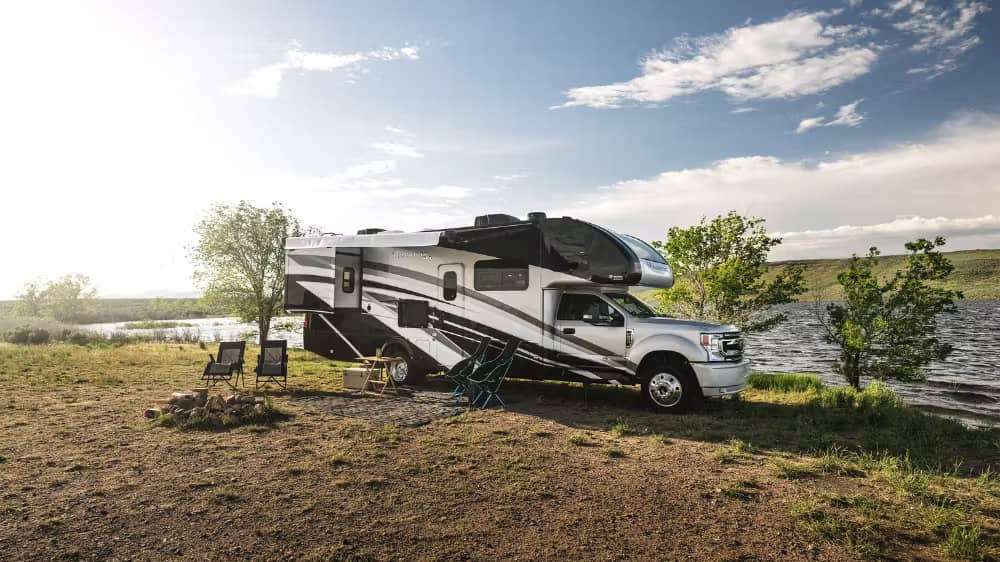 High-End Amenities For Ultimate Comfort
The 2024 Magnitude LV35 doesn't compromise on comfort and luxury. It boasts a tankless water heater, ensuring you have a continuous supply of hot water for showers and washing dishes. Say goodbye to waiting for the water to warm up – this RV provides instant comfort.
High-End Safety Features
Thor Motor Coach understands the importance of safety on the road. The Magnitude LV35 comes equipped with high-end safety features to ensure everyone on board is secure throughout your journey. Whether navigating winding mountain roads or cruising down the highway, you can travel confidently, knowing that safety is a top priority.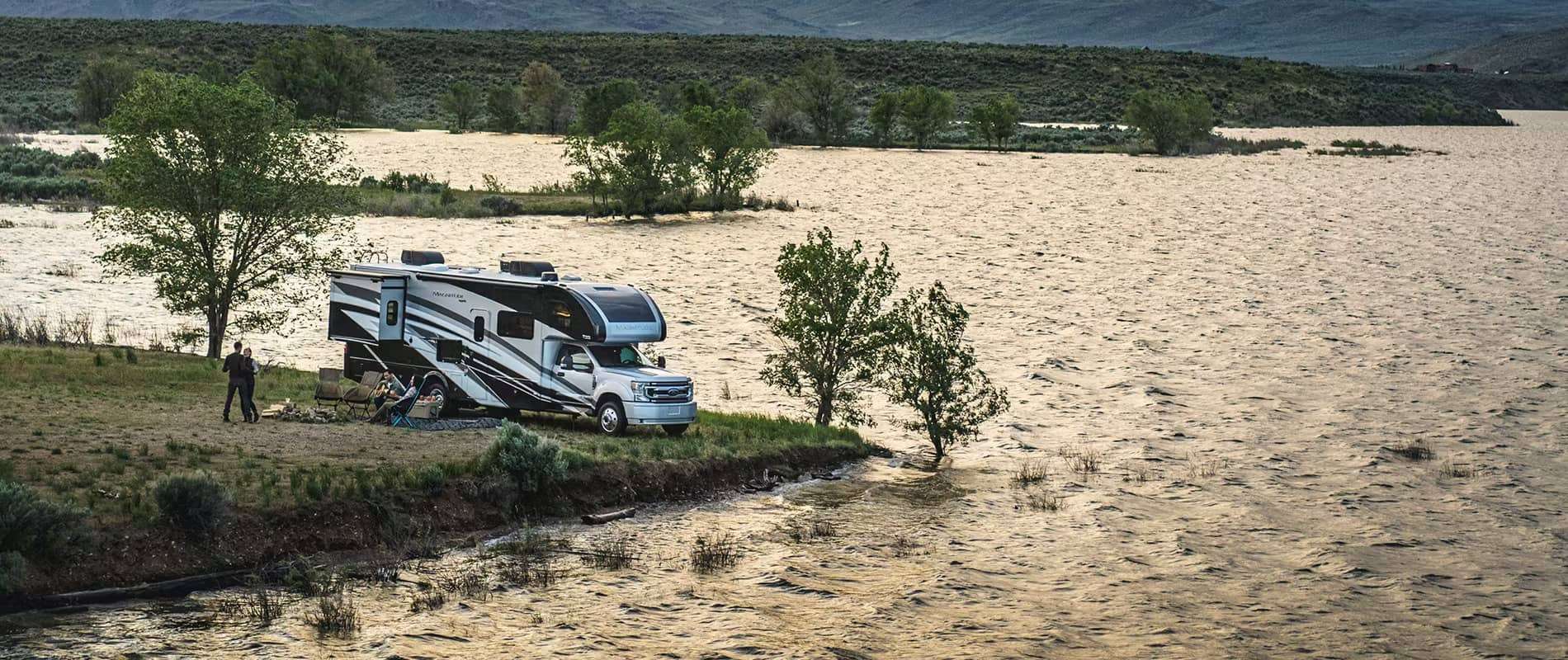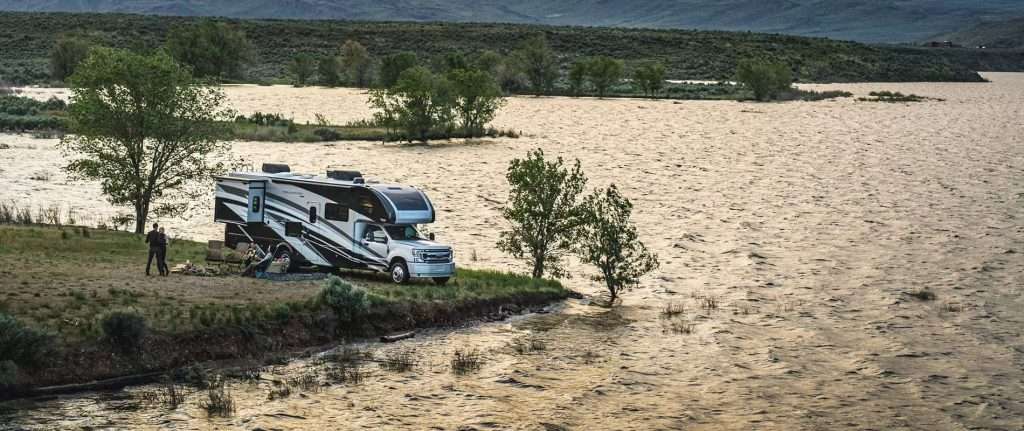 About Thor Motor Coach
Thor Motor Coach, a now prominent and well-respected name in the recreational vehicle industry, is renowned for its commitment to innovation, quality, and customer satisfaction. As a leading manufacturer of motorhomes, Thor Motor Coach boasts a diverse lineup that spans various RV classes and styles, catering to travelers' unique needs and preferences worldwide. 
With a history of crafting exceptional RVs and a constant drive to push the boundaries of design and functionality, Thor Motor Coach has earned a solid reputation for delivering top-tier vehicles that transform the dream of life on the road into a reality. Their exhibit at the 2023 America's Largest RV Show in Hershey, Pennsylvania, showcases their dedication to pushing the envelope and setting new standards for the RV industry.