Visit Austin
Great Outdoors In Austin, TX
If you want to explore the beautiful Austin city and its surrounding areas, you should consider the RV rental Austin. Within a day, you can reach anywhere in the city by driving RV. Thus, RV offers you the utmost flexibility to explore the city. Also, the Austin RV rentals eliminate your need to stay in an expansive hotel, so it's a cost-effective travel option also.
The most attractive natural wonders in Texas are located in the Austin area. Austin is the home to several natural wonders and RV parks. From the capital, just 13 miles away, you will be able to visit McKinney Fall, State Park. There is no shortage of RV parks in Austin TX, and plenty of campsites and campgrounds are available here. So you can park your RV on any campsite or ground.
To enjoy the beautiful cascades of water, you can visit Austin anytime or year-round. The Williamson and Onion creek is located within the park and offers you excellent fishing and swimming opportunities.
Trails of 90 miles or more are available in this park, and this is the park's other attractive feature. These 90 miles of trails offer you bouldering, bird watching, biking, hiking, and geocaching opportunities. The bald cypress tree of 500- year-old is located in this park, and don't miss the chance to see the "Old Baldy."
To the west of the city, the Barton Creek Wilderness and Barton Creek Greenbelt parks are situated. The urban oasis Greenbelt Park offers miles of trails for the campers to do biking, hiking, and running. The natural public swimming and fishing area and rock climbing walls and zones are also available in this park.
However, the features of Barton Creek Wilderness include the biking and hiking trails and weaving through the beautiful lush forests. Within a few miles of downtown Austin, this Creek wilderness park offers you an excellent opportunity to escape from the busy city and enjoy tranquil nature.
For the Buescher State Park day trip, you should pack up the camper rentals Austin. To reach this park, you need to drive for 45 minutes only, and it is located near Smithville. The popular angling destination is the stocked lake. And for canoeing and kayaking, the calm water of this park is very much exceptional. The Buescher State Park offers RV accommodations facilities to the RVers.
The other noteworthy facilities of this park are screened public shelters, group facilities, and air-conditioned cabins. The Bastrop State Park is located in few miles away from the northwest in Smithville. Moreover, this Bastrop Park is the home of the Pine Forest.
The hiking trails of more than 8 miles, an open swimming pool, 18-hole golf course are available here. Also, you can enjoy boating and kayaking in the summertime in this swimming pool. Year-round this park remains open. This is an RV-friendly park, and all the hook-up facilities are available here.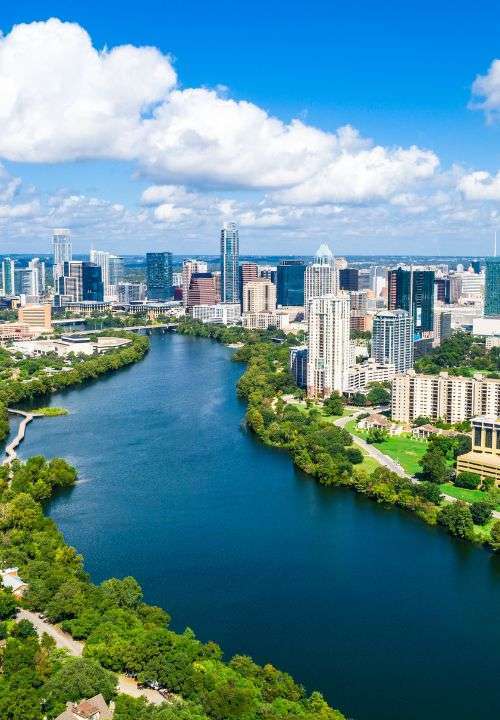 RV Parks In Austin, TX
There is no shortage of RV campgrounds Austin TX. Plenty of RV parks and campgrounds are available in this city. One of the Texas-sized luxury resorts is the La Hacienda RV Resort, and it is full of different modern amenities. This park features multiple swimming pools, a fitness center, clubhouse, hot tub, and Fido-approved Dog Park.
This park is located in the central location in Austin. You can travel to the Austin Nature & Science Center, Moody Theater, and the Austin Zoo by staying in this Hacienda RV resort. Another place for parking your rented campervan is the Austin Lone Star RV Resort.
This Lone Star resort is a sprawling RV park in Austin. This shaded campsite offers free Wi-Fi and full hook-up facilities to the campers. Also, from the downtown area of Austin, this park is only a few miles away. Here in this park, you can do many things, including checking out Lady Bird Lake, playing billiards in the club's house, and visiting the Zilker Botanical Garden.
If you want to escape from the bright city light, you can roll into the Rio Bonito Cabin campsite and RV Park. Only 40 miles away from Austin city, this park is located near the towns of Georgetown, Round Rock, Leander, and Cedar Park.
Camping at the Lake Pointe Resort would be best for you if you want an unmatched outdoor experience through camping. However, you can also visit Canyon Lake's north shore. This place is called Texas City's water recreation capital. For skiing, boating, and fishing, this place is absolutely perfect. For RVers, one of the family-oriented and pet-friendly options is Lake Pointe. Other RV parks in Austin are: 
Oak Forest RV resort 

Pecan grove RV park Austin 

Midtown RV park Austin 

Austin lone star RV resort 

McKinney falls state park 

La hacienda RV resort 

Highway 71 RV park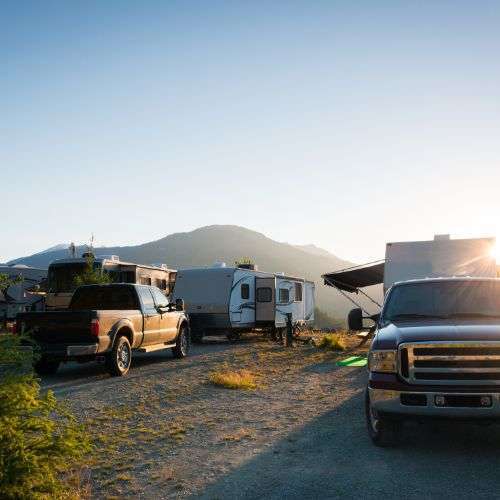 Exploring The Austin City
World's Live Music Capital is Texas's Quirky capital city. Each year a massive music festival, Austin, hosts, namely the South by Southwest festival. Austin also hosts other music festivals around which you can aim for your RV vacation. Some music festivals this city hosts include the Merlefest and Austin City Limits.
The Austin home area is North America's largest urban bat colony. And in late August, during the Bat Fest, this city celebrates the winged residents. You can spend your day in this place enjoying food, live music, and games. And then you can watch the hitting of millions of Mexican free-tailed bats in the skies at dusk.
However, the restaurant scene in Austin is quite diverse. To the hungry visitors, the restaurants offer to sample cuisines of the entire world. Some of the mention-worthy options here are the modern and traditional Mexican varieties, Japanese hot pot dinners, Southern-style BBQ and farm-to-table eateries, etc.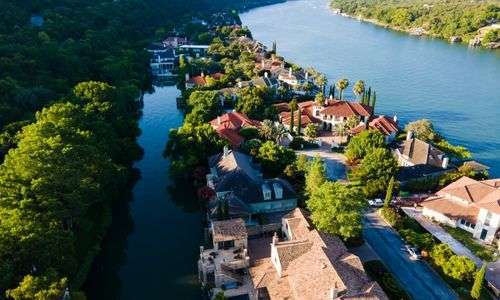 Unique Things To Do In Austin, TX
If you love adventure, you can do many new things in Austin, Texas. Start by exploring Austin's wilder side at the Lake Travis Waterloo and Zipline Adventures. To spark your curiosity more, you can visit the Austin Nature and Science Center free museum. This museum is located in the heart of Austin city.
Public RV parking facilities are available in this city. Still, if your vehicle is oversized, the public parking area will not be able to accommodate your RV. So leaving your RV at the campsite while visiting Austin city would be better.
In the United States, one of the fittest cities is Austin. Throughout the city, you will find miles of biking and hiking trails. Also, while visiting the trail, you will be able to see some of the most notable landmarks in Austin. Exploring this city on foot or on a bike is more accessible due to the Ann and Roy & Barton Creek Greenbelt bike and hike trail.
Must pack your bath suit if you are visiting Austin on warmer days. Spring-filled swimming holes connect several bike and hike trails, including Campbell's Hole and the Barton Springs.  Austin is not only the fittest city in Texas but also is the home to the largest urban bat population in North America.
Between early fall and March, at sunset time, millions of bats emerge from the cave. Near the Congress Avenue Bridge, people line to see the massive amount of bats on the waterways and streets. Along the bridge, the best viewing area is located. Also, you can see these bats from the Lady Bird Lake and Congress Bridge's Southeast corner.
To avoid the crowd during visiting bats, you should reach early in the spot. Also, instead of the bridge, you can watch the birds from the water, and it's a unique idea. As the bat-viewing tour part's several companies sell the tickets of riverboat or rent kayaks. So by renting a kayak or buying a riverboat ticket, you can avoid crowds while enjoying the bat migration.
Austin also offers the campers to enjoy different outdoor activities, art & culture, tours, sightseeing & cruises, and various unique experiences. Whatever type of entertainment you want to enjoy, you will get everything in Austin. In simple words, Austin is a city of beauty, and RV rental allows you to explore this beauty.
Make an Austin itinerary today, but search for the RV rental Austin before that. Then head towards enjoying the Texas capital for the music, food, and RV parks.