Visit Delaware
Great Outdoor RV Activities in Delaware
As a state rich in American history, one should visit Delaware to discover this intriguing past. It lies in the Mid-Atlantic around the east coast. Let its small size, the second smallest American state, not deceive you into disregarding the fun it can offer.
The varying climate allows RV campers to explore Delaware all year round without getting bored. There are also notable places, including Fort Delaware, Winterthur Museum Garden & Library, and the Delaware Seashore State Park, to mention a few.
Here's a discussion of the popular RV destinations in Delaware and RV parks. They will ensure you enjoy your vacation in the state to the fullest. Read on!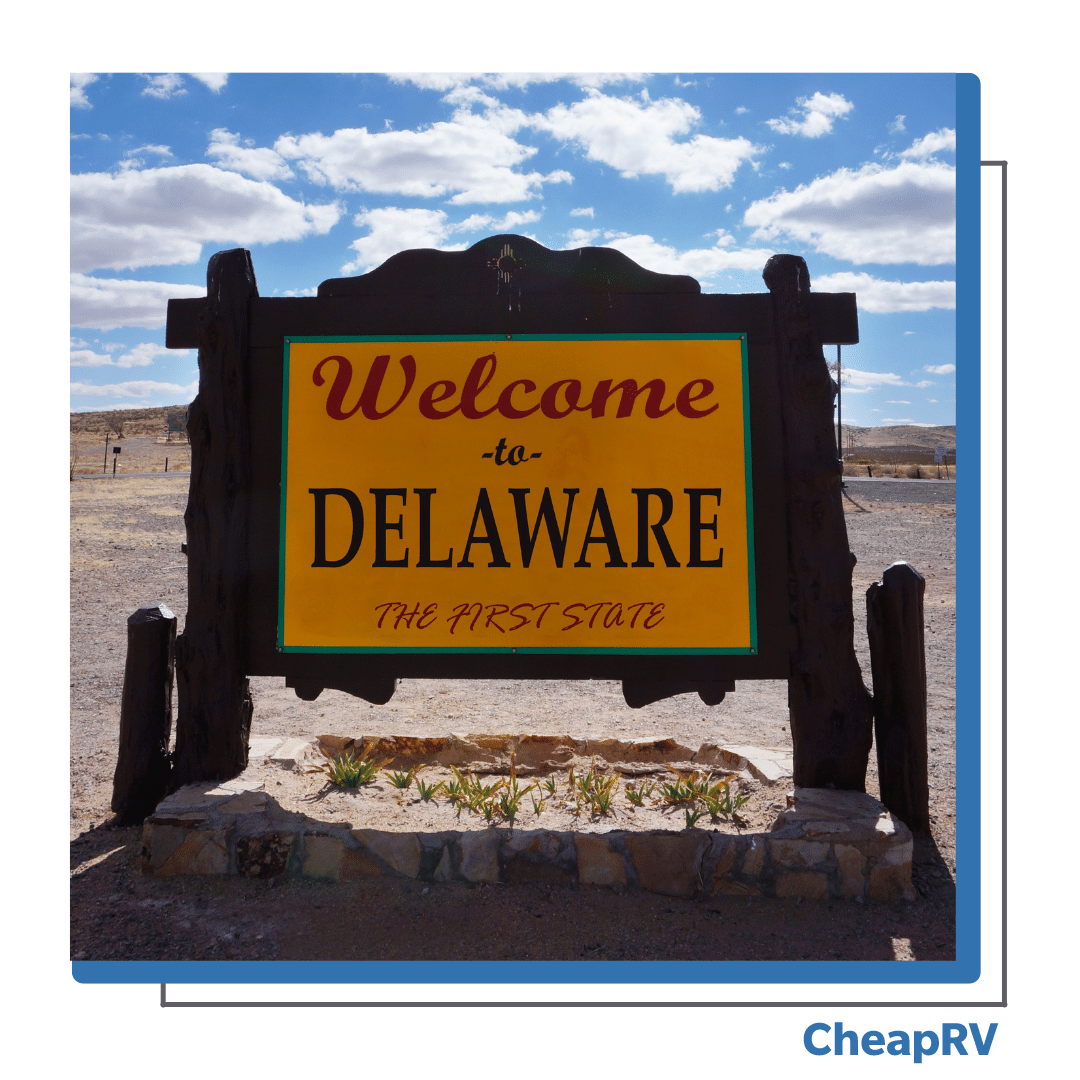 Popular RV Destinations in Delaware
It would be best if you visited these popular RV destinations in Delaware;
Prime Hook National Wildlife Refuge
This destination fits the bill if you want to relax and clear your head. Its purpose during its establishment in 1963 was for migratory birds' protection. The vast areas have room for various outdoor RV activities in Delaware.
These activities include wildlife viewing, hiking, fishing, and hunting. The Prime Hook Creek also extends up to 7 miles, suitable for kayaking. Another worth noting is the myriad spots and opportunities for excellent nature photography.
The Brumbley's Family Park Campground is adjacent to the refuge and thus great for your stay. It has 35 RV camping sites with full hookups, a playground, and a swimming pool. Don't hesitate to carry your pet if you have one.
DiscoverSea Shipwreck Museum
It is on Fenwick Island and was founded in 1995. Its specific location is the Seashell City building on its second floor. It has proven to be a place worth viewing for several reasons.
It has a collection of recovered artefact and shipwrecks around the Mid-Atlantic. Some of them strongly indicate the impact Spain's colonization had on America. In contrast, others show lives lost in the sea by men and women carrying out various activities in the sea.
Jungle Jim's
If you want to put a smile on your kid's face, this place has what it takes to do so. Delaware's largest water park has many outdoor activities for kids' vacations. Some features are a wave pool, kiddie pool, lazy river, and water slides.
Besides the water park, there is also more than the destination facilitates. If you are not a fan of swimming, you can go to batting cages. Other options include bumper boats and mini golf.
There is also food, including vegan-friendly black bean burgers, hot dogs, Baja fish tacos, chicken Caesar wraps, chicken tenders, and burgers, to mention a few. As you enjoy all that, consider the Big Oaks Campgrounds. It has various amenities, including a basketball court, shuffleboard court, game room, camp store, playground, swimming pool, sewer, water, and electricity.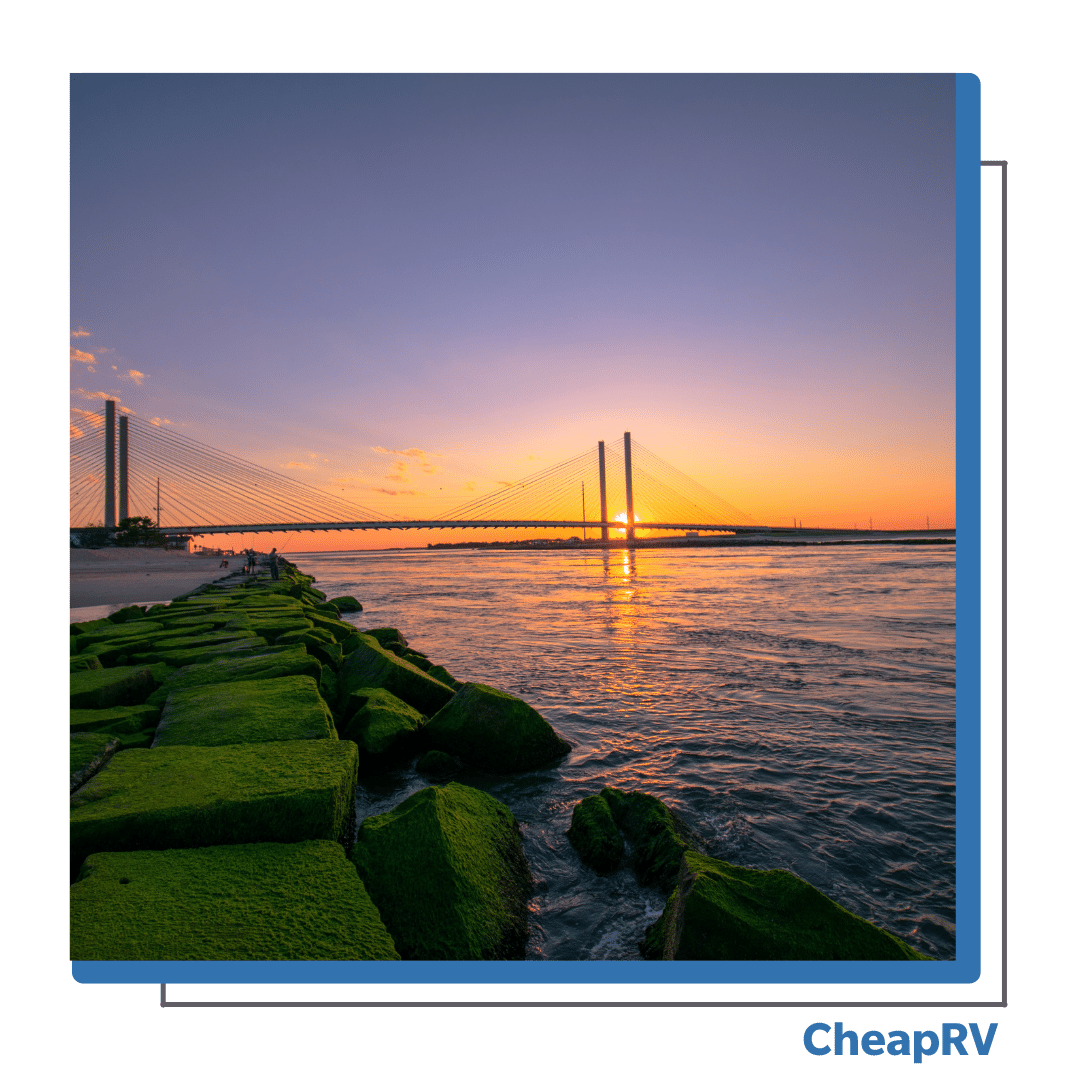 RV Parks in Delaware
Some of the best RV Parks in Delaware include the following;
Delaware Seashore State Park
Rehoboth Beach is a popular tourist attraction in Delaware. The visitors love its fun, sights, and sounds. To enjoy all this, ensure you are at a perfect spot, such as the Delaware Seashore State Park.
Regardless of the season, the park remains a perfect site for the view of this great beach. However, the peak season lasts between April and November. If you want to enjoy the Sea Witch Halloween Festival, ensure that you visit Delaware towards the end of October.
There are various amenities, including vending machines, showers, electricity, water, sewer hookups, and laundry facilities. The beach gives you the feel of sand between your toes. You can also opt to watch people on boardwalks.
As much as it is a small state, there is much to do for fun. So, don't shy away from considering it for your RV camping. It is a place to relax while enjoying the beach and tax-free shopping.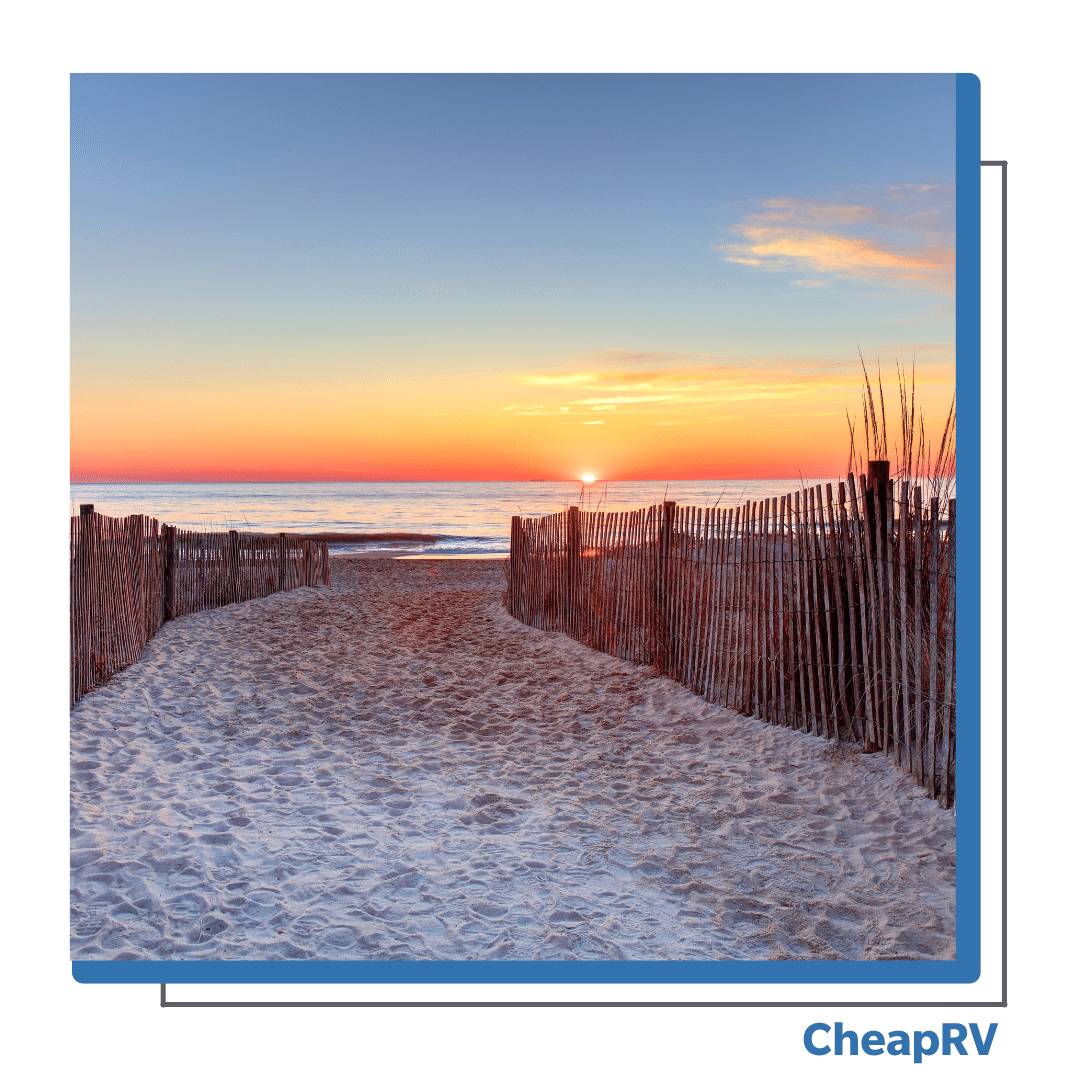 Trap Pond State Park
It covers the wetlands landscape of this American state. It covers more than 200 areas and comprises cypress trees and shallow ponds, and the numerous hiking trails facilitate seamless exploration of the area, including the Delaware wetlands.
Besides hiking, one can also engage in outdoor RV activities around the Trap Pond. Some of them include trolling, fishing and watersports. If you want to explore the area perfectly and conveniently, you can hire pedal boats, canoes, and kayaks.
You can indulge in bird watching while at the RV Park. It has various birds, such as owls, warblers, and herons. If you are lucky enough, you will spot a bald eagle.
The park has up to 130 sites to make your stay comfortable. They have water hookups and their electric counterparts. Other amenities include a boat ramp, picnic areas, playgrounds, showers, and dump stations.
Cape Henlopen State Park
The Cape Henlopen beach in Lewes has been public land since 1682 after the declaration by William Penn. Interestingly, the patriot declared so almost a century after the signing of the Declaration of Independence.
The American forefather's beaches give visitors much fun, including bird-watching rare species. Other notable things include the Osprey Cam and the Seaside Nature Centre, and there is also a terminus of the famous American Discovery Trail. You can use it to start this journey of 6,800 miles from the east.
Whereas all the sites have electric hookups, some lack water. Regardless, these RV camping sites are usually in dunes covered with pines. Other amenities include a dump station and showers.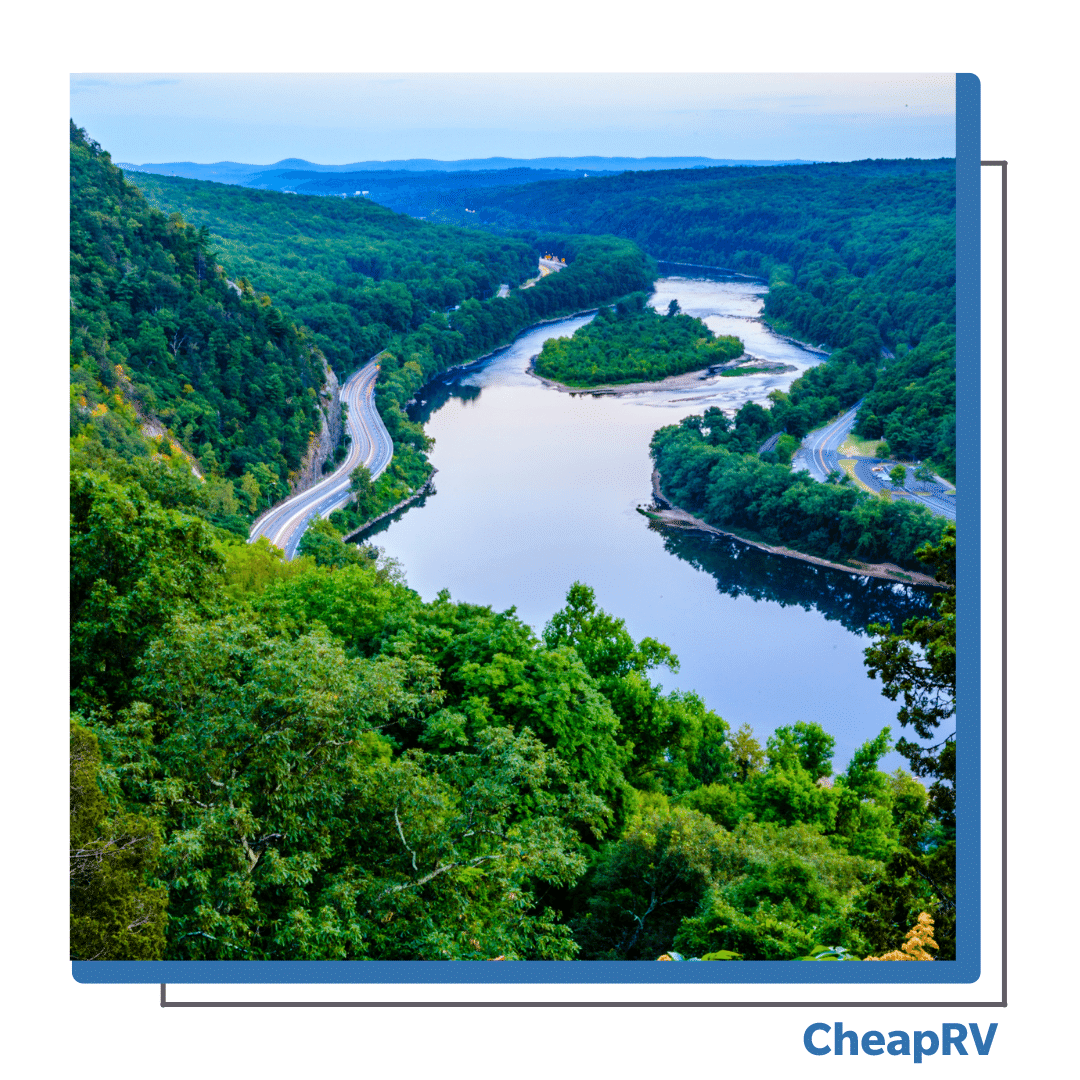 Unique Things to Do In Delaware
Don't miss out on these unique things to do in Delaware;
Vising the Spence's Bazaar
It is a family business that started as a livestock auction. It was established in 1933 and has thrived excellently over the years. This indoor and outdoor flea market is iconic and worth a visit.
You can purchase fantastic things, including vintage records and clothing, among other curiosities. It also offers tasty Amish foods, including homemade desserts, pieces of bread and cheeses. So, once you are done checking out and buying the goodies, you can grab a snack to re-energize yourself.
Not far from the market is the Steamboat Landing RV Park and Marina located in Lewes. Additionally, it usually has a busy pavilion on Saturdays due to the many planned activities. Other amenities within its vicinity include volleyball and basketball courts, crabbing dock, a general store, a swimming pool, and a laundromat. 
Going to the Dogfish Head Craft Brewery
If you are a craft beer enthusiast, don't miss this opportunity. It was established in 1995 in Rehoboth Beach but is now in Milton and distributes its beer nationally. 
It produces various types, including Punkin Ale, Oak-Aged Vanilla World Wide Stout, and SeaQuench Ale. Besides interesting tours around the place, visitors also get free samples. You can take them immediately or carry them in the future.