Visit Iowa
RV Rental in Iowa
If you're considering renting an RV, motorhome, camper, or travel trailer in Iowa, you have many options. Depending on the type of travel to or from Iowa, choose an RV for hire that provides the amenities you, your friends, or your family will require.
You should book your RV ahead of time because they are in high demand in Iowa, especially around Memorial Day and Labor Day weekends.
Different dealers have different standards that must be met before renting out an RV. Check with your dealer to ensure you won't be inconvenienced.
Great Outdoor RV Activities in Iowa
Every family member can enjoy camping and other outdoor activities in Iowa, which is home to breathtakingly gorgeous protected lands, including towering cliffs, caves, dense forests, clear lakes, and the great Mississippi River.
Popular activities in this area include road biking, kayaking, fishing, hiking,  and mountain and rock climbing.
RVers can find tremendous value in Iowa's state parks. There are clean campgrounds and parks, common amenities, and big rig-friendly sites with power connections available.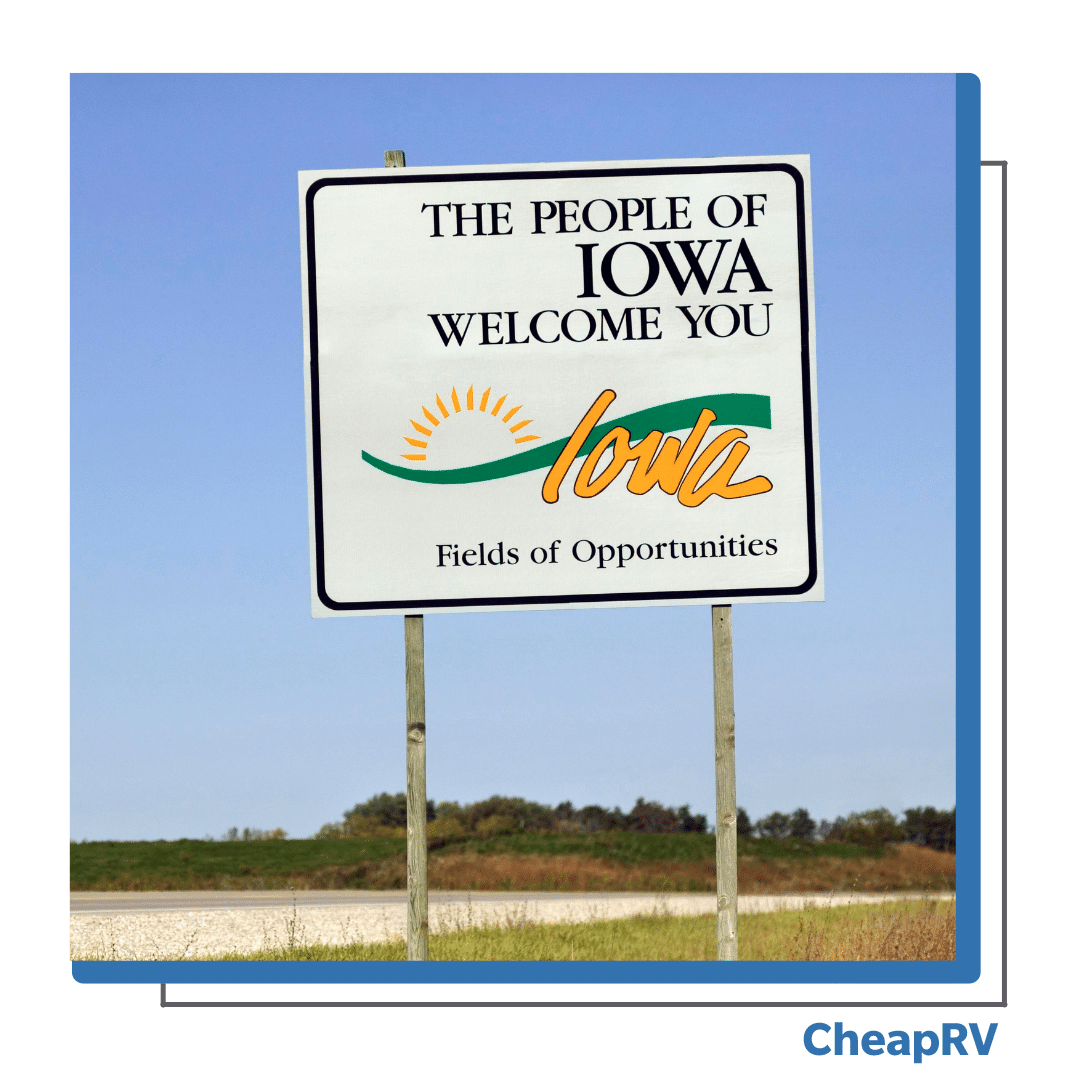 Popular RV Destinations in Iowa
Grotto of the Redemption
The Grotto of the Redemption, located in West Bend, should be the first stop on your agenda for the RV trip in Iowa. Father Paul Dobberstein, a German American priest, started placing rocks, shells, gems, and fossils into the concrete structure in 1912, and continued for another 42 years.
The Catholic shrine, which also occupies a space larger than an entire city block, is currently regarded as the largest grotto globally.
Reiman Gardens
One of the most breathtaking sights in the state is the Reiman Gardens, which is situated on Iowa State University's campus. The public garden was established in 1993 and now includes a herb garden, indoor plant conservatory, rose garden, children's garden, and theater for educational activities.
The Christina Reiman Butterfly Wing, which houses over 800 magnificent butterflies from 80 different species, is located inside the glass conservatory.
Adventureland
Looking for family RV trips in Iowa? Visit Adventureland, the biggest family amusement park in the state, in Altoona. Since its opening in 1974, Adventureland has expanded to include over 100 rides, shows, and attractions. One of these is The Monster, a roller coaster with a speed of 65 mph that CNN voted the nation's greatest new roller coaster of the year 2016.
American Gothic House
Explore the American Gothic house situated in Eldon to travel back in time. The adorable white house inspired one of the most well-known paintings in history, which Iowan artist Grant Wood painted in 1930. The house was kept as a private dwelling for many years before being listed in 1974 on the National Register of Historic Places and bought by the State Historical Society of Iowa in 1991.
The museum offers jackets and aprons as props to assist you in making your photos look as authentic as possible. Entry to the house is free.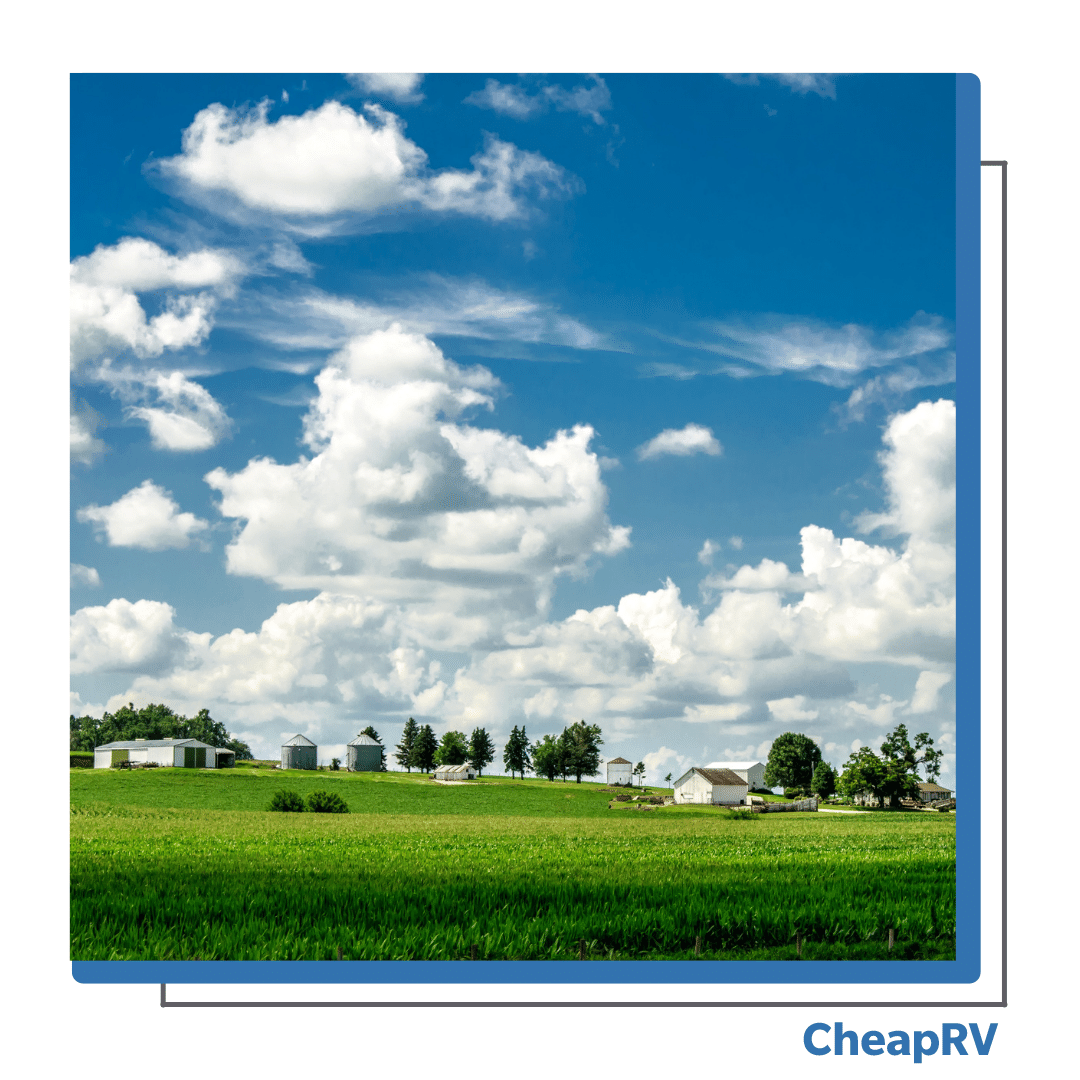 Amana Colonies
East-central Iowa's Amana Colonies are the next destination on our list of RV trip suggestions for Iowa. The German Pietists, who broke away from the Lutheran Church over a difference in doctrine, established the seven towns that constituted the Amana Colonies in the 1800s.
The Amana Colonies have become popular tourist destinations thanks to their local cuisine, handmade furniture, arts and crafts, and outdoor activities.
RV Parks In Iowa
Morgan Creek Park, Palo
Morgan Creek Park, which is situated in Linn County's southwest corner, offers a magnificent view of the steep woodlands characterized by Morgan Creek's flowing water. Spending a few nights at Morgan Creek to fully appreciate its beautiful surroundings is worthwhile, and doing so is made simple by the park's close-by and welcoming RV park.
At Morgan Park, all RV sites are available on a first-come, first-served basis, and there are lots of them with complete electrical hookups.
Miners Creek Hideaway Campground & RV Park, Guttenberg
Miners Creek in Guttenberg meets all camping necessities. The most popular way to spend the night is through parking the RV, even though there are many tents, basic camping choices, and 2 cabins that can be hired. Campers can enjoy the area's spring-fed stream from their campground. As several hiking routes begin at Miners Creek Hideaway, it's simple to take in the scenery.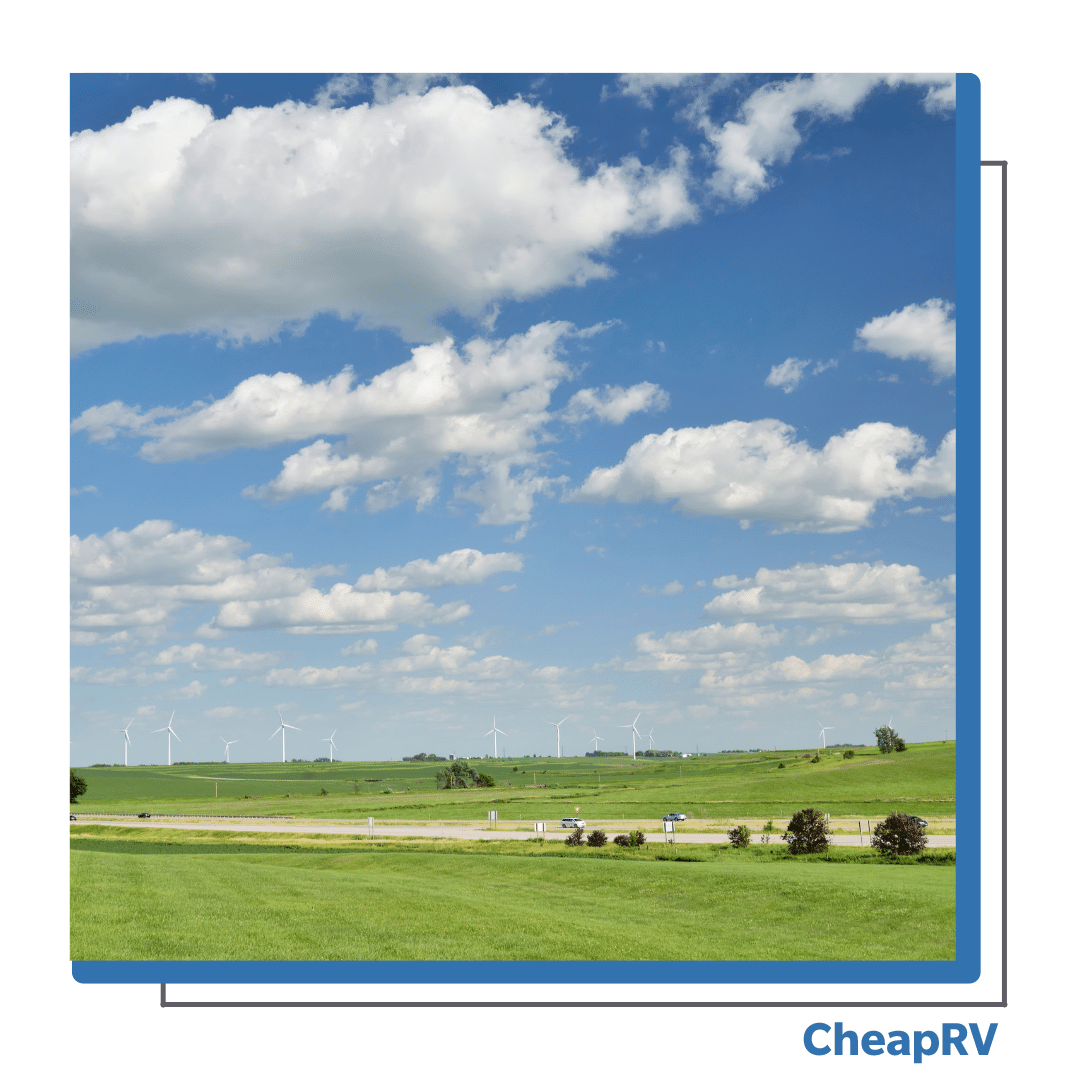 Harvest Farm Campground Resort, Cresco
Harvest Farm Campgrounds has 32 full electric plus water hookup sites, but nearby recreation opportunities truly draw in visitors. Harvest Farm Campground provides everything you want, including day spa services, pool tables, lawn darts, biking, canoeing, and hiking. It's entertaining for the whole family and can hold anyone's interest for weeks.
Deer Run Resort, Elkader
The Deer Run Resort is among the best places in Iowa for RV camping, not only because there are 80 different sites available. With easy access to the amazing nearby activities, first-rate showers, and top-notch picnic tables, Deer Run Resort takes the cake. Cast your line in the nearby five-acre Three Sisters Lake. 
Pikes Peak RV Park & Campground, Manitou Springs
Pikes Peak Campground is a peaceful refuge where you can park your RV rental and unwind with lush vegetation. It is located on the junction of Wisconsin and the Mississippi Rivers, on the boundary between Iowa and Wisconsin. Facilities including showers and restrooms, a camp store with essentials, and a dump station are available to make your visit even more enjoyable.
Electric hookups are available at each site, and a few have excellent views of the rivers and the surrounding landscape. Visitors may access some fantastic hiking and bike routes at the campground, which is pet-friendly.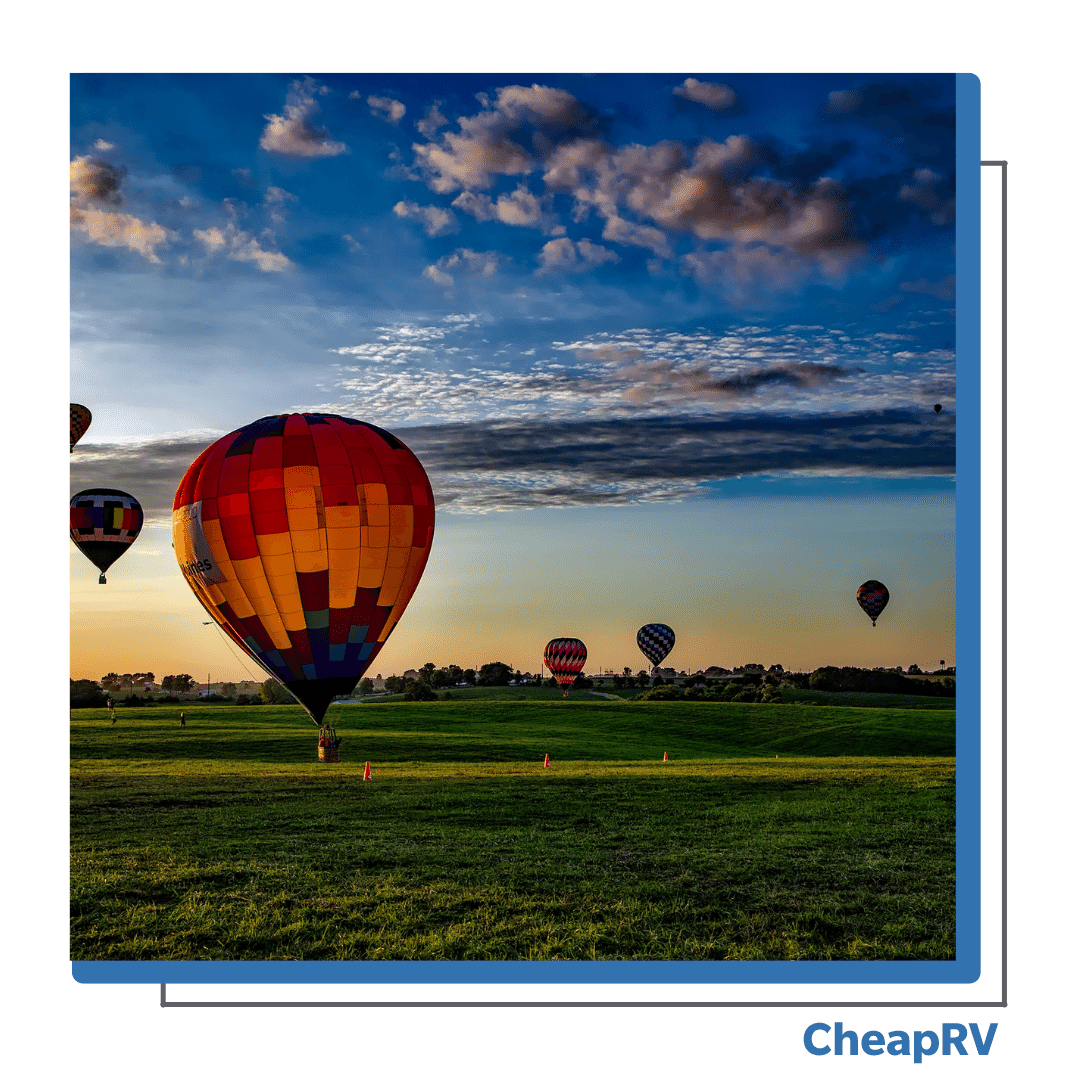 Unique Things to Do in Iowa
Some of the unique things to do in Indiana include the following:
Visit A History Museum
One of Iowa's most esteemed cultural institutions, the University of Iowa Museum of Natural History is home to a diverse group of animal, plant, anthropological, and fossil materials.
Kayak Across The Vast Mississippi
The Mississippi River is among the best places in Iowa for kayaking because of its easily navigable backwaters. The river's calm waters are not its only draw; it also supports a wide range of exotic wildlife and other attractions like beaches.
Spend Some Time Having Fun At A Waterpark
Lost Island, Iowa's largest waterpark, offers an exciting variety of rides and attractions, such as swimming pools, water slides, and activities for people of all ages.