Visit Louisiana
RV Rental Louisiana
Louisiana is a unique tourist destination in the United States. Despite being most known for its bustling Mardi Gras festival, Louisiana is home to several other noteworthy places and activities. 
Because it is a blend of African, French, and American cultures; Louisiana has a distinct history and culture. Louisiana is known as the "Bayou State" because its enormous wetlands support a complex environment that includes raccoons, alligators, herons, and deer.
And what better way than with an RV rental to take in all that lovely Louisiana has to offer? The dealer's commercial fleet policy does not cover some RV rentals, but most are. For a complete list of requirements, consult your dealer.
Great Outdoor RV Activities in Louisiana
Louisiana's state parks offer wonderful opportunities to enjoy the outdoors. Water sports such as paddling, boating, and fishing are available. Furthermore, some of the best birdwatching in the country may be found along bike and hiking trails.
Several waterways run through their beautiful hills and marshlands, including lakes, bayous, marshes, and lagoons. There are excellent camping and picnic areas, RV sites, and cottages with all the essential conveniences.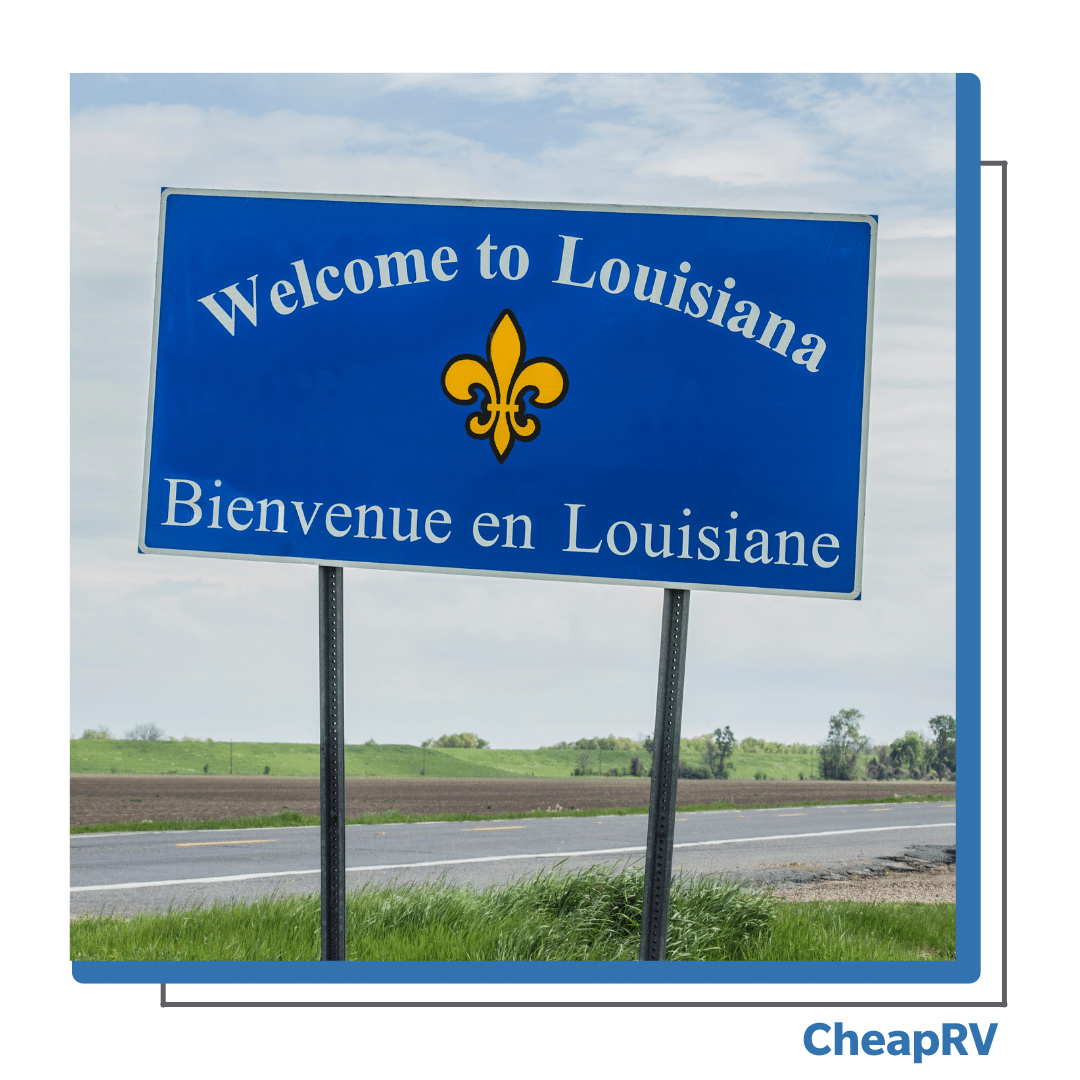 Popular RV Destinations in Louisiana
New Orleans
New Orleans is Louisiana's cultural epicenter. After Hurricane Katrina, the city has rebounded more successfully than ever. While strolling through the French Quarter, stop by the numerous Art galleries, museums, and stores. 
Grab a hurricane and walk the length of Bourbon Street to find the best street entertainers. Take a trolley ride along St. Charles Street to see the gorgeous antebellum mansions surrounded by live oaks. Visit one of the city's many cemeteries; if you're feeling brave, you can even go on a ghost tour!
Oak Alley Plantation
This ancient sugar plantation, which dates back more than 175 years, retains much of its original splendor. The "Big House" contains a house museum with period furniture. The enslavement exhibition is pretty intriguing and well done. The blacksmith shop houses historical objects such as a Civil War tent.
Baton Rouge
Louisiana's "Capital City," Baton Rouge, is sometimes referred to as the "Red Stick," while New Orleans may be the state's cultural center. It's only an hour from Lafayette and New Orleans, so there's no reason to miss out on this lively city with many family-friendly attractions.
Among the many museums in Baton Rouge are the Old Governor's Museum, Capitol Park Museum, and Louisiana Art and Science Museum. Take a food tour to discover the city's gastronomic wonders. If you want to see some alligators, the swamp trips are a must! Many of the historic plantations are distributed across the city.
Kisatchie National Forest
The Kisatchie National Forest, Louisiana's sole National Forest, is located in the state's middle. The National Forest contains large areas of flatwood vegetation and longleaf pines. The Forest's 604,000+ acres provide habitat for natural plant and animal species. 
The Kisatchie Bayou contains a vast cypress-tupelo gum swamp that must be protected, and the Cunningham Brake was erected to achieve just that. Camping, hiking, bicycling, fishing, and hunting are popular activities in the Kisatchie National Forest.
LSU Rural Life Museum
During the 18th and 19th centuries, rural life in Louisiana was portrayed in the LSU Rural Life Museum, a living history museum. There are exhibits and relics from everyday rural life up until the early 1900s in the spacious exhibition barn. Commissary, blacksmith shop, overseer's residence, and other structures may be found at The Plantation Quarters. To tour everything on the site, which has 32 structures in total, would take at least a half day. You can find special events all year round by checking the calendar.
RV Parks in  Louisiana
Whispering Meadow RV Park
Whispering Meadow RV Park's regular campers can speak to the unsurpassed excellence of the camping experience. The surroundings are pure, serene, and conducive to relaxation, making it the ideal place to unwind and enjoy your trip. The park's amenities include full hookup sites, laundry rooms, a clean, roomy bathroom, free cable TV, and Wi-Fi.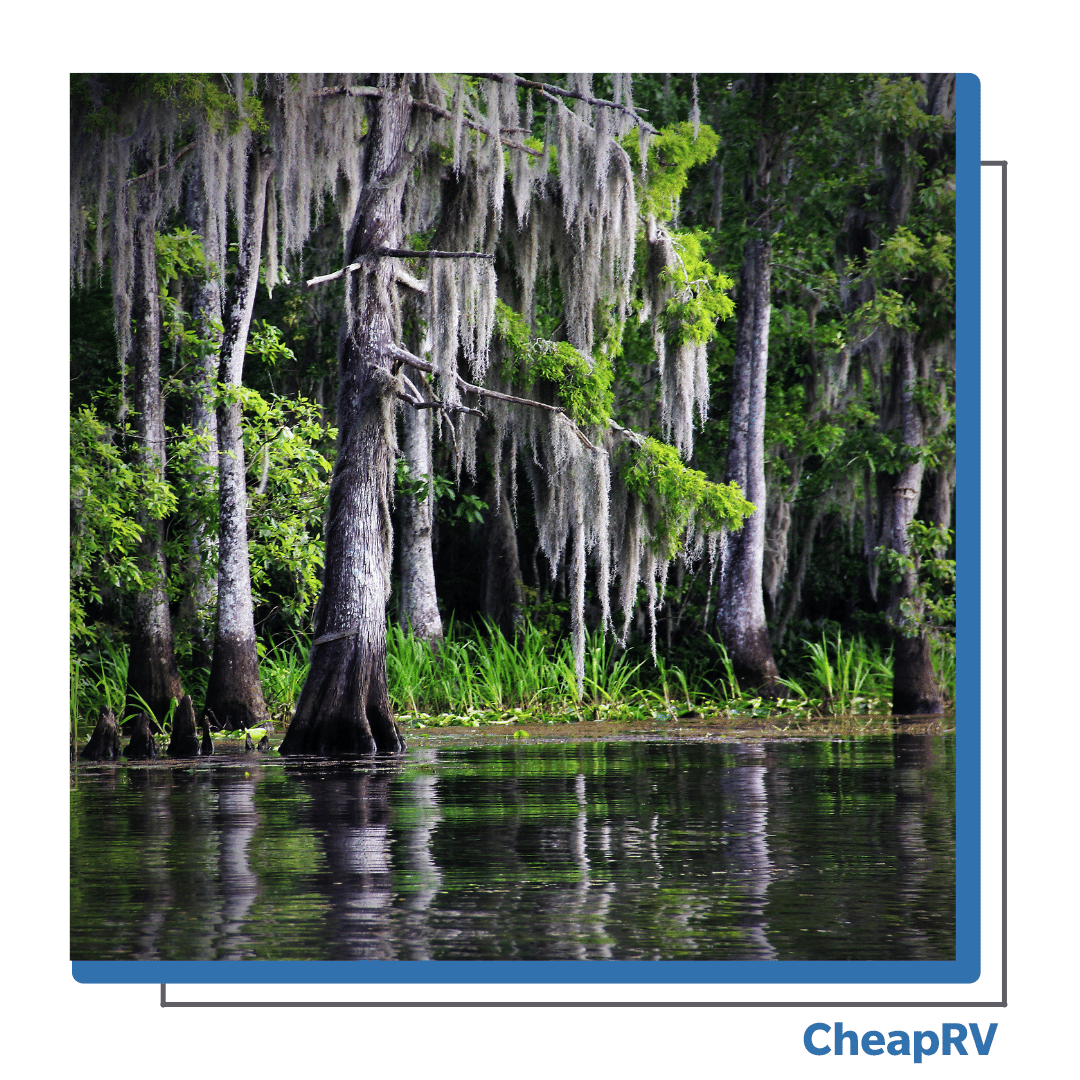 River View RV Park & Resort
The Natchez and Vidalia region offers a wide range of activities, including golfing, shopping, hiking, biking, fishing, and dining, all accessible to guests at the River View RV Park. After a day of traveling and discovering new adventures, visitors can unwind in the pool or hot tub and take advantage of the clean, hot showers.
They can also take advantage of these amenities with complimentary wireless internet access, a 24-hour laundry center, RV parking, and a shuttle to Magnolia Bluffs Casino.
Pioneer Acadian Village RV Park & Campground
The park has everything you could require for a restful getaway. With roomy, full hookup sites, start your trip off right. With your family, go on a picnic for lunch and cook hot dogs and marshmallows over a campfire for dinner. Enjoy some family-friendly volleyball action or use the media room's cable TV and wifi internet. You may even spend the afternoon gathering fresh fruit and pecans from the trees!
Three Oaks and a Pine RV Park
This New Orleans park is big-rig friendly and located only 5 miles from the French quarter. In this password security-gated park, which is always free for pets, you may visit New Orleans worry-free while bringing your four-legged friends along.
You may quickly travel to historic downtown to visit the stores and activities or the Mardis Gras festivities because public transit is available immediately across the street from the park. Each location has a 24-hour laundry facility, cable TV, free Wi-Fi, and a full connection.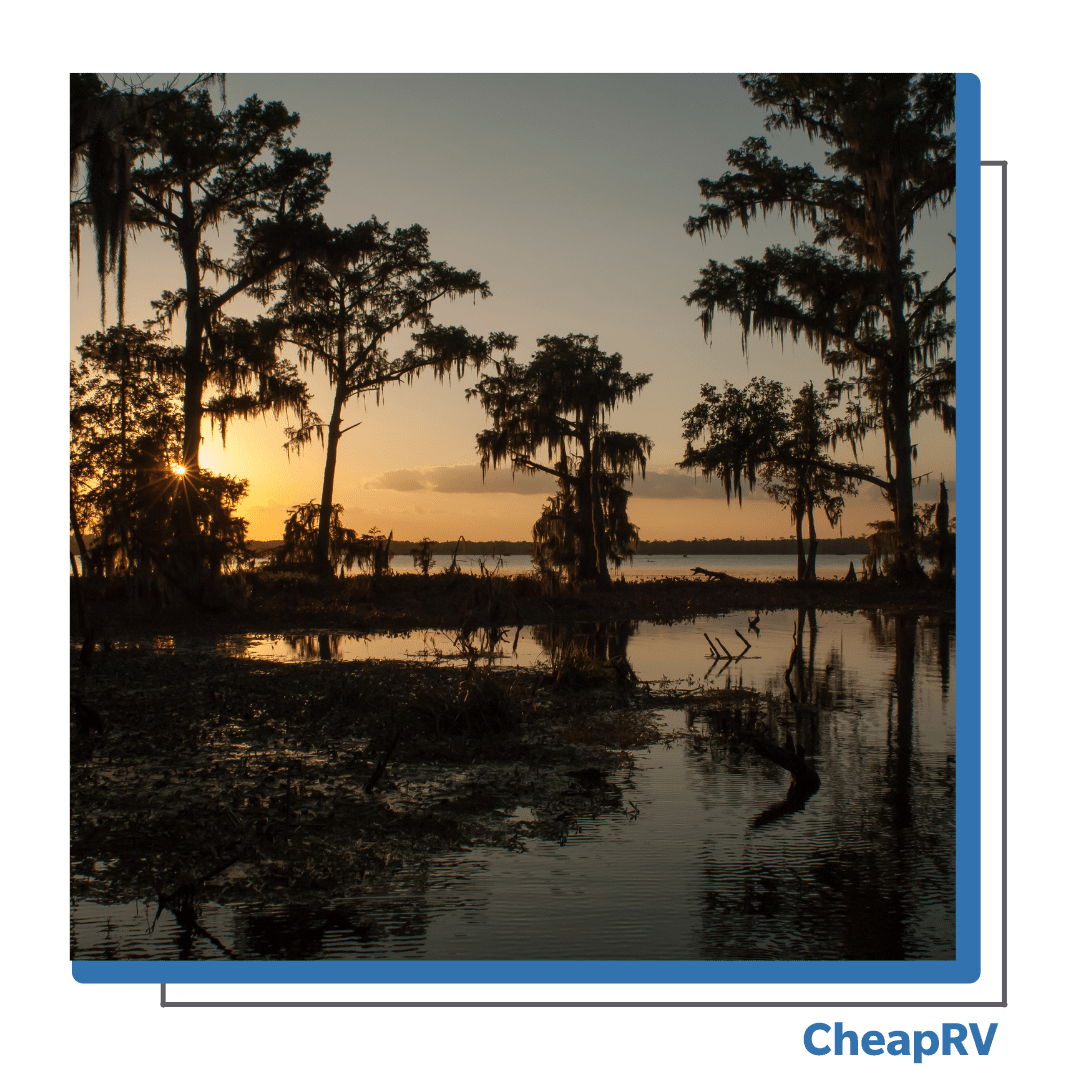 Lakeside RV Park
This park in southern Louisiana, one of the region's top Good Sam Club RV parks, resembles a resort more than a campground. With a fishing lake, helpful staff on site, and level concrete sites, Lakeside RV Park is ready to assist you in taking advantage of the trip.
A lot of effort is put in by Lakeside to ensure that you have all you require for a pleasant stay. You may stay pleased and amused while camping in the park with the help of recently upgraded wifi internet, a dazzling pool, a family game area, and fishing options.
Unique Things To Do in  Louisiana
Visit the WWII Museum
The World War II memorabilia collection at the five-building World War II museum is one of the world's largest.
It's easy to lose track of time when living here. It is recommended that you allow at least 3 to 4 hours for your visit.
If you wish to return, keep your ticket since you will be charged less for admission on consecutive days.
Discover the French Quarter's Uniqueness
The city's heart and soul are found in the French Quarter. It's a popular location for jazz clubs from New Orleans, Cajun restaurants, lively nightlife, and much more!
The French Quarter's calmer neighborhoods are also home to many hidden treasures. These will take you to gourmet restaurants, local shops, and unique cafes.
Experience an Actual Louisiana Steamboat
Visit the boat's maintained steam engine room to learn more about its operation or stand on the upper deck to take in the breathtaking scenery around you. Additionally, a freshly prepared authentic Creole lunch will be available to you onboard.