Discover South Dakota
Known as the "Sunshine state," South Dakota got its name after a Native American Sioux word that means "friendly" or "allies."
When planning an RV trip, people often forget about South Dakota. However, it's a hidden gem that offers some of the most breathtaking natural wonders. From the iconic Mount Rushmore to the stunning Badlands National Park, South Dakota has something for everyone.
Besides Mount Rushmore National Memorial and Badlands National Park, South Dakota has plenty of natural and state parks, as well as popular tourist attractions.
As for the weather, South Dakota experiences four distinct seasons. The summers are warm and humid, and winters are cold and dry, with average temperatures around 20 Fahrenheit (-6 to -5 degrees Celsius). The best time to visit is spring and autumn, with mild and pleasant weather.
The region was first inhabited by various Native American tribes, including the Lakota, Dakota, and Nakota (collectively known as the Sioux). That's why there are a lot of landmarks and attractions that honor the Sioux tribes, their history, and their culture.
South Dakota National Parks
Badlands National Park: Located in southwestern South Dakota, Badlands National Park was created by ancient deposits of sediments and minerals, followed by 500,000 years of erosion. The stunning landscape, with various pinnacles and spires, will definitely leave you speechless. The park is home to a variety of wildlife, including bison, bighorn sheep, and pronghorn, as well as colorful wildflowers and fossils. Visitors can explore the park's hiking trails, scenic drives, and ranger-led programs, as well as camp overnight in designated campsites.
Wind Cave National Park: Located in the southwestern part of the state, Wind Cave National Park is known for its underground cave system, one of the longest and most complex cave systems in the world. Visitors can explore the underground labyrinth by going on a guided tour led by park rangers. The main attraction is the Boxwork formation, which exists only in a few other caves in the world.
Mount Rushmore National Memorial: One of the most popular attractions in the United States, Mount Rushmore National Memorial depicts the portraits of US presidents Washington, Jefferson, Lincoln, and Roosevelt. Visitors can visit also the Sculptor's studio and walk the half-mile interpretive trail. For those seeking adventure, the surrounding Black Hills offer several outdoor activities.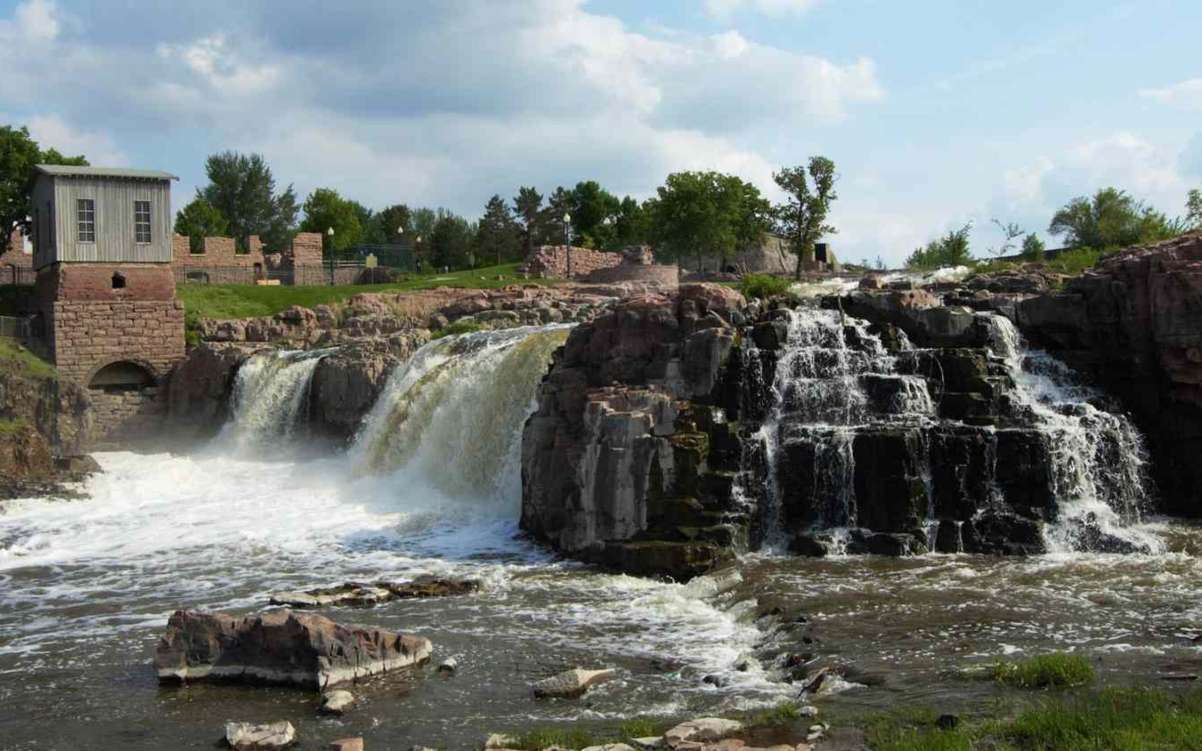 South Dakota State Parks
Custer State Park: Covering over 71 000 acres of land, Custer State Park is the largest and the most popular state park in South Dakota. The park is famous for its scenic drives, hiking trails, and wildlife, including bison, pronghorn, and bighorn sheep. Visitors can also enjoy recreational activities, such as fishing, boating, and horseback riding.
Palisades State Park: Located in the southeastern part of the state, Palisades State Park is a great spot for hiking, camping, photographing, and rock climbing. Split Rock Creek is in the center of the park and among its shores you'll find jagged pink Sioux Quartzite, a unique rock formation that makes the park so popular.
Hartford Beach State Park: Located in the northeastern part of the state, Hartford Beach State Park sits on the eastern shore of Big Stone Lake. The park offers a variety of activities for visitors, such as swimming, sunbathing, and picnicking. Visitors can also rent canoes, kayaks, or paddleboats and explore the lake or go on five different hiking trails. The park is also home to a variety of wildlife, such as deer, foxes, and migratory birds. 
Bear Butte State Park: Located in the western part of the state, Bear Butte State Park is considered a sacred site by several Native American tribes. The park features hiking trails, a campground, and a visitor center that offers educational exhibits about the area's cultural and natural history. Bear Butte is home to current American Indian ceremonies and spirituality. 
South Dakota Campgrounds
Beaver Lake Campground: Located in the Black Hills, near Mount Rushmore, this campground offers peace and serenity among pines. The site offers full hookups, full service cabins, tent sites, a heated pool, and other amenities.
Elkhorn Ridge RV Resort: Located on the historic Frawley Ranch, the campground offers beautiful views of Elkhorn and Crow Peak. Guests can enjoy a lot of world-class amenities, such as hot tubs, a heated pool, free Wi-Fi, courts for tennis, basketball, and golf, and many more. There's even a fenced dog park!
Badlands Interior Campground: Located just outside the Badlands National Park, the campground offers tent and RV sites with electric and water hookups. Among other amenities are heated showers, restrooms, and a convenience store.
Sturgis RV Park: Located in the town of Sturgis, this campground is close to all the popular attractions, such as Sturgis Motorcycle Rally, Fort Meade Cavalry Museum, Sturgis Motorcycle Museum & Hall of Fame, and Wonderland Cave. Guests can enjoy full hookup RV sites, free wireless Internet, air-conditioned showers, and laundry facilities, among many other amenities.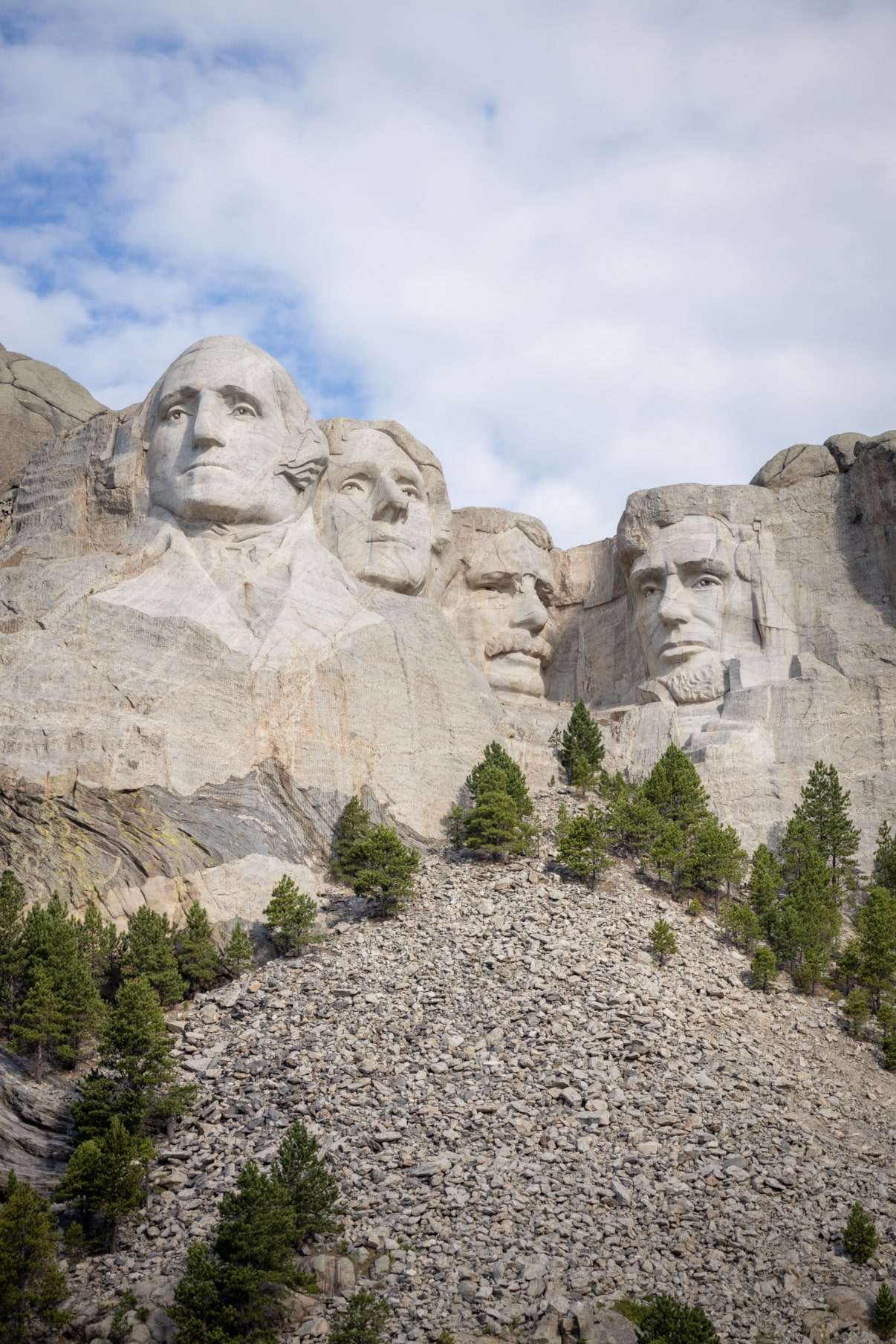 Things to do while you're in your RV Rental in South Dakota
South Dakota offers many great experiences and attractions for RV travelers. During your RV vacation, don't forget to visit some of them.
Popular Destinations in South Dakota
Sioux Falls: South Dakota's largest city, Sioux Falls is named after the beautiful waterfalls that lie at the heart of the city. Visitors can explore the city's galleries and museums, but the main attraction is Falls Park. In the city, you'll find over 70 parks and greenways for hiking and cycling. 
Rapid City: Close to Mount Rushmore and the Badlands, Rapid City is South Dakota's second largest city. It lies on the banks of Rapid Creek and it's known for its culinary and cultural scene. Visitors can also marvel at the life-sized amazing sculptures of the nation's former presidents.
Deadwood: Deadwood is a small historic town located in the Black Hills. It is known for its Wild West history, scenic beauty, and the first foundings of glittering gold. One of the most popular attractions is the town's historic downtown district, where visitors can explore historic saloons, casinos, and museums. There are always live performances and events being held throughout the year.
Mitchell: Located in the southeastern part of the state, the town of Mitchell is home to several excellent museums. Its main attraction is the 'World's Only Corn Palace', clad in murals made out of grasses, grains, oats, and corn with colorful minarets and onion domes. 
Top Attractions and Activities in South Dakota
Mount Rushmore National Monument: Most visited tourist attraction in the state, Mount Rushmore is a national monument made out of 400 000 tons of rock and it features the faces of four American presidents carved into the side of a mountain. Visitors can explore the park, attend ranger-led programs and learn about the history of the monument.
Badlands National Park: Badlands National Park consists of uniquely formed hills and pinnacles made from the erosion of clay and sand. Visitors can see herds of bison roaming freely within the park. The park also features one of the last remaining intact prairie landscapes in North America. 
Mammoth Site: Located in Hot Springs, Mammoth Site offers a large collection of Columbian mammoth bones. At this site, more than 60 mammoths have been discovered, and three of them were woolly mammoths. Visitors can see fossils and learn about the Ice Age and the animals that once roamed the area.
Sertoma Butterfly House and Marine Cove: Home to hundreds of free-roaming butterflies from all over the world, this popular indoor exhibit is located in Sioux Falls. The facility is designed to offer visitors a closer look at the life cycles and behavior of these fascinating creatures. The marine cove section of the exhibit features a variety of marine creatures, including sharks, stingrays, and a variety of fish species.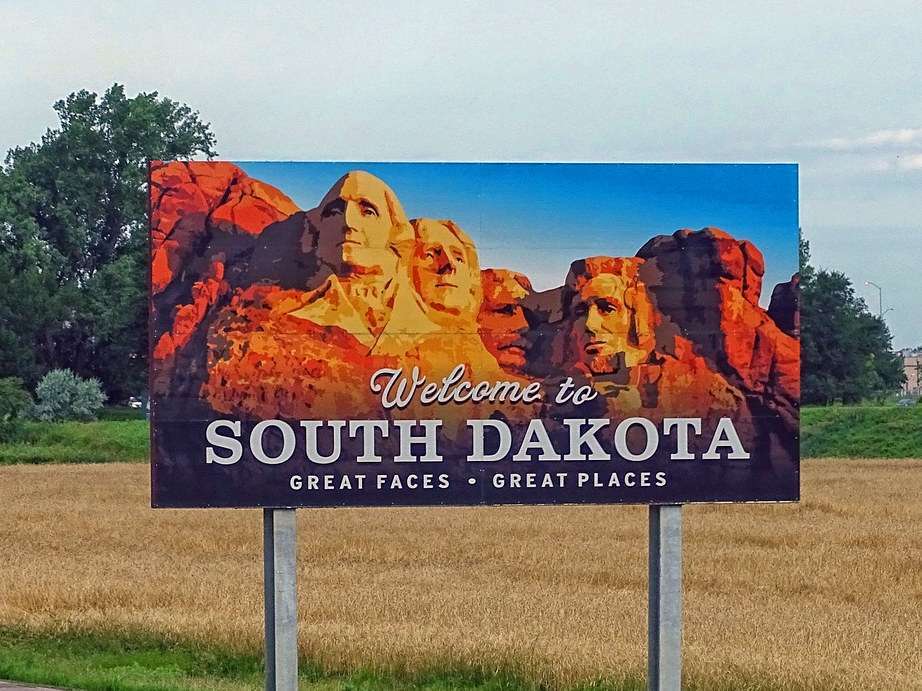 RV Dump Stations in South Dakota
Waste disposal is always a drag, but it needs to be done regularly so you can enjoy your trip to the state of South Dakota. You can find free non-potable water at these locations.
Rapid City RV Dump Stations: This dump station is free for all and it's located near the entrance to the campground.
Camping World of Rapid City: The facility has parts, services, and a dump station to offer its visitors. 
Salem Rest Area: The dump station is free for all, and visitors also have access to vending machines, pet areas, restrooms, etc.
Sioux Falls Yogi Bear's Jellystone Park Camp-Resort: The family-friendly campground features a dump station that is free for guests, while others have to pay a small fee. Water is available during the warmer months.
Storage RV Rentals South Dakota
Tri-State Storage: This locally owned storage facility offers fully paved, clean storage that is under 24-hour video surveillance. The outdoor area is fully fenced.
Burma Save & Store: This campground offers great RV parking spots in Sioux Falls. The facility is fully fenced and under 24-hour surveillance. 
Rushmore Storage: The facility offers covered parking for RVs, with a full perimeter fence and security lights. The site is protected by security cameras and there is always someone there if you need help. 
The Attic Self Storage: The entire property is fully fenced and monitored by security cameras. Renters have 24-hour access to their vehicles. 
Conclusion
Discovering South Dakota in an RV is a great way to discover the beauty and history of this wonderful state. From the natural wonders of the Badlands and Black Hills to the man-made marvel of Mount Rushmore, there is no shortage of amazing sights to see and experiences to be had. By hitting the open road in an RV, you can enjoy the freedom and flexibility to explore at your own pace and immerse yourself in the stunning landscapes, historic sites, and local culture along the way. Whether you're an outdoor enthusiast, a history buff or just looking for a memorable road trip, South Dakota has something for everyone.