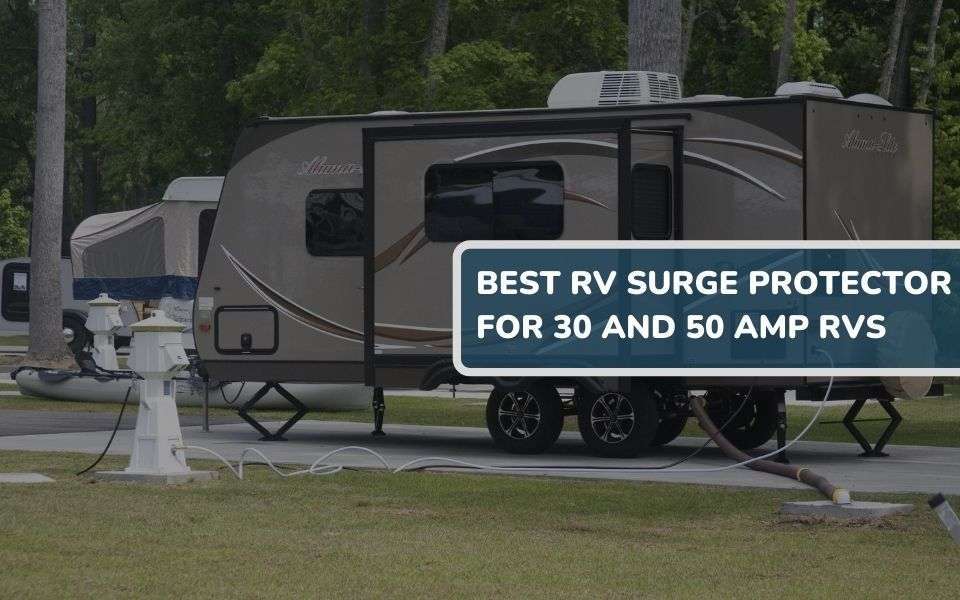 Best RV Surge Protector for 30 and 50 Amp RVs
You have to install the best RV surge protector in your RV to maintain the modern electrical equipment and appliances in it. While camping or RVing, you have no chance of leaving all these modern conveniences behind. Because without all these, surviving, camping, and staying near nature will be difficult for you.
To avoid the costly fixes of your RV's power supply, the importance of a camper surge protector is behind the description. The onboard electrical appliances can get damaged because of a sudden power surge. So having a reliable surge protector for your RV is crucial, which will ensure the protection of your RV.
Do RVers Require an RV Surge Protector?
When roaming with the recreational vehicle, the RVers have to plug their RV into numerous power sources. But testing the quality of multiple or all power sources is not possible. And without testing, you will fail to determine which power source is safe for your RV and which is not.
Thus, you need a surge guard to protect your RV from an unsafe power source. The surge guard act as a shield for the RV and protect it from potentially damaging issues and defective power sources. Thus, the RVers require a surge protector for their RV for safety purposes.
Surge Protector Protects Your RV Against 3 Things
Many RVers are not aware of the RV power surge protector. So they often look for an answer to know what the primary function of surge protection is and how it protects your RV. Actually, the surge protector protects your RV against the following three things. Let's discuss the details of all these.
1. Power Surge
Your RV's electrical appliances and wiring can damage if excessive power runs through its wires suddenly. Power surges can occur for numerous reasons, but lighting is the most general and common reason. Striking lightning causes an extreme spike in voltage. And only a surge protector for RV can handle these lightning strikes.
2. Incorrect Wiring
From loose connections to disintegrated wires, all these cause potential faults in your RV's electrical connection. If an unqualified and inexpert electrician incorrectly modifies or sets up your RV's wire, it would cause potential damage to your RV.
However, before detecting your RV's incorrect wiring, much damage could occur to its electrical appliances. And for replacing or repairing your RV's wiring, you may have to spend huge money. But only a surge protector for RV can save you from all these.
3. Low Voltage
The constantly changing electrical unit is a voltage that keeps surging or dropping suddenly. The surge protector monitors the voltage dropping and surging and protects your RV's electrical appliances from vulnerable situations.
5 Best RV Surge Protector
Check out the best surge protection options on the market before going to shop for hardwired or portable surge protectors. Here in this article, we arranged the details of the following best camper surge protectors.
1. Hughes PWD30-EPO Spike Power Watchdog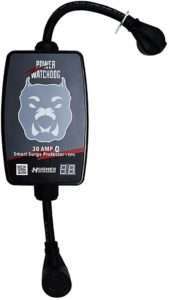 Hughes Spike Power Watchdog is one of the most efficient and effective platforms for safeguarding and monitoring your RV's sudden and frequent power surges. This is a 30 amp RV surge protector, and it is one of the best ones on our list.
This surge protector is very cost-effective in the long run as it has the replaceable spike modules of 3,000 joules. After reaching the maximum joule capacity, most protectors become damaged. Buying a brand new RV surge protector is the only fixing way to this issue. But for this 30 amp device, you can replace only the spike modules. Its features are:
Customizable alert thresholds and auto-shutoff

Power diagnostic's hassle-free monitoring using the Bluetooth connectivity

Ensure the stable electricity and then restore power
2. TRC Surge Guard Portable Surge Protector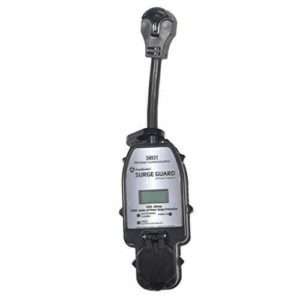 TRC Surge Guard 44260 is the best surge protector for those who are looking for the best 30 amp RV surge protector. This product is versatile and designed only to handle and maintain the RV's power surge. You can entirely rely on this product, and it will definitely meet all your demands. Moreover, the highest protection rating of this surge protector is 2,100 joules.
This is a portable surge protector, and you don't require to install this in your RV in a complex manner. With the power source, simply plug this protector. It is multifunctional, and it ensures security for the appliances in your RV. The features are:
The highest protection rating is 2100 joules

Identifies the park or campground's faulty power

Weather-resistant
3. Progressive Industries EMS- HW30C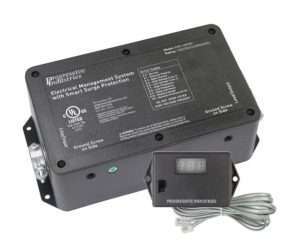 The best camper surge protector for your RV's permanent or hardwired electrical management is the Progressive industries EMS-HW30C. After installing this surge protector in your RV, it will give you the best electrical protection and monitoring service. Moreover, finding the parts for its replacement is also very easy if this device requires any repair or replacement.
The LED display of this protector shows the error codes. For 10 different issues, this protector show error codes including the low and high frequencies, open grounds, voltage dropping and surging, etc. Its features of it are:
The protector's LED display shows the error codes in advance regarding any electrical issues

Ensures complete surge protection for your RV

Free product upgrades and lifetime warrant
4. Progressive Industries SSP-30XL/50XL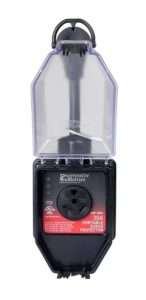 For ensuring your RV's protection against electrical surges, another pocket-friendly way is this Progressive Industries SSP-30XL/50XL. The surge protection rating of this 50 amp surge protector is up to 22,500 amps. This device can detect your RV's reverse polarity, surge failure, miswired pedestal, and many more things.
The indicator lights of this device give notification if there are electrical issues that take place in your RV. Moreover, the thermally protected housing of this surge guard model act as a shield for your RV against harsh weather conditions. The features of this product are:
Lightweight and portable

Against small or large power surges, it protects your RV

Highly affordable and easy to install
5. Technology Research Surge Guard 44270
Another worthy option on this list is the Technology Research Surge Guard 44270. It is a portable unit, and installing this protector is very easy. Even if you are not familiar with its quick installation process, you will be able to set it in your RV easily.
Just like a 50 amp surge protector, this product works. It efficiently detects the campground or park's faulty power. Always it ensures a secure and safe power source for your RV. The highest surge protection rating of this unit is 4200 joules. Moreover, it effectively analyzes the circuits and confirms or verifies the pedestal power.
This surge protector can efficiently handle numerous weather conditions. This surge protector will operate flawlessly even if you are traveling with your RV in the scorching sun, rain, snow, or harsh conditions. Moreover, in case of open ground or open neutral points, this surge protector offers you the necessary security and protection. Its features are:
Spots the park or campground's faulty power

Portable enough and easy to install

Inform the RVers about their RV's power status by analyzing electrical circuits
30 Amp or 50 Amp: Which is My RV's Connection?
Not all RVs require the same power. The power requirements of RVs are different depending on their model, types, and features. The RV's power requirement helps the RVers to determine the suitable & best RV surge protector. Only based on the RV's electrical difference, the connection types varies. Whether your RV requires a 30 amp or 50 amp electrical connection depends on the RV's power need.
The end of your RV's power cord contains the number of connector prongs and looking at this prong, you can determine your RV's connection type. The three prongs on the power cord's end indicate your RV has a 30-amp connection. On the other hand, the four prongs on your RV's power cord's end mean your RV has a 50-amp connection.
Conclusion
Having the best RV surge protector can prove beneficial for RVers in many ways. Thus whether you need to manage the electrical system on your RV or opt for a camper surge protector, having this equipment is necessary. Without this device, the sudden power surge can cause damage to multiple electrical appliances on your RV, including a refrigerator, air conditioner, and TV.
There is nothing worse than a sudden power surge that causes damage to so many electrical appliances in your RV. It will result in heavy repairing or replacement costs for the RVer also. Sometimes, the price of repairing or replacing could be greater than the surge protector's price. Thus it's better to buy a surge protector for your RV before starting your trip.
All the devices mentioned above are of high quality, and they are cost-effective also. Thus you can select one from the above-mentioned products. Once you buy a surge protector for your RV, in the long run, it will save your money in considerable amount. Moreover, the surge protector will act as a shield for the electrical system of your RV. And it will protect your RV's appliances from future damage.
Latest posts by Tim Harris
(see all)