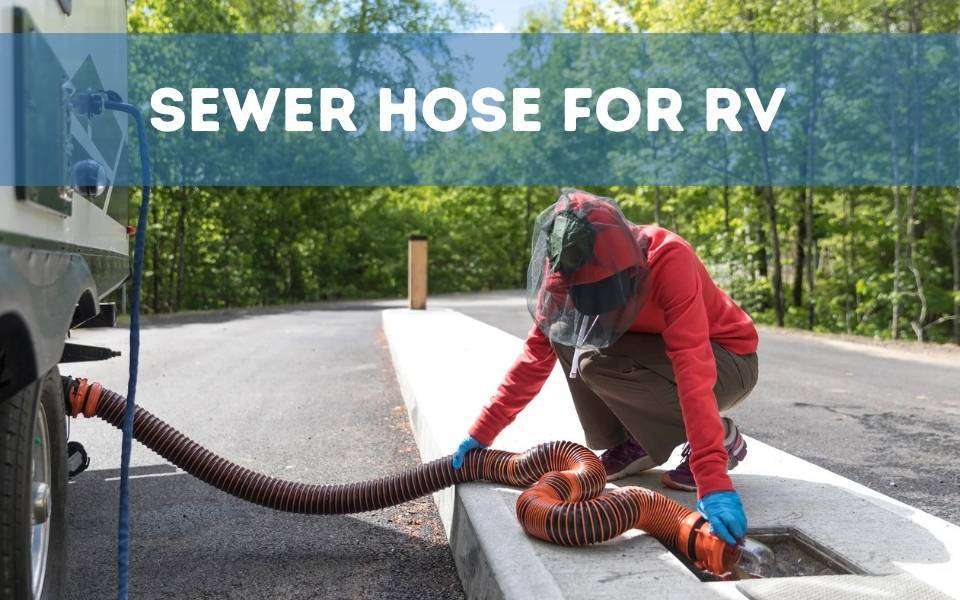 Best RV Sewer Hoses for Clean Camping
Even though venturing around in your RV can be an exciting experience, emptying your RV's waste is the opposite. Even though emptying your RV tank is a stressful part of the lifestyle, it's a necessary aspect of traveling in an RV.
When you empty your tank, you dump all the wastewater at a dump station on your campground. So, you need the best sewer hose for your RV to minimize the discomfort of this unpleasant task. Otherwise, you could increase the stress of an already troublesome part of your travel experience.
Please continue reading to learn about the best sewer hoses for clean camping. Our guide will help make emptying the wastewater on your RV as easy as possible. Even though emptying this tank still won't be fun, it won't be as bad as it could be.
What Is a Sewer Hose?
An RV sewer house is the tool you need to empty your wastewater tanks by connecting them to a tank dump connection outlet. These sewer hoses are made from durable plastic materials to ensure you don't have to worry about the wastewater spilling out during the removal process. You also need to find a lightweight sewer hose so you can travel with it.
Things To Consider When You Buy an RV Sewer Hose
Even though emptying your wastewater tank sounds like a straightforward job, there are challenges. So, you need to pick a sewer hose that can make this job as easy as possible and shorten your work time. Not every RV sewer hose is built the same, so you should seek the following qualities when choosing your sewer hose.
Easy to use
Easy to store
Lightweight
Different attachments
Easy to clean
Fits tightly to your RV sing
5 Best RV Sewer Hoses For Clean Camping
Choose an RV sewer hose that will connect easily between the sewer drain and the RV tank. That means you need a long enough hose to stretch between these devices so that you don't have any spillage.
However, you should also consider your sewer hose's thickness, storage, and flexibility before you purchase. With all this in mind, the following are our top picks for the best sewer hoses for clean camping you can get for your RV.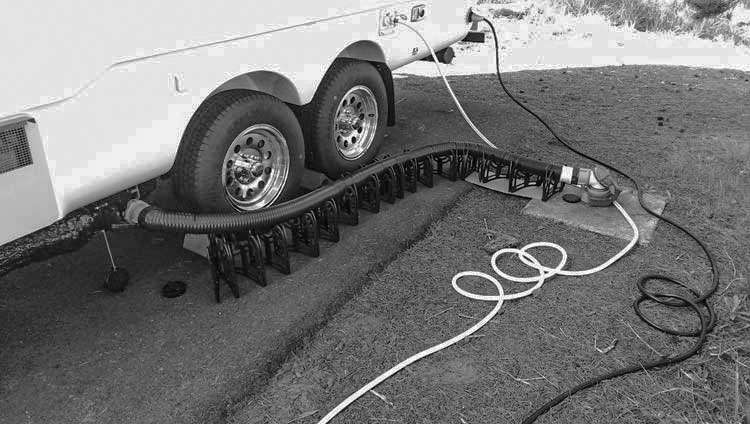 1. Camco RhinoFLEX Sewer Hose
The Camco RhinoFLEX Sewer Hose is our top pick for sure hoses you can bring with you in your RV. This hose has everything you need to dump the wastewater, so you don't need to make additional purchases. Also, this sewer hose is 10 feet long, so it can easily access the sewer drain from your RV.
You won't have to mess around with this hose long to tuck it away after you complete the wastewater cleaning process. You can easily tell when the cleaning process is complete by looking through the clear elbow and seeing an empty tank.
The main downside of this hose is that it can sometimes be difficult to remove from the tank. On the one hand, it's a good thing that it has such a tight fit; on the other hand, it can be frustrating if you can't get the hose off your RV.
2. Valterra Viper Sewer Hose
The Valterra Viper Sewer Hose is 10 feet long and easy to assemble. You can easily watch the water dumping process through the Clearview adapter on the sewer hose to know when the job is complete. This kit also comes with all the accessories you need to empty your wastewater tank on your RV, so you don't need to make additional purchases.
This hose is made from extremely durable material, so you won't have to worry about leaks when you empty your wastewater. This hose is virtually puncture-proof, thanks to the thickness of the material.
Even though this sewer hose says it's a universal fit, it doesn't accommodate every style. So, you'll need to measure your bayonet before purchasing this sewer hose to ensure you have a tight grip.
3. Camco Revolution Sewer Hose Kit
The Camco Revolution Sewer Hose Kit can significantly reduce stress when emptying your wastewater tank. This sewer hose is affordable and doesn't skimp out on the high-end features you want in your wastewater removal process. However, because it is a cheaper hose, it might not be as thoughtful as other options on our list.
This hose is leak-proof and tight-fitting, so you don't have to worry about getting wastewater all over yourself when you empty your tank. You also don't need to purchase any extra tools when you use this hose because it comes with all the basics.
Unfortunately, this hose does not have a transparent adapter, so you won't see when you're done with the job. This hose may also wear out faster than the other options on our list because it's made from thinner materials.
4. Thetford Titan Kit
This kit includes two 10-foot hoses and all the basic accessories you need to remove wastewater from your RV. This is also an extremely durable option that will last you several dumping sessions. This hose kit has extended grip fittings and handles, making it set up easier.
The downside of using this hose is that it's not very flexible. So, if you stop somewhere with an odd sewer hookup, it could be hard to dump your wastewater.
This hose doesn't have the strongest connections and hookups on our list. So, wastewater could seep out of the connection point well you dump.
5. Lippert Waste Master
Finally, it's time to talk about the Lippert Waste Master. Even though this option isn't at the top of our list, it's still an effective hose for RV camping. This hose is puncture-proof and has a leak-proof connection, so you don't have to worry about getting wastewater everywhere when you dump it.
This post comes with the Cam lock feature to ensure a tight fit while removing wastewater from your RV. However, even though this is a fantastic option, it is the most expensive option on our list. Many people believe that the price is too high for what you get.
Conclusion
After reading our guide, you know the best sore hoses to use to remove wastewater from your RV. We discussed the pros, coins, and unique features that go along with each hose on our list so you can choose the best option for your situation.
We arranged our sewer hoses in order, with the top option being the Camco RhinoFLEX Sewer Hose. However, even if you don't choose our top option, plenty of houses on our list can suit your needs. Every option we compiled is a fantastic way to minimize stress while removing the wastewater from your RV.