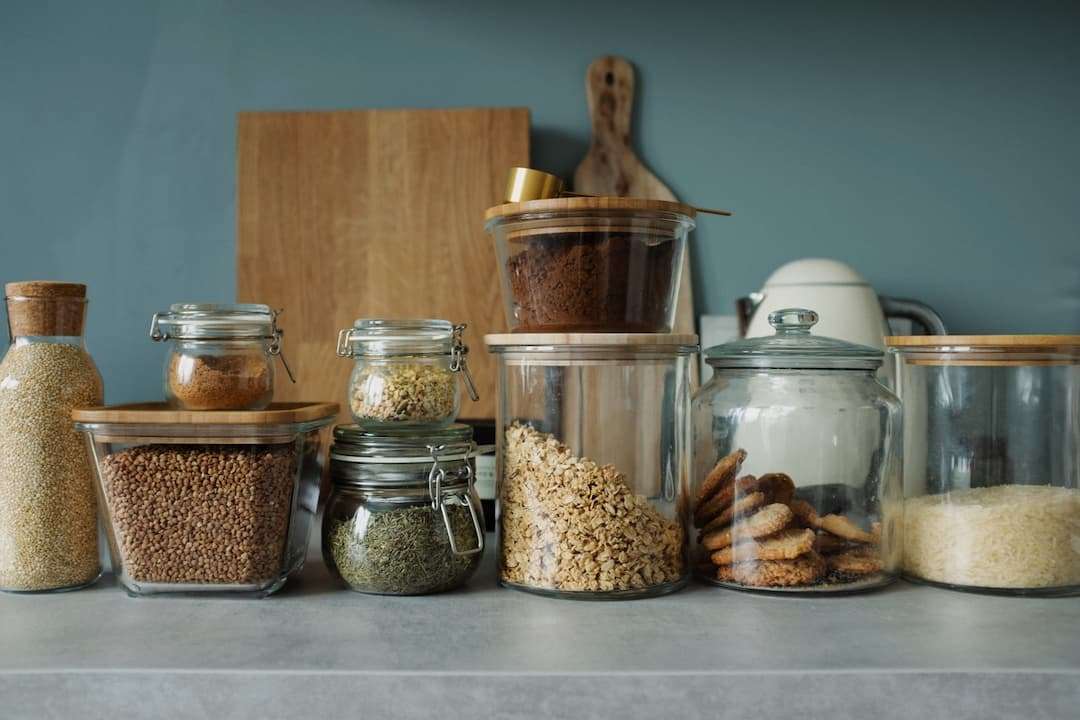 Best Storage Containers for an RV
Life in an RV is exciting, but storing all your equipment can be tricky. For example, if you're a sports and hiking enthusiast, you'll need a lot of apparel and food to keep you going and climbing to those mountain tops. The cabinets and the drawers aren't very big in an RV, which leaves us the option of traveling with only the selected equipment.
But have no fear, you won't have to leave your favorite spice or hiking shoes at home just to stay fairly neat and organized while traveling in an RV. A good storage container can help preserve your food supplies in the kitchen or organize and make extra room for your shoes and your clothes in the bedroom.

When we think about the storage containers for an RV, one thing immediately comes to mind – food. Living and eating on the road can be really expensive, so a lot of people tend to bring food and cook it in their RV. Kitchens in an RV are really small, and if you're bringing your family with you, there just isn't enough space to store all that food supplies and equipment. So we asked ourselves: What are the best food storage containers for an RV?
So we took a little bit of research and based on customer reviews and overall ratings, we put up a list of the best storage containers for an RV.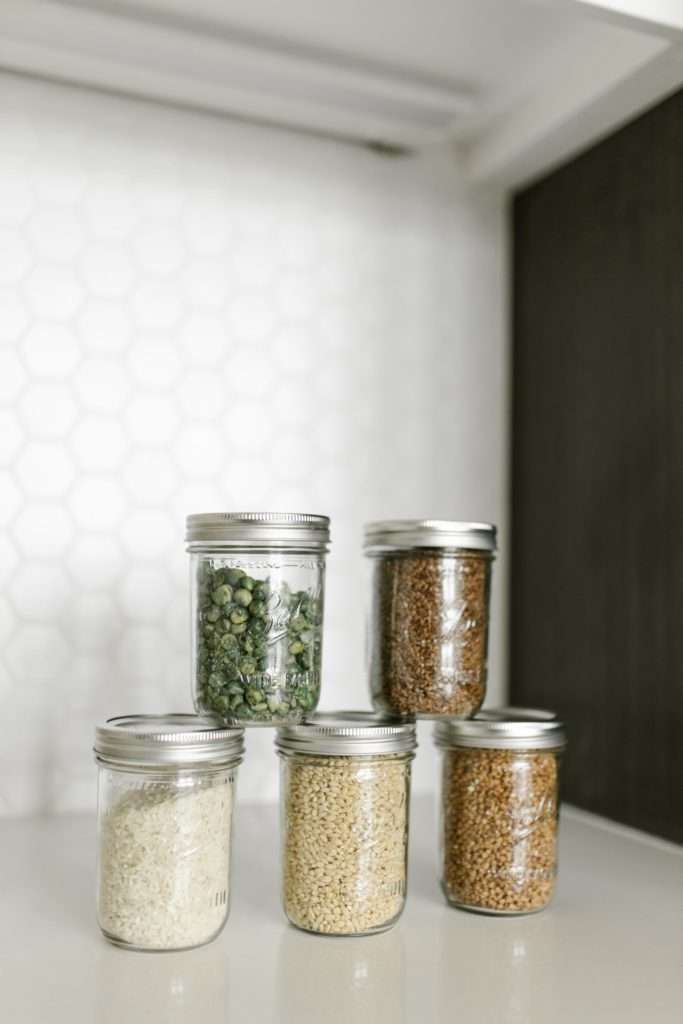 Rubbermaid 10-Piece Brilliance Food Storage Containers

for the Pantry with Salad Dressing and Condiment Containers

and Lids

This set consists of 10 food storage plastic containers and it includes one 19.9-cup, one 16-cup, one 12-cup, one 8.1-cup, one 7.8-cup, one 6.6-cup, one 3.2-cup, one 1.3-cup, and two 0.5 cup mini containers, plus lids, all BPA-free. The containers can be put in a freezer or a dishwasher and one great thing – you can easily stack them one upon another. They are easy to clean and they can be also used for storing pet food.
Tight lids keep the moisture and humidity of stored goods. You can store your pasta, your cereals, flour, baking ingredients, snacks for the kids, and all your favorite spices so that come dinnertime, you'll be fast and efficient. The food storage containers are durable and thick, they won't break so easily. Spend less time preparing breakfast and dinner and more time enjoying the great outdoors with this amazing set.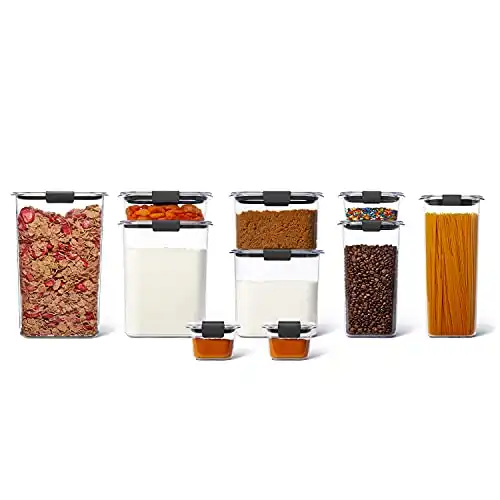 We earn a commission if you make a purchase, at no additional cost to you.
Chef's Path Extra Large Food Storage Containers with Lids




Airtight


These huge containers are ideal for storing sugar, flour, and other cooking ingredients which you often use on the road. The set consists of 2 BPA-free, 100% leakproof 6.5L plastic containers, accompanied by reusable labels, a measuring spoon set, and a whiteboard marker. These are the biggest containers on the market, and they can be neatly stacked one upon another.
With side-locking lids and a silicone seal, your food will stay fresh and free from moisture and pests. Not to mention they are stain-free, light, and easy to wash and clean. If you plan on traveling for longer periods of time, this set will be a huge help in organizing and preparing your food.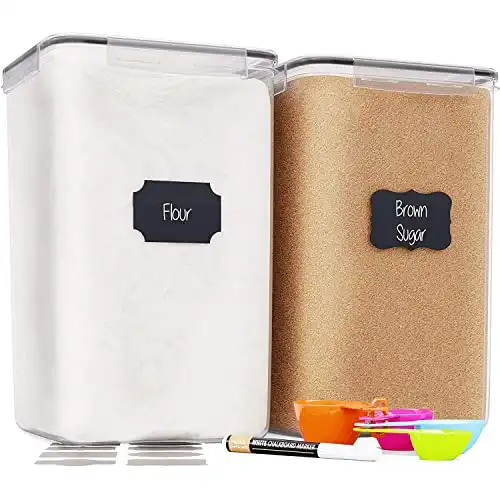 We earn a commission if you make a purchase, at no additional cost to you.
Sorbus Storage Bins
The Sorbus storage set consists of 4 plastic containers which are suitable for storing your food in the fridge or in the kitchen. It is great for storing fruits, vegetables, packaged goods, baby food, makeup, cleaning supplies, and more. One thing that makes this set so efficient is the little hooks on the side.
You can easily stack and move the containers, just grab them by the handles. They can be stored on shelves, in cabinets, or in closets. The set is made of strong clear plastic, so you'll always see what's in them, but they are not to be washed in the dishwasher. Perfect for the clear organization of items, this set will help you maintain a neat and tidy atmosphere in your RV.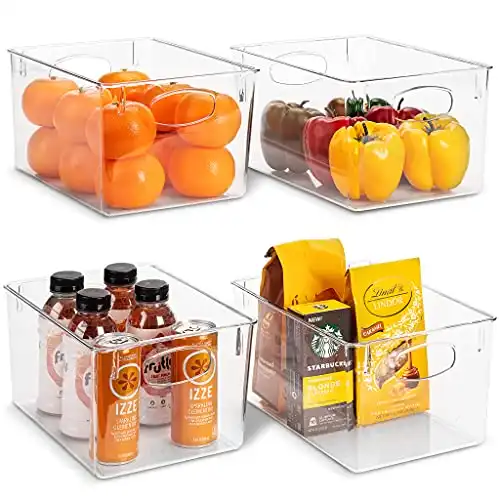 We earn a commission if you make a purchase, at no additional cost to you.
StorageLab Underbed Storage Containers
One of the
best storage containers for an RV
is the one that you
don't see and doesn't take any space, the one under your bed.
StorageLab Underbed containers
offer a great way to utilize the
empty space underneath your bed. With a capacity that can hold
up to 45 liters, you can store 15 items of clothing (like jackets,
sweaters, jeans, etc.).
One storage container uses only 5 inches of space off the floor
which will fit under almost any bed and has a clear plastic cover.
That way, you can see what things you packed in your StorageLab
container. In this set, you'll get two durable containers. Each is
equipped with tear-resistant handles and strong zippers. It
doesn't have to be clothes – you can put away blankets, pillows, shoes, books, or toys. Due to its sturdy design, it is ideal for everyday use, and when you're not using it, you can easily fold it up.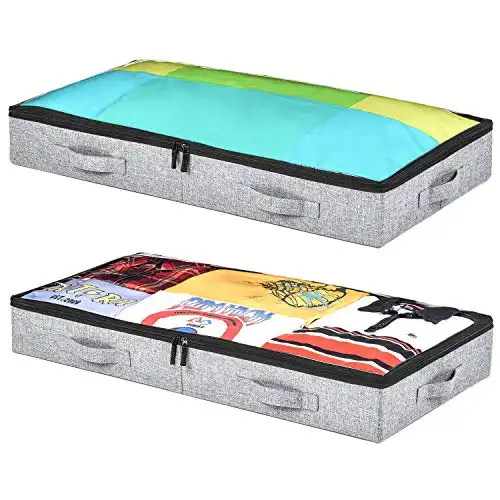 We earn a commission if you make a purchase, at no additional cost to you.
Sterilite Set of four 70 Quart Clear Storage Ultra Boxes
The Sterilite Ultra Box Clear set offers 4 containers with a 70 quart/66 liters storage space. These multi-purpose storage containers made out of durable plastic will help in maintaining order and removing clutter from your RV. Their clear base offers an easy view into the stored content; whether it's shoes, bedding, clothes, kitchen appliances, or camping equipment.
They have indexed lids which allow them to stack one upon the other, with a comfortable grip surface. Also, they keep out dust, dirt, and bugs. If you stack the containers vertically, you can save tons of space while having your items neatly stored and visible to you, every time you need them.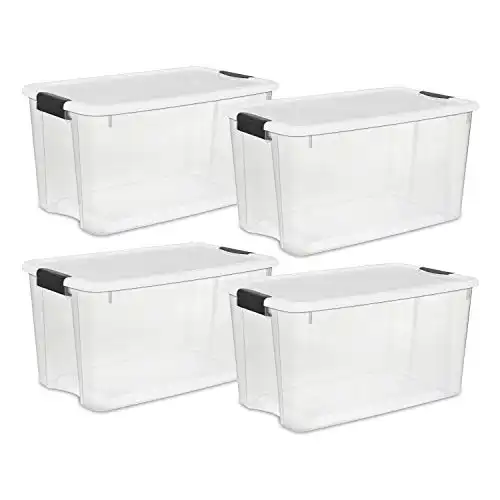 We earn a commission if you make a purchase, at no additional cost to you.
Final Words

We're hoping that our list of Best Storage Containers for an RV can help you save tons of space and organize your RV so that you can focus more on the journey. The most important part is knowing where your things are at all times, and your organizing skills will be put to a test here. But don't worry, there is no ideal strategy for maximizing storage space in an RV. Just think about your needs and then choose the storage containers accordingly. Don't forget to have fun!
Found this article helpful? Leave a comment and let us know!