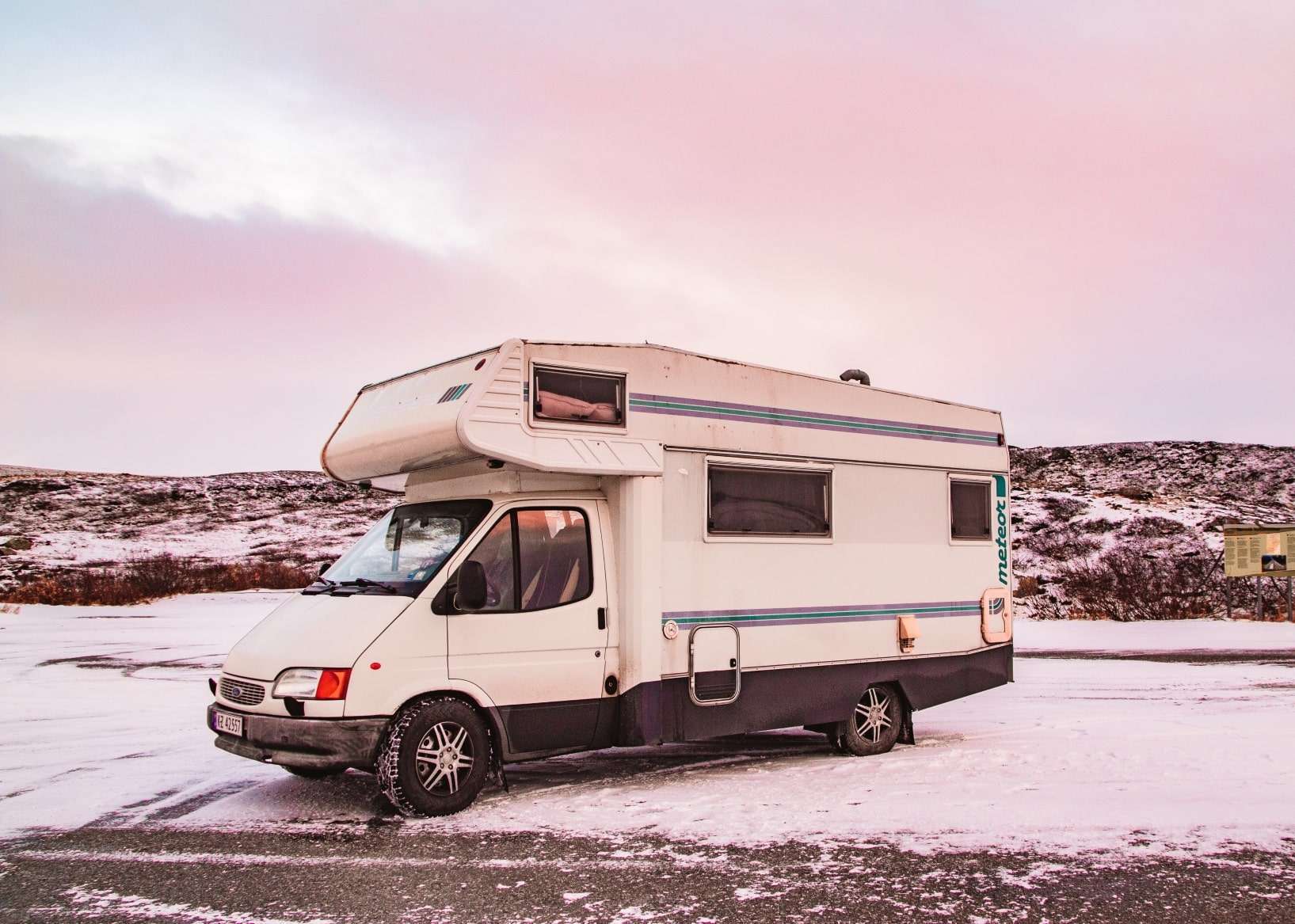 10 Must-Have Items in your RV for Winter
Snowcapped mountains are calling, and you must go. We understand that winter presents a unique opportunity to experience the great outdoors and nothing beats that hot cup of tea or coffee in the cool morning air.
However, traveling in an RV come wintertime can be full of unexpected surprises and difficulties. You need to be prepared not to let those things spoil your vacation.
That's why our staff has prepared for you a list of 10 Must-Have Items in your RV for Winter.
1. Good RV skirting
An RV skirting is a material that is placed around the bottom part of your RV, protecting your pipes and tanks from freezing. If the place you're visiting is covered in snow, we have one neat trick for you: when you place the skirt around your RV, pile it with snow; that will further help with insulation! Nowadays you can even buy an inflatable skirting – a system of inflatable tubes that protect the underside of your rig from extreme temperatures. A good RV skirting will make a huge difference in the way you spend your winter holiday. When choosing the right one for you, the things you need to take into consideration are the setup of your rig, your budget, and the location you're visiting.
We recommend the Camco ULTRAGuard RV Cover which protects your RV from all elements.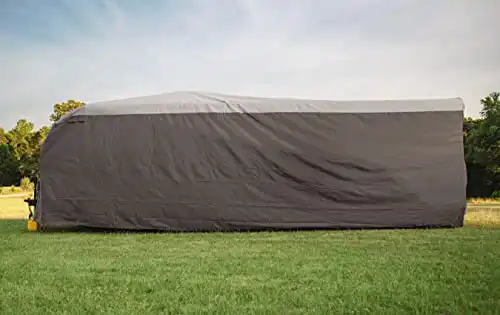 We earn a commission if you make a purchase, at no additional cost to you.
2. Shovel
If you plan on going to places covered with snow, a good shovel will prove to be an indispensable tool. With a shovel, you can clear the roof of your RV, your campsite, and the road.
3. Warm clothes and blankets
You never know what might happen, and if you run out of gas, have a power outage or the weather turns even colder, it's good to have those extra layers of clothes on you, to keep you warm and safe.
4. Salt, gravel, or kitty litter
If you're camping somewhere where it's really cold, then you know that your tires will have a hard time moving through snow and ice. That's why you can use salt, gravel, or kitty litter to help your tires get an extra grip. You can also sprinkle it around the campsite so you won't slip, fall, and injure yourself.
5. Portable jump starter
Extreme cold temperatures can cause problems with your vehicle's battery. A portable jump starter is a great asset because not only does it help jump start your RV, but it can also be used to charge up your cell phone or other devices via a USB port.
One of the best jump starters on the market is Noco Boost Plus. It can jump start a dead vehicle battery in mere seconds and it's safe and really easy to use.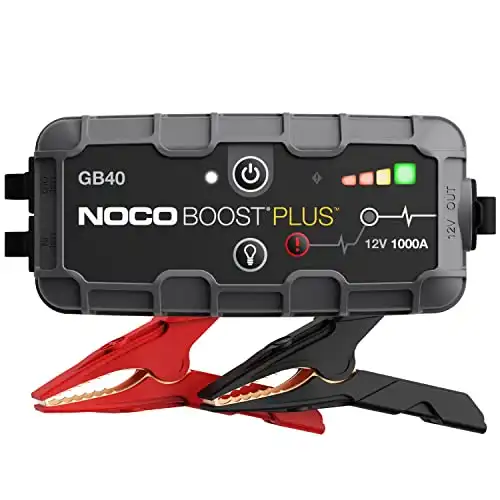 We earn a commission if you make a purchase, at no additional cost to you.
6. Tire chains or cables
Tire chains or cables are not only necessary when it comes to snow weather, but they are the law in some states. If you get caught up in a snowstorm, those chains can save your life. While cables are easier to handle, they are not as strong and durable as tire chains.
Our choice is the Peerless Auto-Trac Tire chains with self-tightening ratchets for automatic tightening and centering. You can install them without moving your vehicle. One thing that you need to have in mind is that when you put those tire chains on, you can't drive over 30 Mph. No matter the weather prediction, always have chains or cables stored away in your RV. You never know when you might need them!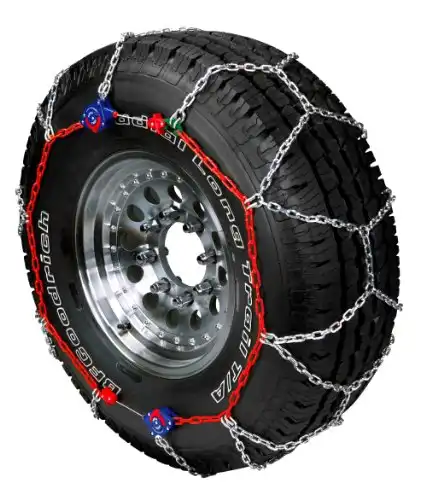 We earn a commission if you make a purchase, at no additional cost to you.
7. Space heater
A good space heater can heat up the whole place in a few minutes. You can use it on the underside of your RV to help prevent the pipes from freezing or you can use it inside and be all nice and warm. But make sure that the heater isn't surrounded by things, for safety reasons.
You can choose between propane and electric space heaters.
The one that is most often used is the electric ceramic heater that can be bought in any big box store. It has two basic settings: a low one, which uses about 700 watts, and the high one, which uses about 1500 watts.
If you plan on using an electric space heater, it's safest to use only one, because of the electrical strain it could impose on your RV.
We recommend trying out the Givebest portable electric space heater. It's made out of ceramic and it is energy efficient. It's portable so you could carry it around with you, wherever you go. The heater itself is made out of flame retardant material so you don't need to worry about the fire hazard. When it's knocked over, it automatically shuts off, which is really good for kids and pets.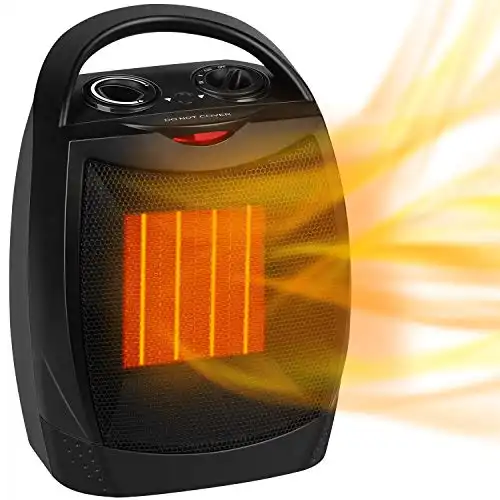 We earn a commission if you make a purchase, at no additional cost to you.
8. Dry firewood
If you want to have a campfire in the middle of the winter, then you have to bring dry firewood with you. Also, you can use it all year round so it should definitely be stored in your RV at all times!
9. Window insulator kit
Window insulation is an effective way to increase your insulating power or the R-value. It means that by insulating your windows, you can keep the heat longer inside your RV and keep the cold out. The kit also reduces condensation and prevents frost buildup. You can save a lot of energy and significantly lower your heating costs that way. At the end of the winter season, you can just take it down and use it next year.
The one we like to recommend is the 3M Window Insulation kit, which is the best manufacturer of window insulation on the market. If you stretch the film, you will get a transparent view, which is useful since you want to be looking through your windows at that beautiful snowy landscape.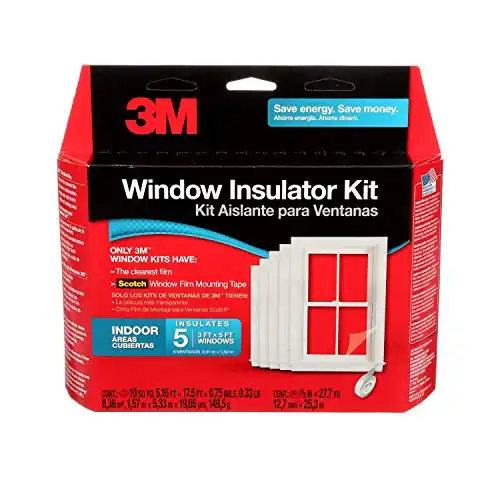 We earn a commission if you make a purchase, at no additional cost to you.
10. Books, movies, puzzles, board games
The last part is the social one. Sometimes the weather can be really unpredictable and it could force you to spend some time in your RV. Whether you like to camp alone, in a couple, or as a family, there is no greater feeling than enjoying a good book, or movie, entertaining yourself with a puzzle, or competing with your loved ones in an interesting board game.
Conclusion
There you have it, this is our list of 10 Must-Have Items in your RV for Winter. We advise you to be cautious when traveling in an RV during winter time, but also to have a lot of fun and enjoy all that much needed peace and quiet nature has to offer.
Found this article helpful? Leave a comment and let us know!