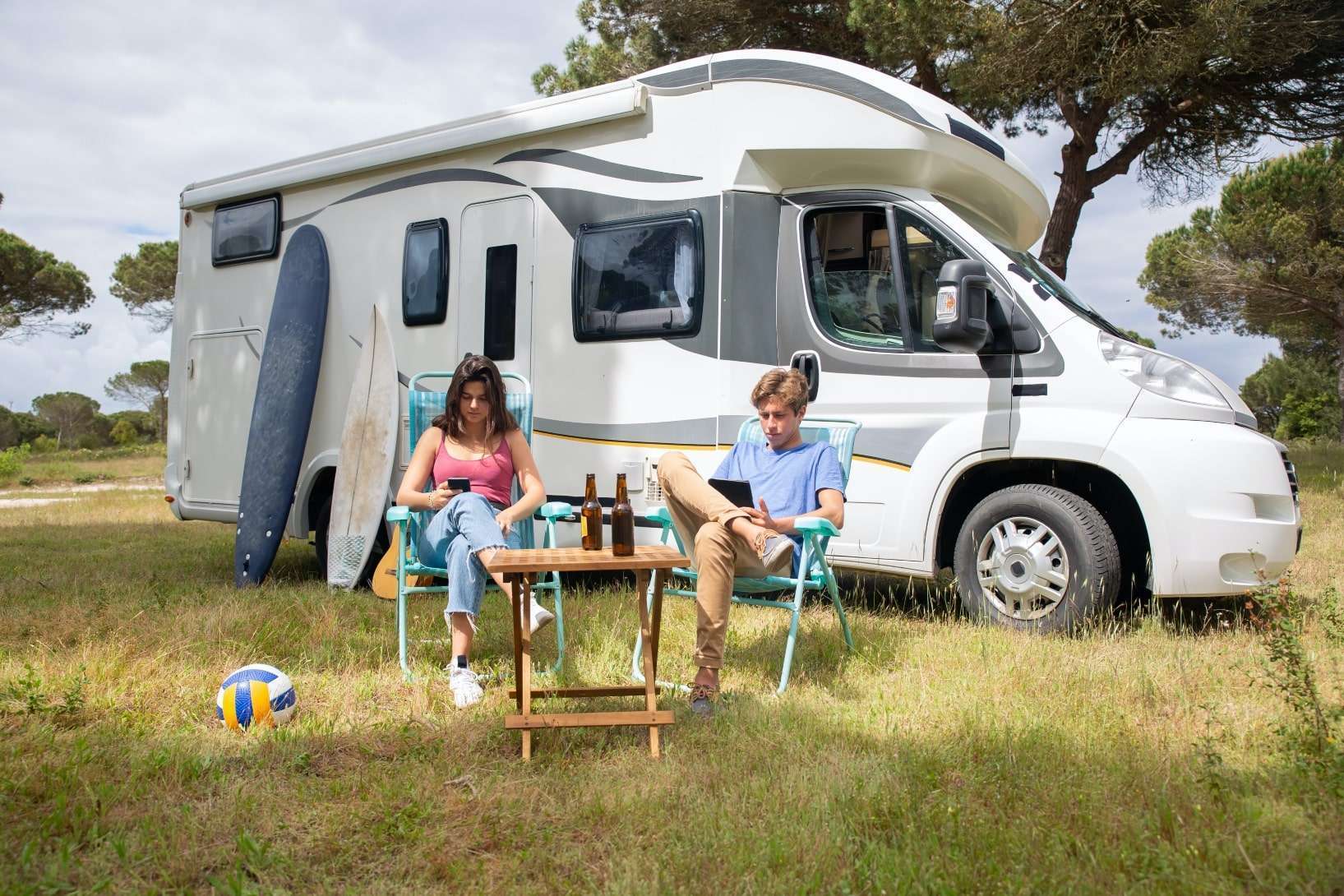 5 Best Camping Chairs for Your RV
Camping is one of the best ways to relax and get away from all the stress and hustle of everyday life. Spending time in nature, surrounded by trees, listening to the chirping of birds – that's the best way to recharge your batteries.
One of the most important items you'll need for a comfortable camping experience is a good RV camping chair.
Why is that?
Camping chairs are made to be compact, and lightweight but at the same time durable, making them the perfect choice for RVers.
Things to look for in a camping chair
Material/Durability: Try to choose a chair that is made from heavy-duty materials, such as steel or polyester fabric. It also should be able to resist harsh weather outside. High-quality polyester fabric is great because it prevents rips and tears. Also, make sure that the chair supports your weight.
Comfort: You should be able to sit in your chair for hours at a time, without any pain or sweat. The chair should be well-padded for your comfort.
Design: The design could be foldable or an assembly. Both styles are portable and easy to use and store. Also make sure that the chair offers additional features such as cup holders, side pockets, and side tables.
Size and weight: Larger chairs are difficult to transport, but they are a great choice for camping; a lightweight chair is a great choice if you're going backpacking.
Reviews: The best way to find out more about a certain chair is by reading reviews online from satisfied or unsatisfied customers.
Budget: Choose a chair that fits into your budget and still checks all the other boxes that are important to you.
5 Best Camping Chairs for Your RV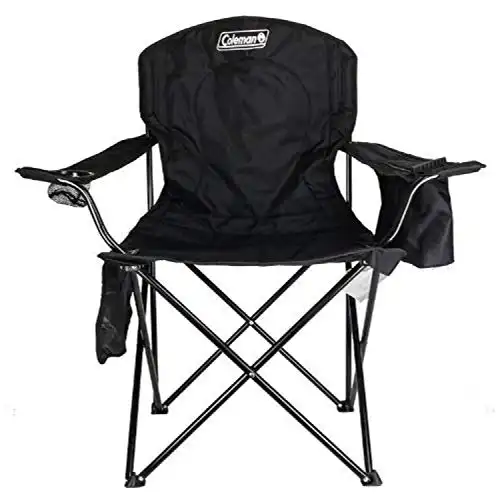 We earn a commission if you make a purchase, at no additional cost to you.
This portable camping chair comes with a

cooler

built into the armrest and can hold up to 4 cans. Enjoy a cold beverage after a day of hiking. 

The seat is fully cushioned for better relaxation.

With a strong steel frame, it will last longer than most chairs and it will provide you with great lumbar support.

You can store your book, magazine, or other belongings in the side pockets.

The chair folds into a carry bag for easier transport and storage.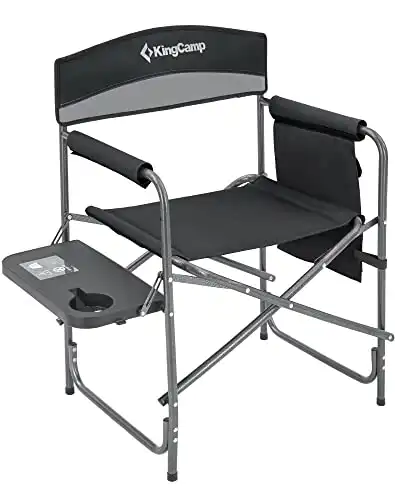 We earn a commission if you make a purchase, at no additional cost to you.
Very sturdy steel frame, built for larger persons, with a weight capacity of up to 400 lbs.

Offers additional features such as a side table and a cup holder. Also offers a multi-functional side pocket. 

Has a carry handle, making it very easy to transport.

With padded armrests and durable but breathable Oxford fabric, the chair is very comfortable. Spend hours outside just relaxing in your favorite company.

The frame is coated with a waterproof outer layer; the chair is built to withstand heavy weather. 
Portable camping chair equipped with a carry bag for easier transport.

Features a cooler pouch that holds up to 4 of your favorite beverages.

With a built-in cup holder and a side storage pocket, you'll have plenty of space and an extra pair of hands.

Heavy-duty steel frame provides great lumbar support. The chair is intended for outdoor use and is simple to fold.

Made out of nylon mesh fabric, the panels enable cooling ventilation, which is great for high temperatures.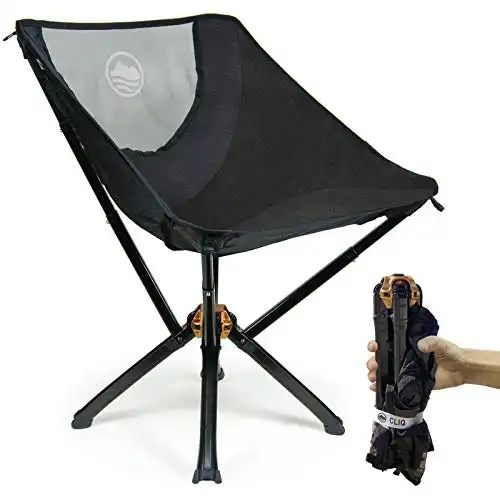 We earn a commission if you make a purchase, at no additional cost to you.
Sets up in 5 seconds. Just push the button, extend the legs, and start relaxing.

Made out of aircraft grade Aluminum and Ripstop nylon, this is one of the best portable chairs out there. 

It folds into the size of your water bottle, making it great to carry with you anywhere.

It supports weights up to 300 pounds and it only weighs 3.5 pounds. 

The chair looks very elegant and modern; choose from up to 10 different colors. Perfect for not only camping but also for barbecues, picnics, the beach, or music festivals.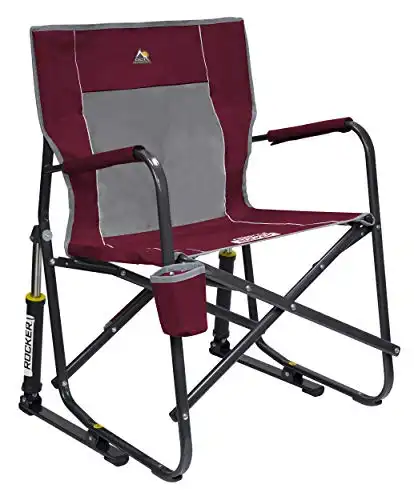 We earn a commission if you make a purchase, at no additional cost to you.
With padded armrests, built-in cup holders, and mesh backrests, the chair offers comfort and relaxation.
It folds flat easily and quickly due to Eazy-fold technology. Store it or carry it wherever you go.
With a powder-coated steel frame, you'll enjoy many seasons; the chair is built for outdoor use.
It supports weights up to 250 pounds.
Its ergonomic design is one of the key features, offering great support and comfort while relaxing outside.
Patented Spring-Action Rocking Technology enables smooth rocking motion on any terrain.
How do you clean and store RV camping chairs?
It is important to properly clean and store these chairs to keep them in good condition for future use. Here are some tips for cleaning and storing RV camping chairs.
Cleaning RV camping chairs:
Remove loose dirt and debris

: Before cleaning, shake out or brush off any loose dirt and debris from the chairs. This will make the cleaning process easier.

Use mild soap and water

: Fill a bucket with warm water and add a small amount of mild soap. Dip a cloth into the soap water and wipe down the chairs. Be sure to scrub away any stains or dirt.

Rinse thoroughly

: After cleaning, rinse the chairs with a cloth dipped in clean water to remove any soap residue.

Dry thoroughly

: Let the chairs air dry completely before storing. Don't store chairs when they're damp, as this can lead to the growth of mold.
Storing RV camping chairs:
Fold and stack

: Fold the chairs and stack them neatly. This will help save space and prevent the chairs from getting damaged.

Store them in a cool and dry place

: Store the chairs in a cool and dry place, away from direct sunlight and moisture. This will help prevent fading and deterioration.

Cover the chairs

: Use a cover to protect the chairs from dust and dirt. This will keep them looking clean and new for the next trip.
By following these tips for cleaning and storing RV camping chairs, you can ensure that your chairs are ready for use the next time you go on an outdoor adventure. With proper care, your chairs can last many years.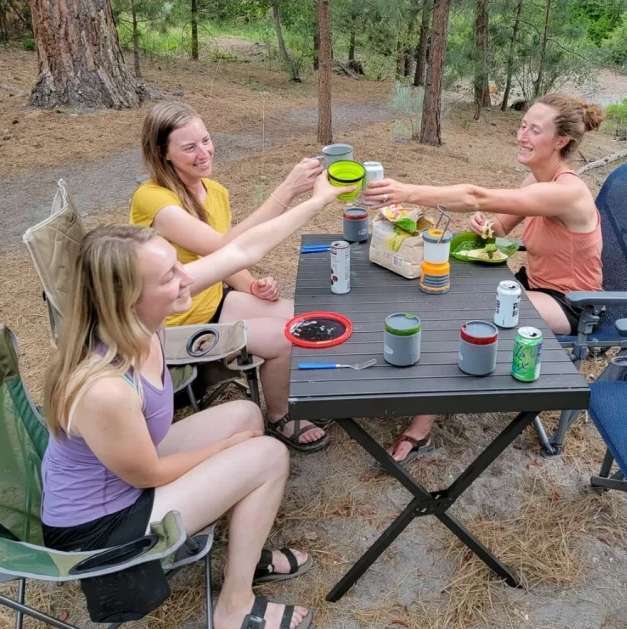 Top Folding Camping Tables for RVs and Camping
Chairs are great for camping, but what makes the family come together is a great camping table. A table is where you share your meals, play board games or just sit around talking and sharing stories.
In our previous article, we've selected the best Folding Camping Tables for your RV.
Final thoughts
Choosing the best RV camping chair depends on many factors, including your budget, how comfortable you want to be, and how often you plan on using the chair.
There are a lot of reliable RV camping chairs out there, so make sure to read the reviews and pick a chair that offers all the features you need to make your adventures memorable.
If you're traveling often, a good RV camping chair will prove to be an invaluable companion. 
We wish you many great adventures and many relaxing days and nights spent in your favorite chair.