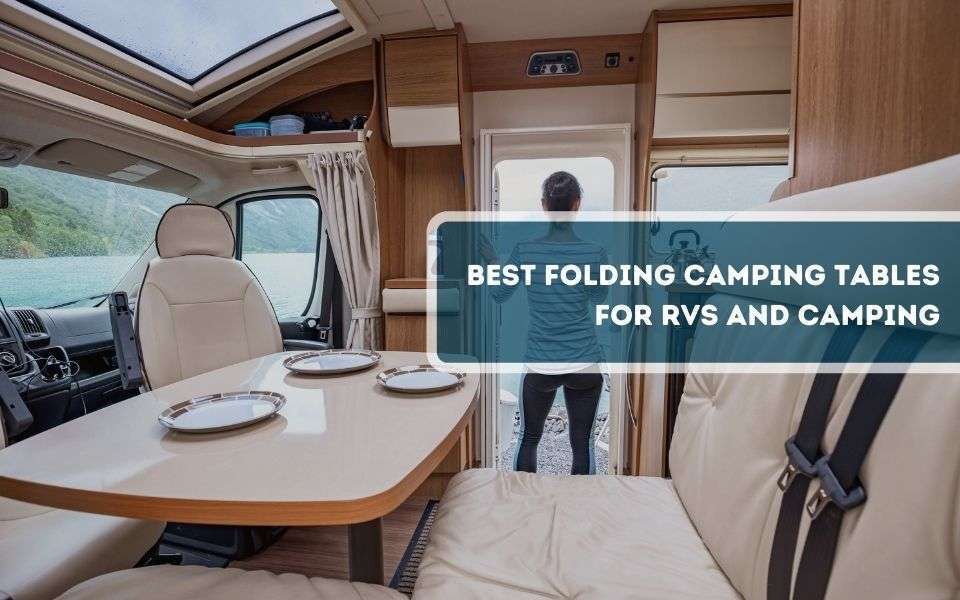 Best Folding Camping Tables for RVs and Camping
Various thing affects the RVer's experience on-road, and the most influential factor is the choice of furniture for the RV. The recreational vehicles have limited space; thus, the wrong selection of furniture will create trouble while they are traveling. One of the crucial furniture pieces is the camping table. The RVers require the best camping table for arranging mealtime dishes or playing board games.
The camping table can create the difference between utter frustration and complete pleasure while traveling in your RV. If you have one of the best tables for your RV, you would have able to make maximum utilization of your RV's limited space.
However, the best camping table should be easy to fold, lightweight, and robust enough for cooking outdoor. The camping table could be any type, including integrated hooks camping kitchen table, and a simple aluminum-made side table. However, in this article, we will discuss some of the best tables for camping. Let's dive into the discussion: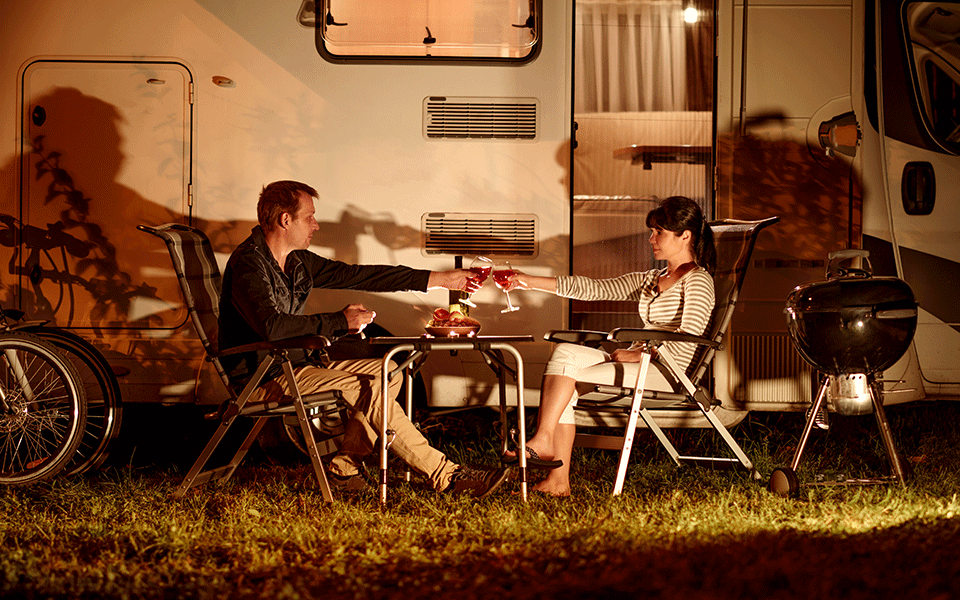 6 Best Camping Tables
The best tables for your RVing or camping are the following. Let's have a look at the list:
1. Treakology Portable Camping Side Table
This is one of the best portable camping tables, and you can move to any place quickly with this table. Only 2.2 pounds is its weight, and it will not create any burden while you are traveling in your RV. You should definitely have this table with you whenever you are preparing for your next RV trip.
This table suits almost all places, and it is best for camping, picnic beach, and boat dining. It is one of the practical and best outdoor cooking tables. And it prevents the mixing of your food with other particles or sands while you are cooking meals on the beach. In addition, you will surely love the easiness of folding and unfolding this table.
The tabletop and frame of this table are made of aluminum, so it is a budget-friendly option as aluminum is not expensive metal. Also, this folding table is lightweight and sturdy, so using it while cooking will not damage the surface. Also, this table is easier to clean because of its water-resistant features. The noteworthy features of this camping table are the following:
Easy foldable and portable camping table
Made of aluminum
50 pounds is the highest weight capacity
For additional storage, you can use this side table
Includes carry bag
Very easy to set up
2. CampLand Outdoor Folding Table
The material of this CampLand folding table is lightweight and durable aluminum. For outdoor enthusiasts, this table is perfect to buy. This table is definitely a good addition to your outdoor gear, whether you are camping in the mountains top or camping in the backyard.
The detachable tabletop of this folding table makes it more unique. You can put weight up to 66 pounds on the table. But with food items and cooking, you should not exceed this weight limit. You can easily use it by setting this table just next to your camping tent.
With lightweight features, this table comes with a beautiful design. Converting this folding table into a dining table or cook station is not a cumbersome task as long as the table's weight capacity doesn't exceed. The unique features of this table are:
Easy to fold up and set up
Aluminum made frame
66 pounds weight capacity
Durable and detachable MDF tabletop
Sturdy and heavy-duty
Easy to carry and bring anywhere
Multi-purpose, you can use it both in indoor and outdoor
Lifetime warranty
3. Camco Deluxe Folding Grill Table
Using this Camco Deluxe Folding Grill table, you can enjoy your picnic, outdoor grill adventures, or parties. This table is effortless to clean, durable, and heat resistant. Investing in this grill table will be your best investment if you regularly hang out on the beach or travel in your RV.
If you use this table, no sand will get a chance to mix into your drinks or plats. This table's frame is made of sturdy steel material, and cleaning it is also very easy. Moreover, the tabletop is heat-resistant and lightweight, and it is made of aluminum.
Furthermore, the setting of this table requires only a few minutes. Only within a few minutes you will be able to set up this foldable cooking table. Its unfolding is also effortless. For holding additional kitchenware, this side table is beneficial. You can get the best outdoor camping or RVing experience using this table. The other features are:
The tabletop is made of heat resistant aluminum
Foldable side tables
Rust-resistant and sturdy steel frame
Easy to set up and unfold
For hanging towels, the table has built-in hooks
Lightweight carry bag
Easy to store and fold
Skid-proof surface and scratch-resistant
High-quality and adequate storage space on the top
4. GCI Outdoor Slim Fold Cook Station
Another best cooking table option for the campsite is GCI Outdoor Slim Fold Cook Station. This table's aluminum top surface and sturdy steel frame offer you various benefits. This is one of the highest and best quality kitchen tables for camping or RVing.
For anyone planning an RV trip or outdoor activities, this slim folding cook station will prove helpful for him. The steel frame of this table is more demanding, and the heat-resistant aluminum top will surely make your job easier.
Four additional plastic side tables are included in it, which ensures the other utensil's easy storage within this table. Also, while you are using this table for dining purposes, cleaning the main surface becomes more accessible with the help of this storage rack.
This table can endure up to 48 pounds of weight. Be aware of this weight limit and try not to exceed it. However, the storage rack's weight capacity is 35 pounds, and the side table's weight capacity is 30 pounds each. This foldable cooking table is versatile and multifunctional, and you can put anything on it if you want. But you have to put things within their weight limits. Also, for tailgating, you can use this foldable camping table.
The powder-coated steel frame will protect this table against corrosion, so you don't need to worry about camping in damp environments. The wide range of features of this cooking table makes it popular. However, the features are:
Aluminum table top and powdered steel frame
Storage rack
For additional storage, four different side tables are available
Heat-resistant and water-resistant table
Lightweight, portable and foldable table
5. ALPS Mountaineering Dining Table
This foldable camping table is made of aluminum. If you plan a dinner party with your friend at your campsite, this one is perfect for you. However, this table is extra stable due to its aluminum frame. You can hold up this table in the wind, and like a buffet, you can arrange and put food on it.
Square, regular and extra-large size of this table is available, and also you will get the table in silver and clay color. So you have the great option to choose the table size and color while you are taking one for your camping purpose.
It is a well-designed and beautiful outdoor table. This camping table is waterproof, sturdy, and rust-resistant. This table is absolutely perfect for enjoying your meals at outdoor camping or RVing. The features of this table are the following:
Lightweight
Aluminum fold-up top
Weatherproof
Setting up is very easy
Easy to hold a two-burner camp stove on it
6. REDCAMP RC31037
This camping table is most popular among RVers because of its practical, essential and solid performance. The thickened frame of this table is made of rust-resistant aluminum, and for years without any problem, you can use this table.
You can set up this table within a few moments following the adhering instructions on the table's side. This table can hold multiple items and 70 pounds is its weight capacity. To facilitate the entire interior arrangement, you require a little bit of space to place this folding table. With minimal care, this table will work perfectly. The features of this table are:
Easy to fold up and set up
Lightweight
Convenient to take up
Adjustable feet
Facilitates interior arrangement
Durable and long-lasting
Heat resistant
Accessible to compact, store, and very portable
Conclusion
The recreational vehicle's interior layout varies, so you have to pay attention to the camping table's size. The best camping table can significantly help you to arrange things within limited space and allow you to do the utmost use of your RV space. However, while picking up an RV folding table, you should consider several things, including its dimensions, design, capacity, endurance, and price.
Usually, the best table for camping or RVing includes almost all these features. Several brands make a high-quality folding table for camping, and some of them are Coleman, Camco, Treakology, and GCI outdoor. So while you are purchasing a table, you should select one from the brands mentioned above.
However, the camping tables' features, price, and maintenance requirements vary from brand to brand. So don't compromise about your camping table's brand and quality and pick the best one from our above mentioned tables.
Latest posts by Tim Harris
(see all)