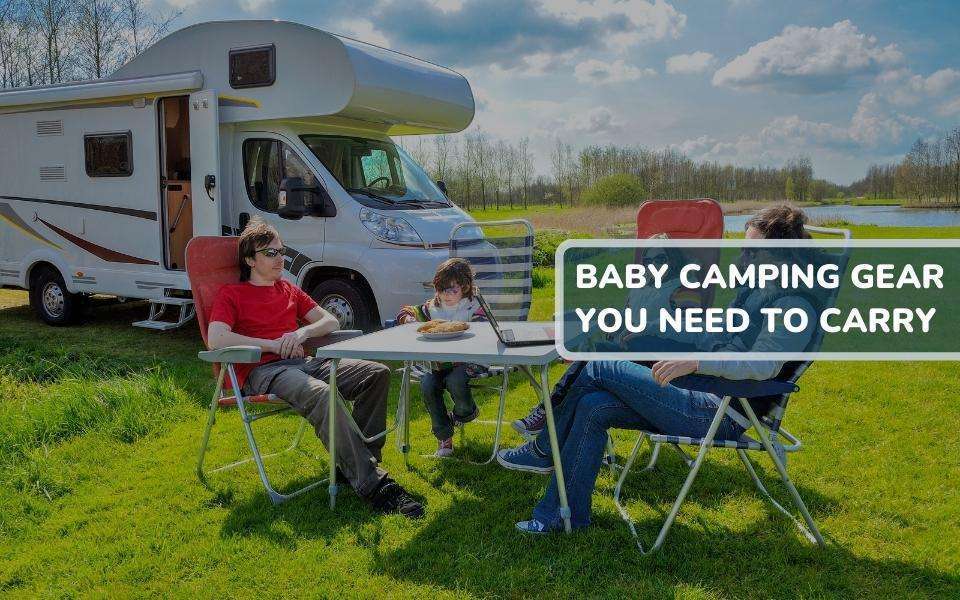 Best Baby Camping Gear That You Need to Carry in RV
What is the camping gear that you need to carry in your RV when traveling with a baby? Camping with your family can be a fun activity that brings you and your kids closer together. Remember those summer nights you used to go camping as a kid, roasting marshmallows and telling scary stories around the campfire? It's definitely something everyone would want to experience again.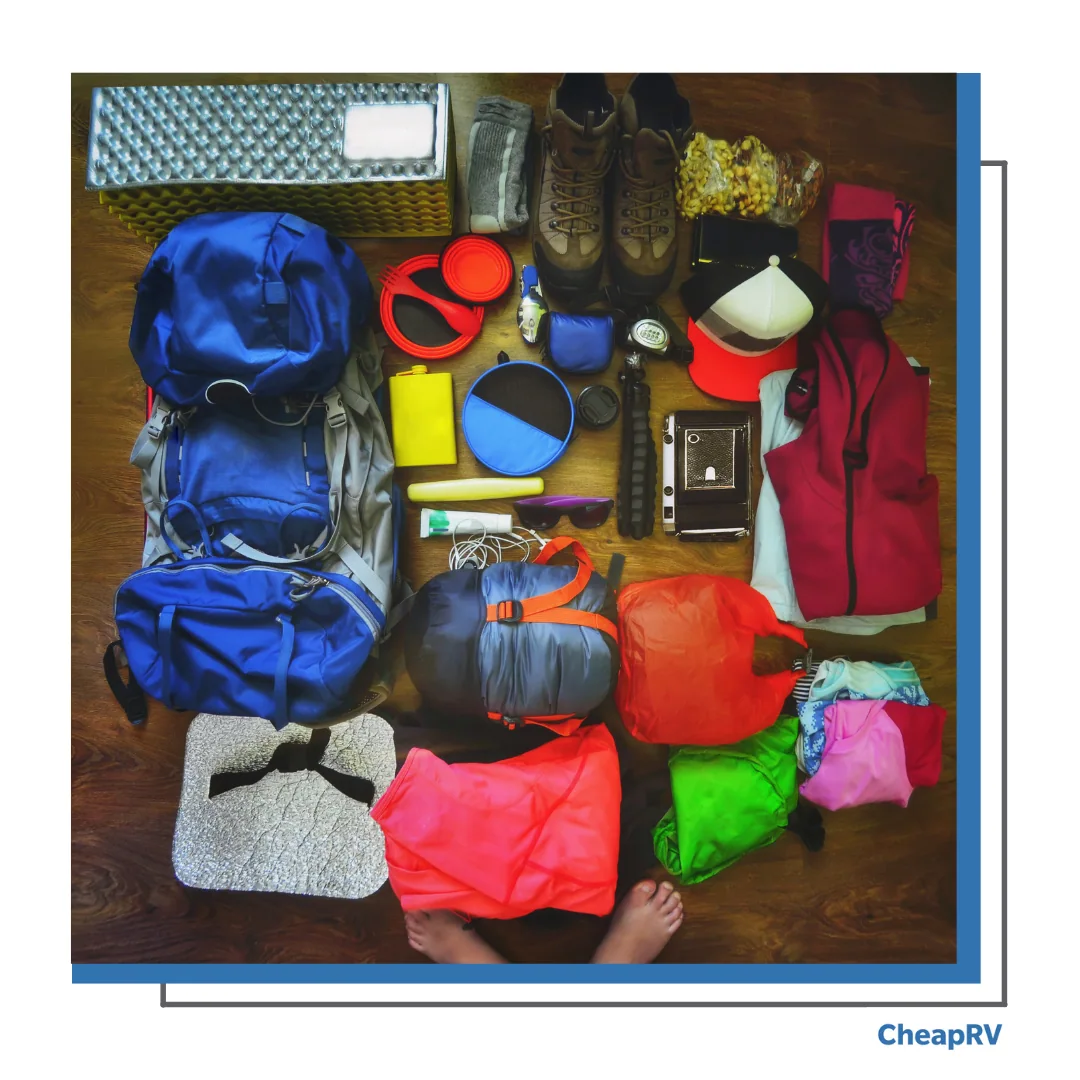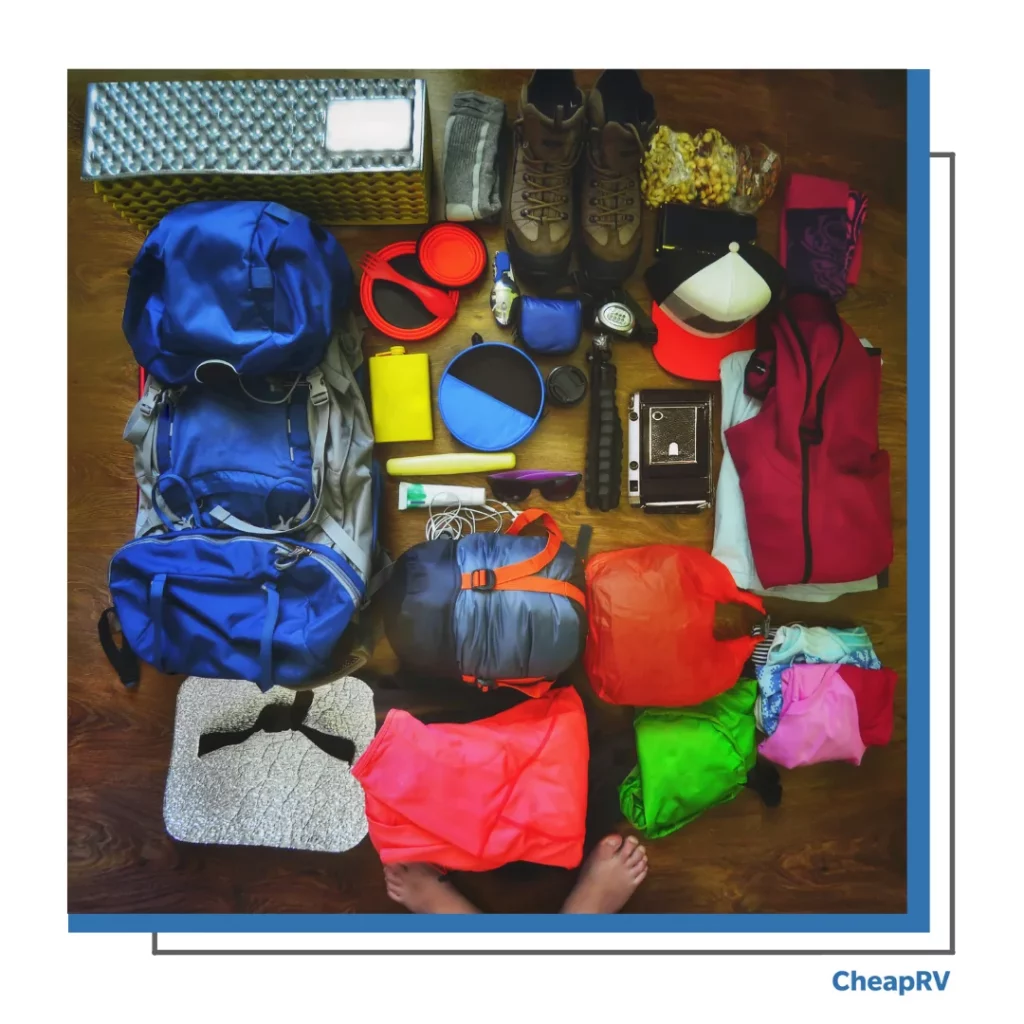 As a parent, it is always your primary focus to ensure that your kids are having a good time and enjoying the camping trip to the fullest. For new parents, however, the newness of the trip can be overwhelming, especially if you are not prepared with your baby camping gear.
Despite the gravity of carrying camping gear, there are several must-have accessories for your RV that can keep your baby very happy on the trip, even with little kids who are fussy about everything. So in this article, we'll explore some of the best camping gear for babies and toddlers that you need to carry in your RV.
5 Best Baby Camping Gear
Brica Fold N' Go Travel Bassinet
If you're an RVer, you know how hard it can be to find a good sleeping space for your little one. Babies often fall asleep when they're RVing or doing adventure and need a comfortable sleeping space baby where they can enjoy a sound sleep.
One of the best baby camping gear to provide better sleeping space is this Brica Fold N Go Travel Bassinet. This travel bassinet is one of the most durable and portable choices for RVers' families. It's made out of 100% easy-to-clean cotton fabric, features a unique Safe-T-Lock technology, and comes with its own carrying case so you can store it without taking up too much space in your vehicle.
If there are any concerns about overheating during hot summer days, the mesh sides help keep air flowing through so that your baby doesn't overheat inside their sleeping quarters.
Pros
Lightweight
Mesh panels ensure air circulation
Portable
Fitted sheets and mattress included in it
Cons
For some kids, this item could be too stiff
Pop N' Play Portable Playard
Finding a safe and comfortable place for your child to play is hard when you're out in the woods. But this Pop N Play can reduce your tension thinking about your child's safety while he is out of your arms.
This Playard isn't just an ordinary activity center, this baby camping gear provides your baby with a comfortable and safe environment where your baby can play, irrespective of where you are working or camping. It's so comfortable, you can keep your baby the entire time within this Pop N Play, and you don't need to hold them!
The Pop N Play Portable Playard is made of high-quality materials and has excellent safety features that make it ideal for long trips when you're traveling in your RV or car. You'll be able to keep an eye on your little ones while they play and grow up in this safe environment.
Pros
The shade canopy ensures protection for your child from the UVB and UVA rays
Spacious play area
Foldable
Lightweight
Mesh breathable sides
Cons
The support bars don't have any padding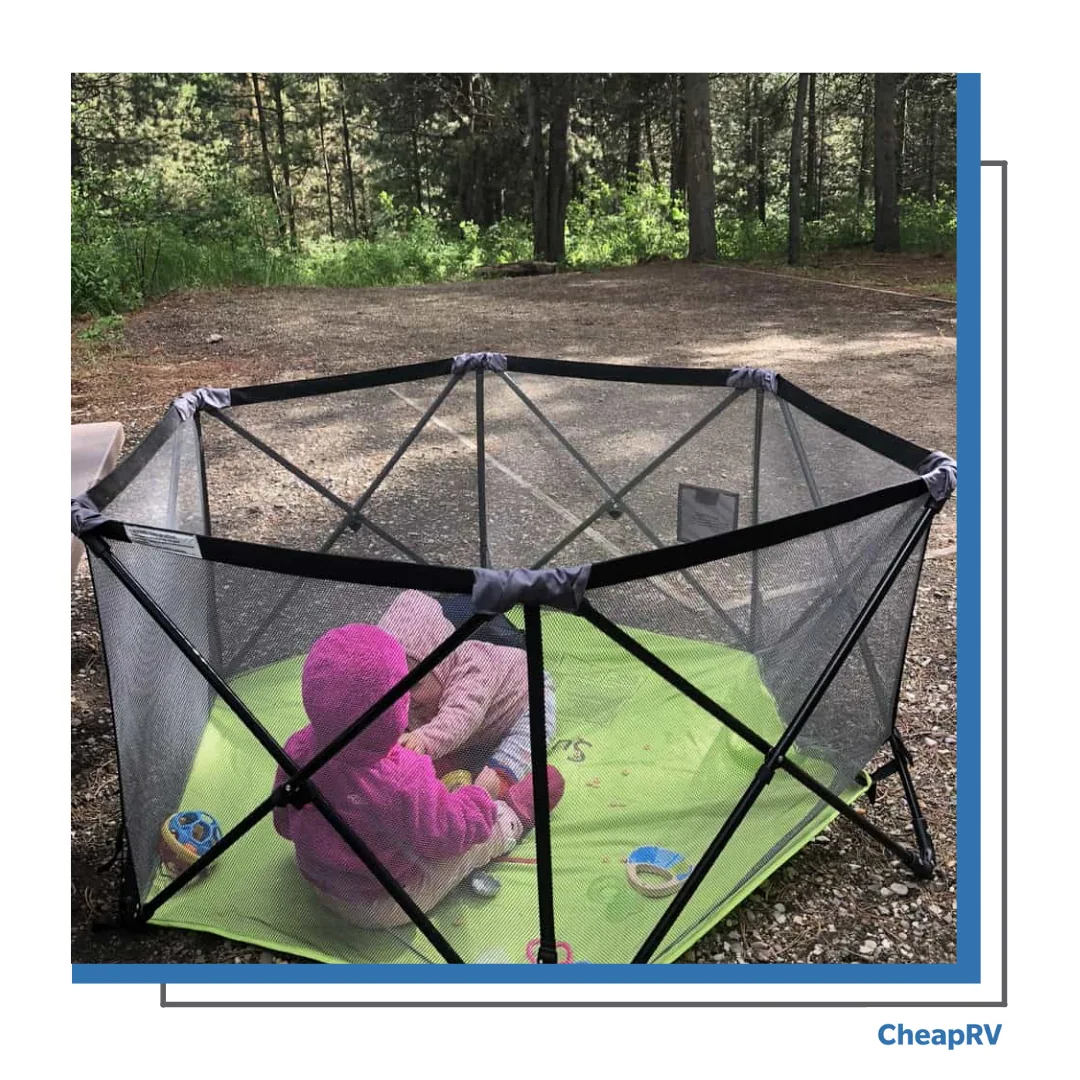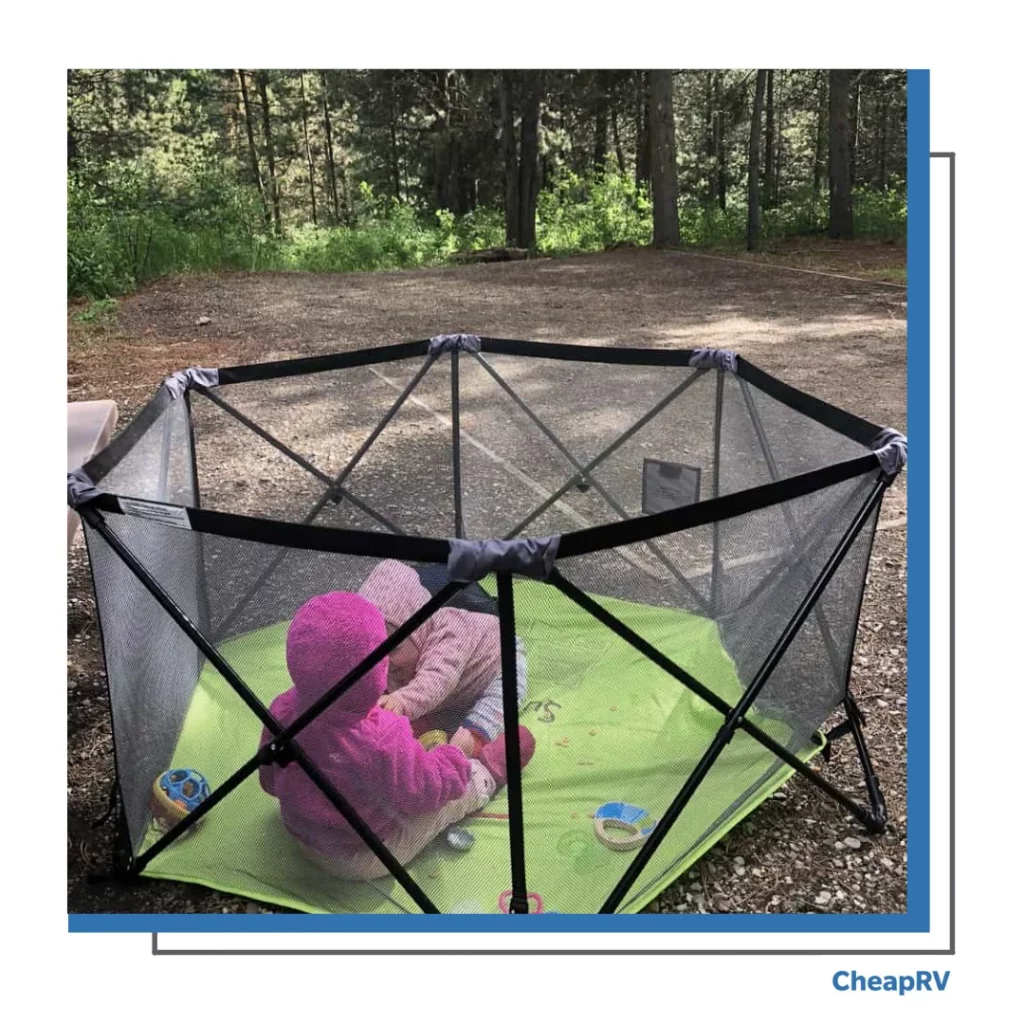 Ciao Baby Portable High Chair
If you are looking for great baby camping gear, this portable high chair from Ciao Baby is one of the best options that you can consider.
At only 8 pounds, the Ciao Baby portable high chair is easy and hassle-free. Its compact design and lightweight feature make carrying easier on a trip. The exceptional sturdy design of this item can hold up a baby to 35 pounds, and the rail guard added an extra strap to form the food tray part.
The easy-fold design of this Ciao High chair makes it popular among many parents who want to bring their children along with them on outdoor trips. It also features a padded seat pad with a removable cover as well as a footrest that keeps kids up to 3 years comfortable while eating meals or snacks outdoors.
Pros
Lightweight
It doesn't require any assembly
Attached tray
The weight limit is 35 pounds
Easy to use and clean
Cons
Just a safety belt, no additional harness
Try slants toward the kids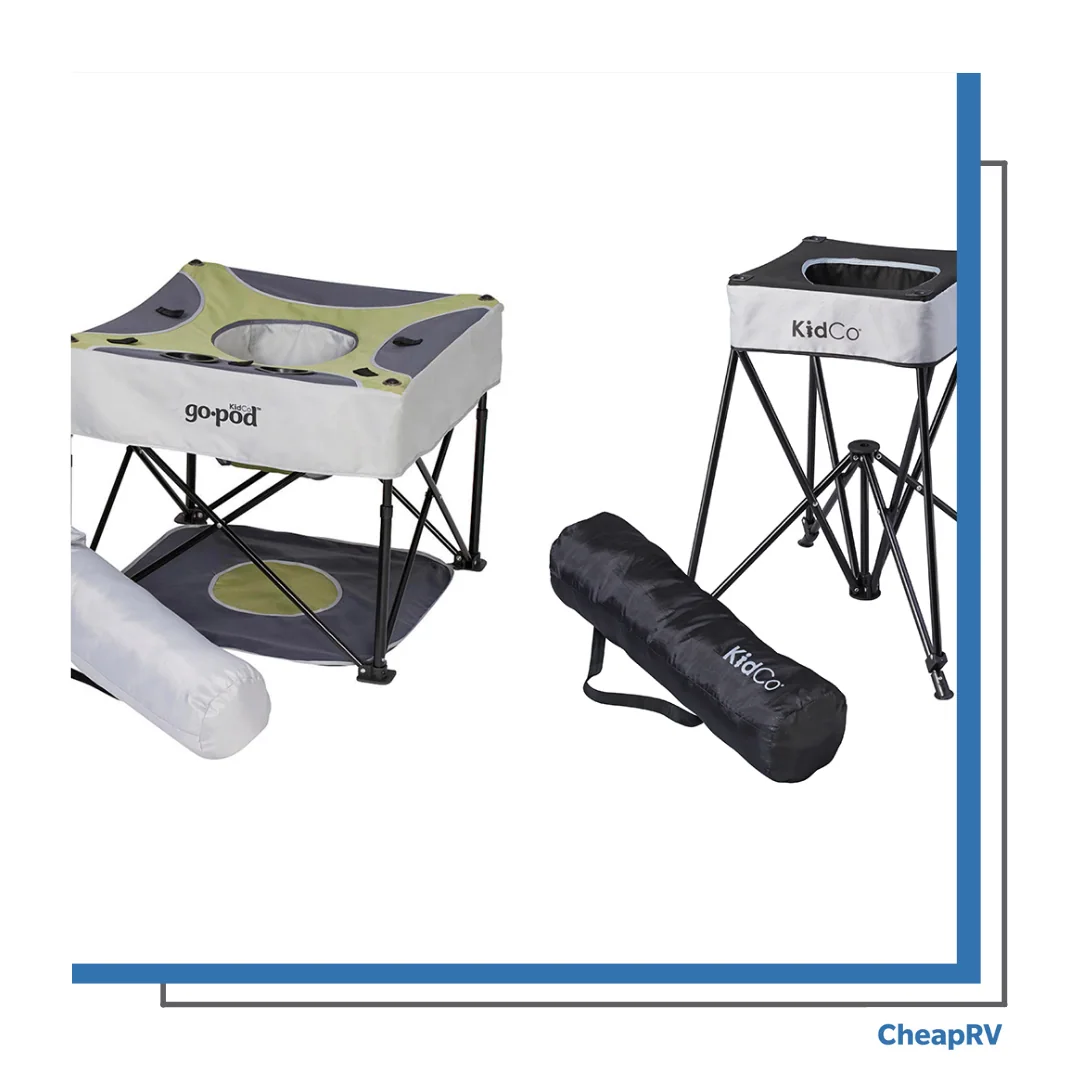 Summer Infant Pop N Jump Camping Gear for Kids
If you are looking for a safe and entertaining jumper for your little one while traveling in your RV, then the Summer Infant Pop N Jump Camping Gear is perfect.
Although this baby camping gear doesn't fall into the must-have category, it sure helps keep your kids safely occupied while you are busy doing different activities or cooking. Your kid will get a rattle, spinner ball, mirror book, and teether at its activity center. And it comes with a love canopy, ensuring your baby's safety against UV rays.
You can use it indoors and outdoors since it has a wide base that provides stability. In addition, the legs of this jumper can be folded up easily and stored away after use to save space in your RV or tent.
This jumper has no doorway so that your baby can play around freely without any restrictions or boundaries. This design will give them enough space to move around freely without any restrictions or boundaries.
Pros
Sun canopy
A folding frame is lightweight
Easy to remove and machine wash
A carrying bag comes with it, and the chair's folding is also easy
Cons
Undoing the locking mechanism is hard
Snapping on the sun canopy is challenging
Battery Operated Mini Fan
Summer camping with your baby can be an incredible experience. But unfortunately, it can also be incredibly hot. Your kid could also feel uncomfortable or sick due to the extremely hot environment if you pay too little attention to the ambient temperatures.
To avoid dealing with an uncomfortable environment for your little one, you should consider carrying this battery-operated mini fan on your next trip.
This one has an extra long USB cord so you can plug it into your RV's power port and keep it in the back of your vehicle while traveling.
It's small enough that you can clip it anywhere—on bouncers, strollers, play yards, or high chairs—and it will run for up to 6 hours on a full charge. It'll give your baby plenty of fresh air during your trip!
Like any parent, you probably worry about putting a fan near your child for safety. However, the compact size design of this fan generates optimal airflow over a 75-foot radius, so you can put it as far away as needed while still enjoying the cool breeze it delivers!
Pros
Low noise
Battery-operated portable fan
Compact size
Powerful motor
Cons
The fan's rechargeable battery is not possible to remove
On full power running, this fan doesn't go longer
What to Consider When RV Camping With Your Baby
Just like preparing a solid trip plan on the road with good maps and adequate supplies, having a good plan before beginning RV camping with your baby can alleviate some of the stress you might expect from such an experience. Let's look at a few of the things you'll need to consider before heading into family RV camping mode.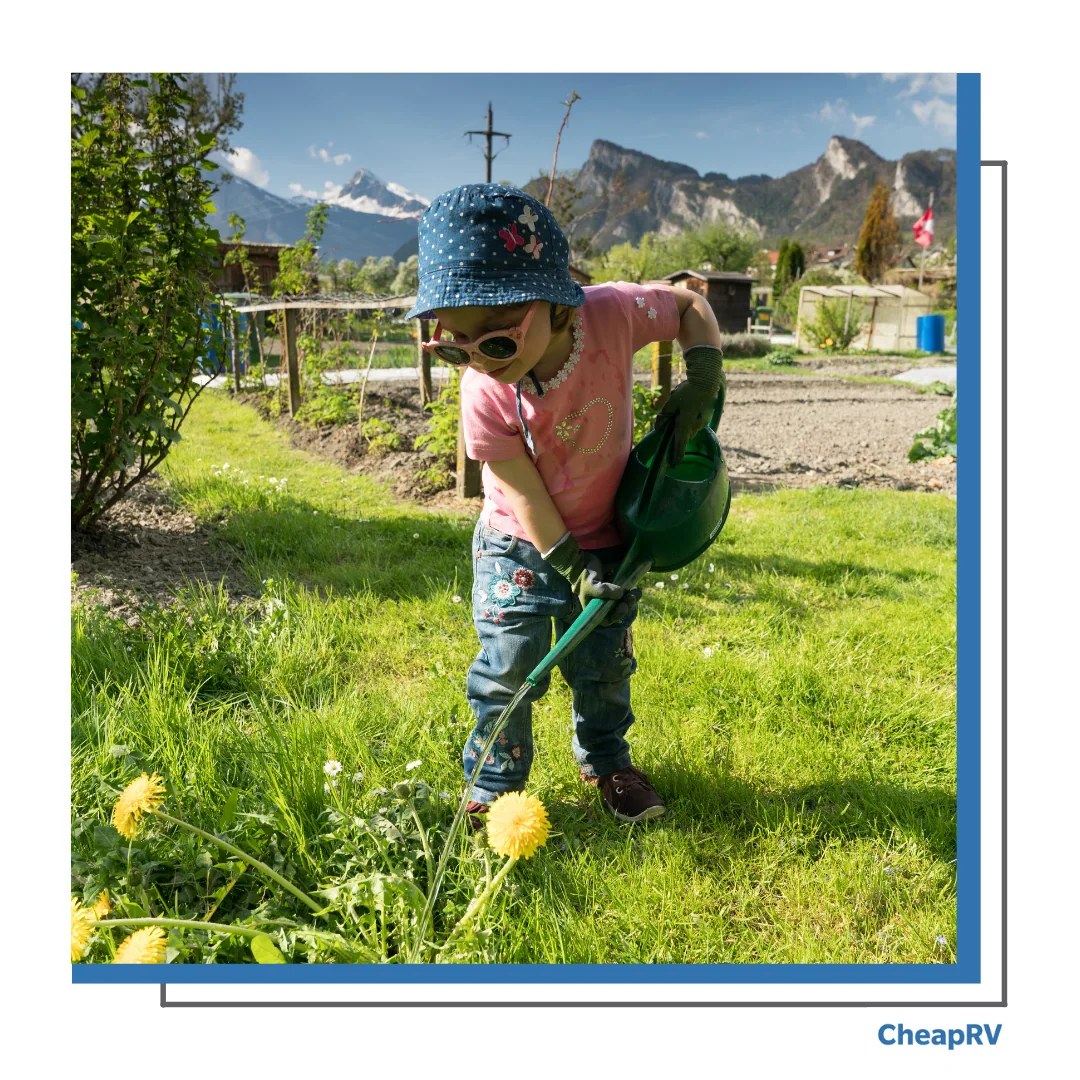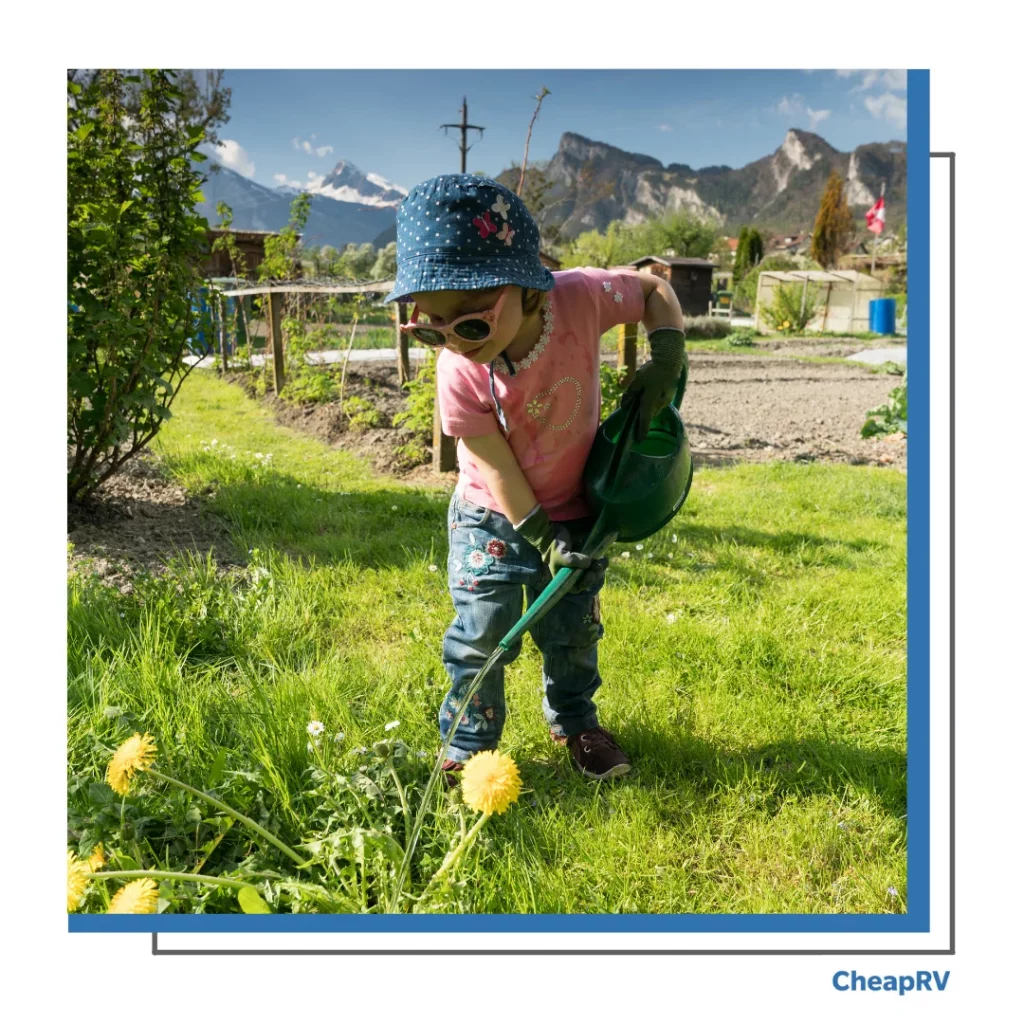 Camping Location
For first-time camping with your baby in your RV, you should pick a campground with available amenities and bathroom facilities. You don't want to be stuck in the middle of nowhere without a place to care for your child's needs. Also, ensure that your campsite has shade cover, so your little one doesn't get too hot under the sun.
Prepare in Advance
Before you start packing up the RV, it's essential to plan ahead for your trip. Make sure you have all of the supplies that you need and that they are easily accessible. You can keep some items in a storage compartment or under the bed, but others should be within reach so that they can be used quickly when necessary. You may need more than one crib or bassinet if there isn't enough room for them in one location.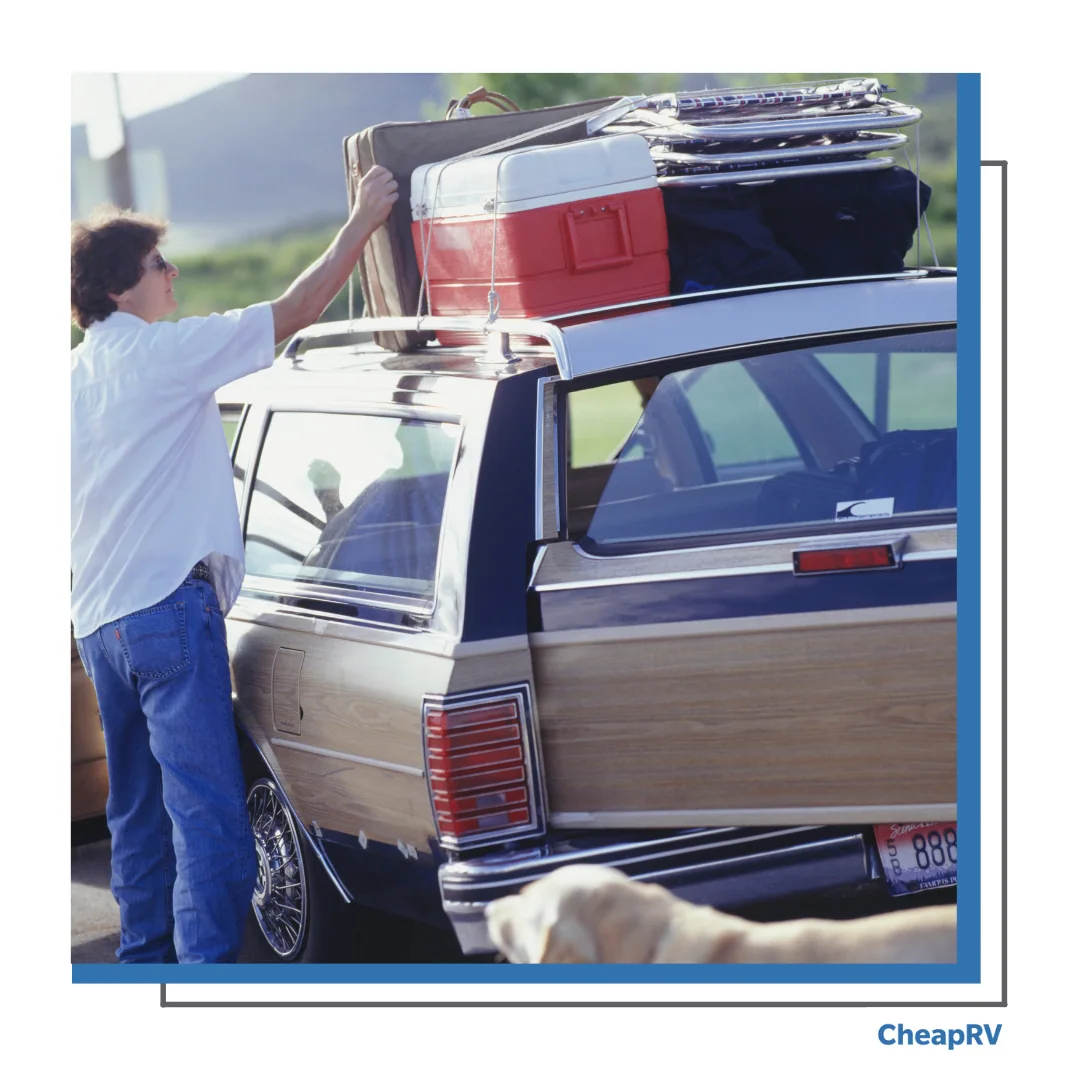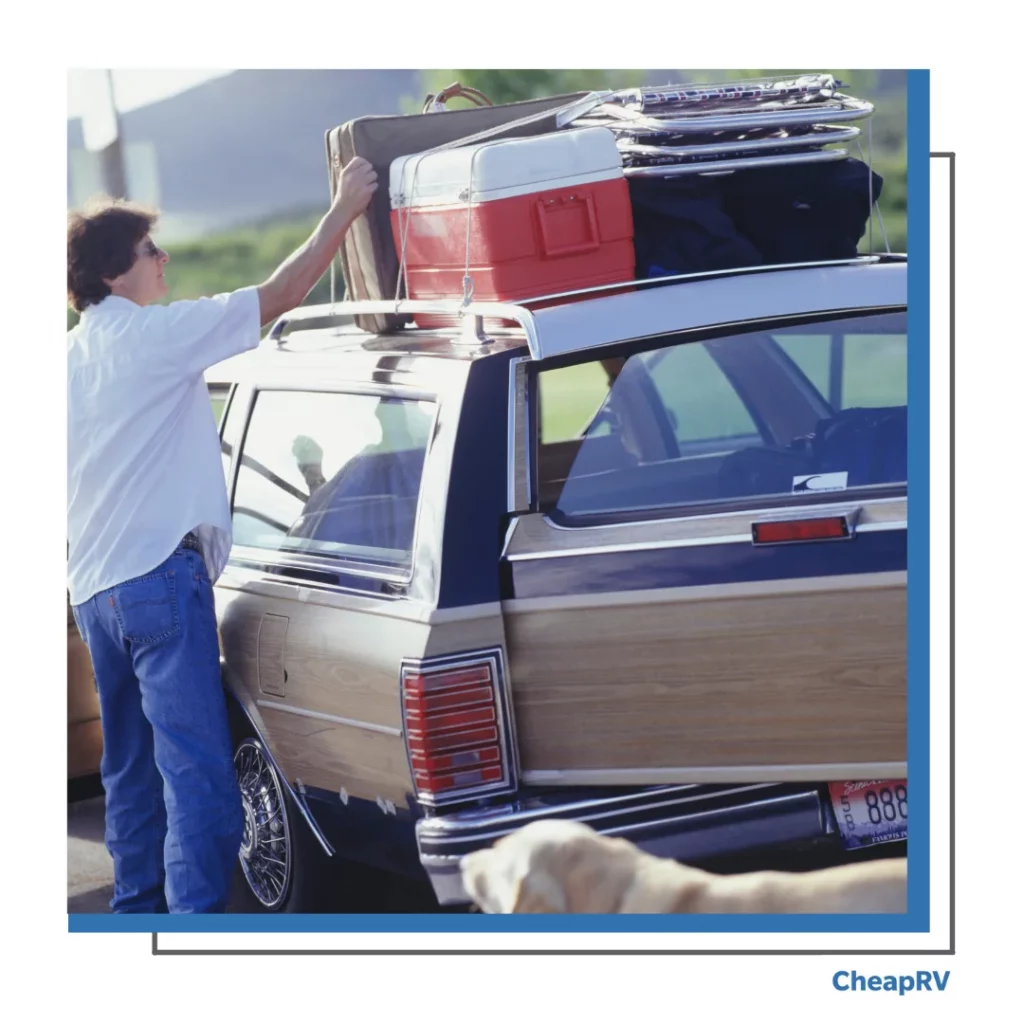 Driving Time Length
If you are driving for more than five hours, then it is advisable that you stop and rest at least once or twice during the journey. This option will give you enough energy for the rest of the journey and avoid any fatigue that may occur due to stress or lack of sleep.
If you are planning a weekend trip, then the driving time should not be more than four hours per day. However, if you plan on going for more than one week, then you should plan stops at places within driving distance of your destination and make sure that there are no stops between these two points.
This will help reduce the overall driving time length and increase safety and comfort level for everyone involved in the trip. You can also stop along the way and enjoy some sightseeing activities to avoid losing track of time while driving.
Final Words
Ultimately, do not forget the fact that you are traveling with a baby in your RV. Ensure the ride is steady, cozy, and smooth to avoid jolting and shaking risks. The different products in this article offer specialized versions of baby seats to ensure the health and safety of your child. Make sure they are properly seated and buckled before you head out.