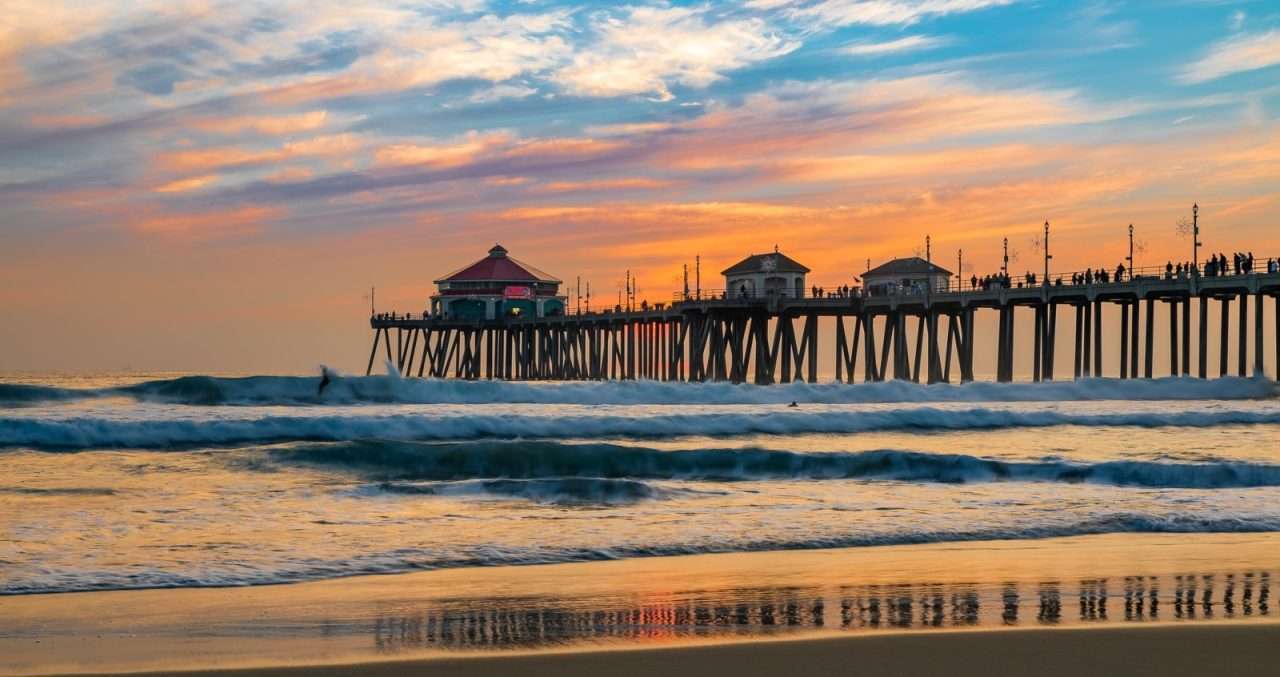 10 most beautiful Beaches in Southern California to visit if you're in an RV
Southern California is a haven for beach enthusiasts, and what better way to experience its stunning coastline than in an RV? Embarking on a road trip along the sun-kissed shores provides the perfect opportunity to soak in the breathtaking beauty, coastal charm, and vibrant culture of this region.
Whether you're a nature lover, an adventure seeker, or simply someone seeking relaxation by the waves, these ten most beautiful beaches in Southern California are must-visit destinations for an unforgettable RV adventure.
Zuma Beach, Malibu
Located in the enchanting city of Malibu, Zuma Beach is a true gem on the Pacific Coast. Its golden sands stretch for miles, offering ample space for beach games, sunbathing, and picnicking. Surrounded by rugged cliffs and blessed with azure waters, Zuma Beach is a surfer's paradise and a haven for those seeking solitude amidst stunning natural beauty.
Zuma Beach boasts ample parking spaces that cater to RVs, ensuring convenient access to the beach. You'll find plenty of designated parking areas with facilities like picnic tables, BBQ grills, and restrooms nearby.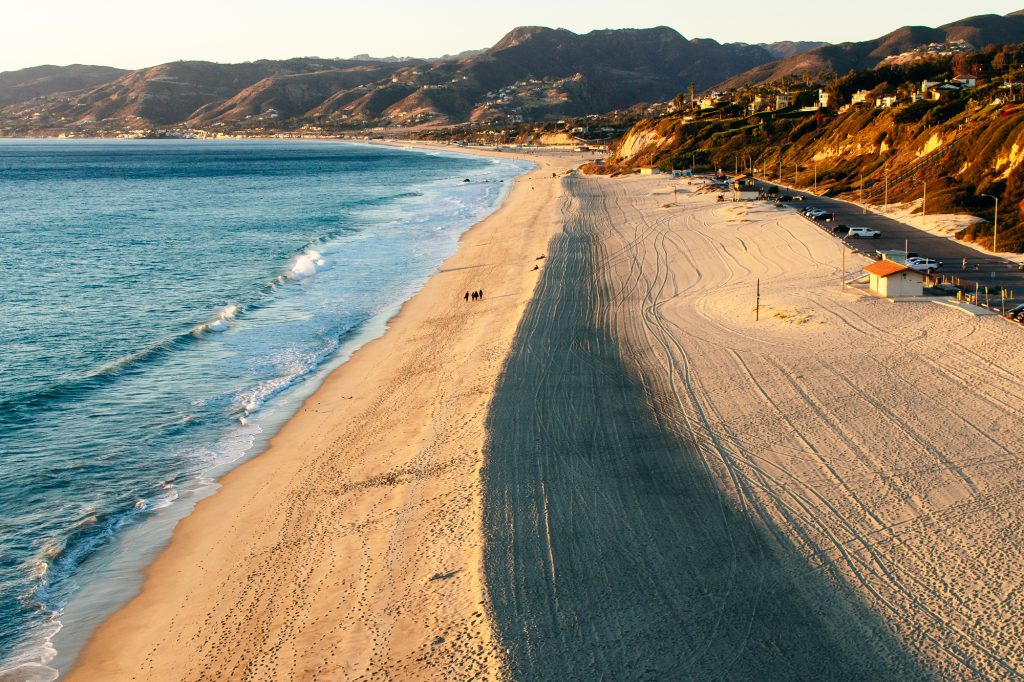 La Jolla Shores, San Diego
La Jolla Shores is a picturesque beach in San Diego, renowned for its soft sands, clear waters, and captivating underwater marine ecosystem. Embrace the opportunity to snorkel, scuba dive, or kayak among colorful fish, playful seals, and majestic leopard sharks. The calm and gentle waves create a perfect environment for swimming, snorkeling, and scuba diving.
The beach is home to the La Jolla Underwater Park, known for its rich marine life and vibrant kelp forests. RVers can find nearby RV parks and campgrounds to set up their home-on-wheels. The vibrant atmosphere and stunning coastal views make this beach a top choice for RV travelers.
Pismo Beach, San Luis Obispo County
Pismo Beach, located along California's Central Coast, boasts magnificent stretches of white sand and towering dunes. Known as the "Clam Capital of the World," this beach offers thrilling activities like dune buggy rides, horseback riding, and fishing.
RV parks and campgrounds near the shore provide an ideal base for beachfront relaxation and adventure, offering hookups, dump stations, picnic tables, and fire pits. One of the unique features of Pismo Beach is its towering sand dunes, which create an exciting playground for off-roading enthusiasts.
Coronado Beach, San Diego
Situated on the enchanting Coronado Island, Coronado Beach is a true paradise. Its pristine sands, gently rolling waves, and postcard-worthy views of the iconic Hotel del Coronado create a mesmerizing experience.
Explore the charming coastal town, indulge in water sports, or simply revel in the sunsets that paint the sky in vivid hues. Although Coronado Beach itself does not offer RV-specific parking, there are RV parks and campgrounds available on Coronado Island and in the surrounding area.
El Matador State Beach, Malibu
Tucked away along the picturesque Pacific Coast Highway, El Matador State Beach is a hidden gem of Southern California. Accessible via a scenic stairway, this beach showcases rugged cliffs, dramatic rock formations, and secluded coves.
You can explore sea caves, capture breathtaking photographs, or enjoy a romantic sunset picnic, all while savoring the serenity of this spectacular location. El Matador State Beach does not have RV-specific facilities or parking, but the nearby RV parks and campgrounds provide convenient access to the beach and its stunning surroundings.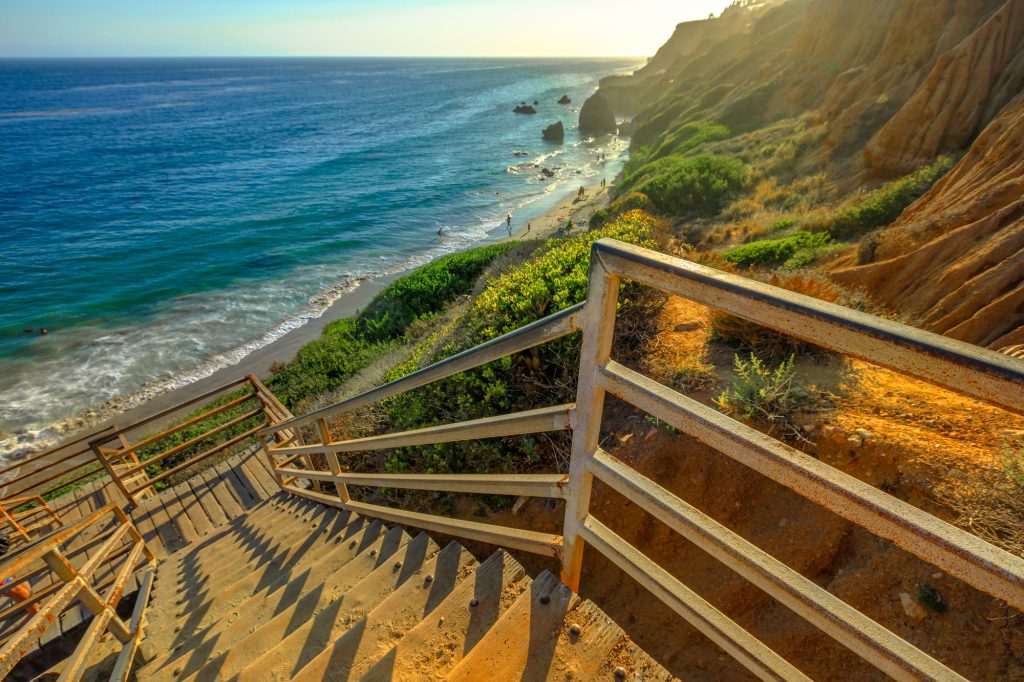 Huntington Beach, Orange County
Known as "Surf City USA," Huntington Beach offers an electrifying coastal experience. With its legendary waves and lively atmosphere, it's a hub for surfers, beach volleyball enthusiasts, and sun-worshippers alike. The iconic Huntington Beach Pier is a must-visit spot, offering panoramic views of the coastline and a vibrant local scene.
RV parks and campgrounds in the surrounding area offer amenities such as full hookups, dump stations, picnic areas, and easy beach access – they're within walking distance of the beach, allowing you to immerse yourself in the surf and sand fully.
Carpinteria State Beach, Santa Barbara County
Located just south of Santa Barbara, Carpinteria State Beach is a coastal haven with pristine shores and gentle waves. Surrounded by the majestic Santa Ynez Mountains, this beach provides a serene atmosphere for camping, swimming, and tidepool exploration.
Don't miss the opportunity to visit the charming town of Carpinteria and indulge in its delightful local eateries. This is a great destination for RVers, with RV camping facilities offering spacious RV sites that include hookups, picnic tables, fire rings, and easy access to the beach.
Laguna Beach, Orange County
Laguna Beach is a coastal paradise renowned for its artistic culture, hidden coves, and vibrant tide pools. It's a perfect blend of natural beauty, outdoor activities, and cultural experiences. You can explore the diverse art galleries, walk along the stunning Main Beach Boardwalk, or enjoy a refreshing swim in the turquoise waters.
This beach's natural beauty and artistic charm make it a must-visit destination for RV travelers. While Laguna Beach itself does not offer RV camping facilities, there are nearby RV parks and campgrounds available in the surrounding area. From these accommodations, you can explore the town and its breathtaking coastline.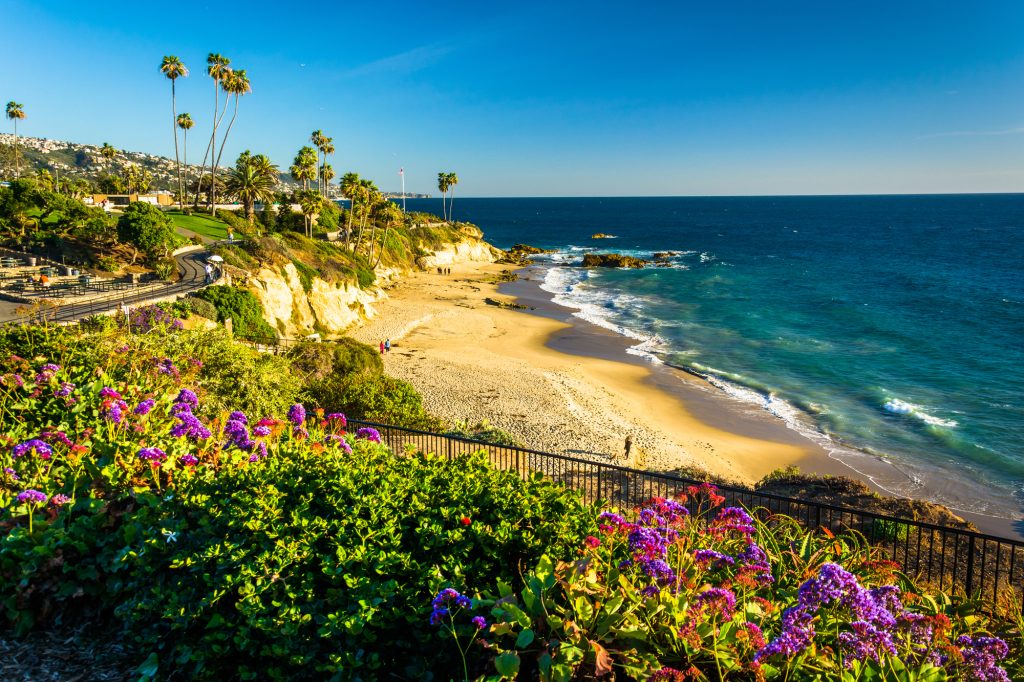 Silver Strand State Beach, San Diego
Nestled between the Pacific Ocean and San Diego Bay, Silver Strand State Beach is a picturesque coastal retreat. Offering stunning views of the Coronado Bridge, and a wealth of recreational activities, this beach is ideal for water sports, biking, or simply strolling along the shores.
Immerse yourself in the tranquility of this scenic spot and relish in its unparalleled beauty. The beach offers several RV-friendly campsites with hookups, picnic tables, and fire rings. The RV sites are spacious and provide convenient access to the beach, but it's best to make reservations in advance, especially during the peak season.
Dockweiler State Beach, Los Angeles County
With its expansive sandy beach, convenient amenities, and proximity to attractions, Dockweiler State Beach is a great choice for RVers. The RV park offers beachfront camping with spacious RV sites that provide full hookups, picnic tables, and fire rings. One of the unique features of Dockweiler State Beach is its popular bonfire pits.
RVers usually gather around the fire pits on the beach and enjoy a cozy evening by the fire, roasting marshmallows and enjoying the company of friends and family. This adds a special touch to the beach camping experience and is particularly popular during the cooler months.
Conclusion
Southern California offers a treasure trove of breathtaking beaches that are a must-visit for anyone exploring the region in an RV. From the golden sands and crystal-clear waters to the dramatic cliffs and stunning sunsets, these 10 beaches present a diverse range of natural beauty and coastal charm.