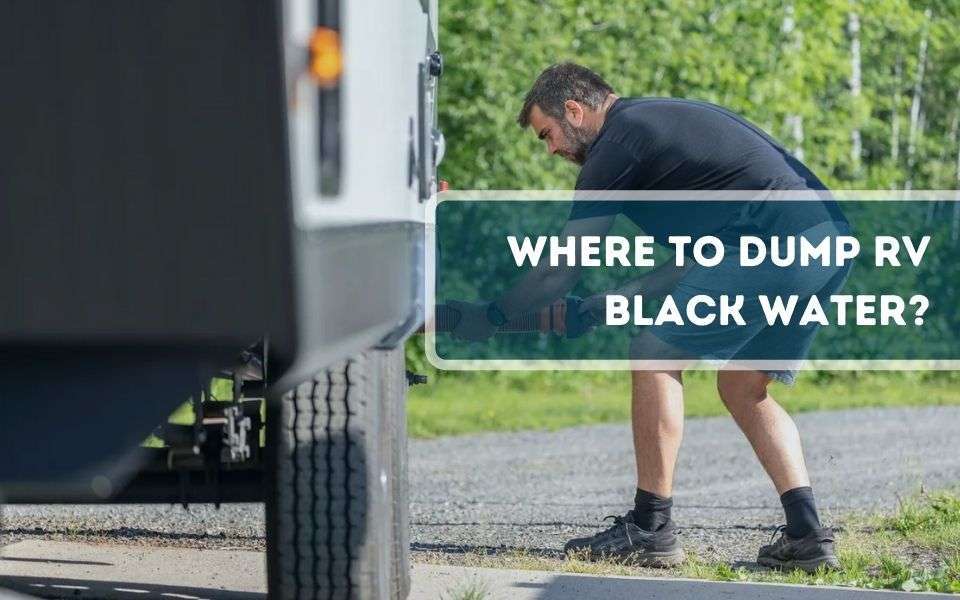 Where To Dump RV Black Water?
Are you here to know where to dump RV black water? If yes, you don't need to look further. You have come to the right place. In this article we will discuss all about regarding dumping RV black water, including the details of RV black water dump stations.
Emptying your RV's black water tank is not a pleasant task. However, this job significantly plays a crucial role in shaping the RVer's outdoor experience. If you somehow try to neglect this RV black water disposal task, it could lead to several problems, especially the hygiene issue.
The RV's black water tank contains the rig's waste. Thus you can't dispose of its waste anywhere on the road whenever you want. However, the RV black water disposal is mostly accessible because of the dumping location's facilities. Thus before starting the journey with your RV, you should have the answer, where can I dump RV waste near me? Also, you can search on "RV black water dump station near me' as it is essential to know for you before heading out for the destination.
What is RV Black Water?
After flushing down your RV toilet, solids and liquids accumulate in the RV black water tank. The RV's black water tank is designed to hold all the solid and liquid wastage combinedly. In simple words, in a brick house, the septic tank is equivalent to the RV's black water tank.
Many RVers think emptying the black water tank is quite disturbing and challenging. However, their thinking is not wrong at all, this job is a little stressful, but over time with experience, the RVers find this black water tank emptying job less stressful. While emptying this tank, the RVers must follow proper sanitation processes and measures as it contains raw sewage.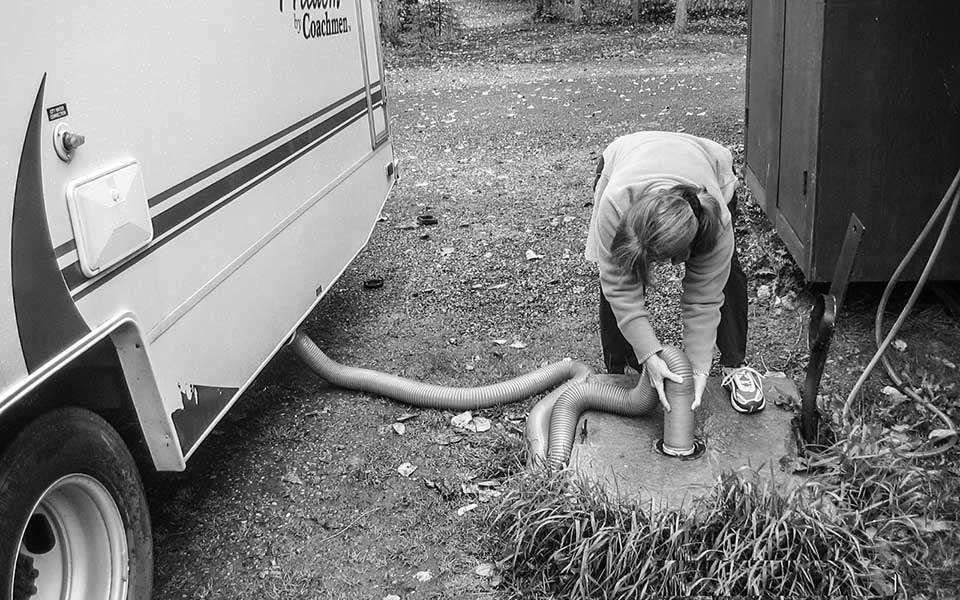 Where to Dump RV black water?
RV waste removal services are available at several places. But if you simply want to manage your RV's black water tank's waste, then you could go to the following locations:
1. RV Parks
RV Park is the best option where you will get almost all the supporting facilities for your RV. This location provides everything that the RVers need to sustain their rigs. For outdoor adventures, one of the best waypoints is RV parks.
The RVers can hook up their vehicle to water supply, shore power, and dumping stations at RV parks. Thus before overflowing your black water tank, visit your nearby RV parks and get the earliest opportunity to dump the waste.
2. Campgrounds
The public and private campgrounds allow people to stay on their ground and camp for specific periods. Most campgrounds incorporate the RV sewer hookups and help the RVers with black water tank disposal.
However, dedicated dumping stations are available at some campgrounds where any time the RVers can dump their black water tank's waste. The more interesting fact is that even if you don't stay or camp at the campground, you can use their dumping stations by paying the service fee.
3. RV Maintenance, Repair and Storage Stores
Finding a sewage hookup in RV repair and storage stores is not uncommon as these stores usually provide the campers with accommodation facilities. Thus if you suddenly need the RV waste removal service, these stores can prove handy for you.
The safe thing is to make a call to the RV store to see whether they have the facility and can accept the black water to dispose of or not. If they ensure you their dumping stations facility, you will be able to continue your travel by emptying your RV black water tank.
4. Gas Stations
For the average rig, multiple private gas stations offer the wastewater dumping service as they include the dump points on their property. So if you don't know where to dump RV waste, you can inspect gas stations whether they have an onsite dumping point facility or not. However, you may have to spend some bucks from your pocket for using the gas station's dumpsite facility.
5. Waste Treatment Plants
If you fail to locate the locations mentioned above and don't know where to dump RV waste, you can go to your nearby waste treatment plants. For providing dumping services to the RVers, many waste treatment plants install the wastewater dumping stations.
Usually, these water treatment plants' dumping stations can easily take care of and manage the RV black water tank's waste. It's a viable option for those who don't know where to dump their RV's wastewater.
6. Sporting Goods Stores
You can find the RV black water tank's waste dumping facility in certain sporting goods stores. Because for the like-minded individuals, the sporting stores install the dump station. Thus it could be another option for you.
7. Interstate Rest Areas
Interstate rest areas with a dump station are another place to dump your RV's black water tank. Some welcome centers, rest areas and service plazas have certain dump stations, but not all rest areas offer this facility. Generally, free of cost, you can dump your RV's wastewater in these places. But some self-pay stations ask for fees for waste dumping.
8. Fairgrounds
For celebrating different events, people conduct camp at fairgrounds. Thus this is another option where you can dump your RV's black water tank's waste. However, not all fairgrounds consist of dumping stations. Therefore at the campground, you should check whether the waste dumping facility is available or not. You can also contact the fairground's main office.
9. Marinas
Both the RVs and boats have waste tanks. Thus many marinas have the dumping station for the RVs also. So most likely, at a marina, you can find a dumping station.
10. Sewage Treatment and Recycling Centers
Different private-owned sewage treatment plants and recycling centers have their dumping stations, and they help to process your RV's black water waste. So this is another waste dumping option for the RVers.
How Much Cost Requires to Dump Black Water Tank?
Around $35 may cost for dumping your RV's black water tank waste in a dumping station. This cost is almost identical everywhere from wherever you dump your RV's waste. However, free dumping service is available at some wastewater treatment plants, campgrounds, RV stores and rest stops.
At private campgrounds and business places, the tank's dumping cost ranges from $10-$35. Most of the remote damping stations, on average, charge $20 for waste dumping.
Tips to Follow While Emptying the RV Black Water Tank
So, if you are a first time RVer and doing the wastewater dumping job for the first time, then you should follow the tips below:
Before the grey-water tank dumping, constantly make sure that you discard the black waste water tank. Doing this is crucial because you have to ensure the cleanliness of the hose after completing the entire dumping process.
If there remains any residue after dumping the black wastewater, the soapy water in the grey-water tank will clean it. Mainly after disposal, the residue chunk remains, and the soapy water cleans it thoroughly.
You should use a heavy-duty and 6-8 feet long sewer hose during the waste disposing time. This type of sewer hose will make your black and gray water handling process more accessible.
As long as 2/3 of your black water tank becomes full, you can wait to dump the wastewater from it. However, when you are staying at the campground, never keep the valve of your black-water tank open. Leaving the valve open makes the waste disposal job a hard nut to crack.
After completing the black water tank dumping process, you need to rinse your water tank. Thus along with the necessary dumping equipment, you need to carry an extra garden hose. You should have the extra hose for your safety reason because the dump station may have the available one or not. However, use a different area to store your garden hose. And make sure your drinking water hose is far away from the garden hose.
Lastly, learn the dump station's golden rule: keep your dumping place cleaner after completing the entire dumping process. Some campers make inappropriate use of the dump stations, and they are forced to shut down because of the excessive dirtiness. In addition, abusing the dump stations creates health and sanitary hazards for the whole camping community, so be careful.
Final Words
Emptying your RV's wastewater tank is necessary because overflowing the tank can cause strict hygiene and safety issues. Thus it's mandatory for you to know where to dump RV black water. As RV black water dump stations are available at several places, so you have many more options to clean the tank while camping.
Before starting the journey in your recreational vehicle, make sure you have a clear idea regarding where to dump tanks and how to dump the waste. However, if you rent an RV, the owner could dump the black water tank's trash for you and also can deliver and set it up for you. Though for the RVers emptying the black water tank and dumping the waste is not an exciting RVing part, make sure you have done it.
Latest posts by Tim Harris
(see all)