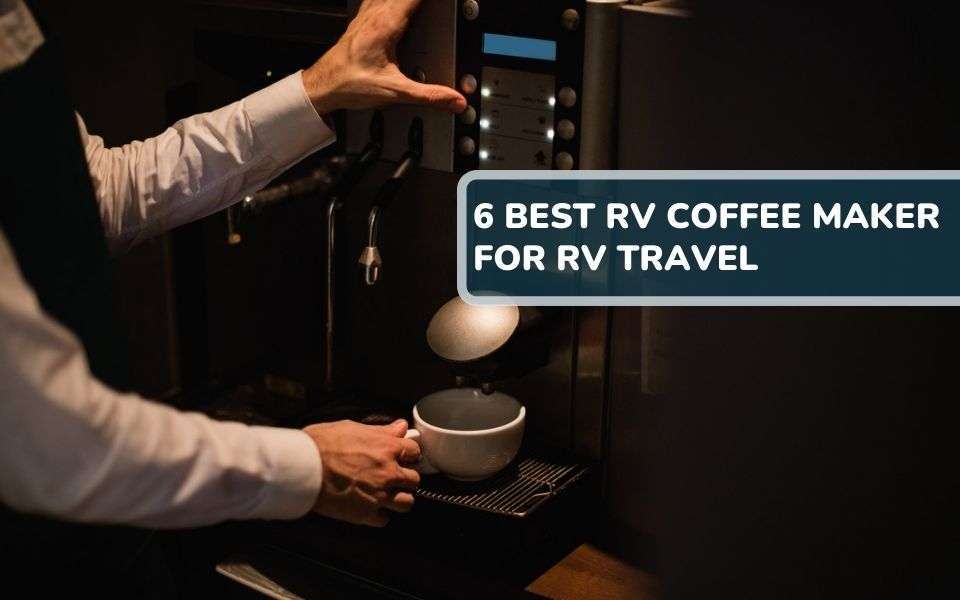 6 Best RV Coffee Maker for RV Travel
Traveling in a recreational vehicle offers an enjoyable experience as it allows the RVers to learn different new things and explore various places. But we can't escape from our habits even while traveling, such as drinking coffee. The good news is at the time of RVing, you don't need to compromise your coffee drinking habit if you have the RV coffee maker.
The best coffee maker for RV allows you to prepare aromatic, delicious, and rich coffee whenever you want. However, not all coffee makers produce the best coffee and give you the same satisfaction. Therefore, you require only the best camper coffee maker to get the highest satisfaction from making and drinking coffee.
If RVers invest in the best RV accessories like a coffee maker, they will not need to waste time pulling their RV over to the nearest Starbucks or gas station for a cup of coffee. But do you know which coffee maker is the most outstanding choice for you? Well, here in this article, we organized all the details regarding the best coffee maker for RVs and their attributes. So, let's dive into the discussion:
Best RV Coffee Maker
The best coffee makers for RV are the following:
1. Hamilton Beach Single Serve Coffee Maker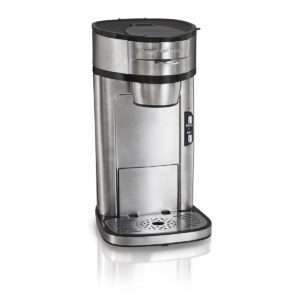 One of the best options for every coffee lover is the Hamilton Beach coffee maker. This coffee maker's stylish and functional lineup is quite impressive. Moreover, this single-serve coffee machine delivers delicious coffee. This small coffee maker is undoubtedly an excellent addition to any RV, motorhome, or travel trailer.
The compact size of this helpful single-serve coffee maker comes in glistening silver color. Its size is only 8.35″ x 6.7″. So these appliances don't require much space. Virtually anywhere you can fit this coffee maker in your RV.
This coffee machine is not super-automatic, but still, you will get two strengths from it, including bold and regular. However, if you love the coffee ground's natural bittersweet taste, then you will love this coffee maker's extra strength. The noteworthy features of this coffee maker are the following:
Features
The stainless steel body and drip tray make its use and cleaning easy

Stainless steel mesh filter serves a dual purpose

The brewing capabilities are super-fast

Small footprint

The silver color gives a stylish look

Two brew strength settings
Our Pick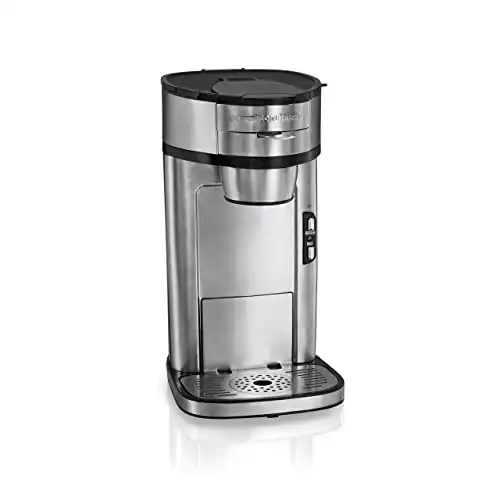 We earn a commission if you make a purchase, at no additional cost to you.
2. Black + Decker Single Serve Coffee Maker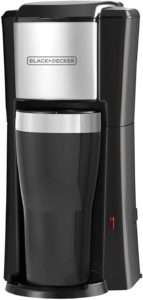 Another best coffee maker for the camper is this Black + Decker single-serve coffeemaker. It is familiar to the customers because of its beneficial and handy features. The automatic shut-off features of this product attract everyone. 
Even if you for any reason forget to turn off the coffee maker and leave it running, you don't need to worry at all due to its auto shut-off features. This coffee machine will protect you from potential safety hazards.
This coffee machine is made of plastic and BPA-free stainless steel, and anyone will definitely love its overall design. In addition, plastic and stainless steel are incredibly durable materials. Thus, this product will last long for sure.
However, this coffee machine will require little space to set up in your travel trailer or RV. Another appealing attribute of this product is the 16-oz thermal mug. This mug will fit in any cup holder easily. Moreover, this coffee maker's use and cleaning process are also very easy. The impressive features of this coffee maker are the following:
Features
16-oz thermal mug comes with it

Peak storability

Automatic shut-off feature

Easy to clean and use

Made of plastic and durable BPA-free stainless steel

Cost-effective or affordable price
3. Coleman Camping Coffee Maker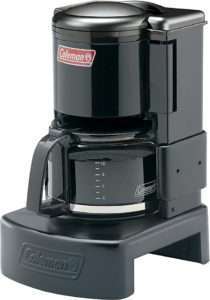 Coleman is one of the famous brands, and most probably, you are familiar with this brand. However, you will get an extra level of performance from this Coleman camping coffee maker. This coffee machine's "Pause N Serve" mechanism is truly attractive. Moreover, the user-friendly feature makes this product more appealing to RVers.
The Pause N Serve mechanism ensures that you don't require to complete the entire brewing process for a cup of coffee. Instead, you can easily pause the coffee maker's brewing process, pour a cup of coffee, and then let the process continue again.
The use of this product is really very easy. Just pour water into its reservoir and, using the coffee grounds, fill the filter and let it allow to perform its job. And just in 10 minutes, you will get the whole pot ready to enjoy your coffee. Moreover, the cleaning of this coffee machine is also very easy and user-friendly.
When creating any product, Coleman keeps in mind their customer's issue and develop the product in such a way. For any RVers, this travel trailer coffee maker is quite reasonable and affordable. So you will feel comfortable while dealing with this coffee maker's price. First, however, let's discuss its attractive features:
Features
Pause N Serve mechanism

Easy to use and clean

Affordable

The running of this coffee maker doesn't require any RV battery or electricity

Reasonable price and quite affordable

Make 10 cups of coffee
4. Keurig K-Classic Coffee Maker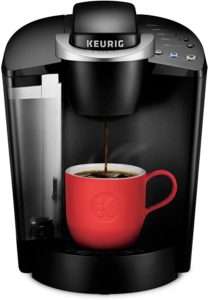 For any RVers or campers looking for a 12-volt coffee maker for RV, this option is a good choice. The unique features of this product will offer you so many benefits that you will definitely love it. The unit's use is easy, and the light indicators help to use it. Moreover, many users love this coffee maker's simple control buttons.
The removable drip tray of this coffee maker allows the RVers to use larger coffee cups. Three cup sizes are possible to use in this machine, and you can use any mug size according to your need. Unfortunately, the different sizes of travel mugs don't fit in them. So for this unit, you have to choose a perfect coffee mug for getting coffee.
At a time, you can brew only one cup of coffee using the single-serve model coffee machine. However, the reservoir is 48 inches large, so after having every cup of coffee, the users don't need to refill it. Anyone can easily clean and fill this machine. Moreover, this product has an automatic shut-off feature, which increases its safety and reliability to the users. Its noteworthy features are:
Features
Auto shut-off function

Without refilling the water tank, you can make six cups or more coffee

Brew size selection

Cleaning and using this machine is very easy

Cost-effective and reasonable price
5. Coletti "Bozeman" Percolator Coffee Pot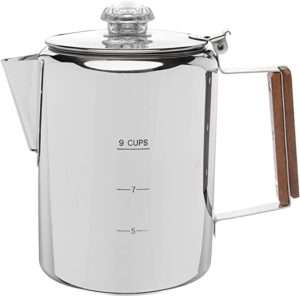 This is another best coffee maker for RV, and this product is worth considering. The particular model of this coffee maker offers numerous benefits to its users. The RV owners find this product incredibly appealing because of its variety of features.
The most important thing about this product is, this coffee pot doesn't require any electricity or cords. Finding a product whose operation doesn't need electricity or cable is rare, and this coffee machine is precious. And another aspect is that paper filters are not required in it. This feature increases the appeal of this product thousands of times.
In one brewing cycle, you can enjoy 9 cups of coffee using this coffee maker. This coffee maker's enormous capabilities help it stand out from the crowd. Moreover, RVers can enjoy all these features at a very affordable price. Let's discuss its features:
Features
Don't require any electricity or cords

Create rich taste and more flavorful coffee

Dishwasher safe

Paper filters don't need in it

Makes 9 cups of coffee
6. CHULUX Single Serve Coffee Maker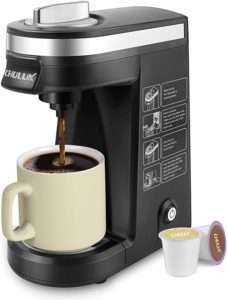 Whatever benefits or features you are looking for in your coffee maker for RV, you will get every option in this CHULUX coffee maker. This is another best coffee maker for RV camping. Compared to the typical single-serve coffee machine, the price of this machine is also very reasonable.
Its one-touch operation feature makes this product unique from others. The using process of this machine is also very simple. Without any issues, anyone can use this coffee maker quickly. Within 3 to 5 minutes, this machine will make your coffee ready to drink. Thus, for an RV owner or camper, this coffee maker is undoubtedly a very convenient option as it saves time.
For a delicious cup of coffee, if you have to wait for an extended period, there is nothing worse than this. So this coffee maker saves you from this worse situation by making coffee within a few minutes. 
Features
Compact design and easily portable

The coffee-making time is 3-5 minutes

Five different colors of this product are available

The drip tray is removable

Its using process is very simple
Final Words
Hopefully, after reading the above informative review guide, now you know about the best RV coffee maker. So, from the above listed best coffee maker for RV, you can easily pick the best one which will meet all your particular needs. If you have limited space in your RV, you should go with a space saver coffee maker option. But if your RV has enough space, you can buy a standard-size coffee machine.
However, before selecting and purchasing any coffee maker for your RV, you should know all its features, pros, and cons. And then, make the right decision and buy the best coffee machine for your RV, which can produce enough coffee in a brew within a bit of time.
The under cabinet coffee maker is highly recommended for your small-sized motorhomes or camper vans with cabinetry. These coffee machines free up your RV's countertop space as these mount under the cabinet. Pick a compact coffee maker which you can easily mount in the drawer or cabinet or store in the RV's countertop space.
Latest posts by Tim Harris
(see all)