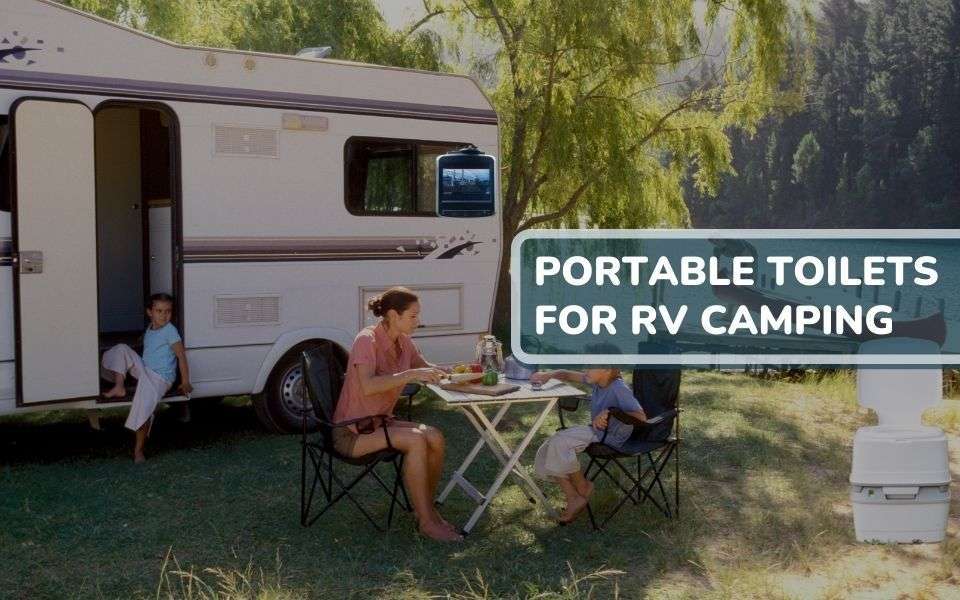 Portable Toilets for RV Camping
Portable toilets are one of the biggest concerns for full-time and seasonal campers. The portable toilets and urination devices reduce the RVer's toilet-related concerns to a great extent. The portable camping toilet ensures a nice and safe place to poop whether you travel in a small RV or camper van.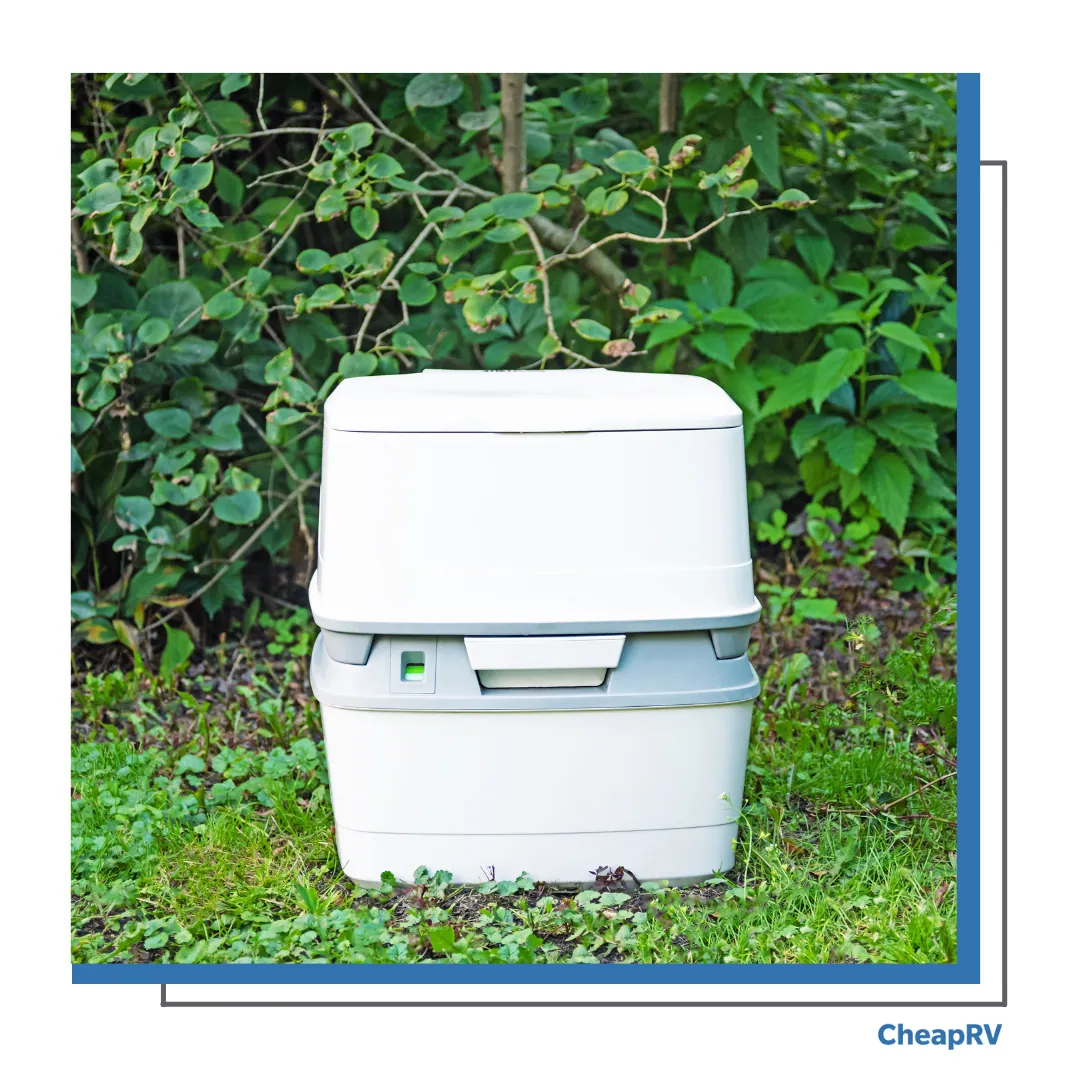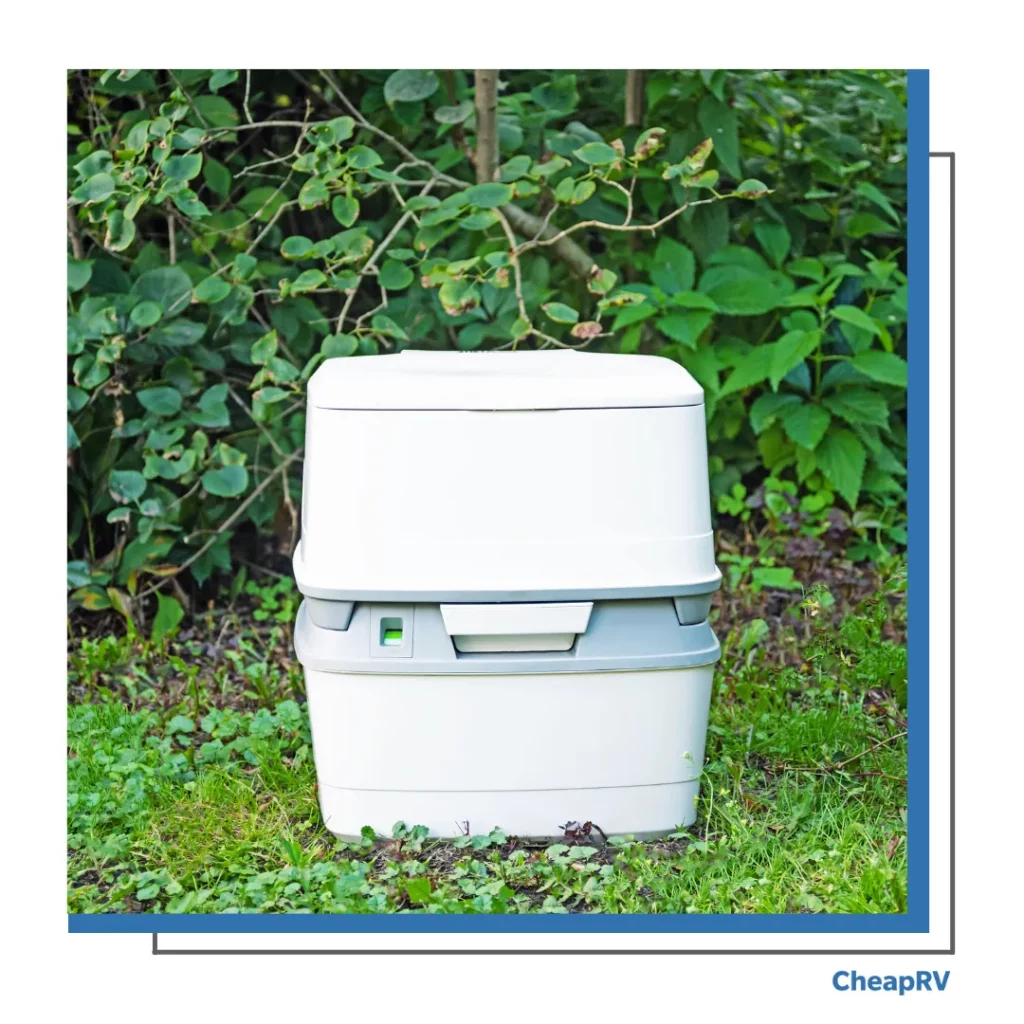 But do you know which one is the best portable toilet for your RV? Here we organized the details of some best portable toilets for camping. Let's discuss the details:
Best Portable Toilets And Urination Devices
The five best portable toilets for camping are the following:
Camco Standard Camping Toilet
Just like your home's toilet, you will get all the amenities with Camco's standard camping toilet. It is one of the best travel toilets, and its capacity is 5.3 gallons. The construction of this portable camping toilet is solid and sturdy.
You can flush away all the waste from the toilet using a below-type and hand-operated flush system in one motion. There is no chance of leakage and bad odors from this toilet. The waste disposal in this toilet is easier because of the secure side latches in it. Moreover, cleaning it is also easy. The key features of this toilet are:
Our Pick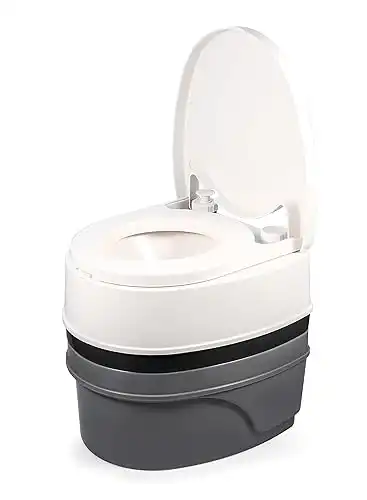 We earn a commission if you make a purchase, at no additional cost to you.
Reliance Fold-to-go Camping Toilet
One of the reliable and excellent portable toilet makers is Reliance. This company offers unique design portable toilets for use in your RV. The portable toilet is easy to clean because of the doodie bag that is included with the toilet. Also, the waste's quick disposal is easy because of the doodie bag bagging system.
This portable toilet's three-legged and compact seat may seem fragile to many RVers. But up to 300Ibs, this toilet can easily support. The RVers can fold up the toilet's legs for easy and quick travel. Moreover, storing this toilet in your RV is also easy. The contoured seat of this toilet ensures the highest comfort for the users. Its noteworthy features are:
Our Pick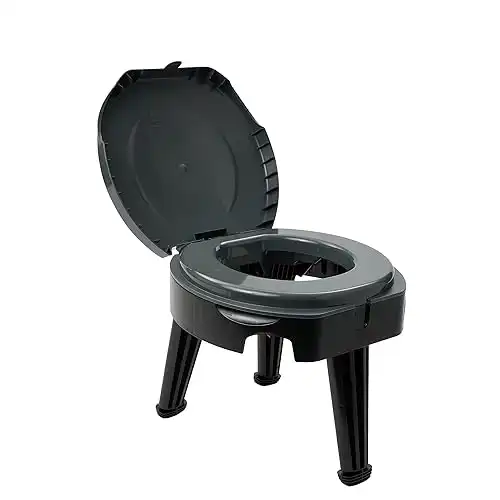 We earn a commission if you make a purchase, at no additional cost to you.
Reliance Hassock Portable Camping Toilet
The contoured seat of this portable camping toilet ensures enough comfort for the users. This is one of the unique features of Reliance's products. However, it is a self-contained toilet. So you can easily handle things while using this toilet as an Eco-fresh packet comes with it.
The disposable and removable bucket comes out from this toilet by detaching the toilet's seat. While removing the bucket, there is no chance of waste contact. The attributes of this toilet are the following:
Our Pick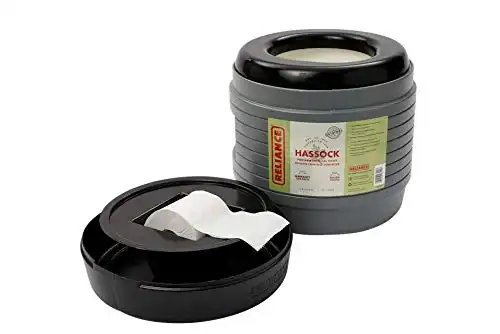 We earn a commission if you make a purchase, at no additional cost to you.
Camouflage Portable Toilet
You will get optimal privacy and concealment by using this camouflaged design portable toilet. This product is one of the perfect options for multiple people's uses or for weekend trips. Its capacity is 5 gallons.
This toilet seat is very comfortable and cleaning it up is also very easy. Doodie bags come with this Camouflage Portable Lou. Using the Doodie Bags, you can easily and quickly throw out the wastage. During bag removal, the waste will not come into contact with anything, and this toilet is designed in that way. The main features of this product are:
Our Pick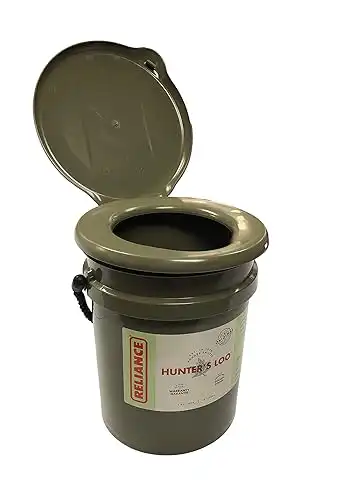 We earn a commission if you make a purchase, at no additional cost to you.
Porta Potti Curve Toilet
This toilet is specially made for campers and RV users who frequently travel on their RV. The Porta Potti toilet is easy to use, and keeping it sanitary is also very easy. This model is very lightweight. And transferring this toilet from campground to campground is also very easy.
Whether you want to bring this toilet to the campground or want to pack it up during the returning time, you can easily do it all. If you pin this toilet on your RV's floor, this unit will stay strong and won't move at all. The unique design of this product helps to avoid leakage and odors.
A battery-operated flush system is also available with this toilet. Every part of this model is effective, functional, and easy to use. The mentionable features of this toilet are:
Our Pick
Thetford Porta POTTI 565E Curve 4/5.5G
Features
The water capacity is 5.5 gallon
Leak-proof and odorless
No-spill system
No fuss and no muss
Available portable toilet bag
It is one of the optimal choices for extended RV trips and off-the-grid lifestyles.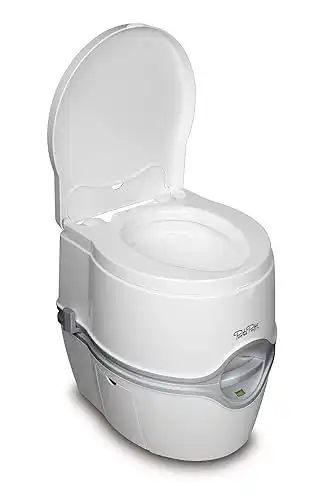 We earn a commission if you make a purchase, at no additional cost to you.
Portable Camping Toilet's Essential Features
The considering features of the RV portable toilet are the following:
Portability
Easy portability and accessibility are the main features you should check for while buying a portable toilet for your RV. The portable toilet's carrying and setting up process should be easy and simple as the RVers have to carry, pack and set up other things. However, a good portable toilet should be easily movable, lightweight, and sturdy.
Waste Bag Capability
For placing an odor-controlled waste bag, most portable toilets have enough space. However, some flashier models have an alternative system to rinse and empty the wastage. Before purchasing a portable camping toilet, you should look for its waste bag capability.
Comfort
Whether at our home or in our RV, or camping, we want comfort everywhere. Irrespective of the place we stay, comfort matters the most. However, compared to the home's standard toilet, you may require to control yourself while using the portable toilets in slightly different ways. Usually, you may deal with your comfort issue due to the toilet's size.
Volume
If you are traveling with your family or multiple members in your RV, then the most important feature is a volume that you can't overlook.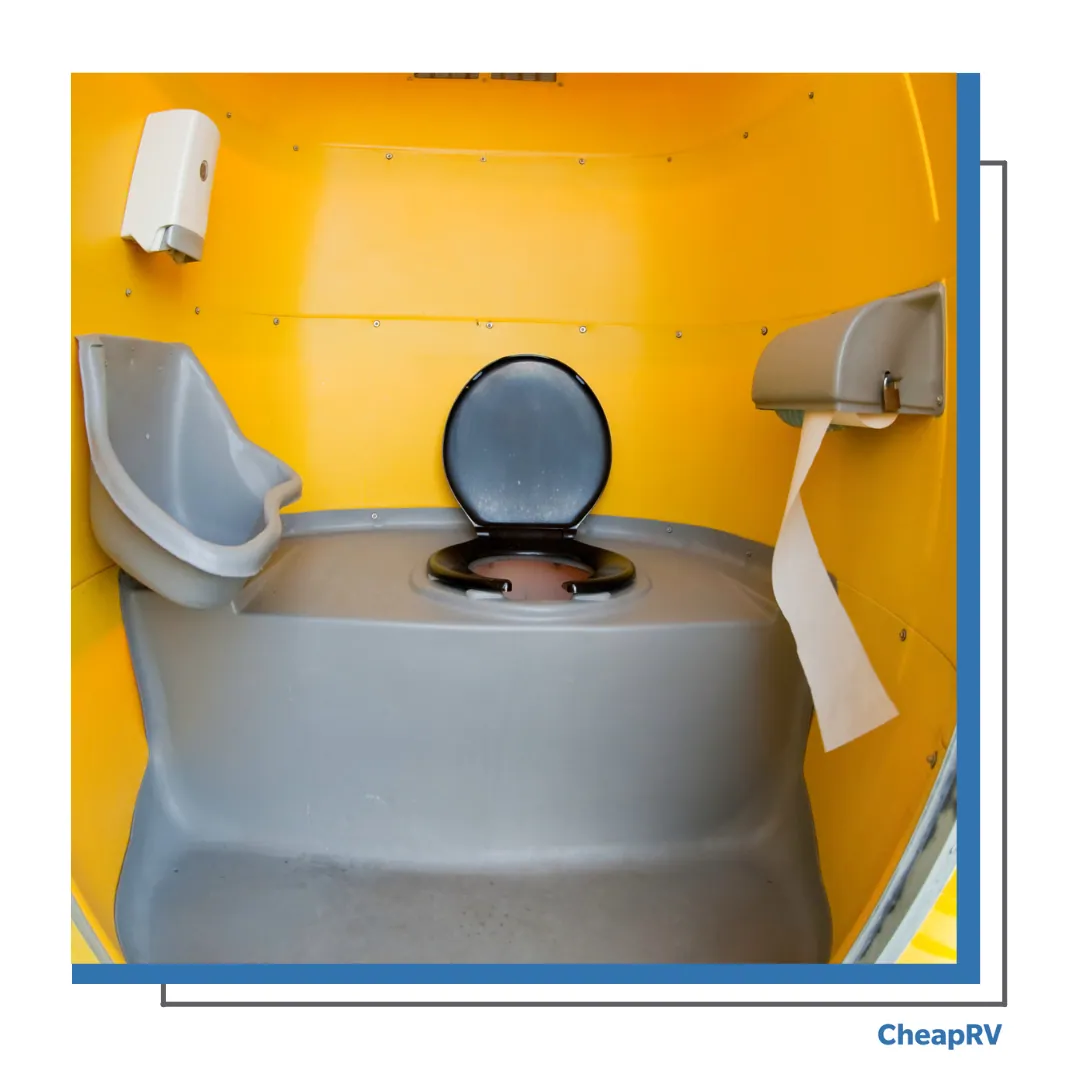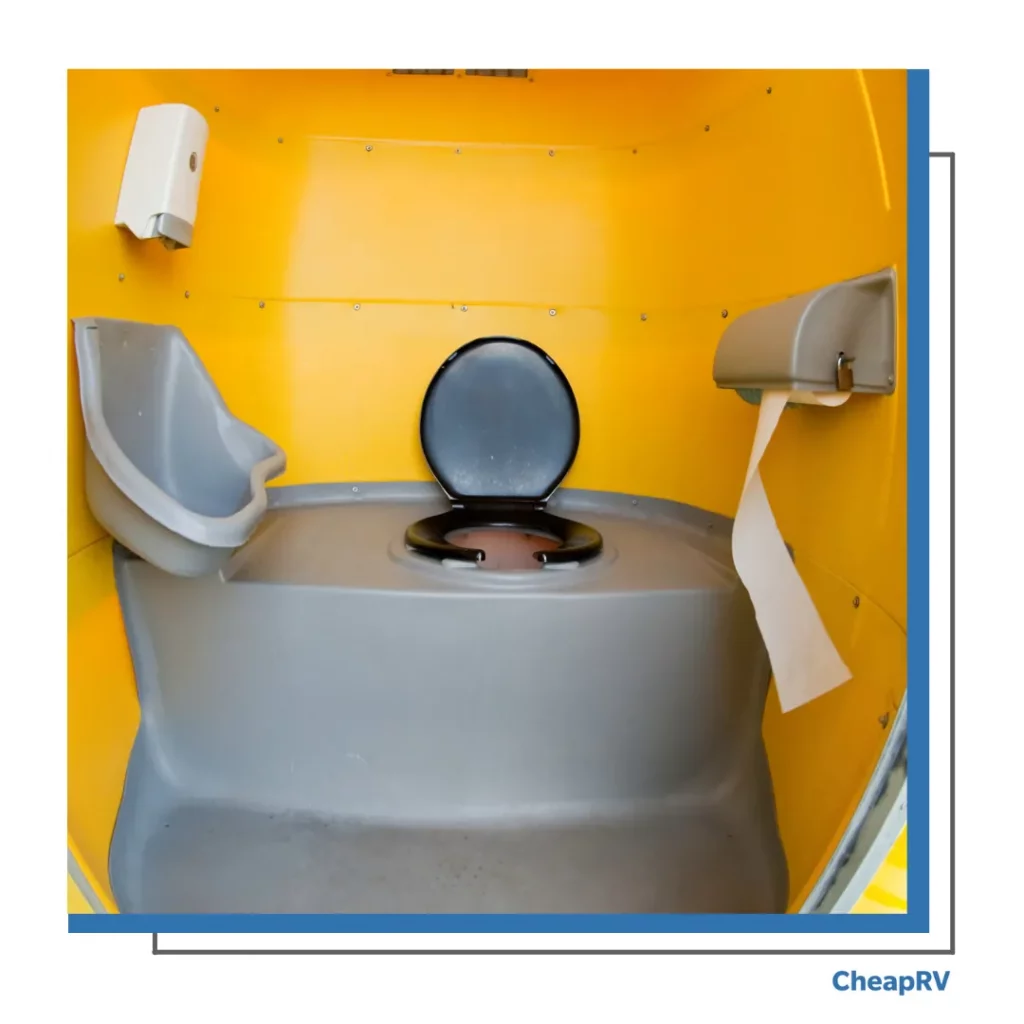 Almost all the above-mentioned toilet's capacity is 5 gallons. For general use, 5 gallon capacity of a toilet is good enough. Considering your party size, the requirement of the toilet's volume may vary. First, determine what volume toilet you require and then pick that one.
Easy to Use
The easy use feature of a portable toilet determines its comfort level. If any toilet is difficult to use, you will not be eager to use it. The easy use of the portable toilet makes it more convenient for RVers. If you get a portable RV toilet just like your home, it would be easier to use. Thus check for this feature while shopping for a portable camping toilet.
Water Tank
A water tank with an RV portable toilet is a preferable option for many RVers. If a smaller capacity water tank is available with the toilet, it will make flushing easier after using it every time. Or you can also buy a unit that comes with a larger or extended water tank. Whether you will buy a small or larger water tank-based toilet it's your choice.
Hygiene
Another important factor is hygiene. Check the toilet's leak issue and avoid such a toilet that leaks or drips. The leaking or dripping toilet will create a foul smell or stench. While purchasing a portable toilet for your RV, check whether it tightly shuts off or not. The deodorized portable toilet doesn't allow for a bad smell and keeps the odors away.
Flush
The flushing systems also vary based on the portable toilet's various models. Below the flush, there are manuals in some toilets. On the other hand, some toilets may have a Piston or push button under the flush.
More Recommendations From Cheap RV
Alpcour Portable Toilet
Alpcour is one of the best portable toilets, and it is an emergency solution while you are boating, camping, or traveling on the road. This fully functional and compact latrine offers your emergency bathroom relief. Just like a real toilet in your home, it provides you comfort and satisfaction.
This portable toilet comes with powerful cleaning action. And its installation doesn't require any external hookups or plumbing. Heavy-duty and durable materials are the main component of this unit. These durable materials naturally resist corrosion and rust and minimize odors.
However, the sturdy yet lightweight seat easily supports the entire RVers family, including kids, toddlers, adults, teenagers, and the elderly. At a full 360-degree angle, the sprayer of this unit keeps the bowl clean. You can dispose of contents hygienically and safely with the help of the rotating spout.
The waste level indicator of this unit works best when the content becomes full. And the anti-leak drain valve locks the odors and liquid. You can easily store this portable toilet anywhere as it comes with a handy case.
Our Pick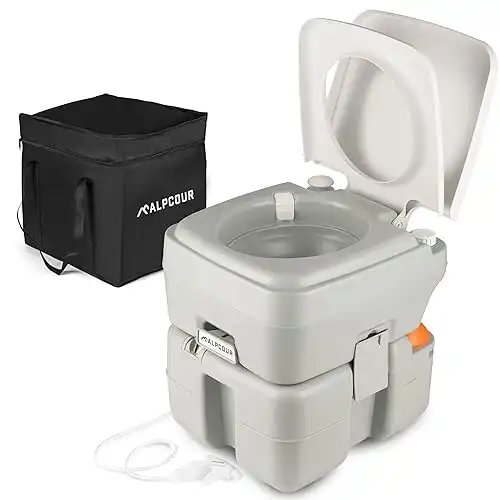 We earn a commission if you make a purchase, at no additional cost to you.
Camco 41541 Portable Travel Toilet
For meeting your bathroom emergency even at midnight, one of the greatest options is this Camco travel toilet. This unit works efficiently, and it ensures the utmost comfort and functionality for its users. You will get no odor or smell from this toilet while you are using it in your RV.
The capacity of this toilet is quite large, and after using it for several days, you can empty it. It comes with a detachable holding tank of 5.3 gallons and a flush tank of 2.5 gallons. The sealing slide valve of this unit gives leakage protection, and it locks the odors or bad smells. The sturdy construction of this toilet makes it unique from others.
For camping or RVing, you can use it, and this unit is undoubtedly one of the best things. Taking this portable toilet with you in your RV will help you to avoid going to the campsite's public restroom. It works great, and it is very easy to use and clean. However, the sliding valve in the two tank's middle doesn't have a lock or latch position. So it may create a problem sometimes. But overall, it is a great and top-quality product.
Our Pick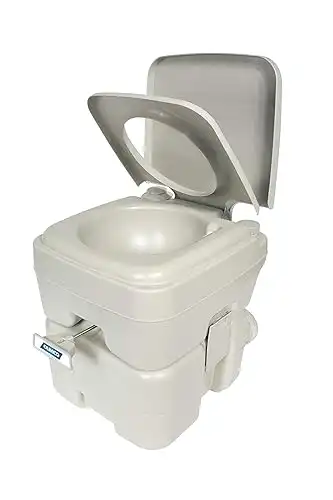 We earn a commission if you make a purchase, at no additional cost to you.
Thetford Porta Potti 365 Portable Toilet
Another top-of-the-line and award-winning portable toilet for your RV is this Thetford Porta Potti toilet. This unit is easily suitable for boats, RVs, Vans, or trucks. For camping purposes, this product is a good choice. It ensures hygiene and promotes your off-the-grid lifestyle.
This product ensures the holding tank's easy access. Moreover, it comes with a highly improved carrying handle in the water tank, making its carrying easier. Cleaning and emptying this tank is also very easy. The built-in wastewater and freshwater tank indicator eliminates its guesswork. Per fill, the average piston pump flush rate is 56 flushes.
This toilet's modern and sleek design with a large bowl makes it more popular among its users. Moreover, the seat height of this unit is also comfortable. Whether you want to use this tank for group or personal use, you can do it because it is designed in such a way. Furthermore, you don't need to spend time maintaining this toilet.
Our Pick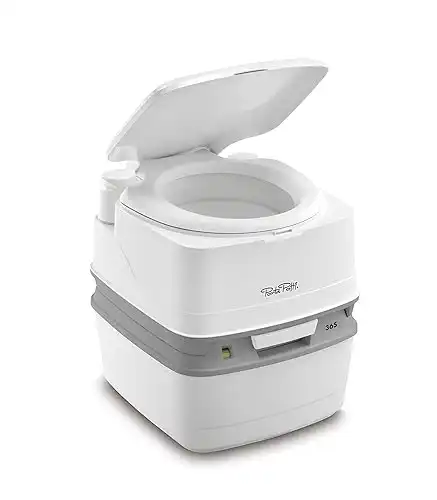 We earn a commission if you make a purchase, at no additional cost to you.
VINGLI Portable 5.3 Gallon Flushing Camping Toilet
The VINGLI portable camping toilet comes with improved piston pump flushes. The piston pump flushes bowl is much cleaner and safer than the bellows pump. The waste removal from this toilet is easier because of its T-type 3-way flushing. However, the bowl's slippery surface prevents the users from washing it.
The detachable holding tank's capacity is 5.3 gallons, and the flush tank's capacity is 3 gallons. Thus you can easily flush in this unit up to 95 times. In a flat state, the effective flush rate of this toilet is 95-98 times. Moreover, you can easily empty it due to its splash-free rotating pour spout features.
The vent of this portable toilet releases the pressure. Moreover, you will also get an indication of the unit's inner waste amount by its liquid level display. The red indicator on this unit means full wastage in the tank.
One of the biggest advantages of this unit is that it is compact, lightweight, and detachable. This product is ideal for fishing, boating, camping, RVing, off-grid living, or emergency outdoor activities. Before flushing, you should close the lid and, before emptying the tank, release its inside air pressure. While transporting it, make sure its sealing slide valve is closed. Open it only when you are using it.
VINGLI Portable Toilet | Indoor Outdoor Commode
You can easily detach this VINGLI portable toilet into two, and then you can nest it in one. Transporting and storing this unit is easier because of its sturdy but lightweight feature and top-notch compact design. You can take this portable toilet anywhere with you. It will ensure the highest comfort even while you are traveling on the road or staying at the camp.
It produces less odor or bad smell because of its dual lid seal. The removable inner bucket makes its emptying decent and easier. If you use a toilet bag in the barrel, you don't need to clean it. For an adult, the higher height of the seal ensures more comfortable use.
The sturdy construction of this toilet comes with a bottom anti-slip line and nested connection. However, a detachable toilet paper holder comes with this unit, and you can use it for holding your mobile. You can use this toilet both indoors and outdoor. You can easily store this toilet in your vehicle for emergency use as it requires less space.
Our Pick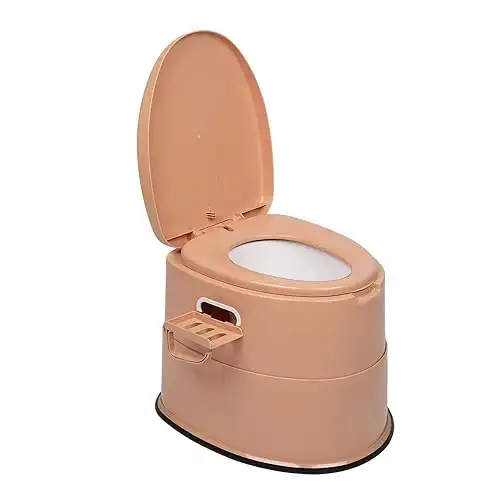 We earn a commission if you make a purchase, at no additional cost to you.
How to Empty a Portable Toilet Safely?
If your portable toilet comes with a basin and water flush system, you need to locate particular stations for dumping waste. Usually, most RV campgrounds or campsites have specific dumping stations. The importance of the dumping station is behind the description for proper and safe disposal of wastage.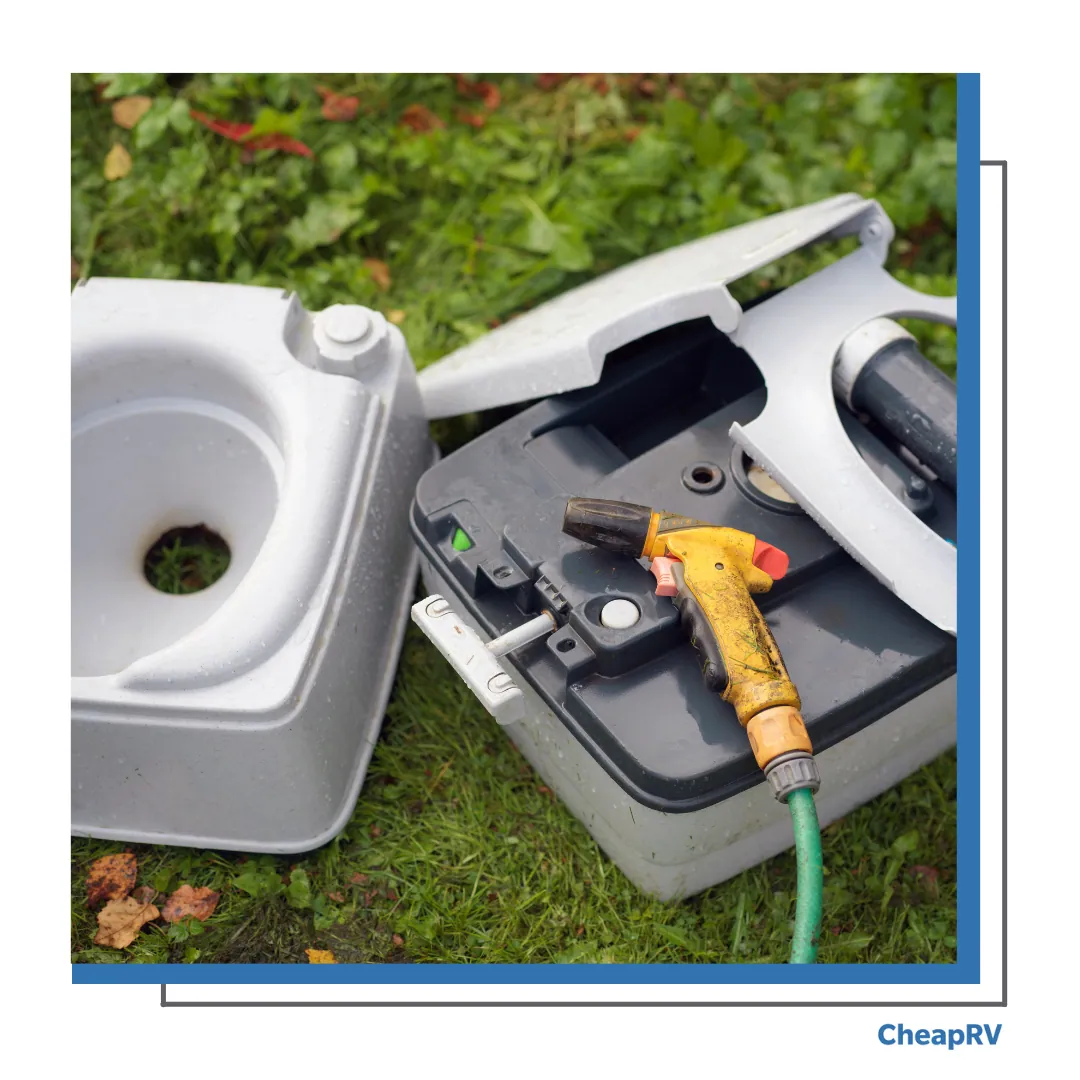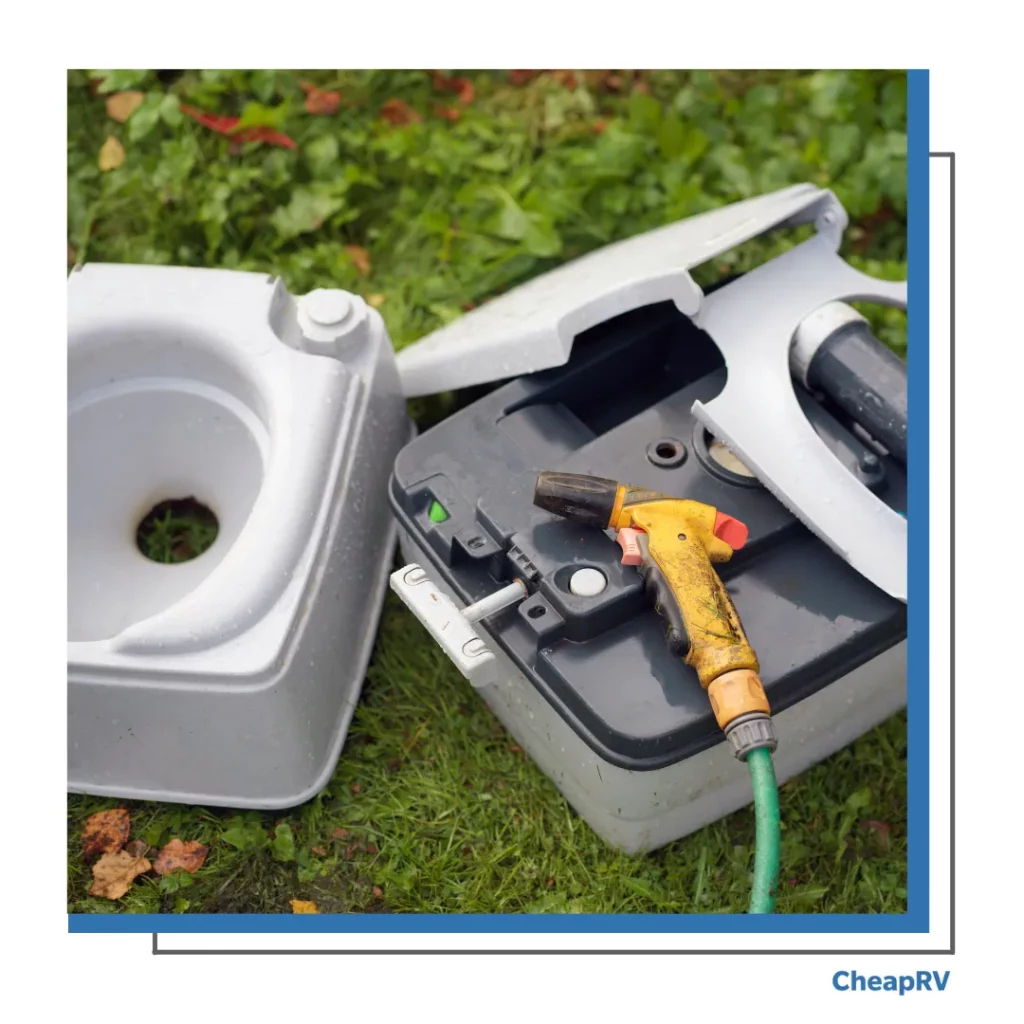 However, in the case of bag disposal, the following information may be helpful for you:
One of the most important things is Doodie bags to safely dispose of your portable toilet waste.

These are biodegradable bags (Check the bags whether it's biodegradable or not before purchasing them)

On the ground, dig a 6″ hole and dispose of the bag away from the water source (at least 100 meters away)

Make sure your waste disposal is not contaminated with water. Otherwise, it would cause harm for the organic life, animals, and other campers.

After properly burry or disposing of your portable toilet's waste, your job is done.
How to Fix a Clogged RV Toilet
One thing everyone wishes to avoid is a clogged toilet. It can happen anytime, anywhere and the best thing is to be prepared for when it happens. Why does it happen? Well, a toilet gets clogged for one of these four reasons:
Blocked line

Pyramid plug

The tank is clogged with compact waste

The sensor is reading full.
In our previous article, we've summarized everything you need to know about a clogged RV toilet and how to fix it. Read about our 5 best tips on how to fix a toilet quickly and efficiently and find out how to prevent your toilet from clogging. 
Bottom Line
Portable toilets and urination devices are crucial, especially while you are camping or RVing. Having a portable toilet in your RV means you know you have a certain hygienic place to go if you feel natural pressure. You can use the bathroom safely even while you are camping with the help of these units. So the importance of the portable toilet in an RV and toilet paper is behind the description.