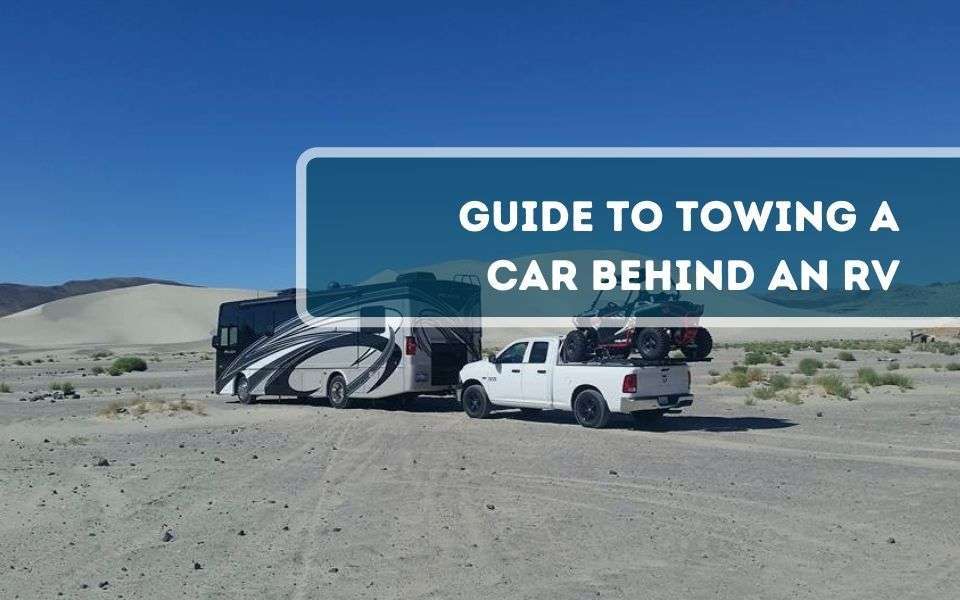 Guide to Towing a Car Behind an RV
Without compromising your comfort or luxury, RVing is one of the best ways to enjoy your adventure and explore the country. However, sometimes driving the RV, travel trailer, or motorhome is not the best idea around the city streets, residential, or parking spaces. Thus you need towing a car behind an RV as a car gives you the driving freedom for doing errands, day-tripping, or visiting a restaurant.
However, how to tow a car behind an RV is an important consideration that you need to know. Also, you should know whether you can pull any vehicle in your RV's behind. Whether you can tow a car in your RV back or not depends on several factors. However, the essential considering factors are:
Which type of pulling ways best fit the RV
The vehicle's weight
Whether the RV has enough capacity and power to tow the car.
Below, we will discuss how to pull a vehicle in an RV's behind and the other crucial factors. Let's dive into the discussion:
Equipment Required to Tow the Car Behind the RV
Before discussing the three types of towing options, you should have an idea regarding the RV car towing equipment basics. Then, you should arrange some essential items if you want your vehicle to tow behind the trailer safely. Regardless of which type of towing method you follow, you should have the following equipment for towing purpose.
1. Trailer Hitch
In your RV, one of the permanent fixtures is a trailer hitch. Most of the RV have already in-build hitch in them. But sometimes you may need to add the trailer hitch if you doesn't have one in your RV. Several hitched styles are available in the market. But having two main components are most common. The two components are a ball hitch and a receiver.
How much weight the hitches can pull is the basis of their rating. So before towing, always refer to the RV's towing capacity and vehicle's weight. Different types of hitches are available, so be sure which best fits your RV's need before buying one.
2. Electrical Connections
Irrespective of the type of towing method you follow, you have to connect wiring to the coach from the trailer in every technique. The electrical setup is crucial as it controls many things. For example, the electrical connections control the turn signals, brake lights, license plate lights, and the trailer's electric brakes.
The electrical connections make the toad street both safe and legal. Towing any car without proper functioning signals and lights is quite dangerous.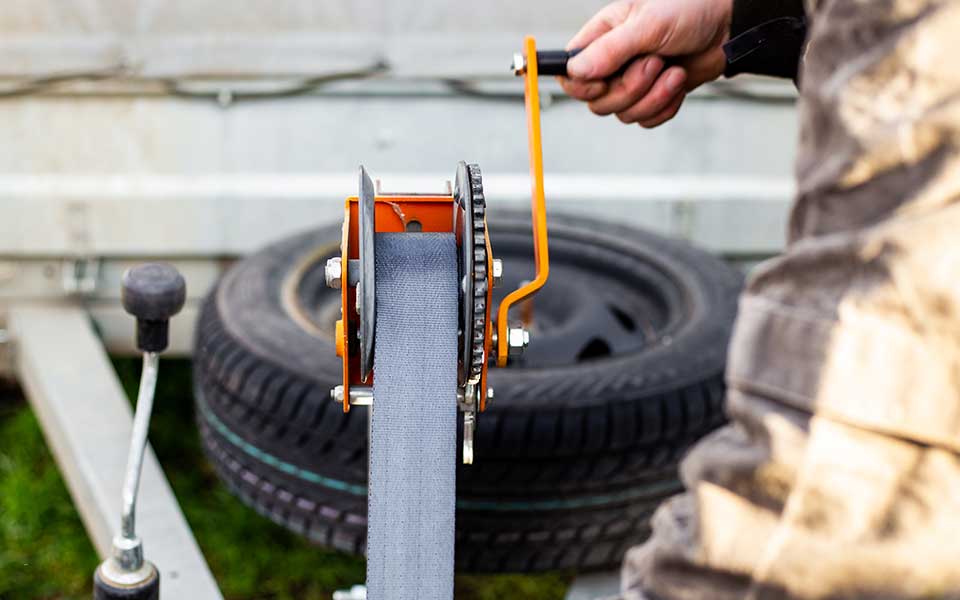 3 Ways of Towing a Car Behind an RV
There are three easy ways following which you can quickly tow the car behind your RV. The three ways are tow dolly, four-wheel down, or car hauler. Now two major factors influence your decision of which way to use for towing the car. And the influential factors are personal preference and whether the car's design supports pulling. So, now let's discuss the details of each of these:
1. Flat Towing
Flat towing is the first Towing way for your car while you are RVing. The vehicle's four wheels remain on the ground with this towing type. However, though this is the most common towing type and most RVers are familiar with it, all cars are not compatible to work in this method. The reason is ensuring the flat towing's safe accommodation in all transmission is not possible.
If you try to flat-tow a car that is impossible to tow with the four wheels down, your vehicle may face expensive and severe damage. However, flat pulling the car requires some modifications. First, you need a tow bar and base plate installation on the car's front. The car's front base plant installation will help you to connect to the tow bar.
Also, you need to install the safety cables and electrical wiring. Additionally, if you want to make your car's stopping safer, you can have a supplemental braking system. Obviously, you will not want to experience the failing brakes while driving down to the mountain with the tow vehicle and RV.
Flat towing is the best way to tow a car behind an RV, and many people consider it a gold standard. However, compared to dolly towing, flat towing is more expensive, and it's not surprising. Nevertheless, though this method is not cheap for daily driving, this is one of the best methods, and definitely, you will appreciate it. Moreover, while you are setting it at a campsite, it requires the additional space in the least amount.
2. Trailer Towing
You can easily tow your vehicle behind your RV using an RV car hauler such as an enclosed or flatbed trailer. Many all-wheel or 4-wheel drive vehicles use this towing method. This towing way is constructive, especially for avoiding the transmission's potential damage. Using an RV car hauler, you will require a ratchet and ramp straps.
If your car has electric brakes, you may also require a brake controller. However, there are several downsides to using this car towing method. First, excessive car weight may add some risk while driving your RV.
Extra weight can have a more significant and substantial effect if you use an RV car hauler. Before using this method, ensure that your RV is standard and up to the mark enough to follow this towing method.
While you will park your RV at the campground or campsite, for storing the RV car hauler, you may require a different place. Easily the car hauler will fit in the grounds, but you may have to pay fees for storing it. You may also bear the maintenance and registration cost.
3. Dolly Towing
Dolly towing is the best option for those who panic about failing to flat-tow their car. This is another way following which you can drag your vehicle behind your RV. This way is the most suitable solution for front-wheel drive vehicles.
When using this method, your vehicle's front two wheels remain on the dolly, and the rear wheels roll around on the ground. Compared to the flat towing way, the tow dolly's cost is lower, but it has several drawbacks also.
The tow dolly's heaviness is its first drawback. When you use this method, you have to ensure that your RV can endure the tow's weight and the vehicle's weight. In addition, the added extra weight greatly influences the fuel mileage of your RV. If your RV is large, then the fuel mileage is relatively poor already, and this tow dolly method will add extra weight to this.
The second disadvantage is storing the tow dolly at the campground or campsite, and you will require an extra room. And this disadvantage a little bit limit your option.
Tips You Require to Know While Purchasing a Vehicle for RV Towing Purposes
Manual transfer or manual transmissions were standard for most vehicles in the past. But the situation has changed. Now, technologically advanced electronic transmissions vehicles are dominating the industry. And ultimately, this advanced technology made the vehicles towing an RV more complicated.
Thus before buying a car, the RVers need to analyze and research whether the vehicle can be flat towing or not. First, however, before stepping into purchasing a car, you should consider the following:
Decide which type of car best fits your purpose or requirement.
Simply by seeing the other RVers are towing a vehicle, you should not buy it instantly.
Before buying a car for four wheels towing, you should have the car's owner's manual in your hand.
Check the vehicle's tow-ability as it's crucial, and it determines whether, for a specific car model, the base plate is available or not.
The Ways to Find Out Safe Towing Way for the Car
If you do tow in the wrong way, it can potentially destroy the transmission, so you should be careful. So, now you are probably thinking, what are the best towing options for your RV, and how can you know them?
You can easily tow any vehicle in an enclosed RV car trailer or car hauler. You can consider the enclosed RV car trailer option if this option ensures you that the vehicle's length and height will easily fit in the trailer. The manufacturer's website contains all the towing information. Thus, you should check that information before following any method.
Bottom Line
Towing a car behind an RV will allow you to travel here and there and wherever you want. However, you have several limitations while travelling in your RV without a towed car. Thus you should know how to tow a vehicle behind an RV because having a car will allow you to explore different great places.
Also, while you are going for a day trip, towing a car is an excellent way for saving some buckets on gas. Three towing options are available. Know the pros and cons and details of each method, and then select the best one that fits your needs. Using the above 3 options, you will be able to tow any type of car in your RV, so nothing can stop you from exploring great things on your trip.
Latest posts by Tim Harris
(see all)