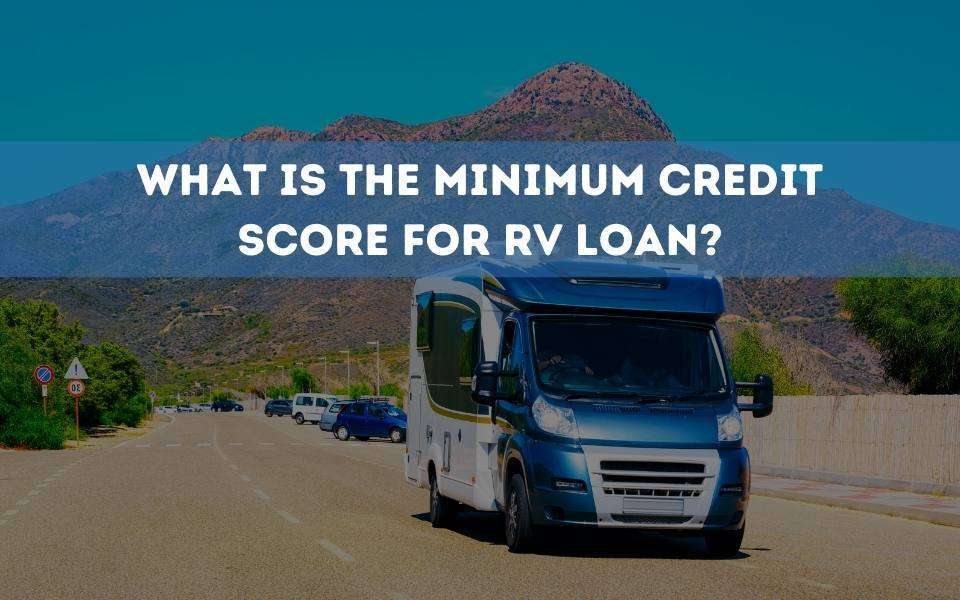 What Is the Minimum Credit Score for RV Loan?
RVs are a fun way to travel with your family and friends while still having comfortable accommodations. Your RV can feel like a home away from home because it gives you the same privacy and comfort you get when you're off the road. However, before you can enjoy a road trip with your friends and family in the comfort of an RV, you need to learn how to obtain one.
Unfortunately, RVs are expensive, so many people need a loan to purchase this vehicle. You need to meet minimum credit score requirements for a loan company to approve you to purchase an RV. Please continue reading to learn everything you need about the minimum credit score to get an RV loan.
Minimum Credit Score for an RV loan
The most popular place people get RV loans is from a credit union, bank, or RV loan company. If you have a low credit score, then it's unlikely that one of these companies will offer you a loan agreement. However, there are low-credit RV loans for people facing this circumstance.
The downside of using a bad credit RV loan is that your interest rates will increase. The better your credit score, the less you'll pay long-term for your RV. Now that you understand how credit scores relate to RV loans, it's time to go into more detail about how this works.
Credit Score for RV Loan
If you have a credit score that's less than 550, you're unlikely to get a regular RV loan. The higher your credit score is, the better your chances are of getting a great interest rate on your RV. Loan companies will also look at your debt-to-income ratio and employment history to determine whether or not you can pay off a loan for your RV.
RV Loan Interest Rates
Your interest rate varies depending on several factors determined by your loan company. Some things that can impact your interest rate include your credit score, the length of your loan, and whether or not you have anything in collections.
If you choose a longer loan, you can make lower monthly payments to use your RV. However, if you want your loan for as little time as possible, you'll have higher monthly payments.
The Requirements to Apply for an RV Loan
An RV is more expensive than a standard vehicle from a dealership. So, even if you had an easy time purchasing your daily vehicle, you might have trouble purchasing an RV. Purchasing an RV is between the difficulty of buying a car and buying a house.
You need to meet two main requirements before a loan company approves you for an RV loan.
You need to meet the loan company's minimum credit score requirements.
You need a down payment that aligns with your credit score.
You'll need to drop a larger down payment on your vehicle if you have bad or no credit. Below, we'll go into more detail about these two requirements.
1. Minimum Credit Score
Most RV loan companies and banks won't approve you for a loan if you have a credit score that's below 650. The higher your credit score is, the more likely the bank will approve you for an RV loan
2. Down Payment
Most loan companies require you to drop a down payment of at least 10% of the RV's total price. However, the minimum down payment varies depending on your credit score and the financing options you select. The more money you're willing to spend on your down payment, the more likely the bank is to approve you for a loan.
Tips for Getting a Loan with Bad Credit
Unfortunately, you may be in a situation where you don't have the best credit period the good news is that you can still get an RV if your credit score is below 650. However, you may need to jump through several hoops to accomplish this task.
1. Know Your Credit Score
You should monitor your credit score often to understand your financial situation better. Keeping an eye on your credit score is also a great way to improve your score to get approved for better loans. You should also pay off anything you have in collections to increase your credit score.
2. Look at the Loan's Aspects
Avoid getting blindsided by an exciting low monthly payment on your loan. If you have low monthly payments, you'll likely pay off your loan for longer. Strapping yourself down with lengthy loan payments can be frustrating if you have a troublesome financial situation.
When you get an RV loan, you need to look at your loan's APR, the terms of your loan, loan conditions, and interest rate.
3. Make a Down Payment in a Large Amount
Contribute as much money as possible to your down payment to lower your interest rate. A large down payment can also minimize the length of your loan and reduce your payments.
4. Use a Cosigner
If you have bad credit, you should have a cosigner help you. For example, if you have friends or family members with a decent credit score, they may be willing to sign on to your loan with you. Having a cosigner assist you with your loan is one of the best ways for people with low credit scores to get an RV.
Best RV Loan Lenders
The best RV financing institutions are the following:
Great RV Loan
Alliant
Lightstream
Southeast Financial Credit Union
My Financing USA
A reliable loan company is a huge perk when looking for an RV loan. You don't want to make payments for years using a company that you don't trust.
Conclusion
Most loan companies require a minimum credit score of 650 before they approve you for an RV loan. RV loans are more difficult to obtain than other vehicle loans because they offer the comforts of a home. If you have a bad credit score, you can use methods to either increase your credit score or increase your chance of loan approval.
Now that you understand the ins and outs of how your credit score affects your RV loan approval, you should speak to a financing company. Consider your interest rate, loan length, and down payment before signing a contract for an RV loan.