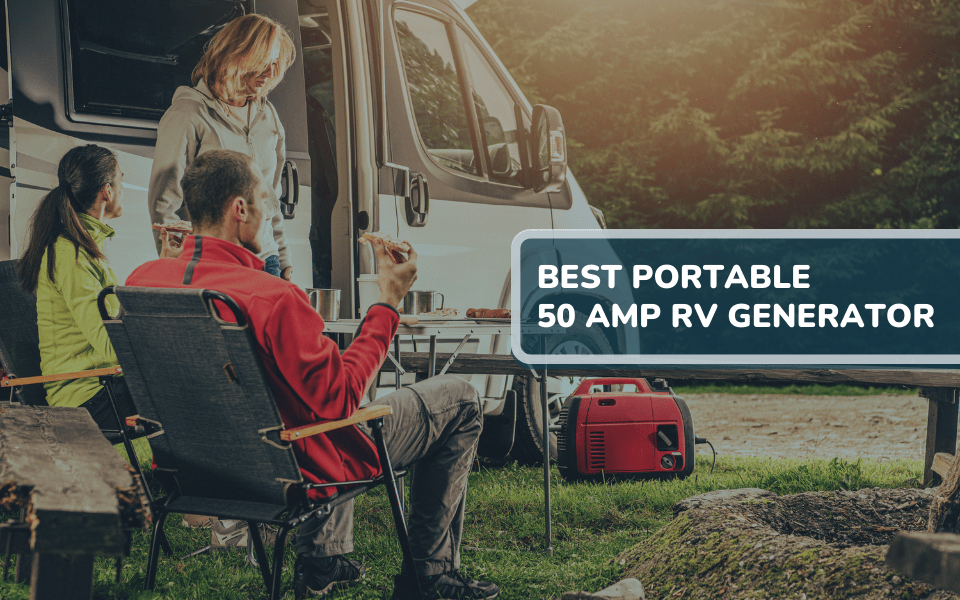 Best Portable 50 Amp RV Generator
Find the best portable 50 Amp RV generator before going RVing or camping, then you already know how important it is to store camping goods, food, and snacks, but if your power packs die on you when you're in the middle of nowhere, then what use are they? Every camper or RVer knows that they must have a strong backup plan for their power needs.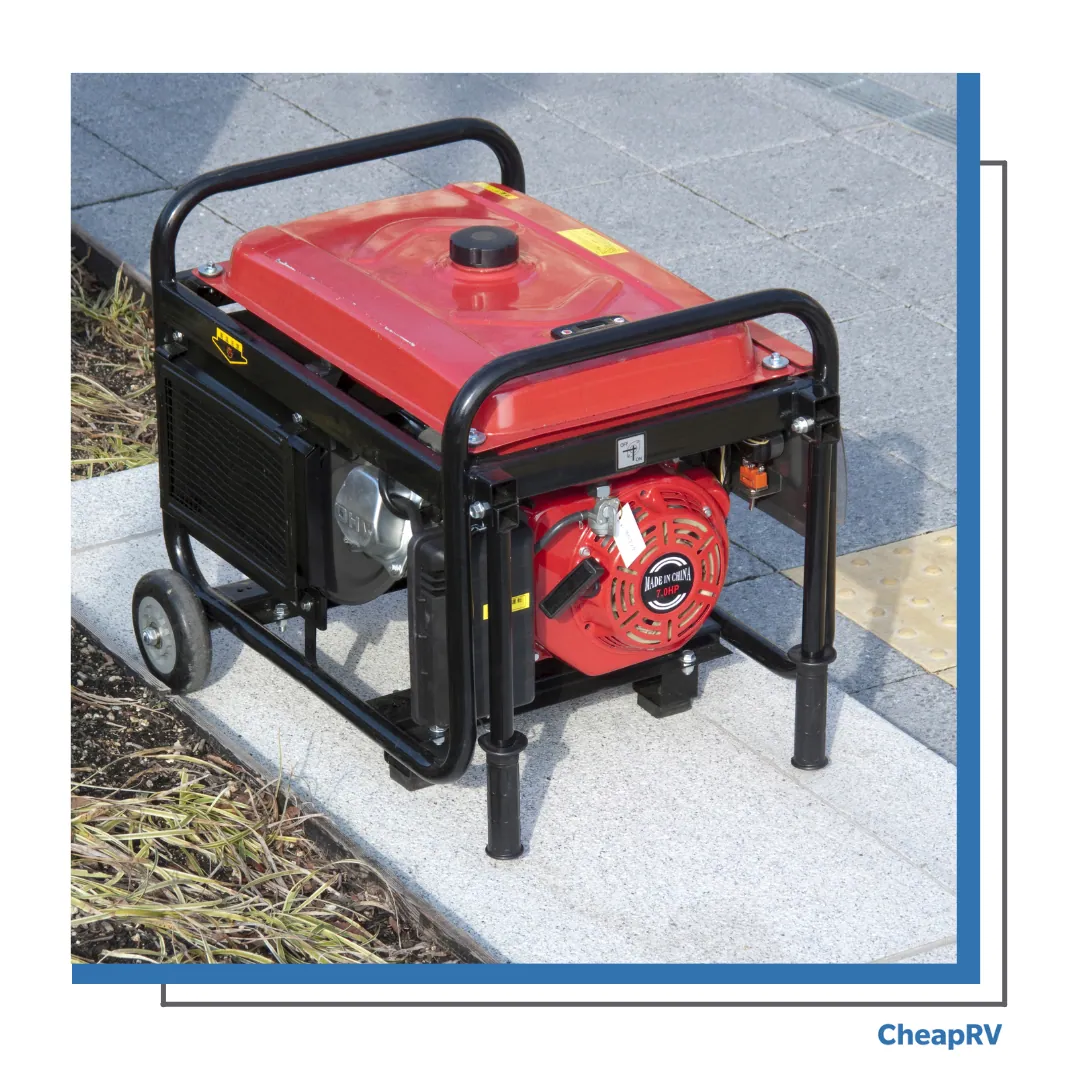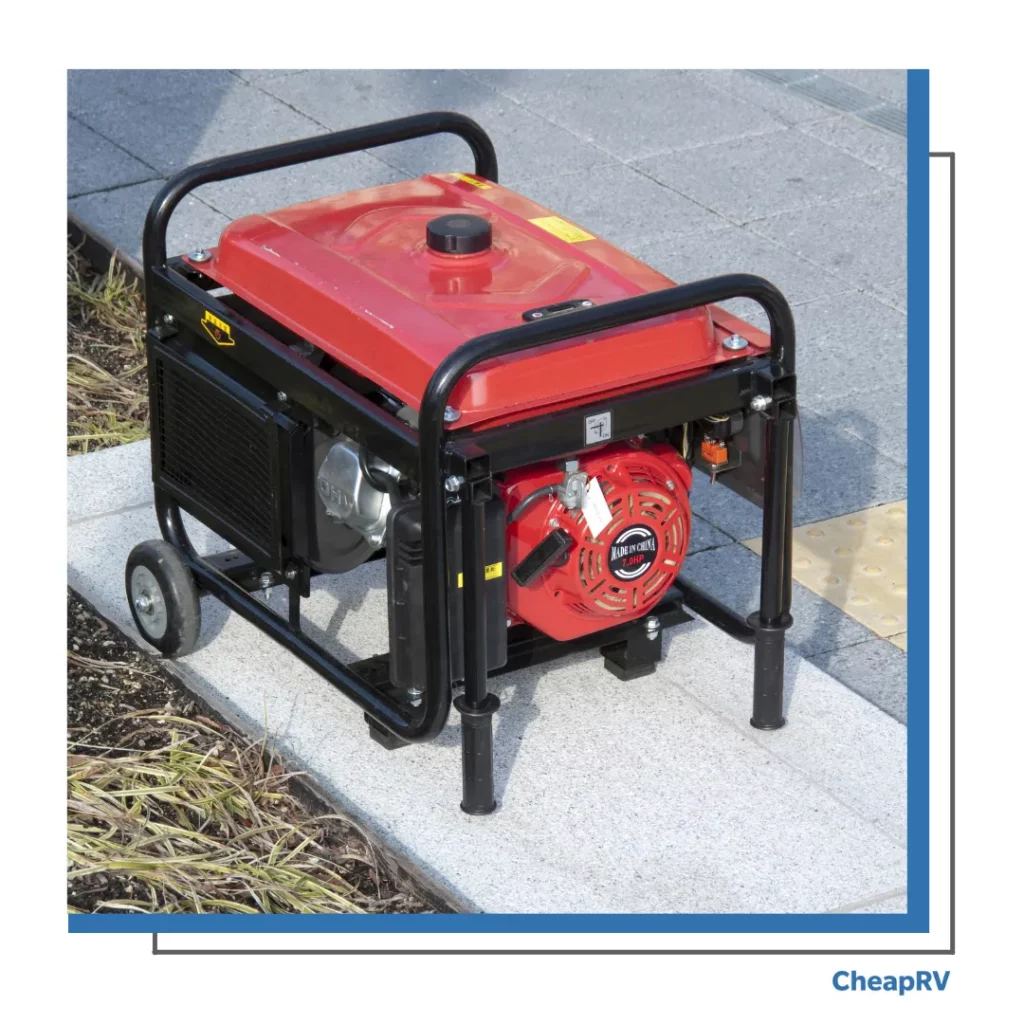 A very powerful RV generator to have is the 50 amp RV generator. This generator can handle heavy loads and is powerful enough to keep all your RV devices charged while you're on the road. Preparing for your trip is essential.
If you need a high-quality 50 amp RV generator, brace up, we are about to show you the best powerful RV generators you can find anywhere. But, first, let's look at the essential features of 50 amp RV generators below.
Essential Features of 50-amp RV Generator
The 50 Amp RV generator is an excellent option for many reasons when needing a generator for your RV. Here are the essential features of this generator:
Wattage
Watt is the amount of power that a generator usually puts out. Most RV generators have a power output range from 2,500 to 8,000 watts. However, some big ones can put out about 12,000 watts of power. This power is essential because it determines how many appliances you can run at one time and how long they will last on battery power.
Size/Weight
The size and weight of a generator are essential things every RVer or Camper should look at before buying it. If you have a big RV, you'll want a powerful generator to run all your appliances simultaneously. On the other hand, if you have a small RV, you'll get by with a smaller generator.
The generator's weight will affect the effort required to transport it from place to place. If you have an RV that's not self-powered, then having a lightweight generator will make it easier for you to tow it with your vehicle.
Price
The price of a 50 amp RV generator may seem like a lot of money, but when you consider that you will be using it regularly and for many years to come, it makes sense to invest in a high-quality, durable, long-lasting product.
A pro RVer would already have a budget covering an RV generator's cost. However, if you're a newbie RVer, it would be wise to incorporate the cost of the RV generator into your budget and go for an affordable generator.
Level of Noise
RV generators are designed to run at high speeds and produce a lot of noise. RV generators generate within 55 and 70 decibels of noise when in use. So, if you want to use your generator in an RV, you will likely need to purchase a model with reduced noise levels.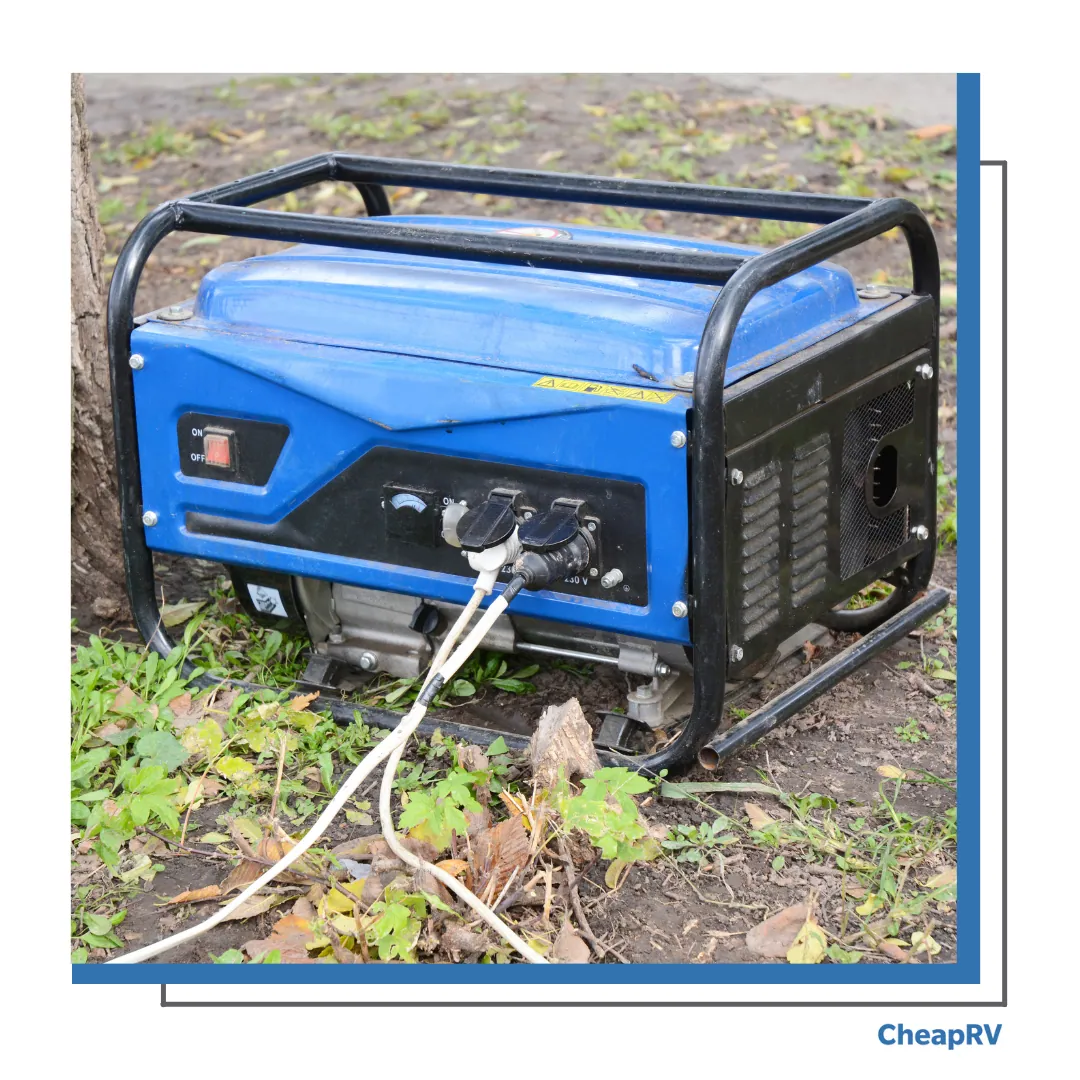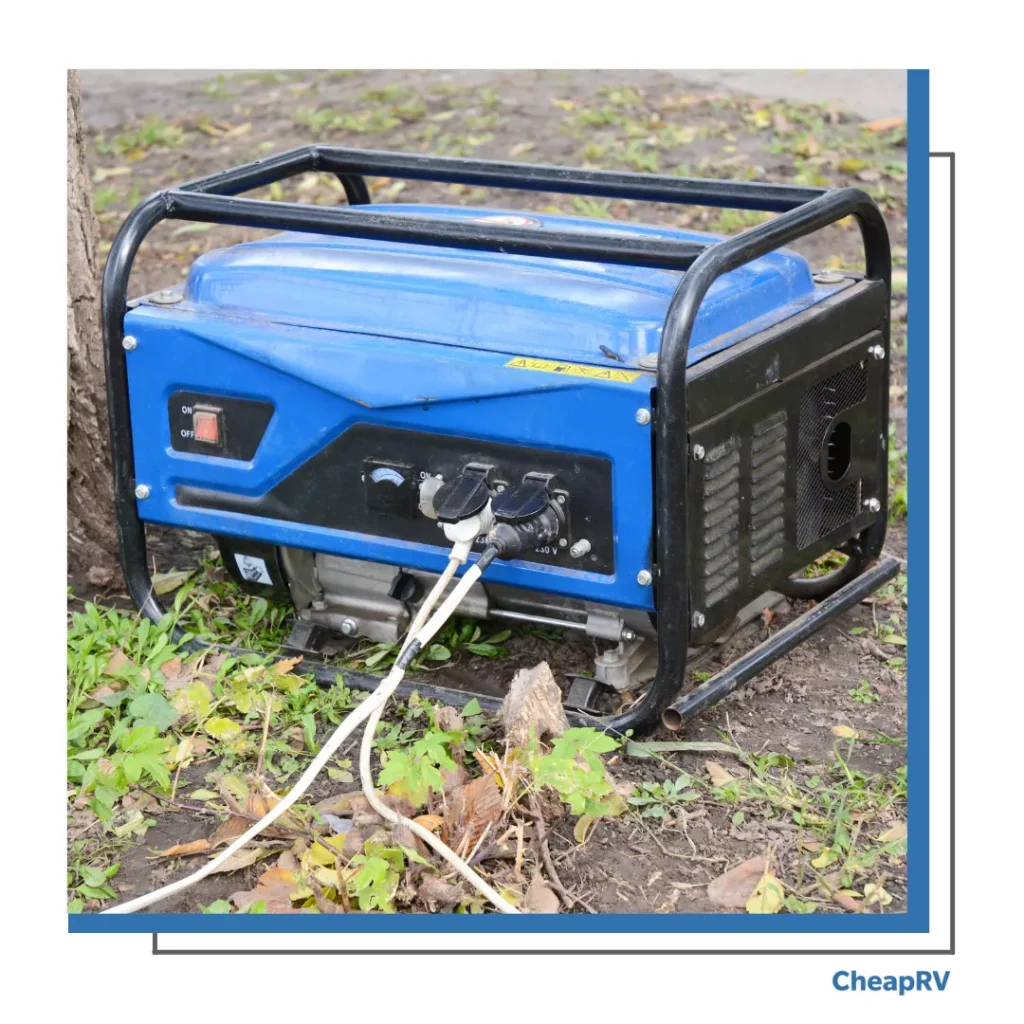 Some models are designed specifically for this use and have lower noise levels. Although these generators are more expensive than other models, they are effective because they come with Eco mode.
With Eco mode, in addition to making less noise, the generator requires less load to run, and as the name implies, it is eco-friendly.
Fuel Intake
The fuel intake of an RV generator is the same as that of a regular generator, with one exception. You'll notice that the fuel tank is much bigger. The reason is that you need to be able to fuel your generator for several hours at a time without having to refill it. You also don't want to run out of gas while in the middle of nowhere.
There are two types of fuel intakes: one is electric, and the other is manual. The electric fuel intake allows you to start your RV generator with a push of a button, while the manual one needs you to start it by hand.
Best Portable 50 amp RV generator
The question of the day is: What are the best portable 50 amp RV generators? And we will answer this question in a moment. It's a common question because there are so many models, brands, and choices that finding the right one for your situation can be a headache.
Here are the five best RV generators we found to be particularly effective for RVers:
Champion Portable Generator – 3500 Watts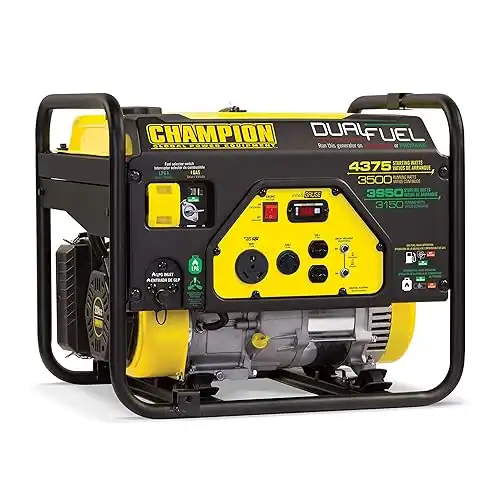 We earn a commission if you make a purchase, at no additional cost to you.
The Champion Portable Generator – 3500 Watts generator is the best choice for campers and RVers. It is very quiet and portable. In addition, the generator features an easy pull start system that makes starting it up a breeze.
The Champion 3500 Watt Portable Generator has enough power to run your RV's air conditioner and other appliances. It can power your RV's 15000 BTU air conditioner, microwave oven, refrigerator, or electric tools effectively.
This generator is very reliable, can function perfectly in extremely cold weather, and can be used in winter. In addition, the generator comes with a 2-year warranty from the manufacturer.
Here are some of the benefits of using this generator:
Excellent wattage power

Engine designed with safety in mind

The low oil shut-off feature

Cold start feature

DuroStar DS4400E Gas Powered Portable Generator – 4400 Watts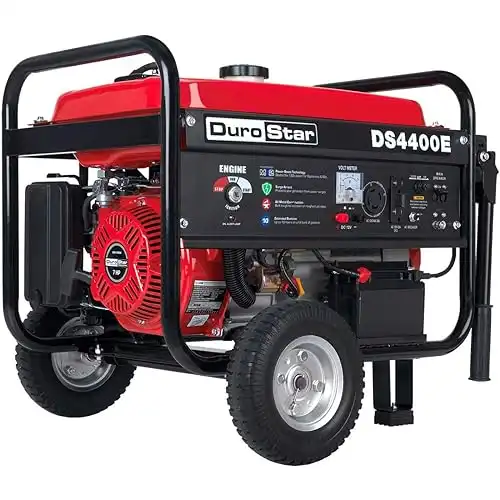 We earn a commission if you make a purchase, at no additional cost to you.
The DuroStar DS4400E is a high-powered portable RV generator that can effectively power your RV appliances like refrigerators, lights, and ACs
. The generator has a starting power of 4,400 watts and a running power of 3,500 watts.
The generator's advanced 4-stroke OHV engine delivers excellent performance and durability. This engine makes it ideal for use in outdoor environments. It also features a shut-off sensor that helps protect the generator engine from damage by automatically turning off the generator when it detects low oil levels.
The DuroStar DS4400E is perfect for campers and RVers who need a powerful portable generator to keep their electrical appliances running during emergencies or when they are off the grid.
Here are a few benefits that make it the perfect choice for campers and RVers:
Approved in 50 states
The run time is 8 hours
A wheels kit is available with this portable generator
Westinghouse WGen3600 Portable Generator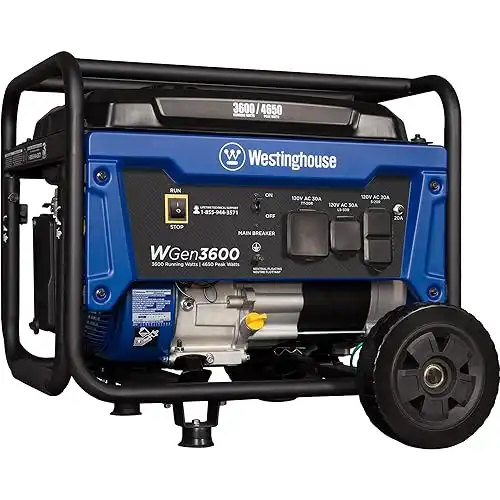 We earn a commission if you make a purchase, at no additional cost to you.
The Westinghouse WGen3600 is one of the best RV generators you can buy in 2022. In addition, it is available at an affordable price, which makes it an excellent choice for those who want to save money while still getting quality.
The Westinghouse WGen3600 is a portable 50 amp RV generator that uses gasoline as its fuel source. This generator has a peak watt output of 4650 watts and a running watt of 3600 watts. The generator includes generator oil, an oil funnel, a tool kit, and a user manual in its packaging.
There are many advantages associated with using this product; some of them include:
It comes with everything you need to start using right away
EPA and CARB Compliant
3-Year Limited Service, Labor, and Parts Coverage
Champion 4000 Watt RV Ready Digital Hybrid Inverter Generator with Dual Fuel Technology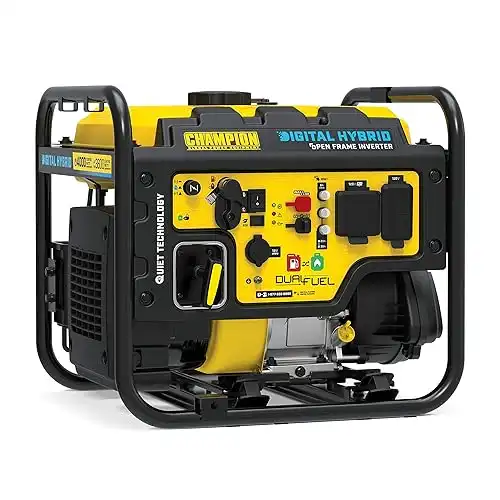 We earn a commission if you make a purchase, at no additional cost to you.
The Champion 4000 Watt RV Ready Digital Hybrid Inverter Generator with Dual Fuel Technology is the perfect RV generator. The generator is an excellent choice for anyone looking for an RV-ready generator. Whether you want to run your appliances or have some lights on, this generator will do the job for you.
It comes in an open frame design that is at least 20% lighter and 50% quieter than the 3500-watt Champion generator. It is highly cold resistant and can function perfectly in the winter. It has a powerful 225cc engine.
The generator also features a shut-off sensor programmed to automatically turn off the generator whenever it detects low-oil volumes to prevent engine damage. As the name implies, it has a 4000 starting wattage and a running wattage of 3500 watts.
The following benefits are why you should choose this product if you want to get a reliable generator for your RV:
CARB and EPA compliant

It can be fueled by gasoline or propane

20% lighter and 50% quieter than a typical 3500-watt generator
Duro Max Duro Star DS4850EH Dual Fuel Portable Generator – 4850 Watts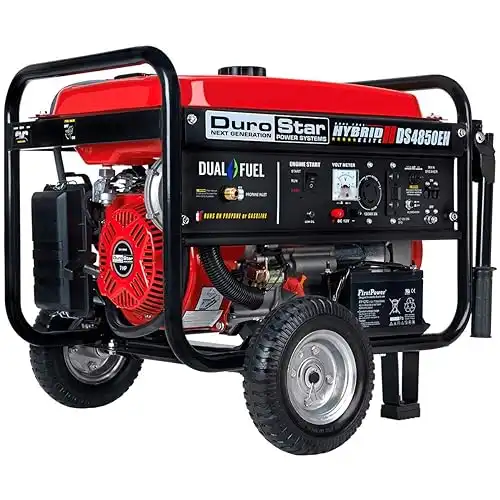 We earn a commission if you make a purchase, at no additional cost to you.
This generator is extremely powerful and the best choice for any RVer. It can efficiently power heavy appliances, thanks to its high watt output. It has a running wattage of 3850 watts and a peak watt of 4850 watts.
It also has a shut-off feature that automatically turns off the engine whenever it detects low oil volumes. This feature is essential because it ensures that your engine operates at all times efficiently.
The DuroMax DS4800EH is powered by gas and liquid propane fuel tanks, allowing you to run your RV appliances on demand. The generator has an automatic idle control feature, so it doesn't waste energy when not in use, and it also helps to keep your generator protected from overheating.
Its benefits are:
Powerful 210cc OHV engine
You can choose between operating the generator at both 120V and 240V simultaneously or 120V at full power
Low Oil Shut-off safety feature
Best RV Inverters for Your RV
There is no denying it, today we need a lot of electricity, even in our RVs. Having a good inverter ensures that we can use all our appliances. What is the purpose of an inverter? The inverter converts alternating current to direct current and vice versa. A lot of devices in your RV need an extra level of current for efficiency.
The inverter is an essential part of technology: it helps your AC output, saves your battery, and powers up all your devices. How to choose the best RV inverter? There are a lot of considerations when picking the best RV inverter for you, based on specifications, use, features, and user reviews. Whether you want a high or low voltage, protection against overheating, short circuits, or overload, be sure to focus on your needs and choose an inverter that will serve all your purposes.
Final Thoughts on Finding the Best 50 amp RV Generator
This article has looked at five of the best RV generators and their key features. From experience, finding the right generator for your RV can be difficult because so many options are available. Luckily, we've done all the research for you to make an informed decision.
If you're looking for something portable, there are plenty of options on the market. However, some might be better suited for specific situations, while others won't be able to handle anything more than basic use.
If you're looking at portables, you need something that can run continuously without overheating or requiring too much space to operate correctly. You also want something that will last through many years of use without breaking down on you unexpectedly during an emergency.
What are Your Thoughts on the Best 50 amp RV generator?
Drop us a comment below on how this article helped you and what features and models you would prefer for your RV generator, and we will post them for everyone else's benefit.