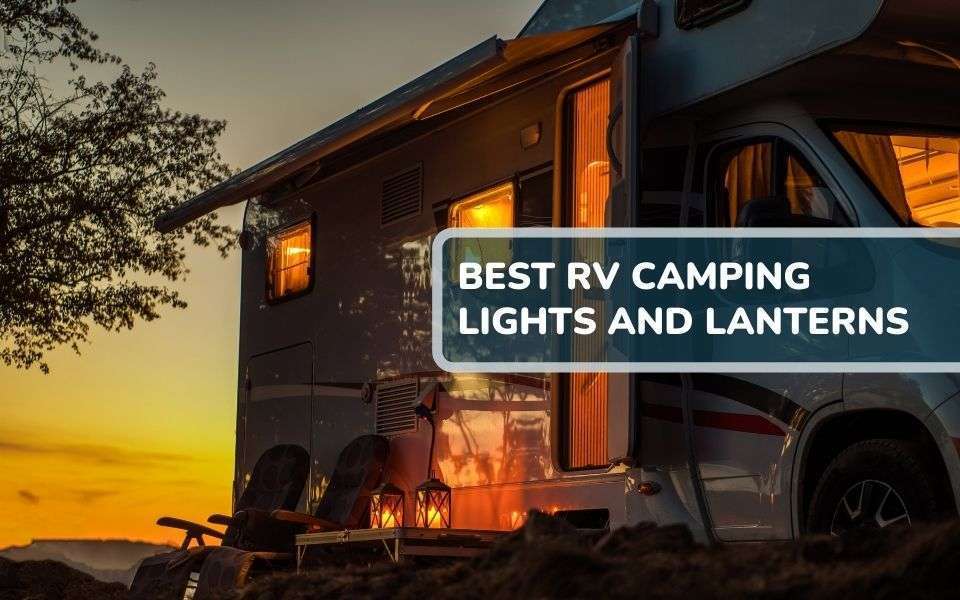 Best RV Camping Lights and Lanterns
RV camping lights are especially beneficial for those RVers who are seeking adventure and discovering remote and picturesque boondocking spots. Also, the camping lights are the best options for those campers who want to escape from the artificial light's pollution.
Irrespective of your type of camping or RVing style, having some additional camping lights and lanterns in your RV is always the best idea. Storing these lights doesn't take much space, but they may be proof handy in your camping or adventure.
The most helpful camping lights are LED bulbs, and these are the most efficient. These types of lights last long if you take care of them properly. Moreover, you don't need to plug these lights into an electrical outlet. In most cases, you can use the battery or solar-charged operated option to run these camping outdoor lights. However, there are huge lights and lanterns options available for RV. Thus choosing the best one is a daunting task.
Best RV Camping Lights and Lanterns
Some of the best-picked camping lights and lanterns for your RV are the following:
1. Vont 4 Pack LED Camping Lantern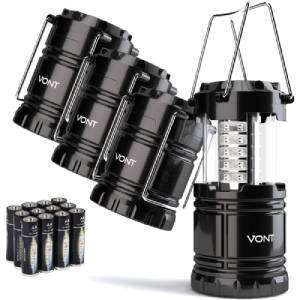 The Vont LED Camping Lantern is waterproof. And it's a luminous and reliable Lantern for your RV. Carrying this Lantern is very easy and ensures your money value. You can comfortably take it into your backpack or hang it when you set up the camp for easy access.
4 AAA batteries include in it, but these lanterns don't work with solar energy. This is one of the brightest lanterns at a reasonable price. Unfolding it is very easy. In a hassle-free way, easily you can organize these lanterns if suddenly the rain comes. However, you can use these lanterns at home as an excellent power outages backup. This option is really great for conducting different tasks such as having some light when reading books or camping with buddies.
The high quality and robust construction of this product will attract you. Whether you are camping outside or looking for a power outage solution when you are at home, this product is really beneficial for you. So, now let's take a look at the features of this product:
Key Features
30 bright LEDs

Waterproof body

Pack of four

Lightweight and compact design

Lifetime warranty

Integrated hanging hook
2. VANGO Star 85 Lantern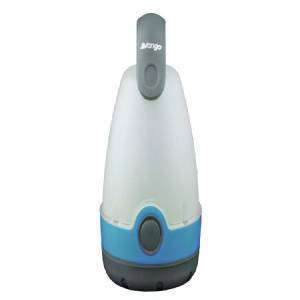 If you want to relish a warm and beautiful lighting effect, this Vango Star 85 Lantern is for you. For camping or RVing, this Lantern is a perfect choice. Dual setting options are available in this lamp. You will get 40 lumens brightness level at the Lantern's lower setting. And 85 lumens is the brightness level at a high setting.
This product offers a high setting brightness level to enhance the close-up visibility. With a focused beam up to 100 meters, this Lantern provides a clear visible range. Moreover, you can use this Lantern as a carrying handle because a hanging hook is available. The features of this Lantern are the following:
Key Features
The light will not bother your eyes as the frosted glass protects the light

Warmer LED light glow

Calm and bright, 2 light settings are available

The integrated hanging hook can be used as the Lantern carrying handle
3. Eurohike 3 LED Hanging Light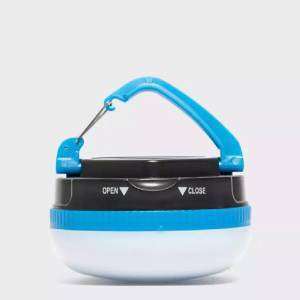 This light delivers ultra-brightness, and it is another best option for your RV. Flash, glow, and red flash is triple lighting modes available in these camping lanterns. You will get 20 lumens brightens from this Lantern. So whether you are camping outside, cooking, or reading at home, this Lantern is a good choice for close-up use.
You can securely attach this light to your rucksack or tent using the available integrated carabiner clip. A collapsible design is also available in it. For easy storage and transport, its size is perfect. The notable features of this Lantern are the following:
Key Features
Easy to store and requires less space because of its

collapsible design

With the help of the carabiner clip securely, you can attach this Lantern to your rucksack or tent

Three types of light modes, including flash, glow, and red flash

It gives 20 lumens bright glow
4. Coleman Twin LED Camping Lantern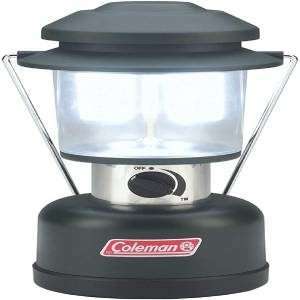 One of the classic profile lights is this Coleman Twin LED Lantern. Setting this Lantern at high will produce impressive 390 lumens of light. In addition, you can hang this light for a while in the rain because it is weather resistant.
However, when you set this Lantern at low, you will get 300 hours of illumination. This light is especially helpful for those who straightly camp for a month or longer. This Twin LED camping Lantern's rubber base makes it unique from others. Seven different settings are available in it.
It lights up to 10 meters on a higher setting and creates an influential circle. Bringing this Lantern for camping or in a tent is safe because it generates no heat at all. The mentionable attributes of this product are the following:
Key Features
390 lumens at the high setting

At low setting, 299 hours of runtime

Water-resistant

8 D batteries are included in it to power it

The warranty time is for five years
5. LE Rechargeable LED Camping Lantern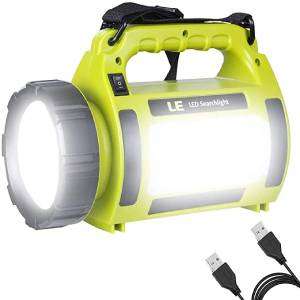 This is one of the best RV awning lights, and this camping lantern is super powerful. This Lantern provides light just like a flashlight. This light is definitely a perfect option for lighting up a large area. You can hang this light from the tent's ceiling or set it up on the ground. Moreover, you can easily switch this Lantern at the front light while you are walking in the dark.
Two light modes are available, and the front light is more powerful. 400 lumens and 1000 lumens are the available light modes. This Lantern can quickly light up to 1,650 ft. in case of a roadside emergency, and you can also use this product's flashing red mode.
This Lantern is specially designed for outdoor and camping adventures. The water-resistant and robust plastic housing makes this Lantern more powerful. Moreover, the weight of this product is only 30 ounces. So while you are packing this light in your RV or bag pack, it will not create pressure due to less weight. Furthermore, a 3600 mAh power bank is an additional feature of this Lantern. The other attributes are the following:
Key Features
Five light modes

3600 mAh power bank

1000 lumens

Up to 1650 ft. distance, it irradiates darkness

Front light and sidelight

Water-resistant

Red flashing mode
6. AYL StarLight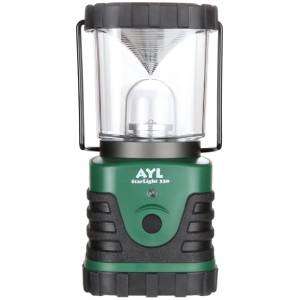 Compared to the other available camping lantern on the market, one of the brightest lanterns is AYL Starlight. This Lantern offers a brightness of up to 600 lumens for your outdoor activities. This light is specially designed to use for outdoor activities.
Moreover, this Lantern runs using batteries. Thus it will provide the lighting support for the long term. This Lantern can operate efficiently for up to 6 nights using a single set of batteries. The attributes of this light are the following:
Key Features
Stable, rock-solid, and sturdy

Low, high, and SOS modes

Shockproof

Water-resistant

An incredible light with 600 lumens
7. E-Trends Portable LED
The E-trends stands out from the market crowd by producing portable LED tent lights and lanterns. The well-constructed inverted light bulb may look gimmicky, but this light makes enough brightness. Moreover, all these lights are water-resistant and energy-efficient. You can quickly bring two lights in your backpack, and their storage requires less space.
Anywhere you can hook up this portable LED camping light. A 3 AAA battery is required to use in this Lantern. You can make a more excellent camping experience by selecting this bright, well-built, and easy-to-create Lantern. The features of this product are the following:
Key Features
Water-resistant

Each lump generates clean LED light of 150 lumens

Bright light up to 360 degree
Buyer's Guide: The Way to Choose the Best Camping Lights And Lanterns
For choosing the best RV camping lights, you should focus on the following factors. All these features enhance the functions of the lanterns. And you should buy that Lantern for your RVing or camping purpose, which has all the following attributes:
Electric Vs. Gas-powered Lanterns 

Weight 

Lumens 

Packed size 

Ease of use 

Battery life 

Extra features
Bottom Line
For an excellent camping experience and adventure, you should have the best RV camping lights. Thus we organized the details of some top camping lights and lanterns which will definitely meet all your needs. We described the features of the best RV camping lights and lanterns. But thousands of other options are available in the market with endless types and variations. 
You should pick the best string lights for camping which is bright enough to remove the darkness in your camping space. Also, you should choose one which is simple and easy to carry so that after a long day of hiking, you don't feel tired of having your Lantern. Also, the lightweight Lantern will definitely save your pack space. So considering the above discussion, focus on your need and choose the best camping string lights.
Latest posts by Tim Harris
(see all)