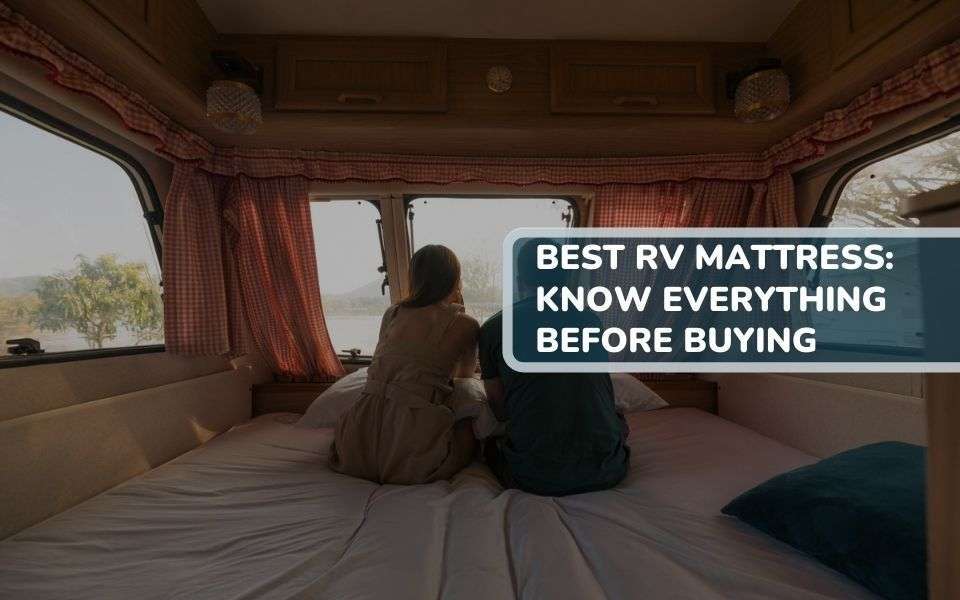 Best RV Mattress: What to Know Before Buying
Having the best RV mattress in your RV is essential to ensure your quality sleep. Whether you are driving to different destinations or hiking all day, sound sleep is a must after returning to your RV. And the best mattress in your RV can ensure sound sleep after a long tiring day.
Having an RV mattress is a good idea while traveling in your recreational vehicle. It ensures softness and comfort for your body. And after a long tiring day, you know where you will peacefully sleep at night. A quality RV mattress offers several features to RVers, including pressure relief, temperature regulation, durability, and motion isolation.
Difference Between A Regular Mattress and RV Mattress
Sometimes the RVers become confused thinking about whether a regular mattress and an RV mattress are the same or not? And whether the beds have any significant differences?
Okay, we are helping you to clear your confusion. Mostly, an RV mattress and a regular mattress are the same. But there are some prominent points of difference, and those are the following:
The sizes of RV mattresses and residential beds are not the same. RV mattress size is significantly different from the residential beds.
Compared to the residential counterparts, the RV bed's length is less or shorter.
Usually, the RV mattress's shape is quite odd. In fact, some camper mattresses have radius corners or cut corners.
You can easily fold up your RV mattress but folding up the residential mattress is quite tricky.
Can You Use a Normal or Regular Mattress in An RV?
If your regular mattress perfectly fits your RV, you can use it in your recreational vehicle. The available space for a bed in your RV is the most crucial determining factor of whether you can use the residential mattress in your RV or not. Measure your existing residential mattress's size and RV's bed space to know whether it will fit in your RV or not.
If your standard residential bed's dimensions perfectly match your regular mattress, you can use it in your RV. So, hopefully, you now get the answer to whether you require an RV unique mattress or not. The answer depends on your RV bed platform's dimension. And if your regular residential mattress matches this dimension, you can use it.
Top-Rated RV Mattress Brands
Based on the RVer's personal experience, some of the top-rated brands for RV mattresses are the following:
Brooklyn Bedding
Tochter
SleepDog
All these above top-rated brands produce the best and most comfortable RV mattresses.
Features of RV Mattress
The noteworthy features of RV mattresses are the following:
Size
Weight
Material
Firmness
Comfort
Sleep temperature
Durability
Sleep trial
Number of sleep surfaces
Warranty
Best RV Mattress Buying Guide
Whether you are sleeping in your home or RV, you should not compromise your sleep. Only a good RV mattress can ensure sound sleep for you. But before buying an RV mattress, you need to know the details buying guide. The buying guide will tell you how to buy an excellent mattress for your RV. So, let's take a look at the following discussion:
1. Mattress Size
The size of your RV mattress is the most crucial factor. Several RV mattress sizes are available in the market, just like the residential mattress. Knowing the exact measurement is very important to ensure the custom-crafted mattress's perfect fit.
Measure your RV's bed location twice to get the best fitting RV mattress. Start the measuring procedure by measuring the total sleep space. Perfectly measure your mattress's width, length, depth, and available space.
Now take the 2nd measurement of the existing RV mattress you already have. Again measure your current mattress's width, length, and depth. Taking the measurements of your existing bed will help you understand what new changes you need to bring in a new mattress.
Properly look at all the space near your bed. Find out whether any obstructions around the bed will hinder you from selecting a thicker RV mattress. Sometimes some factors around the bed space may create an issue in choosing the thicker mattress. For example, your RV's back wall is bent, and a thicker mattress will not fit in it. You should select thicker mattresses for your RV because it ensures a comfortable sleeping experience for the RVers.
2. Sleep Profile
Before buying a new mattress or replacing your old RV mattress, you need to determine your sleeping position. After deciding on your RV mattress size, you need to choose the best mattress for you. So now you need to consider other factors, such as selecting the firmness level and determining the correct sleep position.
Which type of sleeper are you? Are you a back, side, or stomach sleeper, or are your sleeping position combined? For all these types of sleepers, the general tips are the following:
2.1. Back Sleepers
If you are a back sleeper, your entire body requires full support and excellent spinal support. Back sleepers should avoid the mattress's excessive sinkage; otherwise, they will suffer from back pain. If your weight is under 250 pounds, then for you, the recommended option is the medium firmness level.
2.2. Side sleepers
Side sleepers for their hips, shoulders, and knees require the optimal relief of pressure points, which ensures equal weight distribution. The overwhelming majority of the average-sized side sleepers prefer the medium-level firmness of its excellent support combination.
If your body weight is less than 130 pounds, you will experience more sound sleep. Prefer the soft firmness level for ensuring the perfect pressure point relief.
2.3. Stomach Sleeper
The unique challenges of stomach sleepers are balancing the neck support and spinal alignment. To avoid the spine's excessive curving, these sleepers require their weight's equal distribution. Sleepers with 250 pounds or less weight can choose from the medium mattress.
3. Mattress Type
The traditional thinking is that you can't enjoy a comfortable sleeping in your RV just like your own bed. But right now, to make your sleep comfortable, many mattress companies are now converting their residential mattress product into the RV mattress size. You can choose from the following different types of mattresses for your RV:
Hybrid and traditional innerspring mattresses
All-foam mattresses
4. Advanced Cooling
One of the major complaints regarding the RV mattress is that sleeping in this type of mattress is too hot. While you are in an enclosed RV, this cooling system becomes more complicated and problematic because of the temperature control issue.
While traveling, if you are sleeping in a warm environment, you should buy an RV mattress that has specialized cooling features and advanced technology. You will now get the surface layer infusions and cooling gel foams in many beds.
The advanced cooling technology-based mattress draws your body's excessive heat. And on contact with the bed, your body delivers heat, and the mattress has to cool on contact. Even you can moderate your body temperature. Even while sleeping on the road in your RV journey, these technologies can provide your body with a genuine feeling.
How Do You Know When It's Time to Replace Your RV Mattress?
If you see any of the following signs in your RV mattress, foldout couch, or sofa/bed, you should replace your old one with a new one. The unique signs are the following:
After waking up from sleeping, you feel discomfort in neck or back pain
After using the current RV mattress for sleeping, your allergies increased extensively
On another mattress than yours, you enjoy your sleep and have a better sleep
Dirty mattresses such as (mites, bedbugs, etc.)
Your bed releasing an unpleasant odor
Change in your physical needs due to accident, pregnancy, aging, or any other reasons
You buy a used or old RV or travel trailer, and you just require to change the mattress as your RV refurbishment part
Old mattress
You just feel like you have to change your mattress
Popular RV Mattress Types
At present, the RV mattresses are made of various materials. However, most beds are made of pure material or a hybrid. The standard RV mattress types are:
Innerspring: The old-school style type mattress is innerspring. Along with various topper configurations, the steel coil spring is a crucial material of this mattress. Pillow tops or other types of foam cover this mattress's tops.
Memory foam: For pressure point relief, one of the excellent options is memory foam mattresses.
Latex: Two wide varieties of Latex foam is Synthetic and Natural. Natural Latex foam is less durable and more expensive and is made of rubber trees. But the synthetic foam is exposed to heat, softening and abrasion-resistant
Polyurethane Foam: The lowest quality and most inexpensive mattress foam is polyurethane foam, and it is made of chemicals. Petroleum products and other added fillers are the main components of polyurethane foams.
Bottom Line
The Best RV Mattress is relatively self-explanatory, and it ensures the highest level of sleeping comfort for RVers. The best mattress should perfectly fit your RV's bed platform. Thus before buying it, consider its size and maximum weight. Carefully select your RV mattress materials based on your personal preference.
Also, depending on your choice, select the medium-firm or substantial mattress for your RV. Within the same model of RV mattress, you will get various firmness levels, so pick the one which suits you the most. Overall, focus on your comfort and sound sleeping issues while buying a bed mattress for your RV.
Latest posts by Tim Harris
(see all)