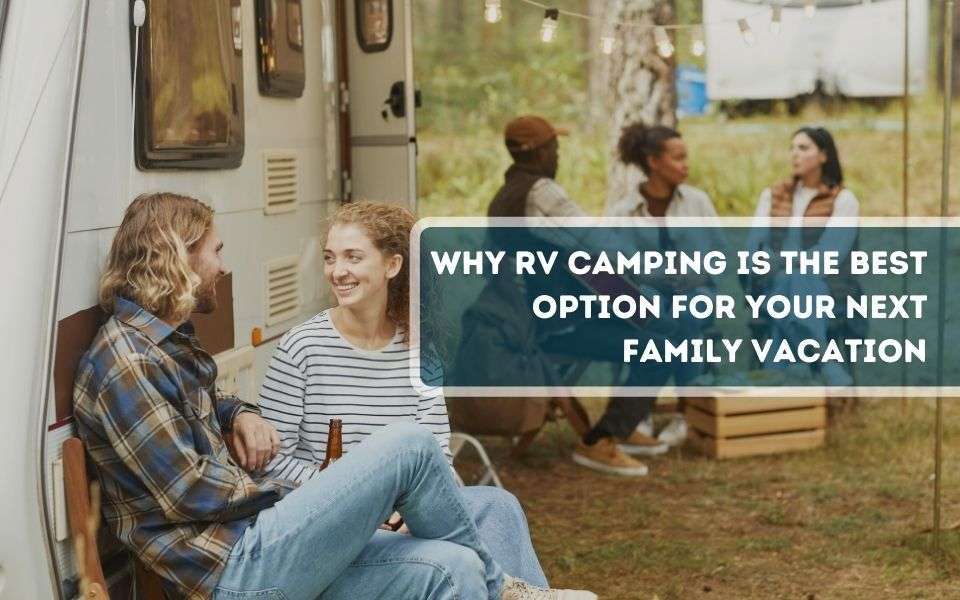 Why RV Camping Is the Best Option for Your Next Family Vacation
A Family RV vacation is an excellent option because it offers enormous freedom to the family members. The RVers and their family members can plan for an incredible vacation using their recreational vehicles. Moreover, family RV camping allows travelers to travel within their budget.
If for any unwanted reason, your flights get canceled, or you fail to end a trip, you may feel sad. But in this situation, only a recreational vehicle can significantly help you to continue your journey. You can domestically enjoy your vacation and hit the road with the help of your RV. In fact, you can enjoy the hottest destinations in your country by traveling on the street in your RV.
Moreover, one of the most significant reasons why camping is the best option for a family vacation is you can easily take your family and other necessities within the RV. Taking extra members without a ticket or additional amenities is not possible in air travel. Therefore, you should check the following reasons, which will give you a clear idea of why RV camping is the best family idea for a family vacation.
Why Family RV Vacation Is the Best Option?
1. Renting RV is Cost-effective
You do not necessarily have to buy it for camping in an RV or motorhome with your entire family. You can also rent an RV for a family vacation, and the rent amount is very affordable.
Quickly and ideally, you can meet your family's vacation needs by renting an RV. Several renting sites are available online where you can rent an RV or motorhome within your budget.
Usually, various price points or RV rent options are available on the RV renting site. Actually, the RV rent or price varies greatly depending on the vehicle's model. You can rent any type of RV, including motorhome, truck, travel trailer, etc., on per day basis. However, a motorhome may cost more compared to a car or travel trailer.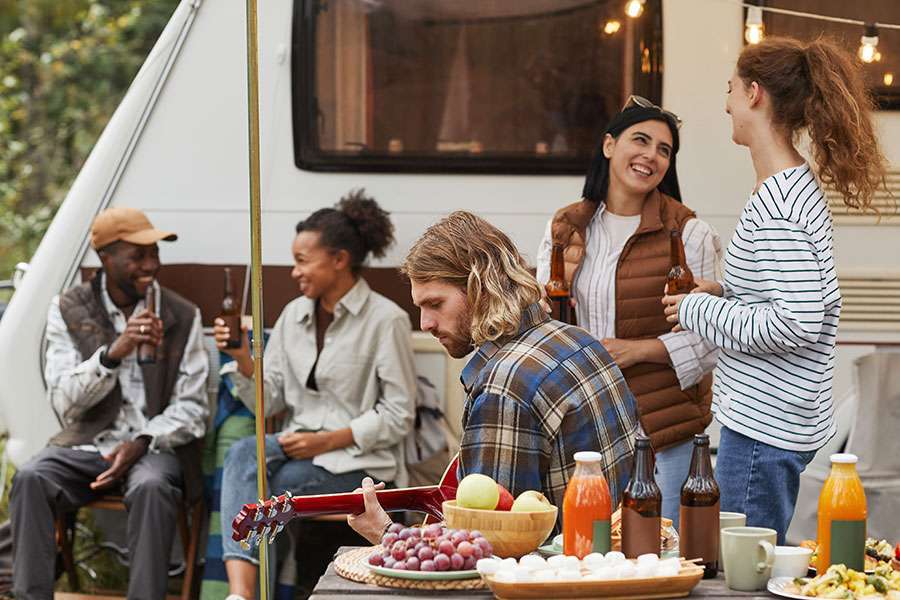 2. RV Versus Hotel: Savings Fact
If you want to stay in a hotel with your entire family to spend your vacation night, it will cost huge. Instead, sleeping in the RV with the family will cost less. If you have your RV, then you may have to pay only the parking fees. However, the parking fees are affordable compared to the hotel rent. And the fees may vary significantly depending on the parking place or campgrounds.
However, if you decide to park your RV at the RV Park or campground, you have to pay the site fees and daily fees for parking your vehicle. Still, if you compare RV versus hotel, you can save plenty of money even after paying the site fees compared to hotel rent.
3. Scheduling Freedom
If you want to go to a travel destination via air, you have to be present at the airport in time according to the airline's schedule. You have no scheduling freedom, and you have to make plans and manage time according to the airline's fixed program. On the other hand, if you travel in your RV, you have the complete freedom to manage your schedule according to your convenience.
You can travel and move here and there according to your schedule, and you don't need to rush to attend a flight. Moreover, if you want to spend more vacation days away from your desired destination, you can do that. But when you want to visit the popular locations with your RV, making reservations in advance would be better.
4. Relationship Building with Family
Family RV camping's one of the most and best crucial aspects is it helps to build the relationship with your family and make the family bonding stronger. When you are traveling or camping with your family and friends, you get a complete chance to talk with them and share your thoughts. Also, without any physical distraction, you are spending the time means you are getting closer.
5. Connection with Nature
While camping with the entire family in a campground or RV park, you are getting a complete chance to connect your soul with nature. Keeping in touch with nature means you are encountering the wildlife and seeing the big city's bright lights stars by lying on the grass. Nothing can bit this heavenly feeling to connect with nature.
6. RV Kitchen Allows Easy Food Preparation
If you stay in a hotel room, you will not get a chance to make food according to your will. Instead, you have to order food from the hotel or restaurant's food menu. But traveling in RV gives you the complete freedom to make food according to your choice. Also, making food in the RV kitchen is very easy.
The best RV for family must contain a kitchen, refrigerator, and other facilities. A mini-fridge is available in almost all the RV. Thus you can use it to keep your extra food. And it will save your expense as the hotel force you to take every day's meal at a time.
If you travel with your family in an RV, you will be less likely to face the food issue. Necessary kitchen equipment is available almost in all RVs. Also, you will have a comfortable bathroom, sleep, and kitchen basics in your RV. Thus if you prefer to cook all your meal in the RV, you have that freedom.
7. Avoid Pet Sitter Finding Hassle
At present-day, all the hotels and vacations spots are dog and pet-friendly. Still, you may face the hassle of arranging a pet sitter when your dog is also with you on the trip. Especially if the air is your traveling medium, you may suffer much in lack of a pet-friendly flight and hotels.
But RV helps you to enjoy a relaxing vacation and remove all the pet sitter related hassle. Taking your pet in your RV with the family is not a problem. Also, you don't need to think much regarding the cooped up of your pet in the room's inside for too long. You will get huge time to enjoy the outdoors and nature while traveling in your RV, and you will also set your pet free.
8. New Skill Development
While camping in nature with your RV, both you and your family will indeed develop various new skills, including time management, adapting to new places and nature, and many more. Camping offers you a great chance of learning as everyone in the family contributes to the trip. The family members learn to adjust, love, and contribute to one another.
You and your family members can learn how to tie knots, set up tents, cook new meals, start fires, and many more things. These skills are essential, especially if you are a nature lover and camp frequently. But, of course, our regular busy schedules don't allow us to learn these skills separately. Thus best RV vacations for families dramatically help to improve every member's camping skills.
9. Spend More Time Outdoors
Arrange a summer RV trips for families, and you will get huge time to spend with your families at outdoor. Irrespective of your traveling destinations, you and your families can get a chance to spend quality time together. Also, you can enjoy the great outdoor environment, and it helps to make the family bonding stronger.
Your recreational vehicle will surely cover all the basic needs, so you don't need to worry much about them. And you can certainly enjoy your family time at outdoors. No vacation type can give you a much more significant opportunity to spend more time in nature and outdoor with your family like the RV.
10. Go Anywhere You Want
While you decide to hit the road with your recreational vehicle, you don't need to think about the destination as the whole street is yours. RV travel's most enticing thing is it allows you to travel wherever you want, following the roads.
You can take your RV for making a road trip to the US National Park. Also along the whole way you can camp and hike in the mountains. Sometimes you may also need to consider the cost. But, most importantly you have the freedom to travel anywhere with your family in your RV.
11. No Requirement to Pack Light
While you are going to a destination by air, you can't easily take anything if you want because the airlines don't allow you to do so. But while traveling in your RV, you can take surfboards, kayaks, bicycles, or even cars without much difficulty.
Conclusion
A Family RV vacation certainly offers numerous benefits. But you can't overlook the cost also. If you are going to purchase a new RV or plan to rent one, you should have a specific budget. You should have more significant funding for a big trip to enjoy the vacation perfectly. However, you can complete the tour in a budget-friendly way also.
You get a greater chance to strengthen your bond with your kids through family RV camping. You and the kids can learn many things by camping close to nature. In addition, the camping experience facilitates the kid's willingness to learn new things and explore the world. Thus enjoy your family time by going on a vacation in your RV.