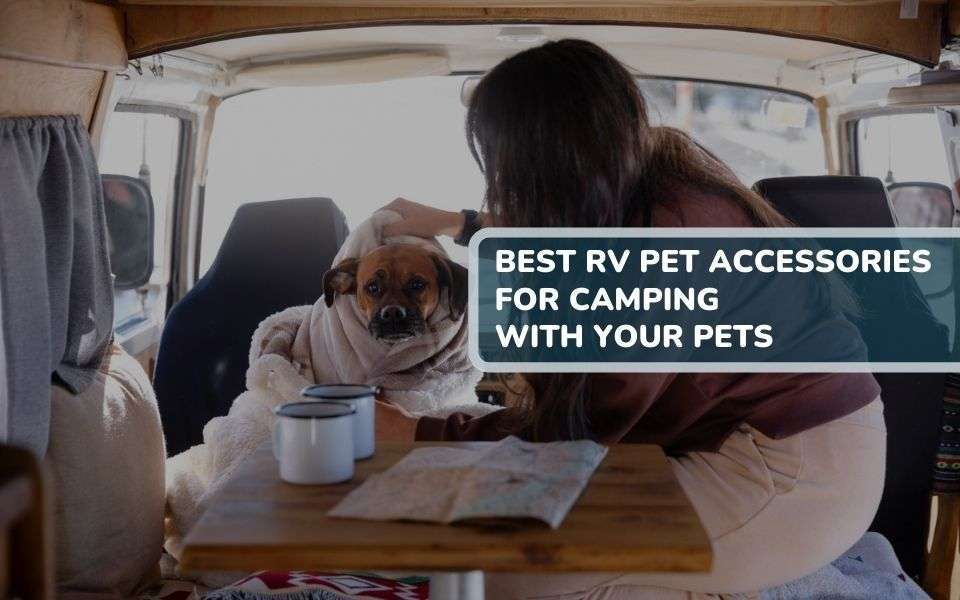 14 Best RV Pet Accessories for Camping with Your Pets
If you are a dog lover and frequently take your pet on your RV trip or camping, then having the RV pet accessories are must for you. You can make your adventure or camping more fun by having dog-friendly and unique RVing accessories.
While camping or RVing with your dog or pets, the pet accessories for RV can make your life easier. These accessories help your dog to enjoy camping and make the whole trip convenient for you.
You may have a lot of questions in mind while making a trip with your pet, such as how to pack for your pet, what accessories you should take, etc. Through doing in-depth research, we figured out the following pet accessories that you should have with you.
Best RV Pet Accessories for Camping with Your Pets
To make your journey easy with your dog, we picked out the following RV pet accessories that you should have with you while camping.

1. First Aid Kit for Pet
There are several first aid kit boxes in the market, specially designed for dogs or pets. Usually, the kit box includes a collapsible water bowl and LED safety collar. To tackle any emergencies or remove every day's tick, you can use first aid kit contents. Even a tiny kit box holds lots of things in it. With the human first aid kit box, you should have this accessory for your pet.
2. Pet Food Container
You should have stackable and pest-proof pet food storage containers while taking your dog on an adventure. A variety of container sizes are available in the market. Depending on your requirement and budget, you can purchase any size from 15-to 80 Ibs.
Food containers are a necessary accessory because it helps to store food efficiently and reduce pet food wastage. However, don't purchase a too-big food container if you don't require it because an excessive size container will waste storage space.
3. Folding Camp Bed for Dogs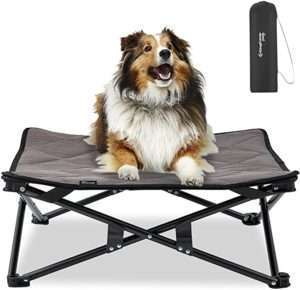 To ensure better sleep conditions for your dog during your camping or trip, you should have a folding camp bed for dogs. This camp bed for pets is necessary for several reasons, including the following:
Keep your dog safe from the ground
Your pet remains cleaner and dry
A breathable camp bed keeps the dog cooler
You should select a foldable camp bed for your dog, which will easily fit in and be easy to carry. For camping, this accessory is one of the must-have items for dog lovers.
4. Collapsible Klipscoop
The collapsible Klipscoop makes your dog's mealtime easy. For dog lover RVers, this accessory is great. The compact design-based collapsible Klipscoop saves the RV's space. In addition, you can use the Klipscoop as a food scooper, measuring cup, and bag clip.
You can easily fit this accessory on your dog's food bag to prevent searching here and there in the future. Also, this product keeps your dog's food dry and fresh by sealing the bag. Moreover, the cleaning of Klipscoop is also easy, and it's dishwasher safe. Finally, for camping with your pets and dogs, one of the most necessary and favorite accessories is this collapsible Klipscoop.
5. Mudbuster Paw Cleaner
Mudbuster is another crucial accessory for camping with your pet. After your adventures, naturally, there would be mud in your pet's paw. So this Mudbuster helps to keep the dog away from mud tracks in your recreational vehicle.
For using the Mudbuster, you have to add water to it and, one at a time, insert your pup's paws in it. The soft silicone bristles will ideally eliminate all the mud and dirt from your dog. Cleaning this accessory is also very easy. First, rinse it and wait for some time to dry it. Then, depending on your dog's paw size, you can use the medium or large-size Mudbuster for your pet.
6. Dog Toys Bones and Treats
While your dog is traveling with you in your RV, you should have some better treats or fun toys for your pet, just like in your home. You can have dog toys, bones, and treats to entertain your dog in camping because the pets also get bored. When choosing a toy, select the large one so that it doesn't swallow accidentally. Pick the safe and healthy toy bones for your dog.
7. Pet Monitoring Camera
Another necessary pet accessory for RV is the pet monitoring camera. This pet monitoring camera is an essential accessory for remotely keeping an eye on your dog while you are on an adventure. You can easily hear, see, and talk to your dog using the monitoring camera even while you are not in your RV.
Remotely, you can treat your dog better and give them a kibble treat through the camera. Having a pet monitoring camera in your RV is really a great way to interact with your dog.
8. Dog Travel Bag
You can easily carry everything your pet needs in a dog travel bag. Whether you are going for a short excursion or on a weekend trip, you should have this travel bag with you. For example, you can easily take two pet food storage containers, two food bowls, and one blanket strap in a pet travel bag. Also, you can take your favorite toys and treats for your dog in the travel bag.
9. Single Elevated Feeder
The single elevated feeder can reduce your dog's mealtime. This is because the elevated feeder places the bowl at the dog's comfortable height during mealtimes. So the dog can easily enjoy the meal, and they don't need to lean down.
Usually, the elevated feeder comes with a collapsible and removable bowl. You can use the bowl separately as it is robust enough. Moreover, the dishwasher is enough to clean the bowl after using it. Finally, if you don't use the bowl, you can fold it down, and it doesn't require much space in your RV for storage.
10. Handheld Washer
If your dog's whole body gets muddy during camping, you must give your pet a complete bath before taking them on your bed or couch. The handheld washer is a pet washing kit, and you can provide a full bath to your pet using it. Thus it is another necessary pet accessory for your RV.
Bathing and rinsing your pet will be more accessible if you use this handheld washer. The washer comes with rubber nozzles, and the nozzles are very helpful for deep cleaning your pet's fur. Also, you can easily adjust the water pressure using the washer's Smart Pause switch.
11. Indoor or Outdoor Dog Play Pen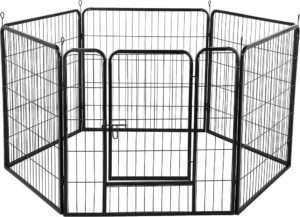 Another essential pet accessory for RV is this dog playpen. Taking your home's backyards with you on camping is not possible, so the next best choice is to have a dog playpen in your RV. This accessory is beneficial to keep your dog contained in a safe place while camping.
Sixteen panels are available for dog playpen. However, you can pick the best one from the available size, depending on your pet's size. Whether you prefer to arrange the panels in a circle or square, you can do that. Each time you will require different panel numbers.
The playpen's automatic door lock mechanism will prevent your dog from opening it. Also, this gravity-actioned lock mechanism will prevent you from leaving the door unlatched accidentally.
12. Organics Tick Ban
If your dog has a biting habit, you should be prepared for this. The organics tick ban is such a product that prevents your dog from biting. This product is absolutely safe for your pet and adults, and kids. Using a chemical to avoid biting could be harmful to your dog and you. So it's ideal to go with the organic tick ban option. When you are camping or RVing with your dogs, this is one of the must-have products.
13. Dog Paw Wax
The dog paw wax is another necessary item that protects your pet's paws from hot pavement, heat, dirt, sand, and snow. While camping, walking on the campground, or your dogs on trial, this dog paw wax is beneficial for your pet. This product is non-allergenic, drying and non-staining.
14. Dog Life Jacket
Having a life jacket for your dog is essential because you have to kayak, ride on a boat, and play on the lake or beach. The life jacket will ensure safety for your pet while you are doing these camping activities. Therefore, the life jacket provides your dog protection. And your camping will be more enjoyable for you.
Bottom Line
RV pet accessories are essential, and you should not travel without the above RV pet accessories while you are going camping. In different departmental stores or online, you will quickly get all these types of accessories. You should pick the best brand accessories for your pet from different brands.
Camping with the dog is a fascination for lots of RVers and campers. So they should make the highest preparation and should have the essential pet accessories for RV. Fortunately, after checking out the above complete guide, you have no clear idea regarding the pet's accessories. So, before heading out on the road with your dog, make sure you pack all these accessories for your dog. Then, enjoy a hassle-free adventure without thinking much about your pet.
Latest posts by Tim Harris
(see all)