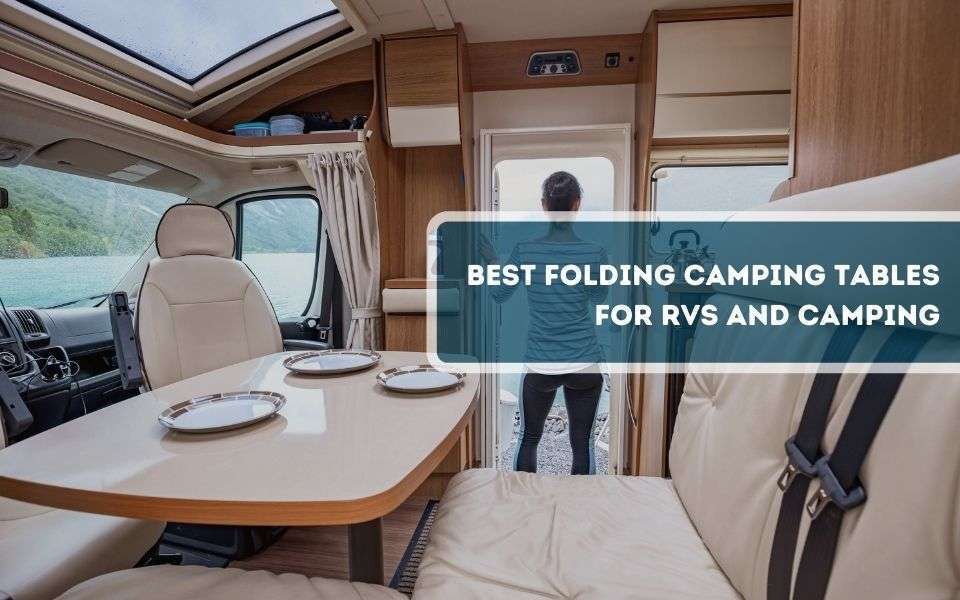 Top Folding Camping Tables For RVs and Camping
When you hit the road in your RV, you need the right furniture and camping tables to take along with you to make yourself comfortable during the ride. Your RV has limited space, but you still need to do basic activities like sleep, eat, and cook.
To eat your meals comfortably, you'll need to invest in a great folding camping table during your RV trip. If you don't take the time to research your camping tables before your purchase, this can cause significant frustration while you're trying to eat.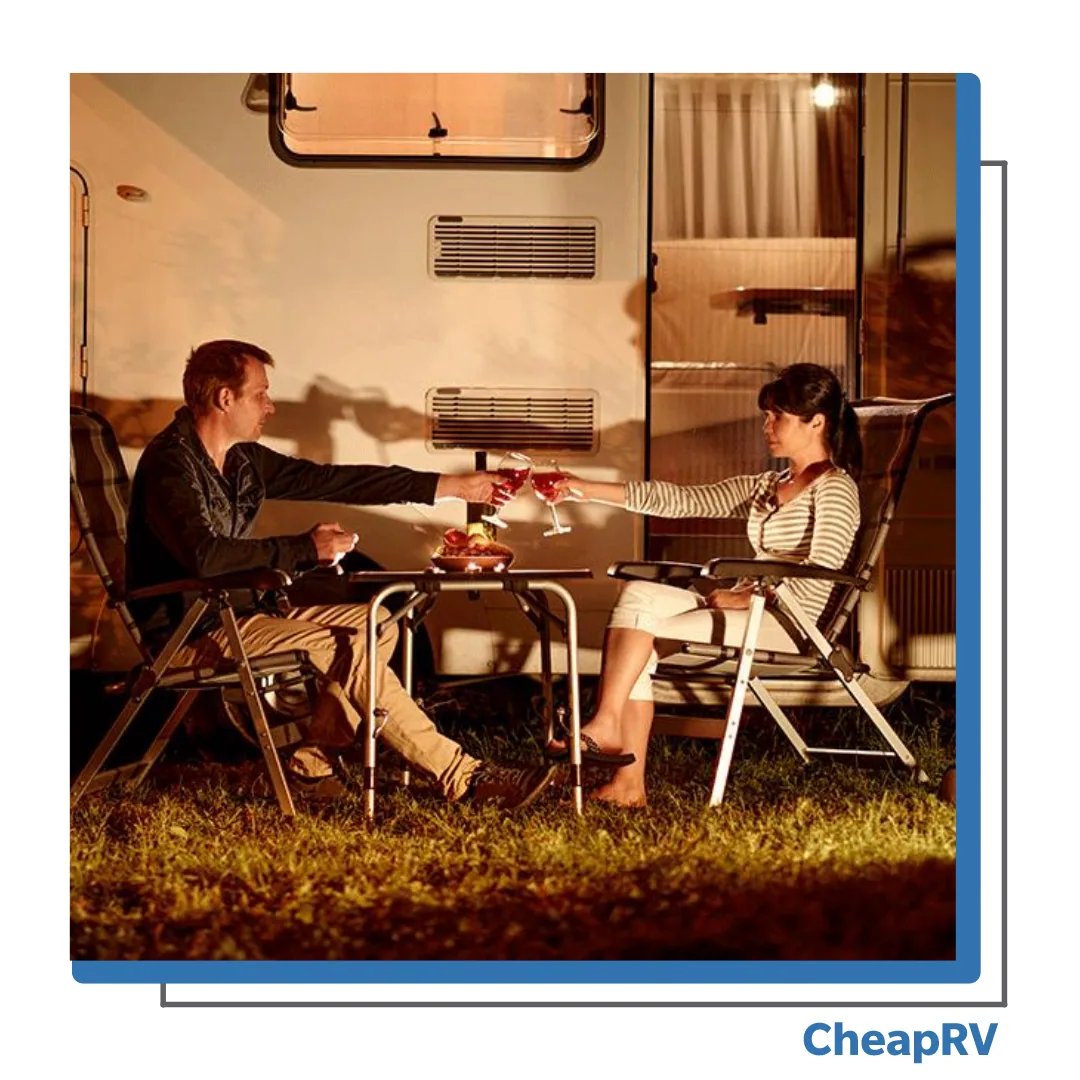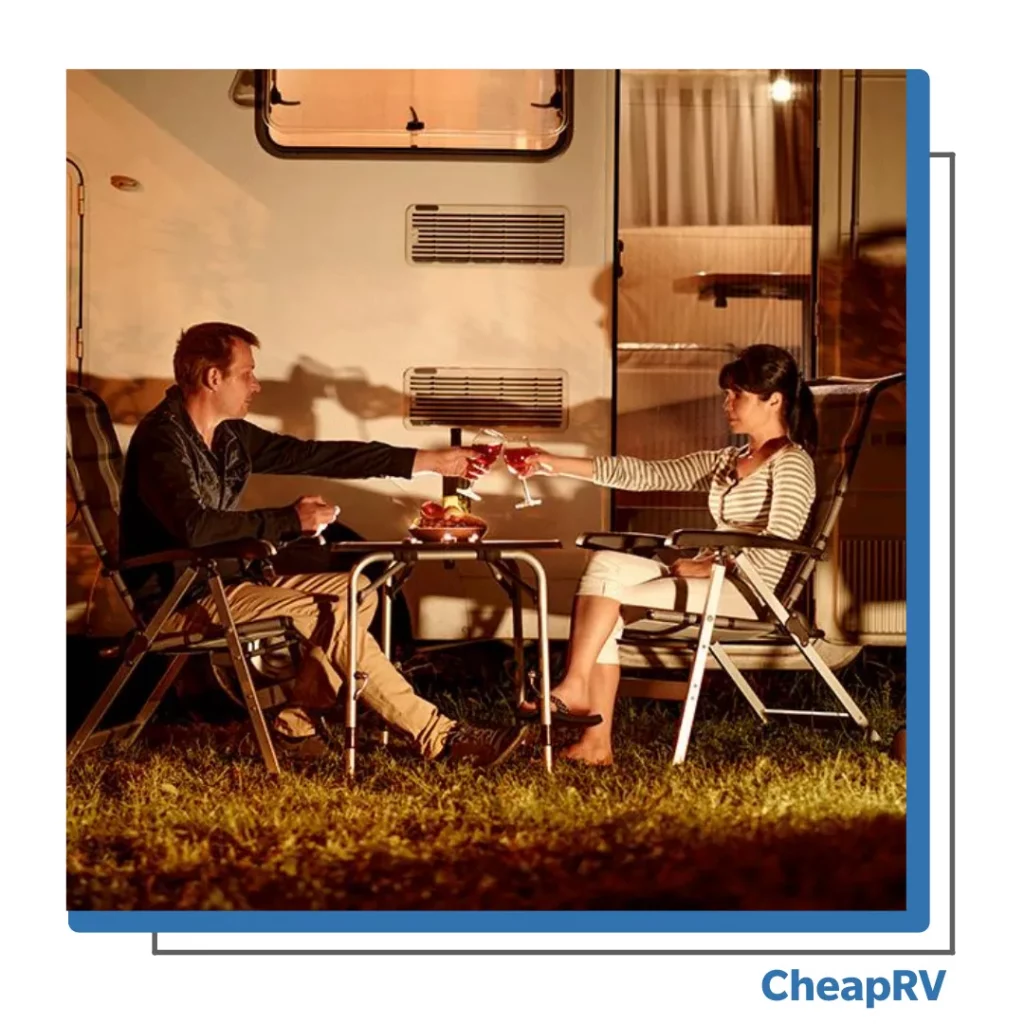 Please continue reading to learn more about choosing the best folding camping table for your RV trip or camping vacation. We will discuss the aspects of a great camping table and our top picks for the best folding camping tables for your RV.
Criteria For Folding Camping Tables To Make Our List
We carefully chose the folding camping tables on our list so that you can stay comfortable during your meals on the road.
Even camping or riding in an RV, you deserve to feel comfortable and calm while eating. The following are criteria that we ensure all the folding camping tables on our top six list have to offer.
Sturdy
Easy to use
Comfortable
Compact
Lightweight
These are essential features we consider before creating our top list for folding camping tables. Without these features, mealtime in your RV will be uncomfortable.
Best Folding Camping Tables
Now that you understand the criteria to make a great camping table, here are the best picks for your RV.
Treakology Portable Camping Side Table
At the top of our list, we have the Treakology Portable Camping Side Table because it meets our criteria better than any other folding camping table. In addition, this folding camping table only weighs 2.2 pounds, allowing you to lug it around your campsite easily.
The best part about this camping table is that you can use it comfortably anywhere you go.
Whether you're visiting the beach, going on a picnic, or want to eat in your RV, this is a fantastic choice. The following are features included in the Treakology Portable Camping Side Table:
Aluminum
Carrying bag included
Easy to fold
Easy to carry
Can't hold more than 50 pounds
Little setup required
This folding camping table is water-resistant, affordable, and sturdy because it's crafted from aluminum. So, if your campsite gets rained out, you don't have to worry about damage to your folding camping table, and you won't have to buy a new one.
CampLand Outdoor Folding Table
This camping table is excellent for people camping anywhere, thanks to its weather-resistant properties. People enjoy this foldable camping table because it's durable, lightweight, and portable. You can even detach to tabletop from the base to increase portability.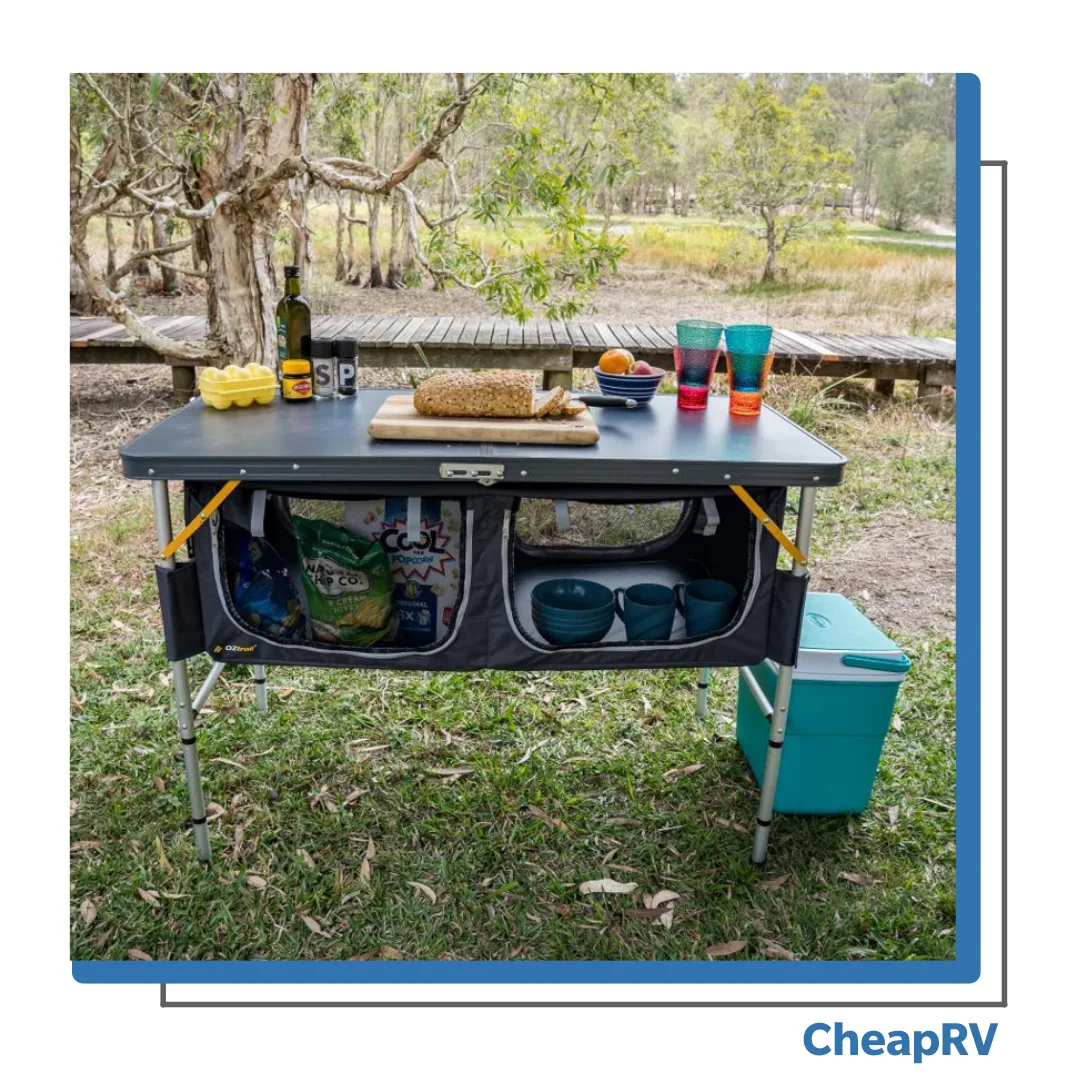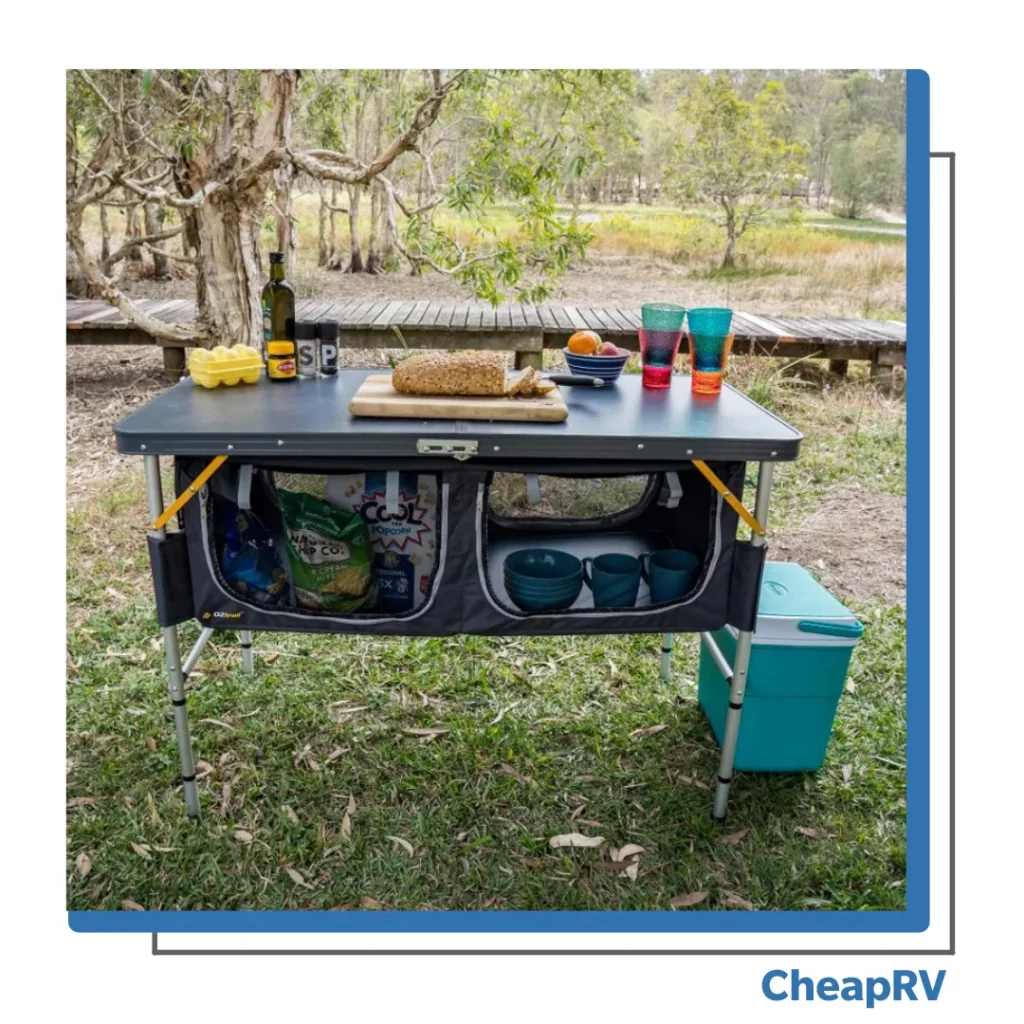 This is an excellent option when looking for a camping table to bring into your RV or on a campsite. The following are features you should consider about the CampLand Outdoor Folding Table before you buy:
Easy setup
Foldable
Aluminum
Can hold a maximum of 66 pounds
Sturdy
Durable
Detachable tabletop
Weather-resistant
Comes with a warranty
This option is great if you're looking for a camping table compatible with the outdoors and indoors. The versatility of this table will benefit you during your RV trip or any camping situation you encounter.
Camco Deluxe Folding Grill Table
The Camco Deluxe Folding Grill Table is perfect if you're a cooking enthusiast who likes to spend time outdoors. Thanks to its heat- aluminum- you'll have no trouble cooking and cleaning on this table.
This is one of the sturdiest options on our list due to the steel frame that holds the aluminum tabletop. So, if you're concerned about setting heavy hot plates on a table while camping, you can't go wrong with this camping table.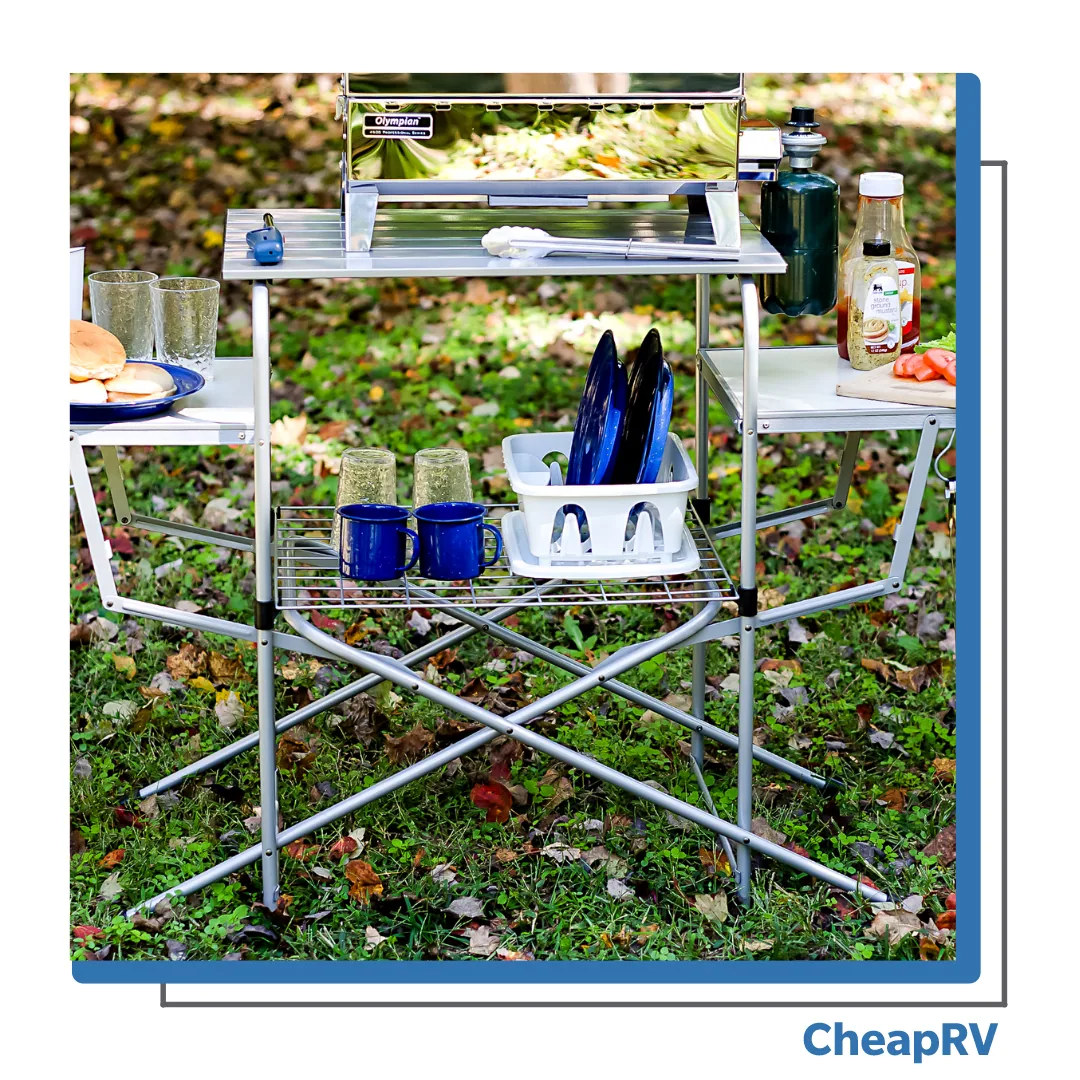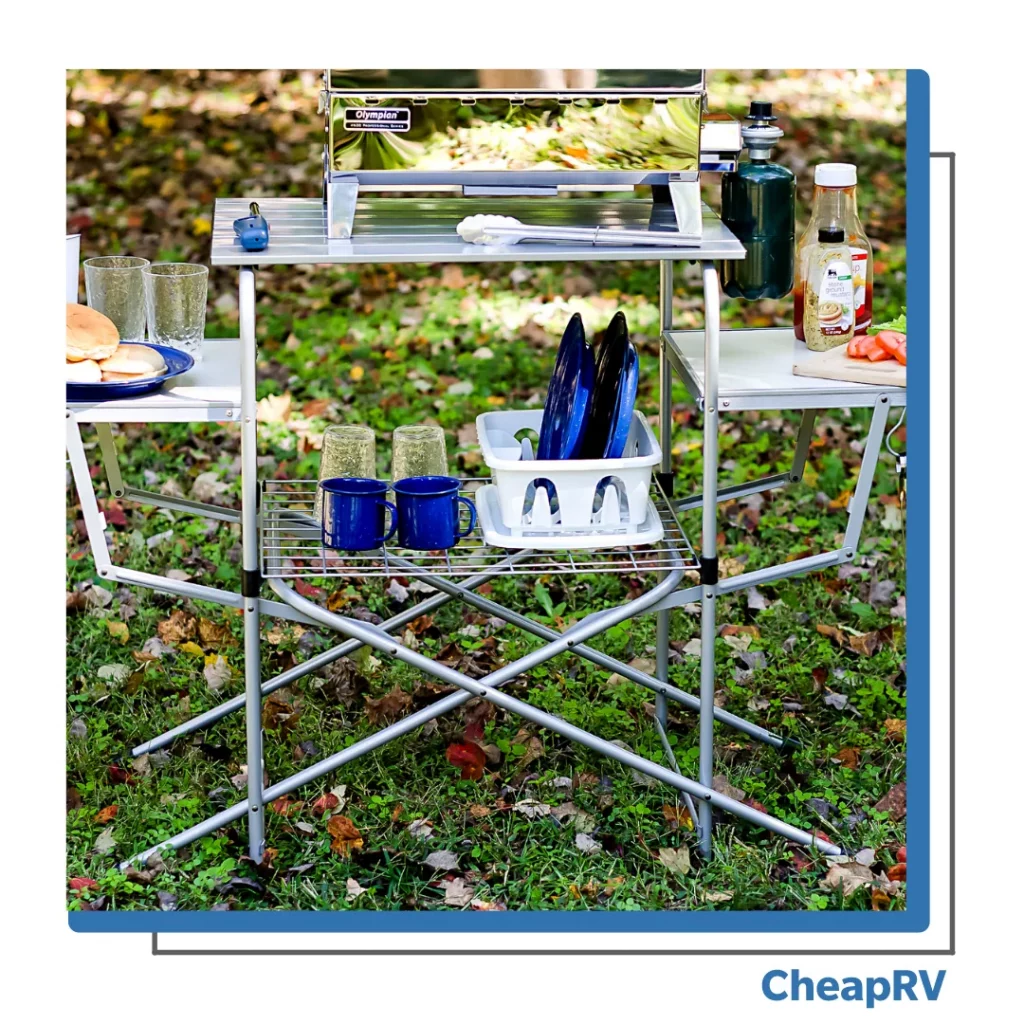 The following are features to consider about this table before you buy:
Easy setup
Heat-resistant tabletop
Sturdy frame
Foldable
Built-in towel hooks
Scratch resistant
Set up for this table will only take a few minutes, which makes it easy to bring with you anywhere. Plus, with the steel frame, you don't have to worry about weather damage if you accidentally leave it outside.
GCI Outdoor Slim Fold Cook Station
The GCI Outdoor Slim Fold Cook Station offers a heat-resistant aluminum tabletop and a steel frame so that you can feel confident while you prepare meals.
It's always best to find a durable and functional camping table so that you don't have to worry about whether or not it can hold up in your RV kitchen.
You don't have to worry if you have many people joining you for your meal. This cook station has four plastic side tables inside the larger table. So you can accommodate your company without compromising your RV space.
ALPS Mountaineering Dining Table
You can purchase this foldable camping table and any size you desire based on your needs. For instance, if you prefer camping alone, the small size would be perfect for you.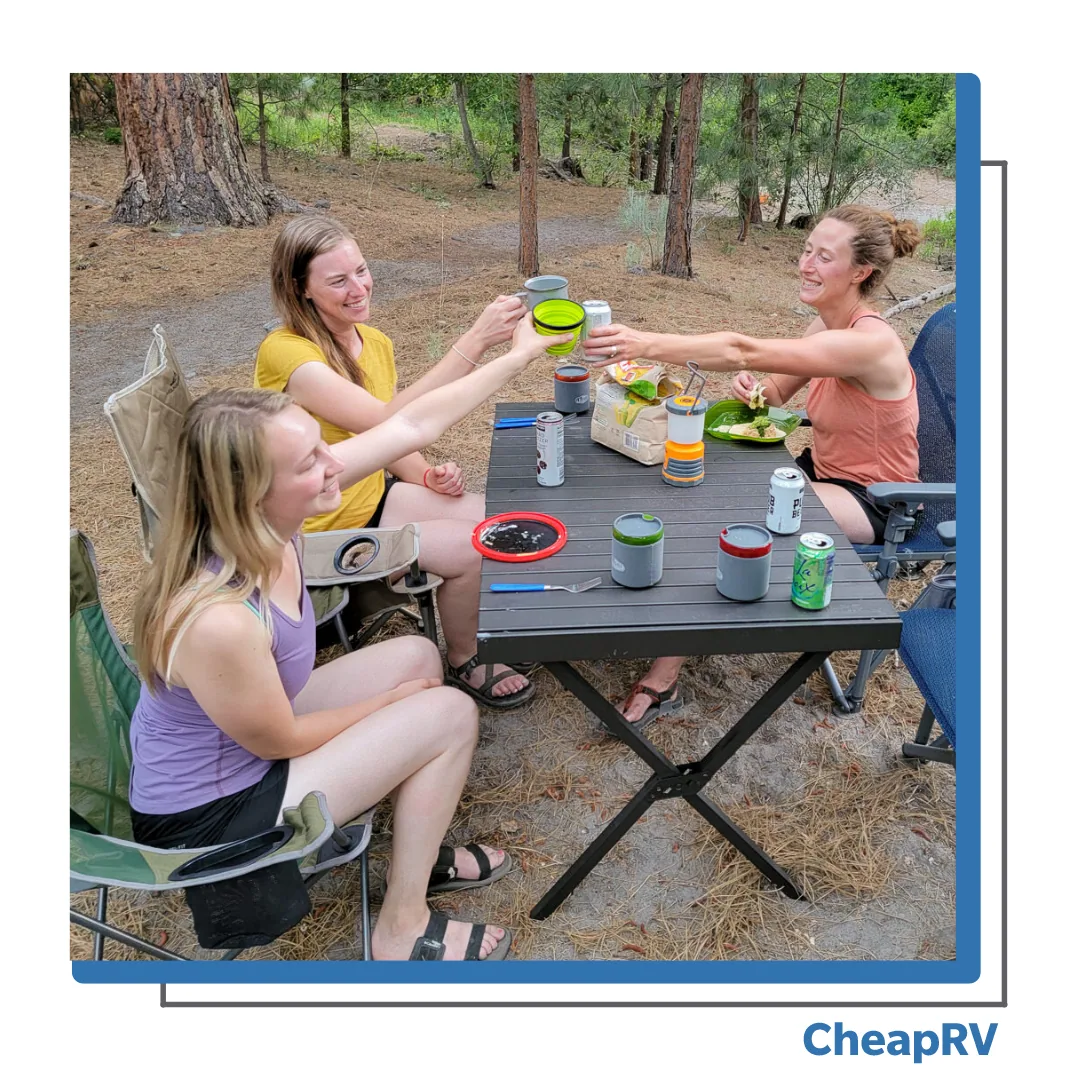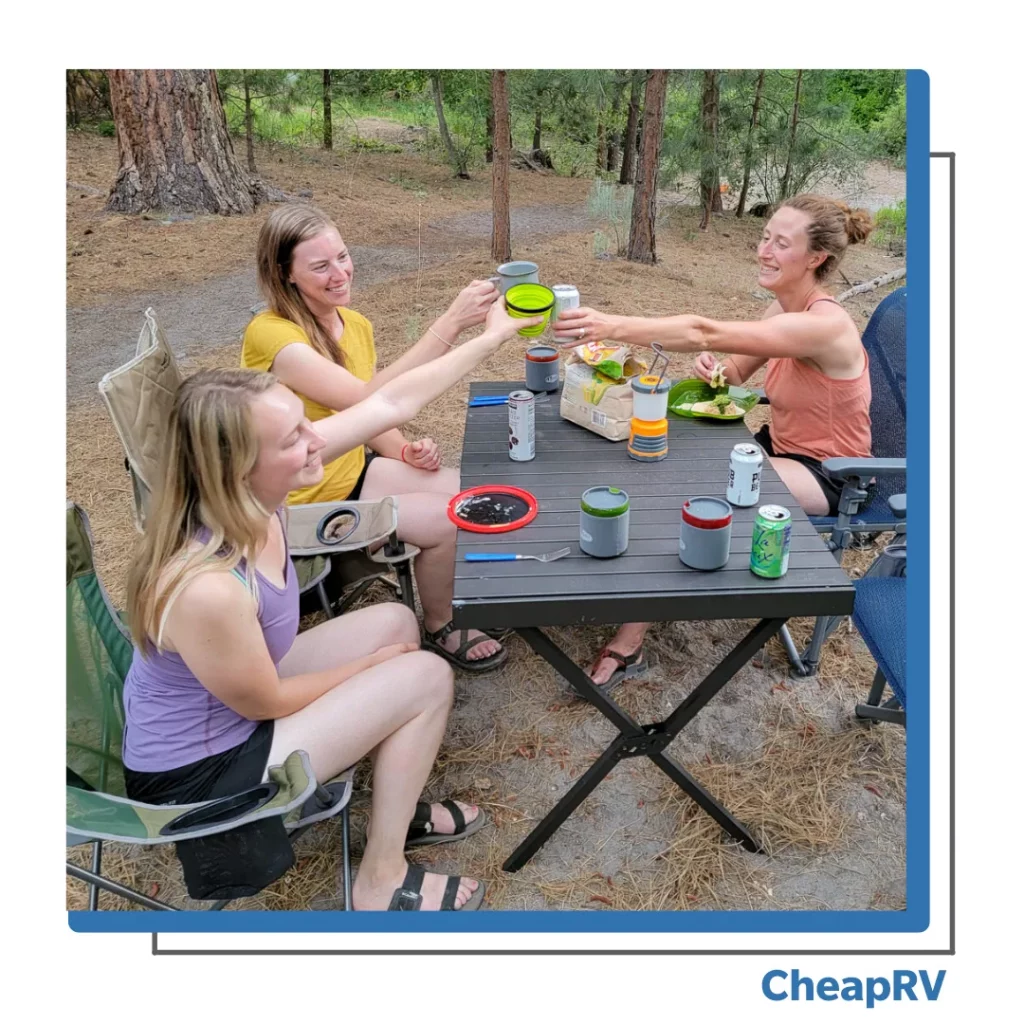 Alternatively, you can purchase a larger size to accommodate guests if you enjoy company for your meals.
This foldable camping table is crafted from aluminum, so you don't have to worry about it flying away in the wind or rusting in the rain.
You can enjoy a hot meal in your RV or take it outside to enjoy nature. You can set a camp stove on this table because of the heat-resistant aluminum tabletop.
REDCAMP RC31037
If you plan to cook plenty of meals, you'll want the REDCAMP RC31037 for your next camping trip. This table allows you to hold up to 70 pounds, so you don't have to short yourself on any meals.
This is an excellent choice for campers because you don't have to worry about weather damage, and this table will last you for years.
Best Collapsible Camping gear
One other thing that can save a lot of space is collapsible camping gear. Sure, it can be expensive, but the right gear can save you tons of space, especially if you love having all sorts of equipment in your RV.
Collapsible camping gear features everything from kettles for coffee lovers, cooking stations for meals in nature, containers for storing all your leftovers, chairs for sitting and basking in the morning sun, firepits for that authentic feel of camping in nature, and pet bowls for your four-legged companions. Here is the list of the top 10 best collapsible camping gear items every traveler needs to have in his or her RV.
Final Thoughts
When you dine in an RV, you need a foldable camping table that can accommodate your cooking style and save space. Unfortunately, RV's only have limited space to enjoy your meals, so you need to consider that before purchasing a table.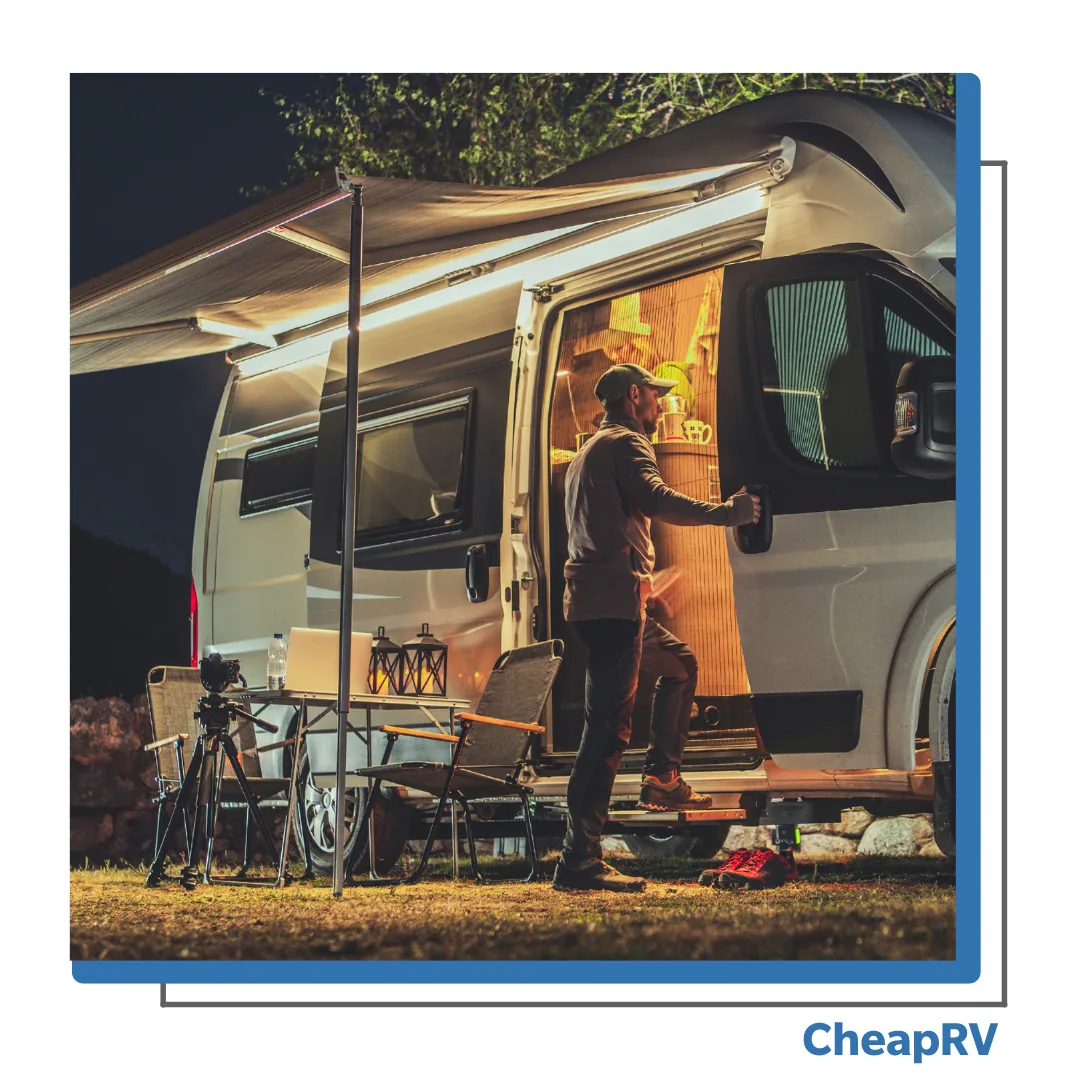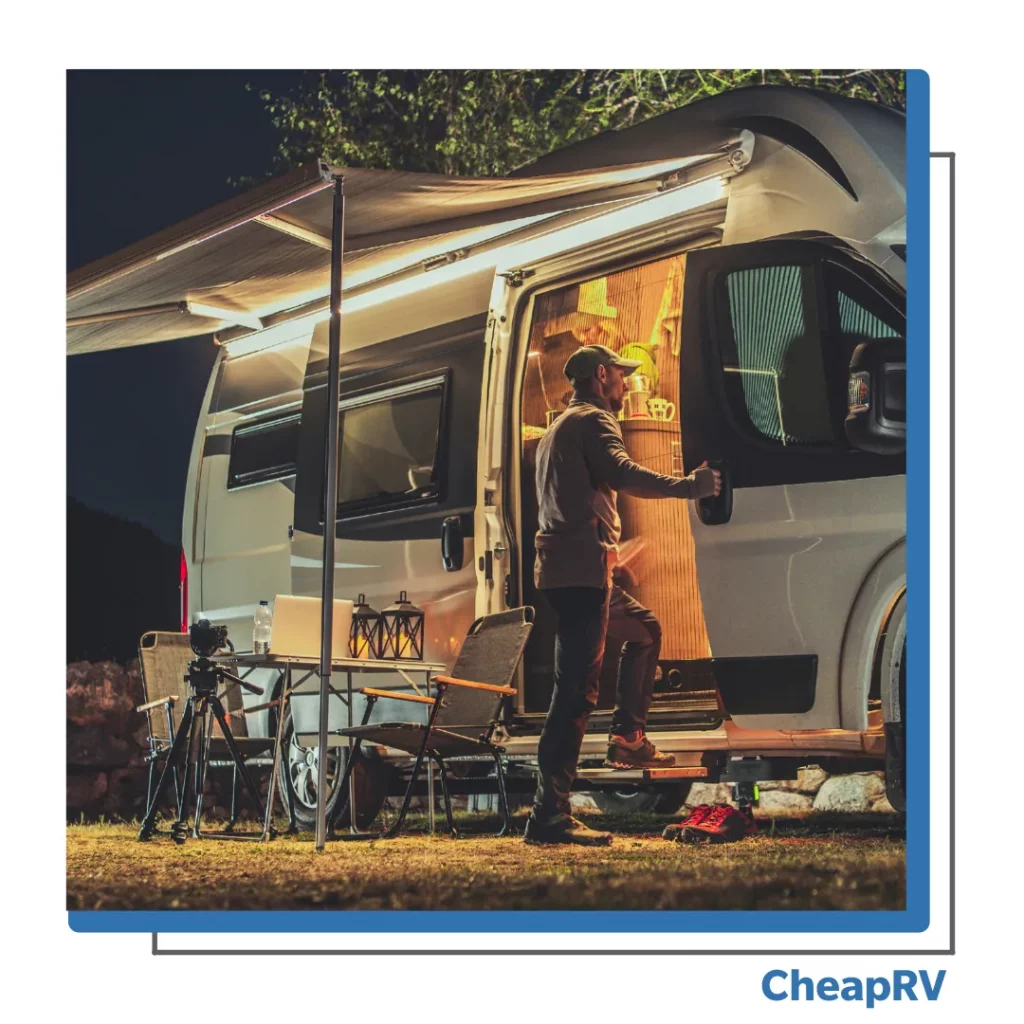 Our guide will help you pick the best foldable camping table for your RV, allowing you to skip the process of trial and error. Purchase one of the tables on our list and enjoy your next meal in your RV or campsite.